| | |
| --- | --- |
| Support | Help Desk, Phone & Knowledge Base |
| Best For | Easy to build storefront |
| Strengths | Inventory management & speed |
| Weaknesses | Poor with SEO & Design Options |
| Promotion | None |
Volusion is one of the most popular hosted eCommerce platforms. They focus on providing a full toolkit for eCommerce owners who want a hosted solutions. They have historically been a go-to solution for mid-size eCommerce companies who valued their operations & inventory features.
But, as of July 2018, Volusion launched V2 of their platform. With Volusion V2, they are trying to become the go-to solution for entry-level and intermediate eCommerce sellers with a heavy focus on simplified pricing and simplified onboarding.
I originally used Volusion back with their V1 platform for this review, but recently tried out their V2 platform for a research project. I've re-written this post to reflect V2 only – even though there are plenty of stores out there using Volusion V1.
There are a lot of Volusion reviews online – usually with user-generated reviews based on anecdotes and personal experience. That's fine but I take a different approach. Like any option, it's going to have some pros and some cons and will really come down to if it's a good fit for your specific business. In this Volusion review, I'll focus on 6 pros and 6 cons that will probably most affect your choice.
What Is Volusion?
First off – a quick overview of the online store software landscape. Like I covered in my choosing an online store platform post, eCommerce platforms exist on a spectrum with a lot of technical considerations that can have as big of an impact on your online business as your store type & location can in the physical retail world.
Even though the technical considerations aren't as immediately related to your success as sales, service & product – it can be the variable that helps or hinders your day-to-day and especially long-term growth. That said, just like choosing a specific location; leasing vs. owning; or going mall vs. solo storefront in the physical world – there's no "top" or "best" choice. There's only the choice that makes the most sense given your budget, expertise, circumstances, and goals.
On the spectrum of eCommerce solutions, Volusion lives on the end that is all-inclusive and provides everything you need to start, run & grow your online store while providing your own online "space" that you control and can customize.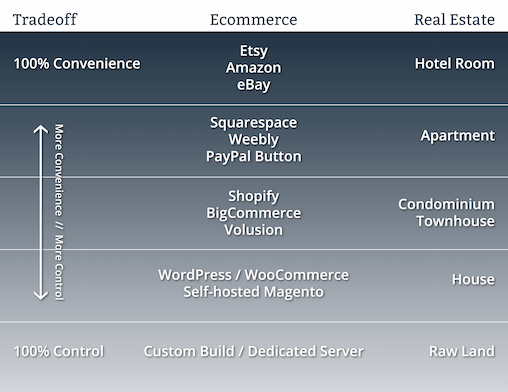 It's in contrast to solutions where you buy, install, manage but wholly own different pieces of what makes your store your store (think getting a server & installing WooCommerce). And also contrast to platforms where you simply have a listing in their space instead of a store of your own (think eBay, Amazon, or Etsy).
Using Volusion is sort of like leasing a store with the ability to customize your store to your liking. You control everything business-wise like sales, marketing, and merchandising but you leave the plumbing, security, construction, and maintenance to the landlord.
Aside – I built an entire Buzzfeed-style eCommerce platform quiz to reflect all these considerations.
Volusion (see Volusion plans here) mainly competes with the other two big hosted eCommerce platforms:
And Volusion competes indirectly with non-turn-key options like WordPress + WooCommerce (see how to setup here) and more website builder solutions like Wix or Weebly who often add a shopping cart, but don't have robust inventory or order management options.
Volusion Alternatives


Shopify Review
Rating

9.5/10

Price

$9 - $299+ per month

Dunning

No

Affiliate System

No

Promotion


Squarespace Review
Rating

8.5/10

Price

$12 - $40 per month

Dunning

No

Affiliate System

No

Promotion


Wix Review
Rating

9.0/10

Price

Free - $49+ per month

Dunning

No

Affiliate System

No

Promotion
Pros Of Volusion
Here are the considerations that I think are an advantage to the Volusion platform based on my experience.
Education & Professional Services
There's no shortage at all of how-to guides, ebooks, courses, and newsletters to help you run your online store. And there is certainly no shortage of freelancers, design agencies, and specialists who can help with design, development or marketing.
Usually, the real problem is curation and specialization – researching information that applies specifically to your store can be hard to find. You might find some great SEO or Facebook store advice, but it'll be very hard to actually implement on your [name your platform] store. Finding and vetting a freelancer that knows your store's platform can be even tougher (and even more expensive if you choose the wrong one).
Using a company that has built-in onboarding materials and highly trained account specialists can easily justify the extra cost of using a platform, and that's an area where Volusion really excels. They do the store setup email sequence and knowledgebase much like Shopify.
But Volusion goes a step further with their account specialists – they really take a direct interest in your store and getting it set up exactly right. Even stores at a smaller price point seem to get a good bit of attention.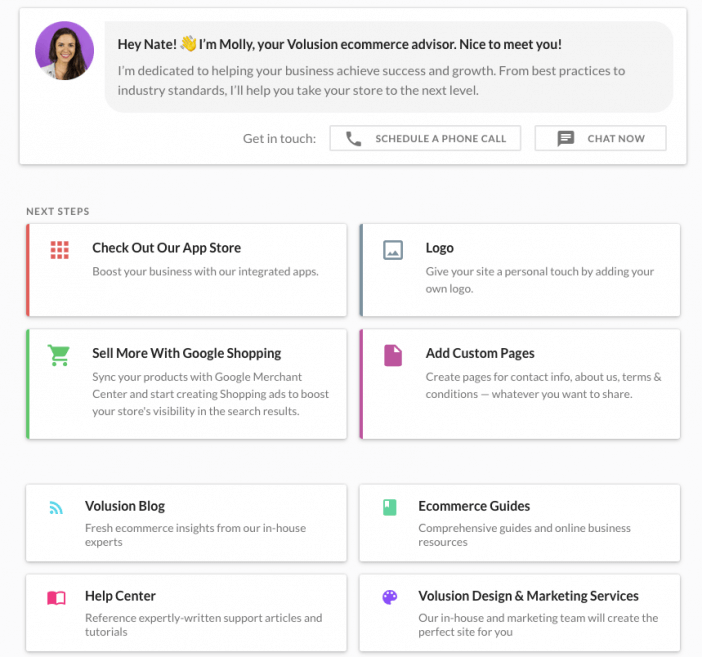 Volusion also does something a bit different with professional services that can be a huge con – but for the benefit of the doubt, we'll treat it as a pro. That pro is that they provide professional service directly through Volusion to help with everything from design to SEO to PPC shopping feeds.
Since everything is provided through Volusion (and not indirectly via freelancers like Shopify's Expert directory), you know that they know everything about providing that service on the Volusion platform.
Now, that can easily be a place to upsell customers, but it can also be a helpful arrangement – sort of like Ikea where you can buy the furniture and do it yourself or just pay them to do it. If you're the type of person who hates upsells, then this will be a big con, but otherwise, the option plus the well-done education is a solid pro for using Volusion.
Customer Support & Onboarding
Customer support is one of the toughest things to look at when reviewing a company. Only a company really knows its internal culture and how it treats customer service. Any comments or ratings that you see only will trend to the extremes (ie, either naively positive or absurdly negative).
To try to figure out how a company views customer service, I try to look at things like availability, a number of channels, and how they solve the "onboarding" problem (ie, do they solve potential issues before they become problems).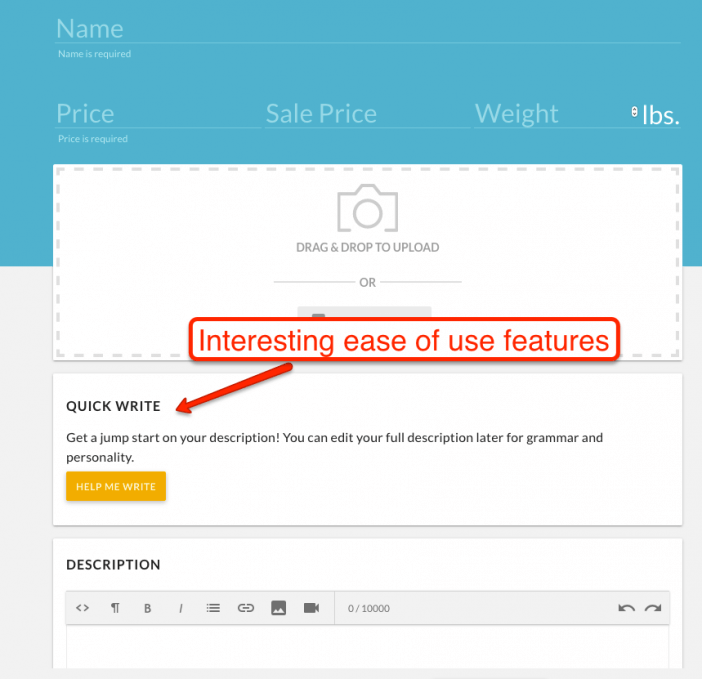 Volusion offers support via phone, email, chat, ticket system, etc 24/7. In my experience, they've been awesome and very responsive. They seem to have invested quite a bit in international phone lines, their knowledgebase, and chat software.
Their customer service doesn't stand out above Shopify. But – most importantly – the 24/7 customer service is a huge pro vs. hosting and piecing together your own eCommerce site where you don't have any dedicated customer service. It's sort of like owning a physical store in a mall with 24/7 plumbing on call vs. a store you build, own & operate that might get flooded if you burst a pipe. And since Volusion is helping with their platform – they are more likely to be able to solve the root issue.
This point actually segues nicely into the next pro of using Volusion – speed & security.
Speed and Security
If you are building your own store on your own hosting account (ie with WordPress & WooCommerce), 2 of the most challenging issues will be making your site fast and making it bulletproof secure.
Like I mentioned in both my Shopify review, speed is extremely important in eCommerce. Customers simply have no patience waiting for a page to load. Study after study points to the fact that conversion rates plummet when you get into the 4ish second page load time.
It's so important that Google actually built it into their organic search algorithm. And getting the speed right on a website with lots of graphics and a large database (as all eCommerce stores have) can be tricky if you don't know where or how to look. By using Volusion as an eCommerce platform, your store is hosted on their servers which are specifically optimized to run your site quickly.
Security is also a related issue to speed since it's something that is fundamental to running a modern eCommerce store. You cannot accept credit cards unless your site is secure. There are plenty of ways to outsource the security to PayPal, or any number of providers but to accept and process cards on your site with your merchant account – you have to have a secure setup.
Volusion allows simple 3rd party payments integration and bundles in the costs of SSL certificates regardless.
Volusion gives you more control over your security and checkout while making it easy to implement and giving support to ensure your security is always set correctly.
Intuitive Dashboard
When you are first setting up your store on any platform, it can be frustrating to figure out exactly where everything is. Plenty of platforms & CMS's have their own lingo and unique layout (like the WordPress Dashboard).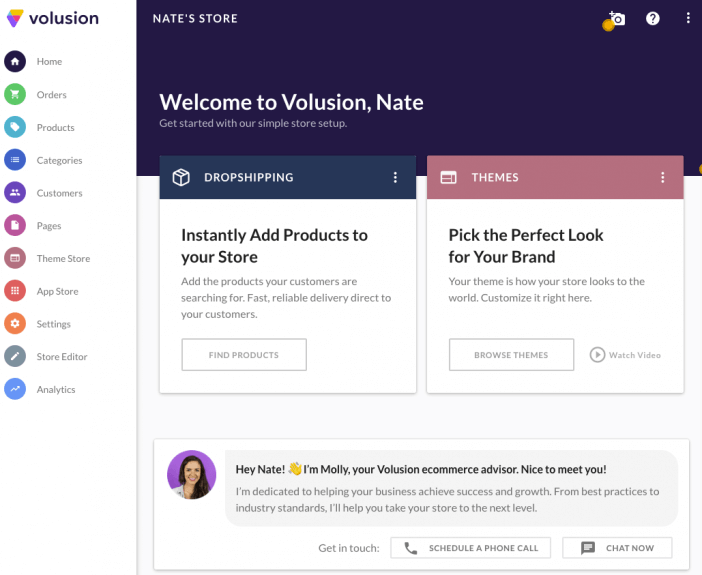 Volusion isn't an exception to this, but they do have a bias towards an intuitive interface, thoughtful navigation, and easy setup. The backend design has been recently updated. The actual user interface is solid and easy enough for beginners to use, but with enough options for mid to large size eCommerce operations.
Cons Of Volusion
Here are the disadvantages that I've found with Volusion.
Pricing
It can really tough to compare all the pricing considerations for a new online store – no matter what type of solution you choose. But even among all-inclusive eCommerce platforms like Volusion, it can be maddening to figure out what price compares to what since no one's tiers align at all. Here's how I break out the pricing to try to compare apples to apples.
First, your monthly price. This is the sticker price you pay for a certain set of features. It is what you see on pricing pages. Volusion's plans start a $26/mo and go up to $269/mo.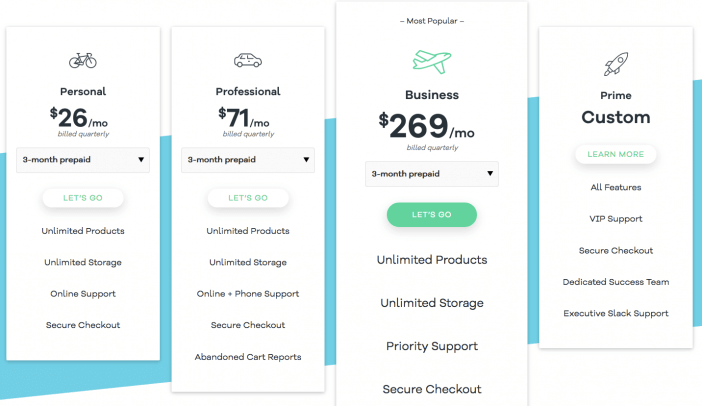 Second, your platform transaction fees. Some plans on all platforms will charge a transaction fee on each purchase (above credit card processing fees). Volusion does not charge transaction fees.
Third, your credit card fees. These used to be pretty standardized, but now more platforms like Volusion, and Shopify are setting up their own credit card processing. These fees would go to the credit card companies regardless, so any discount or flexibility here would be a win – but still, something to budget for.
Fourth, your add-on fees & exclusions. This area is what you really have to look at. Whether it's the cost of add-on apps, bandwidth fees, or the exclusion of key features, these fees can really impact your "walking out the door price."
Here's how Volusion stacks up on each compared to direct competitors.
Monthly pricing – Volusion is very competitive at the top and bottom tiers. In the middle tiers, they cap products and don't include some features vs. competitors. The middle tiers can be competitive or not depending on if you have a lot of products or plan on using those features (notably Amazon/eBay). They are fine, but not particularly amazing.
Transaction fees – Volusion does not do transaction fees on any tier. Big plus to consider.
Credit card fees – Volusion offers a service called Volusion payments with low processing fees (competitive with Shopify) in addition to integrating with other processors. Good to go here.
Add-on fees – And…this is where Volusion used to really fall down in V1 with weird link removal fees and bandwidth fees and such. However, with V2, it looks like all these fees are gone. What you see in your subscription is what you pay. Now – there are still V1 stores out there getting hit with random bandwidth fees (I had a reader write in just a few months ago). But V2 merchants should be ok.
Website Rendering & Revisions
Volusion V2 was a ground-up rewrite with "the latest technology." They even moved the hosting from Google to Amazon. However, as someone with a deep background in Technical SEO, the platform has been a huge disappointment. It looks amazing. It is intuitive and it seems to "work" on browsers…but I found a few issues.
First, it looks the site uses AngularJS for rendering. That's very cutting-edge and hip and cool and all from a developer's perspective. But as a marketer in charge of actually helping websites get traffic, convert sales, and analyze data…it makes me sad. Very sad. I have turned down very lucrative client contracts because I did not want to work with an Angular website. SEOs hate it, even though some charge a pretty penny for fixing issues. Google says that "Angular websites can be made discoverable" – which is not super-resassuring.
For example, Volusion has what looks like useful SEO tools in the Dashboard. They even have improved product URLs from V1.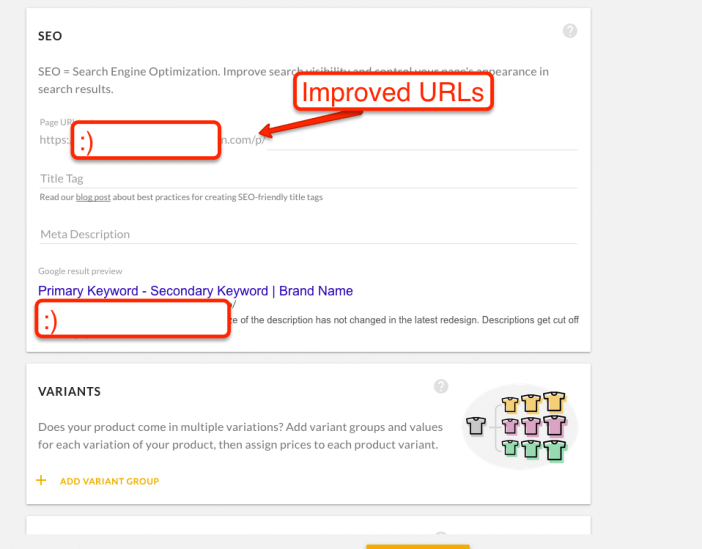 But the page doesn't actually render any new meta information. In fact, it doesn't render **anything** when a crawler visits the page. Here's what the product page shows up as –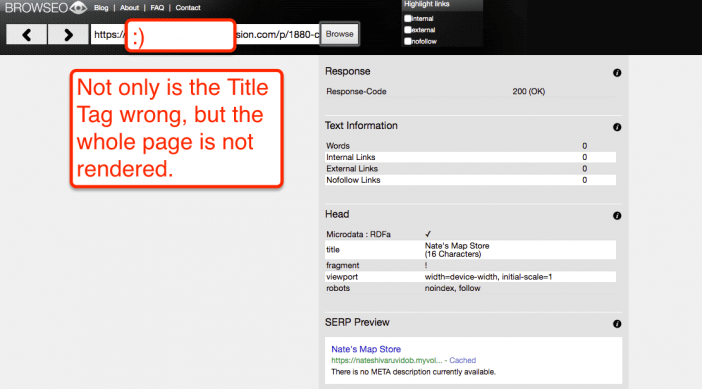 If you depend on organic or paid traffic, I can't imagine how frustrating it would be to work with this platform. But that's not all.
Second, the actual Analytics are completely off and set up in an amateurish way. You are automatically assigned a Google Tag Manager account without consent or approval. And there are odd 3rd party trackers that have access to **everything** that you and your visitors do. I know this platform would not fly outside of the US under the GDPR. But even in the privacy Wild West of the US, it was very odd to see.

My personal account information was embedded in the public source code of the website for reasons that I cannot comprehend – other than an amateurish installation of one-page checkout.

Volusion has said in their PR releases that V2 has not "reached feature parity" with V1 and that it's constantly improving. But I was kind of shocked that the product is public at all. There are basic CSS code errors, insecure elements, and issue that I have never encountered with other platforms.
It seems like the product was overly focused on usability and design while neglecting the nuts and bolts of getting the code right.
Blog, CMS & Analytics Feature Set
For some online merchants, your website begins and end with your store catalog. But for others, your catalog is only part of the full website experience you want to offer – whether it's custom pages, content types or a built-in blogging solution.
And on the same theme, most of the time a basic install of Google Analytics is fine. But for others, adding conversion pixels, tweaking the analytics code or making edits is key.
Unfortunately, Volusion really falls down on the latter issues. Not that competitors like Shopify have world-changing content management systems or built-in blog setups, but at least they have them available. Volusion has very minimal options available.
Volusion also falls flat on easy analytics implementation. You have Analytics installed on the Dashboard via Google Tag Manager (which can run Google Analytics). But I have yet to be able to get access to that account. In fact, Volusion recommend installing yet another Google Analytics account on the website. Sure…you can do that. But it's incredibly amateurish, in addition to slowing page load time and adding yet more page bloat. The whole point Google Tag Manager is to let it fire once, and allow it to lazy load all the tracking scripts in the background.
This is a big example of marketing features that simply aren't part of the platform. There are others – which depend on what specific solutions you already use – but suffice to say, it's worth looking with a trial to see if you can get the features you want in the platform.
Design Options
Playing off the mobile site con, Volusion's entire design features are also very limiting. The downside of Volusion starts with a very limited template store.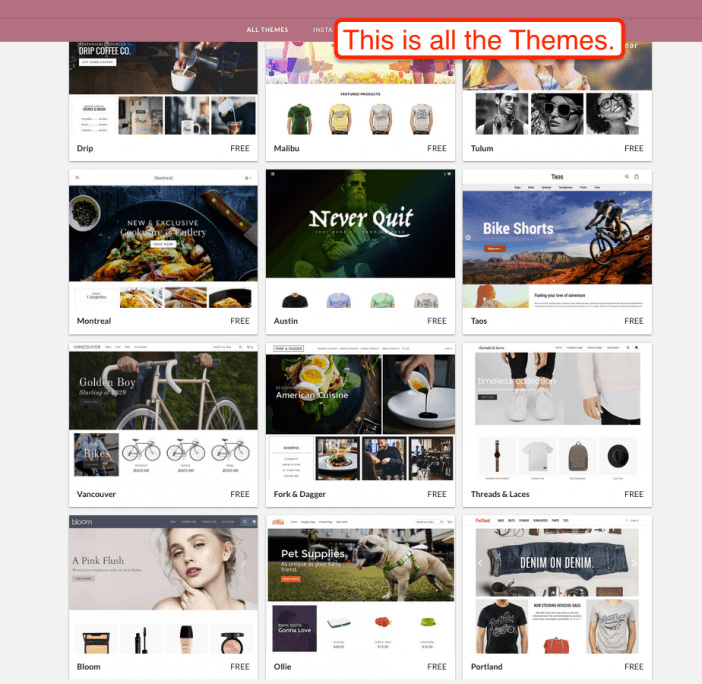 Unlike other competitors, Volusion's templates are all hard-coded and set up in a hard to browse file structure. It's fine to edit if you have strong CSS or HTML skills, but it's really not a fit for a solo DIYer (or someone trying to click and tweak HTML). Unlike competitors like Shopify – they don't have drag and drop to make up for the lack of templates.
For a self-serve platform, I'd like to see an easier design editing interface.
3rd Party Apps & Extensions
As I mentioned in my Shopify review, your store will evolve and change over time. Whatever platform you choose should not only have the feature set you need upfront, but also later on. Shopify solves that problem with a huge add-on app store.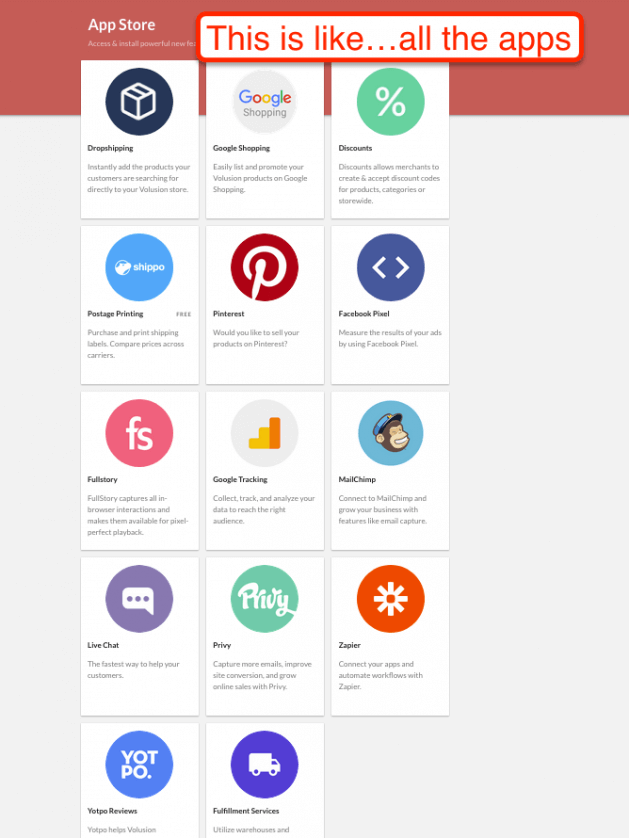 Volusion doesn't really have that expansion capability. They are certainly expanding the feature set, but there's no strong app store or giant list of amazing features (see the blog as an example). Volusion has a feature set to start your store, but nothing to add on and adapt. There's capability for developers to build on it, but again, that's not optimal for a solo DIYer or even a small store that is choosing an all-inclusive platform specifically to avoid developer fees.
Conclusion
So. Is Volusion a good option for an online store?
If you are an online store that needs a highly usable platform with inventory management and order fulfillment features and does not depend on organic or paid traffic, then Volusion might be a good fit. Get Volusion's free trial here.
If you have marketing or design features as a priority, then I'd recommend looking at Shopify (get their free trial here; see my review here).
If you are more confused than ever, I created a Buzzfeed-style eCommerce platform quiz to help you decide based on your goals, expertise & priorities.
FAQs