So you need to know how to choose a website designer.
But here's the problem.
"It depends" is both the most correct and the most unhelpful answer.
There have never been more choices in the website design industry than now. But paradoxically, all those choices make actually choosing more difficult than ever.
The secret to choosing wisely is to understand exactly what you need rather than attempting to sort & filter all the choices on offer.
Like any other large purchase… a house, car, appliance, etc – ditch the idea of a "best" – and instead, write out your exact needs, requirements, and goals. The best option for you will usually self-select itself.
In other words, choose a website designer through elimination based your goals rather than searching out the one right fit.
With that concept in mind, here's how to walk through the process of elimination to choose the right website designer for your project.
1. Define Your Technology Needs
How do you need your website to function?
Are you looking to build a "brochure site" – a place with your basic information and contact information?
Or are you looking to build something with certain functionality?
This step is critical because it decides what type of web designer or developer or agency you'll need to hire.
A pure-play web designer usually does not actually work with HTML / CSS, much less traditional web languages like Javascript, PHP, etc. Pure-play web designers usually work in Photoshop and focus on branding, color palettes, imagery, feel, and user experience.
A pure-play web designer will often work with a front-end web developer to implement a design. The front-end of a website is what the user sees & navigates. A front-end developer will know HTML / CSS and Javascript – and will be comfortable with "back-end" technologies.
Back-end technology involves databases, scripts, and APIs – and generally making sure the computers are all talking to each other correctly.
Now – you'll likely hire someone who is an expert in one, is knowledgeable in another, and is familiar with the third. If you hire an agency, then they'll have all three.
Additionally, many designers / developers / agencies will work with certain platforms that already have core functionality built-in. When they work with these platforms, it will speed up the process and lower the costs…but also means that the client (you) needs to have some familiarity with what tools they are using.
But the main thing you need to think about is how much functionality does your site need? This will determine what type of website designer you'll need, and how to discuss their process.
What To Consider
What functionality do you want now?
How do you want your website to grow?
Do you need to edit & manage your site content?
Do your visitors need to work with the site at all?
What To Avoid
Avoid using vague concepts or ideas.
Avoid accidental technology lock-in.
Example Scenarios
Think about a new fashion brand. Are you more focused on developing content or retailing clothes? Do you need to manage inventory? Do you want to build a community? How do you want to integrate your social presence?
A web designer could build a self-hosted WordPress website to handle the content and then add-in ecommerce with an ecommerce plugin, but it might be harder to manage inventory & social integration. They could also build an online store with Shopify to focus on ecommerce & social, but might hamstring your big content plans.
Think about a new non-profit website. Do you have expertise to manage & maintain the website? Do you need donation abilities or portal logins? Do you need to integrate with certain profiles?
A web designer could build a self-hosted WordPress website that could easily integrate donations and would be cheap upfront, but it would be harder to maintain long-term without someone who can train on the platform. They could also use a hosted website builder like Wix or WordPress.com that might have fewer upfront capabilities, but would be much easier to maintain in-house over the long-term.
Now – the designer that you choose should be flexible but also knowledgeable. It's better to trust someone that you trust…but also verify that they deeply understand your needs.
2. Define Your Design Needs
How do you want your website to look and feel?
Unless you've had to design something for a client, it's hard to understand how difficult it is to translate a vague idea in someone else's brain into a tangible creation.
Sure, there are bad designers out there, but usually, the more specific you are about your design needs, the better product you'll get.
Draw out something – anything – to show even the most basic direction you'd like to go.
Collect websites that you like – and note what you like about them. Here are a bunch of example round-ups that I've written.
Write out your frustrations with existing designs.
Additionally, keep in mind that it's possible to develop some design assets yourself and let a web designer translate those existing assets into a website design.
For example, I've had clients use a photographer and bring in a web designer to build a site layout around their amazing professional images. I've built sites around a 99designs logo that clients have already made.
I've also turned to Fiverr to get a color scheme, logo, or graphic design elements created that I could then implement.
Some clients even use automated design generators like Tailor Brands to create a look that a web developer can plug & play into a theme or template.
Once you have all your specifics down – you can use it to choose the right web designer.
What To Consider
The right web designer will be able to tell you how achievable certain features, looks, etc are.
Think about what process you'd like to work with. Do you want choices at every stage? How do you like to give and receive feedback? What are the most important parts of the design? When budget inevitably comes up, what are you willing to cut or prioritize?
What To Avoid
Avoid designers who can't tell you how they'll approach a design problem. Look out for designers who do not have a stated process.
A written design process is best for you and them. Feedback stages can go on forever and make everyone frustrated.
Avoid vague wishes – even with emotions, be as specific and as concrete as possible.
Example Scenarios
Think about a restaurant website. An established restaurant will likely already have quite a bit of design assets in its physical location. Between logos, fonts, colors, ambience, etc – a web designer should already have a good bit to work off. Hiring a designer will be less about getting the design right and more about the layout, navigation, and design asset conversion right.
Think about a brand-new yoga studio. A startup might need a website design that can translate offline and throughout social media. Here, the owner will need to make a choice about developing a logo & brand feel separately (via a specialist graphic designer or logo contractor or AI brand software) or letting the website designer drive the look of the business.
3. Define Your Business Needs
What role does your website serve in your business?
Some of this will go back to your design and technology needs, but it's especially pressing to consider before you define your budget & scope.
Think about how your business gets customers and how you do your marketing.
How will/does your website drive leads/sales? Is it something that your referrals & salespeople will offer as a brochure…or will your website need to drive new leads from online visitors?
Will it need to integrate with any business processes such as inventory or bookkeeping or order-taking? Do you want to move your business processes to the website via marketing/sales automation?
Are there any existing software providers that you want to integrate with your website now or in the future?
What To Consider
Think about both the near and medium term needs of your business.
Think about your domain names – and how you want to setup your email and online services.
Think about the incremental value of your website – what number of leads could it drive? What is a new lead worth?
What To Avoid
Avoid too much complexity – integrations and versatility make your website last.
Avoid thinking of your website as a cost – it's an investment.
Avoid designers who do not work with integrations or cannot build out features that you need.
Avoid designers who cannot make a business case for changing your existing business processes.
Avoid designers who cannot explain how & why their approach will work through the medium term.
Avoid quick, "duct-tape" solutions.
Example Scenarios
Think about a local property management. An accounting firm could do well with a "brochure website" that simply funnels people to the phone and in-person consults. A nice brochure website (i.e., a website that simple provides information) might do fine. But what if the firm wants to add in client tools, secure portals, content marketing, direct listings, etc? Those features would require a website that can expand and develop over time. It might be worth developing a self-hosted website with a designer on retainer.
Think about a new jewelry business. A jewelry business might do business exclusively on Etsy, and want a blog to connect with customers. It might be easy to get a custom theme on a hosted platform like WordPress.com. However, it also might be a better choice to go a different direction at the beginning to integrate Etsy or lay the foundation for a non-Etsy online store.
4. Define Your Budget & Scope
How much money and time do you have to spend right now?
And "as cheap as possible" is not an answer – if this is your thinking, you should not be looking for a custom website designer. You should look for alternative options.
Your website is an investment, not a cost. If you approach it the same way you'd approach bulk-buying office pens…then you're not going to get the result you want.
Now – I understand the desire to get the biggest return for your investment. But remember that it's usually better to maximize your return rather than minimize your investment.
What To Consider
Think about your existing cashflow situation. Write out what a single new lead is worth.
Write out existing costs of having a poor or non-existent website.
Write out features, functionality, and design choices that you'd prioritize.
Think about payoff period and amortize your budget. In other words, if you budget $10,000 – and you expect the site to last 50 months, then that is $200/mo. Does that match your expected value?
What To Avoid
Avoid thinking about your budget in a silo – always tie it to scope or value.
Avoid thinking that you can have everything. Think about keeping your options open.
Avoid thinking about having a one and done project. Think about ongoing costs to either you, your staff or your designer.
5. Define Your Sources & Alternative Options
What type of designer do you want? And how do you find them?
The bad news is that most good website designers are not super-easy to find.
The good news is that your competitors don't know that. If you put in a bit of work to find the right website designers – you'll have a much better range of choices.
What To Consider
Good website designers have plenty of work. If someone is spending a lot of money on advertising & acquisition, then they are probably a giant agency with a churn and burn process.
Good website designers want to work with good clients. I used to work with web design clients, and I would take a great client for half-pay over a bad client. In fact, at a certain point, there's not enough money in the world to take on a bad client.
Conversations and back and forths are not billable. That is not good for you or the designer. The more specific you are, the better.
What To Avoid
Googling what everyone else is googling.
Expecting more from a person or platform than is reasonable given how much effort you've put in.
Where To Look
Now – you could always do a Google Search. But I promise that you will likely be disappointed. Here are some better places to look.
For local designer / developer
Local web designers are usually horrendous at marketing their services. But many clients want a local designer that they can talk to in person.
Your approach will depend on your metro area, of course, but here's where I'd look.
Look for meetups to stalk. Web designers are always looking to upgrade skills and you can usually find some at a local workshop, class or meetup.
Do a really specific Google search – one with search operators. Like this.
Ask your favorite local businesses for referrals.
Use city specific directories – this works especially well in smaller metros.
For a WordPress designer / developer
WordPress is an incredibly versatile content management system. It's not ideal for every site, but it's like 4 door SUV / Sedan of the Internet. It'll probably do the job for you.
Now – the issue is that basically anybody can call themselves a "WordPress developer" – even if they really don't know how the software works at its core.
It's important to do #1 and #2 – because you'll need to know if you are hiring a designer / developer who works with WordPress as their software of choice vs. someone who actually develops websites with WordPress.
Here's where I'd look –
Stalk local WordPress meetups.
Stalk the attendees of WordCamps – big gatherings of designers who use WordPress.
Stalk the community support forums of WordPress.org
Do an incredibly specific Google search with something like intext:"Work with me"
Check out Fiverr's huge selection of WordPress-qualified gigs.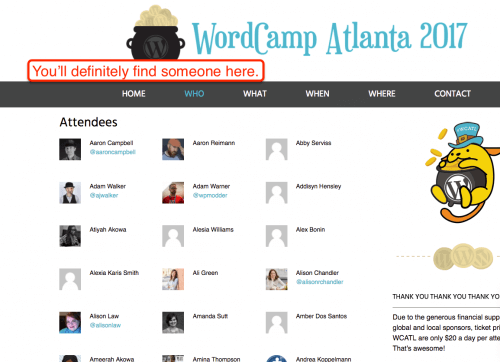 One side note about WordPress designers – since they'll likely use certain themes/theme frameworks – you'll be able to negotiate a bit more on scope and do more with DIY.
For [other platform] designer / developer
Now there are plenty of other software options out there – especially "hosted options" like Squarespace, Weebly, Shopify, Wix, etc.
The key here is to understand the technology and what exactly you are buying (ie, you are paying more for a custom design over functionality since the hosted option bundles lots of functionality in with your hosting).
Lean heavily on the services' support forums and Experts Exchange to find prospective designers. Also, Fiverr usually has a huge selection of people offering platform specific gigs.
For a general designer / developer
The great thing about web design is that you can work with a global talent pool if you want. There are challenges to working remotely but a lot of upside if you can do it well.
Again, for this search, I'd recommend relying more on internal platforms over random searches. Here's a few examples.
99designs is a good option for contest-run design only competitions. I've implemented designs that my clients have bought through them. Here's my general review.
Dribbble is the big hangout for designers doing cutting edge work.
Most developers will have a profile on Github or StackExchange or HackerNews. Look for ones who have good answers.
Fiverr is a surprisingly good platform if you are willing to try a few gigs before committing to a single designer. I've used them for several side projects.
Upwork is also good if you are willing to do a test project with several designers before choosing.
Tailor Brands is an AI-powered self-service platform that will develop a logo and entire branding setup for less than $100.
You'll also find that vendors on ThemeForest will do custom work in addition to other marketplaces like CreativeMarket.
The point here is that a bit more effort into searching for good designers will give you much better options than general googling.
Alternatives to a Custom Website Designer
Now if you're thinking "ok – I just need a simple, straightforward website, not a roundabout search" – then you'll want to look into some Alternative Options.
Skip down to some alternate ways to get a website without having to choose a website designer.
6. Ask for Proposals
Now that you have a few website designers to choose from, the next step is to send out a proposal.
The better your proposal, the better your options will be.
Think about how you would like to be approached if you were a web designer.
Would you prefer a vague email asking how much a website costs? Or would you prefer a detailed description of a the project along with a ballpark budget range?
What To Consider
Providing a ballpark budget is the fastest, simplest & most accurate way to get on the same page as a website designer. Your budget does not determine your end cost – but it does determine who you even talk to. As an analogy – it's how website designers know whether you are shopping for a used Toyota Corolla or a brand-new Ferrari.
Make your project easy to say yes to. Keep the next step & primary ask simple and straightforward (ie, "are you interested in the project?", "if interested, what additional details do you need?")
What To Avoid
Avoid sending lots of feeler emails with no intention of hiring.
Avoid sending an email with too much information or too many asks.
7. Follow up with Questions & Request for References & Portfolio
However the designer communicates upfront is how the project will progress. Communication never improves over a project – it only degrades. Look for a high benchmark to start.
What To Consider
You are using your requirements, questions, and details to get prospective web designers to rule themselves out.
Think about your priorities – sending too many questions is just as bad as too few.
What To Avoid
Avoid dictating the entire process. Remember that the designer's questions for you can tell you as much as your questions for them.
Avoid making the designer do too much back and forth. If you think a call will be necessary during the design process, do this entire step via a phone call.
8. Request Contract & Project Plan (and declines)
Tangible expectations in writing help everyone in every engagement.
At this point, you should be able to choose a website designer.
The next step is to request a contract and a project plan from the designer that you want to work with.
A written contract helps *everyone* in the project. The contract should spell out "deliverables", costs, responsibilities, intellectual property rights, and an adjudicating body.
A project plan helps *everyone* understand expectations, responsibilities, and timelines. This does not have to be complicated. It should communicate clearly though who is responsible for what and when.
Lastly, for the designers that you did not choose, be sure to send a polite decline. Even if it's as simple as "Thank you for providing this information. We have decided to work with another company. We will keep your company in mind for future project & referrals." You'll save the everyone needless follow-ups.
9. Follow up & Communicate Clearly
A good website designer cannot help a bad client.
What To Consider
The website is going to be *yours* so you need to make sure you have all the information you need to make decisions.
Make sure you have all the technical documentation in your control.
Remember that a lot of design work depends on fast, accurate feedback.
Budget for not only time but also money for incidentals (ie, photography) and technical issues.
What To Avoid
Interrupting the project plan and micromanaging.
Providing the wrong feedback at the wrong stage.
Avoid verbal conversations without follow-up written documentation. Phone call notes are essential.
Conclusion & Next Steps
Choosing a website designer does not have to be a daunting process full of frustration and unknowns.
It does require that you clearly understand what you want, when you want it, and to clearly communicate your expectations.
If you are trying to find a good website designer – follow the process and you'll be set!
Alternate Conclusion & Next Steps
Now – if you have read this post and found it useful…but…
You're thinking "I just need a website! It's 2020 – I just need a simple, affordable, quick standard website – not a complicated purchase with contracts and whatnot"
I hear you. I have friends who have been there. And there are options out there – but it's not a quality custom website designer.
Here's some options –
#0 – DIY w/ Automated Branding & Design
Many design options (including the ones below) require you to coordinate your branding, even if you are able to purchase assets like a logo or social media photos. But that leaves a lot up to you.
There is one company that focuses on completely automated branding – Tailor Brands. I've begun using them for my side projects. They AI and machine learning to create a whole range of design assets & guidelines.
They also have a bundled website builder or you can use them to complement #1 through #3. Check out Tailor Brands here. Read my review here.
Other website builders also bundle a logo designer with their software. Wix has a template driven logo designer as does Shopify.
#1 – DIY with a Website Builder
There are companies that specialize in businesses with a budget and no design or technical expertise. They provide hosting and pre-made templates all for a single monthly subscription. You might not get all the functionality that you want…but you will get a secure, fast, good looking website.
To find the right website one, take my website builder quiz or see my recommendations here.
I also have an online store builder quiz for quick recommendations.
#2 – DIY with self-hosted WordPress
WordPress is a the most popular, most supported, and most versatile "content management system" on the Internet. It's free community supported software that you install on a hosting account (ie, you rent part of a server from a hosting company). The software has a learning curve, but you'll have 100% control and 100% of your options open. You'll also be able to call in specific experts on specific problems. Or install do-it-all themes / templates.
I wrote a WordPress Website Setup Guide here.
#3 – Purchase Website Design from a Hosting Company
This option is a blend of #1 and #2 – if you want full control over your site with unlimited options for the future…but don't want the learning curve of setting up a design yourself, then you can sometimes purchase website design services from a hosting company. They are usually able to provide these services much cheaper than an independent website designer since you're also using their hosting services.
For these projects, I recommend InMotion Hosting – they have great support and are the hosting company for this website. See their design services here.
Other resources include –
For any specific questions, see my contact page.