So you're using WordPress as your website software, and you're looking for WordPress website examples for inspiration and confirmation that you're making the right choice.
WordPress powers more than 30% of the Internet. It's famous for its versatility and ease of use (yes, there is a learning curve. No, it's not insurmountable). In short, it's an incredibly popular choice for your website software.
But before we dive into WordPress website examples in the wild, let's talk about a few common misconceptions about WordPress.
WordPress is a content management system — web jargon for a place where you can log in to your website to create, edit, and manage your content.
It's also "open-source", which means a community maintains it. The software and open-source community live and function at WordPress.org. It's where anyone can grab a free copy of the software. It's also known as self-hosted WordPress because you have to provide the server for the software to live on.
WordPress.org is like buying a house. You can make all the customizations you want, but you're also in charge of the plumbing and electricity.
Learn how to set up a self-hosted WordPress site from scratch here.
And then there's WordPress.com. This is a for-profit company and service that offers websites powered by their installation of WordPress (the software). They bundle hosting, support, services, and software into a single subscription. WordPress.com is like renting an apartment. You can pay for upgrades, but really everything is up to your landlord… including maintenance.
View WordPress.com's Plans & Features here.
So what does this have to do with WordPress website examples?
Think of looking for a website builder like looking for a car. You have a make / model in mind, and you're probably looking to see them drive by on the road to see how they actually look. However, you also care about how they operate. Does it accelerate well? Does it have the hauling capabilities you need? How is the gas mileage?
Looking at a website platform should be done in the same way. A website's design is simply some HTML and CSS. It can be created anywhere. However, the functionality are more dependent on things like hosting, integrations, features, plugins, etc.
We collected the following WordPress examples not just to show you how they look, but how WordPress websites can function so you can be sure you have a website that fits both the style you want and the functionality you need.
General Website Examples
Let's start with a general round-up of solid WordPress website examples. We've pulled these examples based on functionality, design, and usability. Remember, WordPress is known for its flexibility. It's incredibly customizable, which means you can accomplish almost anything with the website.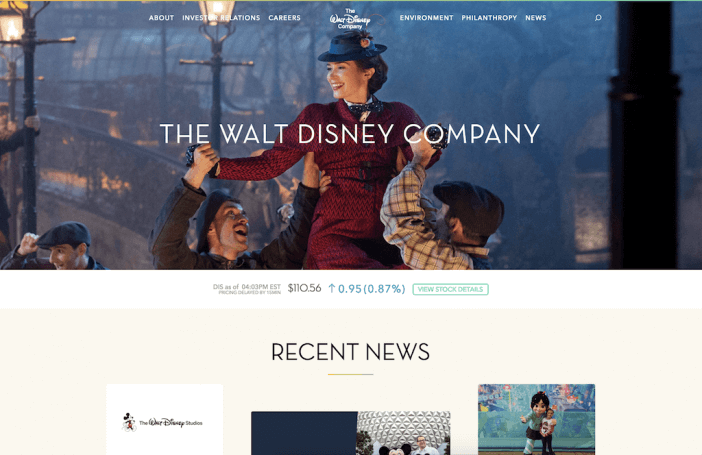 Want to know just how prolific WordPress is? Even The Walt Disney Company has gotten on board. This website is a great example of a solid, clean layout for businesses. The navigation is clear, the Recent News grid gives visitors a taste of what's going on with the company, and the stock information is a solid addition to inform consumers on the company's financial health (keep in mind that you don't have to be a publicly-traded company to do something like this. What other information could you display here to help visitors learn more about you?).
Now – obviously the rest of us might not have the budget of Disney. You are currently reading a webpage that lives on WordPress.
With that in mind, here are a few more examples.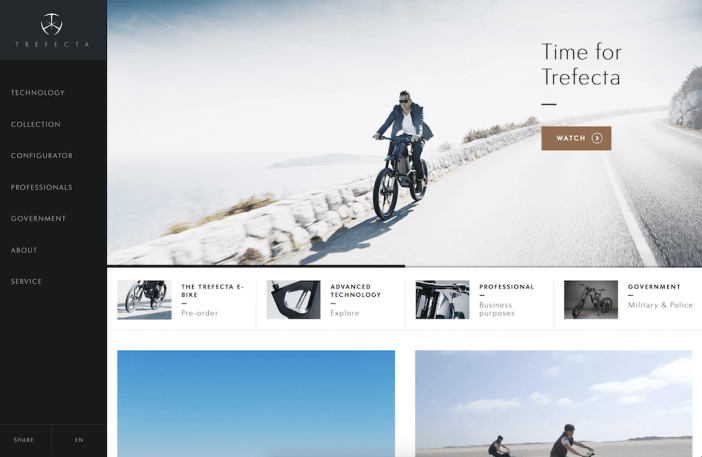 Not all websites need to be design masterpieces — but if you're going for a more visual feel, Trefecta's website is a great place to start for inspiration. The header image is a carousel (which means it's changes automatically) and features a separate call-to-action for each image, giving visitors the opportunity to dive deeper on each slide. We also liked the breakdown underneath the header, which serves as another navigation point for visitors in addition to the main menu on the left side of the page.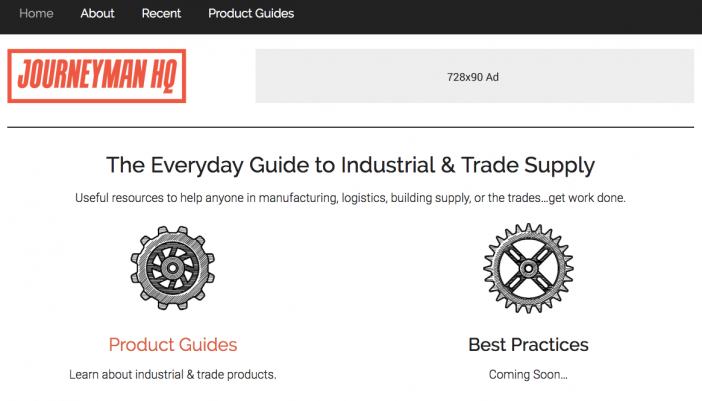 In fact, for a more approachable design, here's a WordPress magazine website with an out-of-the-box theme (from StudioPress), an out-of-the-box logo (from Tailor Brands), and $5 worth of royalty-free images… in other words, zero web design and less than $100 in design expenses.
Get WordPress hosting (w/ bundled themes & drag & drop).
View WordPress.com's Theme Options.
Wedding Website Example
Wedding websites are a great way to give guests information about the big day, show off your personality, and post updates / pictures / anything else you may want to share with those who are involved with your wedding. Given this website has a shorter lifespan than say, a business website, you'll want something that's easy to customize, edit, and manage. Here's a great example of what you can do with a WordPress wedding website: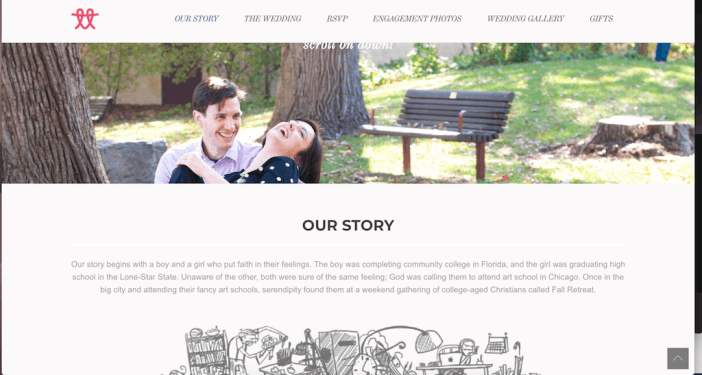 Tyler and Tayler's wedding website is a great example of how a simple theme can be transformed into a fun, personalized website without having to custom-build something complex. Their story includes fun illustrations, and further down the page, they've embedded their engagement photos for everyone to enjoy. These are all elements that make their website unique to them without having to spend time or money on something completely custom-built.
Get WordPress hosting (w/ bundled themes & drag & drop).
View WordPress.com's Theme Options.
Photography Website Example
Photography websites are all about the portfolio of work. When looking for a WordPress website example to serve as inspiration for your photography, pay special attention to the layout options for your work. You want to be sure you're showing off your photos in a creative way without sacrificing the user experience (AKA fast photo load speed, easy navigation, high-quality images, etc). Here are a few examples of WordPress photography websites we liked: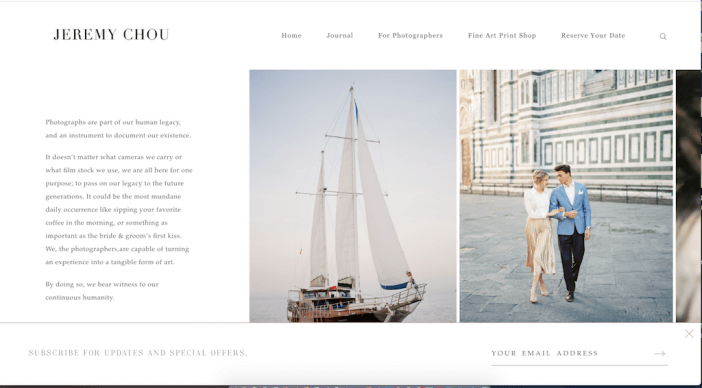 What stood out about Jeremy Chou's website was the balance of photography and copy. Yes, a photography website is about showcasing your work… but that doesn't mean you can't use good copy to help tell visitors what you and your work are all about. If you're looking for a photography website that balances text and imagery, this is a great one to use for inspiration.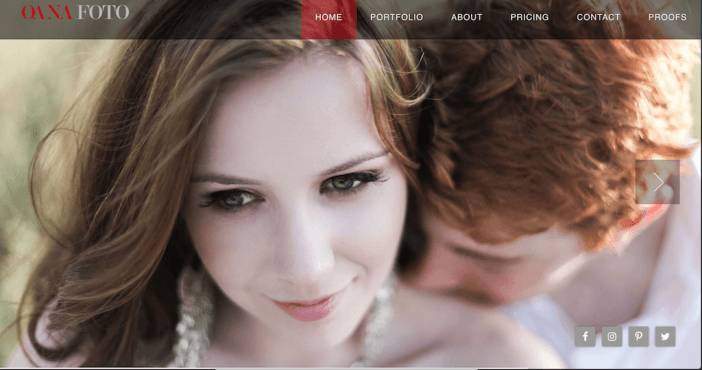 On the opposite of the spectrum is this website example, which puts the focus solely on the photography. The entire homepage is a carousel of photos, as is the portfolio section, which features a nice interactive scroll feature. OANA FOTO's website just goes to show that there isn't a right way to have a WordPress photography website — it all depends on your needs and how you want to communicate with your visitors.
Get WordPress hosting (w/ bundled themes & drag & drop).
View WordPress.com's Theme Options.
eCommerce Website Example
eCommerce websites are all about their products. A good eCommerce website should have high-quality product images, be easy to navigate, and keep the focus on what you have to offer your shoppers! You'll also want to include strong product descriptions and an easy check-out process. Here are a few of our favorite WordPress eCommerce website examples: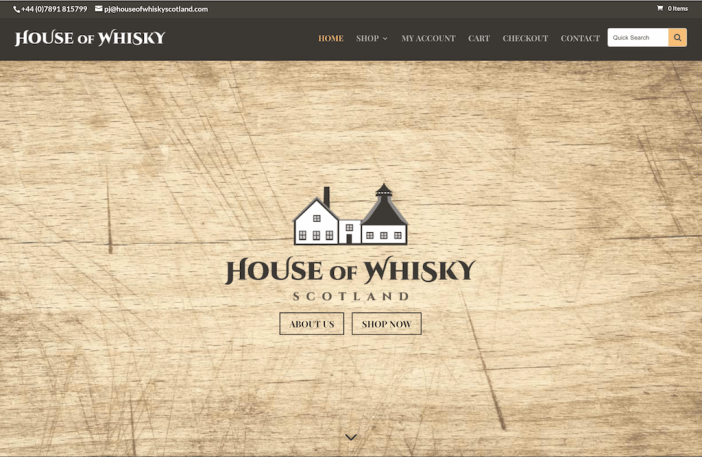 A great eCommerce website comes down to a few main things: high quality product photos, easy navigation, and easy check-out. This website from House of Whisky checks all of those boxes. What stood out to us especially was how straightforward the homepage is. As soon as you get to the homepage, you have two main options: learn more about House of Whisky, or start shopping. The navigation is so straightforward, it makes it a no-brainer for visitors!
The product page is also a great source of inspiration: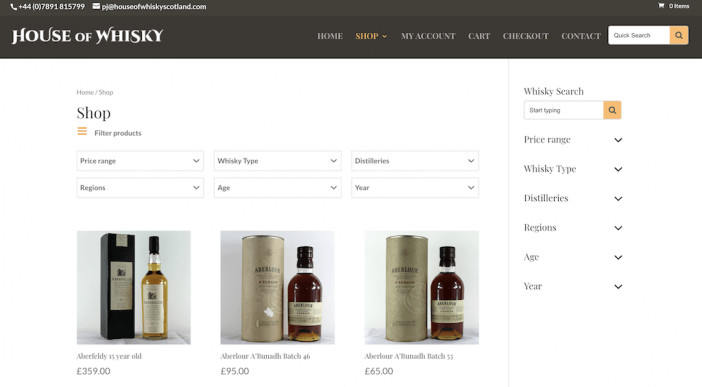 The different filters provide a highly-customized shopping experience, and the high-quality product photos tie it all together, making this a great example of an effective product collection page.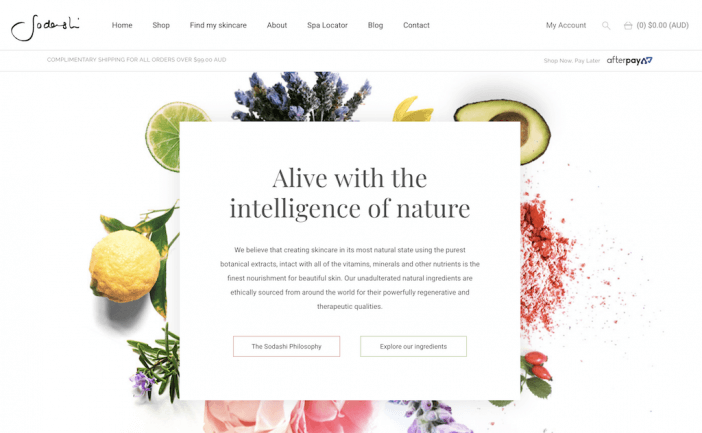 Sodashi is a great example of creating something unique. The skincare company is using a custom-built design on WordPress, which means they've created a design that fits their exact specifications. We particularly liked the clean look, easy navigation, and use of copy to explain what Sodashi is all about.
But here's the great thing about WordPress:
Not only can you use a WordPress theme to get the exact look a website has, but you can also create something completely unique if you want. It all depends on your needs, your budget, and what your goals for the website are.
Get WordPress hosting (w/ bundled themes & drag & drop).
View WordPress.com's Theme Options.
Artist Website Example
Need to showcase your art? An artist website is a great way to create a digital portfolio of your work. These websites should be easy to navigate, keep the focus on your artwork, and allow prospective clients / commissioners to contact you easily. Here's an example of a great artist WordPress website: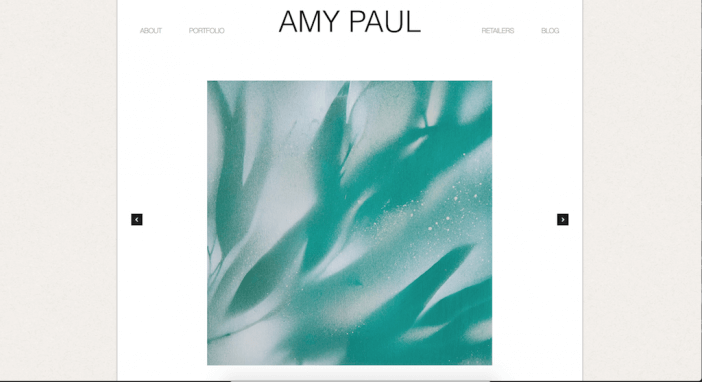 Sometimes, less is more… and that's exactly what makes Amy's website so effective. The clean layout draws your eye right to her artwork, which is featured front and center. We particularly liked how Amy only shows one piece of art at a time on the homepage. This is a great example of a WordPress portfolio website that is a good fit for a DIY-er who just needs a place to showcase their work in an easily digestible format.
Get WordPress hosting (w/ bundled themes & drag & drop).
View WordPress.com's Theme Options.
Music Website Example
Similar to artist websites, music websites are all about the music. That means if you're creating a music website, you'll need a player so visitors can listen to your work on your site. You'll also want to give people the opportunity to connect with you by listing social media channels, tour dates, and places they can buy your albums! Here's a strong example of a music website created with WordPress: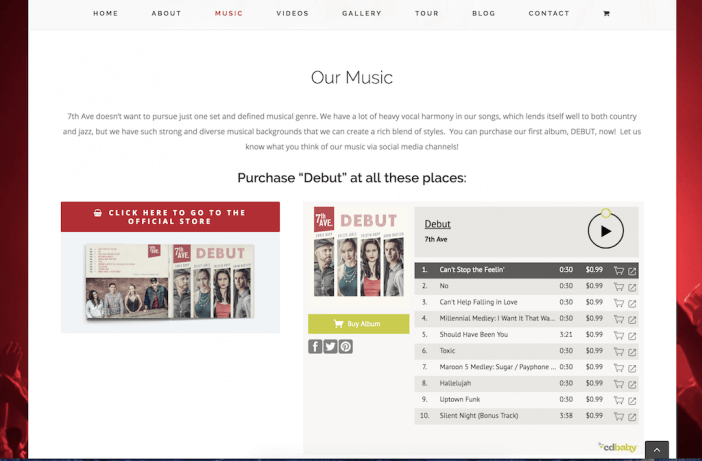 What stands out about 7th Ave Band's website is the music page. The copy before the music player is a great way to give an introduction to the band and what they're all about. We also liked how the music player includes social sharing options, so fans can share the album on social media while listening to it on the website. Last but not least, the site includes multiple place for fans to buy the album, from the official store to the button on the music player. If you're looking for a straightforward site to showcase your music, this is a great inspiration.
Get WordPress hosting (w/ bundled themes & drag & drop).
View WordPress.com's Theme Options.
Business Website Example
A strong business website showcases your services, gives customers the opportunity to contact you, and builds social proof. Visitors should be able to know exactly who you are and what you do when they land on their site, and they should be able to easily navigate to what they're looking for from your homepage. Here are a few examples of strong WordPress business website examples: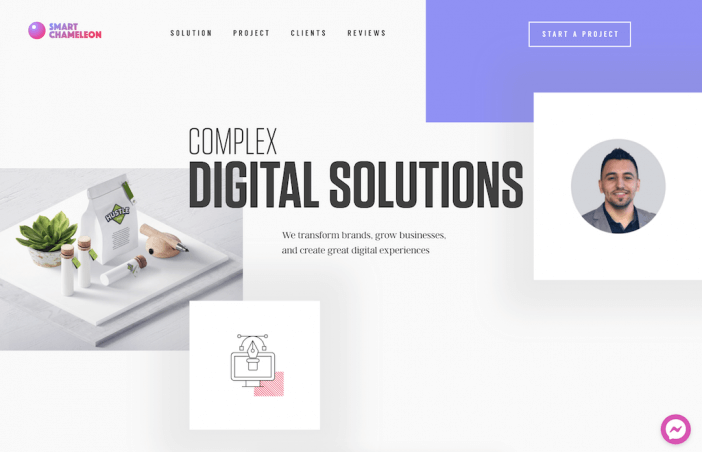 Smart Chameleon is a great example of a website that includes interactivity and is built around the brand. As a business that creates digital experiences, you'd expect their own website to be a great digital experience! From the interactive font, to the chat box in the bottom right corner, to the flip cards that showcase their projects, this site is great inspiration for those who want to implement more interactivity and creativity in their site (without having to build something completely custom — this website is built with a theme called Astra, FYI!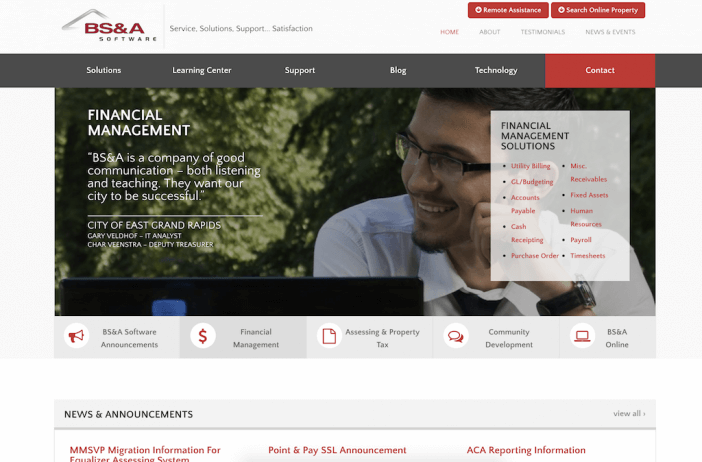 This WordPress business website is a great example of how to organize your content when you have a lot to offer your audience. BS&A Software has video tutorials, help documents, support, services, etc. Keeping all of that information organized in an intuitive way is no small feat, and this layout does a great job of it. If you have a significant amount of content for your site and are looking at how other businesses organize theirs, start here for inspiration.
Get WordPress hosting (w/ bundled themes & drag & drop).
View WordPress.com's Theme Options.
Personal Website Examples
Personal websites are exactly what they sound like… personal! Whether it's a resume or portfolio website you use to get booked or a blog you use to create content, this type of site is all about getting your personal brand online and owning your space on the Internet. A personal website should be easy to edit, manage, and customize. Here's an example of a WordPress personal website to use for inspiration: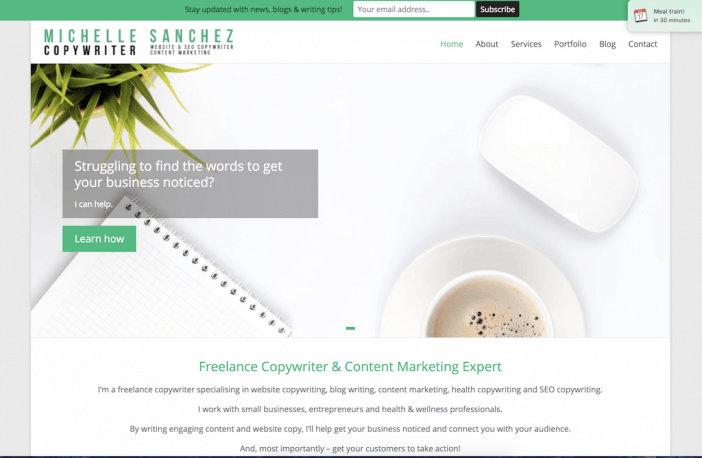 It's easy to get caught up in showcasing your personality and creativity on your personal website. And while adding in some flair is fine, you don't want to sacrifice clarity in the name of creativity. Michelle's website is a great example of a personal WordPress website that prioritizes getting the crucial information to visitors in a straightforward way. The headline is strong, the call to action is clear, and the navigation tells visitors exactly where to go for what.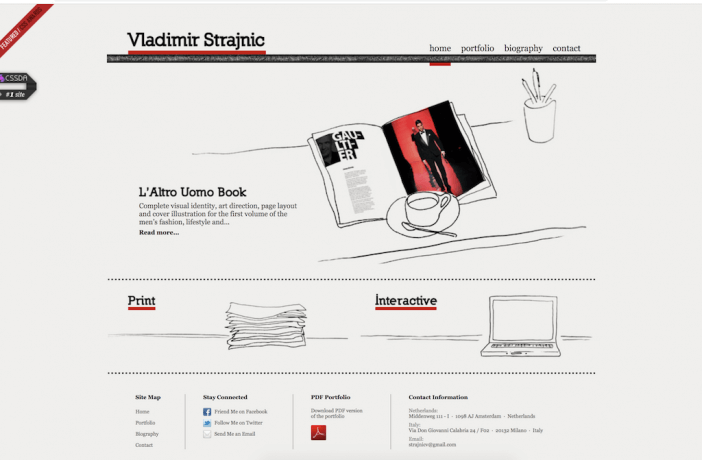 We pulled Vladimir Strajnic's website as an example of the versatility of WordPress. You can truly create anything you want — from a templated, easy to fill in website to a completely custom made, interactive website like this one. The key is to remember what your overall goals are. For Vladimir, a designer, he'd want to showcase his skills on his personal website. On the other hand, if you're just looking for someplace to start blogging and sharing your thoughts with the world, you probably don't need to create something custom. Define your needs first, then dive in.
Get WordPress hosting (w/ bundled themes & drag & drop).
View WordPress.com's Theme Options.
Next Steps
At the end of the day, choosing your website platform goes far beyond design. Why? Because all web pages are made of HTML & CSS with a few scripts thrown in. This means that any website template can exist on any good web platform.
What YOU want to focus on is the design elements and functionality that are available on the platform you're choosing.
Setup a self-hosted WordPress website step by step here.
Get a bundled WordPress.com subscription w/ free themes here.
If you feel like WordPress fits the design and functionality needs you have for your website, you can explore WordPress templates from ThemeForest, StudioPress, Elegant Themes or JetPack – all providers that I use for my sites & clients.
Related Articles