| | |
| --- | --- |
| Support | Help Desk, Email, Video Tutorials & Knowledge Base |
| Best For | New Businesses |
| Strengths | Versatile Designs |
| Weaknesses | Unclear Subscription Process |
| Promotion | Save 50% Promo BF2022AFF |
Tailor Brands is a suite of branding & design tools powered by machine learning for non-technical users founded in 2014. But is Tailor Brands worth using with so many design platforms, such as Fiverr, Canva, and 99designs, at your disposal?
In this Tailor Brands review, I'll explain how the software works, the upsides, downsides, and best uses for the product based on my experience as a digital marketing consultant.
What Is Tailor Brands?
Tailor Brands is design software that allows individuals and businesses to create an entire "brand identity" with logos, typography, color patterns, and other elements across the web & print.
In the past, I've used Stencil for Featured Images and Canva for social images. I've used native branding tools with Buffer & social networks to customize my logos & images.
I hired a guy from Fiverr to help edit my website CSS to match my logo colors and a professional graphic designer on UpWork to create a custom blog image for me. I've even run contests for clients on 99designs.
Tailor Brands is built to handle it all, to make your project "look good" across all of your platforms, from your Facebook page to your business cards to your website.
They use software & artificial intelligence to create your business' look and feel and implement it everywhere that you want.
How Tailor Brands Works
Tailor Brands works by moving you through its logo maker, which doubles as a brand identity developer. You are given options…and you can run the software as many times as you want.
Once you've approved your design, you're taken to a studio with mockups & style guidelines. You then have a choice of 3 pricing plans*.
Tailor Brands Pricing
When you sign up with Tailor Brands, you'll have the choice of three service plans, with options for monthly, yearly, or bi-annual payments. You get far more value by paying yearly or bi-annually. Here's a closer look at what you get with each plan.
Basic
Pricing: $9.99 Monthly / $47.88 Yearly / $60 Bi-annual
The Basic Plan is designed for customers who are looking to get started with their brand. You can generate logo files for multiple platforms, watermark images, create social media posts and covers, etc.
Plan Features
High-Quality Logo Files
Full Ownership of your logo
Social Media Logo Sizes
Logo Resize Tool
Digital Card
Graphic Design Tool
Unlock Design Templates
Upload your own images to the Graphic Design Tool
Access to Stock Photos and Icons
Mini Website Builder (no coding required)
Connect Your Domain
Standard
Pricing: $19.99 Monthly / $71.88 Yearly / $119.76 Bi-annual
When you signup for the Standard Plan, you get all of the features of the Basic Plan, along with a more powerful website builder and a Vector EPS file which allows you to add your designs to physical products, among other features.
Plan Features:
Everything in Basic, PLUS:
Vector EPS Files of your Logo
Business Card Tool
Branded Business Deck
Seasonal Logo Generator
Full Website Builder
Create an Online Blog
Multi-Language Website
Personalized Visitor Experiences
Premium
Pricing: $49.99 Monthly / $155.88 Yearly / $239.76 Bi-annual
The Premium plan is Tailor Brands all-inclusive branding solution. In addition to generating all of the files you'll need for your business, you also get access to your own e-commerce store. In fact, the added features allow you to not only sell products on your store but also accept payments online, sell products on Facebook & Instagram, and chat with your website visitors.
Key Features:
Everything in Basic and Standard, PLUS:
Create an online store
Accept online payments
Sell your products on Facebook & Instagram
Chat with your website visitors
Tailor Brands Logo Maker
Tailor Brands' main tool is its logo maker. Rather than using templates or quiz questions like a traditional automated logo creator, they ask you whether you like or dislike styles. The approach is similar to NetFlix's recommendation algorithm but with design styles. Here's how it looks on the Tailor Brands website.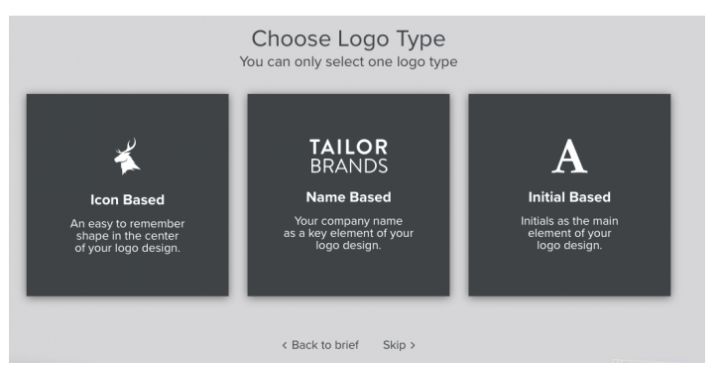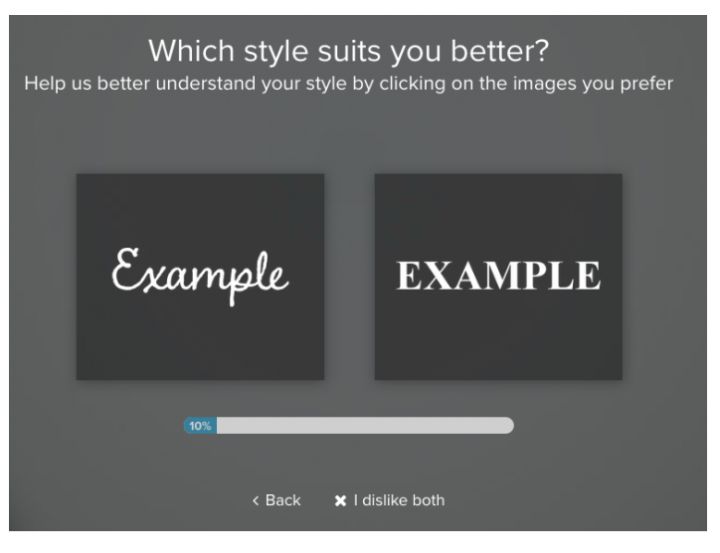 Once you approve a certain design style, their software creates an entire brand identity and uses rules to apply it to applications ranging from a simple logo to a Facebook ad to a social media post to a Twitter profile to website headers to branded merchandise to even a seasonal logo version.
Pros of Tailor Brands
For a relatively new company, Tailor Brands' product delivery is well-executed. There are few bugs or real complaints that I found with the actual core product.
Their unique positioning as a tool suite has both advantages and disadvantages. Here are some of the pros and cons of using Tailor Brands tool not only for new logo creation but also as a design management tool suite.
Focus on Branding over Assets
One issue I have with the DIY design tool world is the focus on design assets. Creating a Facebook post on Canva or bulk-generating Google Ads with Display Ad Planner is easy, and those tools are easy and usually free. But they are inherently separate. *You* have to manage your images across the different tools you're using.
A huge pro for Tailor Brands is that they have an entire tool suite that focuses on unifying your entire brand everywhere. They focus on maintaining your brand identity rather than offering the best kerning tool, the largest font library, or the most intuitive CSS editor.
Their actual design tools may or may not be "the best" compared to the competition. But Tailor Brands can keep everything looking good everywhere, which is their main pitch to customers who would benefit from their product.
In my experience, especially with small and local businesses, a consistent brand identity, paired with a good product or service, is what enables them to compete with established big-name brands.
Pricing Structure & Cross-Sells
Tailor Brands runs on a subscription business model. But the subscriptions focus on the design tools rather than the design assets.
This approach creates a few useful incentives.
There's no question of ownership of design assets. You own your brand, period.
Tailor Brands has to keep developing better design tools to keep customers around. There's no incentive to extort customers over their design assets or to drag their feet over product development.
It encourages ongoing use from customers rather than a one-and-done download. The real productivity boost for businesses is having a go-to design tool with everything in one place where you (or a new team member) can quickly create new designs & assets on an ongoing basis. And usually, the more you use a tool, the better you get.
Turnaround Speed & Feature Versatility
Since Tailor Brands is fully automated, there are no time or speed constraints, revisions, requests, or redos to deal with.
If you want to try graphic design at 2 AM, you can. If you're going to completely redo your design, you can. They have a built-in customization option. If you need a mockup right now, you can get it. There's no delay in turnaround or schedule to meet.
There's no back and forth or waiting for your designer or virtual assistant. The software works 24/7/365. That's a huge advantage for Tailor Brands. It works on your timeline.
Backend Quality & Usability
Even though Tailor Brands focuses on branding, its tools are high-quality and rock-solid.
They've built some in-house and customized several high-quality 3rd party tools. For example, their website builder is built on top of the Duda website builder, which is one of the best website builders I've used.
The same goes for their social media tools. It looks like they've white-labeled a 3rd party tool. But whatever they've done, it's legit and high-quality. Same with the design editor and others.
When these tools are bundled within Tailor Brands' design suite, it makes each tool more useful than it would be on its own, and that's a good thing.
Cons of Tailor Brands
Every product has disadvantages, and Tailor Brands is no exception. Here are some tradeoffs and complaints I have about Tailor Brands.
Branding Process & Revisions
Tailor Brands' fully automated, AI-powered design process deliberately leaves humans out of the process. It may reduce costs and increase efficiency but removes the human element, a tradeoff that not everyone will be happy with.
Say what you want about AI, but humans are still critical to producing truly unique and outstanding brands. Brands are built on stories, and stories are what make us human.
Humans can also ask pertinent questions, push back on scope, implement creative deadlines, and invent completely new concepts.
Tailor Brands' software can create a brand design and a brand style guide, but it cannot assign meaning or purpose of symbolism or even provide a reason why a certain design works over another – it only knows what "works" based on other user data.
With that in mind, you're not going to get that from competing tools like Canva or Stencil either. And hiring a human brand consultant is going to cost time & money. Still, it is a limitation if your goal is to build not just a logo, but an entire brand.
Platform Product Lock-in
The Tailor Brands platform prioritizes convenience, but that comes with a tradeoff.
The more convenient a product is, the less control you have. And the more control you have, the less convenient the product is. Think about RSS vs. Twitter. Think about hosted website builders vs. self-hosted CMS'. Think about an Amazon Seller listing vs. your own eCommerce store.
Tailor Brands makes everything downloadable. And they ensure that you truly own all your intellectual property.
However, like a hosted website builder, your work is inherently tied to their platform in many ways. The longer you commit to their platform, the harder it becomes to leave.
That's not a good or bad thing; it's just an important tradeoff to understand. If you use the Tailor Brands' platform over your own copy of Adobe Illustrator, email, or Paint, ensure that you are downloading and backing up *all* of your brand assets on your own computer to preserve your intellectual property.
This will matter even more when you decide to cancel.
Tailor Brands' cancellation policy requires you to contact them, listen to their discount pitch, and then cancel. It's up to you to remember to ask to cancel. I'm not a huge fan of this setup, but it's how they've chosen to structure the service.
Company Structure, Age & Competition
Tailor Brands has been around since 2014. They are still considered an "early-stage venture-funded" startup. In other words, they are privately held and use investor money to focus on the product rather than profit or market share.
Like the platform lock-in tradeoff, this disadvantage is more of a consideration. They are still at a stage where pricing & product can change rapidly. They also probably have a small team with limited resources. They also have competition from publicly held competitors like Wix, Fiverr, Squarespace, Vistaprint, Shopify, and others.
The upside to being a customer at a young venture-funded company is that you can count on more resources going into a better product. The downside is that there's still a risk that they could get bought, and the product could change in the future.
Tailor Brand Use Cases
Tailor Brands is not for everyone. But for some, it will be the perfect fit. Here are three use cases where I think Tailor Brands shines.
A New Business With No Brand Assets
If you have a new business or organization with no brand assets and no large budget for a human-led design process, Tailor Brands would be a perfect fit.
You still need to decide in advance what features & tools you'll need from them. If you need a more robust website presence and/or email with many features, you might want to look at a dedicated website builder, eCommerce platform, or even shared hosting. You could use Tailor Brands strictly for design tools and social media. Either way, a new small business is their bread & butter. You can try out their logo maker for free here.
Personal Project With No Brand Assets
If you have a small personal project that you want to look just right – think resume site, hobby site, non-profit idea, family project, etc. – Tailor Brands would be a solid fit.
Existing Business In Need Of A Redesign
If you are an existing business or organization wanting to refresh your look without committing to a design firm or outsourcing to several providers, Tailor Brands makes sense. You can use whatever tools you need. You can also download the EPS file to get any signage or custom assets made offline.
Now, Tailor Brands is not for everyone. If you feel comfortable coordinating designs and brand assets across different platforms or have the budget to pay a human for graphic design, something else might be a better fit.
Tailor Brands Alternatives
Many online design platforms offer a similar service to Tailor Brands. Before you commit to subscribing, I recommend checking out the various alternatives. I've provided a few comparisons below.

Rating

8.0/10

Price

$5 - $3,945

Promotion

Stencil Review
Rating

8.0/10

Price

Free - $20 per month

Promotion


99designs Review
Rating

9.0/10

Price

$199 - $1,299

Promotion

None
Tailor Brands vs. 99designs
99designs is a contest-led marketplace for graphic design. Based on your design briefing, you set a budget and run a "contest" among human designers.
In short, 99designs is sort of the halfway human point between Tailor Brands and an agency. 99designs is much more expensive than Tailor Brands, but you do get human ideas based on a design brief.
99designs also has a huge range of design contest options but not the design management tools of Tailor Brands. Technically, you could (and should) check out both.
For more information, check out my 99designs review.
Tailor Brands vs. Fiverr
Fiverr is a huge marketplace for freelancers. If you need help with a specific task, you can find a person to hire and get it done within Fiverr's platform. Like 99designs, Fiverr is a midpoint between Tailor Brands and an agency.
The price range depends on skills and reputation. While you can obtain great design assets from Fiverr, you may have to pay for several designs before coming away with one you're happy with.
Tailor Brands is a simpler and more affordable way to manage a brand, even if Fiverr is better for getting a great logo.
Tailor Brands vs. Wix Logo Maker
Wix is a big name in the website builder world. Technically, Wix competes directly with Tailor Brands, even if they have a different focus. Tailor Brands focuses on your brand, while Wix handles your website applications.
In other words, Tailor Brands is a design tool with a website builder, and Wix is a website builder with a design tool. Check out Tailor Brands and check out Wix's logo maker.
Learn more about Wix in my full review.
Tailor Brands vs. Shopify
Shopify is a big name in the eCommerce platform world. They are the go-to choice for running an online store. Recently, Shopify acquired and integrated a logo maker for their platform. It's based on a blend of AI and templates – very similar to Wix.
And like Wix, it's a great tool if you plan on using Shopify. But it doesn't have the design management tools like Tailor Brands. Check out Shopify's logo tool.
Tailor Brands vs. DIY Tools
Between Canva, Stencil, and every other random logo generator on the Internet, Tailor Brands has plenty of competition for DIYers. If you have the time and the motivation, you can get everything that Tailor Brands offers for free.
But your designs would be dispersed among a bunch of tools, and you would be relying on your own design tastes rather than on a professionally built tool.
Ultimately, I think Tailor Brands is worth the money for its convenience and designs. But for a quick sketch of something you have in your head, Stencil is the simplest for design, and Namecheap for just a logo.
Final Thoughts
By bundling design management tools, including a social media editor and quality website builder with an automated logo & brand designer, Tailor Brands has figured out something new & different.
If you are a non-designer trying to build a consistent brand identity across the web & offline, Tailor Brands is worth a try.
If you are looking strictly for a logo design, be sure to check out Fiverr. If you want a basic DIY logo maker tool, check out Namecheap or Canva.
You might also be interested in my review of 99designs, my post on layouts, color palettes, and how to hire a web designer.