Important Note: On June 15, 2023, it was announced that Squarespace is acquiring the assets of Google Domains, including approximately 10 million domains. The transaction is anticipated to close by the third quarter of 2023. The transaction will add millions of new customers to Squarespace's existing domain registration business.

| | |
| --- | --- |
| Support | Help Desk, Email, Chat & Knowledge Base |
| Free DNS | |
| Free Domain Privacy | |
| Best For | Just Want A Domain Name |
| Strengths | Excellent Usability & Integration |
| Weaknesses | Better Pricing Elsewhere |
| Promotion | None |
What Is Google Domains?
Google Domains is a domain name registrar owned and operated by Google. Google rolled out the service starting in 2014. As of March 2022, Google Domains is no longer in beta. To celebrate, Google is offering 20% off any domain until April 15, 2022.
As an SEO consultant, I pretty much had to register a domain with Google Domains the day they started back in 2014. I've been a customer of theirs ever since.
Here's my experience so far (going on over 7 years) and my full Google Domains review with pros & cons.
Before we look at the pros & cons of Google Domains, there are two items to mention.
Google Domains is strictly a domain registration service.
They allow you to claim, register, transfer & manage domain names plus allow your domain to resolve via their DNS servers.
Google does not offer complementary services such as web hosting in the traditional sense.
Google does have a simple website builder with Google Sites, but for most is too limited. They also have email and business services through Google Workspace (read my explainer on plans & pricing). Google Workspace does require a custom domain name to get started.
I'll explore this point more later below, but it's important to understand Google's purpose with Google Domains.
They want "getting online" simpler & less daunting for very small and/or less tech-savvy businesses – that means getting these businesses a domain name.
And even further, it means making the process of getting a domain as simple & transparent as possible.
It's not email – or any other service you can access on the Internet. A domain name is analogous to your home address in the offline world – it helps people locate your property.
A domain name tells an Internet service where to get whatever it wants (website files, emails, images, video, data, etc.).
If you are looking to set up a website, you'll still need to get something to host your website in addition to purchasing from Google Domains. I have reviews of possible options to host your domain name. The options are:
All that said – let's look at the pros & cons of using Google Domains as your domain registrar.
Google Domains Pricing
| Domain Ext. | Registration | Renewal | Transfer |
| --- | --- | --- | --- |
| .com | $12.00/yr. | $12.00/yr. | $12.00/yr. |
| .net | $12.00/yr. | $12.00/yr. | $12.00/yr. |
| .org | $12.00/yr. | $12.00/yr. | $12.00/yr. |
| .biz | $15.00/yr. | $15.00/yr. | $20.00/yr. |
| .co | $30.00/yr. | $30.00/yr. | $30.00/yr. |
Google Domains Alternatives
With the transition of Google Domains to Squarespace, I think it's important to highlight some Google Domains alternatives. While to this point, it's business as usual for Google Domains customers, we don't yet know what plans Squarespace will have for their newly acquired domain registration service once the transition has been completed.
Google certainly isn't the only option available to register your domain name. One option is to bundle your hosting with your domain name.
While my preference is to separate my domains from my hosting, many popular web hosts offer this service, including BlueHost, HostGator, InMotion Hosting, and SiteGround. One advantage to this approach is that you can often get your domain for free.
Get Your Domain For Free
If you are looking to create a website, Google doesn't offer any web hosting.
You can get a free domain name (one-year term) when you get web hosting with the providers listed below. Here's a list of companies I recommend using:
It certainly will save you money compared to buying your domain name and hosting separately. To keep the domain name, you are usually required to stay with the web host for a specific period or pay a cancellation fee. Ultimately this is a better deal than buying separately.
If you want to buy a domain name or buy in bulk, here are some of the top domain registrar services available today.
NameCheap
NameCheap is a large independent domain registrar that's been around since 2000. With over 10 million domains under management, NameCheap offers excellent pricing on domains and is a trustworthy company with an excellent industry reputation. And their onboarding process, which includes 24/7 customer service, is seamless.
In recent years, NameCheap has expanded its product offering to include web hosting, email hosting and management, and even logo design services. While there are better web hosting options, if you have your domain with NameCheap and a website hosted elsewhere, NameCheap will migrate your site to their platform free of charge.
I recommend using NameCheap exclusively as a domain registrar and host for most situations.
Learn more in my full NameCheap review.
GoDaddy
GoDaddy is a highly popular web hosting service, but they are best known as a domain registrar. GoDaddy offers incredible short-term pricing and a large selection of domains, making them an ideal place to purchase domains in bulk.
GoDaddy is also a great place to resell domains and offer a free Domain Value & Appraisal service. According to GoDaddy, they use an algorithm that "combines machine learning with real market sales data" to give you an accurate value estimate for your domain. They even provide you with values of similar domains to yours.
Learn more in my full GoDaddy review, or sign up with GoDaddy today.
Bluehost
Bluehost is perhaps best known for its affordable web hosting and WordPress hosting plans, but it's also a popular domain registrar, with more than 2 million domains under management.
Bluehost offers competitive pricing on domains, although you will find lower prices elsewhere. They also provide a wide range of domain extensions and solid customer support. You can pay extra to get domain privacy as an add-on.
If you're looking for cheap web hosting and you want to have your domain and website with the same provider for simplicity, then I'd recommend Bluehost as an affordable and mainly reliable option. But know that there are higher-performance options available for domain and website hosting.
Learn more in my Bluehost review, or head to Bluehost to sign up today.


Namecheap Review
Rating

9.0/10

Free DNS

Yes

Free Domain Privacy

Yes

Promotion

Dynadot Review
Rating

8.5/10

Free DNS

Yes

Free Domain Privacy

Yes

Promotion

GoDaddy Review
Rating

7.5/10

Free DNS

Yes

Free Domain Privacy

No

Promotion
Pros of Google Domains
Only Domain Registration
Google Domains promises to be simple and transparent. And you'll notice it right off with their homepage and backend design.
It's so minimalist that it's nearly blank.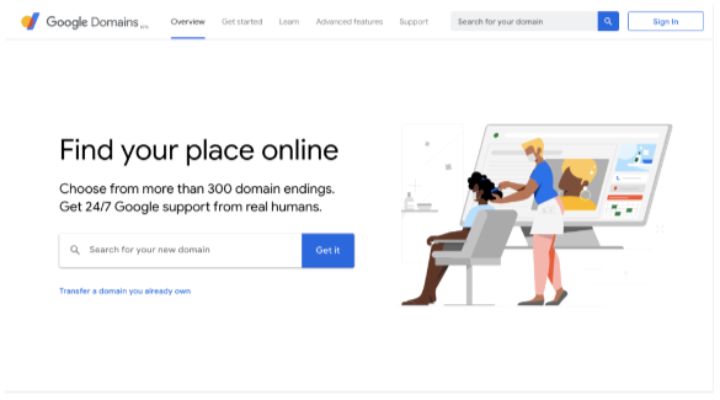 It has Google's trademark design ethos (aka – the nearly blank Google Search page). Google Domains focuses on doing one thing and one thing only – domains.
Everything that you might need to do with your domain management is front and center. You can do a domain transfer, edit your DNS settings / DNS records, set up domain forwarding, edit an existing domain, or buy a new domain, all on the main screen. It's simple to manage multiple domain options at once.
The design has no upsells, no cross-sells, and no visual clutter. It's honestly refreshing in contrast to the typical direct response offers from most domain & hosting companies.
Once you leave the site, you won't even see retargeting ads. On Facebook, you'll see just classy reminder ads. No offers – just a promise of simplicity and transparency.
When you need to point your domain to a host or website builder, it's all there in a single place in your Google Domains account. There are literally just 3 options on the backend sidebar.
Google Domains' interface is refreshingly simple. This is in an industry where most small business owners have to deal with pop-ups, upsells, and confusing backends.
Integration With Third-Party Services
Although Google Domains does not offer complementary services (like web hosting), it does integrate very well with other web apps.
It syncs simply with Google Workspace (for email, storage, records, etc.). And Google runs one of the best DNS servers on the Internet.
In fact, many webmasters will use Google's DNS in place of their domain registrar's or hosting service, which is a plus because it's integrated well with Google Domains.
They have excellent email forwarding settings in addition to the Google Workspace integration. If you are just trying to set up a custom email address, it's all straightforward.
A menu of common website builders integrated with Google Domains. Such as:
All this leads to the next pro of overall simplicity.
Simplicity
If you are setting up your own website with a web hosting provider, pointing your nameservers is directly in the domain menu. It's one click.
But it's more than just one click on a clean interface – even advanced functions are simple to find and operate.
If you want to leave Google Domains – unlocking your domain is simple (something that other domain name registrars make quite difficult). Requesting a transfer authorization code is right in the domain settings. Updating addresses is simple.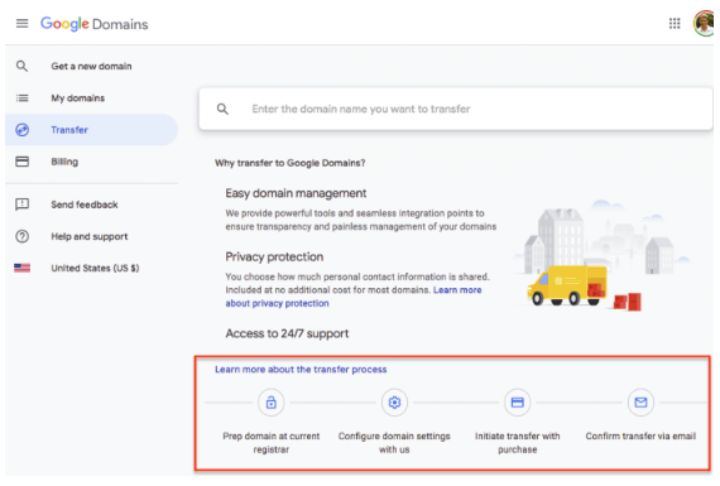 Discovering your billing history is simple. Since Google Domains uses your Google Account, it's easy to pay and maintain (it pulls from your email and Google Wallet information).
Simplicity is the one thing Google Domains promises, and they live up to it.
Straightforward Pricing
Google Domains maintains a single price for each top-level domain (TLD). The .com domain extension is $12/year.
Their pricing across the board is not the cheapest long or short-term. They are a couple of dollars more expensive per year than Namecheap. They rarely do promotions like GoDaddy.
Google Domains does include WHOIS Privacy Protection with a domain purchase. WHOIS protection gives your domain privacy from spammers and scrapers of your public information.
So although Google Domains isn't the cheapest, they offer a solid total value pricing and are very transparent about what you're getting.
Large Selection Domain Extensions
In 2014, ICANN, the internet's governing body, added a lot more top-level domains (TLDs). This introduced a wide new selection into the domain name market, which used to be limited to .com, .net, and a few other generics, plus country-designated TLDs.
Now more businesses are looking for unique TLDs and domain extension options like .kitchen or .academy, among hundreds of others. The issue now is making sure your domain registrar has all the ones you want to register.
There is one catch – Google Domains does not have every country designated TLDs. It's a US-only service with only "generic" TLDs (plus the .us country TLD). If you want a .ie domain from the country Ireland – you'll be out of luck.
Cons of Google Domains
Costly
As I mentioned in the pros section, Google Domain's pricing focuses on simplicity and transparency. They include privacy in their pricing – and are cheaper than most web hosting companies that offer domain registration.
However, when Google Domain's pricing goes up against Namecheap or GoDaddy, they lose out. Namecheap's pricing is transparent and consistently cheaper over the long term.
Namecheap offers promotions all the time that can make them much cheaper than Google Domains.
GoDaddy is actually more expensive year to year than Google Domains. However, they also deeply discount domains in the first year (see their current promo).
If you are just trying to secure domains quickly & cheaply, then GoDaddy will be a better bet on price for the first year. Namecheap will still be the better long-term option.
Lack Of Customer Service
Google Domain's interface & product is focused on eliminating any possible need for customer support. That said – stuff happens. And when stuff happens, you need support.
I've only had to use Google Domain's support a few times. However, their support options are not the best in the industry. They are plainly just fine. Their contact forms are buried, and their phone support options are limited to US business hours. They do offer off-hours chat, email, and callbacks.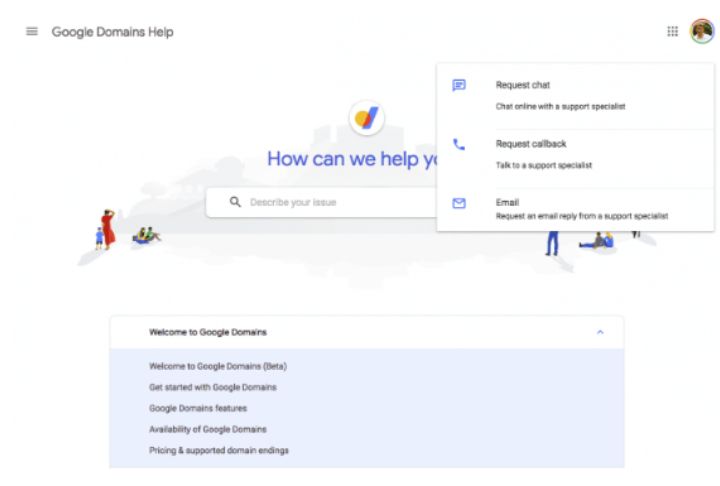 Support isn't necessarily a con – but it's not really a reason to choose Google Domains.
No Complementary Products
Google Domain's focus on only domains is a pro – but it's also a con.
And that's because there are several products that almost always go with a domain. If you want to make your site secure with SSL, you'll need an SSL certificate associated with the domain.
You can buy it separately from a third party, but from my experience, managing it with your domain is simpler.
I like to separate my domains and hosting, but many owners prefer that their hosting and domains get bundled into one (even if it's not ideal from a performance perspective).
Namecheap has competitive hosting; GoDaddy offers alright basic hosting with domains. Most hosting companies offer domain registration (or even free domains) with web hosting purchases (such as InMotion Hosting or Bluehost).
These types of services aren't available with Google Domains. So if you want that kind of convenience and integration, you're out of luck.
Perpetual Google Beta
The last con of using Google Domains as your domain provider is Google itself and how the company is run.
As of March 2022, the product is finally out of "beta" – or testing. It has been in Beta for almost 7 years.
While Google says that it's a long-term project and a natural fit with their other business products like Google Workspace – Google also has a long history of shutting down well-known Google services.
The list is, unfortunately, rather long. They've killed Google Reader, iGoogle, Google Apps for Teams, and Google Glass. Google has gone through countless changes with their local business product (aka Google Places, Google+ Local, Google MyBusiness, etc.) and even Google+ – their highest-profile side project ever.
In other words, even though Google Domains has a lot of benefits Google, domain names are not and never will be Google's priority. Google Domains will always be threatened by shutting down – even if it's doing well. If they did shut down – you wouldn't lose your domain name but would have to transition companies on Google's timeline.
Important Note: On June 15, 2023, it was announced that Squarespace is acquiring the assets of Google Domains, including approximately 10 million domains. The transaction is anticipated to close by the third quarter of 2023. The transaction will add millions of new customers to Squarespace's existing domain registration business.
Namecheap, GoDaddy, Hover, or other domain name registration companies only do domain name registration. They might go out of business, but they will never be unceremoniously shuttered as long as they make money.
Google Domains For SEO Reasons?
Before looking at the next steps, I have to touch on one bit of SEO (search engine optimization) mythology. In the SEO world, there are 3 camps on Google products.
The first camp says that Google is inherently untrustworthy. They say you should never use their products because they just spy on you and are out to punish you. It's all about tricking and outsmarting Google.
The second camp says that Google is SEO. They say you should use all their products and do everything they say. Google will always prefer its own products and will reward everyone that uses them. It's all about cooperating and sucking up to Google.
The third camp says that neither of the first two camps relies on evidence or testing. The answer to all things SEO is "it depends." Use Google products that suit your business; don't use Google products that don't work for you. Either way, focus on testing and doing the right things for your customers.
I have never seen any evidence that Google Domains helps with SEO.
Don't buy into SEO snake oil when you are looking for a domain name registrar. The only tested SEO truth is that the internet comprises domain names. And you do need a custom domain to build a long-term project around.
The registrar you choose should be based on pricing, convenience, usability, and support.
Summary
While Google Domains has been a solid choice as a domain registrar for several years, much is in limbo now that Squarespace has acquired it.
If you're an existing customer, I wouldn't worry. Squarespace has indicated that it's business as usual, and I don't expect them to take any drastic steps that might alienate the current client base.
However, if you're in the market for a domain registrar and don't want to wait to see what happens after Squarespace takes over, I recommend bypassing Google Domains, as there are enough top alternatives to choose from instead.
If you want plenty of options and better pricing from a reputable company without the upsells, I recommend checking out Namecheap.
If you just want a super-cheap domain right now and plan to delete it or transfer it out once you put it to use, then go check out a GoDaddy domain special.
Lastly, if you are more confused than ever, explore my list of the best domain registrars.
FAQs