| | |
| --- | --- |
| Support | Help Desk, Email, Chat, Phone & Knowledge Base |
| Free DNS | |
| Free Domain Privacy | |
| Best For | Simple Pricing |
| Strengths | Easy To Use |
| Weaknesses | Expensive & No Web Hosting |
| Promotion | None |
Who Is Hover?
Hover Domains is a Toronto-based domain registrar. The company is a subsidiary of Tucows Inc., a publicly traded internet and telecommunications company that was one of the first ICANN-accredited domain name registrars.
Unlike some domain registrars that have expanded into web hosting, website builders, and other services, Hover has remained focused on domain registration and email services.
It's important to remember that a domain is not a website. It's simply your online address. It helps people find you online. If you want to set up a website, you'll need to sign up with a web host or a website builder that provides web hosting services, which Hover does not provide.
I'll dive deeper into this in the pros and cons, but it's an important distinction to make upfront because it helps us understand Hover's goal.
They're not about being an all-in-one solution — quite the opposite, actually. Their focus is only on simplicity. They're all about getting you your domain and letting you use it wherever you need it through app integrations.
How does Hover stack up against other domain registrars? Here's our review of Hover Domains as a domain registrar with pros and cons.
Hover Pricing
| Domain Ext. | Registration | Renewal | Transfer |
| --- | --- | --- | --- |
| .com | $15.99/yr. | $17.99/yr. | $15.99/yr. |
| .net | $16.99/yr. | $18.99/yr. | $16.99/yr. |
| .org | $13.99/yr. | $15.99/yr. | $13.99/yr. |
| .biz | $18.99/yr. | $18.99/yr. | $18.99/yr. |
| .co | $27.99/yr. | $27.99/yr. | $27.99/yr. |
Pros of Hover
User-Friendly Interface
Hover's interface is about as user-friendly as it gets. It's clean, simple, and easy to navigate. Their domain search tool is displayed prominently on their homepage, making it clear exactly where to start.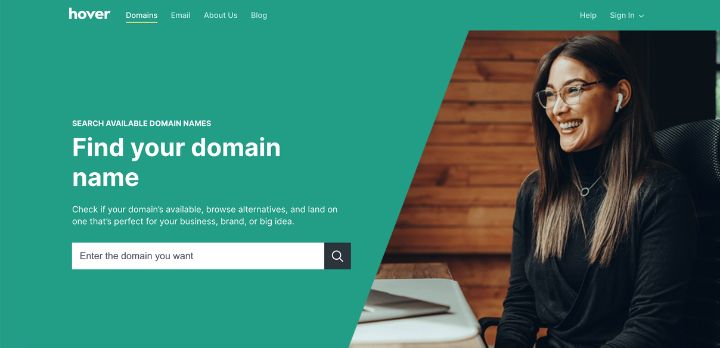 When you enter a domain name in the search field, you're given a clean list with an exact match and other recommendations. Hover offers many top-level domain options (more on that in a minute) and an easy way to navigate through them with different filter categories.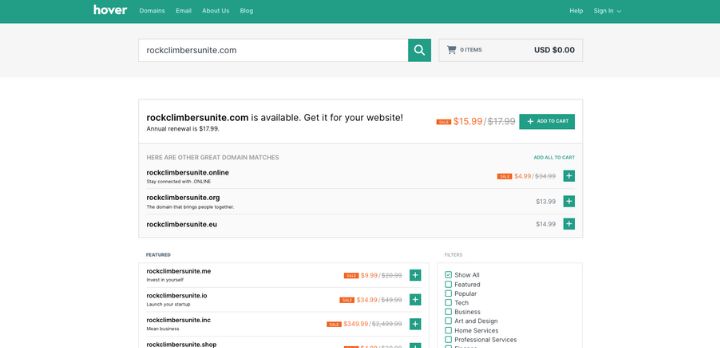 The checkout process itself is simple as well. It took four steps to get my domain from my cart to my dashboard. For a domain registrar that prides itself on simplicity, Hover definitely delivers.
Variety of TLDs
Now that ICANN allows more TLDs outside of generic .com/.net/.org, website owners must ensure their domain registrar has all the ones they want (especially if you're buying in bulk).
Hover has plenty of TLD options that go beyond generic domains, which are broken down by categories to make finding the perfect match easier. As of September 2023, they offer more than 480 TLDs.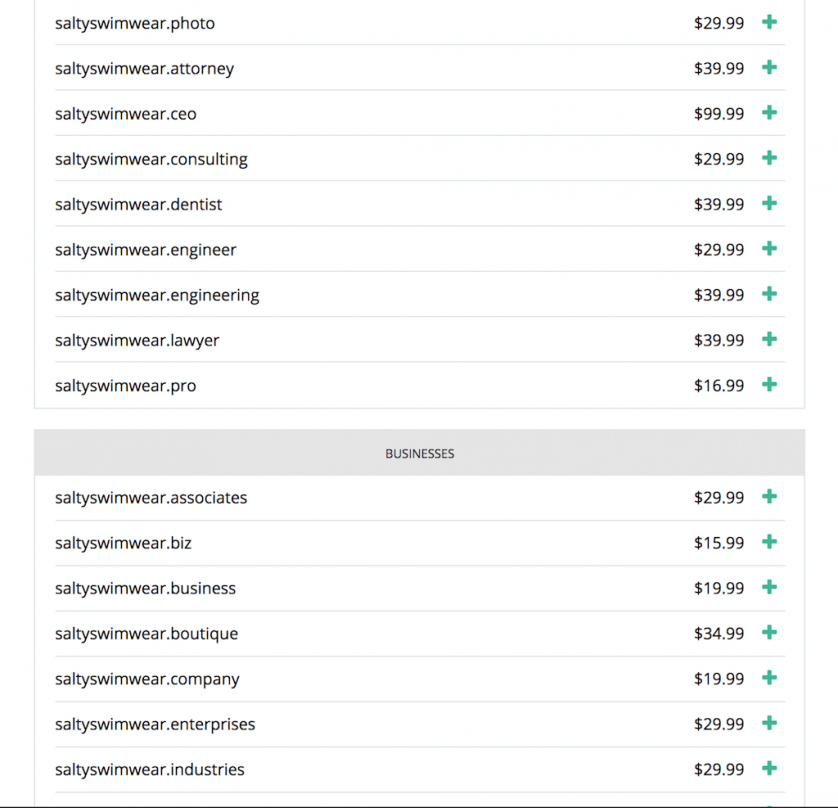 Hover also offers many country-specific domains for international use, making it a great choice if you need to buy up domains for various countries/regions or even cities.
Transparent Pricing
Domain registrars use various pricing strategies, from cheap upfront pricing with high renewal rates to expensive domains with cheap renewals.
Hover is very straightforward with its pricing. Their table breaks down the pricing for purchase, renewal, and transfer for all of their TLD types. Their rates include WHOIS privacy protection, which means that your personal details like name, address, and contact information are protected from spammers, marketers, and others who may do a WHOIS lookup.
The prices do not include ICANN fees, however, so you'll need to add an additional $0.18 to your purchase (more on that in the cons).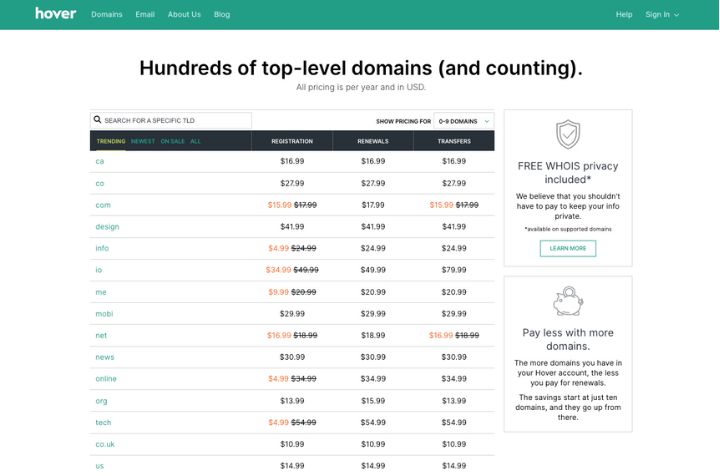 Hover also offers discounts on renewal rates when you have 10 or more domains registered with them. You can see how the pricing breaks down for the domain ranges in their pricing table.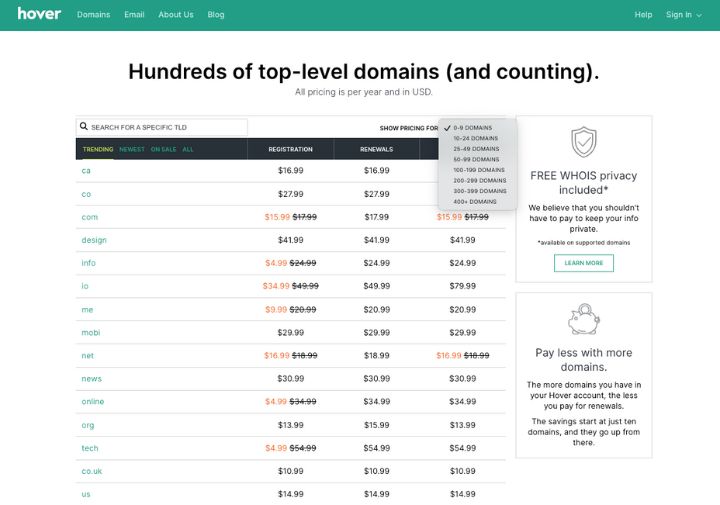 Customer Support
Hover is well known for its excellent customer service. They claim to be fellow haters of the phone tree and, as such, don't use automated systems. Whether you're calling in, emailing, or live chatting, you're connected to a person.
In terms of coverage, Hover offers a pretty robust schedule. You can contact them on weekdays (8:00 AM – 8:00 PM ET) and weekends (8:00 AM – 8:00 PM ET) via email, phone, or live chat.
Their Help includes frequently asked questions and answers, as well as a link to their live chat and additional support information.
Integrations
Although Hover focuses solely on domain registering and managing (and email), it does offer a plethora of apps you can easily integrate your domain with, from website builders like Wix to eCommerce platforms like Shopify.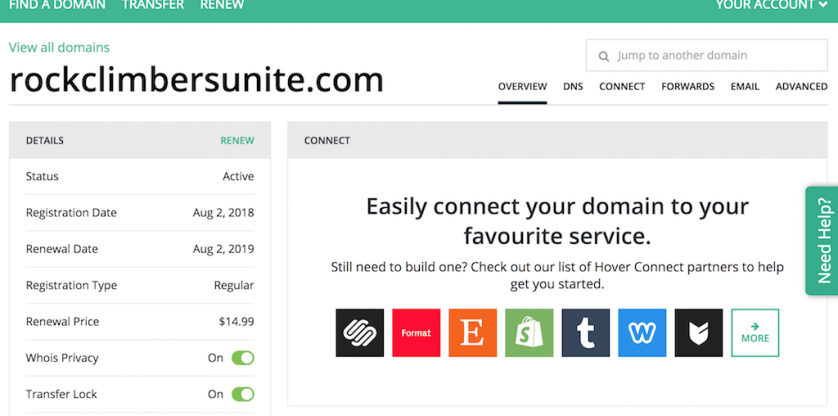 Aside from the integration options, the actual process of integrating your domain is fairly straightforward. Hover provides step-by-step instructions for each app, making it easy for even the least tech-experienced website owners.
They'll even handle some of the work for you (like adding your DNS records to connect your domain with your website platform).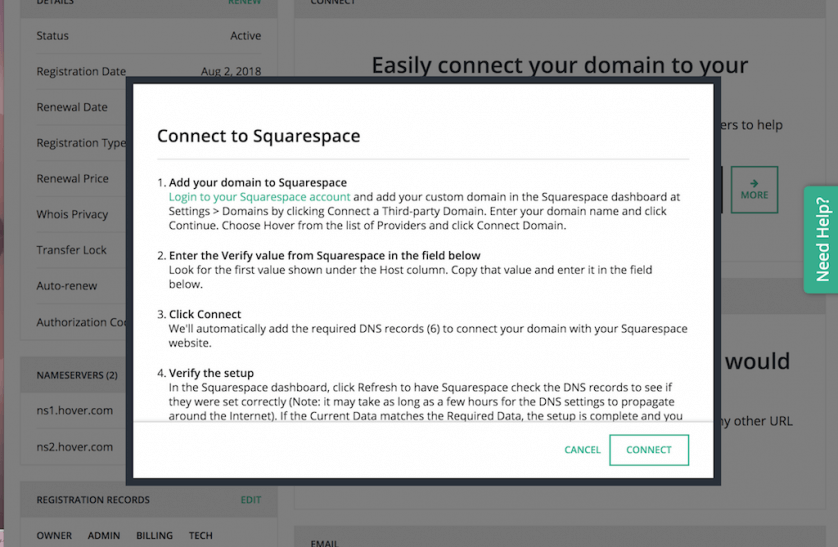 Data Protection
One of the main things that stood out to me while registering a domain with Hover was how far they went to protect my data. There's nothing worse than registering a domain and getting tons of spam emails immediately afterward (or getting retargeted by ads left and right).
WHOIS privacy protects this somewhat, but Hover goes a step beyond during the checkout process by allowing you to select how your data is shared. I also received an email after purchasing my domain prompting me to set my data use consent preferences.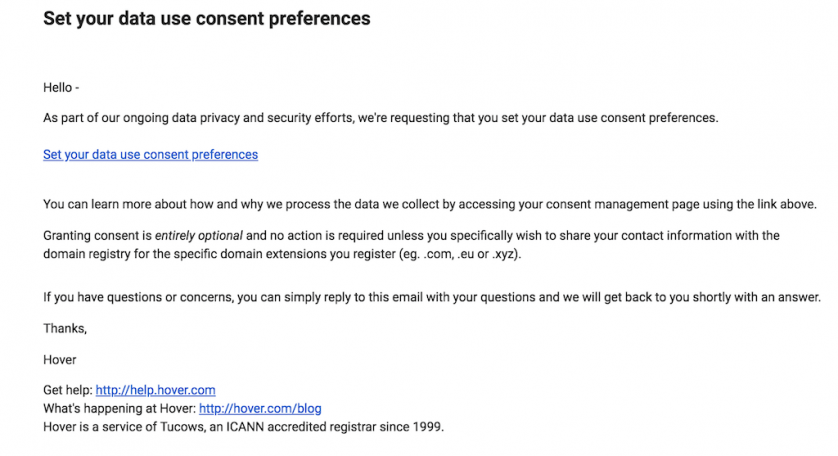 Cons of Hover
No Complementary Products
Hover's focus on only domains is a pro, but it's also a con.
There are several products that almost always go with a domain. If you want to secure your site with SSL, you'll need an SSL certificate associated with the domain. You can buy it separately from a third party, but from my experience, managing it with your domain is simpler.
When it comes to hosting, I like to separate my domains and hosting, but many owners prefer that their hosting and domains get bundled into one (even if it's not ideal from a performance perspective).
Namecheap has competitive hosting; GoDaddy offers affordable managed WordPress hosting with domains, and most hosting companies offer domain registration (or even free domains) with your hosting purchase (such as InMotion Hosting or Bluehost).
Those kinds of products simply aren't available with Hover. You can purchase domain email (AKA match your domain name to an email address (or several), but if you're looking for the convenience of having your hosting and website builder all in one platform, you're out of luck.
High Pricing
While Hover offers straightforward pricing (which is a pro), the con is that they tend to be pricier than other registrars — and this is the largest con going against them as a domain registrar.
If you want to compare prices, let's look at Namecheap vs. Hover. You can get a .com domain on Namecheap for $5.98 (plus the $0.18 ICANN fee), which then renews at $14.58. With Hover, that same .com domain will cost you $15.99 and renew at $17.99.
The pricing discrepancy gets even larger when you get into other specialty TLDs. See the comparison for this .condos domain between Hover and Namecheap.
If you're looking to save money on a domain purchase or renewal and don't mind the upselling/cross-selling that typically comes with those registrars, there are better choices out there for you than Hover.
If you don't mind spending a bit more for a domain registrar that's straightforward and keeps their cross-selling and upselling out of it, Hover isn't a bad choice – but you need to factor in your costs fully.
Hover Alternatives


Namecheap Review
Rating

9.0/10

Free DNS

Yes

Free Domain Privacy

Yes

Promotion

GoDaddy Review
Rating

7.5/10

Free DNS

Yes

Free Domain Privacy

No

Promotion

Google Domains Review
Rating

8.5/10

Free DNS

Yes

Free Domain Privacy

Yes

Promotion

None
Final Thoughts
Hover can be a good fit if you are looking for a simple domain buying and integration experience, want to deal with a registrar that offers plenty of support, and don't need any complementary products besides email.
And if you like Hover's email service and are open to having your email and domain with the same provider, Hover makes sense.
However, if budget is your primary concern and you want to save on domains (especially specialty TLDs) or you want to keep your web hosting and domains in the same place, then there are better options out there for you, such as Namecheap.
You can also check out my article comparing the best domain registrars.
FAQs