| | |
| --- | --- |
| Support | Help Desk, Forum, Phone, Knowledge Base & Social Media |
| Uptime | Good (99.9% past 6 months) |
| Free DNS | |
| Free Domain Privacy | |
| Best For | Domain Registration |
| Strengths | Large Offering & Good Performance |
| Weaknesses | Higher Prices & Lack Of Free SSL |
| Promotion | Get A .COM For Only $4.99 |
GoDaddy is one of the world's largest "web services" companies. Although they were founded as a domain registrar, they provide a whole range of services from web hosting to website builders to accounting to email to digital storage to online security and much more.
Over the years, you've probably seen GoDaddy's Super Bowl commercials, GoDaddy girls all around the Internet, and most recently their "Helping Small Business" commercials. They have brand recognition if nothing else.
With the popularity of using WordPress for setting up websites, GoDaddy has made a big product push for its "WordPress Hosting" product.
In fact, they lead in market share for total WordPress installs around the Internet, leading even popular WordPress hosts like Bluehost.
Like any product, there will be tradeoffs, advantages, and disadvantages – depending on your particular goals, preferences, and resources. However, this product not only competes with other competitors but also with GoDaddy's own regular web hosting product.
GoDaddy Pricing
GoDaddy has several different plans & packages that you can use. Here's a quick roundup of your options.
Domain Registration
Of course, GoDaddy offers domain registration. This is how they originally started. Here's some of the pricing for more popular Top Level Domains extensions.
| Domain Ext. | Registration | Renewal | Transfer |
| --- | --- | --- | --- |
| .com | $4.99/yr. | $19.99/yr. | $9.99/yr. |
| .net | $16.99/yr. | $21.99/yr. | $21.99/yr. |
| .org | $9.99/yr. | $20.99/yr. | $20.99/yr. |
| .biz | $11.99/yr. | $26.99/yr. | $26.99/yr. |
| .co | $11.99/yr. | $37.99/yr. | $37.99/yr. |
Shared Hosting Plans
Unless you choose the Windows option, these plans all run on a standard LAMP stack and can run WordPress with a single click install after purchase. All the plans are competitive but do have notable caps on databases, and the lowest two do not include a free SSL for security or backups included.
| Plan | Economy | Deluxe | Ultimate | Maximum |
| --- | --- | --- | --- | --- |
| Initial Price* | $2.99/mo. | $7.99/mo. | $12.99/mo. | $19.99/mo. |
| Renewal Price | $8.99/mo. | $11.99/mo. | $16.99/mo. | $24.99/mo. |
| Websites | 1 | 10 | 25 | 50 |
| Storage | 25 GB | 48 GB | 100 GB | 200 GB |
| Bandwidth/month | unmetered | unmetered | unmetered | unmetered |
| Free Domain Name | 1 year | 1 year | 1 year | 1 year |
| Free SSL | | | | |
| CDN | | | | |
| Dedicated IP | | | | |
| Daily Backups | | | | |
* Pricing per month for a 12-month subscription
WordPress Hosting Plans
GoDaddy offers a suite of WordPress hosting plans for single WordPress websites.
GoDaddy's WordPress hosting plans are all limited to a single WordPress install, and run more expensive than web hosting plans.
They do have the convenience of auto-installed products like a WordPress theme and WordPress plugin package though I do not think they should promote that as a value-add.
| Plan | Basic | Deluxe | Ultimate | Ecommerce |
| --- | --- | --- | --- | --- |
| Initial Price* | $6.99/mo. | $9.99/mo. | $12.99/mo. | $15.99/mo. |
| Renewal Price | $9.99/mo. | $14.99/mo. | $19.99/mo. | $24.99/mo. |
| Websites | 1 | 1 | 1 | 1 |
| Storage | 30 GB | 75 GB | unlimited | unlimited |
| Visitors/month | 25,000 | 100,000 | unmetered | unmetered |
| Free Domain Name | 1 year | 1 year | 1 year | |
| Free SSL | | | | |
| CDN | | | | |
| Dedicated IP | | | | |
| Daily Backups | | | | |
* Pricing per month for a 36-month subscription
WordPress Ecommerce Hosting
GoDaddy promotes WordPress eCommerce hosting in their WordPress hosting menu and separately on the site.
This plan is basically GoDaddy's Ultimate WordPress hosting plan with the (free) WooCommerce plugin auto-installed.
However, it is an interesting and potentially valuable option since it bundles several premium WooCommerce extensions into a single hosting subscription.

There are higher-performance options for WooCommerce Hosting in my experience (my LiquidWeb Review). However, this plan is pretty interesting for startup stores with a low initial budget.
Business Hosting
GoDaddy's Business Hosting plans are basically VPS hosting with active management. With a VPS server, you have dedicated resources, rather than shared resources. It's a great way to run WordPress or any other resource-intensive app. VPS plans are usually technical and difficult to set up, but GoDaddy takes care of the support & setup. You can compare it to other good VPS options here.
VPS Hosting
VPS hosting is where you lease a dedicated portion of a server. You do not share resources. You can run WordPress on a VPS server. In fact, it's a great way to run WordPress since you have dedicated, known resources for your install. GoDaddy has a range of VPS plans that are all very competitive, however, they are all unmanaged and can be tricky to set up unless you are a developer or have done it before.
Dedicated Hosting
GoDaddy also offers a wide range of dedicated server hosting where you basically lease an entire server with specific, known resources.
GoDaddy Pro
GoDaddy Pro is GoDaddy's managed WordPress hosting plan for agencies and freelancers. It allows you to manage multiple, but separate WordPress installs from a single dashboard. This product competes with similar products from:
GoDaddy Managed WordPress Hosting vs. GoDaddy Web Hosting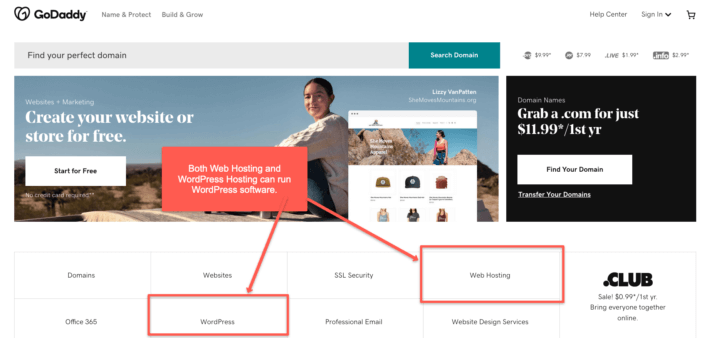 Here's the thing. The entire industry move to "WordPress Hosting" services is kind of a weird, confusing, maddening mess. I've written an entire post on Web Hosting vs. WordPress Hosting, Explained – but here's the short version.
WordPress is simply software that can run on any Linux server with PHP (aka "regular shared hosting).
Again – WordPress can (and does) run just fine on web hosting.
WordPress does use some server resources at an above-average rate and others at a lower rate.
WordPress also has very predictable problems & needs. It needs to be regularly updated. It is database driven – not static. It uses plugins to add functionality. That's great, but it can create temporary security vulnerabilities.
So – hosting companies saw an opportunity to create whole clusters of servers with only WordPress websites.
Since they were all together, they could also provide dedicated support and some specific WordPress add-on services at a cost-effective rate.
Hence, "WordPress Hosting" plans were created – which added a further opportunity for marketers & pricing specialists.
For some companies, WordPress Hosting plans became a way to increase revenue and decrease costs with little value-added.
For other companies, WordPress Hosting plans became a way to create a huge value-add to differentiate from competitors and pass the cost savings to customers. For other companies – it was a mix. And in the end, it's been thoroughly confusing for everyone.
The GoDaddy WordPress Hosting plan falls into the latter category. There's not a whole lot of technical differences between their WordPress plans and shared plan. There are just more limits and more costs in exchange for more convenience.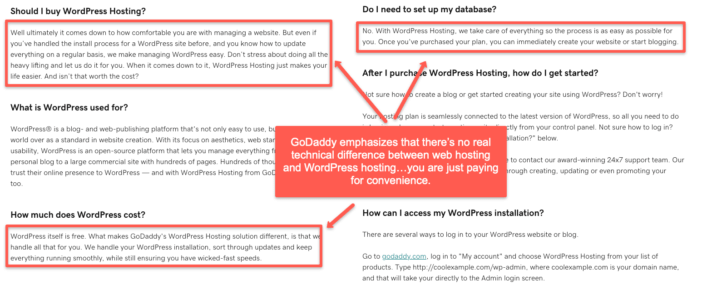 But – the key takeaway is to identify your own needs & goals rather than going right for a company's "WordPress Hosting" plan.
Convenience is great – but it's important to understand what you are truly paying for so that you have the right expectations.
These pros & cons of this GoDaddy review will look at the tradeoffs between GoDaddy's web hosting plans (since they can also run WordPress) and direct competitors in the WordPress Hosting space.
GoDaddy Alternatives


Namecheap Review
Rating

9.0/10

Free DNS

Yes

Free Domain Privacy

Yes

Promotion


InMotion Hosting Review
Rating

9.0/10

Free DNS

No

Free Domain Privacy

No

Promotion


Bluehost Review
Rating

9.5/10

Free DNS

No

Free Domain Privacy

No

Promotion
Pros of GoDaddy
Here are the primary advantages that GoDaddy has as a WordPress host (both via Web Hosting & managed WordPress Hosting).
Bundled WordPress Hosting Features
One key pricing difference between GoDaddy's regular web hosting plans and WordPress hosting plans is pricing per visits vs pricing per feature.
In other words, instead of looking at memory, databases, etc – companies simply promise to serve an estimated number of visitors.
Here are GoDaddy's WordPress hosting plan limits: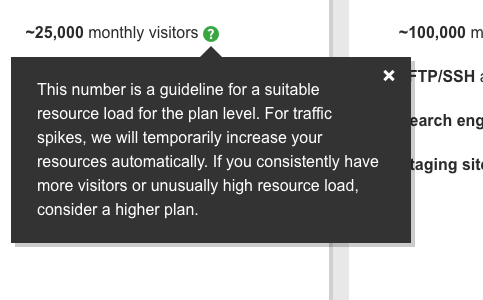 Here's the limits on their web hosting plans –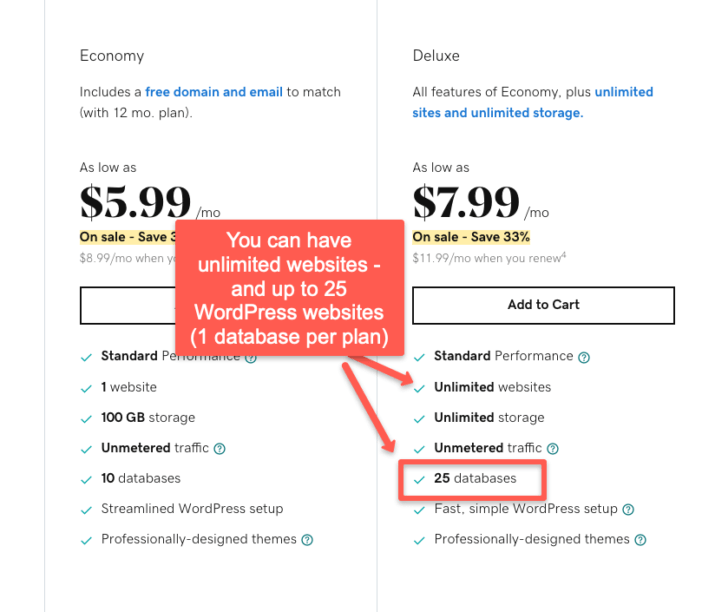 In other words – you are paying for results rather than features.
Like any subscription, you will be technically overpaying for the features you get…but that also assumes that you know how to use the features in the first place.
There are tons of ways to speed up & make WordPress more efficient – but, there's also a lot of value in letting someone else just do it for you.
For example, I once managed 10,000 visitors in a single day on my shared HostGator server with some heavy caching and lean plugin usage.
I also routinely took this site past 50,000 monthly visitors on a regular shared InMotion Hosting server. I saved a ton of money using regular web hosting and adding a simple caching plugin like WP Rocket…but I also like doing that kind of thing.
On the flip side, I have a client who cares exactly 0% about WordPress – but likes the platform and just wants to publish his content. He pays $$$ not just for WordPress Hosting but Managed WordPress Hosting at WP Engine – which charges a pretty penny. It's worth it for them to auto-update the software and takes care of every technical issue.
Additionally, GoDaddy provides SFTP and staging areas on their upper plans. They also provide WordPress-specific customer support. They do automatic WordPress updates. They bundle a free SSL. certificate. And they have special considerations for WooCommerce. It's nothing amazing (which I'll cover in the disadvantages) – but they take care of the key features.
Backend & Usability
One of the *the* biggest hurdles for new website owners is the learning curve of a new setup. Running your own website can be daunting – and dealing with settings, drop-downs, and jargon only adds to the stress of actually running your website.
Backend design, usability, and "onboarding" help a ton with this problem. GoDaddy has made serious improvements in this area over the past 10 years. Even with a sprawling product line-up, they still make it pretty straightforward to shop, purchase and get on with your project.
Their WordPress Hosting product does away with some WordPress installation headaches on web hosting and provides a good setup to get on with your project.
The simplicity is a big advantage compared to their web hosting product and their design is a big advantage compared to their technically-oriented competitors.
Product Integration
Full disclosure, I'm a fan of buying your domain and email services separately from web hosting (ie, I use Namecheap for long-term domains & Google Workspace for email hosting). It provides diversification – and allows you to choose providers that focus on a specific product.
But, having one company manage your domain name, email, and hosting can make things much more convenient. Several of my friends & clients do this – and it works well for them. Their domains are cheap and their email is straightforward. They even provide a free domain for a year. They have professional online security. GoDaddy even offers bookkeeping & accounting services now.
GoDaddy offers the full gamut of services and ties them all in together well. There's no pointing your DNS records or futzing with SMTP settings. It's all there and it all works together. Big advantage to GoDaddy.
Scale & Resources
Like any large hosting provider, they have issues with security. They represent a huge target to takedown…especially when political controversy erupts.
But – GoDaddy has the scale and resources to preemptively tackle security problems that smaller hosts simply can't work with. This feature has to do with their huge scale (they have plenty of technology directed at thwarting spam and hackers), but also with GoDaddy's restrictive policies (which will be a Con) but for now, it also keeps out spam and the attacks.
For example, when GoDaddy needed to beef up their online security / malware protection product, they simply went and bought Sucuri – the go-to web security company. They wanted to beef up their WordPress support services…so they went and bought WP Curve.
And scale has advantages too. When GoDaddy says that they can "increase your resources to deal with additional load" – yeah, they can actually do that. When a mass hack or DDoS attack happens – they actually have resources to throw at the problem. If your site needs an extra GBs of bandwidth – they have that.
For contrast, one of the largest exclusively Managed WordPress Hosting is WP Engine. They have 429 employees. They've been growing rapidly. GoDaddy has 6,000 employees and 17+ million customers. Scale can be a bad thing…but on the increasingly complex Internet, it can also be a good thing.
Phone Support & Improved Down-Time
Some internet veterans will scoff at this (GoDaddy used to be absolutely notorious for support) but recently GoDaddy has greatly improved their customer service since the mid-2000s. They have improved even more so under their new CEO, and the new direction they set out in July of 2013.
And more importantly for many customers – they offer 24/7 phone support, which is not common among hosting companies – even those famous for customer service.
It's not world-class, but for a huge corporate entity with super-discounted hosting… good support is a Pro in my book.
And they fulfill the *basic* duty of every hosting service… 99.9% uptime.
Brand Recognition & Stability
Yes. This is an advantage no matter what Internet hipsters say. Sometimes buying a big brand is an advantage even when a small upstart might be "better."
Big brands stick around and are stable. In an environment like the Internet where companies launch and fizzle daily, there's an advantage to going with a company that has been around since the early days of the consumer Internet.
Cons of GoDaddy
Here are the main disadvantages that GoDaddy has as a WordPress Hosting provider.
Total Value Pricing
As a reminder, here are GoDaddy's Web and WordPress hosting plans respectively.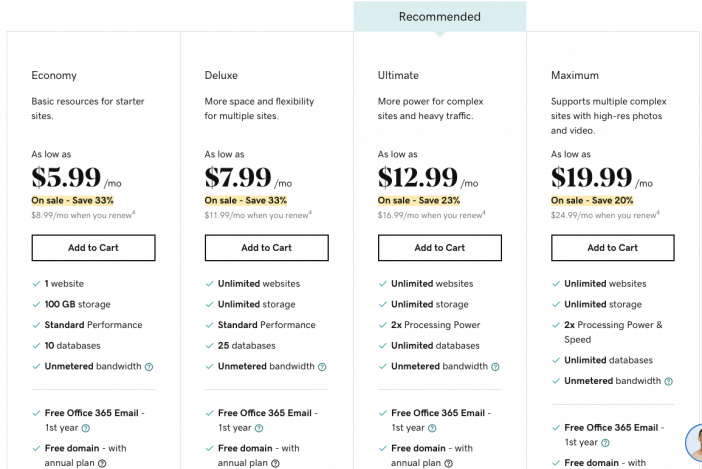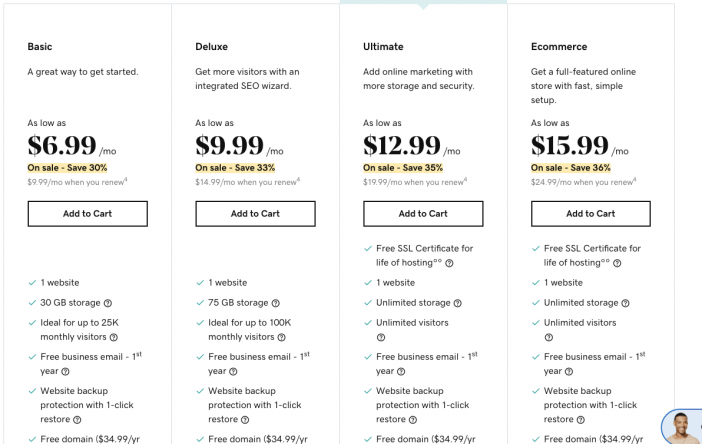 Like I said about the advantages of pricing, WordPress Hosting plans are a little different in that you are basically paying for a recurring service rather than anything tangible. That might be what you are looking for but if you are trying to get full value for your money, WordPress Hosting and GoDaddy's WordPress Hosting, in particular, is a very poor value.
On all of GoDaddy's WordPress Hosting plans, you are severely limited on the number of websites and the storage space you're getting – not to mention all the other freedoms you're losing compared to a similarly priced web hosting plan.
For example, on my similarly priced InMotion Hosting Business Hosting (ie, regular web hosting plan) – I've got 6 small, but decently trafficked WordPress websites plus a self-hosted RSS reader plus I use it to triple-backup a few personal videos (ie, several gigabytes right there). When priced out by dollars per storage or by dollars per website – it's an incredible value.
And that is ditto compared with GoDaddy's regular web hosting plans.
Additionally, even in the world of WordPress Hosting plans – GoDaddy's plans are cheap…but a seriously poor value when you look at the features that you actually get.
Bluehost's Web / WordPress plans provide higher storage limits and unlimited websites – and no other limits (ie, on databases) for a better price than GoDaddy.
And if you look at InMotion Hosting's WordPress plans or SiteGround's WordPress Hosting services – you'll see that they both provide actual WordPress Hosting features that add value beyond their standard web hosting plans. They both provide built-in NGINX (a very advanced way to speed up WordPress) and a built-in free SSL certificate. InMotion even provides a staging environment at their lowest-priced tier.
Controversies & Company Culture
GoDaddy has been a big, controversial company ever since it was founded. Ever since their infamous founder / CEO left in 2014, they have been moving in a better direction under advice from PR & marketing agencies.
But they still have a couple issues
First, GoDaddy has built its brand with odd market positioning and weird "talk about me" ad campaigns.
And weird in a bad way. For example, their CEO shoots elephants. And they use blatantly sexist advertising (until 2019).
GoDaddy has recently sanitized its site in the past couple years. Ever since its 2017 Super Bowl commercial, their ad campaigns have not revolved around sex. Their new campaign is to be the "champion of small business." They talk about how they are a "platform for websites + marketing."
However, they still want to maintain their "edgy" brand. That's all an improvement, but I'm still wary of companies who do tons of interruption-style advertising over-focusing on their product.
They also want to do an all-in-one platform that provides all your products in one place. That's convenient on one hand, but also worrisome on the other – especially with things as critical as your email, websites, and domain names.
Second, they can't seem to get a consistent set of guidelines when it comes to politics and PR issues. They have some controversial PR scramble every few years. They engage in a lot of political lobbying – most of it anti-competitive.
I don't know how this brand & positioning transfer to their company culture but I personally don't see it as a positive in the "doing business with companies that I love" category.
Hosting Feature Limitations
As mentioned in the Total Value Pricing section – GoDaddy's WordPress Hosting plans have surprisingly tight limits on features – even compared to direct competitors in the WordPress Hosting space.
Then again, I've also noted how they have hard & low limits on their web hosting. I've compared written about this issue in several comparisons, including:
Additionally, they are notorious for their own proprietary setup which can lead to GoDaddy's unique email & hosting issues. They have plenty of seemingly random caps on databases and bandwidth that you never really encounter until you really need to break those caps.
Account Lock-in & Diversification
This con relates to #1 above…but deserves its own spot.
Mainly because when you choose a web host – it's a pretty big time commitment. You'll be investing a lot of energy into your website – assuming that the host is doing their job.
And even though moving web hosts should be simple…there's a lot of little things that can make it go wrong. GoDaddy isn't famous for helping its customers leave. That's a con.
EDIT: Yes, as of 2021…this is still true. It's a bit easier since it is WordPress after all, but their domain transfer is needlessly interrupted with annoying upsells and obstacles. I recently did a client site redesign and scoped the project to migrate to another host. But – since my client had had email, domains and hosting there for years, the move simply wasn't worth the hassle.
Upsells & Cross-sells
I mentioned this in my review of GoDaddy's native website builder product and my comparison of GoDaddy Domains vs. Namecheap – but wow, they are masters of upsells and cross-sells.
On one hand, it's fine. They do own and operate a ton of complementary products. And it is convenient to keep all your services under one umbrella. But at a certain point, you're not sure what you're being pitched and what you've bought – and wow, you just want to get on with it.
With their WordPress Hosting plan – they promise "thousands" of free themes…when those are WordPress.org themes available to anyone, anywhere – but then upsell premium themes and even custom web design packages. They build in security to your WordPress website…but then pitch their upsell online security product. They promise "free SEO plugins" (which BTW, I've done a tutorial on here) while upselling marketing services.
Is GoDaddy Any Good?
GoDaddy's WordPress Hosting plans are an interesting option for anyone looking to build a WordPress website or WordPress blog. They offer brand-name stability, core features, and affordable pricing.
If you are looking to build a single site, want to save money, and really only care about simplicity and results, then go get GoDaddy's current WordPress discount here.

If you are looking for a WordPress Hosting plan with better support, features, and performance, then I'd recommend InMotion's WordPress Hosting plans here.
If you aren't sure, then check out my Buzzfeed-esque quiz on WordPress Hosting here.
If you are simply looking for shared hosting, I have a guide on the best web hosting companies.
FAQs
Related Articles