| | |
| --- | --- |
| Support | Help Desk, Forum, Phone, Knowledge Base & Social Media |
| Uptime | Good (99.9% past 6 months) |
| Free DNS | |
| Free Domain Privacy | |
| Best For | Domain Registration |
| Strengths | Large Product Offering & Good Performance |
| Weaknesses | High Prices |
| Promotion | Get A .COM For Only $11.99 |
GoDaddy is one of the world's largest "web services" companies. Although they were founded as a domain registrar, they provide a whole range of services from web hosting to website builders to accounting to email to digital storage to online security and much more.
Over the years, you've probably seen GoDaddy's Super Bowl commercials, GoDaddy girls all around the Internet, or their "Helping Small Business" commercials. They have brand recognition, if nothing else.
With the popularity of WordPress websites, GoDaddy has made a big push for its "WordPress Hosting" product.
In fact, they lead in market share for total WordPress installs around the Internet, even over popular WordPress hosts like Bluehost.
In this GoDaddy Review, I'll share the tradeoffs, advantages, and disadvantages to help you decide if GoDaddy is the right web host for you.
GoDaddy Pricing
GoDaddy has several different plans and pricing options to choose from. Here's a breakdown of the services they offer.
Domain Registration
More than anything, GoDaddy is known for its domain registration service. It is, after all, how they originally started. Here's some of the pricing for more popular Top Level Domains extensions.
| Domain Ext. | Registration | Renewal | Transfer |
| --- | --- | --- | --- |
| .com | $11.99/yr. | $19.99/yr. | $9.99/yr. |
| .net | $16.99/yr. | $22.99/yr. | $21.99/yr. |
| .org | $9.99/yr. | $20.99/yr. | $20.99/yr. |
| .biz | $11.99/yr. | $26.99/yr. | $26.99/yr. |
| .co | $11.99/yr. | $37.99/yr. | $37.99/yr. |
Shared Hosting Plans
Unless you choose the Windows option, GoDaddy's shared hosting plans run on a standard LAMP stack and can run WordPress with a single click install after purchase. All the plans are competitive but do have notable caps on databases, and the lowest two do not include a free SSL for security or backups included.
| Plan | Economy | Deluxe | Ultimate | Maximum |
| --- | --- | --- | --- | --- |
| Initial Price* | $5.99/mo. | $7.99/mo. | $12.99/mo. | $19.99/mo. |
| Renewal Price | $9.99/mo. | $13.99/mo. | $13.99/mo. | $24.99/mo. |
| Websites | 1 | 10 | 25 | 50 |
| Storage | 25 GB | 50 GB | 75 GB | 100 GB |
| Bandwidth/month | unmetered | unmetered | unmetered | unmetered |
| Free Domain Name | 1 year | 1 year | 1 year | 1 year |
| Free SSL | | | | |
| CDN | | | | |
| Dedicated IP | | | | |
| Daily Backups | | | | |
* Pricing per month for a 12-month subscription
WordPress Hosting Plans
GoDaddy offers a suite of WordPress hosting plans for single WordPress websites.
GoDaddy's WordPress hosting plans are limited to a single WordPress install and are more expensive than their web hosting plans.
The plans include auto-installed products like a WordPress theme and WordPress plugin package, but while it's convenient, I'm not sure if it's a value-add.
| Plan | Basic | Deluxe | Ultimate | Ecommerce |
| --- | --- | --- | --- | --- |
| Initial Price* | $8.99/mo. | $11.99/mo. | $18.99/mo. | $20.99/mo. |
| Renewal Price | $9.99/mo. | $14.99/mo. | $19.99/mo. | $24.99/mo. |
| Websites | 1 | 1 | 1 | 1 |
| Storage | 20 GB | 40 GB | 60 GB | 80 GB |
| Visitors/month | 25,000 | 100,000 | unmetered | unmetered |
| Free Domain Name | 1 year | 1 year | 1 year | |
| Free SSL | | | | |
| CDN | | | | |
| Dedicated IP | | | | |
| Daily Backups | | | | |
* Pricing per month for a 12-month subscription
WordPress Ecommerce Hosting
GoDaddy promotes WordPress eCommerce hosting in their WordPress hosting menu and separately on the site.
This plan is basically GoDaddy's Ultimate WordPress hosting plan with the (free) WooCommerce plugin auto-installed.
It's a valuable option since it bundles several premium WooCommerce extensions into a single hosting subscription.
There are higher-performance options for WooCommerce Hosting in my experience (my LiquidWeb Review). However, this plan is pretty interesting for startup stores with a low initial budget.
Business Hosting
GoDaddy's Business Hosting plans are essentially VPS hosting with active management. With a VPS server, you have dedicated resources rather than shared resources. It's a great way to run WordPress or any other resource-intensive app. VPS plans are usually technical and difficult to set up, but GoDaddy takes care of the support & setup. It's comparable to other good VPS options here.
VPS Hosting
With VPS hosting, you lease a dedicated portion of a server. You do not share resources with other websites. You can run WordPress on a VPS server. In fact, it's a great way to run WordPress since you have dedicated, known resources for your installation.
GoDaddy has a range of VPS plans that are very competitive; however, they are all unmanaged and can be tricky to set up unless you are a developer or have done it before.
Dedicated Hosting
GoDaddy also offers a wide range of dedicated server hosting where you lease an entire server with specific, known resources.
GoDaddy Pro
GoDaddy Pro is GoDaddy's managed WordPress hosting plan for agencies and freelancers. It allows you to manage multiple, but separate WordPress installs from a single dashboard. This product competes with similar products from:
GoDaddy Managed WordPress Hosting vs. GoDaddy Web Hosting
GoDaddy acknowledges that their managed WordPress hosting and regular shared hosting products are technically the same things. WordPress can run just fine on web hosting. But by creating entire clusters of WordPress-only servers, GoDaddy made it easier to provide dedicated support and include some WordPress-specific add-ons at a cost-effective rate.
By going with a WordPress plan, you will pay slightly more in exchange for some added convenience.
The key takeaway is to identify your own needs & goals rather than going right for a company's "WordPress Hosting" plan.
Convenience is great – as long as you understand what you are paying for so that you have the right expectations.
These pros & cons of this GoDaddy review will look at the tradeoffs between GoDaddy's web hosting plans (since they can also run WordPress) and direct competitors in the WordPress Hosting space.
GoDaddy Alternatives


Namecheap Review
Rating

9.0/10

Free DNS

Yes

Free Domain Privacy

Yes

Promotion


InMotion Hosting Review
Rating

9.0/10

Free DNS

No

Free Domain Privacy

No

Promotion


Bluehost Review
Rating

9.5/10

Free DNS

No

Free Domain Privacy

No

Promotion
GoDaddy Pros
Here are the primary advantages that GoDaddy has as a WordPress host (both via Web Hosting & managed WordPress Hosting).
You Can Pay for Added Performance
GoDaddy will boost your website's performance by adding features as you move through the various hosting plans. For example, here are two of GoDaddy's WordPress hosting plan limits (Economy & Deluxe):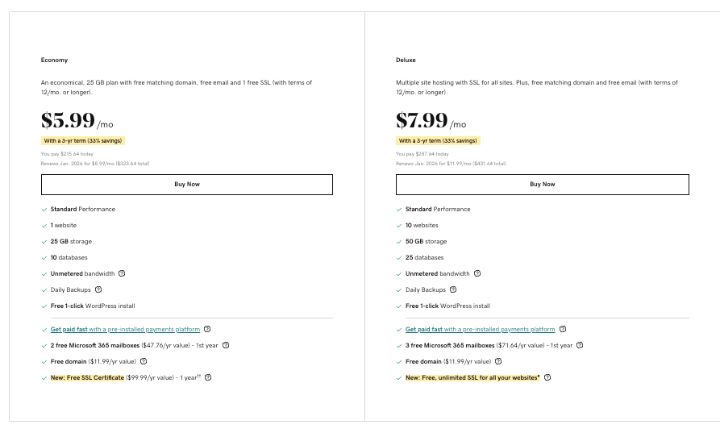 As you can see, the Economy plan comes with 25GB of storage and 10 databases, while Deluxe bumps those limits to 50GB/storage and 25 databases.
In other words – if you're willing to pay extra, GoDaddy will help your site run more efficiently.
There's value in letting GoDaddy do that for you, but there are also ways you can speed up & make WordPress more efficient on your own.
For example, I once managed 10,000 visitors in a single day on my shared HostGator server with some heavy caching and lean plugin usage.
I also routinely took this site past 50,000 monthly visitors on a regular shared InMotion Hosting server. I saved a ton of money using regular web hosting and adding a simple caching plugin like WP Rocket, but I also like doing that kind of thing and don't mind investing the time that's required.
GoDaddy bundles a lot of other features in their hosting plans. For example, they provide SFTP and staging areas on their upper plans. They also provide WordPress-specific customer support.
They do automatic WordPress updates. They bundle a free SSL. certificate. And they have special considerations for WooCommerce. In other words, they take care of the key features.
Backend & Usability
One of the biggest hurdles for new website owners is the learning curve of a new setup. Running your own website can be daunting – and dealing with settings, drop-downs, and jargon only adds to the stress of actually running your website.
GoDaddy has made serious improvements in their backend design, usability, and "onboarding" over the past 10 years. Even with a sprawling product line-up, they still make it pretty straightforward to shop, purchase and get on with your project.
Also, GoDaddy's WordPress Hosting product does away with some WordPress installation headaches and allows you to get on with your project. It's a big advantage compared to their technically-oriented competitors.
Product Integration
Full disclosure, I'm a fan of separating your domain and email services from your web hosting. Doing so allows you to choose providers that focus on a specific product. For example, I use Namecheap for long-term domains & Google Workspace for email hosting).
However, having one company manage your domain name, email, and hosting can make things much more convenient. Several of my friends & clients do this – and it works well for them.
GoDaddy domains are cheap and their email is straightforward. They even provide a free domain for a year. They have professional online securitym and they now offer bookkeeping & accounting services.
GoDaddy offers the full gamut of services and ties them all in together well. There's no pointing your DNS records or messing with SMTP settings. It's all there and it all works together. it's a big advantage for GoDaddy.
Scale & Resources
GoDaddy has the scale and resources to preemptively tackle security problems that smaller hosts can't work with. This has to do with their huge scale (they have plenty of technology directed at thwarting spam and hackers), but also with GoDaddy's restrictive policies (which is also a negative), but it keeps out spam and the attacks.
For example, when GoDaddy needed to beef up their online security/malware protection product, they simply went and bought Sucuri – a go-to web security company. They wanted to beef up their WordPress support services, so they went and purchased WP Curve.
And scale has advantages too. When GoDaddy says that they can "increase your resources to deal with additional load" – yeah, they can actually do that. When a mass hack or DDoS attack happens – they actually have resources to throw at the problem. If your site needs an extra GBs of bandwidth – they have that.
In contrast, WP Engine is another popular WordPress hosting provider. They have 429 employees and have been growing quickly. GoDaddy has 6,000 employees and 17+ million customers. Scale can be a bad thing…but on the increasingly complex Internet, it can also be a good thing.
Phone Support & Improved Down-Time
Some internet veterans will scoff at this (GoDaddy used to be absolutely notorious for support), but in recent years, GoDaddy has dramatically improved its customer service.
They offer 24/7 phone support, which is not common among hosting companies – even those famous for customer service.
It's not world-class, but for a huge corporate entity with super-discounted hosting… good support is a Pro in my book.
Also, they fulfill the primary duty of every hosting service… 99.9% uptime.
Brand Recognition & Stability
This is a GoDaddy Pro, no matter what Internet hipsters say. Sometimes going with a brand is advantageous even when a small upstart might be "better."
Big brands offer stability and staying power. In an environment where companies launch and fizzle daily, there's an advantage to going with a company that has been around since the early days of the internet.
GoDaddy Cons
Here are the main disadvantages that GoDaddy has as a WordPress Hosting provider.
Total Value Pricing
If you are trying to get full value for your money, GoDaddy's WordPress Hosting is a very poor value.
On all of GoDaddy's WordPress Hosting plans, you are severely limited on the number of websites and the storage space you're getting – not to mention all the other freedoms you're losing compared to a similarly priced web hosting plan.
For example, on my similarly priced InMotion Hosting Business Hosting (i.e., regular web hosting plan) – I've got six small but decently trafficked WordPress websites plus a self-hosted RSS reader. I use it to triple-back up a few personal videos (i.e., several gigabytes right there).
When priced out by dollars per storage or by dollars per website – it's an incredible value. GoDaddy's plans are cheap but a poor value when you look at the features you get.
Bluehost's Web and WordPress plans provide higher storage limits and unlimited websites – and no other limits (i.e., on databases) and are cheaper than GoDaddy.
Hosting Feature Limitations
As mentioned, GoDaddy's WordPress Hosting plans have surprisingly tight limits on features – even compared to direct competitors in the WordPress Hosting space.
Then again, I've noted how they have hard & low limits on their web hosting. I've compared written about this issue in several comparisons, including:
Additionally, they are notorious for their own proprietary setup, which can lead to GoDaddy's unique email & hosting issues. They have plenty of seemingly random caps on databases and bandwidth that you never encounter until you really need to break those caps.
Account Lock-in & Diversification
Migrating a WordPress website should be straightforward, but GoDaddy makes it difficult for its customers to leave. Their domain transfer is needlessly interrupted by annoying upsells and obstacles.
I recently did a client site redesign and scoped the project to migrate to another host. But the move wasn't worth the hassle since GoDaddy also hosted my client's email and domains.
Too Many Annoying Upsells
I mentioned this in my GoDaddy Domains vs. Namecheap comparison – GoDaddy has mastered the annoying upsell.
On the one hand, it's understandable as GoDaddy owns and operates many complementary products. And it is convenient to keep all your services under one umbrella. But at a certain point, you're not sure what you're being pitched and what you've bought.
With their WordPress Hosting plan – they promise "thousands" of free themes…when those are WordPress.org themes available to anyone, anywhere – but then upsell premium themes and even custom web design packages.
They offer built-in security for your website, only to upsell you on their online security product. They promise "free SEO plugins" (which, BTW, I've done a tutorial on here) while upselling other marketing services.
Final Thoughts on GoDaddy
GoDaddy's WordPress Hosting plans are an interesting option for anyone looking to build a WordPress website or blog. They offer brand-name stability, core features, and affordable pricing.
If you want to build a single site, save money, and only care about simplicity and results, you can pick up GoDaddy's current WordPress discount below using my exclusive link:

If you are looking for a WordPress Hosting plan with better support, features, and performance, I'd recommend InMotion Hosting.
If you aren't sure, check out my comparison of the top WordPress Hosting platforms.
If you are looking for shared hosting, I have a guide on the best web hosting companies.
FAQs
Related Articles