While there is no such thing as the "best overall" hosting company, SiteGround and GoDaddy excel at different things and are geared at slightly different markets. I've written full reviews of SiteGround and GoDaddy, now it's time to pit the two web hosting platforms head-to-head.
In this GoDaddy and SiteGround comparison, I'll break down the differences that I've found in seven key areas, ranging from pricing to customer service to market focus, so that you can decide which web host is the best fit for your project.
Comparison Summary
Background
GoDaddy is well-known in the website services industry. They once made a splash for their Super Bowl ads and have a constant presence on TV and the Internet. They started as (and still primarily are) a domain registrar, but have expanded to a range of complementary product lines, including hosting, email, web storage – even bookkeeping.
In recent years, GoDaddy has marketed itself as being a one-stop shop. I've written about their website builder before and compared their domain product to Namecheap, but for this article, I'll look specifically at their Linux-shared hosting product.
SiteGround has been around for a while – though they have grown rapidly in recent years. They are one of the few independently owned hosting companies (i.e., not owned by Newfold Digital or GoDaddy). They are based in Sofia, Bulgaria, but they've cultivated a global reputation by placing data centers in several regions and sponsoring industry conferences around the globe.
As mentioned in my SiteGround review – they have a heavy focus on support and cutting-edge developer features (like staging & one-click SSL). They have complementary products, too, but their bread and butter is web hosting.
Pricing
Comparing pricing in the hosting industry can be maddening as very few web hosts offer the same services for their different plans. Everyone has different caps and bonuses. And nobody can sell just a plain vanilla version of their product – everything has to be "marketed-up" to look like something else, even when it's not.
Regarding SiteGround and GoDaddy pricing, once the introductory pricing expires, GoDaddy is the cheaper of the two platforms. And it's cheaper in general on some product variations.
However, if you look closely at the features, SiteGround is competitive on head-to-head pricing and may offer better value than GoDaddy.
| Plan | StartUp | GrowBig | GoGeek |
| --- | --- | --- | --- |
| Initial Price* | $2.99/mo. | $4.99/mo. | $7.99/mo. |
| Renewal Price | $14.99/mo. | $24.99/mo. | $39.99/mo. |
| Websites | 1 | unlimited | unlimited |
| Storage | 10 GB | 20 GB | 40 GB |
| Bandwidth/month | unmetered | unmetered | unmetered |
| Free Domain Name | | | |
| Free SSL | | | |
| CDN | | | |
| Dedicated IP | | | |
| Daily Backups | | | |
* Pricing per month for a 12-month subscription
| Plan | Economy | Deluxe | Ultimate | Maximum |
| --- | --- | --- | --- | --- |
| Initial Price* | $5.99/mo. | $7.99/mo. | $12.99/mo. | $19.99/mo. |
| Renewal Price | $9.99/mo. | $13.99/mo. | $13.99/mo. | $24.99/mo. |
| Websites | 1 | 10 | 25 | 50 |
| Storage | 25 GB | 50 GB | 75 GB | 100 GB |
| Bandwidth/month | unmetered | unmetered | unmetered | unmetered |
| Free Domain Name | 1 year | 1 year | 1 year | 1 year |
| Free SSL | | | | |
| CDN | | | | |
| Dedicated IP | | | | |
| Daily Backups | | | | |
* Pricing per month for a 12-month subscription
Let's take a more detailed look.
In all my hosting reviews, I assess pricing on three criteria:
Core hosting features – disk space, databases, domain connections & email addresses.
Bonus features – ad credits, premium support, SSL certificates, etc.
Special Services – WordPress / CMS management, custom setup, security scans, etc
Core hosting features are the basics needed to get your website online and seen by the world. Hosting is simply renting space on someone's server to store your website files and serve them up when the domain gets requested from a browser. If you are trying to find the best value – this is how you make an apples-to-apples comparison.
Bonus hosting features are the extras web hosts toss in to sell you on their services. Some are helpful, and some aren't – it all depends. The important thing is to identify the ones you care about and focus only on those.
Special hosting services usually get segmented into other hosting plans – i.e., "WordPress Hosting") – which are the same at their core but with additional services the hosting company provides. You need to decide if they matter and what you want from them.
For example, many hosting companies provide "WordPress or Joomla! Hosting" – different names both have the same core hosting features with software-specific features added.
Sometimes it's worthwhile – like security scans, server-level caching, etc. – or it can be near worthless – like getting access to a support specialist familiar with your specific software.
Either way – SiteGround and GoDaddy both provide all three.
On core hosting features, SiteGround mainly limits storage caps on all plans and their domain connections on the StartUp plan.
GoDaddy limits databases on Economy & Deluxe and limits storage and domain connections on the Economy plan.
On regular pricing – SiteGround runs between $4 to $10/month more on their low and mid-tier plans.
However, GoDaddy also caps email storage space on both. Additionally, GoDaddy charges extra fees for backup & restore (daily backup and restore is free on SiteGround) and SSL bonus features.
To summarize, SiteGround's and GoDaddy's low and mid tiers offer similar values. However, the top-tier pricing can get confusing.
SiteGround is much more expensive, but that's mainly because their top tier has so many more bonuses & additional services that it's much more than what GoDaddy offers.
GoDaddy's top tier simply makes their email storage unlimited while adding more memory to their servers. Both of these features are covered at SiteGround's mid-tier. So in a way – GoDaddy's Ultimate tier is a better competitor to SiteGround's mid-tier.
SiteGround's top GoGeek tier is simply different and more comparable to GoDaddy's separate Developer WordPress Hosting Plans or their Business Hosting Plans.
The bottom line is that GoDaddy is cheaper, but SiteGround is competitive, with more value per tier for the price.
But pricing isn't our only consideration. Let's take a closer look at the features each web host offers.
Hosting Features
GoDaddy and SiteGround place caps on core features, but their focuses differ. SiteGround places caps on storage. GoDaddy caps its databases (which determines how many apps you can install) & email.
GoDaddy's bonus features align with their complementary services. They are a major domain registrar, so they offer a free domain with one-click integration. They also partner with Microsoft, so they pitch their integration with Office365.
SiteGround focuses its bonus features on performance & security enhancements. They offer free Let's Encrypt SSLs. They run their servers with SSD (i.e., flash memory hard drives rather than magnetic tape drives). And they have the latest versions of PHP and have HTTP/2-enabled servers.
Not every customer will need or use those features – but again, the focus from GoDaddy is that "we are convenient," and the focus from SiteGround is that "we are a high-performing host."
Regarding backups, SiteGround says they "keep up to 30 backup copies of your website" with free daily backups (though not on the StartUp plan). With GoDaddy, it's an additional fee.
Both web hosts offer 30-day money-back guarantees.
Performance & Performance
As mentioned, a web host's primary job is to deliver your website files whenever a browser requests them – as fast as possible.
Many variables influence website speed, but most are the website owner's responsibility.
However, if you have a slow web host, there's only so much you can do to speed up your site.
Only GoDaddy and SiteGround know how their networks perform minute by minute and how many websites they host per server.
However, we can estimate website performance by measuring Time To First Byte (TTFB). It offers a rough idea of how quickly a server responds to its first request.
While it is best to make several measurements over time (to get an average), here are the most recent tests I performed using similar websites.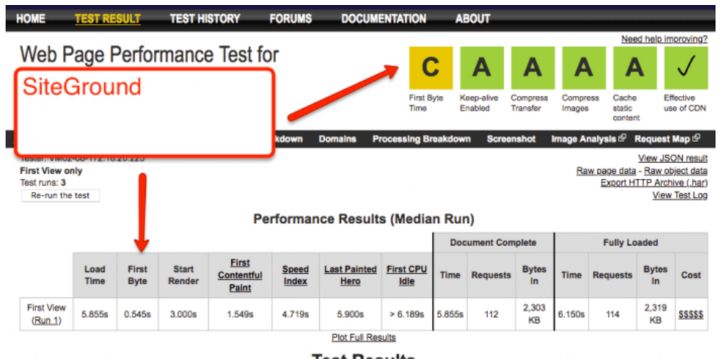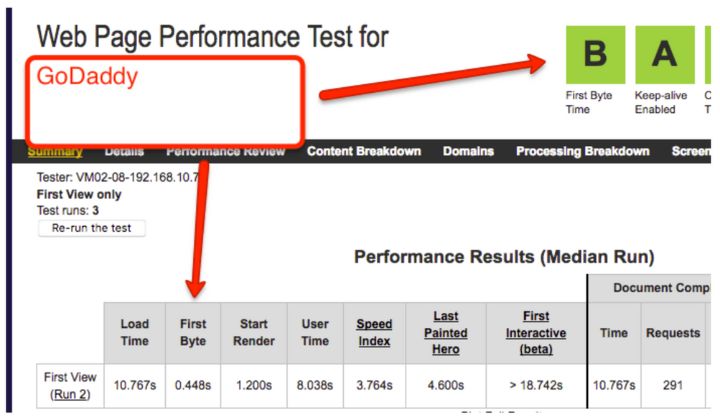 As you can see, both sites are about the same. Keep in mind that neither of these sites is optimized for speed (i.e., with caching, etc.) – so both can be made faster. However, you get an idea of the default "out-of-box" performance of each.
Additionally – there is "uptime" to consider (whether your server is up or down). Both guarantee 99.9% uptime, but only SiteGround maintains a public, real-time uptime dashboard.
Historically, SiteGround would win on performance. But GoDaddy's improvements over the past year have closed the gap on general speed.
Usability & Onboarding
Onboarding involves moving a new customer from the "ok, I signed up…now what?" moment to an active, happy customer.
Usability is the design of the software to make sure the user can always do whatever it is that they want to do.
SiteGround and GoDaddy both use cPanel as their server management dashboard. Both have it customized so that it doesn't look technical and daunting. Here are the respective screenshots.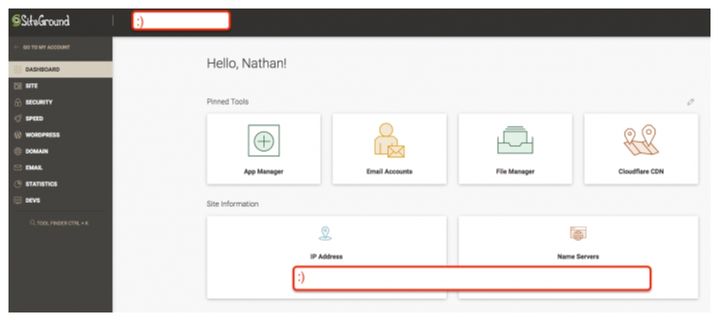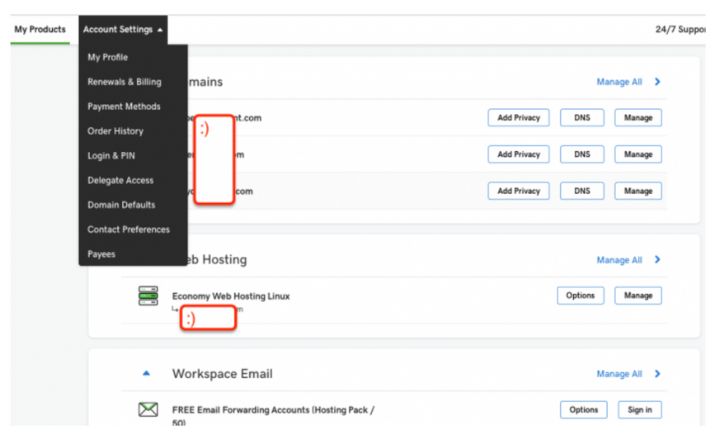 They both do a good job of moving you from purchase to website setup. In general, I'd say they are a tie – except for GoDaddy's upsells.
Now – I don't have anything against upsells. Sometimes the services being offered can add value. That's great. But as with their domain service, GoDaddy's web hosting upsells can be a bit annoying.
If that's tiresome for you – then you'll like SiteGround better. If not, then they are both fine on usability & onboarding. You'll get to where you need to be with both.
Customer Service & Support
Customer service is hard to rate. Both SiteGround and GoDaddy have raving fans and disillusioned detractors. I've received emails from frustrated users of both companies, though I've never personally had an issue with either.
That said, I think SiteGround's reps pass the "yeah, this rep knows their stuff" test, while my first contact at GoDaddy is more likely to transfer me when I reach out.
Either way, with all my best web hosting comparisons, I look at two indicators to determine if a company treats customer service as a cost, an investment, or a sales opportunity.
First is access to customer support.
Both SiteGround and GoDaddy provide phone, chat, and email tickets. They both have helpful knowledge bases. The only difference I notice is that SiteGround's knowledge base is much higher quality. You can use it to actually solve problems – even non-SiteGround-specific problems. GoDaddy's knowledge base is devoted to troubleshooting GoDaddy-specific issues.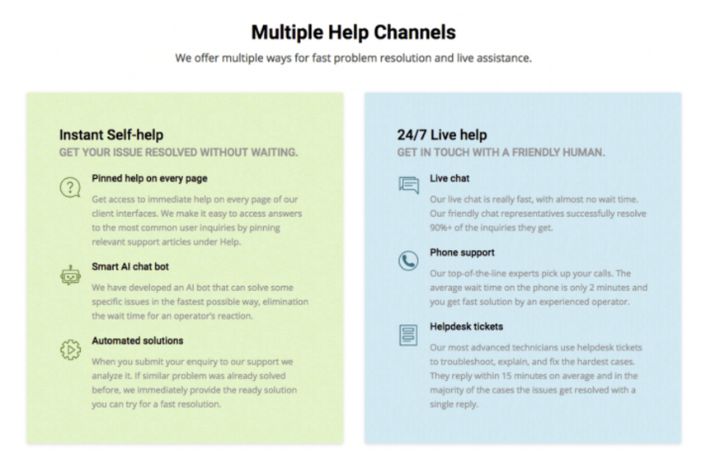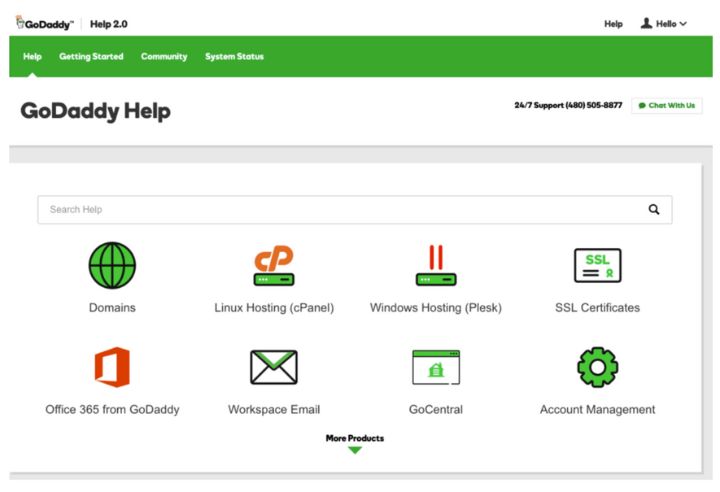 I also look at how a company invests in customer support. With GoDaddy – the emphasis is on contact. They put a lot of investment into phone support, but their phone support also has a lot of triage.
There's no focus on solving problems at the first point of contact. They are also somewhat handicapped by their massive product range. Since they offer everything from bookkeeping to photo storage to hosting to builders – GoDaddy's energy is spent triaging rather than deep problem-solving.
With SiteGround, it's the opposite. Even if SiteGround can't solve the problem, in the end, it's apparent that they devote a lot of resources to training, transparency, and complementary resources like knowledgebases, webinars, and integrated tips into their platform.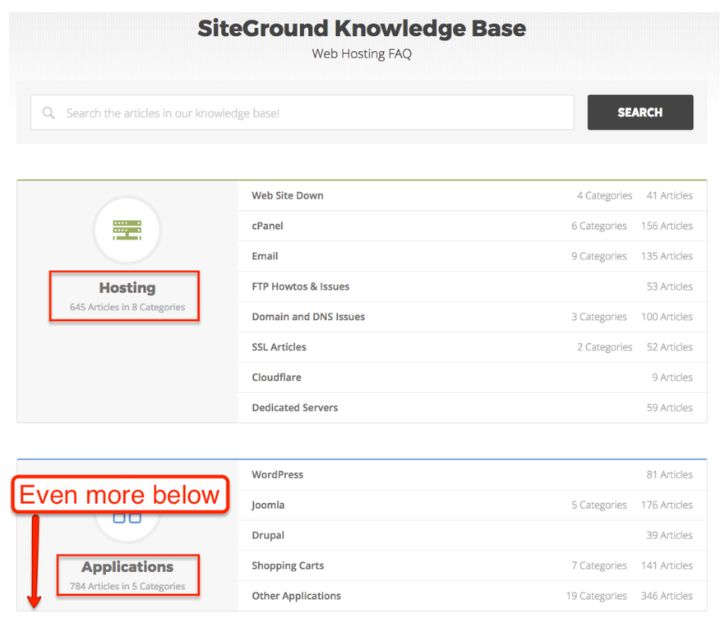 While GoDaddy has improved over the years – SiteGround is the winner in service and support.
Market Focus
For years, GoDaddy has tried to become the all-in-one service provider for small businesses. They have an enormous range of products customized for nearly every need. They even own a bookkeeping product along with the best security scanning software. Their target market is, apparently, "everyone."
The problem with targeting a broad customer base is that you also inherently target "no one" – you are the Walmart of websites. You do a fine job, and people are generally resigned to using your service because of price and convenience – but not necessarily because they love your services.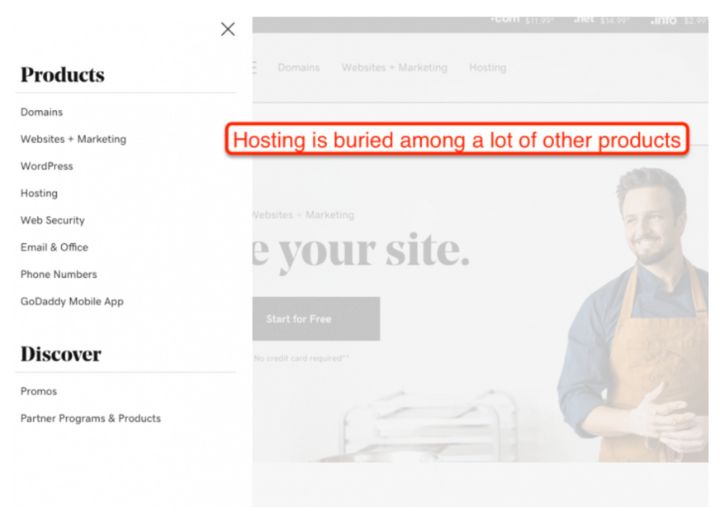 SiteGround is unique among hosting companies. American brands have generally dominated the hosting market. There are niche regional providers, but none have had real success in both the US and global markets.
SiteGround is a Bulgarian company, but they could be from anywhere. They use their global brand and data centers to stand out.
SiteGround has grown rapidly due to its sole market focus on developers and freelancers looking for more features and support from their hosting company. SiteGround has been the first to market with innovative features like shared staging and one-click SSLs.
They are everywhere at conferences and meetups. They are also transparent. They hold the distinction of being one of the few independent hosting companies with a global footprint.
Some of their features and messaging sound technical and daunting, but that's because they pretty much stick with their core product (hosting) and core market, "hipster freelancers" and developers.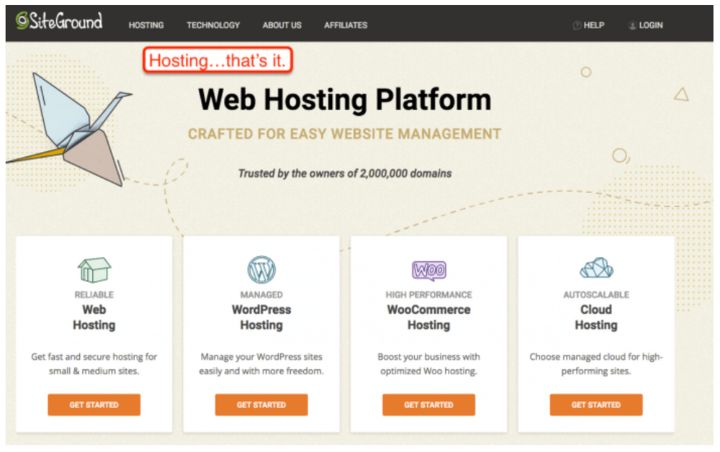 If you have a small website and already have GoDaddy products like a domain and/or email – then using them for hosting, too, makes sense. If you are concerned about price above all else, then GoDaddy also makes sense. But if you are a freelancer or small business looking for a company that caters to what you do, SiteGround makes more sense.
Other Factors
As mentioned in my Namecheap or GoDaddy for Domain Registration post – there are other factors to consider.
On transparency, SiteGround provides a status page for their uptime and provides full specs of their hardware – all from their main navigation menu.
They have profiles of their support staff – and a very direct values page. None of this is new in the industry, but SiteGround does more than GoDaddy in this area.
When it comes to building the community, SiteGround does a lot to support open-source software communities such as WordPress and Joomla. They also sponsor meetups for website owners worldwide and contribute cutting-edge features.
GoDaddy has recently started STEM partnerships in schools and allows charities to get "roundup" funding on their checkout page. But – and this is not to be cynical – the page is buried in a "Corporate Responsibility" link in the footer.
To summarize, I'd say that SiteGround acts on its values more than GoDaddy. Whether or not that matters is entirely up to you.
SiteGround vs. GoDaddy Conclusion
If you want the cheapest plans or the most convenience (assuming you use GoDaddy domains), then I'd go with GoDaddy. I have clients who use them and do just fine.
But if you are looking for a host with better performance, support, and overall value, then I'd go with SiteGround.
If you are still looking for other providers, check out my Shared Hosting Quiz here and/or my WordPress Hosting Quiz here.
FAQs