WooCommerce is the most popular eCommerce plugin for WordPress, which is the Internet's most popular content management software.
WooCommerce was originally developed by a small theme / web design firm in 2011. It grew rapidly among the WordPress community due to its feature set, but also due to its business model.
Same as now, you could download & use the full WooCommerce plugin for free from the start. WooThemes made money by selling compatible designs, support, and from specific extensions (e.g. to connect to a credit card processor).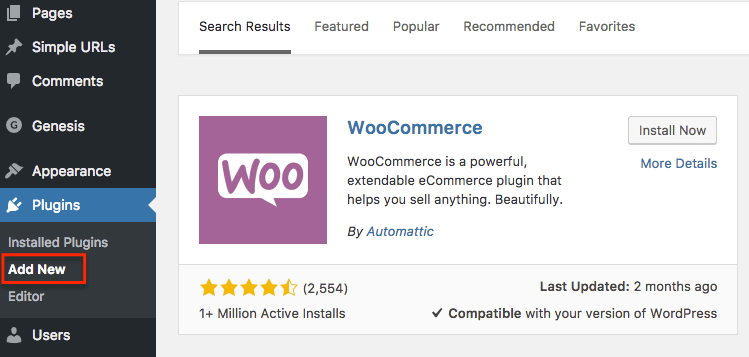 In 2015, Automattic bought WooCommerce from WooThemes. Automattic is a software company run by Matt Mullenweg, the original author of WordPress software.
Ever since the development of WooCommerce has been tightly coordinated with the development of both self-hosted WordPress and Automattic's hosted WordPress.com software.
So that's enough introduction. The point is that WooCommerce is legit, WooCommerce is growing, and WooCommerce can be a great fit for many storeowners…but not all.
What is WooCommerce?
To run an eCommerce website, you only need a few additional features. You need a product listing, a shopping cart, a payment processor, and order functionality that will merge & manage all the order information within a database.
Because of that, the best eCommerce platforms are very similar to general website software…with just a bit of added functionality.
And like general website software, your choice of software depends on your personal desire for control / customization vs. convenience.
It's a bit like real estate. A house provides maximum control. But you have to deal with maintenance, contractors, and random issues. A hotel offers zero control or customization, but they take care of *everything*.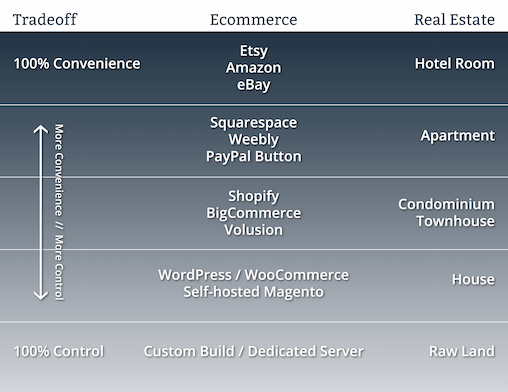 WooCommerce lives on the more control / customization end of the spectrum. If Etsy & Amazon are hotels, then WooCommerce is a house.
WooCommerce is a software plugin that adds eCommerce functionality to WordPress, which is general website software (aka "CMS").
And WordPress is part of a 3 part bundle that "makes a website" –
domain (your address on the Internet)
hosting (where your website files live)
software (what generates the files & pages that make up your website)
In other words, WooCommerce can help WordPress build a stand-alone store instead of a single-family home.
Now, this leads to the first overarching choice with WooCommerce.
Your choice is that WooCommerce is *part* of that 3 part bundle. It directly competes with other WordPress eCommerce plugins.
But…it also competes with other big bundled eCommerce solutions. And many big competitors deliberately bundle domain, hosting, software & eCommerce into a single, simple monthly price.
That's great – and there are plenty of upsides & downsides to that bundling. But it's important to be aware of since exploring the pros & cons of WooCommerce is a bit like comparing apples & oranges with other eCommerce solutions.
But – we'll do it anyway. I love WooCommerce for what it is, but it's not for everyone. Here are a few pros & cons of WooCommerce both in comparison to direct & indirect competitors.
Pros of WooCommerce
Most eCommerce platforms have a series of strong advantages, and WooCommerce is no different. Here are a few reasons to use WooCommerce, not only instead of other WordPress plugins but also instead of other eCommerce solutions.
Long-term Cost & Value
WooCommerce is free to download & free to use. If you have WordPress installed on your hosting account, you can navigate to Plugins –> Add New and add it to your website right now.
Explore my WordPress Ecommerce Setup Guide here.
WooCommerce is also fully functional with no add-ons or extensions.
That means that your annual website costs could be as low as around $120 per year, depending on what hosting plan you have.
In contrast, the average low-tier eCommerce bundle with a hosted service. For more detail see my Shopify or Wix review. It will run around $360 per year for a single website.
But it gets even better for WooCommerce.
Since your main annual cost will be for a hosting plan, you can maximize the value of your hosting account with multiple websites.
If you had 4 small WooCommerce powered websites on your hosting account, then your annual per website costs would be $30 per yearr.
To run 4 small ecommerce websites with Shopify or Wix, your annual per website costs would be at least $1,440/yr.
For example, one of my earliest clients had a personal website, a home decor blog, a cat collar store, and an embroidery store – all on her same hosting account.
All 4 sites used WordPress, and the 2 store used WooCommerce. It helped her defray the costs and keep her 2 stores profitable – since they were side-hobbies anyway.
But it gets even better for WooCommerce.
WooCommerce comes fully-featured and fully supported with no transaction fees of any kind. There's no "premium tier" to move to. Your long-term per-feature costs will always be lower with WooCommerce.
Also, almost all of WooCommerce extensions are flat-fee and under $100. You have access to a huge and rapidly expanding library of advanced, complex ecommerce features for flat-fee optional cost.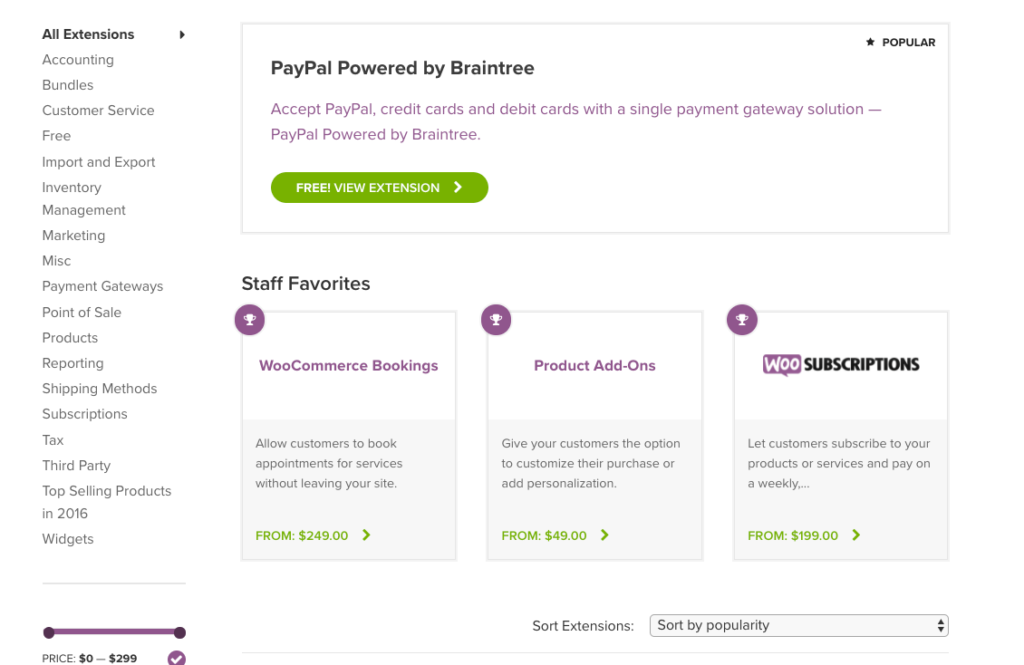 And, lastly, since WooCommerce works within WordPress, you get a double cost benefit for any free or premium plugins that you already want to use with your website.
For example, the most popular Redirection plugin for WordPress is free. And it's free for WooCommerce too, since WooCommerce is integrated with your website.
If you are already paying for speed, security, and anti-spam for your existing WordPress website (with something like JetPack), then you can simply extend that subscription to cover your store as well.
And, you can piece together any 3rd party software based on cost, need, compatibility, etc.
If we stick with the housing analogy with WooCommerce, you can sub-lease rooms to help with the rent, your home office can benefit from your general security bill, and you can add-on *exactly* as your budget allows.
Now…all these massive cost benefits for WooCommerce comes with a few massive caveats, which I'll cover in the cons. But on face value, WooCommerce is an incredible short-term and long-term value for any storeowner.
Integration with WordPress
WordPress software powers more than 1/3rd of the entire Internet. And it's popular for a reason – it works well, it's incredibly versatile as software, and it has a huge community (both for-profit and non-profit) supporting it.
And WooCommerce benefits from all three reasons as well, since it's been a part of the broader WordPress community for years now.
This seamless integration with WordPress is important because WooCommerce can pull features in from an entire universe of plugins, themes, tutorials, and values that simply does not exist anywhere else.
For example, Yoast SEO has long been a hugely popular plugin with lots of international translations, advanced SEO feature support, and good usability.
There is no hosted platform with anything like it (or like any of Yoast's excellent competitors). But since WooCommerce is integrated with WordPress…Yoast is integrated with WooCommerce as well.
The same goes for popular themes. Themes will support the same PHP structure as WooCommerce. In fact, developers will often go ahead and add bonus features to WordPress themes to make it extra appealing to WooCommerce users.
Plus, WordPress has long upheld the values of the Open Web with full RSS support, nice permalinks, W3 valid code, cross-browser compatibility, and full control over your code, content & data.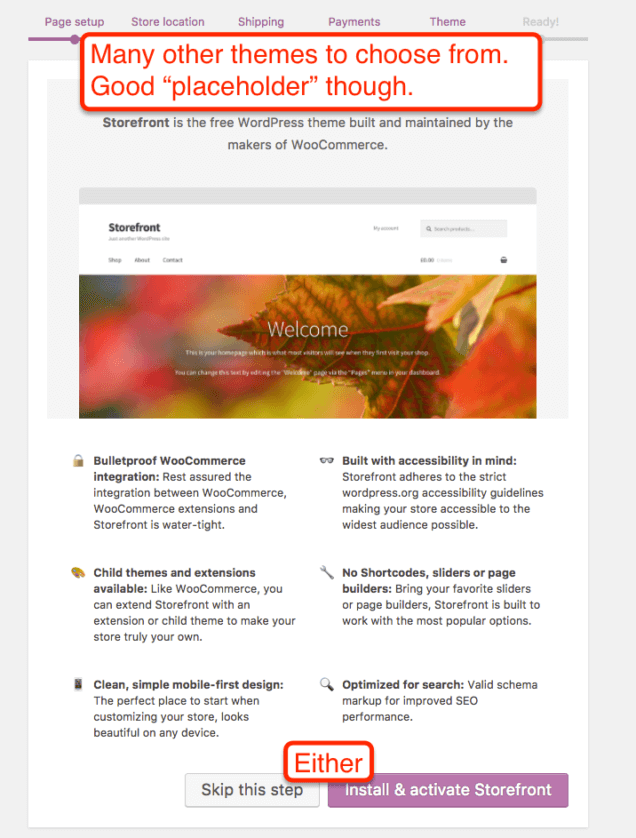 If you want to leave WooCommerce, it's easy and well-supported. Your data is only accessible to you – and anyone you grant permission to (not the other way around).
Lastly, if you have an existing WordPress powered website and want to add ecommerce, WooCommerce makes it as seamless as any other plugin so that you don't have to style & support a store on a completely different platform.
Support from Automattic
Automattic is a company founded by Matt Mullenweg, who is also the author of WordPress software.
WordPress software is free, open-source and community supported. But Automattic is the for-profit company that makes & sells tools for WordPress software.
They run WordPress.com, a bundled hosted service for WordPress software in addition to JetPack, a speed / security / utility kit for WordPress websites, and WooCommerce.
Now, there's a whole universe of for-profit companies offering WordPress plugins, themes, support, etc. They all do great work, and I recommend many of them.
But for longevity, consistency, and building more 3rd party integrations, I think it's in WooCommerce's advantage to be owned by Automattic.
There are plenty of WordPress software companies and plenty of good eCommerce plugins. In fact, some have features and setups that I like a bit better than WooCommerce (mainly for digital goods only).
But the bottom line when comparing WooCommerce not only to other plugins, but also to Shopify, Squarespace, or Wix – is that you need a large company that will be around and have an financial interest in keeping the software cutting-edge.
Additionally, since Automattic is still private and venture-funded – they are still in "growth" mode, which only means more investment in features & customer service.
WooCommerce's ownership is a huge advantage for choosing WooCommerce over other ecommerce plugins, and put it at parity with other eCommerce solutions offered by large, stable companies.
Versatility & Compatibility
A few fun facts about WooCommerce –
You can use it to sell memberships
You can use it to sell recurring licenses
You can use it to sell digital goods
You can use it to sell apppointments
You can use it to sell affiliate, drop-ship, or even Amazon products
You can "hack" it and combine to sell really anything you can imagine
The actual plugin is incredibly versatile and compatible with a huge range of uses. Like WordPress, your imagination is likely more limited than the tool is.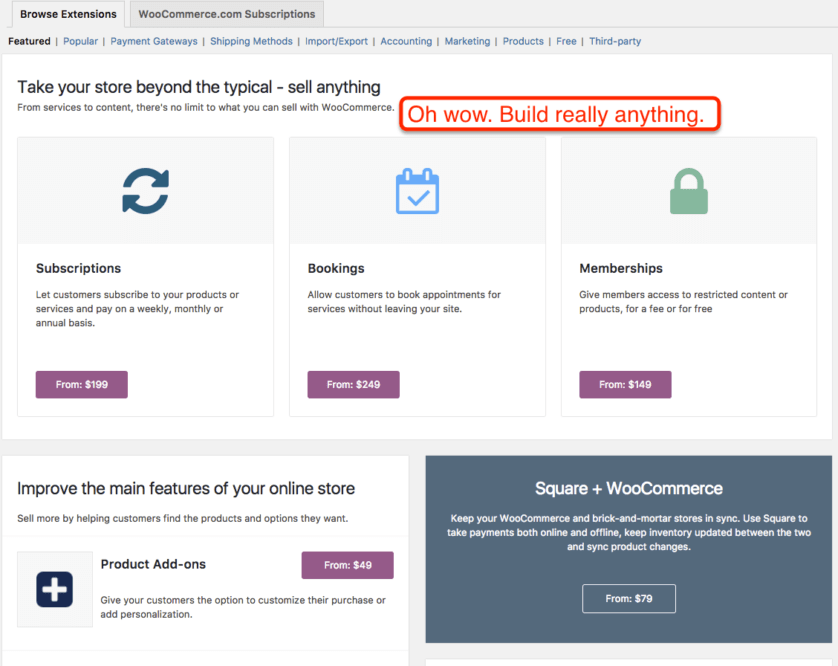 The plugin automatically creates & manages a range of page types including products, product categories, orders, confirmations, etc
It's compatible not only with most single-use WordPress plugins but also with large site-type plugins like the BuddyPress social network plugin and bbPress forum plugin.
In other words, you can create a niche social network with forum and online store all with the same WordPress install.
3rd Party Integrations
WooCommerce has a large & growing Apps & Extensions store. It's a library of premium extensions that allow you to harness powerful 3rd party software for things like payments, shipping, cross-product listings, inventory management, marketing, bookkeeping, and more.
If you are an offline merchant who loves a 3rd party processor (like Square), then you can use an extension to add it to WooCommerce.
If you love your 3rd party shipping or inventory software, it will probably integrate with WooCommerce.
Ease of Use & Onboarding
This pro has a caveat – I'm assuming that you have worked with WordPress before. If not, this will actually appear in the cons section.
But, if you have, WooCommerce's onboarding is amazing. They've upgraded the process to the point where my WordPress Ecommerce Setup guide isn't nearly as useful as it used to be.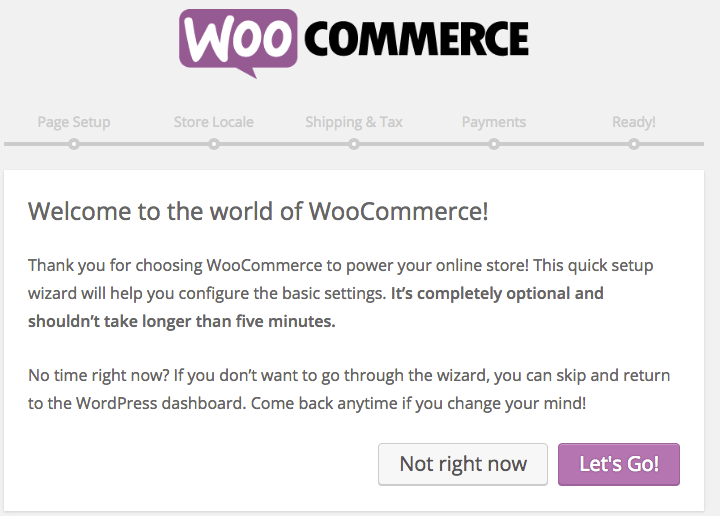 When you add the WooCommerce plugin, you are instantly moved into a setup sequence that will help you list your first product, set up your page types, and get all your basic settings ready to roll.
You really can be set up to sell in minutes. And unlike some plugins that create a dedicated section for use, WooCommerce automatically folds pages, media and options within the existing WordPress install so that everything appears where you think it should be (e.g., media settings, categories, etc).
Control & Customizations
Since WooCommerce is a PHP-based plugins that integrates with your WordPress install, you have direct access to the code via browser and FTP.
You can add, remove, edit scripts and bits of code to your heart's content. If you want to edit your checkout flow or your error codes or your analytics script or your CSS – then you just do it.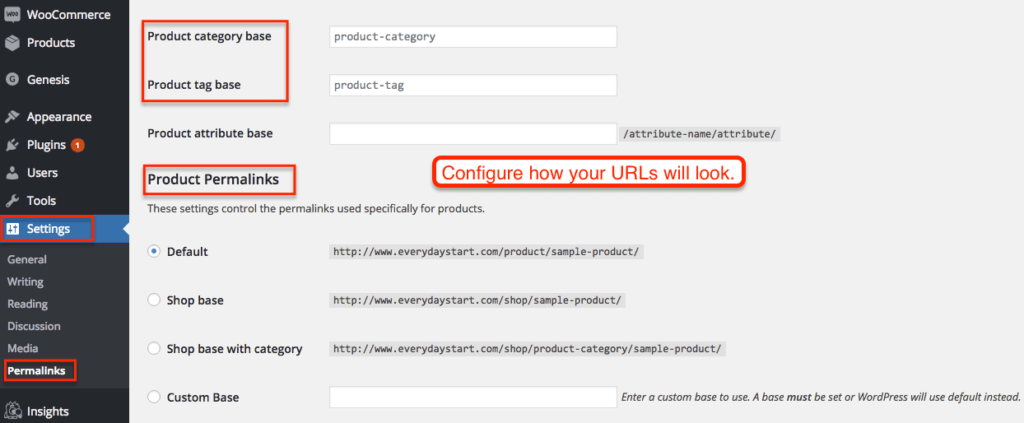 You are not limited by a platform's plan or code access or script limitations. If you want to hire a designer or developer or marketer, you can hire from a huge pool rather than a narrow field.
There are even custom extension developers who will create whatever extension for WooCommerce that you want.
Do you run a store than needs to accept Dogecoin? Or a very specific shipping option? You'll need to use WooCommerce – because no major ecommerce platform will be building that anytime soon.
Cons of WooCommerce
Every ecommerce platform has natural disadvantages since there is an inherent tradeoff between control & convenience. You'll likely find a lot of WooCommerce complaints and issues around the Internet.
Here's a few of the key disadvantages you'll find with WooCommerce – and using WordPress as an online store in general.
Ease of Use & Onboarding
WooCommerce & WordPress both try to make ease of use & onboarding (i.e., moving a new user to an active user) simple, straightforward and intuitive.
There are plenty of guides around the Internet, along with prompts, Q&As, support, and more.
But the bottom line is that there is still a basic tradeoff between control and convenience.
For a beginner, WooCommerce has a learning curve that is even steeper than WordPress' learning curve. When you install WooCommerce, you not only have to learn the basic jargon of an ecommerce store (listings, checkout flow, payment tokens), but you also have to learn the basic jargon of WordPress (permalinks, posts, pages, plugins, etc) and the basic jargon of any self-hosted website (difference between HTML & CSS, page load speed, etc).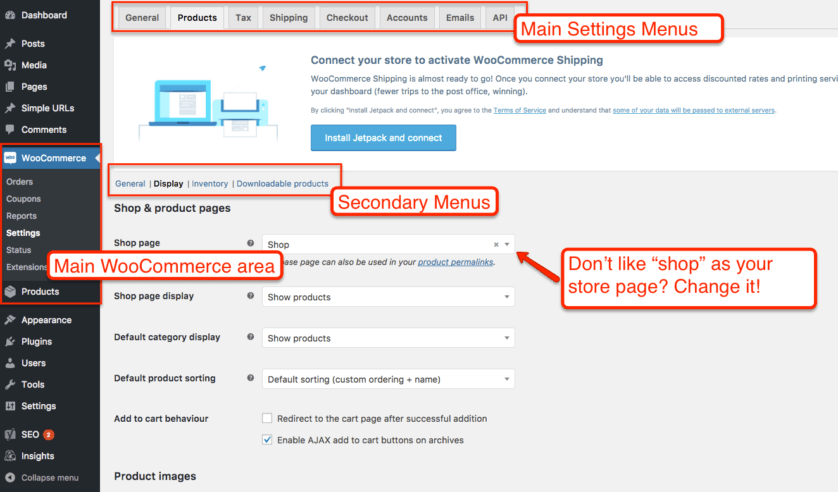 For a beginner with zero experience with WordPress or running a website, WooCommerce will require a steep learning curve. Now, it might be worth it if you have the time & patience to learn everything.
But compared to drag & drop basic online store builders like Weebly or Wix or even comprehensive ecommerce platforms like Shopify, WooCommerce's onboarding & setup is a huge downside.
Technical Maintenance
Sticking with the house / apartment analogy, you know how you can just call the landlord when something goes wrong?
Yeah, you can't do that with WooCommerce. There is some semblance of support via your hosting company and Automattic (if you are a premium JetPack subscriber) and the WooCommerce community. But there's no single place to just call and get something fixed.
In fact, like a landlord, there's no one who will come by and just check on the HVAC filter, the roofing, and basic structure.
Running WooCommerce is really like owning a house. There are plenty of people who will help you maintain it. In fact, many are quite reasonable and even quicker than a landlord.
But…when it comes down to it, *you* and *you* alone are in charge of keeping your website maintained, available, and operating.
Plugins will notify you of security updates, but you will need to install them and manage any new conflicts. Your hosting company will give you support, but you need to know what questions to even ask. You'll need to know how to troubleshoot.
This downside comes directly from the benefit of maximum control. With maximum control & freedom comes maximum responsibility.
Again, you can get customer support for WooCommerce. In fact, some hosting companies offer "WooCommerce Hosting" with management included.
But compared to online store builders like GoDaddy, Wix & Weebly or ecommerce platforms like Shopify, WooCommerce is lacking in simple technical maintenance.*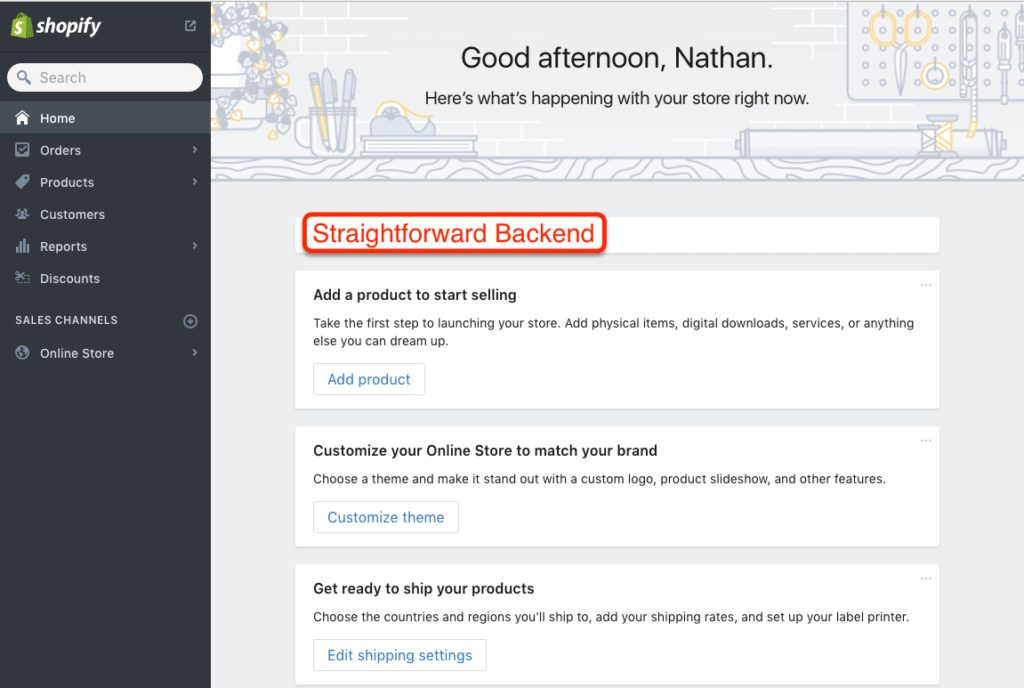 *The one caveat here is the WordPress.com option – they are a hosted version of WordPress run by Automattic. Since they bundle hosting, software, support & more – you can get many of the benefits of WooCommerce without this downside. They'll take care of all the maintenance…at an extra price.
Speed & Security
With the continued growth of mobile and the profitability of hacking, website speed & security are more important than ever.
Like the situation with technical maintenance, WooCommerce leaves you basically in charge of speed & security – even though there are plenty of native & 3rd party options to help you.
WordPress & WooCommerce are inherently secure when installed with a good hosting company, maintained, and used with basic security best practices.
Additionally, WordPress & WooCommerce are inherently fast when installed with a good hosting company, maintained, and used with basic speed best practices.
But your weakest link is the toughest part with both speed & security.
For hosted platforms like:
this is an area where they truly shine. Your website lives on their infrastructure with their team of professionals watching constantly for issues and keeping software cutting edge.
In fact, several have bounty programs where they pay hackers to deliberately seek vulnerabilities in their systems. They will also have direct partnerships with payment processors for real-time fraud alerts.
Overall, speed & security should not be an issue for WooCommerce storeowners – including beginners. But, like with owning a house, you are still the one responsible for any issues.
It remains a key downside of WooCommerce, especially if you store starts growing rapidly from hundreds of visitors to hundreds of thousands of users – which brings us to the next downside.
Growth & Scaling
Since WooCommerce is a plugin for WordPress, it has to work within WordPress' basic functionality.
And WordPress' basic functionality is not built specifically for eCommerce, it's built for versatility.
This issue means that the way WooCommerce works starts to break down when you get above a certain threshold of "queries" – ie, requests of the database.
And unlike browsing content, or really any other type of functionality, ecommerce can generate *a lot* of queries, very quickly, and in a short space of time.
Imagine WooCommerce is a single dude standing between a group of customers and a library. Imagine they all need to request books and return books before paying you, getting change, and then leaving. Now, if they go one at a time, it's fine. In fact, you can probably push the guy to handling several returns and new books at once.
But imagine they all show up at once, say, on Thanksgiving, and start shouting out lots of book orders. And they start giving books to put back…and they all want to pay all at once.
Well, the dude is going to get really confused, tired, and crash. Not because he's not good but because it's a not-ideal system.
That's WooCommerce's core problem – handing *lots* of add to cart and checkout events all at once.
Ecommerce platforms that are built from scratch for ecommerce like Shopify do not have this issue. They use a completely different set of technologies to avoid WooCommerce's inherent issues.
Now, before a bunch of WordPress folks' start sending me emails, WooCommerce can absolutely scale to hundreds of thousands of orders. WooCommerce says that the issues is a myth and has examples to prove it.
All true. But it take a lot of work & expertise to make that type of scaling happen. Here's an interview with a top WordPress expert on making WooCommerce scale…and even he discusses it like a huge project, not something built-into the product.
If you have a small, growing store, this is a non-issue. You can solve problems as they come.
But if you are starting what will be a large ecommerce site very quickly, it's a critical disadvantage to be aware of – especially when looking at other Enterprise ecommerce options.
Potential Long-term Costs
WooCommerce's price (free!) and potential long-term value are amazing for beginners and anyone on a budget.
However, you may have noted the potential need for 3rd party help, WooCommerce can become quite expensive.
One of my earliest clients back paid me $1200 to fix several emergency issues that she simply could not figure out before her sales deadline.
She had chosen WooCommerce specifically to control costs (rather than integrate with an existing content site). But it will take several years of no issues to recoup those costs compared to a Shopify plan.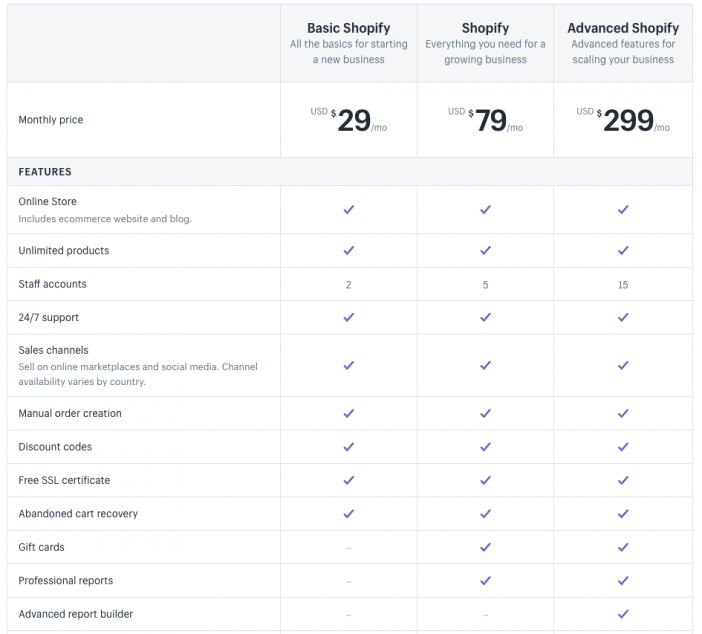 Since WooCommerce is not bundled with hosting and other software, it's also easy to let regular costs get out of control. Once you start paying for automated backups, security scanning, managed hosting, CDN, premium plugin extensions, and more – your monthly costs may be much higher than anticipated (again, just like homeownership vs. renting).
Now, all these costs are *potential* costs. And if you have the time and patience, many storeowners would rather than potential costs that they choose rather than an high guaranteed cost. But it's a potential downside to be aware of.
The Future of Ecommerce
Ecommerce is changing rapidly. And the speed of change is happening faster everyday.
Apps like Poshmark, Depop, Pinterest, and Instagram are moving more eCommerce to happen seamlessly within apps via "headless" eCommerce backends.
In other words, some eCommerce platforms are simply inventory & order tracking systems where the actual shopping, cart, and payments happen within a 3rd party app.
In some ways, WooCommerce's open structure should be an advantage. And yet, cutting edge ecommerce relies increasingly on APIs and direct integrations, which are not WooCommerce's specialty.
Shopify is able to leverage its size, infrastructure, and tech team to create cutting edge integrations. Same with MailChimp, Square, and a whole universe of similar marketing tools.
And all that does not even start to discuss Amazon.
All that to say, WooCommerce does have a current disadvantage with ecommerce as it is currently evolving.
However, it could have a huge advantage as content becomes more important. And it will forever have an advantage as somewhere that you truly own & control. It's this bet that Automattic has their money on.
It's a potential downside to consider. There's no right answer, it all depends on your goals, expertise, and view of the future. There's a reason why so many website builders like Wix, Weebly, Squarespace, WordPress.com, and GoDaddy GoCentral are adding basic ecommerce functionality.
All of which leads us to a few direct comparisons.
WooCommerce Alternatives
There is a whole universe of eCommerce solutions on the Internet. Compared to 2003, this is a really good problem to have. But as an online storeowner, navigating choices is still an issue. Here's a quick rundown of the main alternatives to WooCommerce, along with links to further posts.
WooCommerce vs. Other WordPress Ecommerce Plugins
There are lots of eCommerce plugins, but most are pretty terrible. WooCommerce's main direct competitors are –
WooCommerce can also run on WordPress.com as part of a hosted bundle. This option removes a lot of WooCommerce's negatives, but also increases WooCommerce's costs & removes some of the self-hosted freedoms.
I wrote a full comparison of WooCommerce and Shopify here. The short version is that unless you have a specific reason to use WooCommerce and plan on running a growing eCommerce store, then you'll probably do better with Shopify.
WooCommerce vs. Wix
Wix is much more user-friendly compared to WooCommerce. However, Wix also constrains your options more than even WordPress.com and hosted eCommerce platforms like Shopify. If you have a small store and want drag & drop convenience, then use Wix.
WooCommerce vs. Magento
Magento used to be a much tougher competitor to WooCommerce until Magento's sale. Now, self-hosted Magento is going away. If you run an enterprise site, then scalability will likely make your choice for you. You'll want Magento (or other Enterprise options). If you have a small eCommerce shop, then WooCommerce will be a better option.
WooCommerce vs. OpenCart
OpenCart is well-respected open-source ecommerce software. If you are building a ecommerce store from scratch and you want to host it yourself, then OpenCart is a solid option. However, it is declining in use (and with that, apps & extensions & developers). Unless you have a reason to use OpenCart, WooCommerce will give you access to a larger open-source community.
WooCommerce vs. Ecwid
Ecwid is less an ecommerce solution and more of an "anywhere shopping cart". You can quickly add it to an existing website (ie, a plain WordPress website) and provide an ecommerce experience of a sort. However, it does not integrate with your backend. You also will have trouble competing for inbound marketing. It's a good option to quickly add ecommerce functionality to your website without going through the WooCommerce setup process.
WooCommerce vs. Prestashop
PrestaShop is well-respected open-source eCommerce software. If you are building a ecommerce store from scratch and you want to host it yourself, then PrestaShop is a solid option. However, it is declining in use (and with that, apps & extensions & developers). Unless you have a reason to use PrestaShop, WooCommerce will give you access to a larger open-source community.
WooCommerce Review Conclusion
WooCommerce is the best eCommerce solution for 3 types of storeowners –
Storeowners with technical resources who want to heavily customize their store or use unique functionality.
Website owners who have a content-driven website and want to add-on a complementary, but seamless store.
Storeowners who are highly cost-conscious and feel comfortable investing time rather than money into running their own website.
If you fit those buckets, I'd highly recommend checking out the main WooCommerce website and using my guide to setting up your WooCommerce-driven ecommerce store.
If you don't fit in those buckets, I'd highly recommend checking out a hosted solution. Explore my ecommerce platform quiz here. Or if you are building a small store (a dozen products), explore my online store builder quiz here.
Lastly, be sure to explore my guide to marketing your ecommerce store. So many stores fail, *not* because of platform…but because of a bad marketing plan. Spend as much time planning your marketing as you spend researching your store software.
Explore Related WooCommerce Posts