Poshmark is an online app (plus desktop version) where users can buy and sell fashion products from their virtual "closet".
Like Etsy, Poshmark has a loyal tribe of buyers and sellers — but unlike Etsy, Poshmark focuses on enabling users to "easily shop closets and boutiques". They focus solely on new and "pre-loved" fashion products, like apparel, purses, and other accessories.
They are one of the easiest platforms to get started with, especially because there's not a lot that goes into setting up your Poshmark profile. There's no extensive shop design or customization.
In fact… you can get started in under five minutes.
But like every option, Poshmark may or may not be the best fit for you depending on your product and goals.
Here's a few reasons that you might want to start with Poshmark (and continue with this guide) –
You want to get started for free.
You want to get started with maximum convenience.
You have items in your closet that you want to sell quickly and easily.
You want to get a few initial sales before fully investing in product & inventory (if you're running a boutique).
You want a platform with built-in visitors.
You are likely to have low volume of sales in the beginning.
Here's a few reasons that you might not want to start with Poshmark –
You want to build your own store with your own custom domain & design.
You want to control your branding.
You product does not conform to Poshmark's guidelines.
You want to cross-sell and upsell.
If Poshmark does not seem like the best fit – then you'll be interested in my guide to the best ecommerce platforms.
Otherwise, let's dive into the guide.
Setting Up Your Poshmark Profile
In order to start selling on Poshmark, you need an account. The set up is incredibly easily — and is definitely geared toward those buying more than those selling.
After you create your log in (or log in with Google or Facebook) and fill in some optional demographic information, Poshmark has you select at least three brands you like to shop in order to match you with sellers who offer brands you like.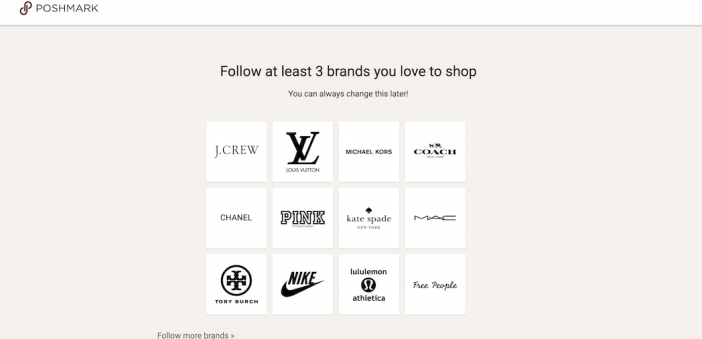 From there, Poshmark creates your Personal Shopping Network, a collection of profiles you automatically follow based on the brands you select.
These sellers make up your feed as well, which means they're listings are what you see when you log in to Poshmark.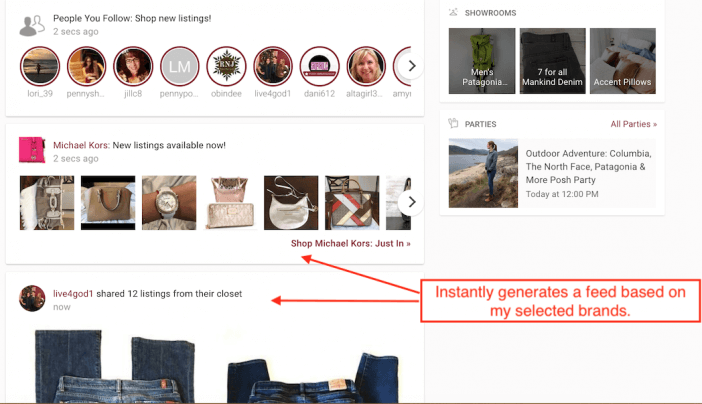 As a seller, this is a great way to get visibility with new users.
Customizing Your Profile
Again, Poshmark doesn't have extensive customization features. The platform is designed to be used from their app, with the focus being on making it easy for sellers to upload photos directly from their phone into their "closet".
That being said, there is some customization you can do to enhance your closet, such as creating a short bio, filling in your personal details like gender, college, and graduation year, a profile picture, and a link to your website.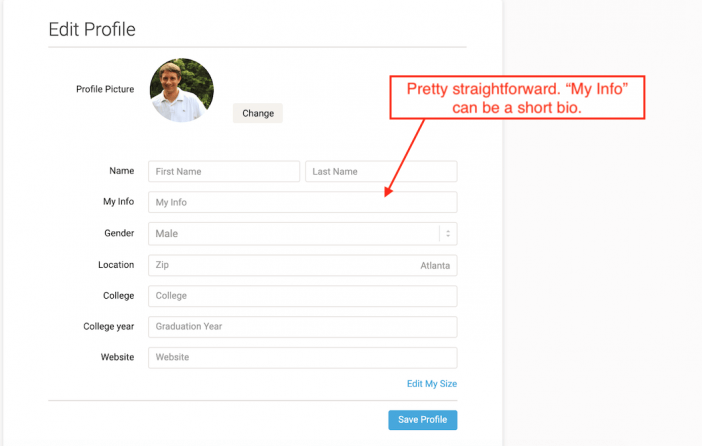 Adding Your First Product
Once you have your profile set up, it's time to upload your first product. Again, the process is incredibly quick and simple.
But before you list your product, you'll need a few things first.
It must be fashion / accessory items (Poshmark also allows select home goods), and not in the prohibited product category.
You'll also need…
High-quality photos of the product (Poshmark recommends using a eye-catching cover photo and several quality photos that show product details)
A descriptive product title
A product description that gives additional details (i.e. the condition of the product if used)
The original price + listing price
You'll also need to fill in the brand information, size, quantity, etc. on the product listing page.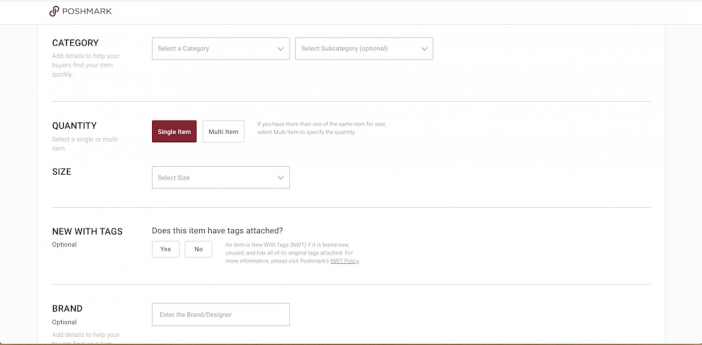 Once you have your first product uploaded, your closet is officially ready for business.
If you want to add more items to your closet before you start marketing, you'll simply repeat the process above by navigating to "Sell on Poshmark" at the top right corner of the screen and filling out a new listing.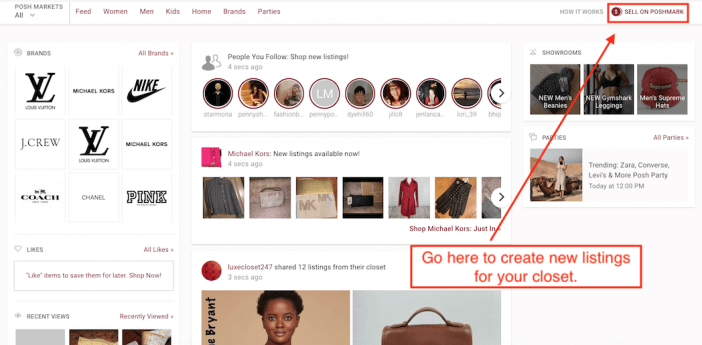 Setting Up Your Shipping and Other Logistics
In order to sell on Poshmark, you'll need to set up some logistics first, so you can get ship items to buyers, optimize your profile, etc.
Poshmark handles almost everything for you — which is also why they charge fees whenever you make a sale.
When you make a sale on Poshmark, Poshmark takes a flat commission of $2.95 for sales under $15 or a 20% commission for sales over $25.
But when the sale is complete, you'll get a pre-paid, pre-addressed label. You just have to package your item, put the label on, and drop it off at a USPS mailbox or have it picked up at home for free.
To start setting up your logistics information, first navigate to Account Settings from the drop-down menu.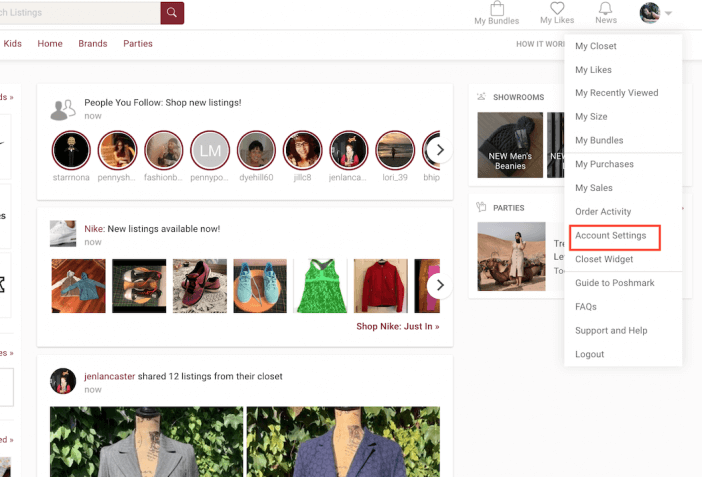 Then, go to My Addresses and put in your return address where buyers can return items if necessary (if you're shopping on Poshmark, you'll also want to put in your shipping information).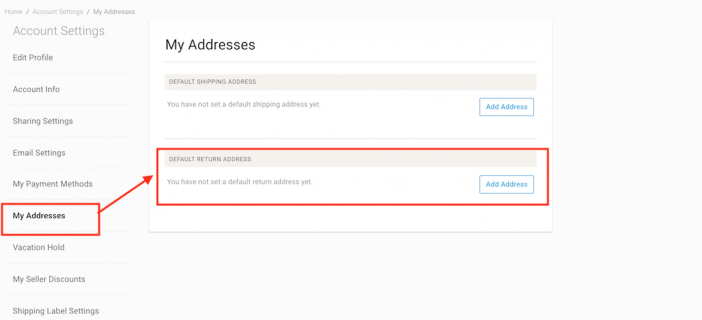 Next, you'll want to set up any Seller Discounts you'd like to run.
Poshmark allows sellers to create Bundles, where buyers can receive multiple items for in a Bundle for a discounted rate.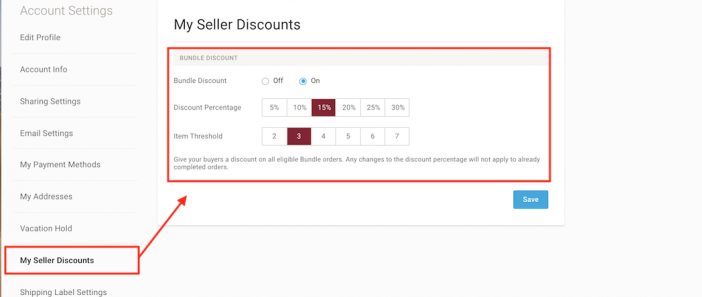 If you're planning on building out your closet with multiple products, a Bundle can be a great way to encourage buyers to buy multiple items!
Then, there's Boutique Certification.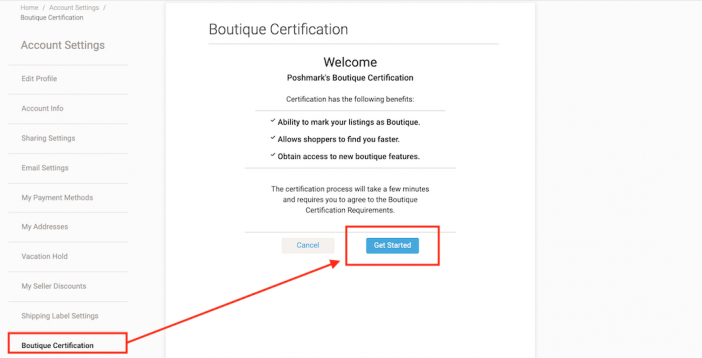 Boutique Certification is for boutiques who want to sell on Poshmark. It comes with benefits such as…
Ability to mark your listings as Boutique
Having shoppers find you faster
Access to Unique boutique features
However, there are certain requirements in order to be a boutique. A boutique must…
Purchase items wholesale / from a distributor
List items on Poshmark that are on sale to the public for the first time
List only new, unused items
Use original photography and only use stock photo with the brand's permission
Maintain a high-level of customer service
You can read more about Boutique Certification on Poshmark here.
Selling on Poshmark
Now that you've taken care of the logistics and have started adding items to your closet, it's time to start actually selling your items.
Setting up your closet doesn't guarantee sales. As of 2019, Poshmark had 5 million active sellers, and that doesn't even include your competition across other platforms.
And yet – you also have an instant market within a click. Your job is to decide who exactly you are selling to and where you can market to get their attention – and the answers to those questions will drive your marketing direction/campaign.
On Poshmark
The biggest benefit of Poshmark is that they have their own audience of Poshmark shoppers. With over 50 million users, you have a built in audience.
Think of it like getting a stall at a popular farmer's market – people are coming to the destination. You simply have to get their attention once they are there.
On Poshmark, you have a few options:
Poshmark Search
You can get visits from Poshmark searches. Poshmark's search engine is very different from general web search engines like Google or Bing. There's not much information out there about how Poshmark runs its search (or if there's an algorithm at all), but the rule of thumb is to have descriptive, memorable product titles with detailed, readable descriptions.
Essentially, it all comes down to creating listings that you would want to purchase if you were a customer.
Posh Parties
Posh Parties are real-time, virtual events that use themes to bring together shoppers in the app. It's a great way to build your listings with likes and comments and make sales to people who are actively looking for your items.
A theme might be something like "Office Attire", brand-specific, or even item specific like "Best in Jeans".
You can read more about Posh Parties here.
On Social Channels
Another benefit of using Poshmark is that Poshmark listings and closets work very well on social platforms.
On Pinterest
Pinterest and Poshmark are a match made in marketing heaven. Every description you write and photo that you take should work well on Pinterest.
You can share individual listings, or create an entire board dedicated to your closet.
Pinterest is also a great place for marketing research and spending on promoted pins.
Here's Poshmark's guide to sharing listings on Pinterest, and another great resource on Pinterest marketing.
On Facebook
Yes – Facebook is increasingly "pay to play" if you are a business. If you rely solely on your business page's organic likes for sales – you won't get much visibility (and if you only share your listings on your personal page, you won't be able to promote them beyond your friends and family).
But Facebook offers incredible paid options for business pages. You can create extremely targeted audiences and test your ads on a very little budget.
On Instagram
Instagram is another great platform to use when marketing your Poshmark closet.
Like Facebook, Instagram is becoming increasingly more pay-to-play, and doesn't allow direct links in your posts (you either have to promote with a button to your listing OR link to your closet in your bio). However, like Pinterest, every description you write and photo that you take should work well.
Plus, with built in "Share on Instagram" capabilities in the Poshmark app, it's easy to share your listings directly to Instagram without much hassle.
Twitter / Others
There are dozens of niche social networks to market your products. The key is to go where your audience is. And that goes back to deciding who exactly you are selling to.
It might be Wanelo, Polyvore or Instagram. It might be Twitter or Reddit. It all depends on your audience and product.
Other Channels
Once you go beyond Poshmark & social networking – you'll need to start thinking about your domain & your long-term brand.
And once you start building your brand via organic search, paid media and PR – you want to make sure that you are building your brand and not Etsy's brand.
You'll want external links to go to your domain. You'll want ads to point to your domain with your own analytics & tags in place. You'll want your PR mention to send people to your website with your experience.
But you don't have to start right way – you can understand and keep these channels in mind while you start your shop and build from there.
I wrote a complete marketing plan for ecommerce here if you want to bookmark it for reference.
Organic Search / SEO
Your Poshmark listings will be indexed by Google/Bing. You may get traffic from Google/Bing – but you'll have to be ultra specific.
Because of the competition you're unlikely to rank in Google for product terms with volume (ie, "Used Louis Vuitton Bag"). A search like that may bring you to the Poshmark search page, but not to your listing directly.
And niche terms that you could rank for are likely to have little volume (ie, "vintage LV travel cruiser bag with insert").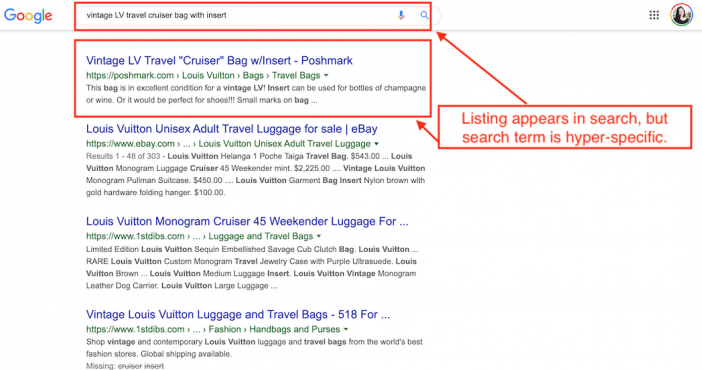 Either way, it's a large and profitable channel to plan for, and optimizing your listings for Google will also make optimize them for other channels.
PPC / Paid Media
You can (and should) run small paid campaigns to your Poshmark listings. But since you can't add your own analytics or conversion tags to your listing – you can't (and shouldn't) broaden these campaigns.
Since most ecommerce sales are "multi-touch" (ie, people leave and come back later to purchase) – you should be careful about spending too much on either direct response or awareness ads.
Either way – definitely run test campaigns to get started and plan for larger campaigns.
Growing Your Brand Beyond Poshmark
Poshmark is a great place to start selling your fashion items. But what about when you want to grow your own brand? If you're a boutique, how do you expand?
You may want to go beyond Poshmark's closet limitations, implement a custom design or just get away from transaction fees.
If you're ready to start your own ecommerce store – here's the typical growth path.
Getting your own domain
A custom domain is the foundation of your brand online. You can purchase one from Namecheap or GoDaddy for future use. In fact, you can even set up a "redirect" so that your custom domain can go directly to your Poshmark closet in case you aren't ready to think about a full-blown website yet – but you don't want to lose your domain name.
Remember, you won't be able to use a custom domain ON the Poshmark platform — you can only redirect to your closet's URL.
Building a full ecommerce store
Many Poshmark sellers launch their own ecommerce store on their own custom domain. They'll keep their Poshmark closet – but treat it as an additional marketing channel to sell to those buyers who are on Poshmark.
There are a wide-range of solutions – all of which are out of the scope of this guide. Here are the resources that I've put together –
Expanding other marketing channels
Once you've built your ecommerce store with your own domain name, you'll have a wide-range of options to grow your store. Here are some of the resources that I've put together.
Next Steps
So that's a lot of information – but like any large project that you want to do well, you simply have to tackle it in small chunks.
Start by setting up your Poshmark profile and filling out your account information.
Upload your first product.
Get initial sales & feedback.
Begin planning, improving and growing with an eye on your end goals.