| | |
| --- | --- |
| Best For | Collaboration With Others |
| Strengths | Free & Easy To Publish |
| Weaknesses | Limited Blogging Options |
| Promotion | None |
What Is Google Sites?
Google Sites is Google's free website builder software that it offers as part of the Google Workplace.
Google Sites has never been highly publicized like its other products. I've always thought of Sites as a Google product like Drawing, and Blogger that sort of come as part of other, well-known product lines but are otherwise forgotten about…yet still awesome in their own way.
If you have a Google Workplace Account, go check out Google Sites.
I've written about Google Domains and using Blogger – but have never looked at using Google Sites for a website.
My experience with Google Sites began back when I first started my web design business years and years ago. I never used Google Sites for my own projects until I came across it when a client of mine was using it and needed a few tasks done.
But since then, better competition has popped up from:
And many other website builders available.
Google has upgraded the "classic Google site" product I originally used. They've streamlined it to make it supposedly the "effortless way to create beautiful sites." You can check out some examples of Google Sites here.
So for a personal project of mine, I decided to try it out again and see who the product would really be a good fit for – and not just compare it to other hosted website builders.
I also wanted to compare Google Sites to other website solutions like hosting your own website or using a hosted eCommerce platform.
Google Sites Plan
| Plan | Base |
| --- | --- |
| Price | $0.00/mo. |
| Storage | unlimited |
| Visitors/month | unmetered |
| Email Accounts | - |
| Dedicated Domain | |
| Free Domain Name | - |
| Free SSL | |
| Display Ads | |
| Analytics | |
Google Sites Alternatives
Google Sites is a good product that serves a purpose – but how does it compare directly with other products in the website builder world? You'll soon find, that there are many alternatives to Google Sites that are not only free but also better.


Wix Review
Rating

9.0/10

Price

Free - $49+ per month

Promotion


Weebly Review
Rating

8.0/10

Price

Free - $26 per month

Promotion


WordPress.com Review
Rating

8.0/10

Price

FREE - $59 per month

Promotion
Google Sites vs. Squarespace
I reviewed Squarespace. If you have a small, temporary project, then Google Sites will be the fit. Squarespace is pricey and has its own learning curve. But – if you have a long-term business or personal project and you value well-done templates that display high-quality photography, then Squarespace will be a better fit.
Google Sites vs. Wix
I reviewed Wix as well. Wix has a free plan where you use a [yoursitename].wix.com domain name – so in some ways it's similar to Google Sites. But with Wix, you have premium plans and access to custom domains. They also offer more features on their free plan. Wix has similar issues to other website builders, but unless you are building a very small free project, then I'd go with Wix. Unlike Google Sites, Wix at least allows you to design more and grow out of the free plan. See Wix's plans & pricing.
Google Sites vs. GoDaddy's Website Builder
I reviewed GoDaddy's Website Builder (aka "GoCentral). It is very limited service compared to Google Sites…but it's also super easy to use with a few more marketing tools. Critically, it allows you to seamlessly integrate a custom domain. However, it's also a paid product. If you have some budget and want a custom domain, but do not want/need many features – then I'd use GoDaddy's Website Builder. For a free price point – you'll get a similar product with Google Sites.
Google Sites vs. Weebly
I reviewed Weebly. Weebly is a solid hosted website builder. They have a free plan with a [yoursitename].weebly.com domain name – but they also have upgrade options and custom domain name options and interesting beginner-level eCommerce options. Unless you have a specific reason to use Google Sites, I'd use Weebly for their drag & drop and upgradeable setup.
Google Sites vs. WordPress.com
I wrote about WordPress.com vs. WordPress here. WordPress.com has a free plan that is limited to [yoursitename].wordpress.com domain name. The setup is focused on blogging – but they have website features & plenty of upgrade options – including a custom domain option. Unless you have a specific reason to use Google Sites, I'd use WordPress.com for their design features and upgradeable setup.
Google Sites vs. Self-hosted WordPress
I wrote about setting up a WordPress website. This option requires some budget (about $5/mo) and has some learning curve, but it's also the best long-term option for businesses investing in their online presence. If you have a simple, short-term project with a definite end then I'd just use Google Sites. If you know that you have a long-term project, then you'll want to invest in the learning curve and go ahead and set up your own site on your own hosting.
What is Google Sites?
Google is notorious for rolling out overlapping & competing with their own products – only to kill or update them after a couple of years.
And Google Sites is no different. When discussing Google's website builder product, there are really up to 4 products in play.
1. Blogger
Ok – Blogger is an old-school but still surprisingly good blogging platform. You can create a website with it. You can do designs, templates, and everything else. It's free. But – you are stuck with the reverse-chronological display of posts. I won't really be covering this here. I wrote a review of Blogger.
2. Google My Business Website
This is Google's website product for small, local businesses. You can't use it unless you have a Google My Business account. The product is less of a "website builder" than a super-detailed local business listing. I won't really be covering this here. You can read a good FAQ of this product and find it with your business profile.
3. Classic Google Sites
This is the "classic site" product that I started with years and years ago. It still lives at sites.google.com – and it's decidedly old school.
You can find links to it throughout Google Sites.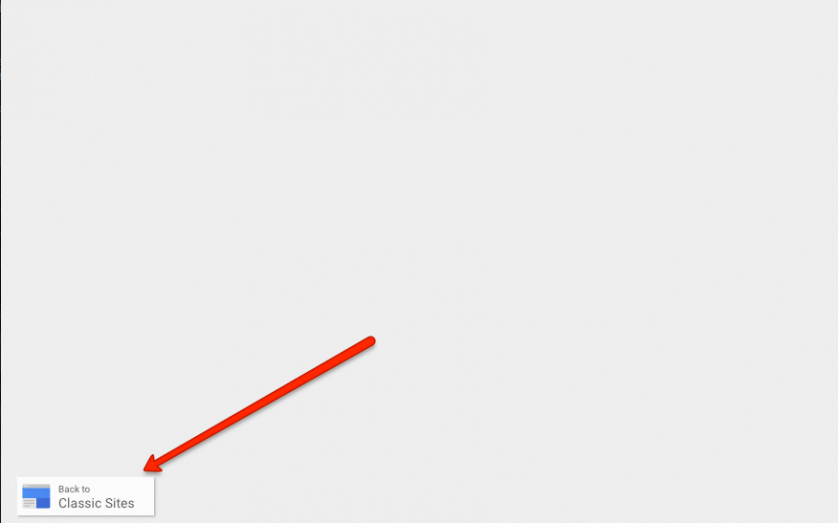 The ironic bit about Classic Google Sites is that it actually has more technical options than Google Sites…even if it is less user-friendly.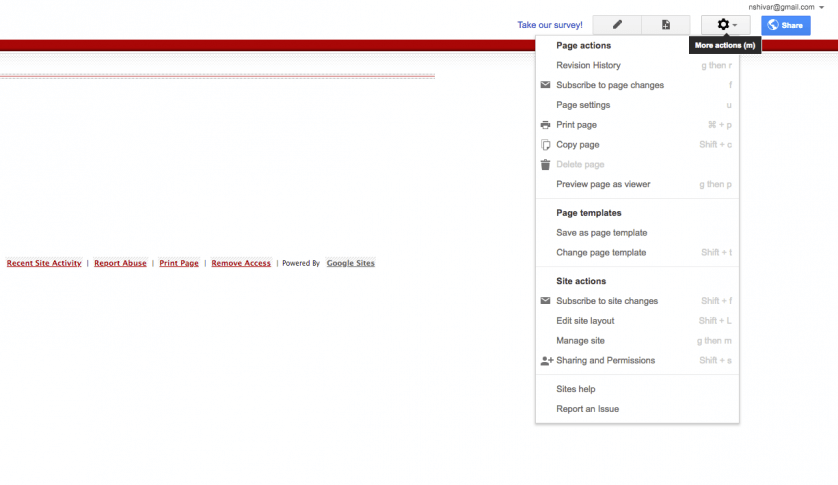 Most of the pros/negatives of Classic Sites are the same as Google Sites. But I would not consider it for a long-term project since Google will likely kill it any day now if their history is anything to go by.
4. Google Web Designer
This product is not related at all – despite its name.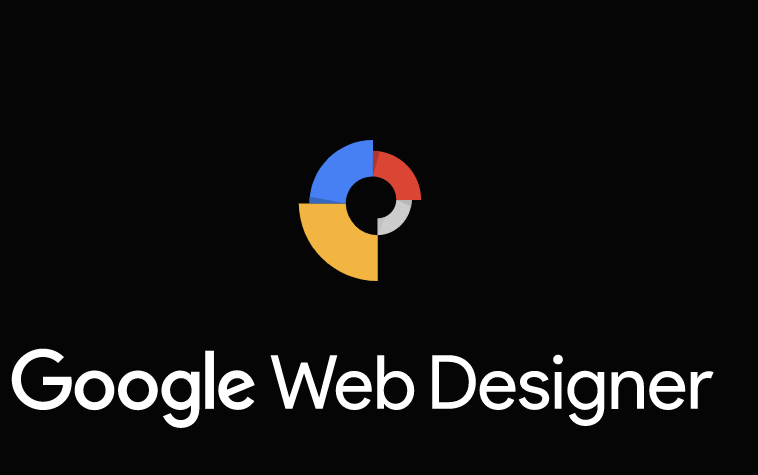 Google Web Designer is a desktop app to create designs for the Web (aka banner ads).
5. New Google Sites (free)
Ok – this is is the "new Google site" product that we're going to talk about. This is Google's main site builder software. It is available for anyone with a Google Account. It not only lives on Google Drive – but it is marketed with Sheets, Docs, Drawings and more. You'll be able to find your Google website with your latest Google Sheet and Google Doc saves.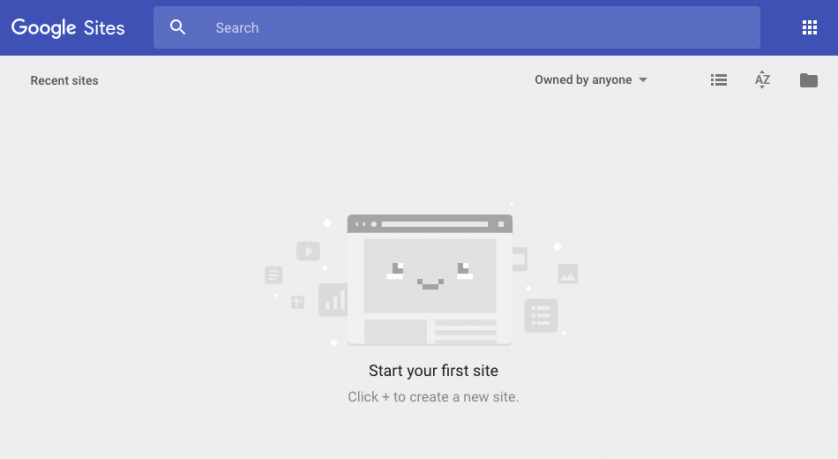 6. New Google Sites (Google Workspace)
Ok – this software is the same as the free Google Sites, except that it is built for business subscribers to the Google Workspace (the old Google Apps for Business). It is exactly the same as the free Google Sites, but has different account permissions and generally receives product updates – like custom domain mapping – sooner than the free version.
Let's look at the pros & negatives.
Pros of Google Sites
Google Sites has a lot going for it. I know an eCommerce store owner who started and ran her store for 2 years before she began to look for a new solution (though it took a lot of hacking around with PayPal scripts). Here are the major pros.
Google Sites Pricing
Google Sites is free with unlimited use, traffic, and websites. This is possibly the most compelling part of Google Sites.
It's part of Google's relentless push to keep you signed into your Google account for as much as possible. If you are signed into your personal Google account, you can go to sites.google.com right now and get started. There are no risks, no upsells, no expiration dates or limits. It's just free due to Google's crazy innovative business model.
And if you are a paying Google Workspace user, Sites is bundled with your subscription along with all the backups, administrative controls, and guarantees that come with your account.
There is no risk and no catch, and no "trying" – you can go get started now.* Pushing down your total website costs is a compelling sales pitch.
*of course – there is your time and learning curve investment – which we'll discuss in the negatives section.
Google Integration
Google Sites is fully integrated with Google's products. With the new Google Sites, it even has all the same Material Design conventions of Google's other products.
Your Google Sites website is saved directly in your Google Drive. You can access it anywhere with any device. You can download it along with your other data from Google Takeout.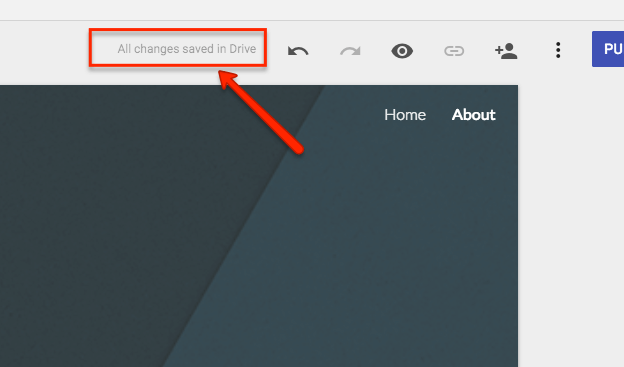 There are no additional passwords or account setup – it's seamless and fully integrated.
Simplicity & Security
Google Sites is simple and straightforward to use.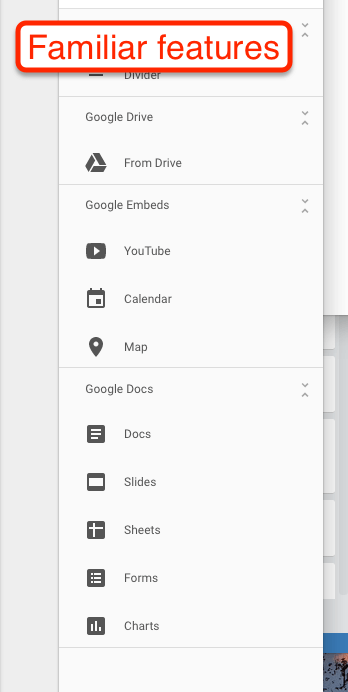 The learning curve is measured in minutes. There's no real "onboarding" or education because everything that is available with the product is "right there."
You can build a multi-page beautiful, functional new website quickly and simply.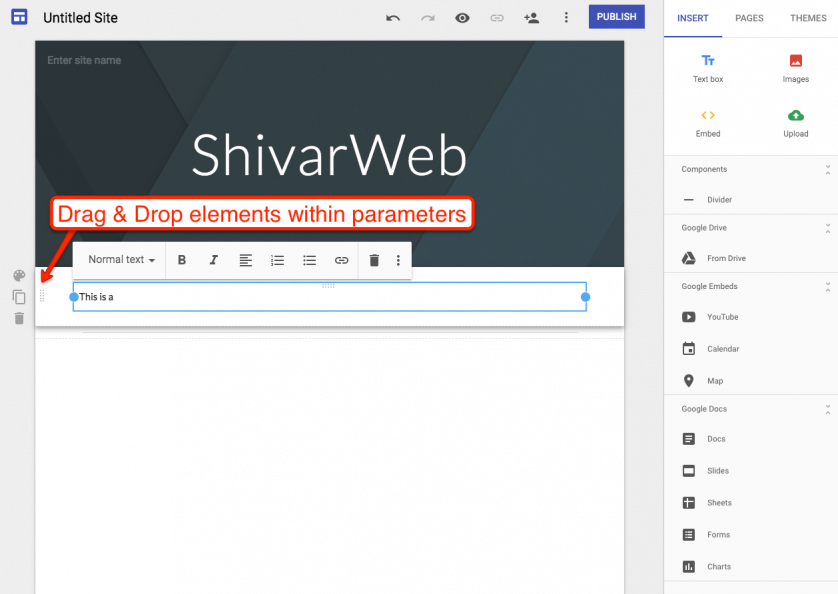 Additionally, Google handles your security issues…since it is one and the same as your email account.
Speed & Sharing
Like security, Google handles your speed considerations. The resulting HTML / CSS product is lean on fast servers and is available worldwide.
Since it is fully integrated with your Google Account – it is simple to share & preview. You can create & collaborate & review changes on a website as easily as you can on a Google Doc.
Cons of Google Sites
Now – there are plenty of negatives with Google Sites. Like I've said with all website builders – there is no overall "best" – there's only the best for you considering your budget, time, resources, and goals.
After reading the pros of Google Sites – you are probably wondering how Google Sites isn't the go-to solution for every website.
Well, Google Sites has plenty of negatives. But the summary is that Google Sites is very feature-limited and not really meant for long-term website projects (hence the simplicity).
I like to use real estate as an analogy. If running your own website on your own hosting account is like owning a building on your own property and using a website builder like Weebly is like running a business in a leased storefront, then Google Sites is like leasing a table at a farmer's market or festival.
It's great for short-term, quick projects. And you do have plenty of options to "make it yours" – but it's not really meant for a long-term business website. Let's look at some of the specifics.
Limited Design Features
Google Sites' design features are sorely limited.
Your template limits exactly what you can and cannot edit. And – you have very few templates to choose from in the first place.
You cannot add or edit CSS and add any kind of interactivity. The text box is super-basic. There's only a few widget options.
The design features on offer are simple and straightforward – but they are all Google Drive related design tools. There's some embedding but no editing the embed details.
Although the templates look good, you can't edit the layouts or any of the core parameters.
For example, with your navigation menu, you get to choose from the top right or the sidebar…and that's it. There's no 3rd option or even re-arranging.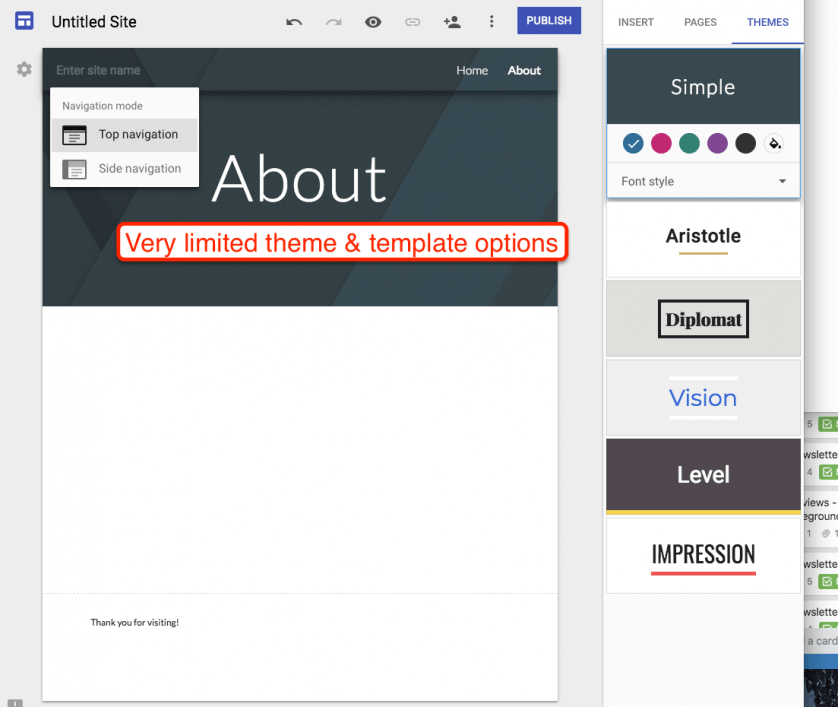 The templates create responsive websites that look good on all devices but impose strict limits on everything to make this feature happen.
If you want to build any sort of brand identity or build a custom design with tempates – then you'll be sorely limited with Google Sites.
Limited Marketing Features
Google Sites' marketing features are sorely limited as well. As a professional marketer, this negative is particularly glaring.
You get Google Analytics access so that you can have critical data like Sessions and Pageviews and such…but that's about it.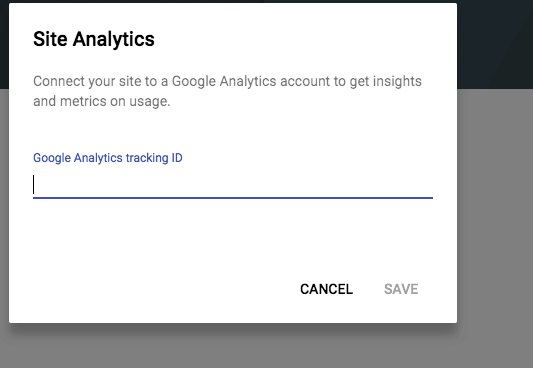 There's no adding a Facebook Pixel, Share Buttons, or redirects. If you're into SEO, you cannot edit your Title tag or meta description. This is very ironic for a product built by a search engine.
Now – if you get all your traffic from offline methods, direct web referrals, or word of mouth then these tools may not matter.
However, since marketing data is only as useful as the amount of historical data you have – if you ever have plans to grow or use other marketing channels, then Google Sites will not be a good option.
Custom Domain Setup
All Google Sites use https://sites.google.com/[yoursitename] as the default domain name. Unlike Classic Google Sites, there is no option to add a custom domain name.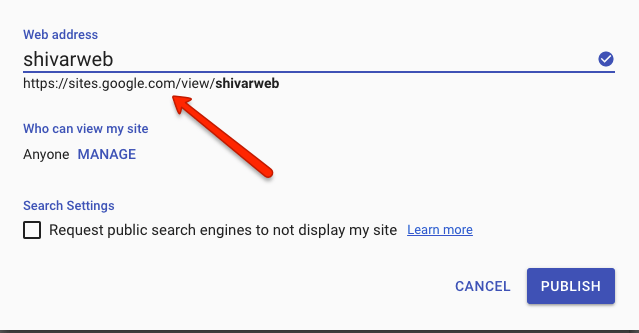 I don't know why. The feature might be coming since Google rolled out custom domains to the new Google Sites for Google Workplace subscribers only.
Either way – this is a major downside for Google Sites as a business or even a personal website. While not strictly necessary for a successful website, a domain name is fundamental for any long-term project.
It's this missing feature that really highlights the fact that Google Sites is really only for temporary projects or internal uses – similar to a Google Doc or Presentation.
Future-Proofing
Google is notorious for killing off products – including really popular ones. And while Google Sites does seem to be a core part of Google's productivity suite…that could change at any time (as is the case with the Classic Google Sites). I've learned to always have a backup plan with any Google service that I use.
And while you can export your data as part of Google's Takeout program, there's no way to directly export or access your account via FTP within Google Sites.
If you are running a business or even a personal site on Google Sites, you should be aware that it could go away at some point in the future and you should have a plan for that.
Conclusion
So – is Google Sites good for small businesses? Yes…ish. As a defined short-term solution or project-based solution, it's great. Use my guide to setting up a Google Sites website.
You can also explore Google Sites Examples.
But…if you have a new site or project that might expand, then I'd look at other options. Take a look at my best website builder article. If you are really just looking at email, read more about Google Workspace.
If you have a project that is long-term and worth investing in, then I'd go ahead and get your self-hosted website setup w/ instructions.
FAQs