When using a website builder, like Google Sites, you want to check out examples. It's a great way for inspiration and ideas of what's possible with Google Sites.
Google Sites is Google's free website builder software. It is part of the Google Workplace. It's a template-based website builder, which means you have a set of templates that you can customize to a certain extent.
It makes nice designs incredibly accessible for DIY-ers while leaving the heavy-lifting (AKA website hosting, functionality, and coding) to someone else.
I wrote a full review of Google Sites.
It's free, even for everyday users. If you are logged into your Google Account, you can start a Google Site. Use my guide to making a Google Sites website.
Just a couple of years ago, Google rolled out a new Google Site app to take the place of the (not very good) classic Google Site app. The new site builder is simplified and much more usable than the classic site builder. It has the same look as the other Google Workplace applications like Google Docs, or Google Sheets.
But before we dive into examples of what Google Sites look like in the wild, there is one thing to keep in mind when you're evaluating a website platform: it's not just about how the websites look. The functionality matters too.
Think of it as buying a car. You have a make and model in mind, and you're probably looking to see them drive by on the road to see how they actually look. However, you also care about how they operate. Does it accelerate well? Does it have the hauling capabilities you need? What is the gas mileage?
Looking at a website platform should be done in the same way. I collected the following Google Sites examples not just to show you how they look, but how they can function so you can be sure you have a website that fits both the style you want and the functionality you need.
Though personally, I'm not a fan of using Google Sites for creating any website. Check out the other website builders I recommend instead. From my experience, there are much better options.
General Google Sites Examples
Let's start with a general round-up of solid Google Site website examples. I've pulled these examples based on functionality, design, and usability.
Again, Google Sites works incredibly well for DIY-ers who want an easy-to-use website that they can throw up on their own without having to worry about the inner workings, and who aren't worried too much about adding any frills. However, be aware that with this comes trade-offs (i.e. you give up some control, functionality, customization, design capabilities, etc.)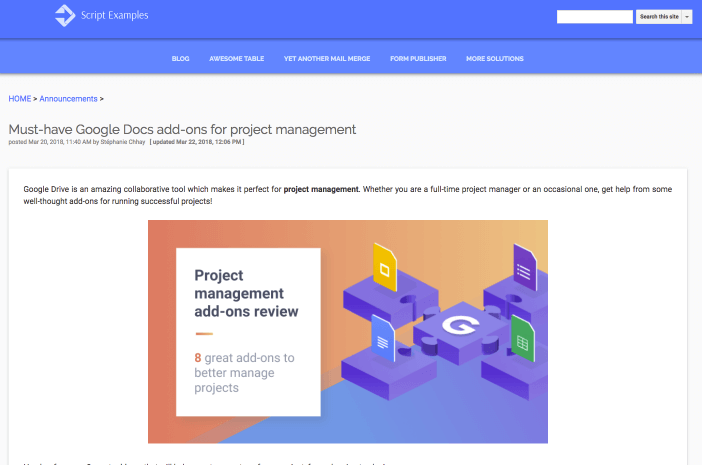 What better Google Site example than a software company that makes add-on software for Google Sites. Their site is professional, clean, and well organized. It's a perfect example of a site that you can build with Google Sites – they even still keep it on the Google Sites subdomain (for better and for worse).
Education / Classroom Website Example
Google Classroom is already a critical tool for learning, collecting student work, and organizing lesson plans.
A classroom website is a great way to provide course information, have a live syllabus, showcase YouTube videos, or even create a community for your class. A cute classroom web page is another resource to help students get the most from remote or in-person learning.
Here's a great example of what you can do with Google Sites for a class website: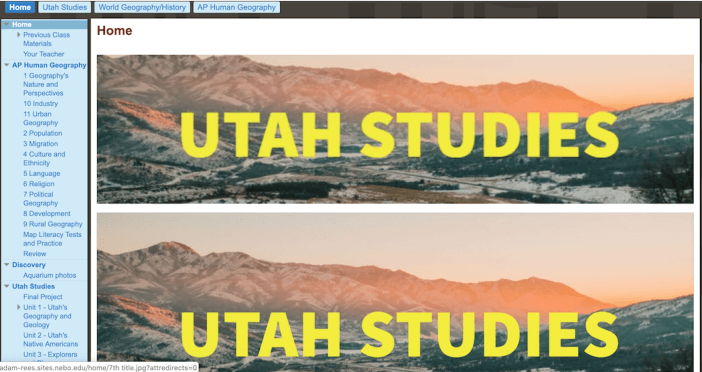 This social studies website is a great example of how you can use Google Sites to organize information for students.
Check out the detailed menu on the side that breaks down lessons. Students have access to notes, instructions, and assignments all in one place for each lesson for each class. It's an organized and efficient way to keep resources all in one place.
Photography Website Example
Photography websites are all about the digital portfolio of work. When looking for a Google Site example to serve as inspiration for your photography, pay special attention to the layout and page template options for your work. You want to be sure you're showing off your photos in a creative way without sacrificing the user experience (AKA fast photo load speed, easy to navigate, high-quality images, etc).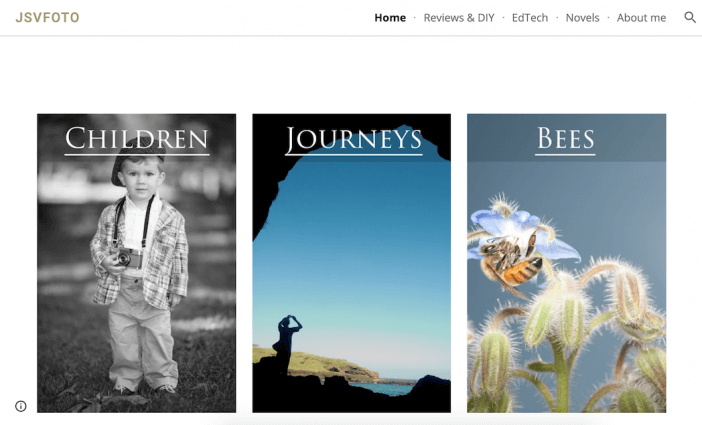 When you have multiple segments in your photography portfolio, organization is key. This Google Sites photography website example is a great example of a clean, organized way to display your portfolio categories while also implementing an overall navigation that encompasses other areas of your work (i.e. reviews, novels, etc.). If you're looking for a simple design that has a lot of versatility in showcasing your work, this website is a good one to follow.
Church Website Example
Church websites are all about telling people about your congregation, beliefs, and helping visitors feel welcome before they ever step in the door. Here's a great example of a Church website build with Google Sites.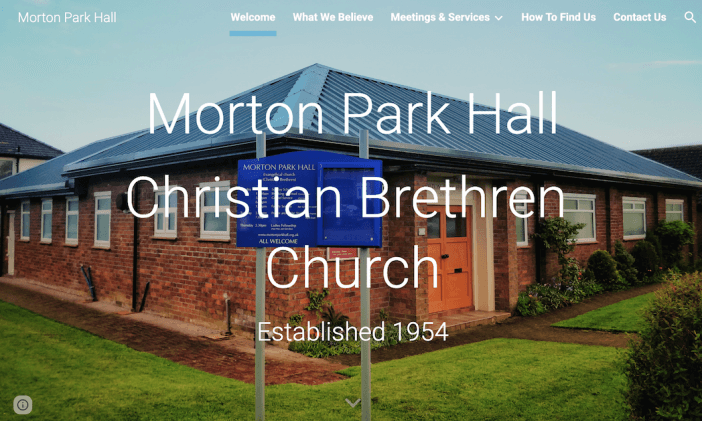 What stands out about Morton Park Hall's website is how clear the navigation is. It's incredibly easy to find information about what they believe, how to find them, and even to contact them. This site hits on all of the core functionality a church website should have, and organizes it intuitively, making it easy for newcomers and current congregation members to find exactly what they're looking for.
Business Website Examples
A strong business website showcases your services, gives customers the opportunity to contact you, and builds social proof. Visitors should be able to know exactly who you are and what you do when they land on their site and should be able to easily navigate to what they're looking for from your homepage.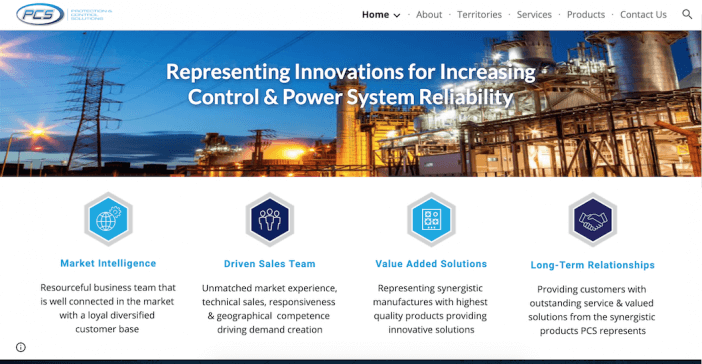 What stands out about PCS's website is that while it uses a typical grid-style layout that most Google Sites use, the brand colors and icons make this website look and feel completely unique. This site is a great example of how to take a simple website layout and make it look polished and professional without having to create something entirely from scratch.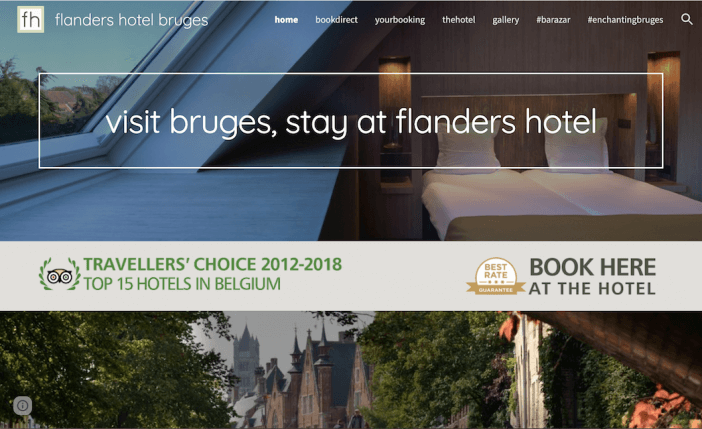 Flanders Hotel Bruges' website is another great example of a business website that uses a simple design to look polished and professional. Notice how they use their awards to build credibility as soon as you arrive on the homepage. This, combined with high-quality photography of the hotel and Bruges helps the hotel position itself as trustworthy and the right choice for visitors in the area.
Petits Gâteaux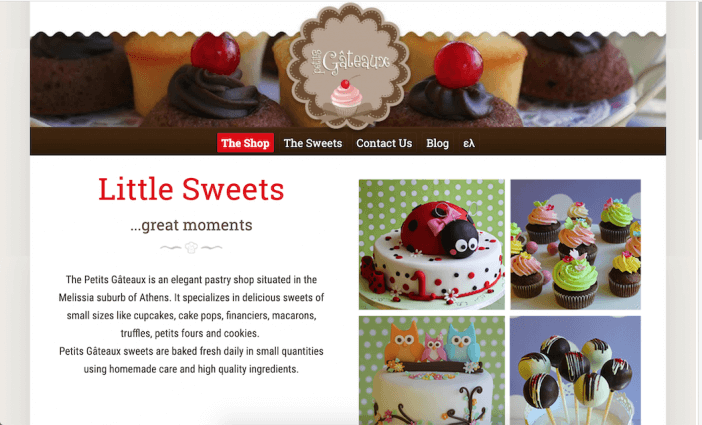 Petits Gâteaux is a great example of a Google Sites website for a local business. Notice how the header image includes the logo and a scalloped design, giving the overall site a unique and fun feel without having to create and entire custom or complex site. We also loved how this local business included high quality photos of their pastries right on the homepage, giving customers an idea of what to expect right off the bat.
Personal Website Example
Personal websites are exactly what they sound like… personal! Whether it's a resume or portfolio website you use to get booked or a blog you use to create content, this type of site is all about getting your personal brand online and owning your space on the Internet. A personal website should be easy to edit, manage, and customize.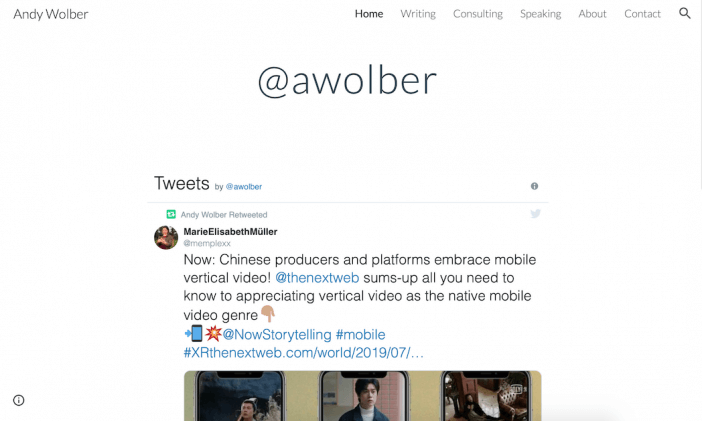 With personal websites, it's easy to get caught up in showcasing your personality and creativity. And while adding in some flair is fine, you don't want to sacrifice clarity in the name of creativity. Andy's website is a great combination of both. Featuring his tweets on the homepage is unique, and the clean layout makes the site easy to navigate. If you're looking for an easy way to put your work, experience, and thoughts out into the world, this layout does the trick.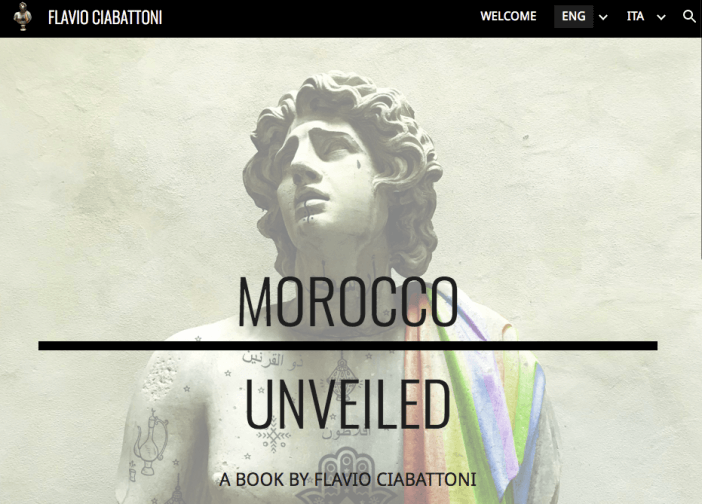 Flavio does a great job really pushing Google Sites' ability with current design trends (hero images, typography, etc). He is able to take a pretty blank template / theme and create an interesting design. He also makes good use of his homepage to feature his products.
The Goblins of Mordor
The site's URL still uses the sites.google.com/website folder instead of a custom domain. But it still works. It's obviously a passion project from an individual. There's no advertising, just a minimal site for personal use.
Next Steps
At the end of the day, choosing your website platform goes far beyond design. Why? Because all web pages are made of HTML & CSS with a few scripts thrown in. This means that any website template can exist on any good web platform.
What YOU want to focus on is the design elements and functionality that are available on the platform you're choosing.
If you feel like Google Sites fits the design and functionality needs you have for your website, you can get started with Google Sites.
Not sure if Google Sites is a right fit? Explore other good website builders.