So you're considering using Shopify as your online store builder, and you're looking for Shopify website examples for inspiration and confirmation that you're making the right choice.
Shopify is one of the biggest names in the eCommerce website builder space. It's part of a group of turn-key eCommerce (aka "hosted eCommerce") solutions that provide everything you need to set up and start selling your product(s) to the world, as opposed to you putting all the pieces together yourself.
It's sort of like hiring a general contractor to build your house, over being the contractor and hiring subcontractors yourself. You're still in control, but you let the general contractor use their expertise to make the project happen.
Shopify is known for its straightforward user experience, which is great for DIY-ers. All you need to do is pick a Shopify plan that fits your budget and feature needs, point your domain to your Shopify store, choose a design/template (you can edit one of many free Shopify themes using their drag and drop builder or build one yourself / use a designer), add your content and products, then start selling!
Before we dive into examples of what Shopify websites look like in the wild, there are two things to keep in mind when you're evaluating a website platform.
First, it's not just about how the websites look. The functionality matters too.
Think of it as buying a car. You have a make/model in mind, and you're probably looking to see them drive by on the road to see how they actually look. However, you also care about how they operate. Does it accelerate well? Does it have the hauling capabilities you need? What is the gas mileage?
Looking at a website platform should be done in the same way. We collected the following Shopify examples not just to show you how they look, but how Shopify websites can function so you can be sure you have a website that fits both the style you want and the functionality you need to build a successful Shopify store.
Second, it's not just about how a platform's website looks by default. It's also about how far you can extend a piece of software via plugins, extensions, or apps.
Think about it like your phone. Sure, your iOS or Android is great by default. But their "killer app" is the fact that they can have 3rd party apps to do things that iOS or Android alone could never do.
Shopify is similar. They have a theming language that allows any 3rd party to develop & sell pre-built designs in addition to Shopify app options. We collected a few that are purchased themes, and some that are native to Shopify.
Either way – that possibility is something to keep in mind with all these designs. Explore Shopify's theme options. Here are a few Shopify website examples including some from general eCommerce down to more specific t-shirt stores, dropshipping, and jewelry.


| | |
| --- | --- |
| Support | Email, Live Chat, Forum, Video Tutorials & Knowledge Base |
| Uptime | Good (99.94% past 6 months) |
| Best For | Any Product-Based Online Store |
| Strengths | Many Features & Great Support |
| Weaknesses | Limited Blogging Tools |
| Promotion | Try For Free |
General Website Examples
Let's start with a general round-up of solid Shopify website examples. We've pulled these examples based on functionality, design, and usability. Again, Shopify can be fairly straightforward to use — they have everything you need to get your shop up and running, minus your products and eCommerce marketing strategy. However, be aware that with this comes trade-offs (i.e. you give up some control, functionality, customization, etc.)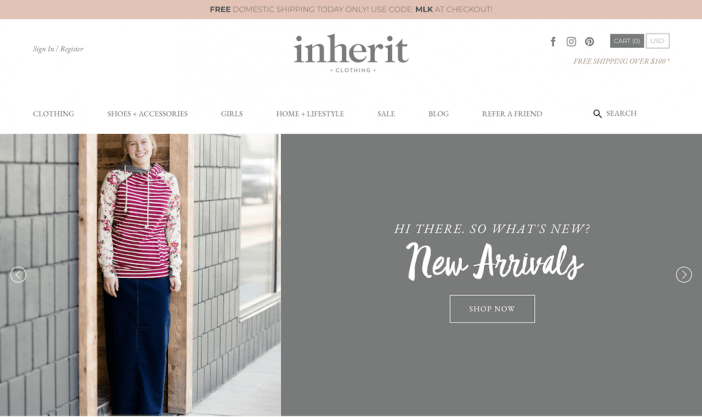 Inherit Clothing's site is a great Shopify store example of how built out a "standard" Shopify website can be. Pay special attention to how organized the information on the site is — from the top bar, which for special announcements (like sales, promotions, etc), to the navigation, which is broken down by product collections.
It's incredibly easy for a shopper to find exactly what they're looking for when hitting the homepage, which is one of the hallmarks of a great eCommerce site.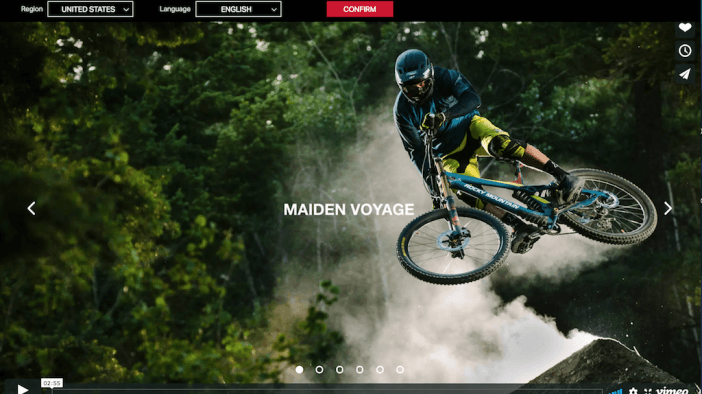 On the opposite side of the spectrum is this Shopify website example, which shows what a custom-designed Shopify store looks like. Rocky Mountain Bikes isn't using a Shopify theme for their website design, but they've created an entirely custom look and feel instead. We especially liked their product page, which goes into extreme detail on bike specs, functionality, and even shows how the bike operates by including a product video. If you're looking to create something entirely unique for your Shopify store and need advanced product page functionality, this site is a great place to start for inspiration.
T-Shirt
Online t-shirt shops are all the rage, and Shopify is an incredibly popular platform for these stores. Like any online shop, you'll want to make sure your t-shirt site includes high-quality product photos, shipping, return information, and an easy checkout process.
You'll also want to be sure your website platform fits your needs in terms of order processing functionality, payment integrations, etc. Here are a few Shopify t-shirt website examples to use for inspiration: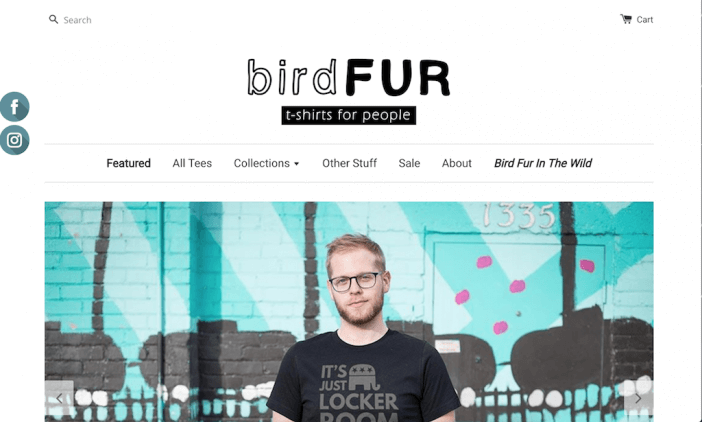 The first thing that stood out to us on this t-shirt website is the homepage. As soon as you get to the front page, you know immediately what the shop is and what their products look like. The store owner has a great tagline (t-shirts for people) that immediately tells visitors what the company is selling and the image carousel underneath is a great way to show the shirts "in the wild" vs. just a standard product image that only shows the shirt.
Speaking of product photography, notice how Bird Fur uses bright, high quality images to showcase their products. The grid pattern below the homepage is colorful, clear, and also gives visitors a way to shop directly from the homepage. Remember that an eCommerce homepage should be easy to navigate and give visitors a clear path to what they're looking for. By featuring popular products on the homepage of your t-shirt site, you're giving shoppers an immediate opportunity to browse and add to their cart – almost like a dedicated landing page.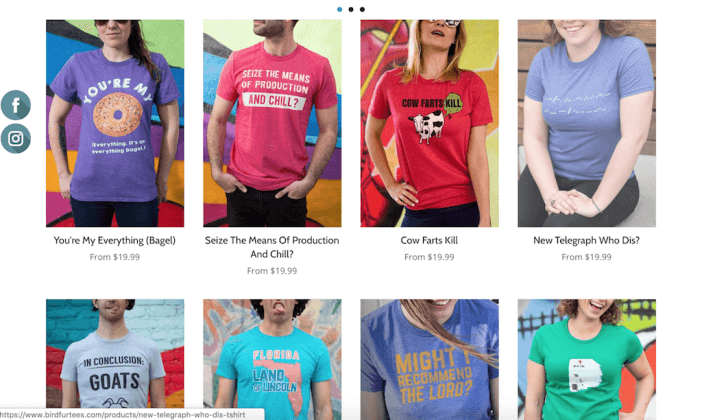 Another feature to call out is this site's "These are cool too.." section, which shows related products that visitors may like.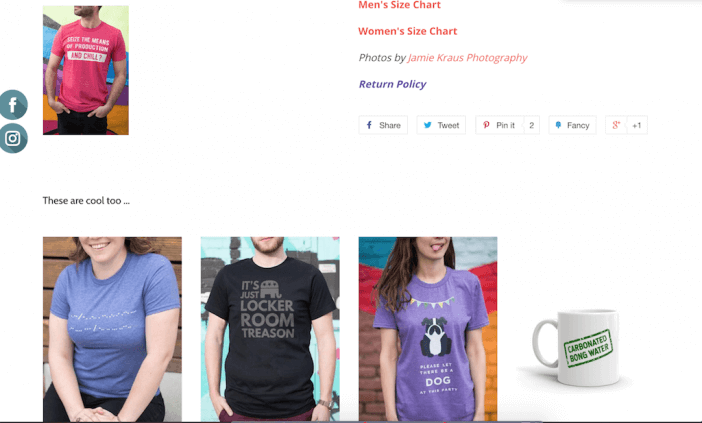 Showcasing additional products is a great way to keep shoppers browsing for related items they may not have considered before!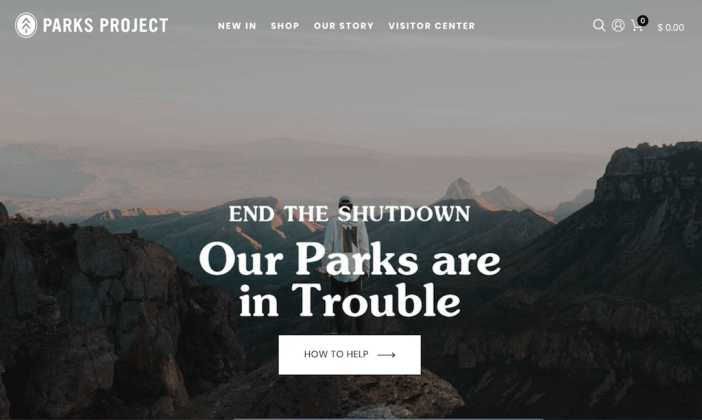 Parks Project initially started as a t-shirt company and then expanded into other apparel categories. We pulled this Shopify example to show how t-shirt companies with a larger mission (i.e. to save national parks) can utilize their shop to bring awareness to their cause.
At the time of writing this article, Parks Project is using their homepage for a special announcement regarding the government shutdown and how it's affecting national parks. The How to Help button takes you to a page that tells you more about Parks Project mission and how you can get on board with them.
Underneath this section is a "Favorites" category, where Parks Project showcases their most popular products. This is a great way to promote products across different categories, and a format to keep in mind if you're planning on expanding your t-shirt shop one day.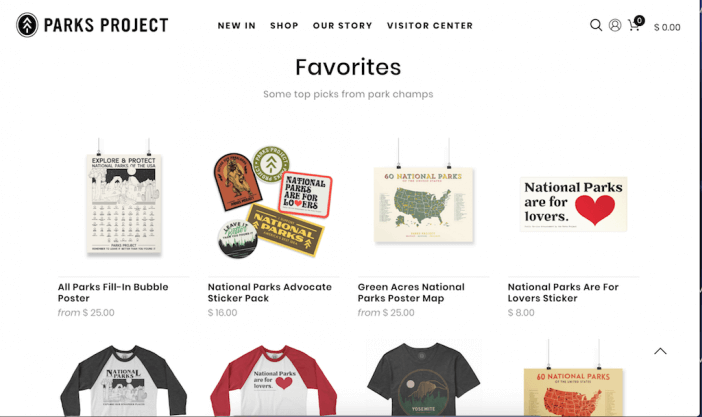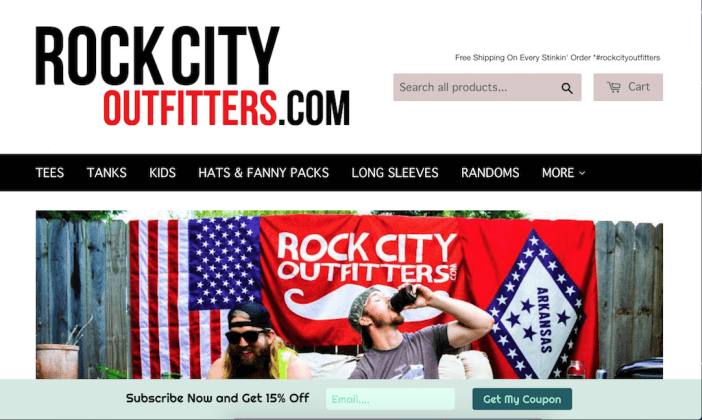 This Shopify t-shirt website example is all about displaying the most crucial information upfront. Check out the 15% off discount functionality Rock City Outfitters use. A coupon is a great way to capture shopper's email addresses. It also gives you a way to follow up with them with promotions (without having to spend thousands on advertising!).
The search functionality in the top right is also a great way to provide a solid user experience. Let's say a visitor is familiar with your shirt shop and wants to find a product immediately. Having a search bar helps them get to their destination quickly, without having to navigate through product pages.
Lastly, Rocky Mountain Outfitters is a great example of a t-shirt website that uses a bold and loud design without being overwhelming. Remember that a "clean" design doesn't have to mean boring. It just means that your visitors can easily find what they're looking for and that your information is clear.
Jewelry
Shopify is also a popular choice for jewelry websites and online boutiques.
Just like t-shirt shops, a jewelry website should focus on strong product images and descriptions, easy navigation, and a simple checkout process. You'll also want to be sure you include information like shipping/return policies and jewelry care. Here are a few examples of Shopify jewelry websites for inspiration: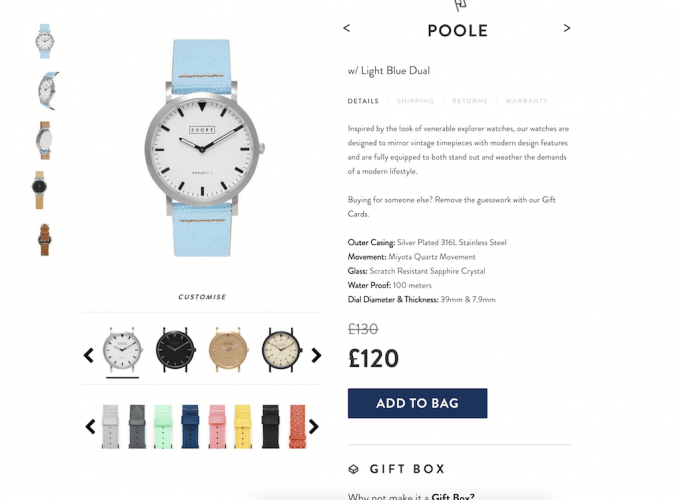 If you're needing to feature customization on your site, this jewelry website example from Shore Projects is a great place to start for some inspiration. Shore Projects allows for custom watch faces and bands.
It has functionality on the site that shows you how the different combinations look. We especially liked the different product shot angles, which change which every band / watch face combination.

If you plan on using Instagram in your marketing strategy, this Shopify jewelry website features a neat integration that could come in handy: Shop Our Instagram.
It features photos from MVMT's Instagram profile and gives users the option to shop the look from the photos. When you click on a photo, it triggers a pop-up product page for the product featured in the photo with product specs, an add to cart button, and the option to see the original post on Instagram and/or Facebook.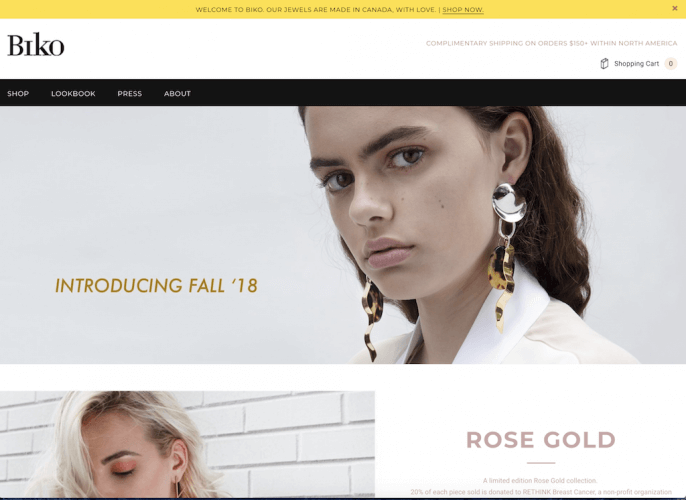 Not all websites need to be design masterpieces. Biko is a great example of a clean, organized Shopify jewelry website that is well-designed without being overly complicated. In fact, the minimalist design keeps the shopper focused on the product photos, simple navigation, and ultimate goal: checkout!
Dropshipping
Not only is Shopify a popular website builder option for eCommerce business, but it's also particularly popular among drop shippers (a retailer who sells inventory they don't own until they have the order).
Shopify has an API that allows drop shippers to sync with their AliExpress account (or other 3rd party managers like Oberlo), which provides products for drop shippers. Here are a few Shopify dropshipping website examples for inspiration: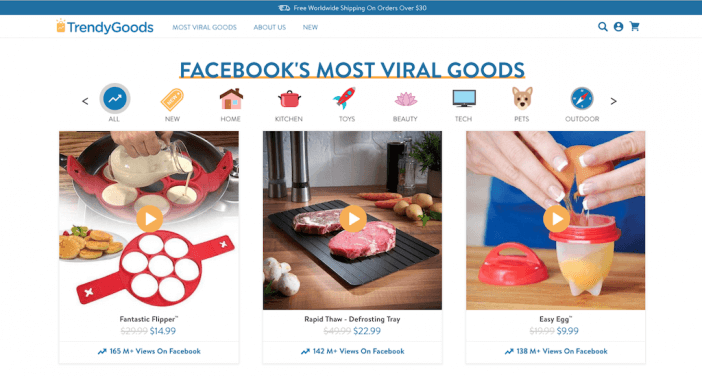 This website is a great example of a dropshipping Shopify site that doesn't have a specific product category or even target audience…but sells a variety of viral goods and niches down with platform popularity (Facebook + Instagram feed) to find potential customer interest.
Notice how TrendyGoods organizes their product categories at the top of the page with icons and shows Facebook and social media views underneath every single product. It's a unique way to organize products that are unrelated without making them messy.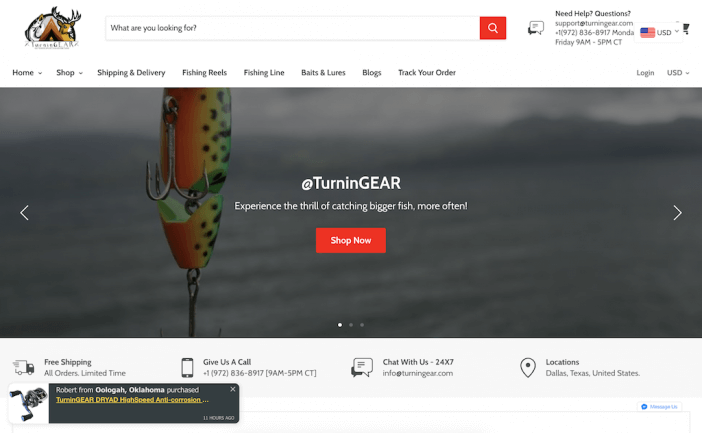 On the opposite side of the spectrum is Turning Gear, a drop shipper who specializes in fishing equipment. Notice how their products are organized by product category: reels, lines, lures, etc.
We also liked the bottom banner underneath the header image that shows shipping information, customer service info, and their location. This Shopify website also uses product pop-ups with a prominent CTA button, which shows the most recent products purchased to spur urgency.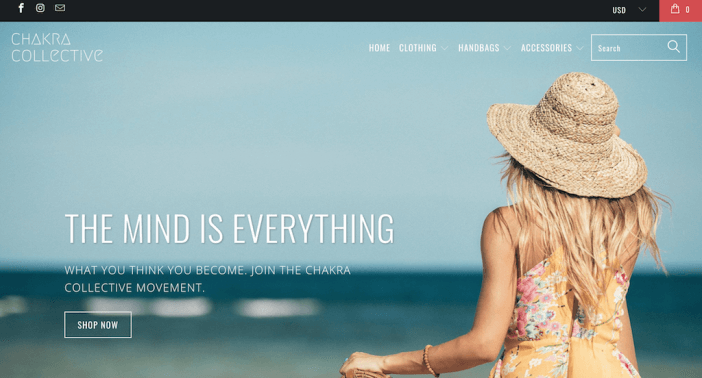 Here's another Shopify dropshipping (and fashion store) website example, Chakra Collective. What stood out to us about this site was the uniformity of the Shopify template.
It actually looks like a traditional fashion line, rather than a dropshipping website. If you're looking to create a consistent brand identity with your dropshipping store (like a niche fashion business), this website is a great place to start for inspiration.
Next Steps
At the end of the day, choosing the best eCommerce platform goes far beyond store design. Why? Because all web pages are made of HTML & CSS with a few scripts thrown in. This means that any website template can exist on any good web platform.
What YOU want to focus on is the design elements and functionality that are available on the platform you're choosing.
If you feel like the Shopify platform fits the design and functionality needs you have for your eCommerce store, you can explore Shopify plans.
Related Shopify Posts