One amazing, but underestimated, feature of WordPress are Category and Tag pages. Whenever you write a new post, you have the option to add that post to a category or tag the post.
When you add you post to the category/tag, WordPress creates an archive of all the posts in that category or with that tag. You can find them under Posts –> Tag or Posts –> Category on the WordPress Dashboard.
These category and tag pages are blank and are simply a list of posts by default. For people browsing your site, they can be useful if you're consistent with your categorization & tagging…but for anyone not familiar with your site, they can be pretty useless.
In fact, if you have lots of random categories and tags – it can create a low quality/duplicate content issue & appear spammy to search engines. In my post on how to use Yoast's WordPress SEO plugin, I recommended NOINDEX, FOLLOW category & tag pages to prevent any SEO-related penalties (ie, that tells search engines to click through to your posts, but not to serve them in search results).
But category & tag pages can be so much more for both your readers & search engines. And really, they just need some unique content explaining the category or tag. Here's why you should build out your category & tag pages – and exactly how to use WordPress category & tag pages for SEO…
Why You Should Build Out Category & Tag Pages
Which page do you consider more useful?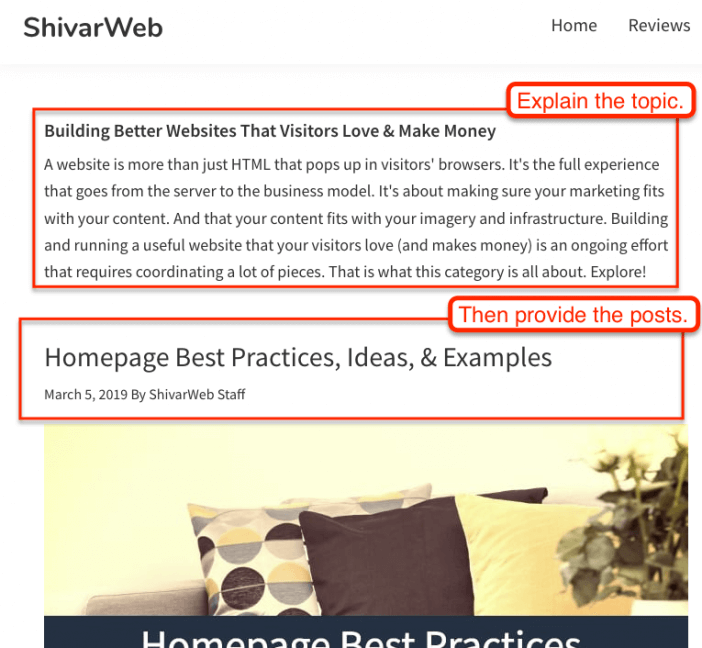 Or…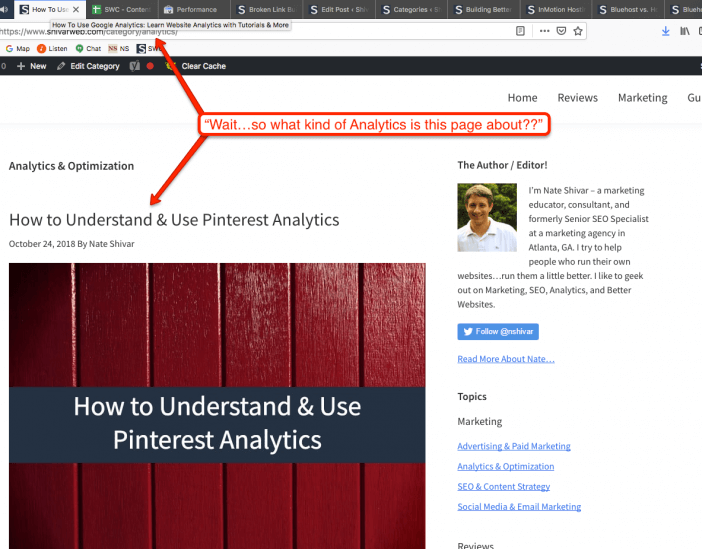 Explains Categories & Tags to Readers
Before looking at SEO implications, think about yourself as a new reader on a blog you stumbled upon – let's say its a DIY Plumbing blog. You're a fan of the post you just read – and you want more. What do you read next?
You see a giant tag cloud in the sidebar with "Faucets" as one. You're outfitting your bathroom, and so you click.
There's a list of seemingly random posts – that sort of make sense…but not really. All the posts mention Faucets…but you don't understand exactly what might be here or on page 2. So you leave.
That's the default behavior of WordPress – and often the tags only really make sense to the author, not the reader.
But if there had been some content – maybe a Faucet overview on that page with some greatest blog hits, and content explaining the author's thinking and approach to posts related to faucets…the page would have made a lot more sense to the reader.
Helps Search Engines Understand Context
Putting concepts in context can be helpful for humans (see previous point), but it is absolutely essential for search engines. Even though Googlebot can parse context & semantics – coaching the algorithm always helps the process along.
Looking at what pages link to other pages helps Googlebot understand what each post is truly about. And that's a role your category & tag pages can play.
They already link to relevant posts, so if you can add unique content that helps Google understand the category they are linked from…it will help out your individual posts.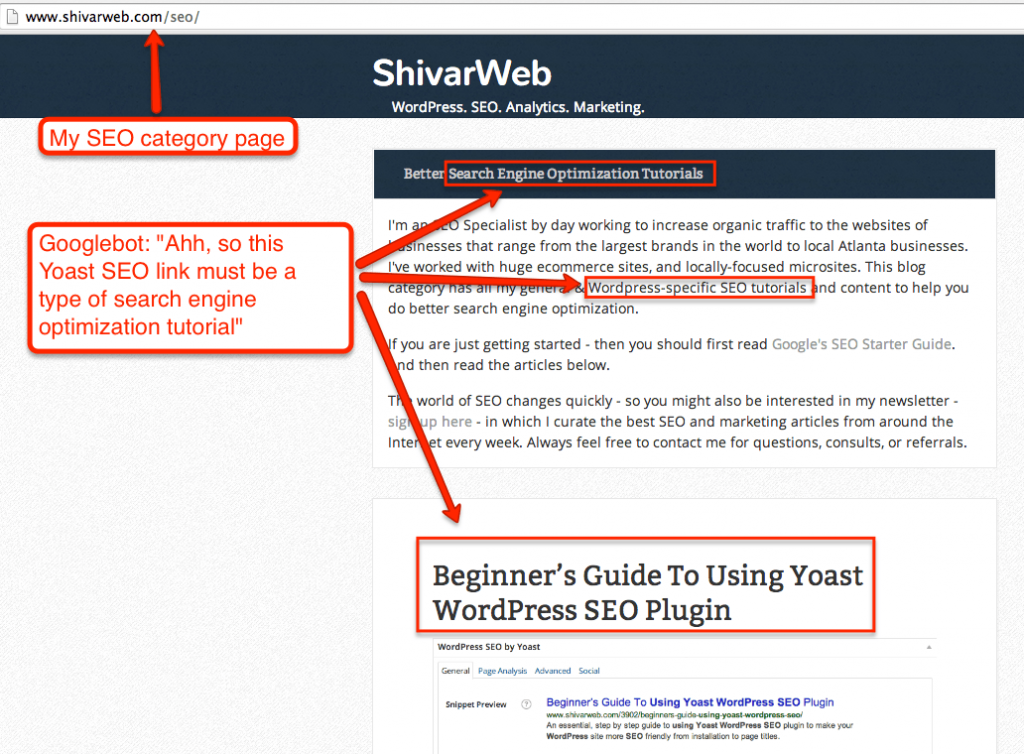 For example, suppose that on your plumbing blog, you have a post on installing a sillcock on a brick wall. Now, a sillcock is plumbing jargon for an outdoor faucet. Humans might grasp that quickly with a picture…but a search engine might not be 100% sure if your post should rank for "how to install a faucet on a brick wall."
However, if you had a Faucets category page with unique content…and you linked to the sillcock post, that link would be a useful signal search engines could use to parse the context & relevance of your sillcock post.
More Likely To Rank for Broad Searches
Ranking for broad terms is a particular problem for blogs. Each individual post is usually about a specific topic that can rank for specific keywords, but it rarely makes sense to have a post of posts targeting a broad term (especially given the keyword difficulty).
For example, this post is a WordPress tutorial, but it will never appear in search engines when someone searches "wordpress tutorials" because they are looking for a list of useful WordPress tutorials. You have to match the question behind the search query.
Now, I could create a page about my WordPress tutorials and link to every single one I write. I'd have to update it every time I wrote a new one, and it'd quickly become a pain.
OR… I could use my WordPress category to target that broad term. I've got lots of tutorials – and it'd make total sense to just add content to that page, and try to get it to rank when people search for variations of "wordpress tutorials." You can explore and track this keyword data in Search Console.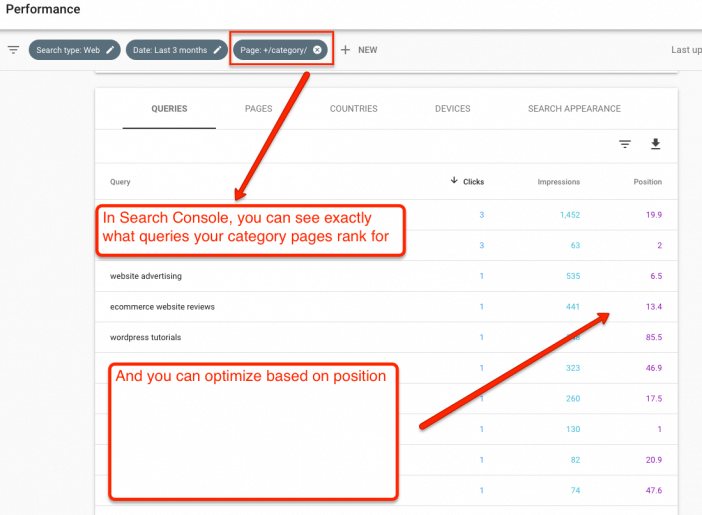 So you're sold on spending time building out your category & tag pages. But again, by default, those pages are pretty worthless. Here's how to add your amazing content to each of those pages.
How To Add Content to Category & Tag Pages
Before you spend time adding content to your categories & tag pages:
Spend time actually organizing them and making sure they make sense. It's extremely easy to randomly add tags & categories which can create a rat's nest of confusion for everyone.
You can do either categories or tags or both, or individual categories – or everything in between. Don't get overwhelmed thinking you have to do everything at once.
Enable Displaying Content on Category & Tag Pages
There are several ways to accomplish this – here are my favorites in order of simplicity.
Option 1: Via Theme Settings
Lots of themes allow you to enable archive page content in their settings – or simply have it built in by default. The theme framework I use – Genesis by StudioPress makes this extremely easy.
But before you do anything else, check your theme settings. Or just go to Posts –> Categories –> Edit and see if you can add content & save.
Protip: WordPress has a description field by default, and some themes use that to pull the on-page content. Fill it out, save, and see if anything appears on your category page.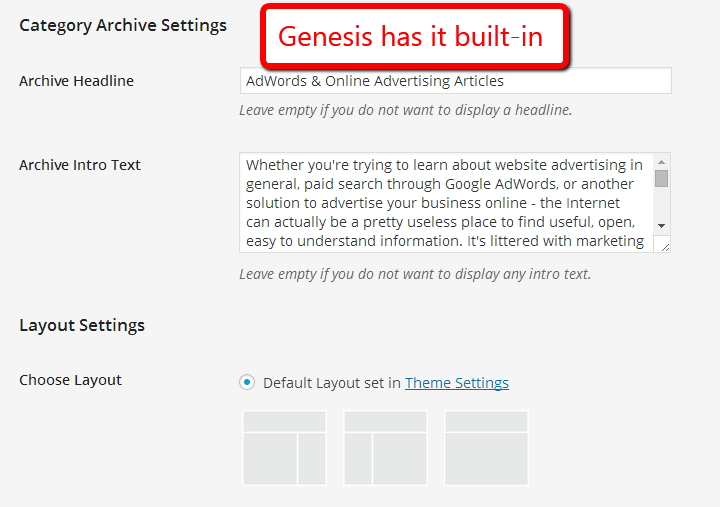 But this setting is not limited to Genesis – it's present in a wide range of themes. Before you install a plugin, look around your theme settings or go edit your Category page to see if content can be entered that shows up on the page.
Option 2: Via Plugin
WordPress plugins are pretty straightforward to install. And WP Custom Category Pages is lightweight and easy to use. You can search for it in Plugins –> Install. After you install it, you can go to the category of your choice to edit, enable content in the drop-down and then write your content in the box.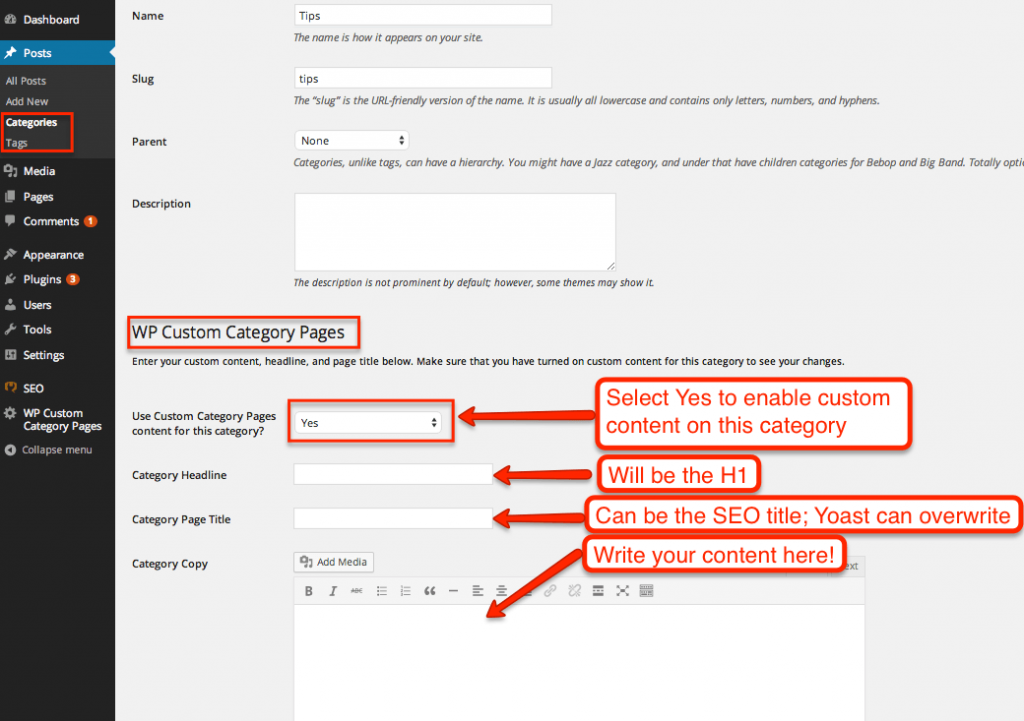 Option 3: Via Category.php
If you aren't afraid of messing with PHP (and if you don't know what PHP is, then skip this option), then you can also just add a line to your category.php (or archive.php) file to enable content entered in the default description field.
<?php echo category_description( $category_id ); ?> 
You can find additional tips & tricks with PHP over at WPMUdev.
Write Unique Content
Now you can navigate to Posts –> Categories or Tags, select a specific category or tag, look for the content box, and provide unique content that gives an overview of the page. Check out my SEO category to see an example of how it looks in my theme.
Use Yoast SEO to Optimize
Next, you should have WordPress SEO by Yoast installed and configured. In my original Yoast tutorial, I recommended hiding the meta box and checking the NOINDEX, FOLLOW box under Titles & Metas –> Taxonomy settings since category & tag pages are thin pages by default.
Now that they are useful and relevant – uncheck both those boxes so that search engines will start indexing the page and serving it for relevant searches. Also, unhide the meta box so that you can go back to edit a specific category or tag and write a unique title tag and unique meta description.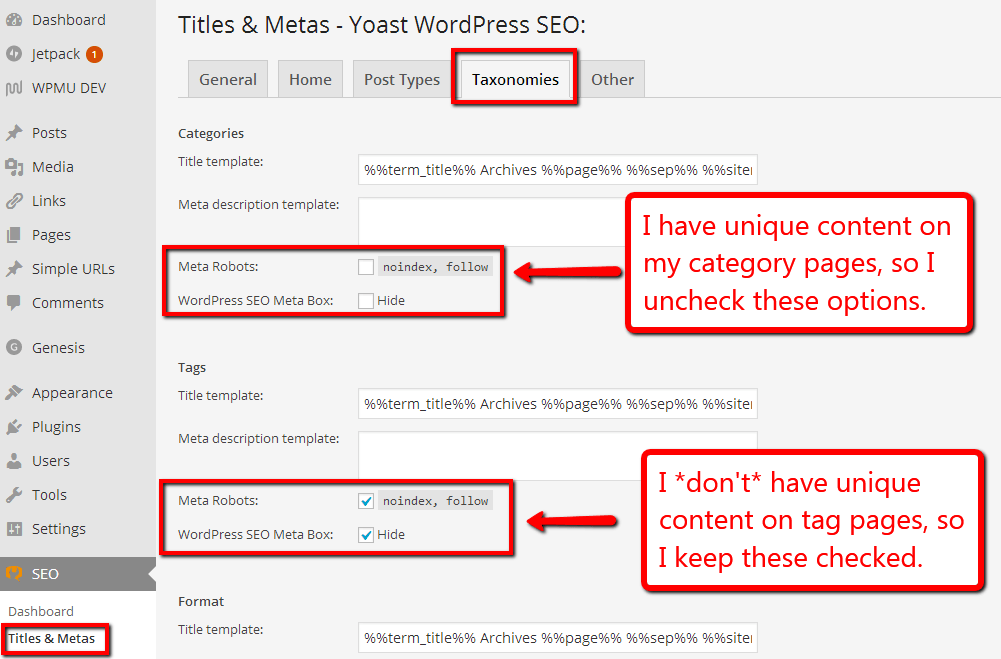 Next Steps
Building out your category & tag pages is a win for both the visitors on your website, for search engines, and for new visitors who stumble on your site via search.
Start by taking a hard look at your tags & categories. Organize them around topics that you consistently write about, and see if there are any obvious opportunities to turn any of the category or tag pages in to archives.
Next, enable content with either your theme, plugin, or editing the PHP. Add unique detailed, descriptive content then optimize it with WordPress SEO by Yoast.
If you have any questions, comments or suggestions – let me know below or via email if the comments have automatically closed.