This is part of the Beginner's Guide To WordPress Series.
Organizing your content helps not only your website visitors – but it also helps you.
By default, WordPress provides a couple ways to organize your content – Categories and Tags. I think of Categories as analogous to a Table of Contents in a book and Tags as the Index – but you can use them however you want. Here are some of the basics to get you started!
Categories
Categories are designed to organize your posts and make it easier for visitors to search through your site's content. To create a category go to Posts in the sidebar and select Categories.
Now, give your category a name that will appear on your site. Next, give it a slug (aka a URL-friendly version of the name). If you don't assign one, WordPress will automatically do it for you.
You can also assign parent categories and subcategories to further organize the content by selecting that option in the dropdown box. Finally, you can add a description so you know what each category is for.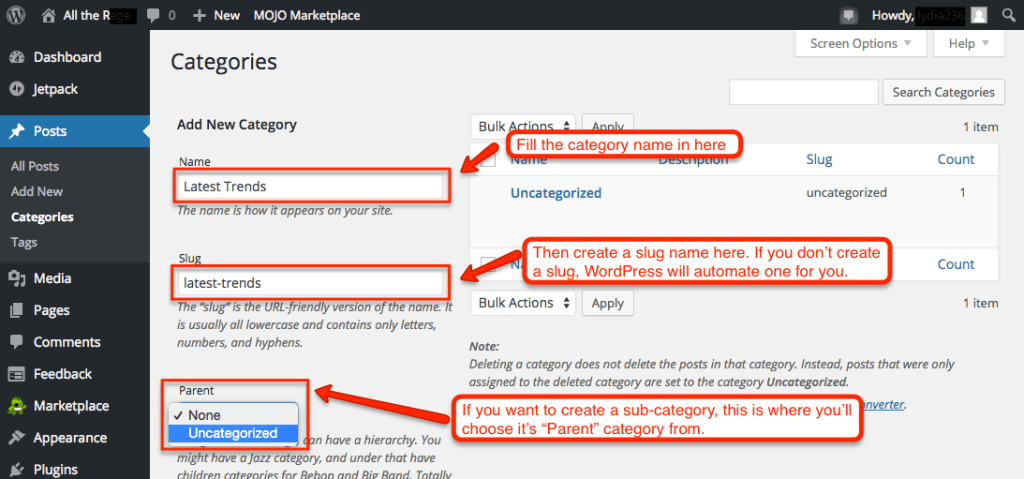 When you are done click Add New Category. If you ever need to make changes to your categories, simply hover over the one you wish to change and click Edit.
Tags
Like categories, tags help to organize the posts on your site as well as provide searchable keywords that make it easier for users to find your content. Tags are more descriptive than categories and are completely optional to your post.
To add a tag as you are writing or editing a post, simply go to the Tag box on the Edit Post screen. You can type them in and click Add or push enter on your keyboard. You can add multiple tags at a time by putting commas in between each word that you want to be a tag.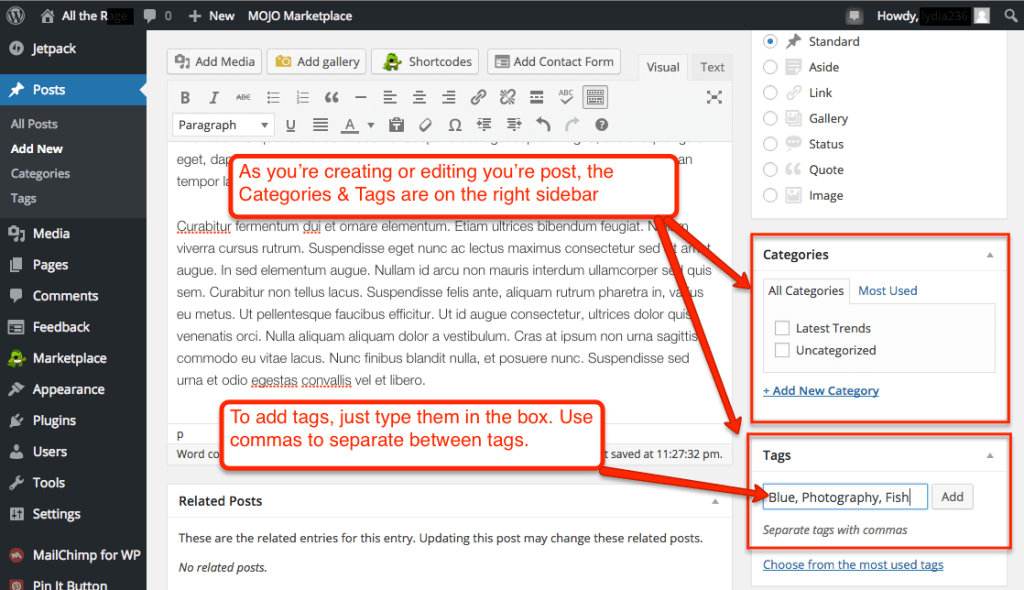 When you are done, click Publish on your post. Depending on your theme and widgets, your tags can be shown under posts or in the sidebar, which will lead to any other posts that you have used these tags in.
If you want to bulk add tags, go to Posts on the Dashboard, then click Tag. From there, follow the same pattern as you would for creating a Category that I described above.
Next Steps
Categories and Tags are helpful tools to organize all your content – for yourself and your readers. One word of caution though – they can very easily get out of hand and become a tangled mess of meaningless words. It's always a good idea to map out your site from the beginning and create categories and tags that fit your SEO plan.
Don't forget to check out the next posts in this series!