Amazon is the world's largest online store. They sell more than the next 12 largest online stores…combined.
If you run an online store, it's senseless to view Amazon as a competitor (even though they are).
Instead, it is more productive to use Amazon as a platform to make your store as profitable as it can be.
Listing your products on Amazon is the most straightforward method. After creating an Amazon seller account, you can even use Amazon's PPC platform to make these listing successful.
But Amazon takes a cut from every listing that erodes your margins. For many store owners, it makes sense to invest more in your own store (same as Etsy and eBay).
But if you are going to invest in your own store, you can (and should) use Amazon…but not for what you'd expect.
Amazon is the largest source of eCommerce data on the Internet.
And a lot of that data is public-facing. You can gather it via Amazon's API, via simple scraping or via manually browsing their store.
You can use this data to inform your SEO & content efforts to get customers before they even start their search.
Here's a few ideas on using Amazon as a data gold mine for your SEO & content marketing efforts.
On Amazon SEO
Note that this post is not about doing search engine optimization (SEO) on Amazon.
That is separate, but interesting topic. It does pay to rank in Amazon's internal product results.
But ranking there involves a different strategy that drives sales on Amazon. I wrote a broad overview of Amazon marketing resources here. I also discussed it on this podcast episode.
This post covers mining Amazon data for improving your online store on your own domain.
That said, if you have an Amazon listing, you should look at your sales data for ideas. For example, use profitable Amazon search keywords for your SEO & PPC campaigns. In fact, many retailers list their products on Amazon for that very reason.
Let's look at using Amazon for keyword research and content development.
Keyword Research & Content Development
Keyword research is an art. There are plenty of paid and free tools that can help you scale your keyword research.
But, you still have to judge keyword difficulty, the value of ranking, and keyword intent.
But – you need a source of ideas that you don't know. That's what Amazon provides for eCommerce owners.
*other sources that I've covered include Quora, Reddit, Wikipedia, Google Books, Display Planner, Pinterest, Slideshare, Search Analytics, and YouTube.
Never run out of ideas 🙂
Use Amazon Suggest To Find Keyword Modifiers
Most SEOs and marketers know about Google Suggest. It's a tried and true keyword research method.
But remember that Amazon has the same functionality. Type in a keyword and it will suggest modifiers and alternatives.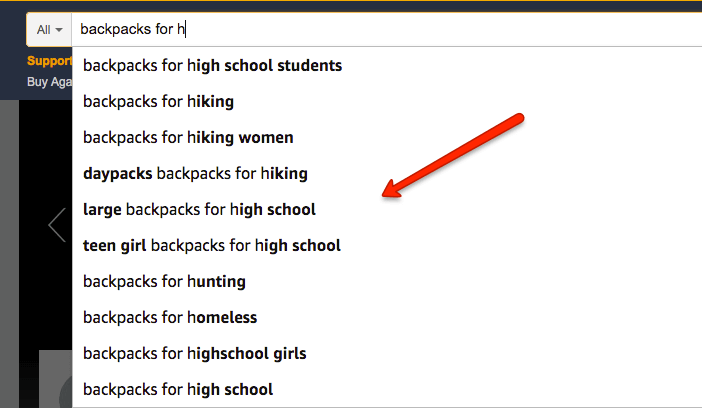 These suggestions come from Amazon's internal search data. That point is critical for keyword discovery.
Even if the suggested keywords are like Google Suggest – they come from a different dataset.
If suggestions overlap with Google, then you know that keyword modifier is important.
If the suggestions do not overlap with Google, then you have found a new keyword research "thread."
But either way, you know that Amazon's keyword suggestions have high purchase intent.
In other words, nobody searches on Amazon for the fun of it. If someone searches on Amazon, they want to *buy* that something.
Use that data to improve your targeting. Use it to kick off a small Google Ads campaign. You can also use SEMrush (a premium data tool) or Mangools KWFinder to search the dataset directly in a keyword tool.
Use Amazon.com as a Keyword "Casting Net"
There are a handful of websites that rank for everything. They are so well-known and have so many links that Google & Bing serve them up for a huge range of search queries.
Wikipedia and Quora are a couple of examples, but Amazon.com is really the best example.
I call these sites the "casting nets" of keyword research. They allow you to cast across millions of keywords to find a new thread to focus your research.
Drop the entire domain amazon.com into a keyword research tool like SEMrush (or Ahrefs, Mangools, etc). You'll get a list of millions of keywords.

Now, use known keywords to sift, sort and narrow. Use Content Gap tools to merge the data with direct competitors and see what overlaps exist.
You will find a topic or keyword thread that you would have never imagined.
Reverse Engineer Product Pages
You can also go right to the Amazon pages that compete with your product.
Most Amazon product pages will rank for something.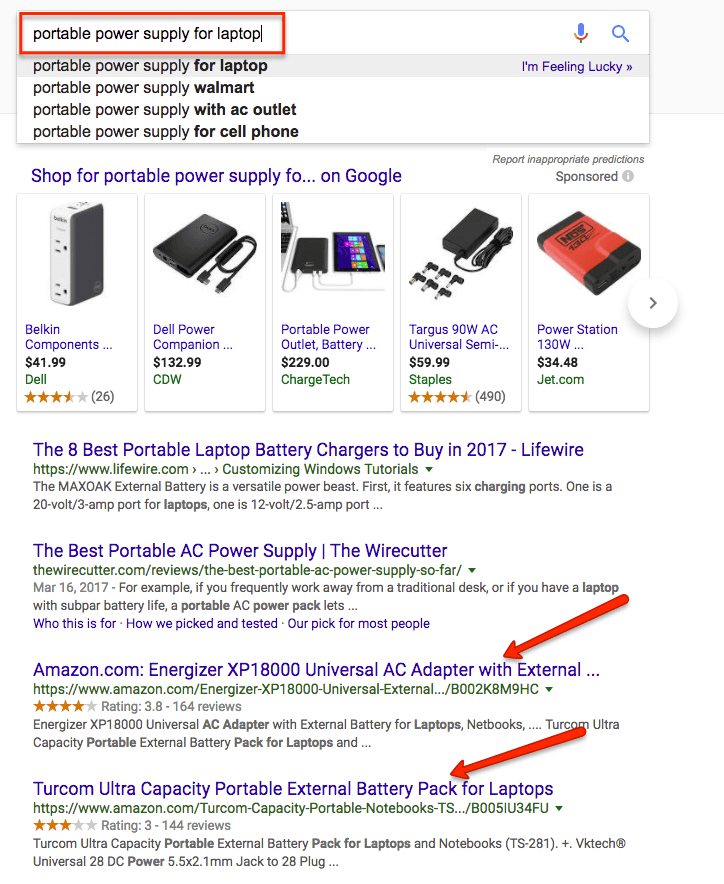 Take the top-selling products in any given subcategory. Get their individual URLs. Drop them into Ads' Keyword Planner or a tool like SEMrush or Ahrefs or Mangools.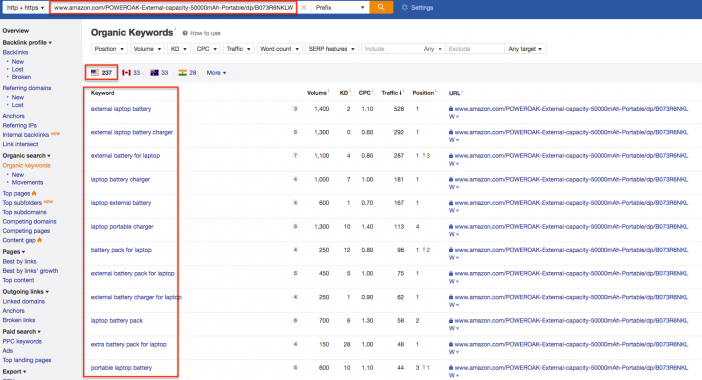 Harvest the data.
Reverse Engineer Category, Trending & Bestseller Pages
Amazon has a bigger SEO budget than you will ever have. They do a lot of optimization – especially for mid-level and trending terms.
You can snoop on their work via their category, trending (aka "Hot"), and Bestseller pages.
Take the URLs for all the relevant pages. Drop them into Ads' Keyword Planner or a tool like SEMrush or Ahrefs or Mangools.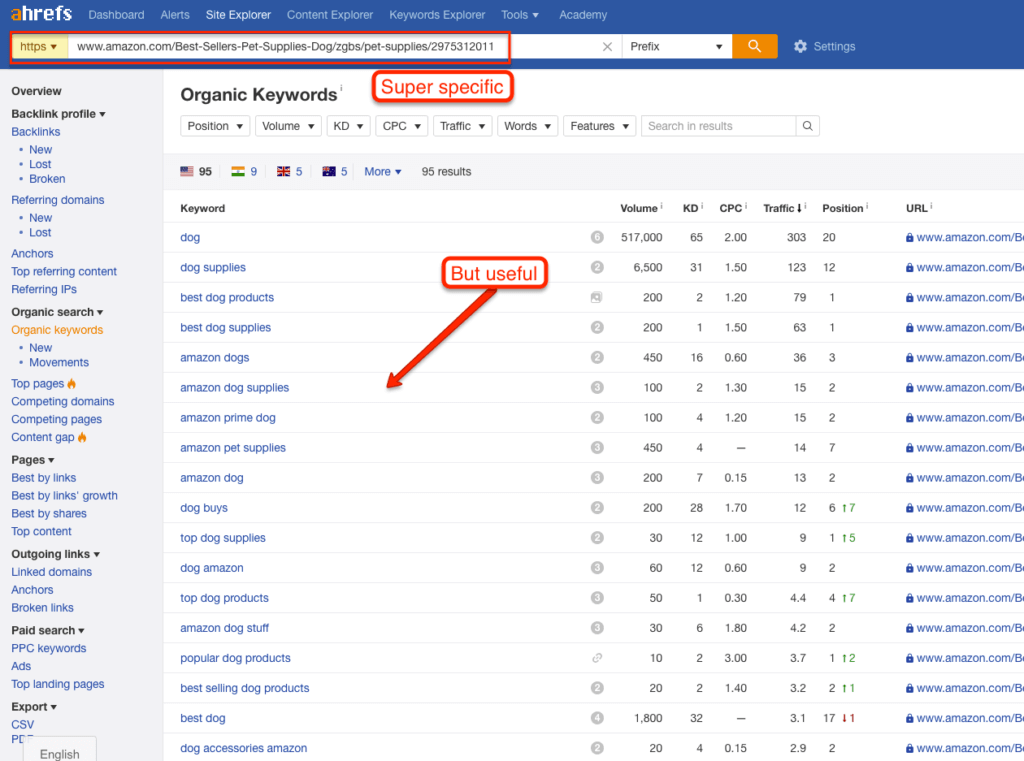 Harvest the data.
Scrape Product Titles & Product Descriptions for Keyword Ideas
Top sellers on Amazon know the power of a good title and relevant product descriptions.
In competitive verticals, every seller will have an optimized title with alternate terms.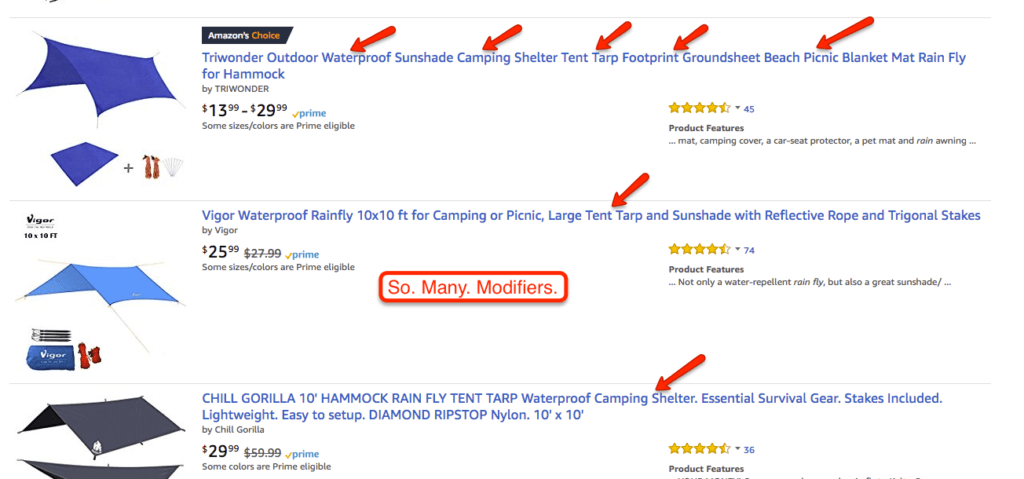 Their product descriptions that mention use cases and work in keyword modifiers.
You can manually read the titles. For bulk data, use the Scraper extension for Chrome or IMPORTXML for Google Sheets to pull in the data.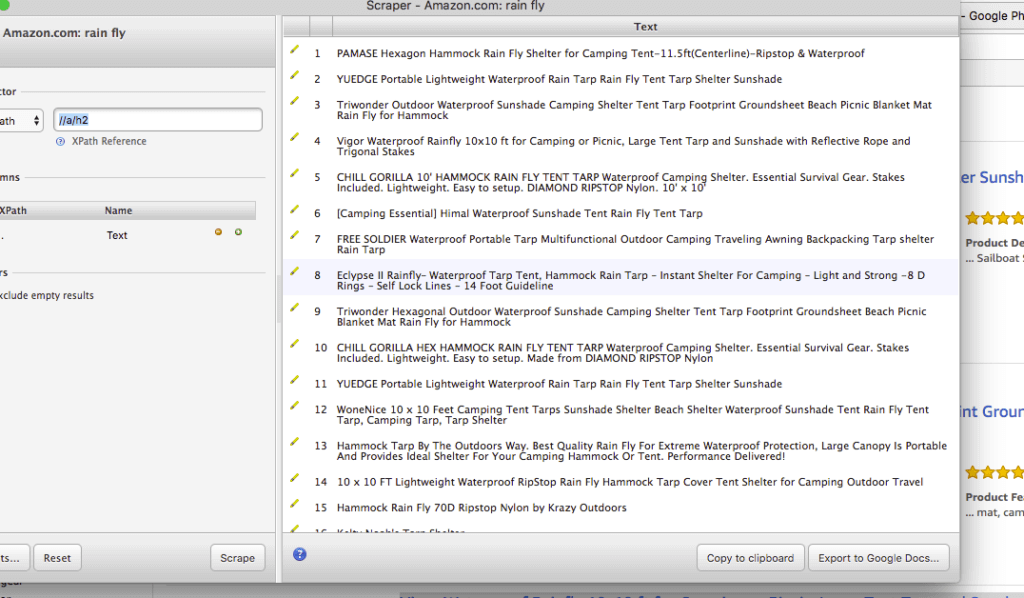 Look for repeats, patterns, and unique keywords.
Manually Read Reviews & Customer Questions
Platforms like Quora and Reddit are invaluable for keyword research. They are rare platforms where you can scrape keywords from people's natural language.
Amazon's reviews and customer questions serve the same role for products.
You can find real life keywords from real life use cases in context.
In other words, you can real people talking like real people.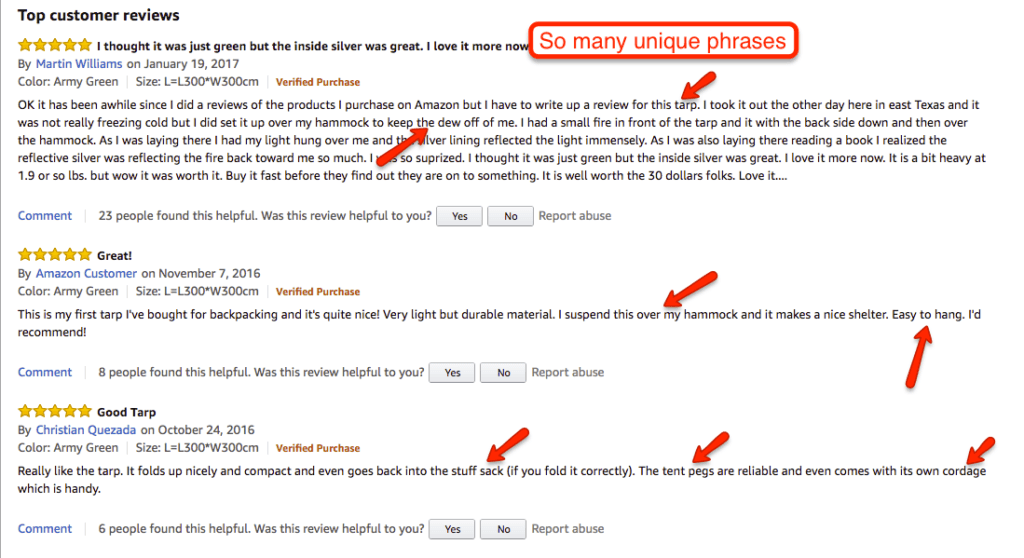 With context, you can figure out all sorts of hidden gem keywords that a keyword tool would *never* suggest.
If you want to go the extra mile, you can (ironically) use a tool to analyze review pages for keyword patterns.
You can use automated tools to process more pages. But, I recommend reading lots of reviews and questions. You will get a better sense of customer problems.
Use Amazon's Node System for Category and Keyword Planning
Website architecture and keyword mapping are the foundation for successful, sustainable SEO campaigns.
Every eCommerce store faces a tough tradeoff when planning for expansion. It is usually hard to plan for how much horizontal or vertical expansion that you'll see.
It's also hard to build out the right categories at the start when you have little data.
The last wrench in planning are your competitors.
They don't know what they are doing either. Stop looking at your competitors.
Instead, look at Amazon. Amazon uses a well-executed "node" system for categories and site architecture. It's built for scale, but it's also flexible enough for rolling out complementary pages.
Study it.
You can explore it manually or you can use a site like BrowseNodes that pull from Amazon's API.
Download Kindle Books Convert to Text and Run Keyword Analysis
In my Google Books post, I talked about the power of books for keyword research.
The problem with Google Books was that it was hard to analyze the full text of the books.
Not so with Amazon.
This technique is not free, but worthwhile if you need a deep dive into a topic. If you are a non-expert in a niche, this is really worthwhile.
Buy the top-selling books for your target vertical in Kindle format.
Convert the entire book into TXT format.
Take segments of text and chapter titles and run it through keyword analysis tools.
Or you can actually read the book – looking for hidden gems.
Order & Use Top Selling Products (especially Books)
On that note, you can actually buy top-selling books & products in your target vertical.
Amazon has nearly every product on earth for cheap. If you have the budget, you can get invaluable data from book text, product manuals, and packaging text.
Or you can examine the products looking for questions as a consumer.
Like these headphones – I had no idea how the charging worked until I ordered it.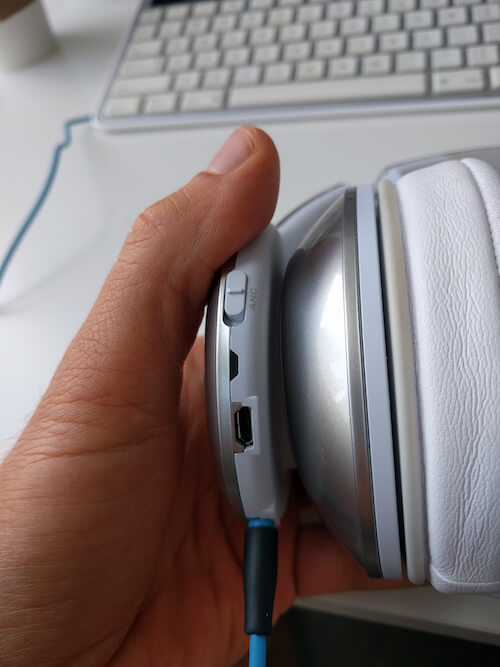 If you have a product, this might be less of a concern. But if you are drop-shipping or adding Amazon affiliate products for cross-sells / upsells, this is critical.
The bonus here is that I guarantee that your competitors are not doing this. If you are trying to get unique product copy, this research vein will give you tough to get information.
Look for Wrong Intent Queries for Amazon
I've heard way too many people complain that you can't outrank Amazon.
All things equal – that is true.
But Amazon has a problem that comes from ranking for everything.
The problem is that Amazon ranks for terms that it should not rank for. It ranks for irrelevant queries.
Think about research and consideration queries.
Sure, some people might do their research start to finish on Amazon. But that not typical.
Your job as an online store owner is to get in front of your customers *before* they go to Amazon.
That means planning content that matches the query intent.
In other words, you have to figure out the "question behind the question." You have to answer that question better than anyone else.
And Amazon.com is your starting point for this.
Drop Amazon.com pages into SEMrush, SiteProfiler by Mangools, or your favorite SEO tool. Look for keywords that don't match the page that ranks.

Look for "how to" or "vs" or "compare" or "why" keywords that send people to product pages.
Build a page that perfectly answers those queries.
Use Top Selling Product Descriptions to Create Content Template
You will never have the same budget or traffic that Amazon has. They can do conversion rate optimization (CRO) at incredible scale.
They also incentivize their 3rd party sellers to ruthlessly focus on conversion rate. Amazon sellers are constantly improving with copy, images, and FAQs.
So steal it all.
Don't copy or plagiarize. But do steal the product page/product description template and roll it out to your site.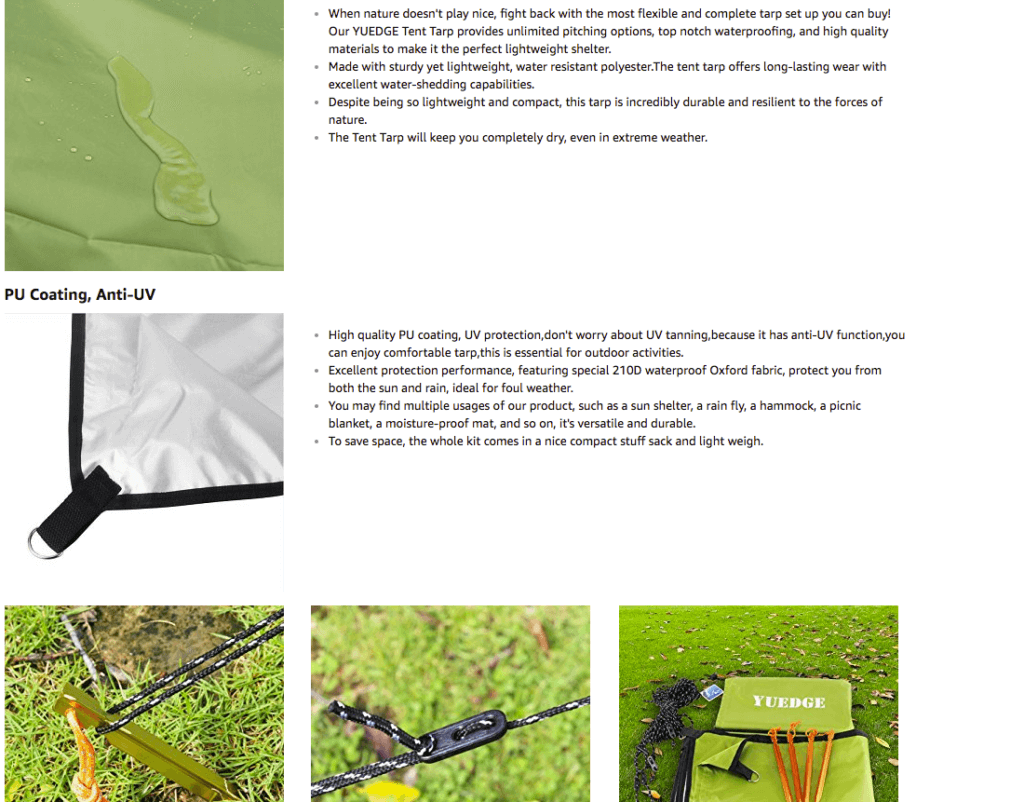 Do the bestselling products use bullets or breaks? What objections do they overcome? What keywords and use cases do they emphasize? What features do they talk about?
Make your product pages & descriptions your own. But use successful Amazon pages as your starting template.
Link Building & Content Promotion
Amazon does not have to do link building. They have built a brand and marketing culture that brings in links on a scale that most stores could only dream of.
But Amazon is not invincible. In any given vertical, they might actually be a 2nd or 3rd tier player. In outdoor goods, REI beats Amazon on SEO and Link Building hands down.
You can and should learn from Amazon's successes to highlight paths of success. Targeted link building and content promotion is the most effective approach.
Reverse engineer Amazon to find links and content promotion angles that work.
*Note – for all these tactics, you'll need a premium SEO tool suite like SEMrush, Mangools, or Ahrefs.
Look for Links and Link Growth for Product Pages
This tactic appears straightforward.
Find links to Amazon product pages that are like yours, and try to get them.
But you can take it much further than that. Here are a few examples.
First, you can find all the links to all the top-selling product pages in a given category. You can do a straightforward link pitch.
Second, focus on the product pages that have the strongest link growth. Strong link growth means they are currently accruing links. Spot the trend and get ahead of it.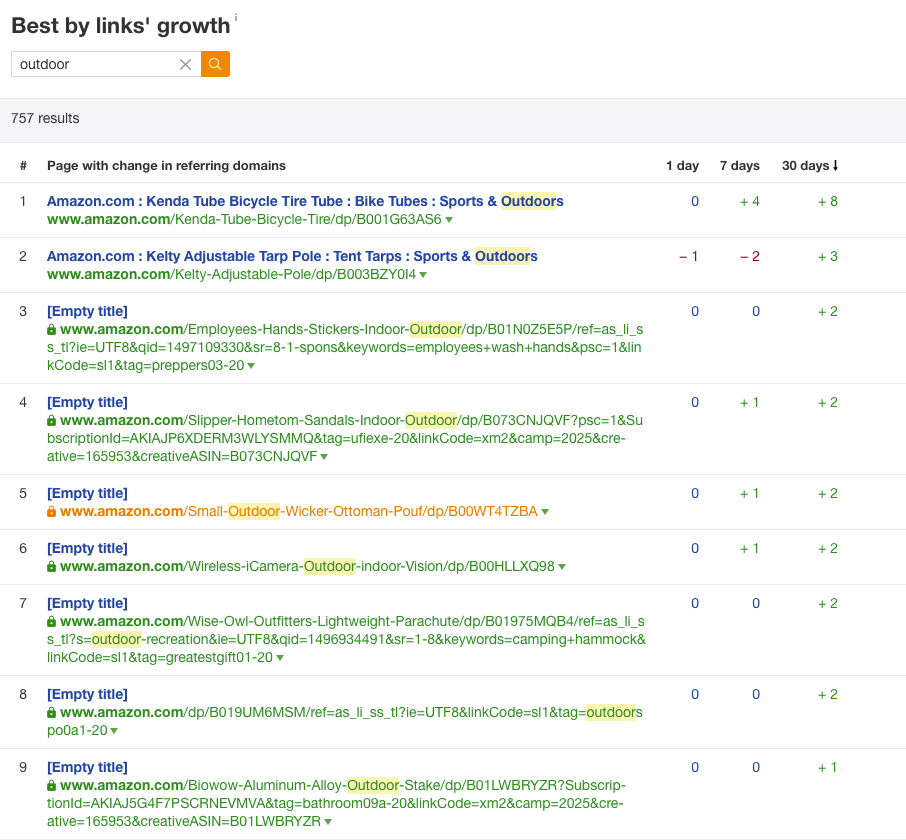 Third, focus on links to *complementary* products on Amazon and do link outreach. Pitching baseball gloves link will be easier if the page links to a baseball bat rather than more baseball gloves.
Fourth, look at the referring domains and what other resources they link to. Spot any content gaps where you can pitch an educational resource. For example, your baseball bats product page might not get interest from a publisher already linking to a baseball bats product page. Your "perfect batting angle to get home runs" guide might get more interest.
Fifth, remember that you can leverage Amazon's scale with this tactic. They have thousands of product pages in every vertical. Use them as a "casting net" for links opportunities.
There are two notes to keep in mind –
First, many links to Amazon will be affiliate links. Be sure to be aware of *why* publishers are linking to Amazon. Be prepared to offer value above and beyond.
Second, please customize and be thoughtful with your outreach – for the love of the Internet.
Many publishers & consumers have a soft spot for innovative small businesses. Do not abuse that trust with spammy outreach.
Look for Links and Link Growth for Category, Trending & Bestseller Pages
This tactic is like researching product pages. Publishers will link to category, trending and bestseller pages for different reasons. It's important to see why & how they got each link.
You'll often find opportunities to pitch educational resources here.
You'll also find opportunities to get those invaluable category-level links on your site.
Make sure your category and educational pages are link worthy.
Manually Search for Amazon Pages w/ Links
Amazon's "Customers Who Bought This Also Bought" is an incredible piece of data for any retailer.

Manually collect every single URL and find links to those pages. This process is like looking for links to product pages – but more focused on complementary links.
Search Amazon.com for Footprint Links
This tactic is like my "casting net" tactic for keywords.
Search for every link to Amazon (yes, all of them).
Then, narrow down with various "footprints" that match your goal.
Footprints might include URLs with "resources" and "[keyword]" in the URL.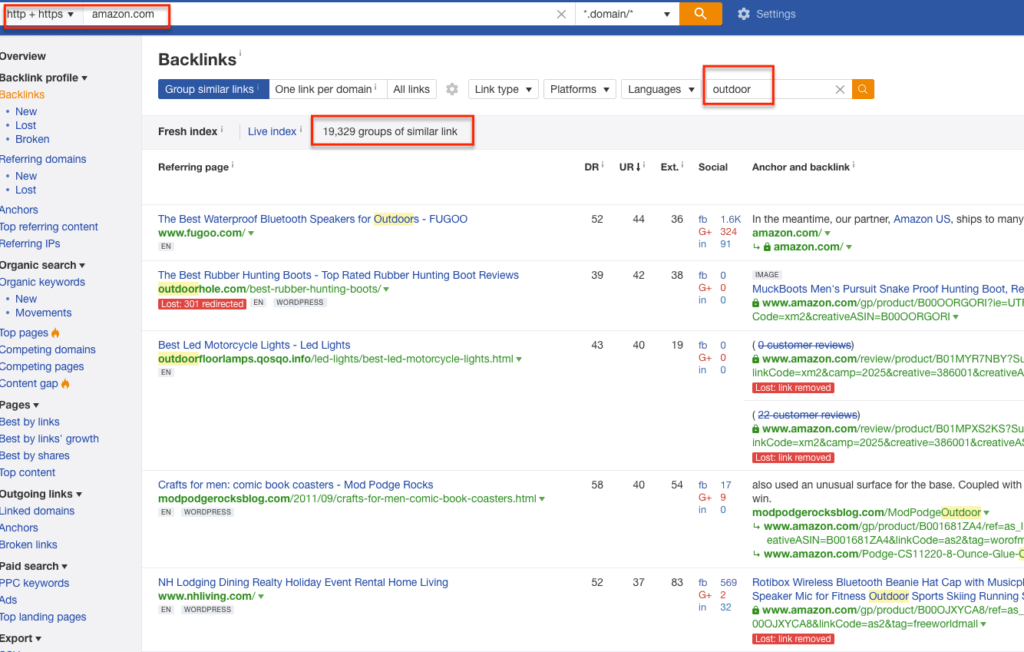 It might include URLs with "[keyword]" in the domain and "review" in the URL slug.
You can also focus on the number of outlinks from those pages (ie, whether you are likely to get the link). You can further focus on Domain Authority or some other metric.
*Note – be sure to look at Amazon broken links for a bit of eCommerce broken link building.
Use Amazon in Link Intersect with other Ecommerce Stores
Most backlink tools have a "link intersect" tool. Even if yours doesn't, you can still do the same process with Excel.
The idea is to find out which sites link to Site X and Site Y but do not link to Site Z.
The method will find the best link prospects and the best link types.
Since Amazon has so.many.links – it makes an excellent link intersect site.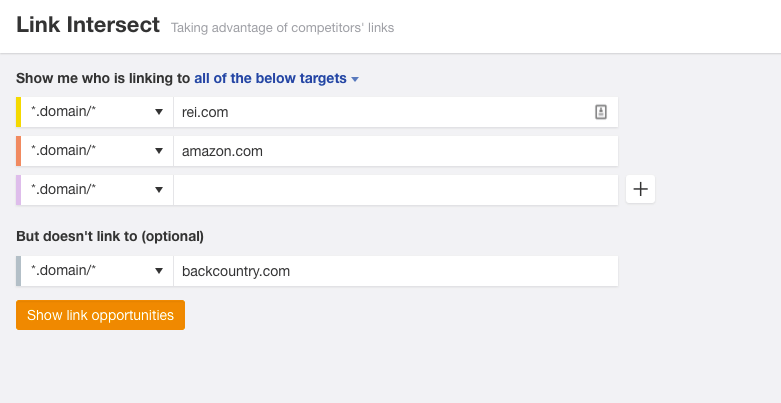 The process here is up to your imagination and vertical. But here's a few examples.
Suppose you want to find publishers that link to independent businesses. Look for publishers that link to competitors but do *not* link to Amazon.
Suppose you want to find publishers that link out to whomever, whenever. Look for publishers that link to all your competitors AND Amazon.
Suppose you want to get links that your competitors do not have. Look for publishers that link to Amazon but do not link to competitors.
These lists are critical to have before Q4 and Christmas shopping season. You need to get this list and make contact before all the ecommerce content gets assigned. Be a part of publisher's evaluation lists.
Again – the method depends on your goals and resources, but Amazon makes a very useful domain for it.
Next Steps
If you run an online store, you cannot ignore Amazon. Whether you sell on Amazon or not, you should use their publicly available data to improve your website and your content.
You won't be the next Amazon. But – when you combine a solid eCommerce marketing strategy with solid data – you will beat your competitors. And you might – just maybe – beat Amazon in your corner of the Internet.
Be sure to explore the full list of Free Tools To Find Prequalified Content Ideas!