Keyword research is possibly the most important part of search engine optimization. How you decide to use & target keywords helps guide how your content is written, how you approach your audience, and how you approach your content strategy.
Many non-specialists in search engine optimization are just familiar enough with keyword research to be dangerous. In other words, they know enough to start or stumble into either total success or total failure).
That's a good thing though – SEO keyword research for beginners should not be such a complicated process that DIYers view it as a magical black box.
Keyword research for SEO is finding the specific words and phrases that people use to search for information. Then figuring out relative search volume and competition among your target keywords so that you can rank for a theme of keywords.
Doing keyword research isn't so much a single step or action as it is a process where each step informs the previous and the next step in the process.
Here's an overview of my SEO keyword research process for total beginners, which itself is part of the process of keyword mapping.
Step 1. Brainstorm Keywords, Topics & Angles
You have to start your keyword list somewhere – and you'll start it with just your best guesses at keywords people use to search for your products & services. Don't hold back, start a text file or spreadsheet and just start typing, but keep these tips in mind.
Think in terms of questions & needs
People come to search engines to find the answer to a question. They just use keywords to phrase the question. Instead of jumping straight to keywords, think about what questions people are wondering about when they would need/want your product/service.
Look at your site/products/services and think of them as the answers – then try to generate the questions (like the American gameshow Jeopardy). When you have these questions down, write out as many variations of keywords that you would use to figure out those questions online.
Think in terms of your perfect visitor
Try to outline your perfect visitor. What would they already know? How would they search? What language do you think they would use? What questions would they ask?
Think laterally
Many times you will have the 'curse of knowledge' – ie, you know your product/service/industry so well that you have no way to really break it down to someone who has no idea about your industry.
For example, if you are a plumber, you will use very different terms for services and equipment than your target market. Instead of just coming up with more jargon and industry terms for your services, use related concepts to try to break out of that rut. Think about how you would describe products in related construction industries that you know little about. Interview customers to ask how they would search for you.
Observe & Steal
And of course, you can always visit competitors' websites, educational resources, forums, etc to observe and steal phrases that people use about your product or service.
Look specifically in the Title tag, and the headings on relevant pages, and add those keywords to your list. Notice this isn't a product page.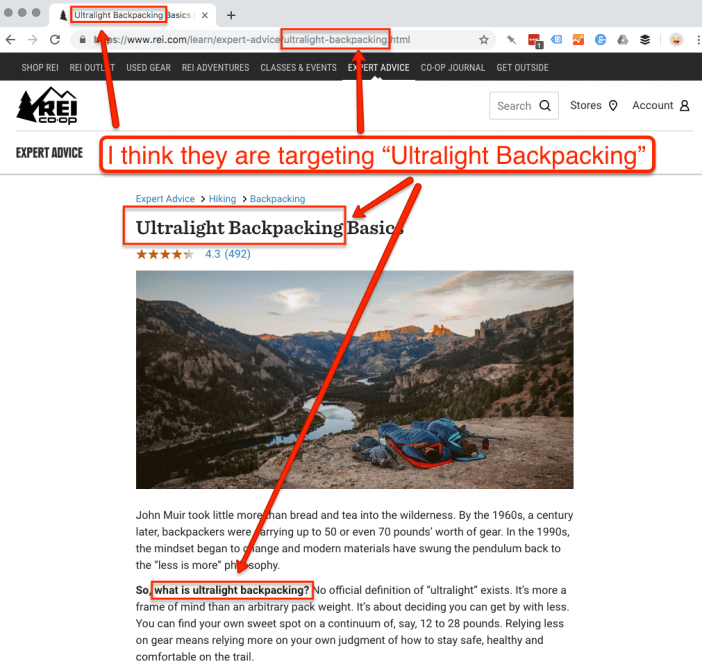 Use Your Current Website
If you have had Google Search Console installed, you can go to Search Performance and sort your queries by page.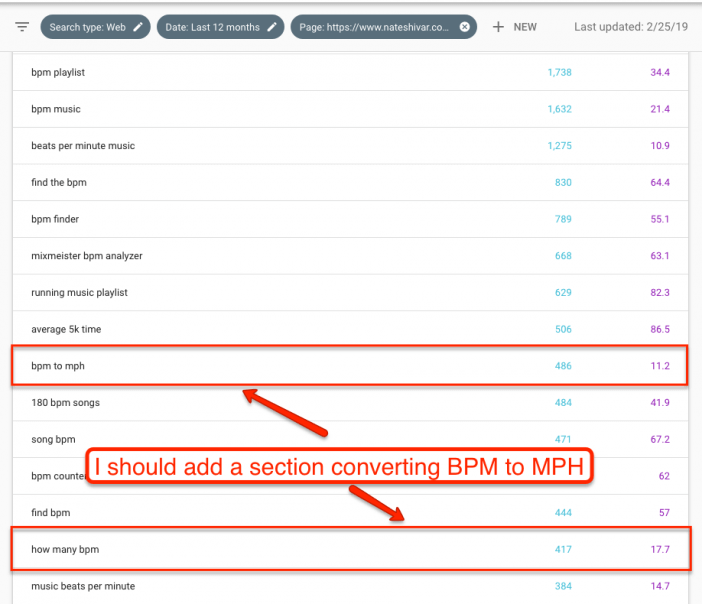 This will tell you some keywords that Google already associates with your website, and that you can take and try to improve upon.
You can also go ahead and go to Google Ads Keyword Planner (you have to start a free account with a Google Account), and navigate to Tools & Analysis –> Keyword Planner –> Search for new keyword ideas to paste in the address of your website. Google will then let you know some keywords that it thinks are relevant enough for you to bid on. You don't have to advertise on those terms, but you certainly can use them as ideas for your SEO strategy.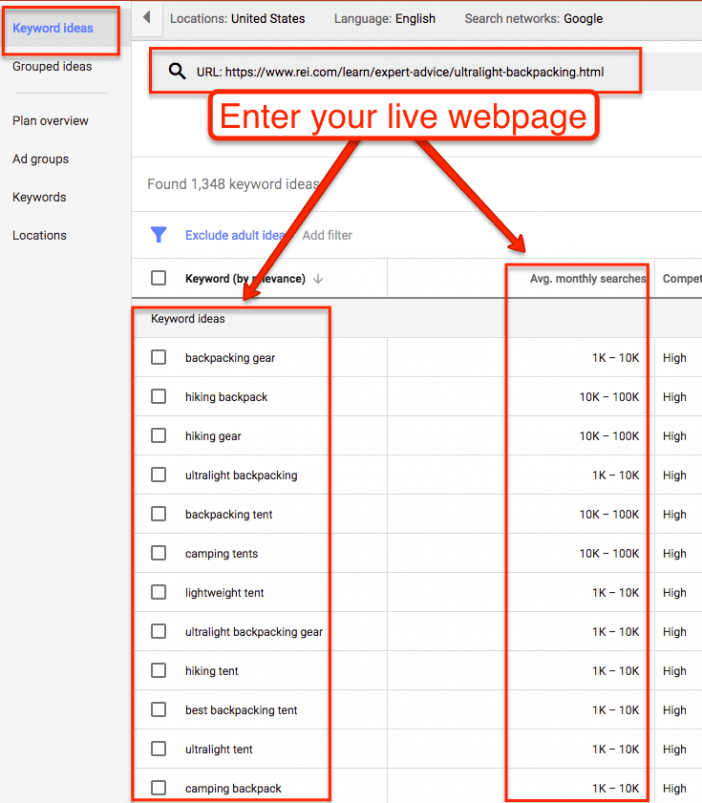 Build solid list of 10+ keywords initially, but not too many since you'll be using tools and research to both expand the list and to keep it "pruned" so that you can actually use the keywords on your site. After you run this first batch through the rest of the steps, you'll be coming back to this step again (actually several times, depending on how large your website is).
Step 2. Use Keyword Research Tools to Validate or Eliminate
It's one thing to sit at your computer screen and come up with ways that you think people search for you. Now it's time to figure out how people actually search. Remember, your goal with keyword research is to find that sweet spot among what your content is about, what people actually search for, and what searches you can actually compete on and provide additional value.
To find out how people actually search, we have to turn to the company that actually knows that data: Google**.
**Nota bene: There are a lot of premium 3rd party keyword research tools out there. They have a variety of data sources – some good, some bad. I've written about a few here but the big, legit one is Ahrefs. They are expensive. But they are that good. But if you plan on making money from your website, and you plan on getting significant traffic from organic search, then you should pay for them and learn how to use Ahrefs. They are out of scope of this post, but my guide to Ahrefs is more than enough to get you started.
You can read a full post on free keyword research tools here, but here's a quick overview on how to use 3 main free ones from Google to get actual search data in addition to new keyword ideas.
Google Keyword Planner
This tool is Google's replacement for the Keyword Tool that SEOs had used for years. You have to have a Google Ads account to access it – but that account is free, and you're not obligated to spend ad dollars.
To start with, you 'll be using it to find search volume for some of your keyword ideas.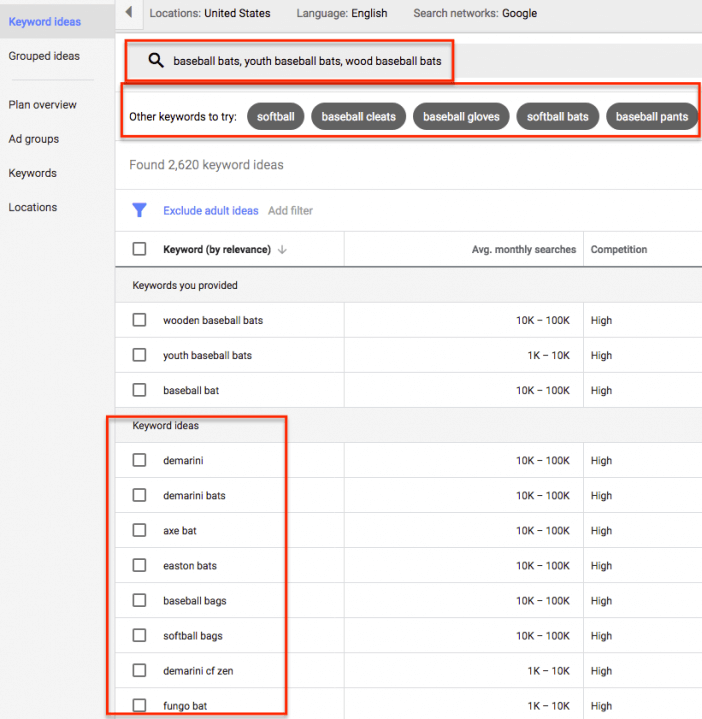 The number you are looking at is the number of times that exact keyword (excludes variations) has been searched for in the past month in your country. If you hover over the chart logo beside the volume number, it will also tell you the trends throughout the year.
You'll also use Keyword Planner to get additional keyword ideas for your list. Go back to the Get New Ideas drop down seen in the brainstorm section.
Choose 5 to 7 keywords that are fairly similar to each other and place the in the field. If there are other ideas, Keyword Planner will give them to you. Sort through them, take what you love, leave the rest. You can read more about using Keyword Planner here.
Google Instant
Sometimes your keywords (especially for blog posts) might be too niche – or too "long-tail" to have any search volume in Keyword Planner. It's time to use Google Instant. Head over to Google.com – and start typing your keyword.
If you have Google Instant turned on, Google should start guessing your search by using previous search data. In other words, you can see if something is actually being searched for. The sooner it pops up, the more frequently it is searched for (as a general rule). It is, of course, weighted by location, language, "freshness" (ie, recent events), and other factors.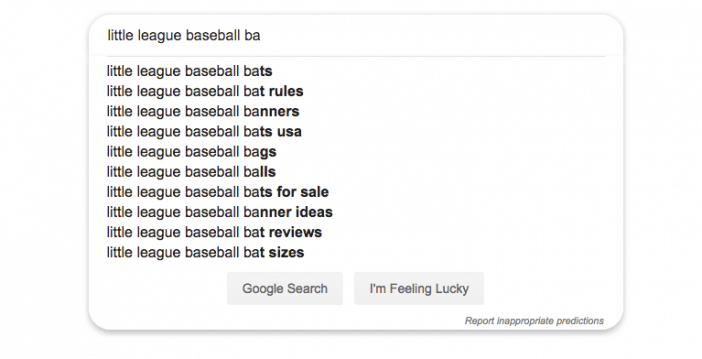 But as a general rule, you can use it to see if people are using the same keywords as your best guess. Additionally, you can use it to generate even more keyword ideas. Type your broad term, then type <space> a, look at the suggestions, then b, then c, etc all the way down the alphabet. You're trying to figure out the really specific, long-tail variations of your broad target keyword – and understand exactly how people use the keyword in their actual searches.
Pro tip: you need to learn how to use Google Instant by itself but you can save a ton of time by using AnswerThePublic or KeywordTool.io. It pulls Google Instant data…instantly into a single huge list. Just type in your keyword, look at the list of Google Instant suggestions, take what you love, and leave what you don't like.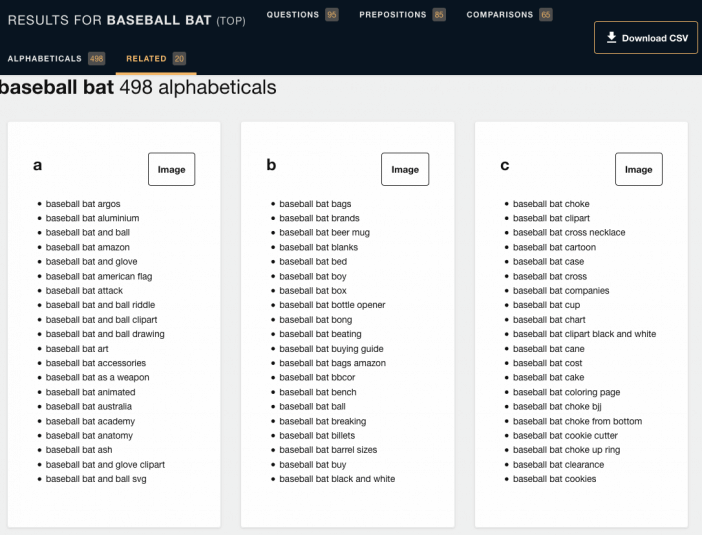 Google Trends
Google Trends lets you see trends and changes in search volume over time. You can type in a series of keywords to see how search volume has increased or decreased over the years, months, or weeks – and in relation to each other. Here you can see there's a huge seasonal trend.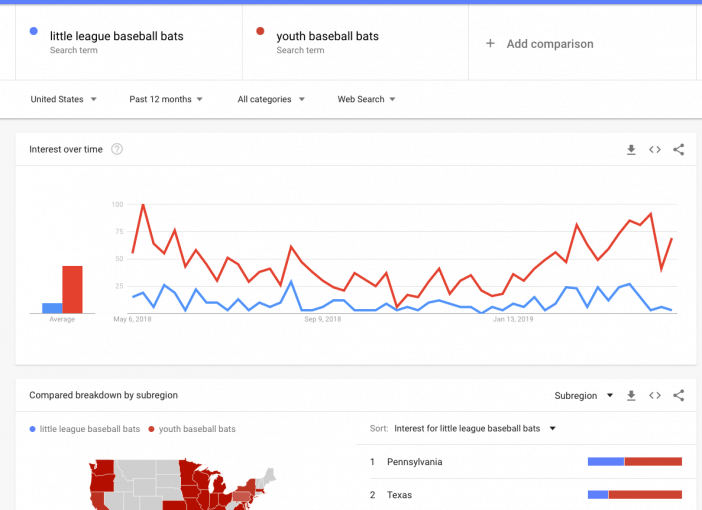 You'll use it to decide which keywords to go after (ie, don't go after terms that no one has searched for since 2007). Google Trends will also give really helpful ideas – including "Hot" keywords that have seen particular growth in volume over the past 30 days (especially good for keyword research for blog posts).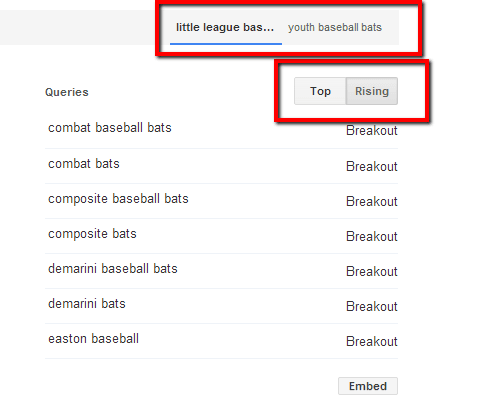 Between these 3 tools, you should be able to get a good idea of what keywords people are actually searching for. You'll be able to prioritize the keywords you have. Learn more how I use Google Trends.
That said – you're only part of the way in deciding which keywords to use on your site.
Step 3. Look at the Search Results to Validate or Eliminate
Typical keyword research for beginners articles stop at brainstorming ideas and determining volume. In so doing, they usually set many DIY sites up for failure, because they leave out the 3rd part of finding the keyword sweet spot – how search engines actually understand your keyword.
After you have a good starter list that is prioritized by volume, you need to go to Google Search and look at the search results produced by that keyword and make 2 judgement calls.
Does Google Think Your Keyword Means What You Think It Means?
Google has to deal with a lot of nuance in search queries. For example, when someone searches for "plumbing" – do they want a local plumber, do they want plumbing supplies, or do they want the history of plumbing? Or something else?
Google will display the type of sites that it thinks are most relevant for that keyword. No matter how relevant you may think you are for a term, if Google views that term in a different sense, then you will be out of luck – no matter what you do.
For example, if you are the world's master at building square garden plots, you may want to target terms around "square garden." Nevertheless, that would be like swimming upstream because for "square garden" and a range of terms including "square garden" – Google simply serves a bunch of Madison Square Garden results (in America).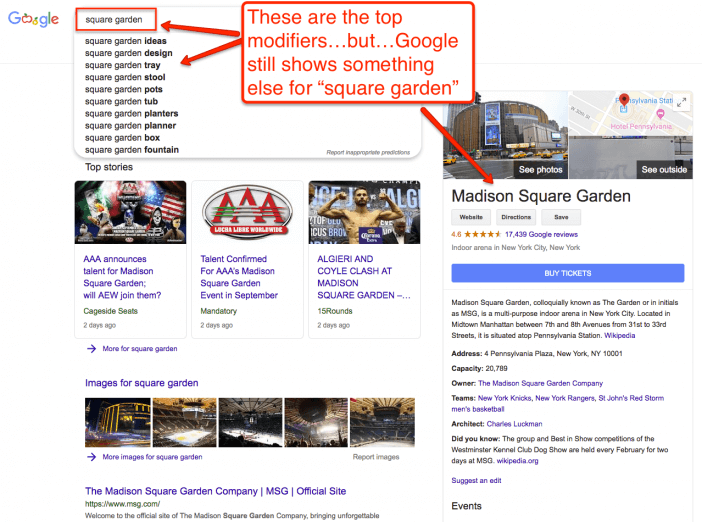 Go and search for your target keywords. Look at the top ten results. What sites appear? Do they match the intent of your keyword? Are they commercial sites, small blogs, government sites, job sites? Would your site be the odd site out if it appeared in the top ten?
You will be more likely to compete for that keyword if the sites listed in the search results are in the same "neighborhood" or industry as yours. If you are writing a health website, going after "medicare information" will be a long-shot since 11 of the top 15 results are all government websites.
It may be a long shot keyword that you can eventually go after, but isn't one that you should build your site around (unless you run the AARP's site) since Google is giving high preference to government websites. Google doesn't interpret it as a commercial search at all.
Are These Search Results Something I Can Compete For?
Google looks at hundreds of factors to decide what page to rank for a certain search query. One of the most influential factors is "authority" – (ie, how reputable or trustworthy a site is). It can be a bit of a complex topic. But basically the idea is that all things being equal, Google prefers to rank a site like the New York Times, Wikipedia, Amazon, or any other well-known brand over a small, unknown site.
I've written an entire post on judging keyword difficulty. But the short version is that your goal with keyword research is to pick battles where you can win. Imagine if you were a beginner, or just mediocre soccer player. Your goal was to get some playing time so that you could impress a few people.
You could try out for Manchester United or FC Barcelona (or any other top professional club). If you made it, then you would get in front of millions. The problem is that you would never get any playing time – never even get a chance.
Your better bet would be to find a local team to join, so that you can get playing time and impress the smaller, but interested spectators. You can build up to the bigger crowds, but you need to start somewhere.
Companies like SEMrush have software that will tell you how competitive search results are – but here's how you can do it yourself for free.
Find out your site's domain authority by downloading the free SEMrush toolbar for your browser.
After you have a sense of your own site's number, do a search in the browser with SEMrush turned on. Turn on the SERP Overlay feature. Here's a good video overview of the tool.
Beneath each search result, you'll see a Page Authority Number & Domain Authority Number.
Are the Domain Authority numbers out of your league? Are the search results taken up by well-known brands and authoritative websites?
Next, even if the search results are filled with authoritative sites, are the pages displayed actually useful?
If you were doing research, would you want to click on any of the results? Often if Google doesn't have a good result, it will just pull something kind of relevant from an authoritative site.
For example, Yahoo! is a very authoritative site, but Yahoo! Answers are traditionally poor results (seriously, click on a results and see if it actually helps). If you see Yahoo! Answers or Askville by Amazon – or any forum results, then that's an indicator that Google literally cannot find anything better.
However, if you see search results full of actually useful articles by known brands and media sites, then you should move on and try to find a better niche.
Use this information to edit your keyword list. Don't just throw out keywords that you can't compete for – just use it as a way to go more niche. For example, even if you can't compete for "garden ideas" – you might be able to compete for "winter vegetable garden ideas".
Much of this process is a judgement call, and takes practice to get just right (even doing SEO professionally, this is always the toughest portion of keyword research). Keep in mind, though, never let the perfect be the enemy of the good. Just working through this process will put you ahead of the competition and help you get a better sense of you own site and content strategy.
Step 4. Do Quality Assurance & Implementation
While you are doing keyword research, it's easy to follow false trails, or spend time researching for research's sake. Do quick quality assurance after each step –
Keep your keywords organized in general themes
You'll be using keywords on your site in an organized way. A single list of keywords is a good start, but quickly shift to keeping several lists of related keywords
Keep your actual website in mind
Keyword research should be done as a part of the process of keyword mapping. Will the keywords you're finding actually fit on your site? Does your site answer the questions and keywords you're seeing? Remember that in order to target keywords, you have to actually use them on your site.
Keep keyword intent and questions in mind
Many times keywords don't mean what you think they mean. You should be able to spot this in the process, but keep an eye out for things that don't line up. For example, many times "industry + listings" will actually indicate people searching for job listings in that industry – not company listings and information.
Many times Google will catch nuances like that, and you'll see it in the search results, but sometimes they don't. It is something to remember when you are trying to figure out exactly what keywords to target.
Next Steps
That wraps up my approach to keyword research for beginners, and there are several next steps you can take. One is to dive right in with keyword mapping and keyword research. All the tools you need are free, and there's no reason to not begin the process now.
Once you have a good list of keywords, you'll need to organize them into "topics" or "themes" and then assign them to individual pages. That process of theming and assigning is called Keyword Mapping, which you can read about here.
If you are on a keyword research budget, be sure to get Mangool's KWfinder. If you have a bit more budget or want to try a premium tool, get SEMrush's free trial.
Explore Related Keyword Research Posts!