YouTube Analytics are a bit of anomaly because YouTube itself is an anomaly.
It's not your website and it's not purely a social network. It's more than a video hosting platform even though videos are it's thing. It's the world's 2nd largest search engine by queries processed, but it's not a search engine that crawls & indexes the Web like Google or Bing.
There is a lot to going on. And that makes YouTube Analytics challenging. There is a lot of noise. There are a lot of metrics. Some matter, and some don't. Some matter in ways that you would not expect.
However you use it, YouTube wants you to improve. More videos viewed means more revenue and more visibility for YouTube. They want you to have more watch time, a bigger audience, and more reach. So like other social networks, YouTube provides a wealth of data to help you understand your audience, discovery and engagement.
But it goes further – because, again, there's a lot going on. Since YouTube is a Google product, it integrates well with other Google products such as Google Analytics, Ads, AdSense and Search Console. And that's just the marketing tools – there's another universe of app integrations and Google Play integrations.
Unlike other social networks, you can get a better understanding of how YouTube fits with your other marketing data. The key (like other analytics products) is to set it up correctly, know what you are looking for, and to keep exploring.
I've worked on client YouTube channels, personal channels, and I've started exploring my own ShivarWeb YouTube channel. So here's what I've learned about setting up, understanding & using YouTube Analytics (plus additional resources at the end).
Getting Started With YouTube Analytics
When you set up your channel, YouTube Analytics is set up out of the box. Navigate to your Creator Studio and click Analytics to find it.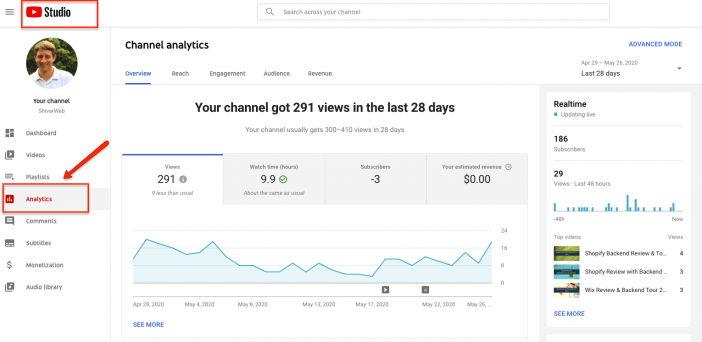 You'll see an Overview along with reports in 3 general categories – Reach Viewers, Interest Viewers, Build an Audience, and Earn Revenue.
Those categories are a bit of a misnomer, but we'll look at them closely in the next section. But here's the short version –
Reach – stats on how well your videos are reaching people (traffic source data)
Engagement – stats on how well your videos are performing (actual watch data)
Audience – stats on who your viewers are (people data)
Revenue – stats on your ads & money (money data)
There are 3 items that you do need to set up & understand at the beginning.
First, you can define your default settings. They are fairly basic (currency, time period, etc) but taking a second to adjust them will save you time & confusion in the future.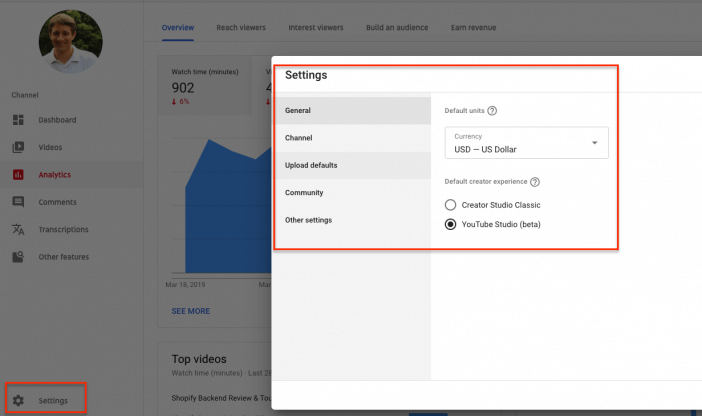 Second, you can do a lot with comparison data. Not only can you slice and dice by date, but you can also compare based on Subscriber status (ie, your subscriber data will be very different from non-subscriber data). Click through all the charts to "See More"

Third, you can define Video Groups for analysis. This feature is useful for defining strategy. Based on Pareto's Principle, you'll likely have one or two outlier videos that can throw off your decision-making about the types of videos you should make.
Try grouping videos by type (how-to, promotional, opinion, etc), topic, or however you define your content. You'll be able to quickly analyze how a certain category or group of videos performs. With that data, you'll be able to make more strategic decisions about content.
Lastly, keep in mind that you can download all your data.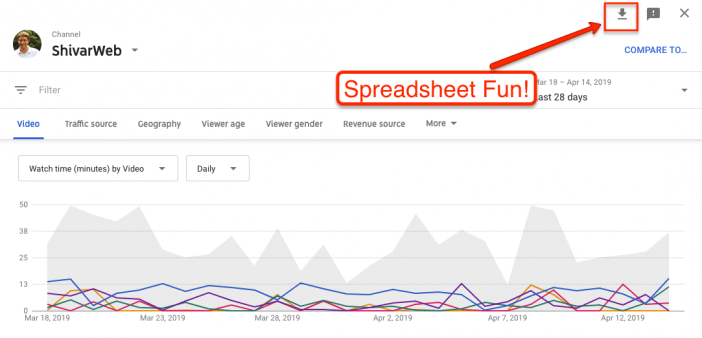 If you want to look at a lot of data over a long period and know a few spreadsheet tricks, you can get deep insights from the raw data export.
Linking YouTube Analytics with Other Analytics Products
You can integrate some YouTube Analytics across your other Google products so that you can make decisions about your overall marketing and/or publishing decisions.
Google Analytics
If YouTube is tightly integrated with your website, you need to know how visitors navigate back and forth between your website and your channel.
YouTube does not grant video level data, but you can add your Google Analytics tracking code to all your Channel level pages (ie, Home, Playlists, About, Channels, Discussion).
First, grab your Google Analytics property's UA- code under Property Setting in your Admin. Second, navigate to YouTube's (very buried) classic advanced settings page. You'll find it under YouTube Studio, then Settings, then other settings, then Advanced. At the bottom, place the code in the Google Analytics code box.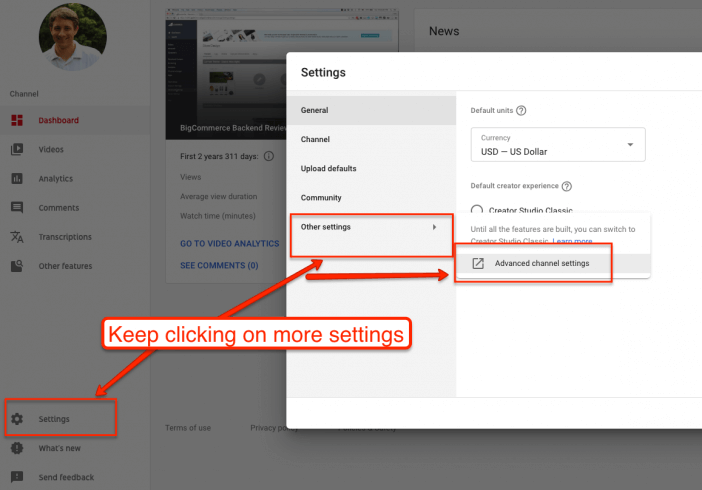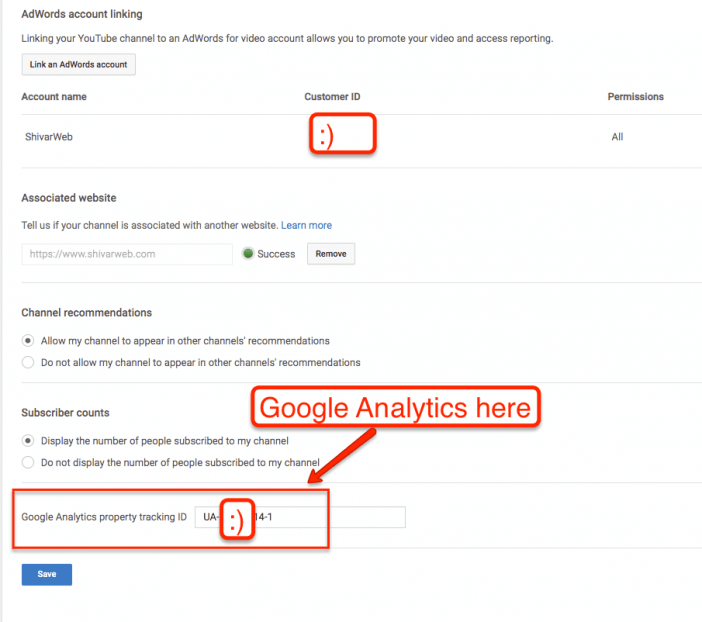 Your YouTube Channel level pages will now be tracked as if they are part of your website.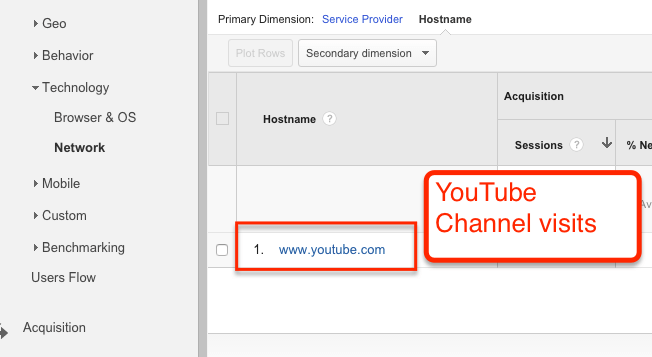 It is important to note that this can skew your website data. So, you should create 2 additional Google Analytics Views (using the Hostname filter) – one that is YouTube only and another that is website only. You can find detailed instructions to set this up here.
Google AdSense
If you are a YouTube Partner, you'll want to get paid. And you get paid through Google AdSense. You'll need to associate your AdSense account with YouTube. Most of this will be automatic after you've applied for the YouTube Partner program.
It is important to note that YouTube ad performance reports do not appear in Google AdSense. Only your earnings. You'll have to look at the Revenue Reports to get a sense of ad performance.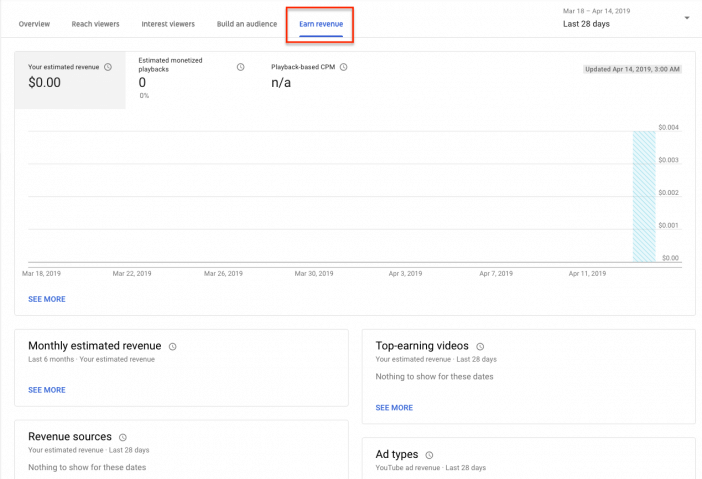 Google Ads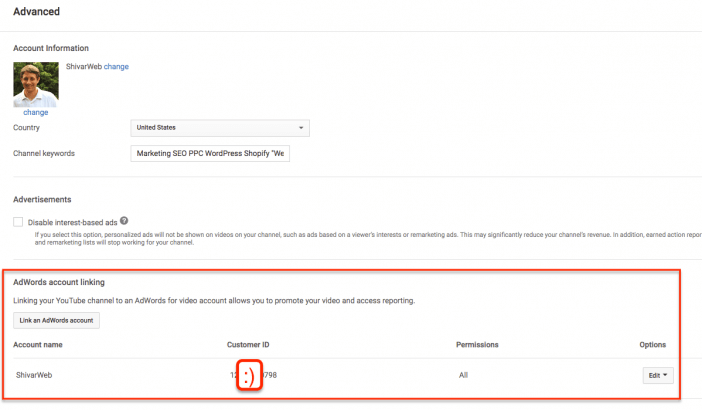 If you are a business running ads, you'll want to set this connection up. Go to Studio, then Settings, then Other Settings. Click the Link Ads account. Double-check that your Google account signin info matches.
Once you have your YouTube channel and Ads linked, you can run video ads using the videos listed on your channel. You can also access the wealth of Ads data about your campaign.
The important step now is to make sure your YouTube Channel and Ads account are linked.The interesting tactic here is to use organic data to choose paid campaigns and use paid campaigns to both test and amplify organic videos. I'll cover this in a separate post on YouTube Advertising.
Google Search Console
Google Search Console gives website owners search engine optimization data direct from Google. You can dive deep and use it for everything from technical SEO to on-page and off-page SEO.
Google wants you to have a well-structured and well-optimized website. And understanding all your web properties is an important piece of that puzzle.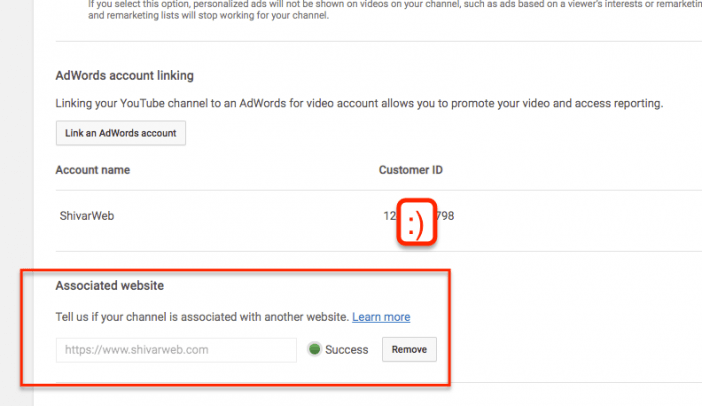 Whether you are a business or a "pure-play" YouTube channel, you should explicitly tell Google who you are and what properties are related to you. The process is straightforward. Navigate to Video Manager, then Channel, then Advanced. Choose to associate your channel with a website.
Like Ads, you'll need to make sure you're logged into the correct Google Accounts since the process requires some account syncing.
Once you finish, you'll find your YouTube channel listed under Google Search Console → Settings → Associates. On YouTube, you'll get a little green light. Once you link accounts, you'll also be able to link out to your website within your videos via annotations or Cards.
YouTube Data Through Other Products
Lastly, YouTube provides all your Channel data via an API. If you run a channel that produces a lot of data – this is where you'll need to go grab it all.
There are a lot of possibilities – all out of scope for this guide since it requires some developer skill to pull and manipulate your data. However, if you are looking to make some strategic choices about your Channel and do not have developer expertise in house, it's certainly a job that's worth outsourcing somewhere like UpWork or Fiverr.
There are also several off the shelf external products that will tap into your API and present your data in useful ways.
How To Use YouTube Analytics Effectively
Like Google Search Console, a wealth of data can present a paradox of choice. What should you look at? How should you use the data?
It's a complicated question. YouTube even made an excellent Creator's Academy Course on the topic. But don't think it goes far enough.
Google Analytics' evangelist Avinash Kaushik argues that you should first define what your goals are. Then you should look at analytics with the ABC (Acquisition, Behavior, Conversion) approach.
All data that doesn't fit in these categories are noise & are a distraction. So let's look at what that means for YouTube.
Goals – What You Looking For
All the data and optimization in the world do not matter if you don't know where you want to go. And this idea is particularly true on YouTube.
It's the platform where you can go viral and successfully launch your business. You can turn a boring product into a household brand.
It's also a platform that can waste a lot of business investment. And even if you are a "pure-play" YouTube channel, you can generate a lot of views with little to show for it.
If you are a business –
Learn more about YouTube & business metrics with this guide.
If you are a "pure-play" YouTube channel –
Why are you using the YouTube platform and not something else?
What's your ultimate goal? Money, fame, awareness, portfolio?
Are you selling ads/views? Are you selling something else?
Are you building an audience or just getting views?
How does YouTube fit with your other platforms?
Now let's look at using YouTube Analytics to help you achieve your goals.
Acquisition – How You Get Views
Video from YouTube's Creator Academy series on understanding your audience.
At the most basic level, your video views are going to come from either on YouTube or outside of YouTube. Understanding where you get (or don't get) views will help you decide what to focus on or improve.
Views within YouTube
Navigate to Traffic Sources under Reach Viewers. This shows where your views are coming from. For right now, we'll ignore "External" and "Unknown."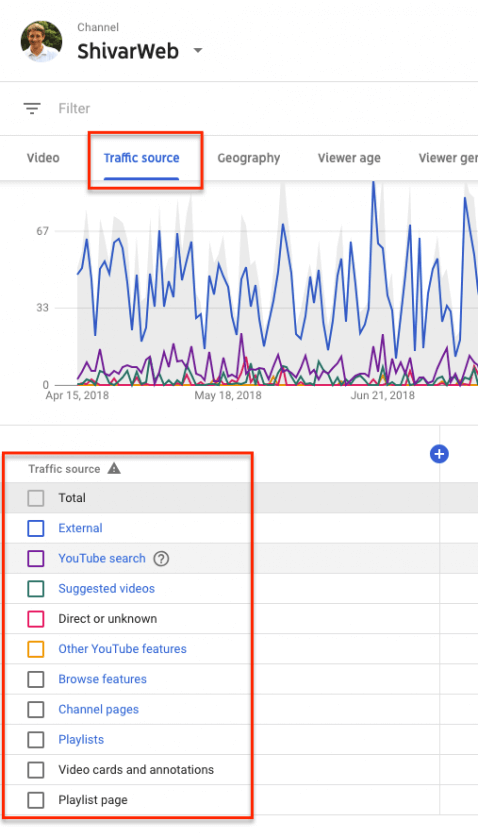 The sources you'll see in this report will be one of the following (all definitions from Google's Help page) –
YouTube Search – Traffic from search results on YouTube. You can also see the search terms used by viewers if provided by the user's browser/player.
What You Should Look For:
What videos are doing well?
What did you do differently with them?
For underperforming videos, are your titles, keywords and descriptions detailed & descriptive?
Do they match what you would expect someone to search for? Can you "target" a high-volume in YouTube search?
Did you click through and explore the keyword data that YouTube gives you?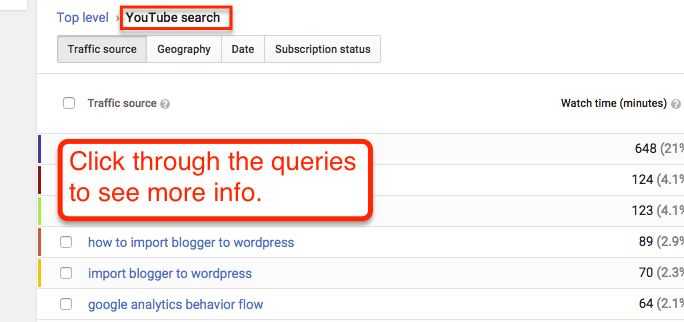 Suggested Videos – Traffic from suggestions that appear next to or after other videos and from links in video descriptions.
What You Should Look For:
What videos are doing well & underperforming?
Are your videos marked up with the right keywords?
Have you tried exploring & scraping competing videos for ideas?
Have you tested adding closed captions?
Are your thumbnails "clickable"?
Browse Features – Traffic from the homepage/home screen, subscription feed, and other browsing features for both signed-in and signed-out users.
What You Should Look For:
Are you getting Likes & Engagement for your videos?
Are your videos being added to Playlists?
Are there other channels that you can collaborate with?
Playlists – Traffic from any playlist that included one of your video (this can be your own playlist or another user's playlist). This traffic also includes users' "Liked videos" and "Favorite videos" playlists.
What You Should Look For:
Have you collaborated with any complementary channels?
Are your videos getting Liked & Favorited?
Have you tested this as a call to action?
YouTube Channels – Traffic from other creator and topic channels. Topic channels are automatically created based on YouTube's video discovery system (like the YouTube Music channel).
What You Should Look For:
What videos are users clicking from your channel?
Is your channel well-structured?
Are your thumbnails clickable? Headlines?
Are you getting traffic from other channels?
Do you know them – have you tried collaborating or thanking them?
YouTube Advertising – This traffic source shows ad playbacks that qualify as a view.
What You Should Look For:
Do you know what qualifies as a view?
Does this align with your reporting in AdWords?
Can you pull demographic data from who is viewing your ad?
Video Cards and Annotations – Traffic coming from an annotation, card, or featured content in another video.
What You Should Look For:
Are your annotations working?
Are they worth the effort and distraction?
Are you getting links from complementary channels?
Are there videos that should be referring traffic to each other but aren't?
Notifications – Traffic from automatic phone or tablet notifications and emails sent to your subscribers.
What You Should Look For:
Are your subscribers engaged?
Are YouTube's notifications driving traffic? Do you need another promotion plan?
How does this compare with your other channels & external sources?
Other YouTube features – Traffic from within YouTube that doesn't fall in any other category, such as views from Partner promotions, the Android home screen widget, or the dashboard.
Views from Outside YouTube
There are 2 other sources under Traffic Sources in YouTube Analytics.
Direct or unknown sources – Traffic from direct URL entry, bookmarks, and unidentified apps.
What You Should Look For: These visits will usually represent a small proportion of views. However, if they grow, they might warrant some sleuthing on Google.
External Sources – Traffic from websites and apps that have your YouTube video embedded or linked to. You can see what websites and apps are embedding your video in your Playback Locations Report.
Like Google's definition mentions, you'll have to click out of Traffic Sources and go to Playback Locations to continue your analysis of embeds. But – before you do that, go ahead and click through.
When you click through, you'll be able to see what sources are referring traffic to your video (but not embedding your video on their site). Here you'll see website URLs, Google Search, Facebook, etc.
What You Should Look For:
How are you performing in Google Search and other social platforms?
Does this data align with the data that Facebook or Twitter provides?
What external websites are embedding your videos?
Are they a fit for a continuing relationship? Can you reach out and introduce yourself?
Understanding Viewers from Acquisition
Before moving to understanding how your viewers behave & engage with your video, you should use YouTube Analytics to understand who your audience is. Try to develop a "persona" of your typical (or most valuable) user. There are a few reports to look at for this information.
First, for each traffic source, look at Geography. Be sure to sort by subscriber and not subscriber status. Use geography to figure out what types of problems your videos solve (even if it's just entertainment).

Second, use the Devices report to find out how your users view your media. Use this data to prioritize your production process. Use it to optimize your video's call to action. If your viewers are watching videos on mobile outside of the YouTube app, then you'll want to de-prioritize YouTube calls to action (ie, subscribe, suggested videos, etc) and prioritize click throughs and shares.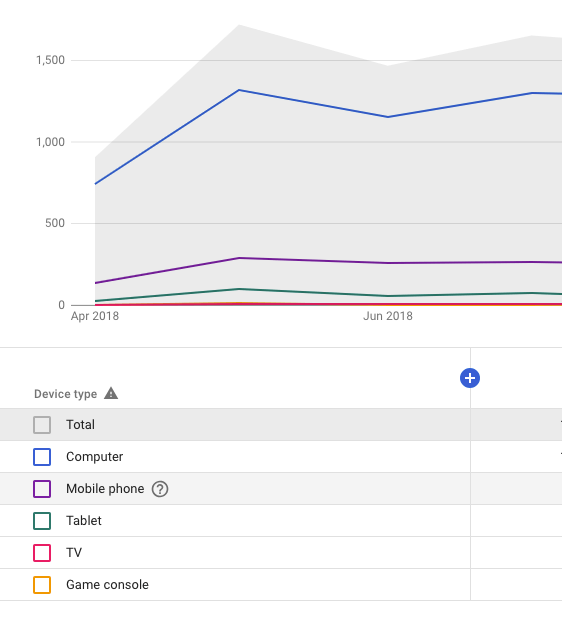 Third, use the Demographics reports to find out the age, sex and location of your viewers. Don't forget to sort it by subscription status and geography.
Use all your traffic source and audience data to build out the types of videos you make. Build out a couple "personas," focus on the audience that you have and expand from there.
Behavior – How Viewers Engage
Video from the YouTube Creator's Academy series on engagement.
Now that you understand who your audience is and where they're coming from, we'll look at how they engage with your videos. And we'll look at what decisions you can make from this data.
Engagement metrics are available throughout YouTube Analytics. Within any given report, click metrics, then "more". You can change the graph to access even more metrics.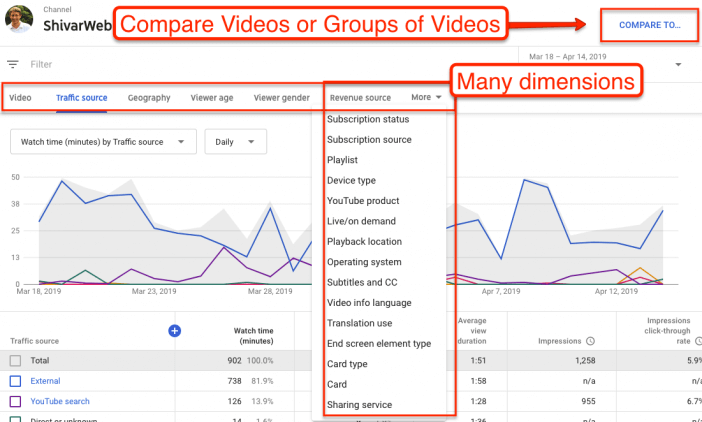 The most important – Watch Time, Views, Average View Duration and Average Percentage Viewed all appear by default in most reports.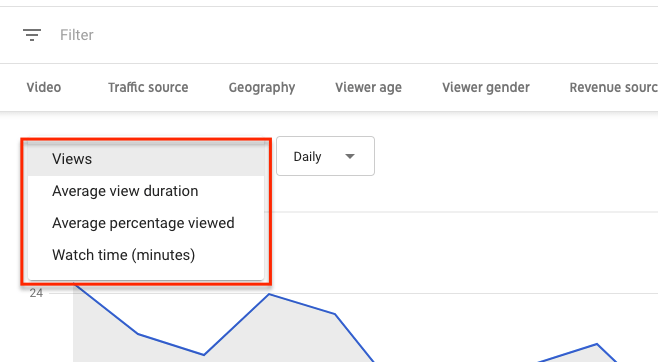 There are a three concepts to keep in mind with engagement –
1. Engagement affects your traffic. YouTube wants to show more engaging videos, and YouTube has all the data. They will use their internal search engine to surface engaging videos.
2. Your only benchmarks are your own data. There is no "correct" level of watch time, likes, subscribes, etc. There's only continuous improvement based on your goals. For example, a low average view duration might be fine for a video if it has a high annotation click through rate.
3. Look at all your data in context & with a hypothesis. Never randomly click through data looking for patterns – unless you turn your anecdotal evidence into a hypothesis that you can go back and disprove.
For example, don't randomly sort through your average watch time. Instead, say "I think short videos will generate a higher average percentage viewed than long videos" and go try to disprove that with the data.
Once you understand the metrics you need to look at, it's a matter of accessing, manipulating and analyzing the data. In addition to accessing the right metrics, be sure to use YouTube's graph features to get a useful picture of data.
Conversion – How You Get Action
Video from YouTube Creator's Academy on success metrics.
Once you understand your audience and how they engage with your videos, you'll need to understand Conversions and how they relate to your goals.
A conversion is any action a viewer takes that contributes to your goals. It's how you determine what matters and what to optimize.
YouTube (like most social networks) should not be held to the same direct response conversions (aka sales or form submits) that your website might have.
There are some actions that you can count as a conversion based on your goals –
Subscribe – if your goal is to build an audience on YouTube, subscribe is a conversion.
Estimated Monetized Playbacks – if you're selling ads, then you can sort videos by this metric under Watch Time & overlay metrics.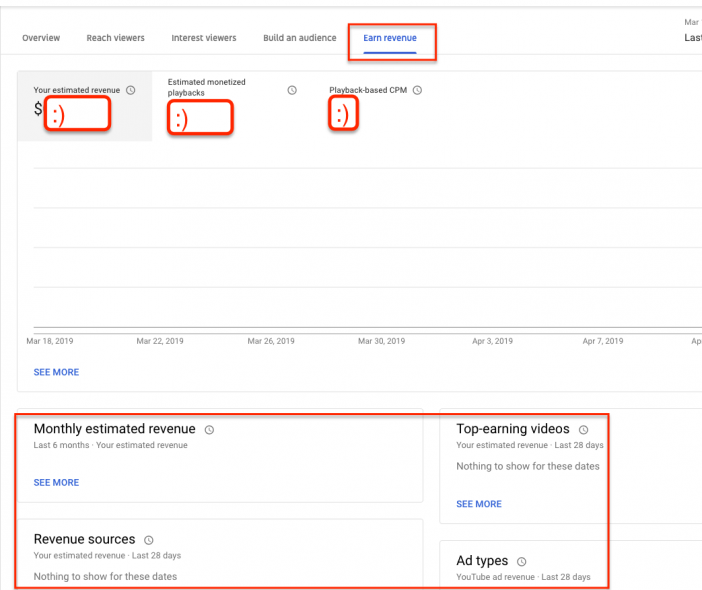 Click-throughs – if your goal is drive traffic to other properties, then you can look at annotation & card clickthroughs. This "conversion" turns your video into almost like an internal ad.
To learn more about defining conversions and Key Performance Indicators for businesses on YouTube for business, check out Phil Nottingham's post here.
The important takeaway for all channels is that Views are not a conversion. They aren't a goal. Even though YouTube views are more accurate than Facebook's – they still do not make money, generate awareness, drive sales or build an audience on their own.
Define conversions that matter to you and optimize those with YouTube Analytics' help.
Next Steps
Make sure YouTube Analytics is configured properly.
Learn about your audience – who they are and where they come from.
Learn how they engage with your videos.
Learn how your videos convert – and figure out how you can optimize your content for more conversions.
If you want to learn more, check out these resources –
Read more about 14+ Website Marketing Data To Track Now or Lose Forever, How To See YouTube Tags for Competitor / Keyword Research, and How To Scrape & Export Video Information from YouTube.