| | |
| --- | --- |
| Support | Email, Live Chat & Knowledge Base |
| Best For | Businesses and individuals who want a simple website |
| Strengths | Easy-to-use |
| Weaknesses | Higher pricing against competitors |
| Promotion | Let's get started. Free. |
Jimdo is known as an easy-to-use, all-inclusive website builder that is designed for people with no coding knowledge.
They offer three options for website owners: a DIY website builder that puts you in control of choosing a Jimdo template and customizing it, an AI logo creator that will create a logo & brand from scratch, or a fully functional online store.
I recently decided to give Jimdo a try for a full Jimdo review. But before I get into the pros and cons of my Jimdo review, let's dive into an overview of their tools to build a website.
There are so many considerations to take into account when choosing a website builder — and really, there are a thousand ways to get what you want in the end in terms of functionality, convenience, pricing, etc. The thing to remember is: whether you're building a simple personal website or running a business, the way you build your site has a lot of consequences.
In the long-term, it affects your versatility, functionality, and, of course, your brand. In the short term, it can certainly add/take away a lot of headaches. That said, just like choosing a physical house or office, there is no such thing as an absolute "best" or "top" choice. There's only the right choice relative to your goals, experience, and circumstances.
What Is Jimdo?
On the wide spectrum of website building solutions, Jimdo lives on the end that is all-inclusive and provides everything you need to get started and grow your website. It contrasts with solutions where you buy, install, and manage all the "pieces" of your website separately (ie, you buy a domain, website hosting, and website software separately.).
Using Jimdo is sort of like leasing and customizing an apartment in a really classy development instead of buying and owning your own house. You're still in control of decor, cleaning, and everything living-wise – but you leave the construction, plumbing, security, and infrastructure to the property owner. That point is key because there's usually a direct tradeoff between convenience and control.
Everything may fit together just right with a website builder like Jimdo, but that may or may not be what you're looking for.
As far as competition, Jimdo competes with all-inclusive website builders like:
Compared to their direct competition, they focus on using AI to create done-for-you templates and designs so you can focus on plugging in your content and getting up and running quickly.
They also offer a more traditional drag-and-drop builder for those who have more experience, making Jimdo appeal to beginners who have no design or development experience (think DIY-ers who need to create a website ASAP without having any website experience) and those who have a bit of website knowledge and want more customization abilities.
Jimdo Pricing
There are four tiers of Jimdo website plans, including a free plan option. There are also three eCommerce plan options.
| Plan | Play | Start | Grow | Unlimited |
| --- | --- | --- | --- | --- |
| Price | $0.00/mo. | $9.00/mo. | $15.00/mo. | $39.00/mo. |
| Storage | 1 GB | 5 GB | 15 GB | unlimited |
| Bandwidth/month | 2 GB | 10 GB | 20 GB | unmetered |
| Email Accounts | - | 1 | 5 | 18 |
| Dedicated Domain | | | | |
| Free Domain Name | - | - | - | - |
| Free SSL | | | | |
| Display Ads | | | | |
| Analytics | | | | |
Play / Free Plan
Jimdo allows anyone to sign up for a free Jimdo plan. You get full access to the Jimdo Website Builder including the Jimdo Editor, editing on the Jimdo app via mobile device, themes, and SSL certificate for HTTPS encryption.
The primary limitations are:
you have no support team available and you have to run ads.
you are limited to a Jimdo subdomain on a username.jimdosite.com instead of a custom domain.
you are limited to 500MB in storage.
Start Plan
Jimdo's Start Plan is their cheapest premium plan. You get full access to all Jimdo features but are limited to 10 website pages, 5GB of storage, and 10GB of bandwidth.
Grow Plan
Jimdo's Grow Plan increases storage space compared to the Start Plan and has more support options, but is still limited to 50 pages.
Unlimited Plan
Jimdo's Unlimited Plan provides unlimited storage, pages, and bandwidth, along with a couple of bundled add-ons.
Basic Plan
Jimdo's Basic Plan allows for a straightforward online store, albeit limited to 10 pages.
Business Plan
Jimdo's Business Plan provides for more eCommerce features, especially for social media marketing, but caps the pages to 50.
VIP Plan
Jimdo's VIP Plan provides a full range of eCommerce features, along with unlimited storage, unlimited bandwidth, pages, and more.
Jimdo Alternatives


Wix Review
Rating

9.0/10

Price

Free - $49+ per month

Promotion


Weebly Review
Rating

8.0/10

Price

Free - $26 per month

Promotion


WordPress.com Review
Rating

8.0/10

Price

FREE - $59 per month

Promotion
Pros of Jimdo
Here's what I found to be the pros of using Jimdo — not just in comparison to popular website builders like Weebly and Wix, but as an overall website solution.
Straightforward Sign Up Process
One of Jimdo's best features is how quickly you can get up and running. Signing up for the platform is a simple process that involves creating an account, verifying your details through your email, and then choosing which website builder you'd like to use.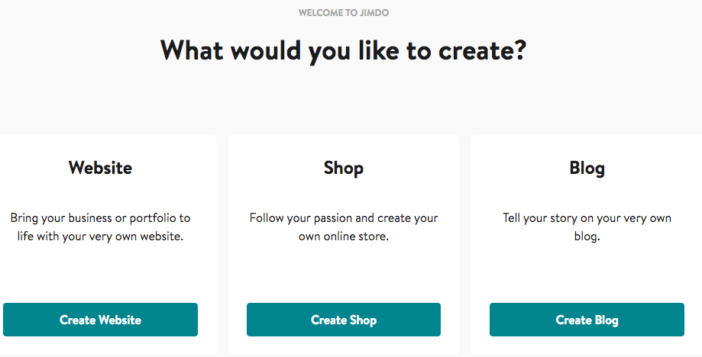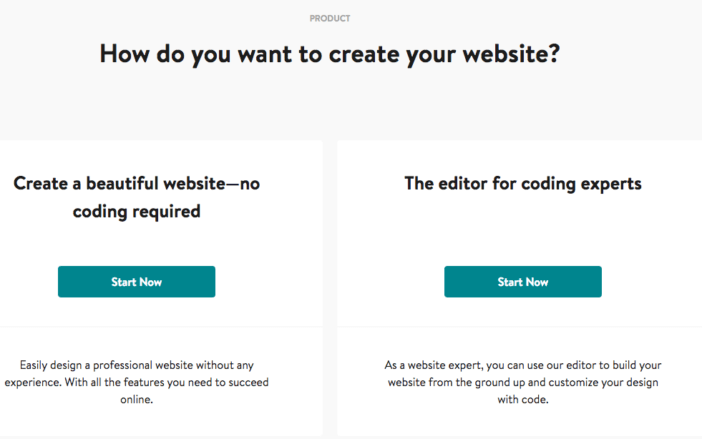 The signup process even lets you select what type of website you're building so that it can automatically add pages & blocks.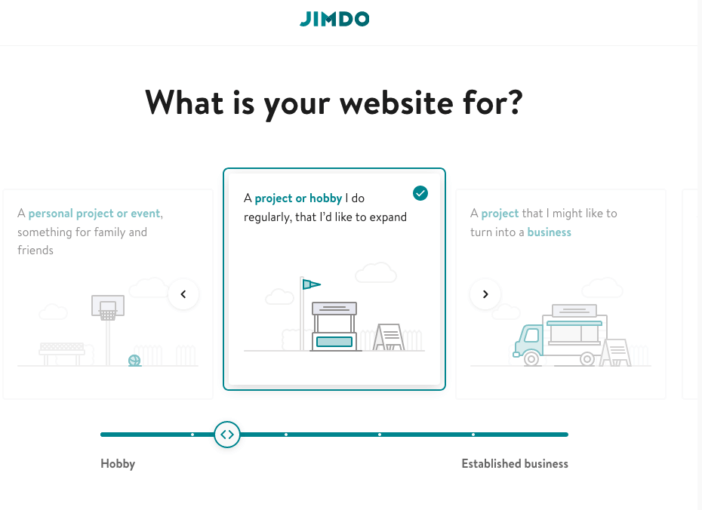 It also walks through a style selector that will automatically choose your color palette and typography.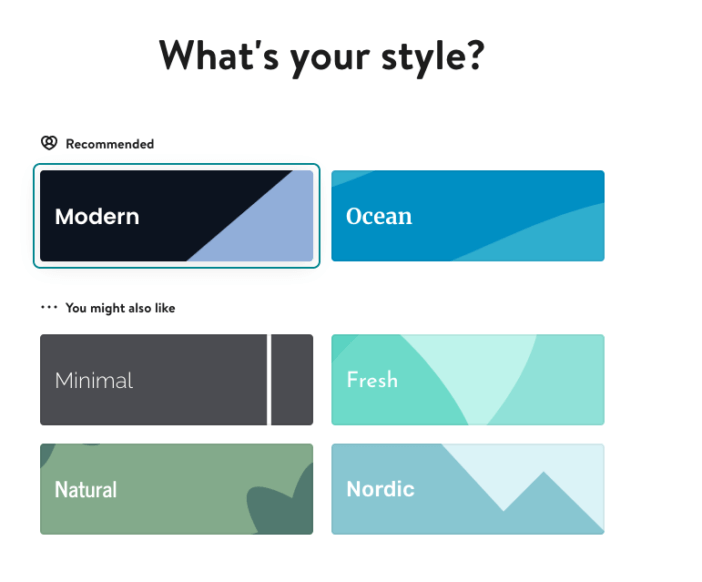 One thing to note here — if you're looking for the easiest, most hands-off way to create your website, the AI web designer is probably your best option. It goes through a series of questions and then creates your website for you, but follows the process up with a detailed, step-by-step tutorial of how to customize your base template. It's perfect for DIYers who are brand new to building a website.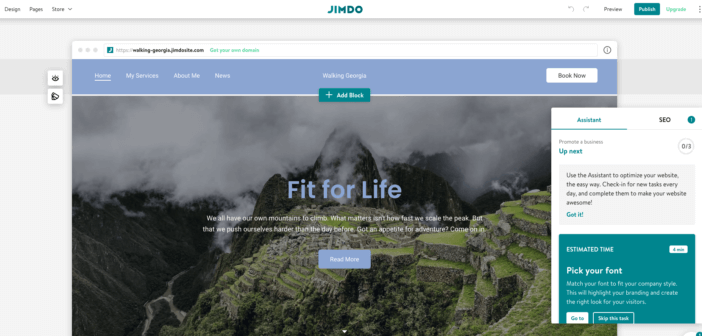 Simplicity
Jimdo is also seriously simple to use, which makes it hard to mess up your website design. Once you choose a template (or have one created for you with the AI builder), you're pretty much locked into the layout provided.
The DIY website builder is drag and drop, but it has its limitation — you can add new elements to the page, but only within the template structure you're already given (and limited to the elements provided — but more on that in a bit).
And if you're using the AI builder, you're given even more structure (with that comes limitations, but again — we'll get there). With this option, you have less drag-and-drop and more to choose from what they give you. You can customize the styles on the page (like fonts and colors), and you can add a premade section, block, or widget, but you don't get the ability to add elements willy nilly.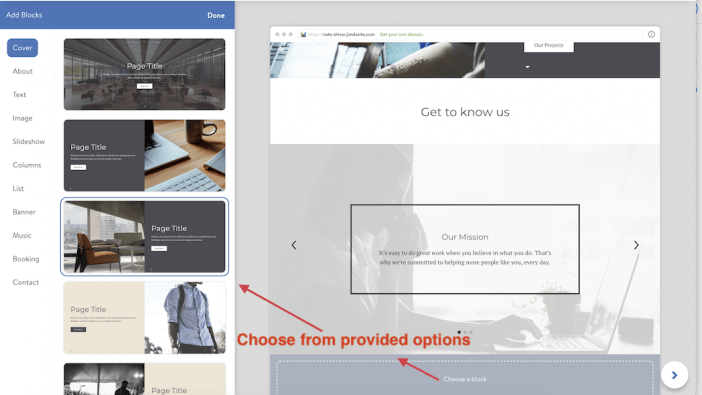 The whole setup is like painting by numbers.
There are obvious drawbacks to this setup, which I will cover in the disadvantages, but it is a real advantage to having limited but accessible design options.
Website Builder Options
Part of what makes Jimdo unique is they offer two design routes — you can either use their AI website builder, which gathers information for you and creates a template based on your answers to questions like "what is your website for?" and "what is your preferred design style?". From there, Jimdo walks you through a step-by-step tutorial for customizing your assigned website template.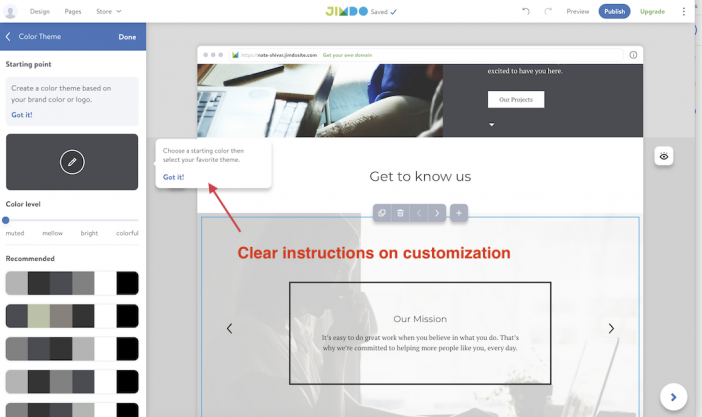 Or, you can take the DIY approach. In this approach, you select your industry and are provided with a selection of Jimdo's templates to choose from. Then, you can customize the template with Jimdo editor via drag and drop editing. This method is slightly more advanced but still straightforward and controlled enough to keep newbies in check.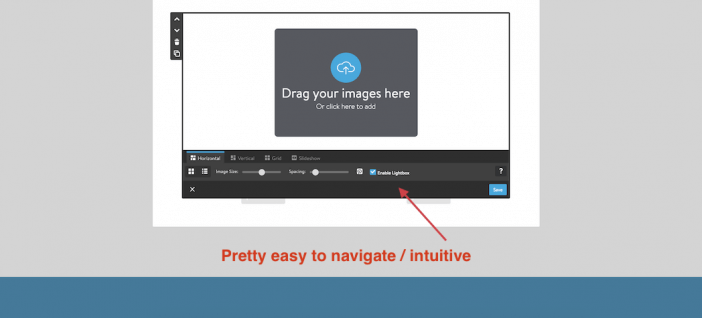 One thing to note if you're going the DIY route — I found that your industry selection doesn't matter. I was given the same templates to choose from whether I chose business or healthcare or skipped the industry question completely.
Some Product Integration
Another benefit of Jimdo is their product integrations. Aside from offering DNS and hosting services, Jimdo also offers eCommerce functionality with their paid plan (one thing to note — in order to get eCommerce functionality, you do need to choose between the two higher-priced tiers.)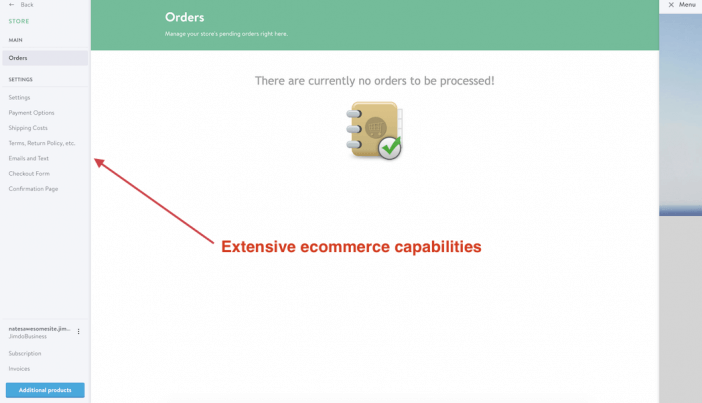 We'll talk more about pricing in a moment, but just know that you could get the same (or better) functionality for less elsewhere.
European Presence
For U.S. users, this isn't really a pro or a con, but for those in the EU, Jimdo's European presence makes it a strong competitor.
Jimdo is a German company and operates data centers in Europe. As a European company, this means that Jimdo's data protection and privacy standards are much stronger thanks to the EU's new laws on data and privacy.
Additionally, if you are a US company that needs an EU microsite for an EU audience, Jimdo makes GDPR a bit easier than some website builders focused on the US market.
Cons of Jimdo
But of course, no review would be complete without looking at the downsides. Every piece of software will have complaints, including Jimdo. Let's look at 3 specific cons I found.
Plans + Pricing
Jimdo's pricing/plan structure is a bit confusing. When first signing up, you can see that paid plans start at $9/month paid annually, which includes your own domain and free hosting with only a 10-page limit.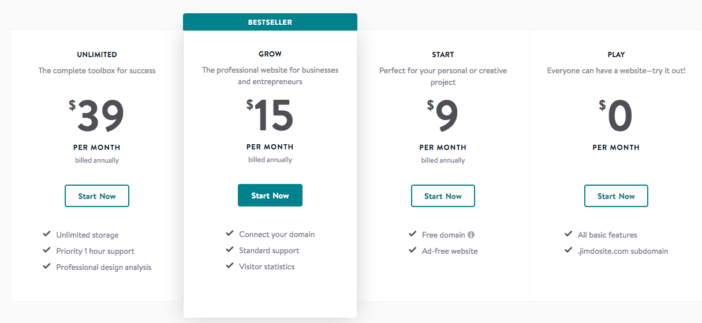 However, if you choose a free plan and want to upgrade (which I did), the pricing options appear differently from inside your account.

Aside from the convoluted information, the actual competitiveness of the plans and pricing structure leaves something to be desired (err, actually a *lot* to be desired).
Compared to competitors like Wix, Gator, and Weebly, Jimdo is more expensive and has more restrictive limits.
Their free plan doesn't even offer mobile-friendly site design (a pretty standard design feature in today's world), and you can't get basic Search Engine Optimization features until their mid-tier plans. Even the mid-tier Grow plans have hard limits on the number of pages and on bandwidth usage (which to me seems like a double-limit). And I'm all for over-delivering on low expectations, but the support options are seriously deficient.
Plus, there's no option to pay monthly, so you're locked in for a year.
In short, using Jimdo is going to be more expensive than going with a competitor and more restrictive due to the design and technical limitations (more on that shortly), regardless of whether you're using it for a year or just a few months.
Limited Feature Set – Design
With any technology product, there is almost always a trade-off between convenience and control (think Android vs. iOS)
And you can really see this trade-off with the Jimbdo website builder. The convenience of their design setup is great. It's straightforward, fast, and not confusing at all. It puts your focus solely on getting your content onto the premade template and adding additional elements within the template that may enhance your design/user experience.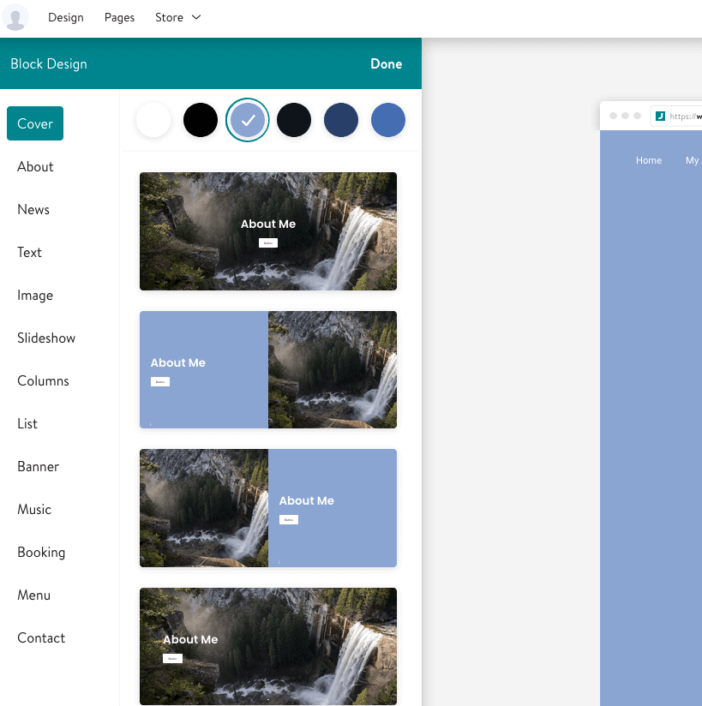 However, if you want to go anywhere beyond the basics of design, you are limited with Jimdo. In the DIY website builder, you can edit the color, the font, and the general 'feel' of the design. You can also choose from a few variations of the template, which essentially just have different navigation styles.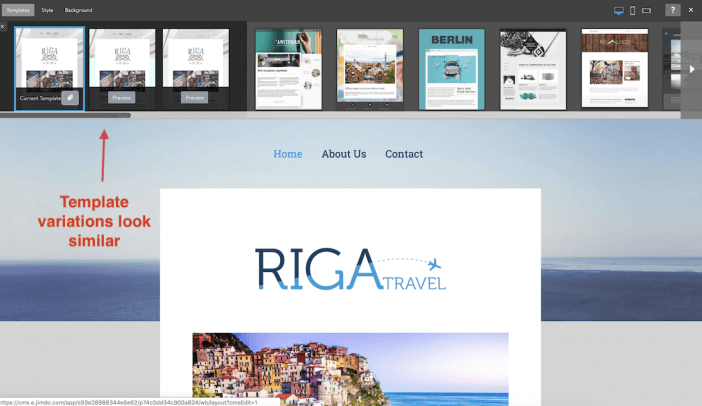 With pages, you can delete and add sections and move them around, but you cannot add a page unless you add it to the navigation. You can alter the layout, but you certainly cannot edit the CSS, much less add any other design elements outside of the pieces they give you.
And if you're using the AI website builder, you're limited even further. As I mentioned above, you can add sections and elements based on pre-built blocks, but that's about it.
The best way to describe it is a 'paint-by-numbers' set up. It's great to have the basics, but if you want to do anything extra or outside of bounds, then you're out of luck.
If your website is growing, or becoming a bigger part of your business, the design limitations can be crippling. And unlike other website builders that attempt to solve this issue through apps, extensions, or access to the website code or HTML, there is no outlet for a Jimdo website builder website.
Limited Feature Set – Technical
The limitations on design also bleed over into technical limitations.
Technical limitations are features that you don't know you want until you want them, and then you find out you can't have them.
These are things like integrations with Facebook, Pinterest, Twitter, Google Ads, social sharing options, blogging, and a whole host of every intermediate to advanced marketing tools on the internet. Now, as I mentioned above, Jimdo does give some integrations, like eCommerce and DNS/hosting services. However, there are a ton of technical features that Jimdo doesn't provide or that are extremely limited.
For example, let's look at Jimdo's SEO features. I can edit the page title and description for individual pages, as well as assign noindex, nofollow, or noarchive settings. But aside from that, I'm pretty locked in to what I have aside from editing the HTML in text sections on the page. There's no options for sitemaps, Schema, Open Graph settings – much less highly advanced options.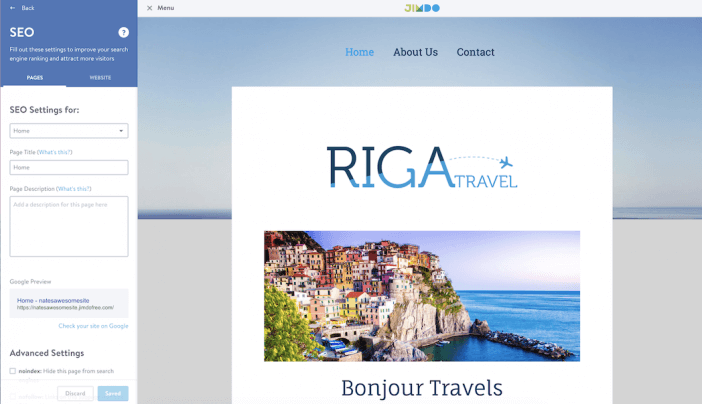 Even the additional add-on products are limited. There's not much to address marketing your site, aside from adding code for Google Analytics and Facebook Analytics.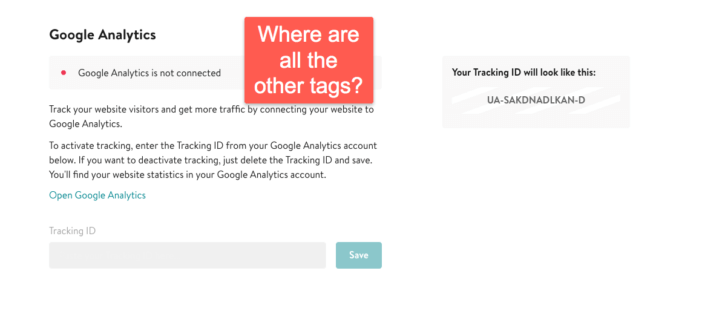 Ultimately, Jimdo leaves much to be desired when it comes to product integrations and additional technical features that can help you better market your website.
Conclusion
Jimdo certainly makes website creation easy, especially if you need something that's done for you and requires little customization (just choose their AI website builder). They have a straightforward user experience throughout your Jimdo account and an easy-to-use editor/customizer that makes getting your content out there a breeze.
However, there are trade-offs for Jimdo customers to consider — specifically functionality, customization, and control. And this is where Jimdo falls short when compared to other all-inclusive website builders. They're severely limited when it comes to technical features and integrations, which means if you're looking to create a website with a base template but still have some flexibility over functionality and enhancements, Jimdo may not be the best option for you.
Not sure Jimdo fits your needs? Check out my quiz to find what the best website builder is for you based on your preferences.
FAQs