Word of mouth has always been one of the most powerful tools businesses have at their disposal to increase conversions and generate leads. But, since word of mouth is as much a phenomena as it is an actual method for driving sales to your business, it's rather difficult to achieve at scale. You can't just make people spread the word.
Now, it's not uncommon for you to develop a loyal following that's eager to share your business, especially if you offer quality services or products. Unfortunately, this advocacy can only take you as far as that person's network.
Enter Yelp. Yelp is basically a word of mouth megaphone online. Your business' page on Yelp provides essential information about your business, including real reviews from your customers.
Now, what people are saying about your business can extend far beyond their network, and everyone viewing your page on Yelp will be able to see what your customers are saying about you.
This is an exceptionally powerful tool for you to leverage. But, succeeding as an advertiser on Yelp isn't quite as simple as claiming your business page and paying for ads. Before jumping in, there are several things you'll need to consider.
Today, we'll dive into everything you need to know about Yelp, how it relates to your business and the different ways you may be able to use Yelp as a tool to drive new business through your doors.
Yelp: The What and Why
Yelp was launched in 2004 in San Francisco to serve as a sort of cross between a local guide and a business directory. Since then, the platform has grown steadily and is now the largest business directory and review site in the world.
Over 74 million people use Yelp on their computer each month, with another 70 million accessing Yelp from their mobile site. Yelp also has over 30 million monthly users of their app. Virtually every type of business, from restaurants and eateries to mechanics, salons, doctors, dentists, boutiques and more have a page on Yelp.
A Yelp business page features basic contact information such as your phone, address, and website as well as user-generated content that includes reviews, photos, and more.
Through organic growth and acquisitions of businesses like Qype and CityVox, Yelp has bolstered their worldwide presence, and it's become a popular service throughout Europe and Asia, in addition to North America.
According to Yelp, two things make their platform particularly appealing to businesses of all sizes. First, Yelp users are actively engaged in the buying cycle when they visit Yelp. They have already decided what they need, and are now trying to find the business who can best provide it to them.
People rarely use Yelp to conduct research or learn more about a product or business. Instead, they use Yelp when they're prepared to make a purchase. So, the people viewing a business' Yelp page are generally more likely to make a purchase. In fact, 82% of Yelp users use the site or app when they're intent on making a purchase, and over 89% of them make that purchase within one week.
The other aspect of Yelp that's so attractive to businesses are the demographics of Yelp users. About 50% of Yelp users have an income greater than $100k per year, and over 75% have at least some college background. Over 70% of users are age 18-54. For most businesses, this represents an ideal customer: they're young, wealthy, and looking to spend money.
The thing that drives Yelp's growth, and continues to keep people coming back to the site are the quality reviews of all kinds of businesses. Yelp currently has over 155 million reviews, and that number grows each day.
Whether a Yelp user is looking for a new restaurant to try in their neighborhood, an honest mechanic, or cool things to do on vacation, they turn to Yelp because they trust the reviews to steer them in the right direction.
Who Uses Yelp Ads
Just as the businesses that are on Yelp are diverse, so are their advertising customers. While many people tend to look at Yelp as a platform that's best suited for restaurants, bars, and clubs, the fact of the matter is that every kind of business can advertise on Yelp.
In fact, one of the largest Yelp advertising success stories comes from a New York City locksmith, who was able to grow his small locksmithing business from very humble beginnings into a thriving business thanks in part to customers who saw his ads on Yelp.
In general, high ROI businesses like home service professionals, doctors, and dentists offices tend to have the highest potential for success when advertising on Yelp. A single service from one of these businesses could net hundreds or thousands of dollars for the business. So, if Yelp advertising brings even a single new customer each month, they're already in the black.
While any business may be able to benefit from using Yelp ads, there are some businesses that may be better off avoiding the platform altogether.
Who Shouldn't Use Yelp Ads
A large part of what drives a businesses success on Yelp are the reviews they've received from patrons of their business. The first thing a Yelp user sees when they find your page is your star rating. This rating is based on the average score of the reviews you've received. Businesses without any reviews don't have a star rating yet.
While businesses with no reviews can still benefit from Yelp advertising, businesses with poor or mediocre reviews should avoid considering Yelp advertising until their review score is higher. The star ratings on Yelp are a major consideration for Yelp users, and they help inform their decisions about which business to frequent.
So, if your business currently has two stars on Yelp, advertising your page at this time will shine a light on your flaws instead of highlighting your strengths.
Businesses with a poor review score on Yelp should still take advantage of the free tools Yelp offers, such as the ability to add content to your page or respond to reviews. This allows you to control the aspects of your Yelp page that you're able to control while waiting for your score to improve.
How to Advertise on Yelp
There are two different ways to go about advertising on Yelp. Yelp offers a self-service option that allows business owners to set their click budget, design their ads and order advertising in a few simple clicks.
Yelp also offers a managed advertising program, which is their most popular offering. With this service, you purchase an ad program from a Yelp sales rep. It includes several bells and whistles that aren't available with the self-service program.
Before You Start
Before you're able to advertise on Yelp, you'll need to claim your business page. If you're one of the 30 million businesses that has already claimed your Yelp page, you can skip this step and move along to the next section.
Assuming your page is unclaimed, the first thing you'll need to do is find your business on Yelp. Visit yelp.com and type your businesses name into the search bar. Once you've found your page, you'll notice a link on the right-hand side that says "Work here? Claim this business" as shown in the photo below.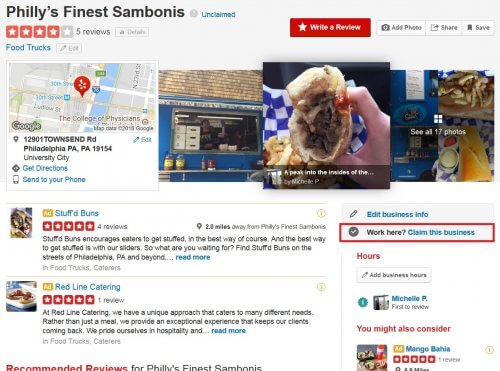 From there, Yelp will walk you through the steps of creating your business account so that you can take ownership of the page for your business. As soon as you've claimed your business page, you can begin advertising.
On the off chance that your business doesn't have a page on Yelp yet, creating one is simple. Scroll to the bottom of the search results page, and click the box on the right side.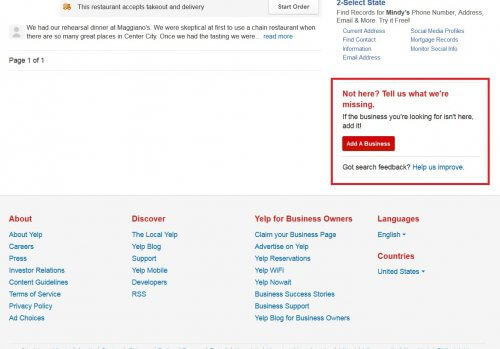 Then, you'll input all of the relevant info about your business, like your address, phone number, hours, etc. Once you've created a page for your business and verified your relationship to the business, you'll be able to begin advertising. Usually, Yelp's operations team will process your page and have it live within two days.
What You Get With Yelp Ads
Before we answer the question of how to advertise on Yelp, we need to understand what you're paying for. Yelp ads can appear in several different places on Yelp's desktop site, mobile site, and mobile app.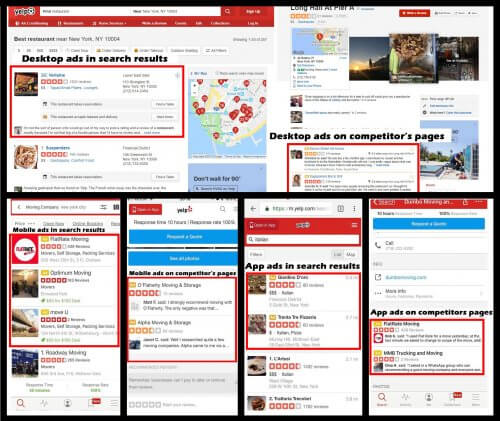 This collection of screenshots may appear a bit dizzying at first, but it represents all the different places that ads appear on Yelp.
Whether you're using Yelp on a desktop computer, mobile device, or the Yelp app, you'll see ads on both the top and bottom of the search results, before and after any organic search results are displayed.
You'll also see ads on competitor's pages across all platforms. That means that if a restaurant in your search area is advertising on Yelp, their ads may also appear in the middle of the page for other restaurants in the area.
Usually, you may see one or two ads on any given page on Yelp. In areas with lots of Yelp advertisers, they may display a third ad. In areas where there aren't any businesses advertising for the category you're searching, you may not see any ads at all.
Where your ads will be displayed is identical whether you opt for self-service or full-service advertising with Yelp. There are some additional ad products you'll receive if you enter into the full-service program. Many of those services are available a la carte if you choose to go with self-service ads.
Custom Ads
Yelp very recently has rolled out a new feature that allows business owners to customize their ads as part of both the self-service and full-service advertising programs. This new feature allows business owners to select the photo and review snippet that will accompany their ads, instead of leaving it up to Yelp's algorithms.
How to Advertise on Yelp: Self-Service
Self-service advertising on Yelp allows you to quickly and easily begin advertising your Yelp page without assistance from their sales team.
Yelp's self-service option also allows you to advertise on your own terms, without having to sign a contract. You can set your budget each month, choose the ad products you'd like to pay for and advertise without commitments. In addition to your ads, you can pay for many of the additional features that are part of Yelp's full-service program on an a la carte basis.
You can add features like an enhanced profile and removal of your competitor's ads from your Yelp page. We'll cover those additional features in greater detail below.
While Yelp's self-service ad products may not offer quite the same value or functionality for some businesses as their full-service options, it does provide substantially more flexibility, which is a big selling point for most business owners.
How to Advertise on Yelp: Full Service
The other advertising option on Yelp is to speak with a member of their sales team. You can call a member of the team to get set up with Yelp ads. But for most businesses, Yelp's sales team beats them to the punch by reaching out first.
Depending on what kind of business you run and your needs and budget, advertising through Yelp's sales team may have some notable benefits.
When you advertise with a member of Yelp's sales team, they take care of the heavy lifting for you, and all you'll need to do is pay the bill. You can advertise on a CPC or CPM basis, and your advertising package will include either a set CPC budget, or a set number of impressions each month, and some enhancements to your Yelp page. Here's a look at what you can expect from the different Yelp packages: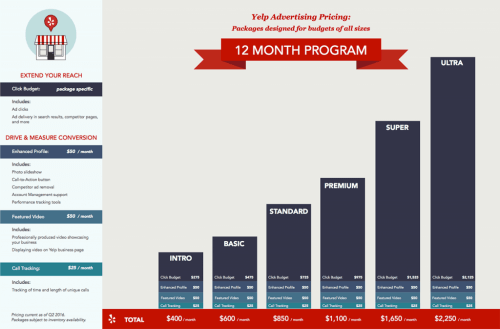 This infographic is for Yelp's CPC program, but the pricing is very similar for their CPM ads. Most advertisers tend to gravitate towards a CPC program since there's a built-in guarantee that you'll only be charged when people click your ads. With a CPM program, you'll be paying for a set number of ads, regardless if consumers act upon them or not.
The figures listed above are the maximum you would pay each month for each ad package. If you fail to expend your entire click budget, you'll only be charged for your base features and the portion of the click budget that you did use. But, most advertisers hit their click budget each month.
Full-service Yelp ads are also available at shorter term lengths (3 and 6 months) although the pricing is slightly different.
What Yelp's Full-Service Packages Include
Yelp offers business owners two options when it comes to full-service ad programs.
Business owners can choose from either performance-based advertising, where they're charged a variable rate when a potential customer clicks on one of their ads. Or, impression-based advertising, where the business will receive a guaranteed number of ads each month, regardless of whether or not the ad is clicked.
The type of advertising you do with Yelp will depend on the needs of your business and what you feel most comfortable with as a business owner. Beyond the actual ads, full-service Yelp ad customers also receive several enhancements to their profile on Yelp.
Profile Enhancements for Full-Service Advertisers
One of the most compelling features of the full-service program is the additional bells and whistles Yelp throws in on top of your monthly ads. These features include:
A photo slideshow on your page
A call to action button
A professionally produced video for your Yelp page
The removal of your competitor's ads from your page
Account management
The photo slideshow automatically rotates the photos on your Yelp page so they advance without the user clicking them. This makes your page more interactive and encourages Yelp users to spend more time on your page. The slideshow appears on desktop, mobile and app pages.
The call to action button is a useful feature that helps drive more business through your Yelp page. It also helps to differentiate your business from your competition, as your call to action button is also featured in the search results. The photo below shows the photo slideshow for advertisers, as well as call to action buttons on the business' Yelp page, and in search results.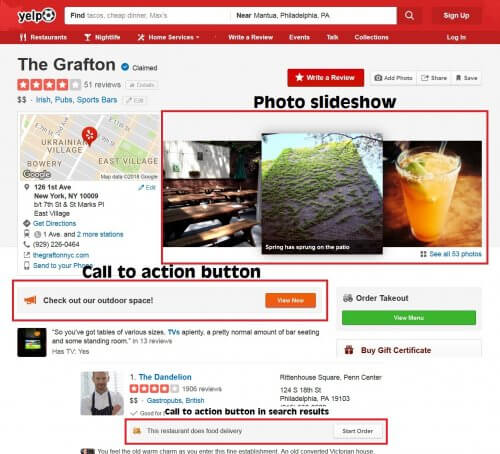 Perhaps the most enticing feature of Yelp's full-service ad program is the video. Yelp works with two major video production studios, SmartShoot and StudioNow to produce a beautiful commercial-length video for advertisers' Yelp pages.
This video gives Yelp advertisers the opportunity to highlight what makes their business special. Whether you're a restaurant, a home services provider, a lawyer, a dentist, or anything else, it's easy to see how a high-quality commercial can help drive you more business.
Unfortunately, this video is the property of the production company that shot it for your business. You're only able to use it on your Yelp page, and you can't distribute it across other platforms, like your website or social media. If you like, you can contact the production company to purchase the video so you can use it in more places.
Another noteworthy feature is the removal of competitor's ads from your Yelp page. This feature will prevent ads from appearing on your Yelp page when there are competitors in your area who are also advertising on Yelp.
Finally, the last enhanced feature full-service advertisers receive is account management. This service provides businesses with a personal account manager at Yelp who is available to address any changes you need to be made to your page, provide advice, or bounce ideas off of. This feature is unique to the full-service program, and there's no way for self-service advertisers to receive account management.
These enhanced features are rolled into the price you pay for your ads on Yelp. You'll be able to discuss each feature in more detail with your Yelp sales rep, and you can choose to omit some of the profile enhancements to receive a lower price every month.
For example, if you don't feel like your business would benefit from having a video on your page, you can opt out of it and save $50 a month on your bill.
Canceling Your Full-Service Ads
The major caveat of Yelp's full-service program is the fact that you're locked into a set term for your advertising. If you choose to cancel your advertising with Yelp, the penalty you pay is quite steep.
The cancellation fee for your ad program is equal to two months of advertising, plus the cost of the video (if you opted to have one made.) For example, if you had Yelp's basic advertising plan and decided to cancel, your cancellation fee would be $1100, which covers two months of advertising, plus $300 for the cost of the video.
Tracking Your Yelp Ads
Whether you go for a self-service or full-service advertising program with Yelp, you'll have access to the same detailed tracking features, which allow you to track the success of your ad campaign.
You can access these tools from your Yelp business page, and they allow you to track key metrics like actions taken on your Yelp page (calls to your business, mapped directions, CTA clicks, clicks to your website, etc.)
Some of these tracking tools are available for non-advertisers as well, although advertisers receive far more detailed tracking than what's available with the free tools. The tracking tools are easy to understand, as you can see in the photos below. In addition to these basic tools, there are more detailed tools at your disposal to allow you to track user action even further.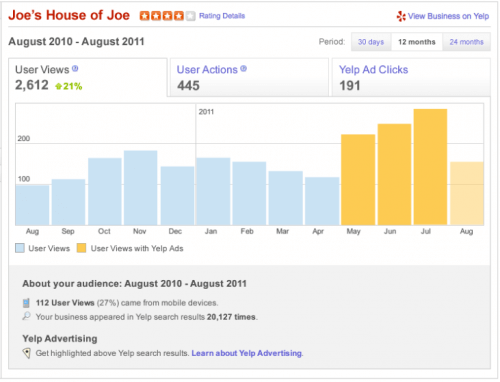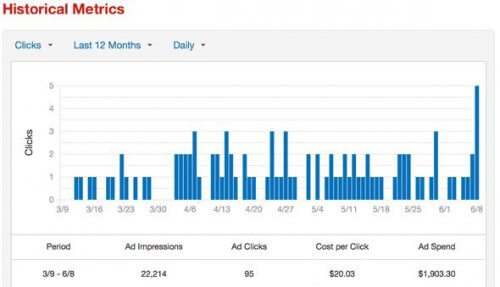 Best Practices for Yelp
The phrase "you get out what you put in" is particularly applicable when it comes to how to advertise on Yelp and your Yelp page in general. Adopting some of these best practices can help you have a positive experience with Yelp, both organically and as an advertising program.
Don't Solicit Reviews
Since the beginning, Yelp has made it clear that it does not take kindly to businesses soliciting reviews from their customers. To combat review solicitation (and competitors in your area making fake Yelp profiles to trash your business) Yelp has a policy that all feedback is reviewed by an algorithm before it appears on a Yelp page.
The algorithm analyzes several factors about a review, and the most notable factor is whether or not the person who wrote the review is a legitimate Yelp user. It evaluates things like how many reviews the person has written, how often the person uses Yelp, and whether or not the person has any connections with friends on the platform.
As you'd expect, that means reviews from users with a limited history on Yelp are often excluded from your star rating and main page.
This has long been a point of contention with business owners, who are upset that their hard-earned positive reviews aren't being displayed prominently on their page. But, it does work both ways, and for better or worse, this is how Yelp does business.
As such, it's best that you avoid outwardly soliciting reviews from your customers. Yelp has even gotten into the habit of placing these banners on pages of businesses who have been caught red-handed angling for Yelp reviews.

Instead of actively trying to get more Yelp reviews, try this instead:
Promote Your Page on Yelp Gently
Just because you shouldn't solicit reviews on Yelp doesn't mean that you can't promote your page.
Yelp has promotional materials available that can help you promote your Yelp page subtly without actively looking for reviews. You can request Yelp stickers or download signage for your business, and you can also download banners or logos to add to your website or email signature.
This small nod to Yelp will let consumers know you're on the platform and may be a small and passive way for you to encourage more reviews to your page.
Provide Exemplary Service
They say that everybody is a critic, and that rings especially true in the internet age. As a business, you never know which customer is going to write your next review. By providing a high level of service for every customer, you lessen the chance you'll have to contend with negative reviews. Plus, the good should outweigh the bad if you ever end up with a bad review or two.
Respond to Reviews
One thing that Yelp users seem to love is when business owners are engaged with the Yelp community. A recent study suggests that 30% of consumers consider a business's response to reviews as a key factor in their decision-making process. One way to engage is to offer a response to each Yelp review you receive. If it's a positive review, a simple thank you is more than enough.
For negative reviews, it's important to offer a thoughtful response without being argumentative. Even if the review comes from a disgruntled customer with an ax to grind, there's no way you'll come out on top if you respond angrily or blow off the customer's issue.
Make Your Yelp Profile Great
Whether you're advertising on Yelp or not, it's important to control the aspects of Yelp that you can control, and that starts with your profile.
Make sure all of the information on Yelp profile is complete and accurate. Be sure to complete the sections of your profile for your specialties and history of the business. You can also add photos to your Yelp page to supplement any photos that have been added by users. Depending on your industry, you may also be able to add widgets to your page for appointment setting or reservations.
Offer a Yelp Deal
It may not affect the amount of exposure you receive, but offering a deal for Yelp users is a great way to differentiate yourself on the platform. Businesses that offer Yelp deals have their Yelp deal next to their details in search results.
If you're considering doing a Yelp deal, you'll want first to do some back of the napkin math. Yelp deals are dollar for dollar discounts, like $25 for $50 in credit with your business. On top of that, Yelp takes 30% of the sale. So, a $25 for $50 deal works out to a $17.50 for $50 deal for the business. Make sure you decide on a deal that isn't going to cost you an arm and a leg.

You can also offer gift certificates that customers can purchase from your page. Yelp only takes 10% of those sales.
Lastly, you can offer a check-in deal for when Yelp users "check-in" on the mobile app when they're at your business. These deals are free to use, and you can offer anything you like. For example, you may offer 10% off as a check-in deal, a free item, or some other perk.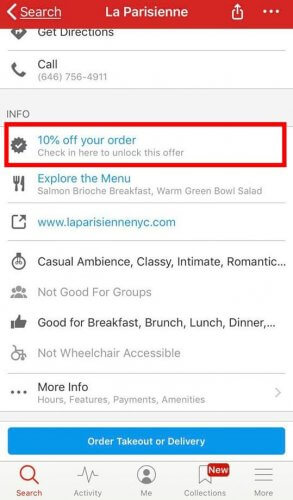 Next Steps
Love it or hate it, Yelp is a major platform that many of your customers may already be using. While Yelp advertising may not be well suited for every business, there are many companies that may be able to benefit a great deal from their ad products.
Evaluate the needs and goals of your business, and think about whether or not the potential for new business is worth your precious marketing dollars. From there, advertising on Yelp is just a matter of deciding how much you'd like to spend each month, and what kinds of add-on features are important to you.
Even if you're not considering advertising right now, make sure your Yelp page is optimized as much as possible, because your page has the potential to bring you new customers organically as well as through advertising.
Familiarizing yourself with the ins and outs of Yelp and their dedicated community of users is the best way to ensure that Yelp is working for your business, instead of against it.
Read my post on how to advertise your website online for other ideas!