Zillow is one of the leading real estate websites. It allows owners or agents to list homes for sale or rent. On the other side of things, users can search listings and view approximate property values. These services are free.
You might wonder how Zillow offers so much valuable information at no cost. The company, which is owned by Zillow Group, an organization that also owns Trulia, RealEstate.com, Naked Apartments, hotpads, Out East and StreetEasy, charges for ad sales. Agents, brokers, lenders, property managers, home inspectors, builders or brand advertisers can advertise on Zillow. Here's how to do it.
What Is Zillow?
Zillow is the chief rental and real estate marketplace. It's essentially a database that works like a search engine for properties. It provides data on more than 110 million homes in the U.S., including homes that are for sale, for rent and not on the market. The company offers estimated home and rental values as well as other home-related data.
The company runs more than two dozen apps, which let users view properties based on their location. The company has experienced exponential growth in the past several years. Wikipedia reports that in 2019, Zillow had more than 36 million unique visitors per month. Zillow reports 194 million average monthly unique users visited Zillow Group brands' mobile apps and websites in Q2 2019. All their brands are bundled in a single ad package.
Zillow has had a 52 percent year-over-year growth. Its audience has a median household income of more than $76,000, who have an average credit score of 722. In other words, it's a desirable market for advertisers, especially if their companies are home or real-estate-related.
In fact, an independent study conducted by the WAV group found that Zillow's click conversion is more than three times better than Google's. Not only that, two-thirds of the total market share for online real estate is included in Zillow Group websites. In 2017, Investor's Business Daily said that Zillow was in a position to dominate the internet real estate advertising market. And with a booming real estate market, that prediction has come true.
Property Management, Rental And Brand Advertising With Zillow Group
You don't have to work in real estate to advertise with Zillow. One of Zillow's primary strengths is collecting data. Zillow Group identifies people who are actively looking to purchase or rent a home through its mortgage lead form and Home Buyers Guide. The company also tracks renters and identifies what stage in the moving process they're in.
Why is this important? It can tell you a lot about what else these individuals are ready to purchase. For example, people who are moving into a rental property are 71 percent more likely to purchase an appliance than those who are already living in a home. They're 22 percent more likely to buy technology.
What's more, 84 percent of renters use the internet to search for a property. They spend about $2,400 on average for moving expenses.
Home buyers and renters aren't the only people who use Zillow to make big decisions. Home improvement enthusiasts use Zillow Group's websites to research options. Plus, 96 percent of people who move make some type of improvement to the property.
If you have a product or service that's related to moving, home improvement or property maintenance, you can take advantage of this captive audience by advertising on Zillow.
Ad Products For Brands
You can reach these audiences across Zillow Group websites and apps. The ads are formatted to work seamlessly regardless of the platform. Here's an example of what an ad might look like on a Zillow / Trulia listing: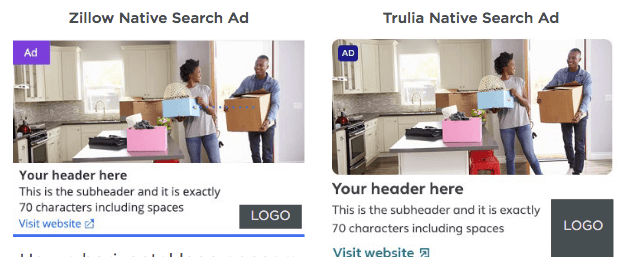 There are four places in which your ad product can appear:
Native search ads
Native property ads
Home expenses ads
Rich media ads
Search Ads
A search ad will appear as a box next to the property listings in the Zillow search results, like this Rooms to Go promotion.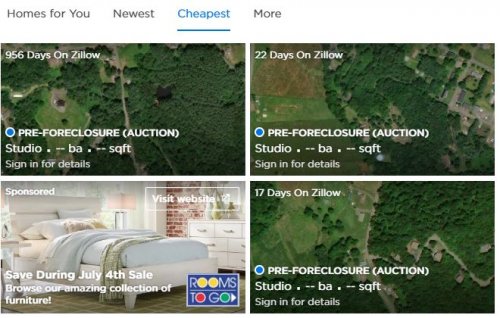 The word "Sponsored" will appear at the top left, and a call to action to visit the website appears on the top right. You can include a photo, logo, header, and subheader in your ad.
Property Ads
As prospective buyers narrow down their searches, they check out the property details, where they can view photos as well as specs for the home. Property ads appear here and look like this Liberty Mutual Insurance ad: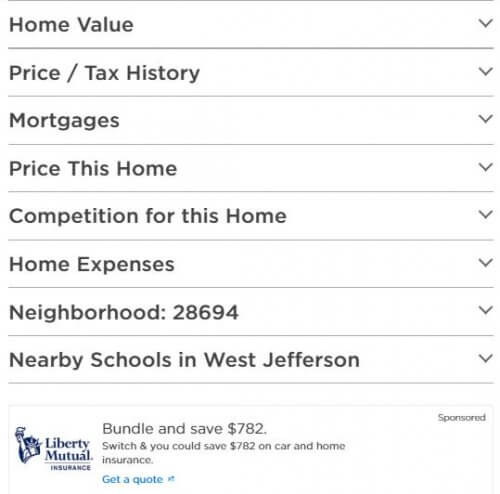 Home Expenses Ads
Advertisers can place themselves in another low-funnel location under the Home Expenses drop-down menu. This is where companies that sell necessary products and services, like internet and homeowner's insurance, can advertise or offer coupons.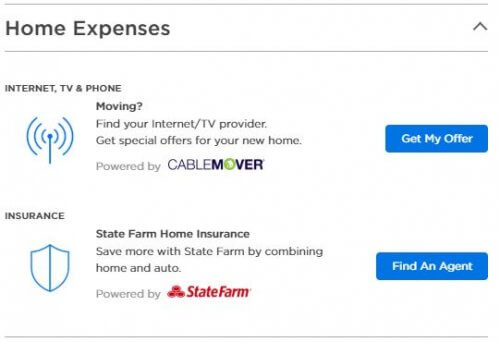 Rich Media Ads
The native search ads offer a rich media feature. Users can click on the ads to watch a video or expand the image. Within the expanded image, you can offer more details, like adding text when you hover over certain products. You can also include your logo and a link to your website or landing page.
Programmatic Ads
Programmatic ads let you promote your business throughout all of Zillow Group's platforms. This type of advertising allows you to capitalize on Zillow's audience data while letting the automated media buying technology put you in front of the right people at the best time.
As the advertiser, you create a deal through Triplelift and request a deal ID through the same platform. Then, your ad will automatically be shown to the people who you want to target across Zillow's sites.
How does Zillow know who to place you in front of? The websites ask visitors to identify themselves. As these individuals browse the Zillow Group websites, Zillow knows whether they're home buyers, homeowners, home renters, home sellers, home improvement enthusiasts or real estate professionals.
Some of the benefits of using a private marketplace, or PMP, include:
Freedom to set your own budget
Flexibility to adjust bids depending on an ad's worth to you
Control over where your money is going
Harnessing the power of Zillow's data capture
Results from native ads, which tend to perform better than banner ads
Lender Advertising
Certain types of lenders can also advertise with Zillow. Zillow offers a Group Mortgages advertising program, in which you can create a lender profile, list yourself in the Lender Directory and receive email alerts when potential clients contact you via your personal profile. Like an agent, you can include customer reviews on your profile.
Creating a lender profile on Zillow is free. To start, click "Join" at the top right of the Zillow.com website.

In the next window, add your email address, and create a password. Select the box to check off "I am a landlord or industry professional." Under Professional Information, select Mortgage Lender from the drop-down list. Then, click Submit.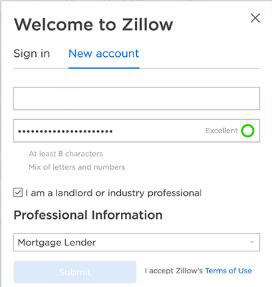 On the next page, you'll be asked to enter your NMLS ID. When you do, your name will automatically populate in the box below. After you submit that, you'll be able to edit your profile.
The information that is stored here includes:
Profile page – Headshot, an About section requiring a minimum of 100 characters, screen name, company name, additional languages spoken, locations in which you're licensed and sponsored
Contact info – Phone number, fax, website
Office info – Automatically populated from the NMLS Consumer Access pages
When you advertise, you'll put yourself in front of thousands of potential customers. Zillow and Trulia give buyers the chance to request a lender to call them at a specific time.
Those contacts are sent to lenders who market through Zillow. You'll get contacts instantly through the mobile platform, and you can connect with consumers as soon as they reach out to you.
Pricing is based on the number of contacts that you receive or the subscription package that you purchase, depending on the platform. Factors such as loan amount, loan type, and credit score will affect the price too. You must deposit a minimum to start out.
To get started with advertising for loan officers, go to the Lender Resource Center advertising page, where you'll find a phone number to call Zillow directly. The opportunities for lender advertising are limited. You'll have to speak to a representative to find out if your market is still available.
Co-Marketing On Zillow
Co-marketing lets lenders join Premier Agent partners to get dedicated impressions when the agents advertise on Zillow Group channels. This is a budget saver because lenders and agents can share marketing costs.
To get started, a Premier Agent must invite a lender to share the advertising costs. The agent chooses the dollar amount that they want each lender to contribute. Up to half of a Premier Agent's marketing costs can be shared by up to five lenders. Most Premier Agents choose to co-market with one or two lenders, though.
Lenders that co-market with Premier Agents may appear on:
an agent's featured listings
the agent's profile
the agent's Premier Agent Website
email campaigns sent from Zillow
This program is only available for Premier Agents. If a lender is already working with an agent, he or she can ask that agent to become a Premier Agent and invite the lender to participate in this advertising program. When they participate in this program, lenders cannot refer business to agents or vice-versa if they receive a lead through a Zillow platform.
Landlord & Property Manager Advertising
Zillow has pushed hard into the rental real estate with acquisitions (hotpads) and heavy advertising and product investment.
They are now the go to place for renters searching for a new home, which makes Zillow a great place for rental & property management marketing.
Most of Zillow's rental products focus on their paid products like the $9.99/mo listing service and their rental manager service. But they do offer an ad product called Rental Connect.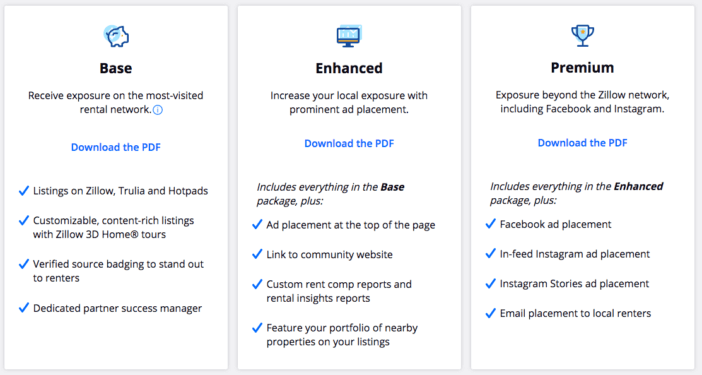 Rental Connect only offers a few true advertising options like Verified badges and higher ad placement. But the ad packages also bundle several services for a "done for you" rental package.
Builder Advertising
Zillow offers ad packages for builders that is similar to Premier Agent listings but with more options to showcase new construction and recruit pre-construction offers from qualified buyers.
Premier Agent Advertising
If you do work in real estate, you might consider registering as a Premier Agent. Although there might not be anything as controversial as to whether being a Premier Agent can really help increase your income, Zillow's Premier Agent program accounts for 70 percent of Zillow's revenue. People who are buying, selling and investing in homes continue to flock to Zillow.
Because of that, many real estate agents pay to become a Premier Agent on Zillow and Trulia.
Zillow allows anyone to list a home for free on the website, but it costs money to be a Premier Agent. So, you might wonder why you would pay to become a Premier Agent.
My Agent
Premier Agents have their names and other information placed next to their listings. If you're a Premier Agent and you submit a property as a seller's agent, you'll be the only agent endorsed on that page. That boosts your chances of getting the full commission for the listing. If you aren't a Premier Agent, other real estate agents may show up on your listing.
The listing agent always shows up first whether that person is a Premier Agent or not. For example, Tim Carter is the listing agent for the property below. Because he is not a Premier Agent, other agents appear below his name on the webpage.
Those agents have several recent sales and great reviews. Someone searching for a property might be more likely to click on their names than the listing agent's.
That gives the Premier Agents the chance to secure a million-dollar client, and the original listing agent will have to share the commission if another agent snags the listing.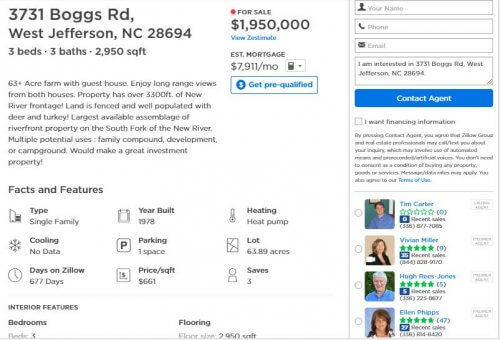 In this next scenario, Ellen Phipps is a Premier Agent. Therefore, hers is the only name that appears on the listing detail page. There is a clear call-to-action button below her name and contact information, making it easy for someone to contact this agent.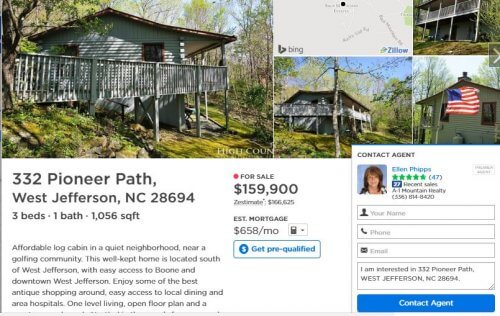 Another reason to become a Premier Agent is to advertise on local listings. This way, even if you don't have any of your own listings to promote, you can generate leads.
A Premier Agent purchases a particular share of visibility in a particular zip code. If you buy a 50 percent share of voice in zip code 90210, you'll show up as a buyer's agent 50 percent of the time for shoppers looking for listings in that zip code.
Shoppers can choose whatever buyer they want. They'll be more likely to contact you over the others if you have a strong profile, rave reviews, and more past sales.
Premier Agents are given the most desirable placement in Zillow and Trulia's directory of agents. They'll show up as Featured Agents in the Agent Finder. This does not cost an extra fee.

Premier Agent Concierge
Concierge allows busy real estate teams to maximize their ROI by managing high lead volumes for them. The Concierge team can respond to leads so that you don't have to. They can transfer the leads to you immediately or set an appointment for you to speak with them.
Concierge works seamlessly with My Agent. As an agent, if you respond to a live Concierge transfer, you'll show up as the only buyer's agent for that lead for the next 30 days. If you confirm the connection via the Premier Agent app, you'll lengthen that time frame.
This means that a buyer who connects with you via Concierge will see you as the buyer's agent for every listing in your zip code(s) that they view. This is only relevant for buyers who submit the leads through Zillow or Trulia and are transferred live via Concierge.
Your client can decline or terminate the connection at any time.
You can get started with Premier Agent Concierge by working with a Zillow business consultant.
Premier Agent Direct
One of the benefits of being a Premier Agent is having the capability to advertise on Zillow Group websites.
Premier Agent Direct combines the data and targeting abilities of Facebook and Zillow Group. When you sign up for this feature, you'll be able to create ads on Zillow search results pages, such as the sponsored ad that we showed you when discussing the brand advertisers. These may be video, profile or branded listing advertisements.
You'll also get to create customized Facebook ads that target the same audience as the Zillow ads. This captures active home shoppers as they scroll through Facebook. Your Facebook ads can show featured listings, completed sales or photos from your Zillow profile.
It doesn't take any extra work to set up a Facebook ad from your Zillow information using Premier Agent Direct. Buyers who click on your ad will end up at a branded landing page.
Creating ads using Premier Agent Direct is different than simply advertising on Facebook on your own. First of all, when you sign up for Premier Agent Direct, you get a professionally shot video to include in your profile, ads or emails. Perhaps more importantly, Premier Agent Direct chooses your target audience based on Zillow's buyer data, which can keep you in front of the most relevant leads.
Seller Boost
Seller Boost connects Premier Agents with seller leads. When someone goes to sell a home, they often start by checking the estimated value of the property on Zillow or Trulia. When they do, they have the option of claiming their home to receive a more accurate Zestimate.
At this time, Zillow captures their information and ensures that they're an interested seller. The platform then presents the individual with lead capture forms that urge them to consult with a Premier Agent.
Seller Boost is an add-on to Premier Agent advertisers. Any Agents that have opted for this will receive leads from the program.
Free Websites
Premier Agents can get free websites created through Zillow. These websites can be completely customized through a user-friendly editor and have a custom URL.
Some of the advantages of setting up a Premier Agent Website through Zillow include:
Integrated MLS
Free designs
Customizable and easy-to-use editor
Mobile-friendly
Fast setup
*Editors note – I (Nate) have personally never used the platform. Like any website builder, there will be upsides and downsides.
How Much Does Premier Agent Cost?
The cost of Premier Agent depends on the number and quality of zip codes in which you appear as well as the number of impressions that your advertisement gets.
Zip Codes
When you become a Premier Agent, you purchase a predetermined number of online impressions up front. When you do this, you choose the zip codes in which you want to appear.
This isn't as straightforward as you might think. Some zip codes have a waiting list. These are usually the more desirable zip codes with higher-priced properties. For example, a zip code with a median home price of 2 million dollars will be more expensive to advertise in than one with homes that cost $150,000.
Agent competition affects the price of advertising too. When a large number of agents wants to advertise in a particular zip code, that zip code becomes more expensive.
That doesn't necessarily mean that the higher-priced zip codes are the best ones to advertise in, though. If so many agents are advertising in a particular area that your voice would be limited, you might consider paying less to advertise in a nearby zip code.
Consider this example: You have a client that's looking for a property in the most expensive zip code Brooklyn. While that area may be their first choice, they may be willing to look at homes in the neighboring zip codes, even if prices are a little lower there. What's great for you is that they'll probably seek out the highest priced homes in those areas. If you advertise in the zip codes that border the more expensive ones, you'll still tend to close high-priced sales, but you'll pay less to advertise in them.
To view the pricing at the zip code level, follow the steps below:
1. Log into your Premier Agent account.
2. Click on My Ads.
3. You can view and compare zip codes here by clicking on zip codes on the map or using the Add New ZIPs search.
Impressions
You pay for your advertising based on the number of impressions that each advertisement gets. The cost per impression changes for each zip code. The cost is calculated as a cost per 1,000 impressions or CPM. For example, if Zillow charges $0.05, that's the equivalent of $50 CPM.
How To Calculate Your ROI
Let's say you pay for 4,800 impressions per month at a cost of $0.06 per impression. You'll end up paying ~$300 a month. If it takes 500 impressions for one person to click and become a lead, you should get about 9 to 10 leads per month.
Divide the total amount that you pay per month by the number of leads that your advertising generates to get the price that you pay per lead. In this scenario, $300/10=$30. You pay ~$30 per lead.
At that point, it's up to you to convert a lead into a purchase. If you have selected the most expensive zip code in which to advertise, but you don't know much about the homes there, you won't be able to provide the best service to your clients. Some people recommend choosing your own zip code, where you can provide local market knowledge and serve your clients well. You'll position yourself to get more leads and pay less for each one.
After you have advertised and analyzed your metrics, you can calculate your ROI. Your ROI is your gross income from those sales divided by your total Zillow spend.
One of the perks of advertising on Zillow is that you can roll those sales into reviews and listing histories. When potential clients see that you're successful, they'll be more likely to click on your ad in the future. The more leads and sales that you get, the more leads and sales you end up generating in the future.
How To Generate Leads For Free Using Zillow
You don't have to pay for a Premier Agent account to take advantage of Zillow's lead-generating opportunities. Creating a free agent account gives you a chance to showcase your listings and stand out with a comprehensive profile.
To create a free account, go to Zillow's Premier Agent page, and click Sign Up Now.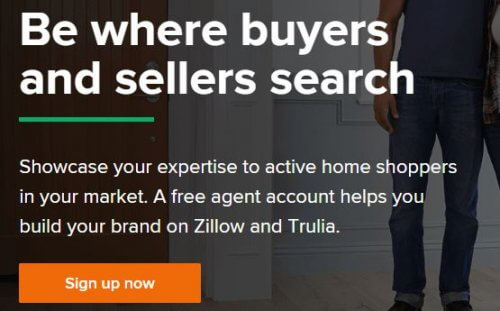 Enter your information to create a free profile.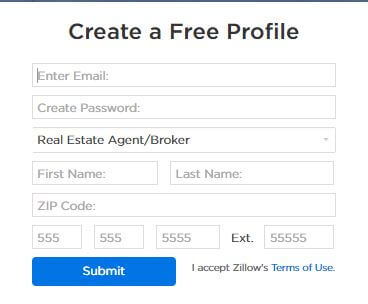 You don't have to be a real estate agent to create a profile here. Select from one of the following professions from the drop-down menu:
Real estate agent/broker
Mortgage lender
Home improvement services
Property management & other real estate
Landlord
Photographer
Home builder
Home inspector
Property manager
Real estate marketplace investor
Other real estate professional
After you fill out this form, you can do one of the following: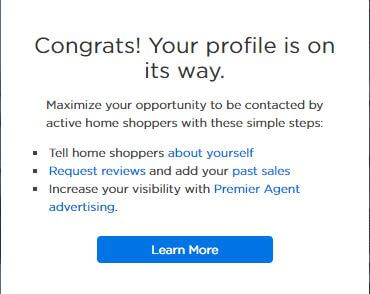 Optimize Your Profile
Many agents create free accounts on Zillow without completing their profiles. At minimum, your profile should include a photo, your license number, and other information. However, you're competing with many other real estate professionals.
Your profile will stand out more, and you'll have a better chance of creating a connection with your leads, if you include a video. The leads from your profile are do-follow leads. Therefore, adding links to your website will boost engagement and enhance your site's SEO. Don't forget to add links to your social media profiles too.
Zillow makes it easy to do this by tracking how complete your profile is. Aim to reach 100% if you want to maximize your profile.
Add Sold Listings
While it's vital to have beautiful, comprehensive and descriptive listings of the current properties that you're selling, it's important to show the homes that you've sold in the past. Buyers want to know that you're able to make good on your promises. The best way to demonstrate that is by showing a strong history.
Get Great Reviews
If you were about to choose whether to work with an agent that has 30 five-star reviews or no reviews at all, which would you be more likely to click on? Most people would choose the agent with more reviews. It's crucial to have reviews on your Zillow profile.
One way to get the reviews that you need is to ask your best clients. Chances are, you have worked with some people who had wonderful experiences and connected with you on a personal level. Those people would probably love to share their home-buying experiences.
All you have to do is ask. Whether or not you close a deal with a client, you should ask them if they would be willing to leave you a review on Zillow. You can do this easily by sending them an email with the request and a link to your Zillow profile page.
They can leave a review by clicking on the Review section of the profile. They must be logged in or leave a valid email address and phone number in order to do this (Zillow authenticates the reviews to make sure that they were left by legitimate customers).
Don't Hesitate
There are so many real estate agents using Zillow that clients are likely to contact more than one agent during their home search. You should reach out to potential leads immediately in order to have the best opportunity to connect with them. You can do this using the Concierge service.
You can also use the Premier Agent app to set up an auto-responder. You need to be able to respond to leads from wherever you are. If you use a third-party customer relationship manager, make sure that you can access it from a mobile device so that you don't waste any time.
Sending a personal message as soon as possible is also a good practice to get into. This lets potential clients know that you're interested in working with them and have attention to detail. Customize these messages by referring to something specific about the property that they're interested in. You can even let them in on some similar listings.
Asking questions in these personal emails encourages the client to respond. Creating a real connection is one of the best ways to secure new clients.
Zillow Agent Toolkit
Zillow offers plenty of free resources for those in the home and property markets. The Agent Toolkit includes scripts, templates, and handouts that can help you run your business.
The toolkit also contains free courses, webinars, and training on subjects such as:
Growing your brand
Converting online leads
Using Premier Agent
Take advantage of this free wealth of knowledge to learn as much as you can about positioning yourself as visibly as possible on Zillow Group's sites.
Zillow offers coaches and Business Consultants to work with you if you're ready to advertise. The best way to learn more about advertising with Zillow is to contact Zillow directly.
Next Steps
Zillow represents a solid opportunity for anyone looking to reach homebuyers.
Your specific strategy will be different depending on your business, but Zillow's sheer scale and reach make it worthwhile to explore the platform.
Read my post on how to advertise your website online for other ideas!