People don't just listen to music anymore; they experience it. Advertising on a platform like Spotify can expose listeners to your brand in an engaging, involved way.
You can currently use Spotify's Ad Studio to develop & target ads.
Spotify can be used to market your business similarly as a radio ad. You can also sponsor streaming sessions and playlists to get in front of the people who are most likely to resonate with your message.
Why Advertise On Spotify?
Spotify reports that there were 124 million paying Spotify subscribers in December 2019. However, it's really the people who listen for free that get to hear your ads. In March 2017, there were about 153 million people who took advantage of the service for free.
If Spotify is trying to push listeners to its premium version, which doesn't play or show advertisements, why would you want to advertise on the platform? Sure, Spotify is trying to make money from premium memberships. However, it isn't writing off the free offering. In fact, a recent statement by Spotify's vice president of product, Jason Richman, confirmed that the company views its free version as a separate service that it wants people to use.
The Wall Street Journal reported in 2017 that Spotify was slated to become the third-largest advertiser in the world, following the footsteps of Facebook and Google. Spotify started out offering a free, advertisement-sponsored subscription service to help music fans connect with the songs and artists that they love. They quickly realized the opportunity that advertising could provide them.
Business Insider said that because of its global scale and huge collection of data, Spotify is trying to be a primary advertising solution for just about everyone, including small and medium-sized businesses. The company launched Spotify Ad Studio, a self-serve advertising platform, in 2017. This allows smaller and mid-sized companies to advertise.
Plus, Spotify uses its advertising platform to convert users to the premium product, as you can see in the image below, which shows a mobile takeover ad that appeared while we were navigating to our Discover Weekly playlist. The fact that the company believes in the power of its own advertising gives us faith.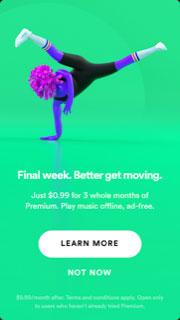 If Spotify can't sell ad space, it will lose quite a bit of revenue. The free platform isn't going anywhere.
And if you think that people get annoyed by ads on Spotify, think again. Acquisio reports that 75 percent of listeners expect advertisements on a free streaming service. Almost 50 percent say that commercials are less disruptive on Spotify than on regular radio.
Part of the appeal of Spotify is its ability to connect users. Those who register their Spotify account through Facebook can share playlists with their friends. Spotify is largely about discovery. Check out what your friends are listening to, and you might learn about an artist that you've never heard before.
Even if users don't connect to Spotify through social media, the platform incorporates a similar connective quality. Users can follow other Spotify users on the platform. When they search for a particular song, artist or album, they can view playlists that other people have created using that song.
So why should you advertise on this platform? Because people are using it to stay up-to-date with the world. If people are using Spotify to learn about new music, they might also learn a little about what you have to offer when they hear your advertisement.
If you want to target a hip audience that's interested in staying in the know about current trends, you might want to advertise on Spotify. If you're a musician, advertising on the platform is a no-brainer.
Plus, Spotify collects data from all of its logged-in users. According to Smart Insights, this means that marketers can take advantage of unique intelligence, such as users':
Moods
Preferences
Listening habits
Activities
Over time, companies can learn more about the people they wish to target, gaining insights into platform behaviors, routine activities, and wider interests. This allows brands to create tailored experiences that aren't possible on other platforms.
Because Spotify requires users to log in, it has extensive data about what people are listening to and how they listen. The company also compiles real-time information about lifestyle, entertainment preferences, family status and technology use.
How Do Ads Work On Spotify?
If you have used Spotify for free, you probably know how often advertisements are played. When you start a streaming session, you can listen to one sponsored advertisement to get a 30-minute session of uninterrupted music. After that, Spotify will play an advertisement about every 15 minutes.
Users can't skip or fast-forward the ads. They can choose to watch a video from an advertiser to get another 30-minutes of ad-free music from time to time. If they're listening via a laptop or computer, a branded overlay hangs out on the screen at almost all times. It's not disruptive—it can be closed so that the user can navigate the site—but it will reappear.
Audio and display ads aren't the only way to market a brand using Spotify. Businesses can sponsor listening sessions, providing videos that users watch in exchange for uninterrupted listening.
Marketing on Spotify can be even more creative, though. Businesses can put together branded playlists. These can include a logo and a link to the company's landing page. Even President Barack Obama used a branded playlist to help bring awareness to his brand in 2016.
In sum, there are three main paid advertisement types with which marketers can experiment:
Audio – Plays between songs during active listening sessions. Accompanied by a clickable display that can take users to a specific URL or landing page.
Video – Sponsored sessions, video takeovers or branded moments video advertising that rewards viewers with 30 minutes of uninterrupted music after watching.
Display – Homepage banners, homepage takeovers.

What Can You Advertise On Spotify?
You can use Spotify to raise awareness for any brand, company or organization. You can also use it to promote music-related content or an event, such as a concert.
If your target audience uses the platform, it makes sense to try it out. Using multiple channels for advertising can lead to steady growth for your brand.
One of the benefits of using an audio ad instead of a video or image is that users can access it when they're not watching a screen. For example, many people listen to Spotify while driving or in the shower. Reaching them with a DIY audio ad using Spotify's DIY Ad Studio can help you influence them in a way that you might not have tried before.
In fact, Nielsen analyzed Spotify audio ads and found that listeners are more likely to enjoy and recall audio ads through streaming services than display ads. Audio ads are also more apt to increase purchase intent.
How Much Does Advertising On Spotify Cost?
Using Spotify's self-serve advertising platform is the way to go if you don't have a huge ad budget, although the service is available to companies and budgets of all sizes. The minimum is $250, with each ad served costing marketers about $0.015 to $0.025. The price varies depending on your targeting choices. Aiming at a larger target market will typically cost you more per ad.
You can target your audience based on the following:
Age
Gender
Location
Activity
Music taste/listening behavior
Mobile
Desktop
When you initially set up an ad using the DIY Ad Studio, you can choose from a range of options for your total campaign budget. As we describe in more detail below, you have to select a custom option to enter the minimum of $250. If you launch your ad and realize that it's not bringing you the results that you want, you can stop the ad.
That means that you're technically not committed to the $250 budget minimum if you find that the platform isn't working for you. If you stop an ad after paying only $30, you won't be billed for the unused portion.
You can also purchase advertising programmatically and through Spotify's direct sales department. These options usually cost more than using Spotify Ad Studio.
What Spotify Ad Studio Can And Cannot Do
Spotify Ad Studio makes it simple for anyone to set up, track, manage and analyze audio ads. Some of the other things that you can do with Spotify Ad Studio include:
Creating and record your own audio ad
Reaching free Spotify users
Retarget people who have engaged with your ads
Create successive ads to share an extended story
Track your campaign, including clicks and cost
If you are an approved advertiser for a specific artist, such as the label or a promoter, you can target people who follow that artist. For example, if you're promoting a concert, you can reach out to the people who follow the performer on Spotify.
You won't be able to target fans of particular musicians if you're not an approved advertiser, but you can still target by genre or playlist. Genre targeting lets you deliver your ad after a user has listened to a specific type of music. This is helpful if you know that the majority of your target audience listens to smooth jazz, for example.
Playlist targeting lets you deliver your message to people who are listening to tunes that are associated with certain activities or moods. Spotify categorizes different playlists and refreshes its inputs every day.
You can't target fans by zip code, but you can select a country, region or U.S. state. As of the time of this writing, Spotify didn't offer a feature to exclude certain people. That might come in handy if you're promoting a concert but don't want to waste money marketing to people who have already bought tickets.
How To Create Spotify Ads Using Ad Studio
To start creating your own Spotify ads, head over to Spotify Ad Studio and click Sign Up. The platform is still in beta, and it's currently only accepting advertisers from the U.S., the U.K., and Canada. You'll also need a Spotify account. The system will set you up with one when you sign up for Ad Studio if you don't have one already.
Once you have registered, you can start creating an ad. Click on Your Ads in the top right corner of the screen. Then, click Build Ad in the top left corner to begin working on your ad.
There are three steps to building an ad:
Set Up
Budget & Audience
Ad Creative
1. Set Up
In the set-up phase of ad creation, you get to choose your objective and name your ad. This step is easy; unless you're an authorized promoter for a particular musician, you'll choose "Raise awareness for a brand, business, or organization."
Next, give your ad a name. This will only be visible internally and serves as a good way to organize your ads if you're creating more than one.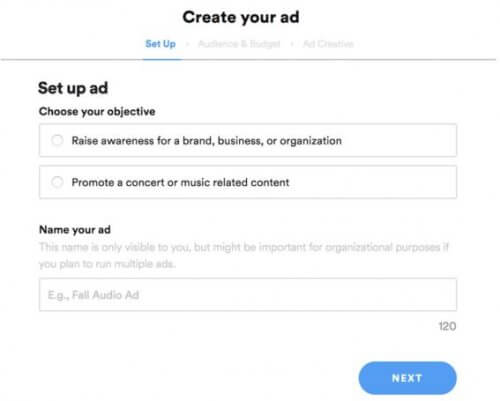 2. Audience & Budget
In this step, you'll select your audience and budget. Start by choosing a location, gender and age range for your target listener.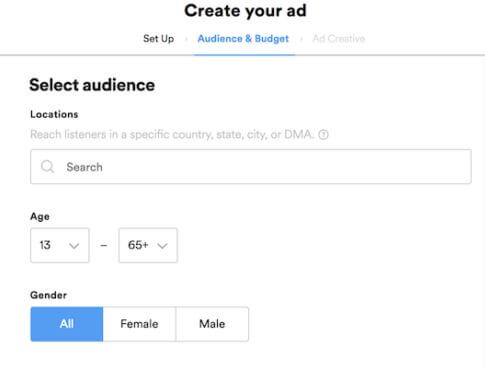 You can choose listeners in a particular country, state (Australia and U.S.), city (Australia, Canada, and U.K.) or DMA (U.S). The DMA, or designated market area, includes a metropolitan area as well as its suburbs.
Next, narrow down your audience by listening behavior.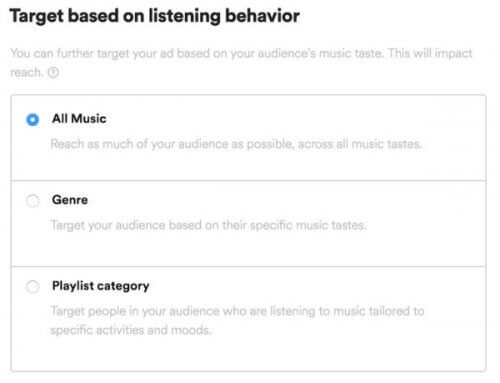 Targeting by genre delivers your ad right after someone has listened to the type of music that you selected. You can choose more than one genre.
Targeting by playlist uses Spotify's ability to categorize playlists by mood and activity. After someone listens to a playlist that matches the playlist categories that you choose, they'll hear your ad.
You can also target by fans of a particular artist if you're a record label or promoter. You can't target by all of these options; you must choose All Music, Genre, Playlist Category or Fans.
Next, you'll need to choose the platform or device on which you want your ad to display. Choose all of them unless your ad is platform-specific.
At this point, you can also choose when you want your ad to display. For example, Spotify says that moms are 25% more likely to listen at 5 or 6 am. If mothers are in your target market, you might want to set your ads earlier than a brand that caters to college students. You don't have to fill this in if you want your ads to play throughout the day.
Finally, you'll set your schedule and budget. To set your schedule, enter the start and end dates and times that you want the ad to run. Campaigns run from midnight to midnight in your local time zone by default, but you can enter different start and end times.
Remember that it takes time for an ad to be approved. If your ad is approved after the start time, it will begin immediately once it is accepted.
To choose your budget, either pick from the given options or select Custom. You cannot enter an amount lower than $250.

3. Ad Creative
Now, you get to choose what your ad will look like. Every audio ad has a corresponding display to go along with it. This includes a companion image, headline, and link to a URL that users will go to when they click on the ad image.
The image must be a JPG or PNG image that's 640 x 640 pixels and no more than 200KB in size. You can preview the way this will look on a mobile or desktop. If you have a call to action, it must be included on the image. A directive like "Click here" or "Learn more" will help users understand that they can drill down on the picture to explore your brand further.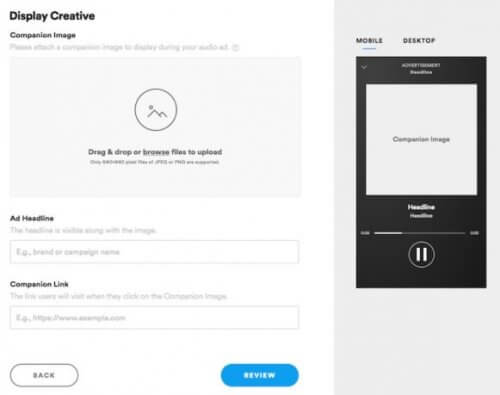 Finally, you get to set up the audio creative for your ad. If you already have a sound recording, that's great. Upload it here.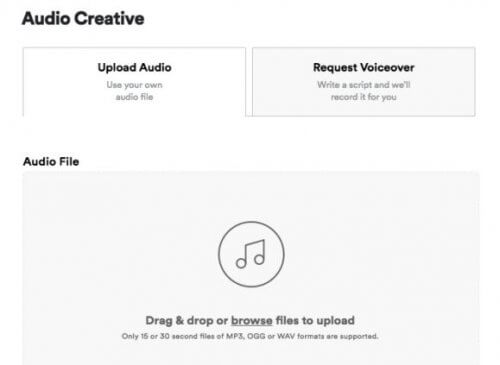 The audio specs are as follows:
Length – 30 seconds or less
File types – WAV, MP3, OGG
Max file size – 1MB
Audio – WAV – 16-bit 44.1 kHz MP3, at least 192 kbps RMS normalized to -14dBFS Peak normalized to -0.2 dBFS
You can also provide Spotify with a script, and the platform will create a voiceover for your ad at no additional cost. If you do this, you can choose the profile of the voice that you'd like based on age, gender, dialect, etc.
When you write the script, you'll need to make sure that it's the perfect length to sound natural in a 30-second time slot. A script of about 50 to 75 words is perfect. If it's longer, the actor will speak too quickly, and if it's shorter, it might sound like it drags on.
If you're uploading your own audio and you want background music, it will need to be incorporated into the audio file. If you're asking Spotify to record the voiceover, you can select your background track separately from a library of pre-selected genres or upload your own.
4. Review Your Order Summary
Before you submit your order for processing and approval, Spotify will show you a summary of all of the options that you chose. If you need to edit anything here, you can go back and do so. Once you click Place Order, your ad will be reviewed by Spotify.
This typically takes 48 hours, according to Spotify's FAQs. However, you should provide your creative materials at least five days before you want the campaign to start if you don't want to be rushed.
If you request a voiceover, Spotify will send you the final recording for your approval. If you want to change something, you can request a revision at that time.
5. Editing Your Ad
You can stop or pause your ad at any time. You might want to pause it to change your targeting selection. You can change any target demographics except for fans. If you want to edit Fan Targeting, budget or start/end date, you have to email Spotify, and they'll recommend the best solution for you.
You may even want to stop an ad that doesn't seem to be converting. If you do that, you'll only be charged for the number of ads that were displayed during the run.
6. What If Your Ad Isn't Approved?
If your ad doesn't meet the terms of Spotify's Advertising Terms and Conditions, it will be rejected. An ad that's longer than 30 seconds or promotes a Spotify competitor will not be approved. You can always reach out to Spotify if you're not sure why your ad wasn't approved.
Can You Create Other Types Of Ads Using Ad Studio?
If you've ever used Spotify's free streaming service, you've probably seen ads that aren't just audio with companion displays. You have the option of working with Spotify through direct sales or programmatic ads. This will give you the option of delivering your message through different types of ads on the platform.
Some advertising options besides audio include the following.
Sponsored Session
When users start streaming on Spotify mobile, they're usually asked if they'd like to watch a short video to get 30 minutes of uninterrupted listening. After the video runs, an image with a link will appear if the user wants to learn more about your brand. This type of ad is available on mobile devices or tablets.
Video Takeover
Video Takeover ads are presented to logged-in users when they're engaged with the app in between songs or during commercial breaks. They're available on mobile devices or desktops. Videos are less than 30 minutes long and contain a call to action as well as a link to the brand's URL.
Display
There are a few display options that can be purchased through direct sale or programmatic marketing.
The Overlay welcomes users back when they return to the Spotify app. Your brand message covers the screen while users listen to music. They can click through to a URL or click to close the image.
The Homepage Takeover shows up on Spotify's desktop Browse page for 24 hours. This option can include interactive elements to engage your audience further.
The Leaderboard is shown as a smaller banner on the bottom of the desktop or web app. It's served when Spotify is the top app on the screen, and it appears exclusive of any other messages for 30 seconds.
Sponsored Playlists
Spotify's top real estate includes the playlists that the company owns and operates. Brands can sponsor these playlists based on the categories that their target market listens to. This is available on mobile and desktop.
Tips And Best Practices For Creating Spotify Ads
Spotify ads run between songs and are an interruption for users. If you want people to pay attention to what you have to say, it's probably best to resonate with their listening preferences and interests.
Stay Within The Context
If you're marketing a brand that will be used by energetic party-goers, like an alcoholic beverage, you might not want to place your ad on a yoga music playlist. On the other hand, an ad for a relaxing product might not be what people tune into when they're listening to upbeat electronica. If your ad feels like it fits in with the music your target audience is listening to without creating a disturbance, it's more likely to resonate with the listener.
Know Your Target Audience
In order to keep your ads relevant, you'll need to understand your target audience. Age, gender, and language are important when selecting your target. One way to choose the right demographics is to analyze ads that you've run in the past. If people from a particular age range, location or gender convert more than others, choose those when setting up your Spotify ad.
If you don't have data from other ads, accept the fact that you'll need to experiment to find what works best for you on this platform. You might wonder what someone's music interests have to do with your non-music-based brand. Spotify compiles data based on the mood and emotion elicited by certain songs, and users choose to listen to certain playlists based on their current state of mind.
If you can tap into that, you can drive conversions.
Personalize The Location
You can target users who live in specific areas when setting up an ad. If your audience lives in London, you might want to start your ad with, "Hello, London." The personalization and association with their location might grab their attention.
Create A Story
What makes you get emotional when you listen to a particular song? It's likely the story behind the music. You can touch your audience's emotions when you incorporate a story into your advertisement too.
People are more likely to tune in when they're being told a story than being sold a product or service. You can do this with words, but you can also build a story with a playlist.
Fox promoted its TV show Star by developing a branded playlist to share the inspiration behind the show's music. Between songs, the cast offered some commentary.
Creating a playlist as part of your narrative can capture your audience. People will tend to listen to the playlist even after your advertising campaign is over.
Use Music
Your audience uses Spotify to listen to music. Therefore, if you use the perfect soundtrack for your ad, you're going to fall in line with the platform's mission and design. You can use music in the background of your ad or create a branded playlist to keep listeners involved.
The music that you use must do two things:
Resonate with your audience
Reflect your brand
Create A Specific Call To Action
When creating an ad, think about what you want users to do, and then instruct them to do this. Most of the time, this will involve clicking on the ad image for more information.
This Google Home Max ad that appeared on Spotify mobile has a clear "Buy Now" button that takes you to the Google store when you click on it: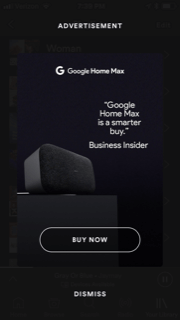 Free Advertising On Spotify?
If you don't want to pay for advertising fees, you can get creative with Spotify's playlist options. Any user can create a playlist, and it's free. Brand it by adding an image, and you have a new way of connecting with your audience.
Some ideas for creating engaging playlists include:
Making holiday playlists to get consumers in the mood to buy your products
Putting together workout playlists for companies geared toward sports and fitness
Compiling comforting and enthusiastic music for a restaurant
Once you've created some playlists, you need followers. If you're serious about marketing, this involves strategy, not just asking your grandmother and best friends to follow you.
The strategy begins when you set up your playlists. They should match your listeners' moods and interests. If you are trying to appeal to yogis, you might not want heavy metal on your playlists. Also, playlists should be curated and short. Split up the 500 songs that you want to share into several different playlists.
You can collaborate on playlists to allow your followers to add their own tracks. This is a great way to make some friends on the platform and gain visibility. If you choose to do this, you'll need to keep tabs on the list so that it doesn't get out of hand.
Once you've created a few playlists, share them. You can do this on social media or your blog. Ask questions, such as "Which is your favorite track?" to boost engagement. Add a Spotify Follow Button to your website so that new followers are only a click away.
Remember, Spotify is a social platform. You'll need to keep up with it the same way you do with your Facebook and Twitter accounts. Follow artists that are appropriate for your brand so that others can learn what you're listening to. Network by asking others what they're listening to.
If your target audience listens to music, they're likely to be on Spotify at some point. Harness this powerful platform by using it socially, creating your own ads for it or working with Spotify's advertising sales team to dream up a campaign that will engage listeners and increase your brand's exposure.
Next Steps
Advertising on Spotify is not quite as easy as setting up a Google or Facebook ad. But, that barrier to entry provides a unique opportunity for brands and businesses of all sizes looking to reach an audience in a personal and memorable way.
Read my post on how to advertise your website online for other ideas!