LinkedIn has always been the odd-duck out among big social networks. Unlike Facebook, Twitter and others – it is a primarily paid platform. But it does have an advertising product.
I listed it within my alternative PPC networks post, and have run a few campaigns on it myself. I've never had huge success, but have had clients with sustainable success. Here's the what, why & how of advertising on LinkedIn.
Having over 450 million business professionals, LinkedIn provides a very interesting platform for advertisers. But, it's myriad of different targeting options, tools, and ad types can make getting started to seem like a daunting task. We're going to take a look at each facet of their advertising program so we can better understand how to create and target effective campaigns.
Why LinkedIn
In its most simple terms, LinkedIn is a social network for business professionals. LinkedIn has users across the globe ranging from small business owners and employees to CEOs of Fortune 500 companies. Many of these users hold high-ranking, influential positions within their company. According to LinkedIn, 80% of its users drive business decisions within the company. 39% of members are senior-level executives or higher, and 28% of members manage company budgets.
So, LinkedIn offers access to a coveted demographic. Depending on the type of product or service you offer, LinkedIn may provide a very effective advertising platform.
While the audience represents the best reason to advertise on LinkedIn, there are other reasons to advertise, too. LinkedIn offers the ability to target advertising campaigns with precision. They provide a variety of specialized ad products to maximize engagement. Also, they provide support in other languages. Multi-language support can be a huge benefit for international companies.
Before You Get Started
Before taking a look at how to advertise on LinkedIn, we're going to take a look at some of the technical aspects of the platform. Understanding these aspects is going to be of paramount importance for a successful campaign.
Company Pages
The first thing you'll want to do is create a company page if you haven't already. Company pages allow you to provide company updates, interact with your customers and prospects and post valuable content. They're also the page from which you'll be advertising.
The company updates posted by your company will be distributed to the people who follow your company on LinkedIn. These updates are also available on your company page or showcase pages.
From your company page, you can create individual showcase pages to highlight different products or services that you offer. To create a company page, you must be a current employee with an active company email address.
Another important feature of company pages is the ability to share administrative access for the page across multiple team members at your company. This feature comes in handy particularly when you're sending Sponsored InMail. We'll get to that later.
If you're new to company pages, or looking for some inspiration, Hubspot has some great examples. You can also use this guide to setting up & planning your LinkedIn page.
Goals
Before beginning your advertising, you'll want to define your goals for each campaign. Your goals are going to define which advertising solution is best for your business. Your goal may be to build brand awareness, drive traffic to a website, or generate sales or leads.
Depending on that goal, the way you'll use LinkedIn advertising will be different.
For example, if you are simply trying to get specific people on your remarketing list, then you'll aim for a high click-through. If you are trying to drive sales, downloads, etc – then your offer will have to drive that campaign.
The clearer your goal, the easier it will be for you to develop a budget, create compelling ad creative and run a successful campaign.
Budgets and Bidding
You'll manage your ad spend on LinkedIn by creating daily maximum and total budgets for your campaigns. Based on your total budget, you can decide how many individual campaigns you'd like to run and what your daily maximum budget will be.
Keep in mind that there may be some variance between your daily maximum budget and the actual amount you spend each day. LinkedIn claims they lack the ability to shut your ads off immediately after meeting your daily budget. As a result, you can exceed your daily maximum budget by as much as 20%. Keep that variance in mind when you're thinking about your daily maximum and total budgets.
Bid Types
LinkedIn provides you the option to bid on a cost per click or cost per mil (ie, 1000 impressions) or CPM basis. You may want to experiment with both kinds of bid types, so you have a clearer picture of which bid type is most useful for your business.
For each campaign, you'll input your maximum bid. The maximum bid is the maximum amount you're willing to pay to win an auction. Depending on the number of other bidders in the auction and the size of their bids, you may pay less than your maximum bid to win each auction.
LinkedIn recommends aggressive bidding to drive impressions and ensure that your ads are competitive. You'll have to decide for yourself how much of that is true, and how much of it LinkedIn suggests for the sake of their bottom line.
Cost Per Click
With cost per click bidding, you'll pay each time a user clicks your ad. Your ad will show across the LinkedIn platform for as many times as necessary for you to gain enough clicks to fill your daily budget.
The minimum CPC bid is $2.00. LinkedIn also provides you with a suggested bid range so you have a better idea of what you can expect to pay to win the auction. If you are used to minimal Facebook bids – then you might be in for a shock.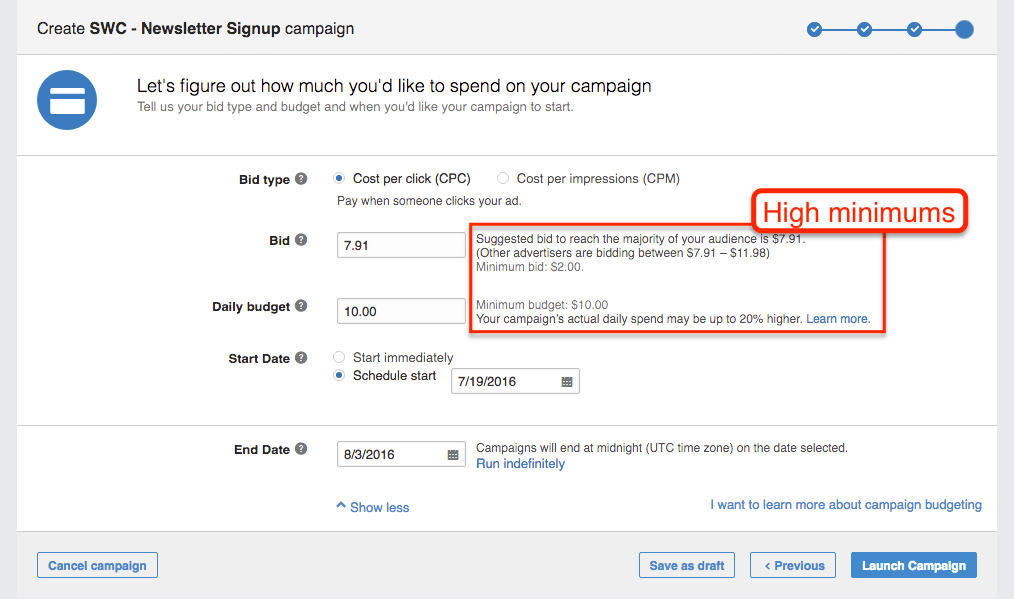 This type of bidding is often most useful if your campaign goal is to drive engagement or generate leads.
CPM
Under a CPM bidding format, you'll pay each time your ad shows 1,000 times across LinkedIn, regardless of how much engagement the ad generates. This type of bidding is most useful in campaigns where the goal is brand awareness. Much like CPC bidding, the minimum CPM bid is $2.00, and LinkedIn provides a suggested bid range.
Creative
It's not enough to simply provide your audience with quality content. Each day, your audience is viewing thousands of advertisements across many different platforms. To stand out and get the recognition and results you deserve, you need to convey value throughout your advertisement.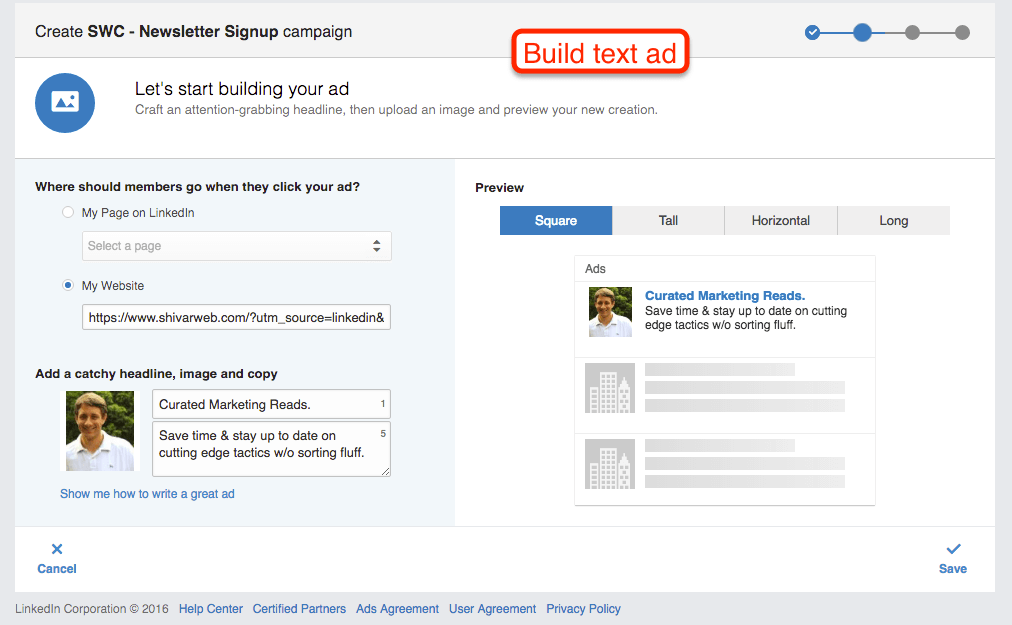 Copy
The copy of your ad is arguably the most important factor in the success of your advertisement. It's important to create strong, compelling copy with a clear message to drive engagement.
Headline
LinkedIn allows you to create a headline for your ad. LinkedIn limits that headline to 25 characters.
Body
Your body copy has a maximum length of 75 characters. It's important to pack this section of your ad in a way that provides clear value to your audience. You'll also want to include a strong call to action to drive engagement.
When writing your copy, you'll want to speak the language of your audience. Be as clear and concise as possible while using industry vocabulary. Speaking the language of your audience will help establish your company as a credible source within the industry that's ready to offer value and build trust with your audience.
Call to Action
A strong call to action is how you'll drive engagement with your ad. Strong calls to action include words and phrases like download, get more information, contact us, connect now, get a quote, sign up, apply, join, start, etc.
Without a strong call to action, it can be unclear what you're trying to accomplish with your advertisement. A poor call to action will lead to dismal click through rates and poor ad performance.
Image
Including an image with your LinkedIn ad isn't required. But, considering the lift in engagement that a powerful image can provide, you ought to include one in your ad. LinkedIn limits image sizes to 50×50 pixels. You'll want to choose a bright, exciting image with some relevance to the rest of your ad creative.
Targeting
To run a successful campaign, you'll need to ensure you're serving your ads to the most relevant audience possible. LinkedIn offers a robust range of different targeting criteria. You're able to segment your audience by job title, job function, industry, location, age, gender, school, skills, company name, and company size.
You can even target members of specific groups on LinkedIn. Each time you refine your targeting, LinkedIn provides you with an estimated audience size. Targeting will make it easier to ensure that your ads are serving to the people who are most likely to benefit from your product or service.
Personas
Personas can be a helpful way for you to refine your ad targeting. Before you target your ad, you'll want to ask some questions about your audience. What specific functions do they serve at their job? What kind of skills do they have? Where are they located? What industry do they work in? Once you've answered these questions, you can develop a persona.
A persona is a hypothetical member of your target audience. Creating a persona will make it easier for you to picture who your target customer is and provide you with more insight when targeting your ads.
Location
The first bit of targeting you'll dial in is location. LinkedIn allows for very broad location targeting, i.e., North America. You can also target a much smaller geographic area, i.e., New York City. You can also target your ad copy specifically to the location your ads will be displaying. You're able to target as many as ten different geographic areas with each campaign. This is the only piece of targeting data you need to provide LinkedIn. But, you'll certainly want to get more granular with your targeting to create a successful campaign.
Company
Much like location targeting, LinkedIn allows you to target broadly by industries, i.e., finance, non-profit, banking, etc. This type of targeting can be especially helpful if you produce a product or service that a particular sector of the business world can benefit from.
LinkedIn also allows you to target users at specific companies. Targeting your ads in this way will produce a very narrow audience. It may be best to leave this style of targeting to the side for now while you get your feet wet with the rest of the targeting options.
Job Title
The ability to target by job title is one of the most compelling features of advertising on LinkedIn. Targeting by job title is an excellent way to dial in the audience that's most likely to engage with your ads, depending on the product or service you're selling. For example, if your business provides bookkeeping software to small and medium-sized businesses, you may want to target CFO's or accountants. LinkedIn also allows you to further refine this even further by targeting users with a particular level of seniority or experience at a company.
This feature can be crucial, and it's an excellent way of increasing the CTR of your campaign and ultimately your conversion rate for new customers as well.
Job Function
Perhaps your product or service appeals to many different industries. You may want to target your advertising by targeting job functions. LinkedIn allows you to select up to ten job functions for each campaign.
Schools
You're also able to target your ads using criteria such as school, degree type or level of education. Let's say you'd like to target your ad to a specific alumni group within your alma mater. You'll be able to deliver ads to those specific people, thanks to this targeting criteria.
Skills
Target your audience based on specific skills or experience they possess, such as business management, B2B marketing or eCommerce. You'll want to focus on skills that your key demographic either possesses or aspires to possess.
Groups
Over 80% of LinkedIn members belong to at least one group. You can search these groups out on LinkedIn and target your ads specifically to them, without being a member of the group yourself.
Age and Gender
Unlike most other advertising platforms, LinkedIn doesn't offer the ability to target by gender or age. Due to the professional nature of the site, many users don't provide this information. If you're looking to target people of a particular age, seniority is a good place to start.
Audience Expansion
As you target your audience, you'll notice that LinkedIn gives you the option for "audience expansion." This feature allows LinkedIn to broaden your target audience to include people who have very similar attributes to the audience you're targeting, even though your targeting parameters don't include them.
This tool can be helpful for new advertisers. But, more experienced advertisers are likely to find that they'd like to keep their targeting as precise as possible, without the audience expansion feature.
Variations and Testing
While not required, it's incredibly important that you create multiple versions of each ad.
Ad variations can become critical when you're targeting your campaign to specific industries, job titles, or skills. You may want to employ different copy for each of these audience segments to ensure your messaging is consistent and highly tailored to each audience segment.
You may also want to play around with different images, headlines, and body copy, even if you're using all your ad variations to target the same audience. These variations allow you to show variety to your audience. More importantly, it will allow you to A/B test your ads to see which variation is performing the best.
Once your campaign is returning actionable data, you'll want to turn off ads that are performing poorly and have a low CTR. Poor performing ad variations can affect the number of impressions LinkedIn is serving to your audience.
LinkedIn will do this work for you if you'd like. By selecting the "optimize click-thru rate," LinkedIn will show the ad variation that's most effective. If you'd like tighter control of your campaign, turn this setting off. That way, you can manually manage your ad variations and make changes based on the data LinkedIn returns for your campaign.
Approval Process
Once you've finished your creative, you'll be able to submit your ad. At this point, it goes into the approval process and ensures each aspect of the ad meets LinkedIn's guidelines. Advertising is how LinkedIn makes their money, so they want to see that ad up just as quickly as you do. Within 12-24 hours, LinkedIn will either approve your ad, or reject it for further editing.
Performance Dashboard
Once your ad is up and running on LinkedIn, it will start to return actionable data. You can use this data to refine and tailor your ad campaigns.
Within the performance dashboard, you're able to track the number of impressions and clicks your ads have received, monitor your spending and click-through rate.
Monitoring Conversion Rates
The performance dashboard is great for learning more about which members of your audience have engaged with your advertising on LinkedIn. But, once a LinkedIn user takes the jump and clicks your ad, that's as far as LinkedIn can take you tracking-wise.
This is where software such as Google Analytics comes in and provides you with more relevant, actionable information about each user once they make the jump from LinkedIn and engage with your site.
A conversion will occur whenever a member of your audience takes the next step with your company, either by becoming a sale or a lead for your business. Your conversion rate is critical for evaluating the success of your campaign and determining your return on investment.
As an example, let's say that your advertising from LinkedIn drives 50 people to your website or landing page. Of those 50 people, 5 of them convert into sales or leads. Your conversion rate would be 10%
Having that information allows you to make better decisions about the different marketing channels that are delivering the most business for your company.
LinkedIn's Services
Now that we've discussed all the ins and outs of the LinkedIn ad platform we're going to take a look at the different products LinkedIn offers for advertisers. LinkedIn offers two ways to advertise on the platform, self-service and managed.
Self Service
Their self-service option allows you to quickly set up a campaign and begin advertising with as small a budget as $10 per day. Self-service advertising offers a choice of three different ad types: sponsored content, sponsored InMail or text ads. It also provides you the option of PPC or CPM bidding.
Managed Services
LinkedIn's managed services provide the same opportunities as their self-serve offering as well as an account management team and a fourth ad type, dynamic ads. Those additional features come at a hefty price and LinkedIn typically reserves them for larger companies with massive budgets.
Types Of Advertising Available On LinkedIn
Through its self-service advertising program, LinkedIn offers the opportunity to create text ads, sponsor content and most recently, the chance to send sponsored InMail. Each of these ad types can be quite useful, depending on the goals of your campaign.
Next, we'll take a look at how to advertise on LinkedIn with text ads. These ads often serve the same purpose as sponsored content and their differences are primarily visual. You'll be able to link your text ad to either some compelling content or a landing page you've designed to drive engagement from your audience. Another reason for the popularity of LinkedIn's text ads is cost. While these ads might not be as visually engaging as sponsored content, you're able to run a campaign effectively with a smaller budget this way.
Sponsored Content
Sponsored content allows you to connect your brand, product or service to useful editorial content that your audience should find appealing. It has become a popular and effective form of advertising in the digital age. Unlike other ad types, sponsored content appears directly in your audience's newsfeed and looks very similar to organic content.
A good piece of sponsored content provides the audience with relevant and valuable information. That information typically will come in the form of whitepapers, eBooks, slide shares or other highly visual formats. Since you're providing the user with interesting and valuable content, they're more likely to engage with your content, your LinkedIn page and your company in general.
Quality content is also an effective way to drive leads to your business. Since your content is so excellent, those interested in it are more likely to "pay" for that content with their contact information to see more details.
Why Sponsored Content?
Sponsored content is popular and effective in part because the advertising closely resembles organic content. According to a study conducted by IPG and ShareThrough, sponsored content is 52% more likely to be viewed than traditional display advertising.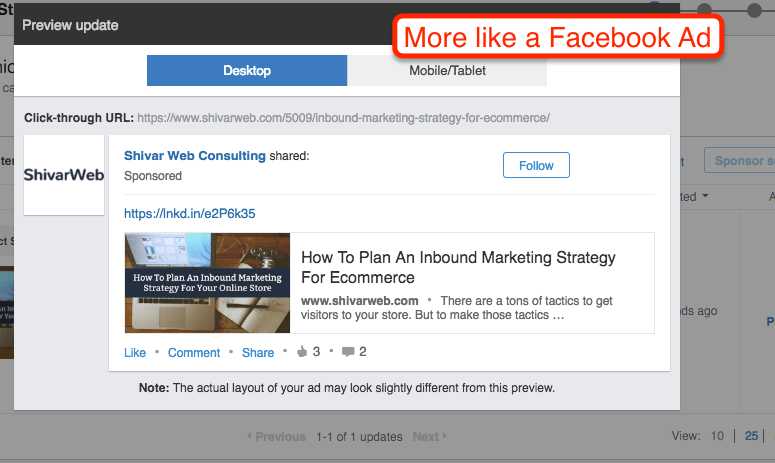 Types Of Sponsored Content
There are two different types options for sponsored content on LinkedIn.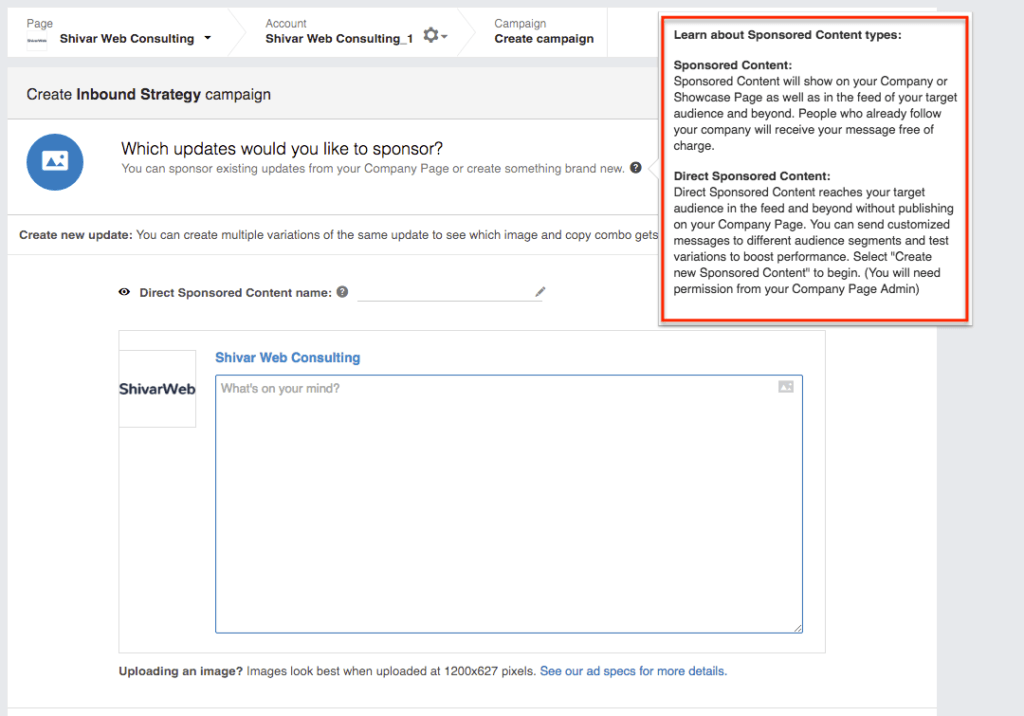 Sponsored Content – allows you to distribute your company updates to a larger audience based on your targeting parameters. The key here is that your audience stays on LinkedIn rather than coming to your website.
Direct Sponsored Content – allows you the same functionality as sponsored content, but without the update associating with your company page. Direct Sponsored Content be a good way to test and refine your advertising without cluttering your company page with tons of updates.
Creating Your Content
Before you can have sponsored content, you need regular ol' content. The adage "you catch more bees with honey" is particularly applicable when it comes to creating content. You want to make sure you're providing the user with value first before asking for anything in return. High-value content includes things like eBooks, webinars, infographics and whitepapers.
When creating your content, you want it to be as visually appealing and easily consumable as possible. The more engaging the experience is, the more likely your user is to engage with your content and generate a lead for your business moving forward.
From there, you'll be able to advertise the content you've created on LinkedIn. More information on that process is covered below.
Sponsored InMail
Sponsored InMail is LinkedIn's newest and perhaps most intriguing advertising product. Sponsored InMail allows you to connect with your audience through their LinkedIn inbox as opposed to on their news feed or in the sidebar of the site.
Unlike text ads or sponsored content which have restrictive character counts for your copy, sponsored InMail allows you the flexibility to tell your story in as much detail as is necessary.
Sponsored InMail has a variety of different applications. It can be used to distribute valuable content, offer "exclusive" invitations to events, or recruit potential candidates, to name a few.
Just like with sponsored content and text ads, you're going to want to keep your messaging as consistent and relevant as possible for your audience. One interesting feature of Sponsored InMail is the ability to select who the message appears to be originating from within your company. It's a good idea to make sure that the message is originating with the member of your team who is most relevant to your audience. In other words, if your message is targeting IT professionals, have your InMail sent from your IT Director. This level of personalization will ensure that your audience is receiving InMail from a relevant and credible source. They'll be more likely to engage with your InMail than if they received it from say, your Digital Marketing Director, who is going to be far less relevant to your target audience.
Creating Your Ads
Creating ads on LinkedIn is a straightforward process. You're already likely familiar with the interface from other advertising you've done on platforms like Google or Facebook. Each ad type will vary slightly in the way that you put it together, but by taking a look at how to create a text ad below, you'll have a strong idea of how to sponsor content or send sponsored InMail as well.
First, you'll need to open a LinkedIn ad account that is associated with your Company page.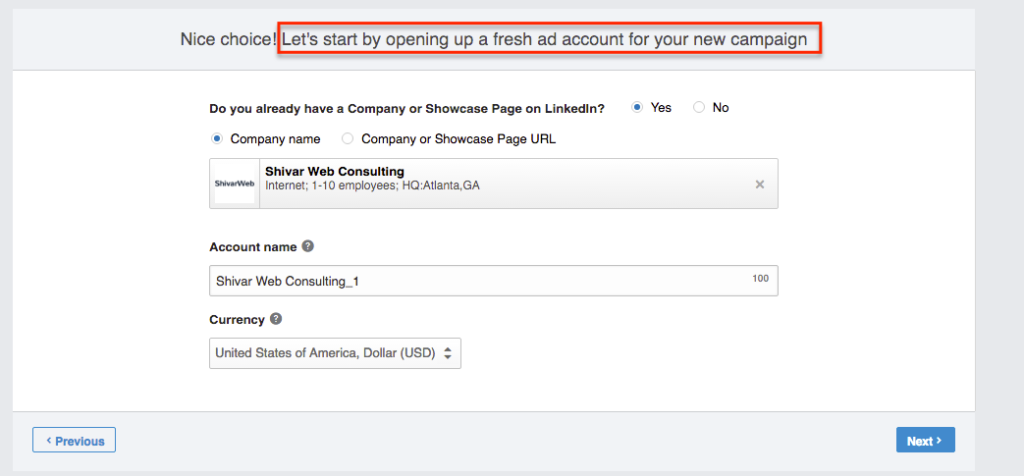 After that, you can go to your Dashboard to create a campaign.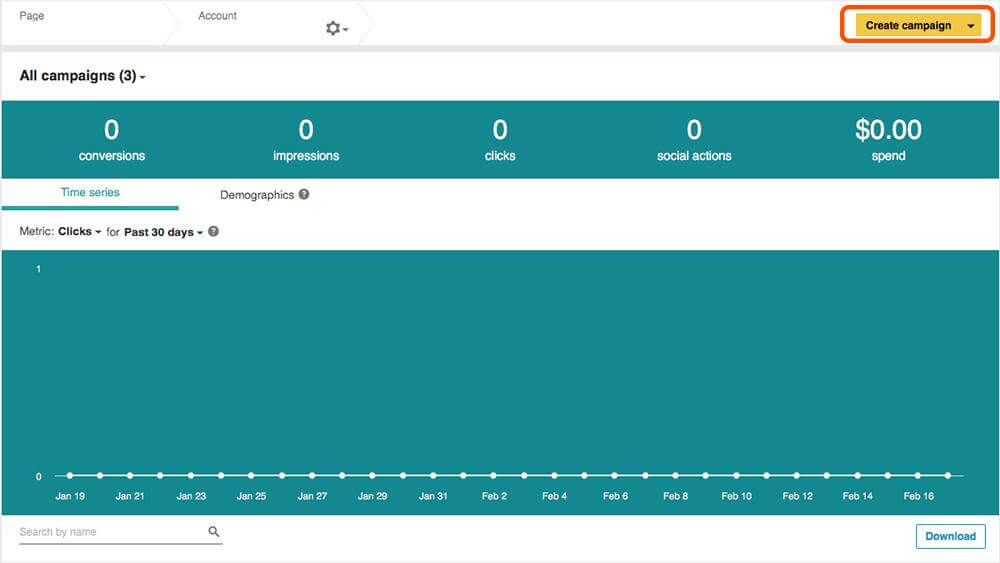 Open your campaign dashboard. This is where you'll create new campaigns, and also track the data from your existing campaigns. Select "create campaign" from the top right.

Next, you'll select whether you'd like to create a text ad, sponsored content or sponsored InMail campaign. Let's take a look at creating a text ad. The other two ad types are very similar, setup-wise.

Name your campaign and choose your language. You'll want to create a campaign name that's simple and easily identifiable for tracking purposes. Don't worry about being too fancy or creative, the campaign name is for internal use only.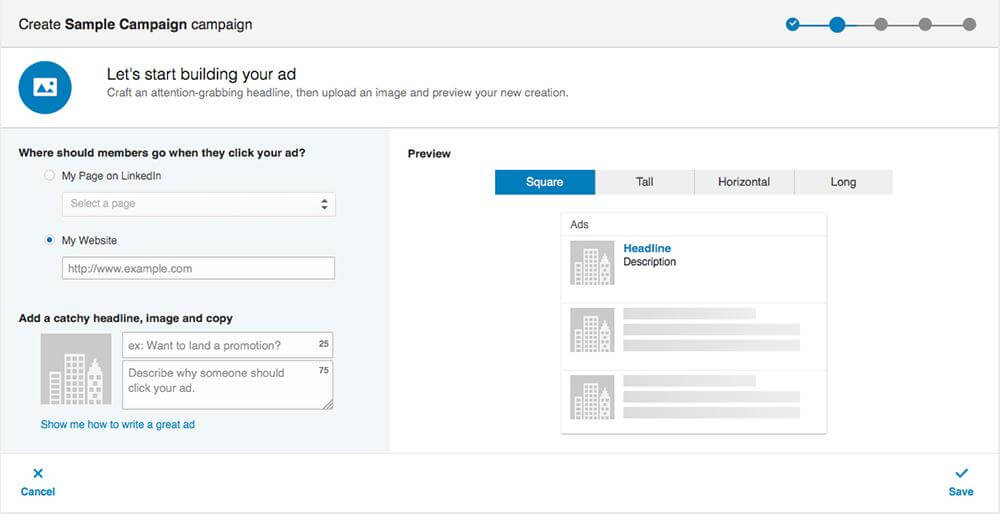 Next, you'll input the creative for your ad. In this step, you'll choose where your ad will link to, your headline, body copy, image, and the style you'd like your ad to be displayed in.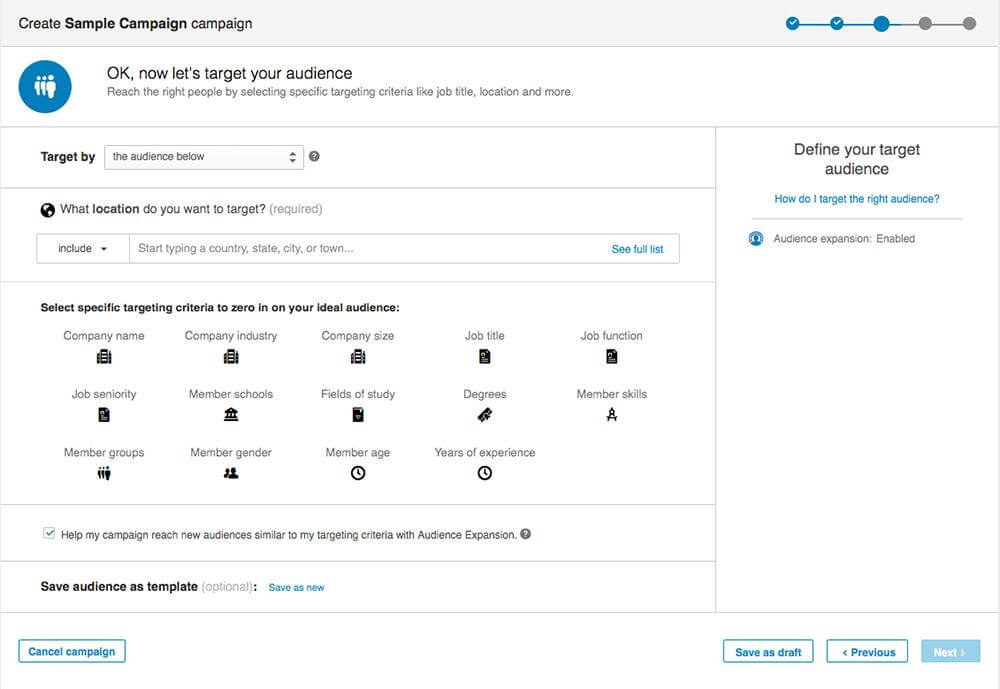 Now for the fun part! Here, you'll target your advertising to your specific audience. You'll be able to save this audience to reuse it for future campaigns if you wish. As you target your audience, LinkedIn will give you an estimate of the amount of people that will be in your audience.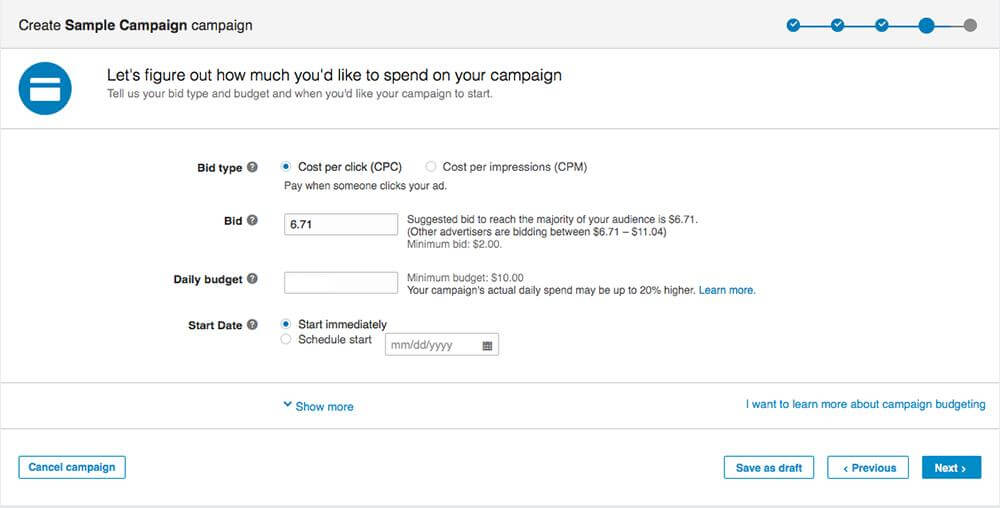 In the next step, you'll handle your bidding parameters. First, you'll chose between cost per click or cost per impression bidding styles. LinkedIn will autofill the suggested bid in the bid box. They'll also show you what other advertisers are bidding in the auction. Keep in mind this value is just a suggestion and you may want to adjust it based on your needs and budget. Next, you'll input your daily budget for the campaign and when you'd like the campaign to begin running.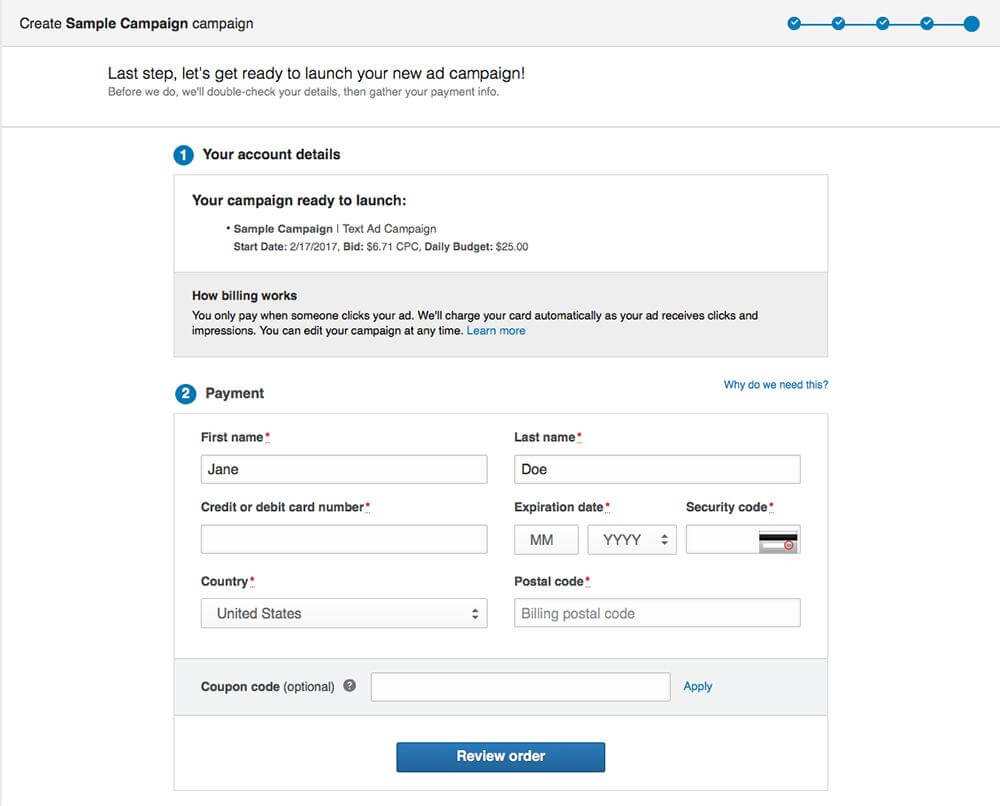 Now that all the details of your campaign are squared away, you'll enter your payment details. Once you've reviewed and confirmed your order, your ad will be submitted to LinkedIn's operations team for review. Within about 24 hours, your ad will begin running on LinkedIn!
My LinkedIn Advertising Experience
I've done several low-level campaigns on LinkedIn for this website and others. I've never been able to scale it due to the high minimums and unique audience, though I've had clients who basically run their business off LinkedIn ads & organic reach.
I did another small campaign as part of the research. Here are my results so you can get a sense of spend.
I advertised my newsletter signup to mainly marketers & freelancers. I got plenty of impressions, few clicks but plenty of spend.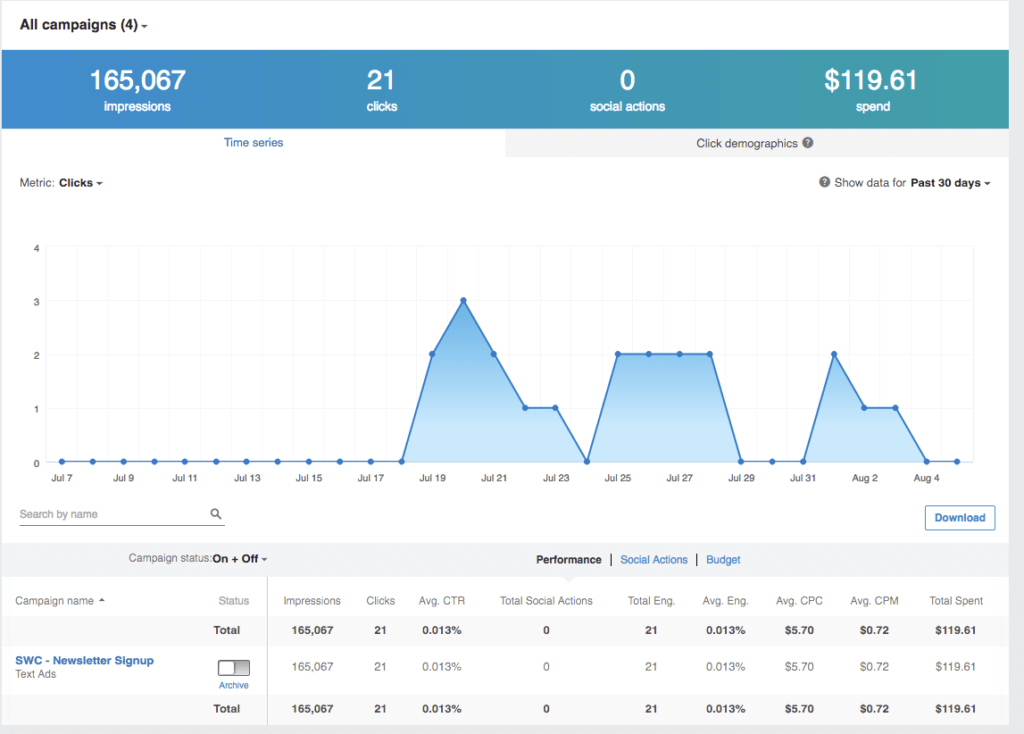 And interesting takeaway for me was that unlike ad platforms like Twitter, Pinterest, Amazon or Reddit – there was little "flywheel effect" where paid visibility also boosts organic visibility.

Now – that might be because my post was not organically interesting or a host of other variables. But – I do think it's something to consider.
Either way, my & my client's experiences highlight the need to have a specific, LinkedIn-unique offer. You'll also need to really layer your audience to get a group broad enough for impressions, but specific enough to properly target.
Lastly, remember default behavior for LinkedIn visitors. It's not nearly as "sticky" as Facebook or Twitter. If you are trying to reach a group that is not visiting the site regularly – then you'll need to budget your campaign over a long time period.
Best Practices For LinkedIn Promotion & Next Steps
Your goals for each campaign will dictate the way you create, manage and refine your advertising. But, there are some best practices to follow when getting the hang of the advertising platform.
Make sure that the content you intend to share provides clear value to your audience.
Address your audience directly in your headline. Is your product or service targeting digital marketing managers? Call them out by name in your headline!
Create compelling and informative body copy so that you're able to clearly convey why your sponsored content, text ad or sponsored InMail is worth clicking.
Use images which are bright, readable and relevant.
Target your campaigns precisely. But, avoid getting overly granular with your targeting. If your audience is too limited, your ads won't generate many impressions. LinkedIn says most successful campaigns have an audience between 100k-400k. Find a balance via "layering" – combining a couple broad targeting options.
A/B test the creative of your advertising regularly. It's a good idea to have two, three or even four versions of the same ad, so you're able to dial in the most effective ad for conversions and click-thru rate.
LinkedIn offers a unique opportunity, but it's not the only way to get in front of your audience. You might also be interested in these posts –