When it comes to most digital channels (think your typical online marketing activities), the focus is often on getting in front of customers who know they need your products/services.
Here's the catch: eventually, you run into limitations. Why? Because you're working with existing demand, and existing demand is always limited.
Which means at some point, you're going to have to create demand for your offering.
But how do you do that? And do you have to choose one versus the other?
Before we dive in too deep, let's break down the difference between harvesting demand vs. creating demand.
Harvesting Demand vs. Creating Demand
Think of harvesting demand like matchmaking — you're finding people who are already interested in your product, service, or brand and matching them to whatever you're offering.
Like I mentioned above, most digital channels focus exclusively on harvesting existing demand. Think about it — both SEO and PPC rely on search volume, which means someone needs to be actively searching for specific terms related to your offering.
There are so many ways to harvest search volume more effectively that the companies that do it well find it to be so cost-effective (and generally effective) that they never need to do anything else.
But the truth of the matter is you will always be limited by existing demand — which is where creating demand comes in.
Creating demand is creating new customers who didn't even know they wanted your product or service. There are infinite possibilities when creating demand… it just happens to be much harder than leveraging existing interest.
At the end of the day, you want to pair them. The key is to know which marketing activities do what and how these two techniques support each other. Let's break it down a bit further.
How to Harvest Demand
If you're marketing your business online, chances are you're already focusing on harvesting demand. That's because harvesting demand is traditional "inbound" marketing.
Harvesting demand involves two steps – finding where the demand is, and showing up there.
I've written dozens of posts about this topic. Here are a few –
There are also dozens of tools out there like SEMRush (for multi-channel), Ahrefs (for SEO), Google Trends, Google Keyword Planner, etc that will tell you exactly where the demand is – and how to harvest it.
How to Create Demand
Creating demand is a completely different beast. Again, the opportunities are endless. The key is to make people want and need something they didn't even know they wanted and/or needed. This, of course, is more difficult than leveraging what people already know they want.
Creating demand can be done in a plethora of ways, but whatever methods you use, you need two main elements:
A Strong Pitch + Hook
Creating a strong pitch and hook is really a balancing act. If people don't think there's a problem, they won't invest in your solution. But if they don't think the problem you're presenting is a real problem, then they also won't invest in your solution.
And if you can't make them see they need it (which is an emotional response), then they're definitely not buying.
Take these pet hair removal gloves by Pet Ninja. I'm seeing these ads everywhere. Now, as a dog owner, I can appreciate a great grooming tool. But I would never go out of my way to find gloves that would groom my dog as I pet him.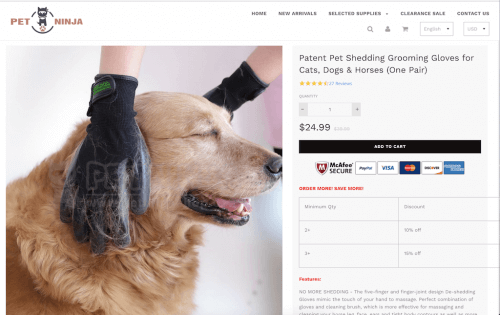 What makes their demand generation strategy so effective is their pitch. Pet Ninja doesn't craft some imaginary problem (e.g. they don't try to take a stand against dog brushes). They merely focus on how annoying shedding is, and how their product makes it easy to get rid of it.
They also rope me in with an emotional hook. Look how happy my dog would be without all that extra fur! And he'll feel like I'm petting him — it's a win-win!
Another memorable example is the Squatty Potty that went viral in 2017.
Would you ever imagine needing a product to help your toilet posture for better bowel movements? No?
Exactly the point. And yet Squatty Potty created demand out of thin air with a totally new product category that had people going nuts.
The takeaway? A strong pitch outlines a clear problem but doesn't overdo it. A strong hook adds in emotion. Combine the two, and you won't just have a new customer… you'll have a brand advocate.
Urgency / Scarcity
People want what they can't have. There's a reason the urgency/scarcity sales tactic has been around forever and is still used: it works!
Something amazing happens when you've made people realize they need what you have and you've made them feel emotionally invested…and then you tell them they can't have it yet. People go crazy.
Think about the iPhone — this is essentially the example for creating demand. Before the iPhone, no one gave a thought to needing a smartphone. Now, it's more necessary than ever.
When Steve Jobs' first announced this brand new device (that no one knew they wanted or needed), it was a full 6 months before it even launched.
Today, Apple is the world's 2nd largest company because they've been able to create their own demand AND add urgency AND create artificial scarcity through constant upgrades. And the best part? They do it over and over and over with each of their products: iPod, iPhone, iPad, Apple Watch, EarPods.
You can create urgency or scarcity in numerous ways — delaying a launch, creating a reservation system, limiting the number of orders. The goal is to make people take action… but only after you've made them feel like they can't live without whatever you've got.
Putting It All Together (Takeaways and Next Steps)
Harvesting vs. creating demand shouldn't be a this or that situation. It should be all about the and. These two techniques should work together in your marketing strategy.
For example, say you're selling wood earrings. Your guest post on a beauty blog that doesn't feature earrings may be designed to generate demand around your product, but this same guest post may also help you rank for the same term for those who are already searching for it.
Inventing branded terms work well here, too. Let's stick with the jewelry example. Let's say you invent the term "Angular Jewelry" to describe a class of jewelry, and you generate a ton of demand for it. If that term takes off, you can then harvest demand from it way more easily than you could a generic term.
So what do you do now? For immediate next steps, take a look at your own marketing activities. Where are you harvesting existing demand, and where can you start generating demand? Bucket your activities and look for opportunities to create a symbiotic relationship.