What's hot? What are the trending topics getting shared? Creating content around trending content can build entire businesses and feed the content-social-sharing mill that is the Internet.
I've written about how to find pre-qualified "evergreen" content ideas for search. In other words, how to research and find content ideas that you know will work well for organic traffic.
Finding prequalified content ideas around trending topics is a bit trickier – there's much more noise. But it can be done, BuzzFeed certainly doesn't guess at ideas. They have tools that help them identify and bubble up winners.
If you are a website owner trying to go viral and get ahead on a trend, you may not have a proprietary listening tool, but you can certainly do plenty of deep research to find the next trending topic to cover.
You may have seen Twitter Trends and you may stalk BuzzFeed Trending but here are several free (or mostly free) tools & sources for trending topic ideas.
Trending Reddit + Subreddits
Despite the recent controversies at Reddit, it is still the "Front Page of the Internet" and general tastemaker of cultural trends. Even BuzzFeed sources a lot of content from there.
I've written on how to use Reddit for SEO & Content Marketing before, but never on using it to surface trending topics. First a bit of background.
By default, Reddit is set to surface trending topics. When you sort Reddit or individual subreddits dedicated to a specific topic, you are seeing which posts have the most velocity (by upvotes/comments) right now. The tab is called "Hot."
It's extremely powerful. The problem is that every other news outlet and website owner publishing trending topics knows this. Once you see a Hot topic on the Reddit FrontPage, you're late to the trending party.
The secret is to look at Hot topics on specific subreddits, each of which is dedicated to a specific topic. For example, the /r/woodworking subreddit is dedicated to… woodworking.
If you click on the Hot button in Woodworking, you'll see trending topics of that topic. If you are in a specific niche, go explore all the subreddits related to your audience and have fun.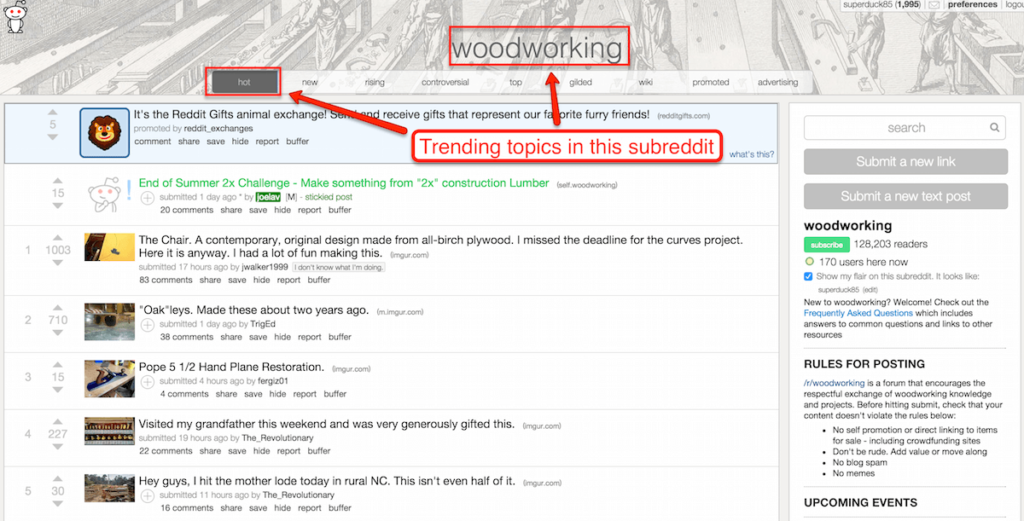 But what if you could look for the trending posts on trending subreddits? That would be interesting.
It turns out that you can. Check out Redditlist.com. Then look at the Growth and Activity columns that are growing rapidly or are posting a lot of content. Then go and look at the Hot column.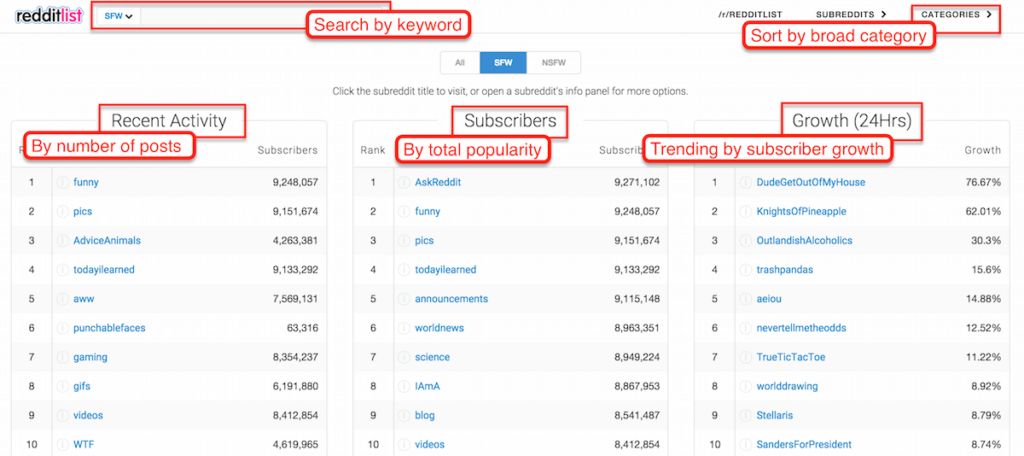 This will show you the trending content in trending subreddits. Or, you can look at the trending (aka "Hot") content in the subreddit with the most activity. Either way, you'll get a window into the most percolating content on the web.
Quick aside – For all these methods, but especially Reddit, you're going to encounter a lot of noise and a lot of, what one might graciously call, "not-cool-at-all-content."
By definition, the newest content has not been filtered or "made it" yet. Within Reddit, administrators are pretty slow to ban really not-cool subreddits and moderators are all volunteers. So go exploring at your own risk.
Productivity protip: All subreddits and searches on Reddit generate RSS feeds. You can get a digest directly in Feedly or your favorite RSS reader. Or you can use Page2RSS or IFTTT to get an email alert of hot topics.
Visit Reddit and RedditList.
Trending Pinterest
Pinterest is an incredible platform. While they provide solid Analytics and a pretty good ad platform, their direct access to Trending data is a bit limited. I like to use it for evergreen content research more than trending topics.
However, Pinterest certainly has the data and releases it monthly on their Business Insights page.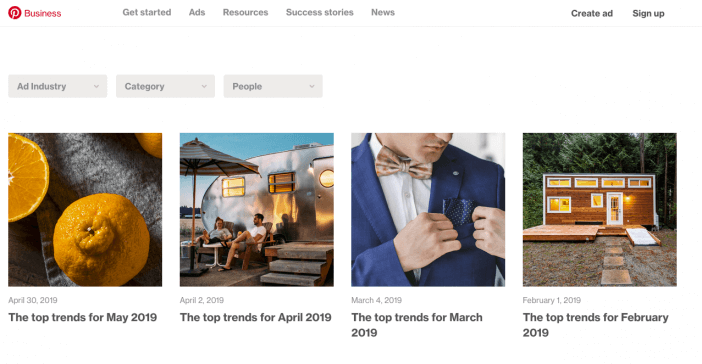 Trending Tumblr
Tumblr is hard to explain. Some describe it as a simple blogging platform, but that really undersells it. It's been deemed by some as the "new Front Page of the Internet"…even though Verizon is slowly killing it.
It's more of a hybrid between Pinterest and Reddit. Every user has a Tumblr blog, but can "reblog" posts by others users.
Either way, it's responsible for a lot of social trends, including the infamous Blue Dress / Gold Dress controversy of 2014. Unlike Reddit, it's also not discussed by marketers much.
I didn't know until recently that Tumblr has a Trending page with trending posts and trending tag searches. You can explore Tumblr by media type or by tags.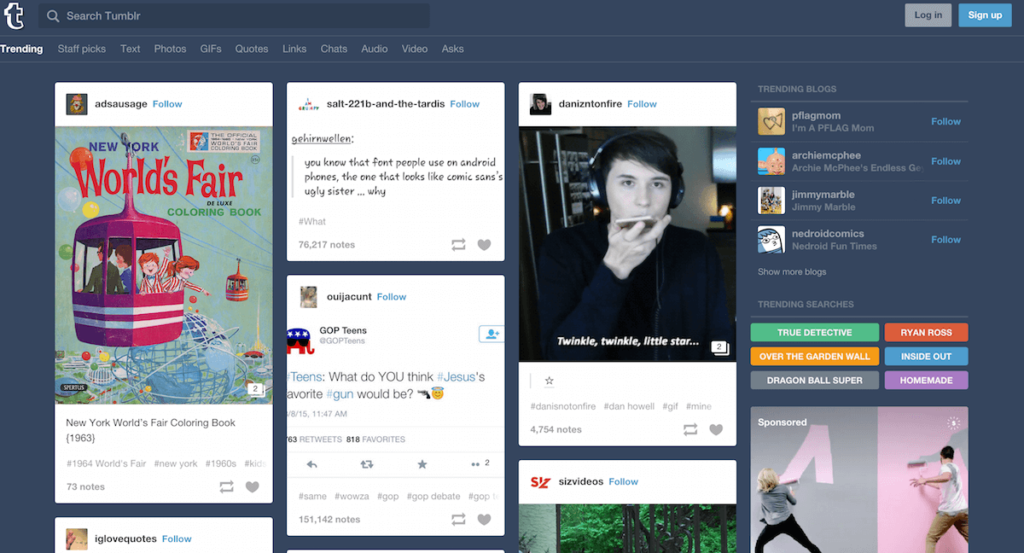 If you have a niche, take some time to track down relevant tags.
Tumblr is a bit noisy compared to other networks but can be useful as an underestimated platform.
Wikipedia Trends
What website ranks for nearly everything? Wikipedia!
For a lot of about-to-trend topics, Wikipedia can be your "canary in the coal mine." People looking for information related to the about-to-trend topic will look for background information.
In other words, if longsword fighting is about to trend, then the Wikipedia pages on longswords and medieval warfare will start to trend as well.
So where can you obtain this information? From Wikipedia! All information and statistics are publicly available from Wikipedia – it's just a bit difficult to parse in its default format.
However, if you don't want to download raw CSV data, you can check out this tool for well-presented information.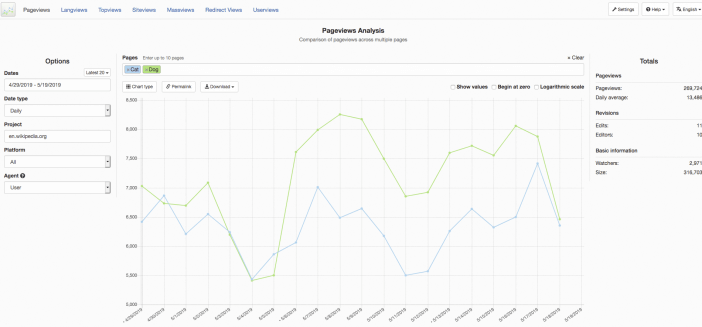 Google Trends
Google Trends is the most well-known tool for researching trends. It's regularly used by journalists, companies, and the general public to follow trending topics.
It's fairly straightforward to use, but it does have a few hidden gems that you can use to get more out of it.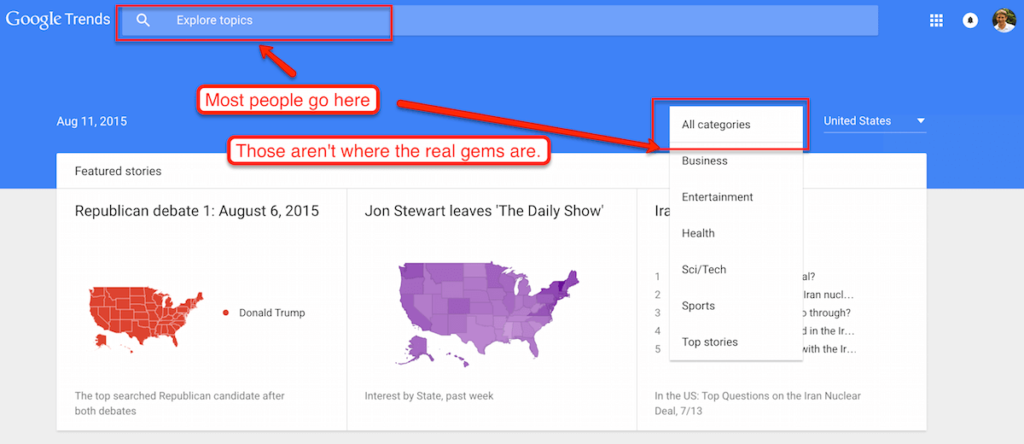 Google Trends Autosuggest
Most people know about Google Search Autocomplete, but Google Trends has a similar feature.
Start typing in keywords and you'll get Google's best guess for defined categories. These are not necessarily the ones trending. However, they will give you better data to dive into.

So much of Google's search traffic is long-tail that you'll usually get better data (with better related trends) if you go with Google's suggested categories rather than your own keywords.
Google Trends Explore
If you want to browse into a certain niche, but aren't sure of a good target keyword, then head to Google Trends Explore.
In the navigation menu, you can click down into hyper-specific categories. You can also filter by time range, country and (most interestingly) by search type.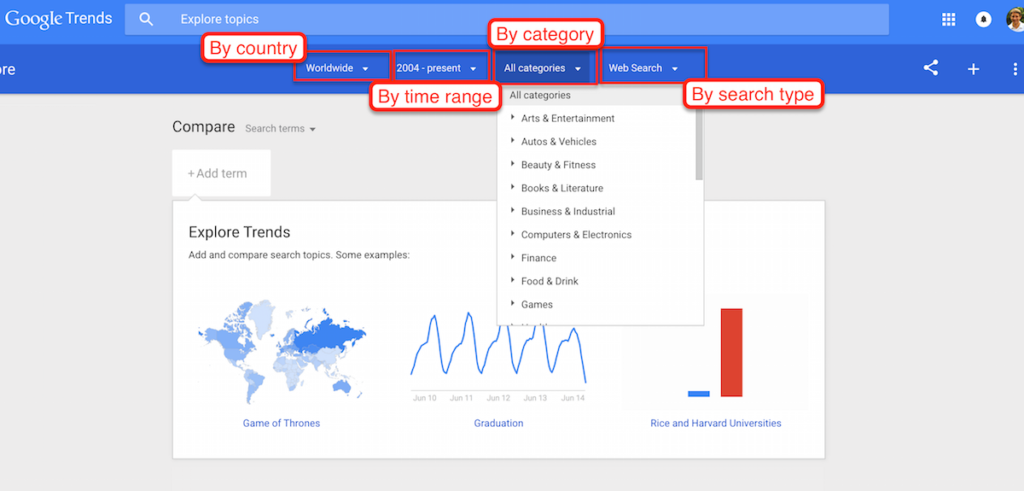 Plus you can do something even more amazing…
Google Hot Trends Feed & Alerts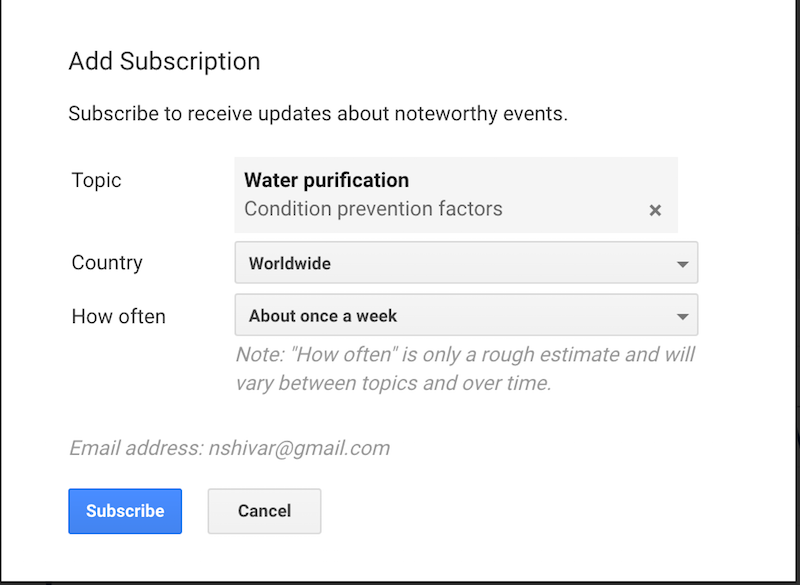 Google Trends allows you to subscribe to topics by email or RSS feed. There can be a lot of noise in trending topics…but you can get alerts directly in your inbox or favorite RSS feed for any rising topic on any niche.
But wait! There's more.
Google Trends has a general Hot Trends page for both Google Search and YouTube.

Google Trends also has a Top Charts that is sortable by category.

Both those pages have alert subscriptions and RSS feeds. If you run a general interest website, these can be big productivity gains.
Rising Searches & Topics
To me, rising searches are the bread and butter of Google Trends. But many people I've talked to don't think to check it. On any topic or keyword, just navigate to the bottom of the page.
Click the Rising button (it's set to Top searches by default). This will show you topics that have the highest velocity. There will be some noise for keywords or topics that are growing from a low base. Either way, it will show you exactly what is trending not only for that topic/keyword but also what related topics are trending as well.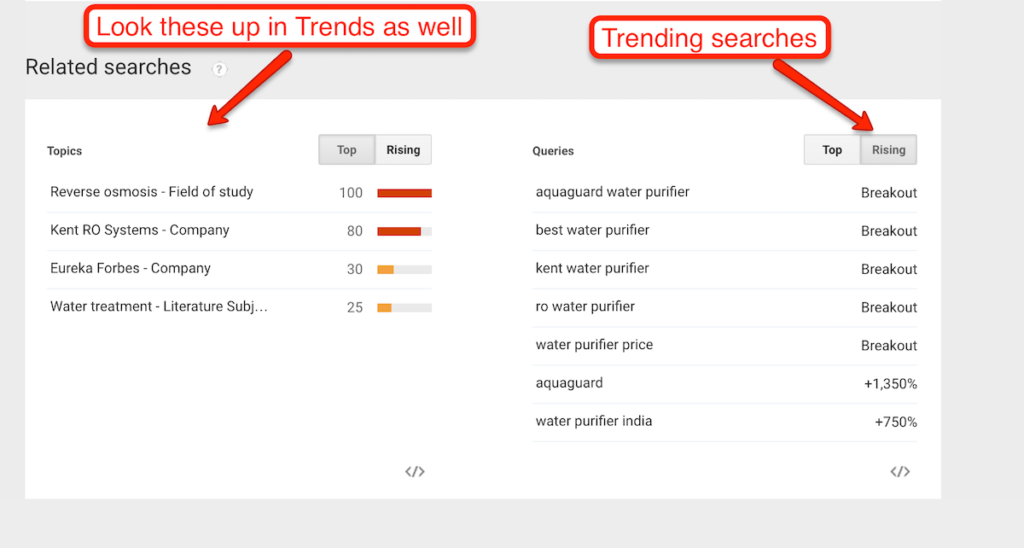 It's a rabbit hole that you can keep following, but you will find hidden gems.
Productivity protip – don't forget about alerts and the embed options. The embed option can be great to place as a custom widget on your WordPress Dashboard or CMS backend.
Google News
Google News may seem redundant after Google Trends, but there's a key difference. Google News is curating headlines that have already been human-curated.
It's a bit farther down on the trending topic chain, but it also has less noise. Google News is straightforward to use. But I will add two tips.
First, take advantage of both pre-customized sections and custom sections that you can define. If you already have a trending general topic, you can find new angles or newsworthy facts. Just create a custom news section on trending topics: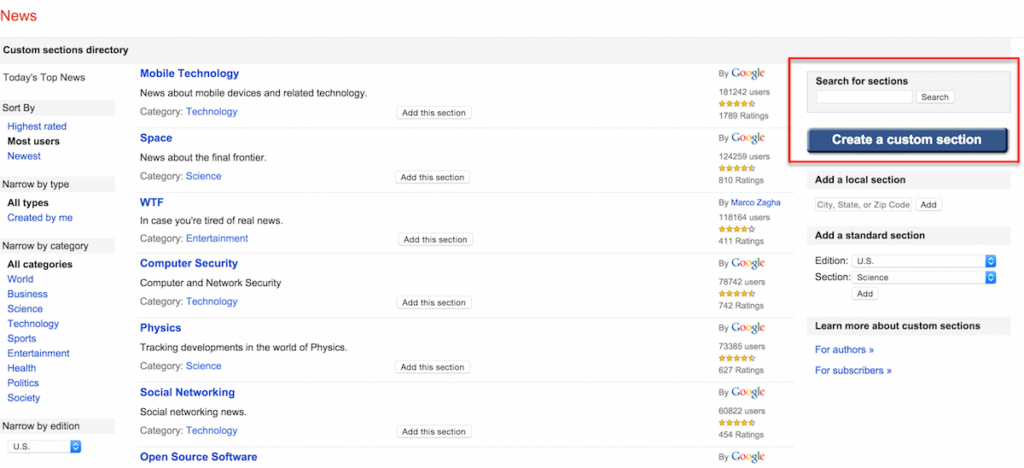 Second, take advantage of feeds and alerts. Like Google Trends, there's no need to manually browse Google News. Just add the RSS to your Feedly, favorite RSS reader, or set up email alerts.
Ahrefs // SEMrush // BuzzSumo
If you are looking for a paid tool suite that has Trending tools built-in, then check out both BuzzSumo, Ahrefs, or Semrush.
BuzzSumo is more social-first and Ahrefs is more SEO-first, but both have interesting trending toolsets very similar to Ruzzit.

BuzzSumo in particular allows sifting and sorting by time range and topic.
Both tools have so many features that they both warrant individual posts for each. Although they both have free trial options, both fall outside the free tool focus of this post. But either way – they are out there.
Next Steps
Like I wrote in my post on finding the best SEO tools, there's too much data available to blindly brainstorm.
It doesn't mean that you can paint by the numbers and expect to go viral, but it does mean that better data can give you the right parameters and direction to create more effectively.
The real magic in research is taking a data point from one source and pairing it with another, such as taking a trending subreddit and pairing it with Google Trends. But that's up to you.
Get researching – all these tools are free. Head over and see which tool(s) fit your workflow best.
Be sure to explore the full list of Free Tools To Find Prequalified Content Ideas!