| | |
| --- | --- |
| Support | Help Desk, Email, Chat, Forum, Phone & Knowledge Base |
| Uptime | Excellent (99.99% past 6 months) |
| Guarantees | 90-Day |
| Free Migration | |
| Best For | DIYer and small business owners |
| Weaknesses | Only shared hosting plans |
| Promotion | Get Up To 58% Off |
What is Web Hosting Hub?
Web Hosting Hub is a web host founded in 2010 by InMotion Hosting – its older, more well-known parent company.
Web Hosting Hub is an independent web hosting provider in addition to complimentary website products such as domain names, website builders, web design, and email services.
Web Hosting Hub offers web hosting services strictly focused on shared web hosting services. They also offer a customized WordPress hosting plan along with domain names and QuickStart web design services.
Is Web Hosting Hub Legit?
Web Hosting Hub positions itself as a humble, focused, stable hosting provider that is not owned by one of the 3 large web services holding companies (ie, GoDaddy, and Newfold Digital) that also has good performance and good support for businesses that want a no-nonsense website.
Web Hosting Hub started in 2010 and has seen steady, organic growth in the past few years.
Web Hosting Hub also provides email, a WordPress-powered website builder, and various complementary services with a 24-hour support team and a 90-day(!) money-back guarantee.
Web Hosting Hub is legit. They aren't a fly-by-night hosting company.
What Is Web Hosting Hub Used for?
Web Hosting Hub is used to host websites and web applications such as WordPress. They have a specific marketing focus on small businesses, organizations, and persona / portfolio websites. Unlike many other hosting companies (like their parent, InMotion), they are focused on hosting for small to medium-sized websites.
According to InMotion's comparison page, Web Hosting Hub was founded to attract "more of the start-up, and professional blogger market." In practical language, that means Web Hosting Hub offers one product – shared Linux hosting (ie, hosting that can run the most common types of websites and apps, such as WordPress without having to sustain large amounts of sustained traffic).
There are a lot of Web Hosting Hub reviews online – usually with user-generated reviews based on anecdotes and personal experience. That's fine but I take a different approach.
Like I've mentioned in other web hosting reviews, there is no such thing as a "best web hosting company" – only the best fit for your needs, budget, scope, and expertise.
Web Hosting Hub Pricing
Web Hosting Hub has a narrow spectrum of hosting plans. Here's a brief overview of each.
Shared Hosting Plans
Web (i.e., Shared) hosting is the bread and butter of the website hosting world. A shared hosting plan consists of individual accounts on a Linux server. They can run WordPress or any application on a LAMP Stack. It's a cost-effective and reliable way to run most websites. Learn more about Shared Hosting in this guide. Web Hosting Hub has three main shared hosting plans. It's their bread and butter.
| Plan | Spark | Nitro | Dynamo |
| --- | --- | --- | --- |
| Initial Price* | $4.99/mo. | $6.99/mo. | $9.99/mo. |
| Renewal Price | $11.99/mo. | $15.49/mo. | $20.49/mo. |
| Websites | 2 | unlimited | unlimited |
| Storage | unlimited | unlimited | unlimited |
| Bandwidth/month | unmetered | unmetered | unmetered |
| Free Domain Name | 1 year | 1 year | 1 year |
| Free SSL | | | |
| CDN | | | |
| Dedicated IP | | | |
| Daily Backups | | | |
* Pricing per month for a 36-month subscription
WordPress Hosting Plans
Even though WordPress can run on web hosting, many hosting companies have WordPress hosting plans due to customer demand and the hardware demands of WordPress. Many hosting companies offer "WordPress hosting" that is *exactly* the same as their shared hosting plans.
Web Hosting Hub is like this to a degree. Their WordPress plans are just Web hosting plans with WordPress auto-installed. However, they are also the same pricing as their Web hosting plans. No harm, no foul – and a decent deal. As a true bonus, they bundle a drag and drop WordPress-powered website builder in every plan. Check out their plans.
Web Hosting Hub Alternatives


HostGator Review
Rating

9.0/10

Uptime Guarantee

Yes

Free Migration

Yes

Promotion


Hostinger Review
Rating

8.0/10

Uptime Guarantee

Yes

Free Migration

Yes

Promotion


InMotion Hosting Review
Rating

9.0/10

Uptime Guarantee

No

Free Migration

No

Promotion
Pros of Web Hosting Hub
Let's start with the pros of Web Hosting Hub. In general, they are clean, affordable, transparent, and helpful. They're practically everything a beginner, start-up or small website owner would want.
Pricing
Web Hosting Hub has 3 pricing tiers – Spark, Nitro, and Dynamo – starting at $9.99/month going up to $17.99/month.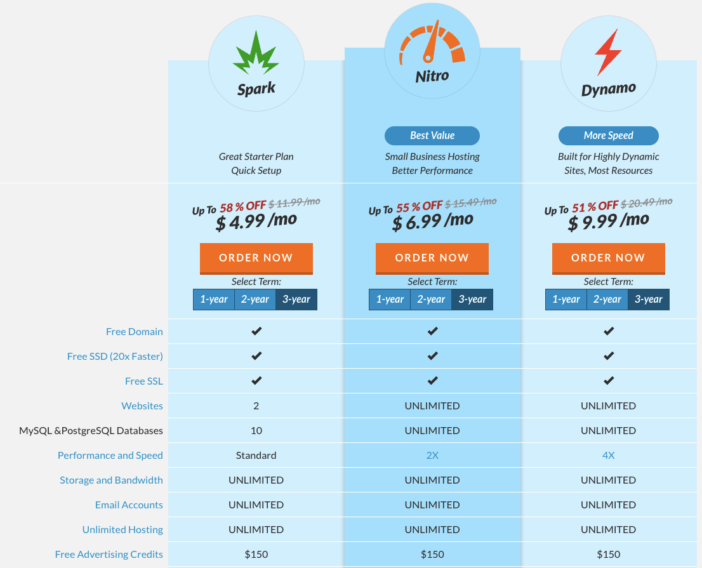 They usually offer a discount/coupon for around ~40% off the first year's hosting here, so you can get the Spark plan for less than $6/mo (if, like other companies, you commit for more than a year).
When it comes to value pricing, the hosting industry is notorious for making it impossible to compare apples to apples. Since hosting companies are making a tradeoff of resources among websites on a single server – most of the comparison confusion comes from caps.
I try to simplify it to the 3 core "D's" that you are paying for – domains, databases, and disk space. Everything else is an upsell or bonus to compare separately.
Web Hosting Hub's only caps are on its super-cheap Spark plan where they limit you to 2 websites and 10 databases. For many small site owners, that's perfectly fine. A single install of WordPress requires 1 database. Their other 2 plans are unlimited under an acceptable use policy, so they compare directly to HostGator's Baby and Business plans or GoDaddy's Deluxe plan. Since they allow unlimited websites and unlimited domains on the Nitro and Dynamo plans, you can get a lot of value.
Overall, Web Hosting Hub's pricing is very competitive for the unlimited features they sell. It's better than Bluehost (now that they redid their tiers). And with the promos, they are right in line with HostGator – even for their cheapest Spark plans.
The only downside to their pricing is the lack of less-than-annual pricing. Companies like HostGator allow for contracts as short as a month. With Web Hosting Hub, you have to commit for a year.

They try to make up for it with a 90 Day Money Back Guarantee – which is not common at all in the industry. So overall, Web Hosting Hub's pricing is in the pro column.
Features
Beyond "domains, databases and disk space" – Web Hosting Hub does have several interesting plan features that make them stand out compared to other web hosting companies.
Like their sister company, InMotion Hosting, they offer Solid State Drives (SSDs) on all accounts – instead of the typical "spinning disk drives." This feature usually helps with server performance and usually isn't found in the small website (cheaper) end of the market.
As a resident of the East Coast of the US, I appreciate the ability to choose between data centers (ie, where your website files are housed). For small shared server websites, the physical location of your files usually isn't the highest impact on speed for visitors. However, since they offer it, it is a nice bonus, especially if you (ie, the one uploading and editing files) live closer to one data center or the other.
Lastly, their standard hosting package of features is very competitive with other hosting providers. They do a free domain name for a year, which is nice (though I recommend using a domain registrar for registration long-term since most hosting companies are expensive for renewals).
Web Hosting Hub has all the standard marketing credits for Bing, Google, and Facebook. They have a solid email interface if you need that. They also have a free website transfer service, which can be useful if you already have a website and find the migration process daunting. They also proved a free shared SSL certificate, unlimited bandwidth, unlimited disk space, and a free domain with any web hosting plan.
Overall, Web Hosting Hub's feature set is a solid pro for the product they offer.
Usability, Apps & Builders
If you go to the core of web hosting (serving files to a browser that goes to a domain name) – you can technically do that for free with your own computer.
But when most people are shopping for web hosting, they want a bit more (in addition to professionals managing good equipment) – you likely want to have a good user experience.
The idea of setting up a website can be daunting, so it's important that any web hosting company make things simple. In fact, many people opt to go the website builder route where you don't own your website, you just lease the hosting, files and platform in a bundle.
I really like how Web Hosting Hub does their user experience and "onboarding."
At the end of the checkout process, they ask you a couple questions about your level of experience to send the right Getting Started material to you – or connect you to an account specialist.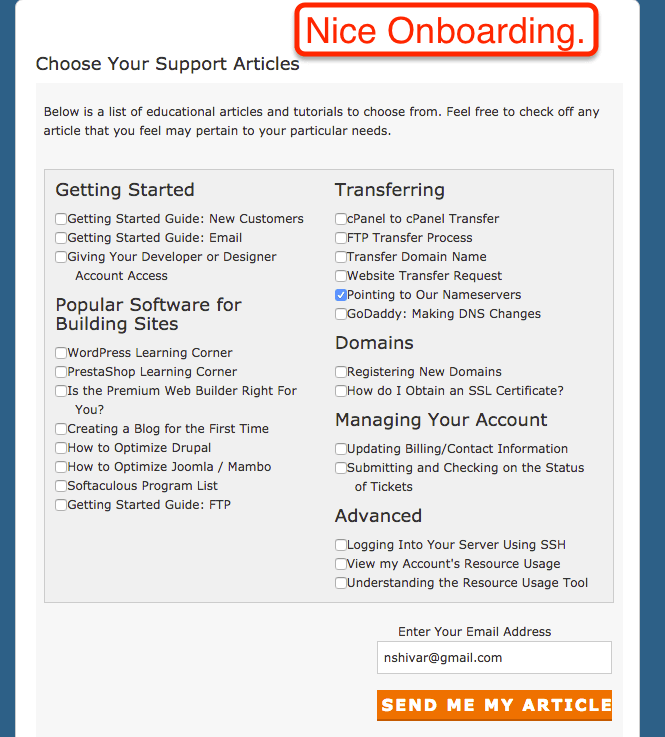 Like their sister company, InMotion, they run your account through an Account Management Platform (i.e., Control Panel). It's the single place to log in, manage your hosting account, install apps and access your actual server.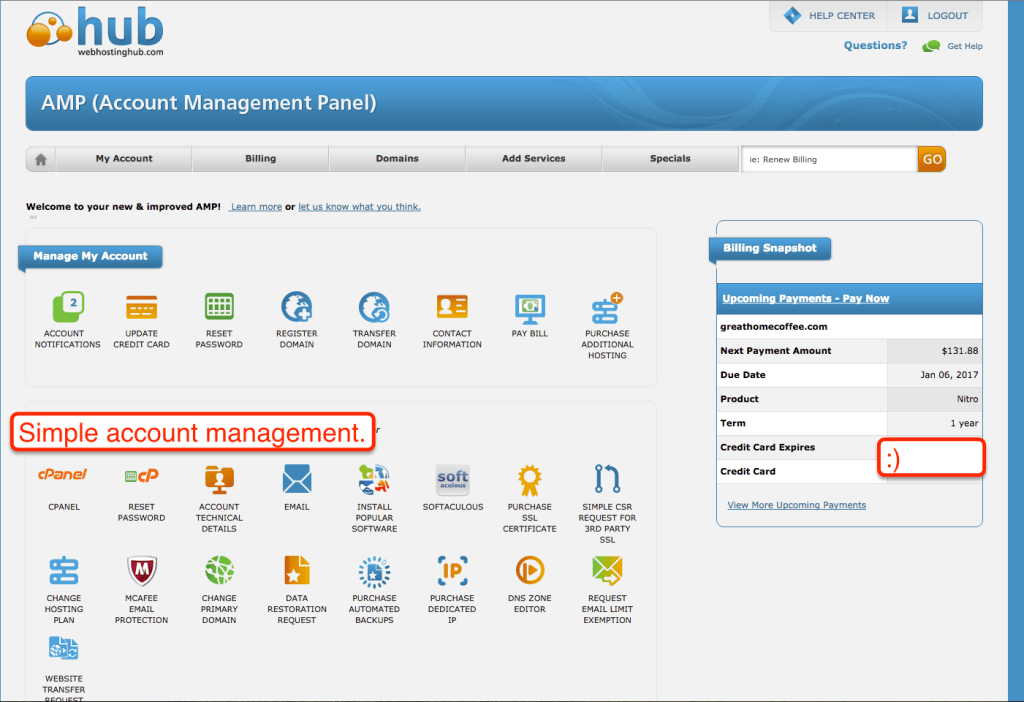 They also run their servers with industry standard cPanel software, so there are no surprises. You can use website setup guides to install your website.
Or – you can use their install scripts which install most common web apps (ie, WordPress, Joomla, etc) in just a couple steps.
All the screens are uncluttered. I like how they install a clean version of WordPress (without any non-core pre-installed plugins).
And for customers who still want the website builder experience while still owning your own site, they've developed a website builder called BoldGrid, which is just an overlay software on top of WordPress – so you're not even locked into a proprietary website builder like HostGator at all.
Again – solid props to Web Hosting Hub for usability.
Performance (for Shared Host)
Shared servers are kind of like apartments. You have your own space. You own everything in your space. And everything is pretty cool as long as your neighbors aren't inviting hordes of people over – or as long as your landlord doesn't re-configure the walls in your apartment.
In other words, even though you aren't paying for (and don't need) a VPS server (ie, a townhome) or a dedicated server (ie, your own plot of land) – you still expect your server to perform well.
Many web hosting companies are infamous for slow performance and overloading servers. There are a *lot* of variables that go into judging this. And you should be careful to cast judgment on a company because of an intermittent issue (ie, YouTube, Amazon, Facebook, and Netflix have all had downtime in the last year). There are many things companies can do to manage performance that is outside of the scope of this review.
That said, there are 3 rough metrics that I like to look at to get a general sense of performance.
First is Time To First Byte (TTFB). That is how fast the server returns the first byte of information after it receives a request from a browser. For TTFB, Web Hosting Hub is quite solid –

The second is memory allocation. That is, how much memory does the host allocate to the account by default? WordPress runs better with more memory allocated (like more than 128M), and Web Hosting Hub is generous with not only the amount installed, but also with up-to-date versions of PHP and MySQL.
The third, is uptime. Their uptime guarantee is 99.9% and have rare incidents based on their network status page.
As far as I can tell, Web Hosting Hub does very well with performance for a hosting company.
Customer Support / Service
Here's the thing about customer service ratings for all companies online – at worst, the stories are either bullsh*t or hyperbole; at best, the stories are purely anecdotal and not representative of general experience. It's why 5-star and 1-star reviews on Amazon are generally worthless (tip – look at the 3-star reviews). It's also why you can't really go by random stories of hosting tech support without deeper investigation.
For myself, I try to find "proxies" (ie, something that indicates or stands for something else) for customer service that indicate whether customer service is an investment or a cost. I also try to find "proxies" that indicate whether the right culture and processes are in place.
Web Hosting Hub's "proxies" – their US-based support team – indicated that their customer service is an investment. Their ticketing system across multiple access channels indicates the right processes. They have live chat and a phone support team.
Their Onboarding emails and Community Q&As both indicate the right culture of solving the root problem rather than kicking along the symptom. And they've been doing this for years – here's an example from 2016.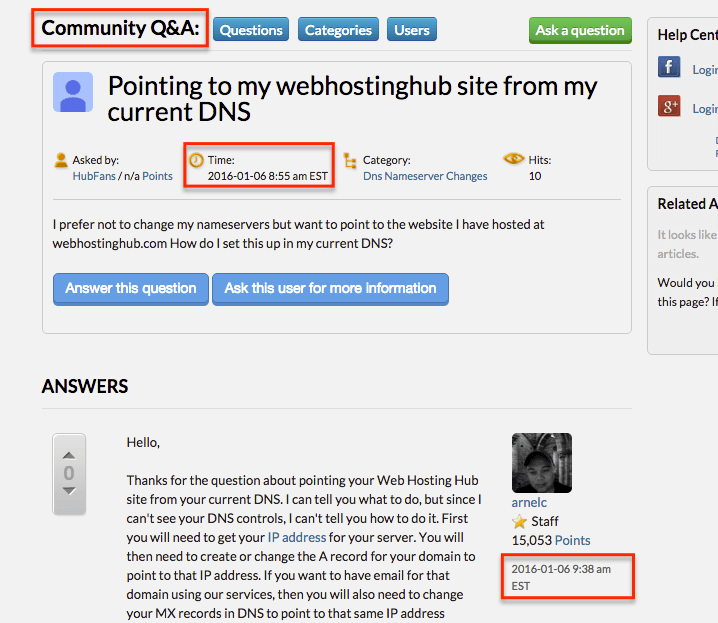 My interactions so far have been positive. All this puts their Support in the pro column for me.
If you have a story that indicates bad processes or bad culture (ie, not just a bad experience) – send it along to me!
Cons of Web Hosting Hub
There is no such thing as a "best hosting company" – only the "best fit for you" – and Web Hosting Hub is not for everyone. There are plenty of Web Hosting Hub complaints around the web. Some are valid and some are anecdotal. Just like they have plenty of pros – enough for me to use them for some projects – they also have some cons.
Server Growth Path
Web Hosting Hub's primary con has to do with their main selling point – that all they do is web hosting.
Although most sites never need any more than a shared hosting server, it is very convenient to just upgrade your hardware as you grow. If you start with Web Hosting Hub and get to where you need a VPS, you'll have to switch companies (even if it just means to their sister company, InMotion).
If you ever need to scale up hardware or even get a VPS for an Extended Validation SSL, then you'll need to switch. Web Hosting Hub's focus is a plus in many ways, but it can be a con for some businesses.
Paid Backups & Domain Renewal
Backups are critical because stuff happens. You need to have software or a system to keep your website backed up and ready to go if (when) something happens. Many hosting companies offer varying levels of backups as a fail-safe.
Aside – You shouldn't leave backups just to your hosting company. You should set it up and take responsibility for it. However, it's good to have a backup to your backup.
InMotion does free backups and doesn't charge to access it. HostGator does free backups, but charges to access the backup. Web Hosting Hub charges an extra $1/month for backup whether you need it or not.
It's not much, but – if you are trying to save money, it does throw a small wrench in the price comparisons. In theory, you shouldn't ever need it since you're doing it yourself. If they need to charge for it – I like HostGator's pricing model to protect users from bad choices.
Free domains can be convenient, and many users love bundling domains with their hosting provider. I think you can get better management, better prices and protect yourself more by keeping your domain name separate from hosting. Find which ones I recommend with the best domain registrars list.
But if you're going to keep your domain name with Web Hosting Hub, keep in mind that it's $14.99/year to renew. It's not too expensive, but it is above what you can get elsewhere.
Paid backups and pricey domain renewal – add up to a con for some users, especially compared to hosts that include it with their lower-priced plans (ie, HostGator).
Web Design & Marketing Services
Web Hosting Hub offers custom web design and marketing solutions in addition to hosting.
Like domain names, web design is a complementary business to web hosting. It's likely good business development. It makes sense on one level.
Putting graphic design, themes, and layout together with a good looking homepage, etc can be simple if you know how…but can quickly devolve if you don't.
However, the businesses are also very different. Web designers who offer "hosting" rarely pull it off well – it's sometimes just a way to build up revenue and lock-in a client. And I'm skeptical of hosting companies who offer in-house design services.
Given Web Hosting Hub's target market, I'll give them the benefit of the doubt and say that it's a great way to provide one-stop service – especially for minimal, straightforward websites. But even that means they are more of a "create your website" company than a hosting company.
Upsells
Overall, Web Hosting Hub has a clean ordering and onboarding process. However, they still do upsells. They mainly push McAfee Email Spam Protection and their own plans.
But what makes it a con for me is the vague benefit of the Dynamo upsell. Down at the bottom of their Plans page, they provide some vague insight of how the Dynamo plan is higher performance – though that's not reflected at all in the feature table.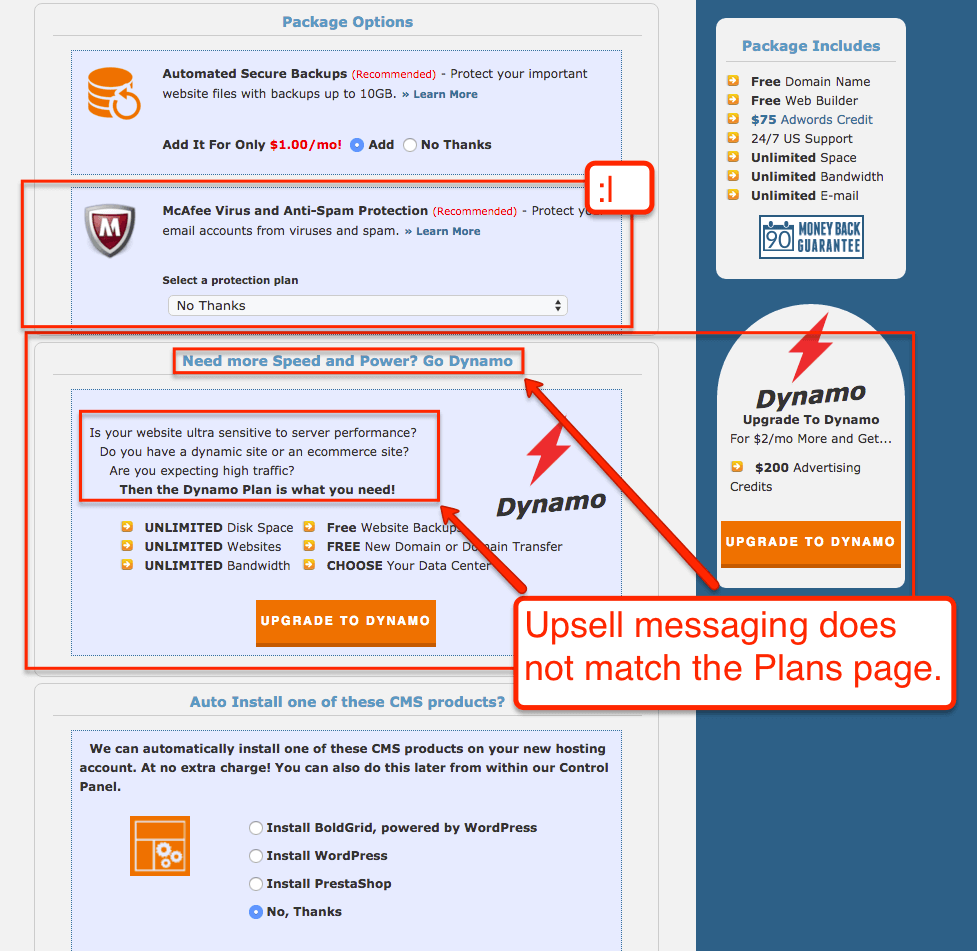 But on the checkout page, there's a pretty hard upsell for better performance with the more expensive plan. It feels less like a good sales pitch (pay more and get [specific thing]) and more like an upsell (pay more and get better stuff!). It makes me wonder if the Nitro plan is going to be slow for some reason.
Is Web Hosting Hub Worth It?
Web Hosting Hub is a solid addition to the starter end of the hosting landscape. I'm happy I finally gave them a try.
If you are starting out, looking for a cheap, reliable hosting company – check out Web Hosting Hub. Just make sure you do your site backups.
If you want something a bit cheaper (or shorter term) with unlimited features, then go check out HostGator's plans w/ 45% off discount.
If you are looking for a hosting solution with a starter plan and room for heavy growth (ie, VPS and dedicated servers), check out InMotion Hosting.
I've also pitted other companies with Web Hosting Hub in my best web hosting article.