| | |
| --- | --- |
| Support | Help Desk, Email, Live Chat, Phone, Knowledge Base & Social Media |
| Best For | Hands-off WordPress Management |
| Strengths | Fast, updates, backups and monitoring |
| Weaknesses | Pricey |
| Promotion | Try a Free Demo |
What is Kinsta Hosting?
Kinsta Hosting is a rapidly growing, independent hosting company founded in 2013. Kinsta is focused exclusively on managed WordPress hosting with reliable customer support and Google Cloud-driven performance.
Kinsta is a non-traditional hosting company that only offers one service – managed WordPress hosting on cloud servers.
They don't offer email, reseller, or any other type of hosting. Kinsta does integrate some 3rd-party tools like DNS (from Amazon), SSL (from LetsEncrypt), and CDN (configured on KeyCDN's network). Here's their pricing chart.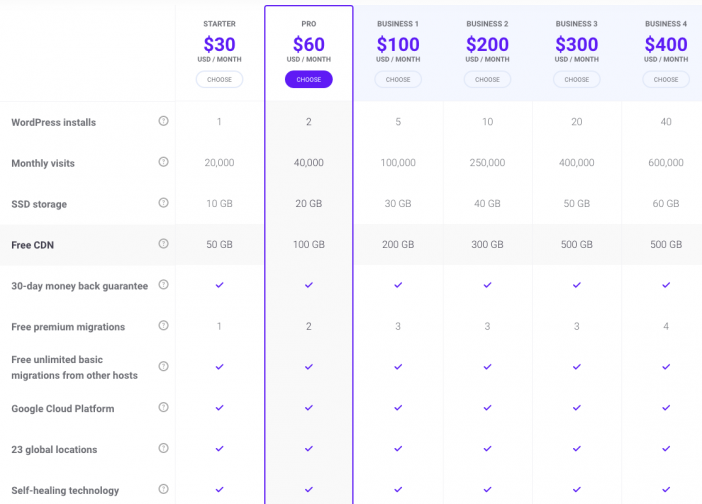 Kinsta was founded in 2013 to meet the increased demand for managed WordPress hosting services (which I'll touch on in the next section). They are a remote-first company with an emphasis on global service with support provided in 7 languages.
Their service is provided via Google's Cloud Platform, and they have an exclusive focus on WordPress.
I've had a long-standing client who uses WP Engine (Kinsta's direct competitor), and have had experience using the various managed WordPress hosting products across the hosting industry.
Background on Kinsta Hosting
To understand Kinsta's product, you need to understand four concepts.
First, WordPress is the most popular content management system software on the Internet. People use it to run websites. It can run on any hosting setup with PHP, MySQL, and Linux. In other words, it can run on almost any web host.
Second, Web Hosting is space on a computer server that can run web applications and serve data to browsers (aka, it's where a website lives). Web hosting can come in various setups, depending on the configuration. Shared hosting is the most common where a single server that can run PHP, MySQL, and Linux is "shared" among various hosting accounts. I explain more.
Third, WordPress Hosting is space on a web hosting account that is specifically configured in some way to help WordPress software run better. I explain more. The definition of "run better" can vary wildly depending on the hosting company since technically WordPress can run on almost any web hosting account. I wrote about the differences between Web and WordPress hosting.
Fourth, Cloud Hosting is a large network of data centers configured so that customers can lease computing power & storage for web applications on-demand, anywhere in the network instead of using space on a single web server. The largest cloud networks are run by Amazon, Google, Microsoft, Digital Ocean, IBM, and Oracle. I explain more here.
With those four background concepts in place, I can explain Kinsta's unique position in the hosting world.
Kinsta runs managed WordPress hosting on the Google Cloud Platform. They actively lease computing power & storage on Google's Cloud, configure it to run WordPress quickly & efficiently, and manage & support each installation.
In other words, they offer a niche but also potentially powerful platform. Because of how they mix & match all these services, they don't compete head to head with many providers. But they compete indirectly with *a lot*.
How Kinsta Hosting Works
In some ways, Kinsta works just like any other hosting company. You sign up and pay every month. In exchange, your WordPress website runs quickly and efficiently.
But behind the scenes, their setup is a bit more complicated.
First, you'll technically lease your hosting from Google, so unless Google goes down…your site isn't going to go down. There's no "crashing" like there could be on a typical web server.
Second, Kinsta has its cloud access explicitly configured for WordPress with things like server-side caching, security rules, staging environments, and more so that your site is faster than it could be on a vanilla Linux web server.
Third, Kinsta blends several 3rd party services for DNS (connects your domain to the host), SSL (secures your connection), and CDN (content distribution network) to make everything your website needs to work together.
Since they only have one product with no upsells, the signup is straightforward.

The entire setup operates from a single account dashboard where you control your WordPress installs.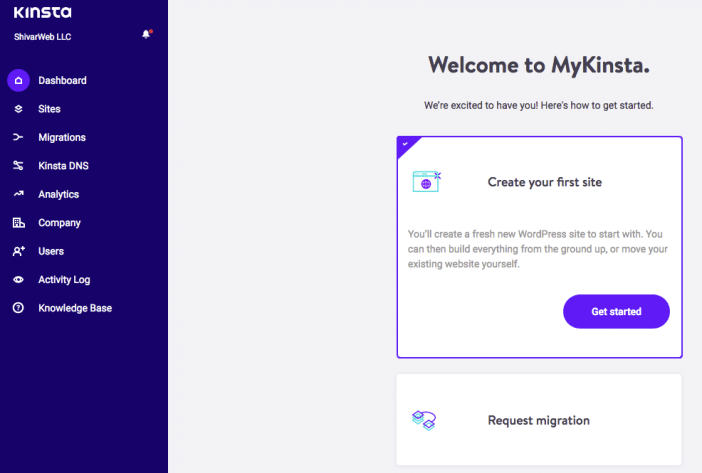 I've been considering Kinsta for a client's site and decided to give them a try with a small site that I'm looking to consolidate.
Here's my Kinsta Hosting review structured with pros, cons, ideal use cases, and alternatives based on my experience as a customer.
Kinsta Alternatives

WP Engine Review
Rating

8.5/10

Price

$25 - $258+ per month

Promotion

Liquid Web Review
Rating

9.0/10

Price

$9.50 - $2,149+ per month

Promotion

Cloudways Review
Rating

8.5/10

Price

$11 - $285.21 per month

Promotion
Pros of Using Kinsta Hosting
There are a lot of Kinsta Hosting reviews online – usually with user-generated reviews based on anecdotes and personal experience. That's fine, but I take a different approach.
As I mention in all my hosting reviews, there is no such thing as a "best" web host. It's all about the right fit for your project based on your goals, budget, experience & expertise. Here are the pros (advantages) for considering Kinsta Hosting.
Cloud Hosting Benefits
Since Kinsta uses the Google Cloud Platform, you get many of the benefits of cloud hosting without many of the downsides.
Speed
A hosting account can be a lot of things to your business, but the core function of a hosting server is to serve your website files whenever someone requests them. But – the implied adverb there is to serve those files quickly.
In an age of global audiences and multi-device connections, speed matters more than ever. While there are a lot of variables in play with website speed, it's primarily your hosting server's job to send the requested files to the visitor's browser as quickly and as efficiently as possible.
So here's the thing – Kinsta uses the same servers that you use to access Google.com and YouTube.com. With Kinsta, as long as they are configured well, they are going to be fast.
Additionally, with server-side caching, your WordPress website will be ready to go. Now, there are still plenty of issues that can slow your site down, but they likely won't be Kinsta's fault.
Here's my first test with my Kinsta website –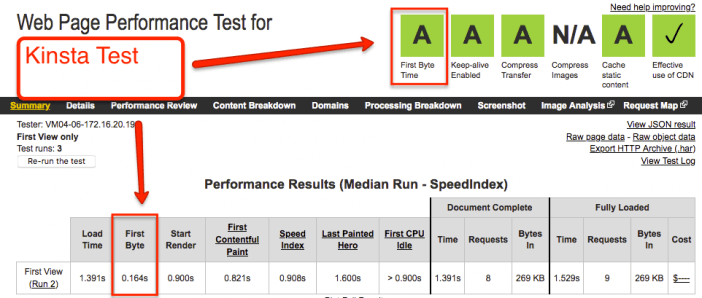 Again, if your site is loading slowly – it's not Kinsta's fault. It's something with your site.
Geography
With the Google Cloud Platform, Kinsta can also offer data centers around the world. They have more than 23 at the time of writing ranging from Iowa to Southeast Asia and everywhere in between.
Their CDN runs on a global CDN network (KeyCDN) as well, so website assets can be staged close to any website visitor in the world.
It's rare and expensive to build & maintain data centers around the world, so using Google's infrastructure provides an advantage that a traditional hosting company can't match.
Uptime
Remember the last time Google went down? Yes, it happens. But it's rare. And when it happens, it's a newsworthy event. With Kinsta, that means that, outside of a bad configuration on their part, your site is not going to go down unless Google goes down.
Consistent performance and reliability are the main advantages of Kinsta since they can take Google Cloud and make it accessible and WordPress-friendly to regular customers.*
*Yes, you can go to Google and sign up for cloud hosting yourself. In fact, I have a non-WordPress site running there now. But to set up & run a database-driven CMS with integrated file storage takes some…patience and wherewithal. It's not a simple one-click WordPress install. Also, Google does not provide support or configuration help. So, still a considerable advantage for Kinsta.
Configuration, Focus, & Usability
Kinsta built their Dashboard from scratch. Their signup is simple and straightforward. There are some hiccups that I'll get to in the downsides, but overall, their configuration and usability is amazing.
Their focus on WordPress and simple plan structure also makes onboarding (i.e., going from a new signup to active customer) straightforward. The design is uncluttered, minimalist, and well-designed.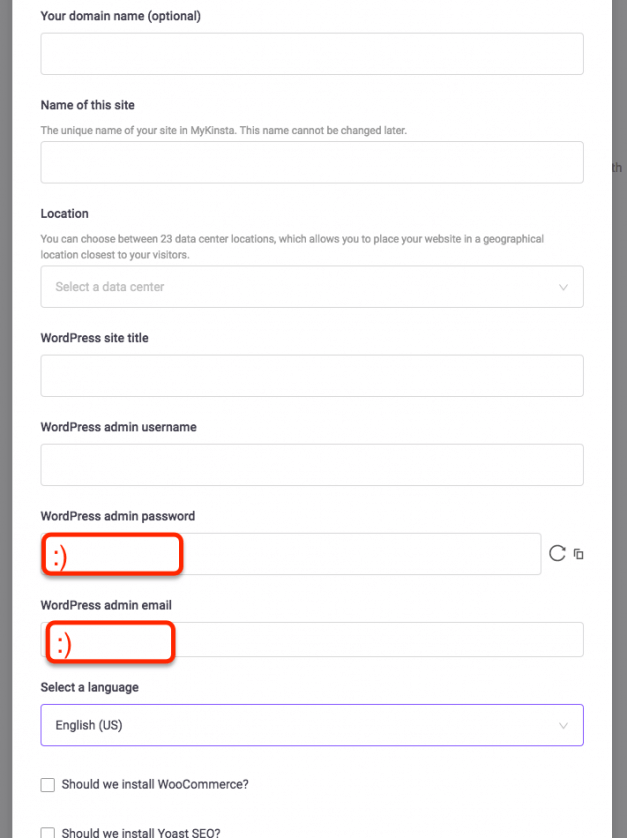 Their setup had jargon and technical information present, but it isn't overwhelming and daunting like other managed WordPress hosting companies.
User-friendly Add-on Tools
While Kinsta does not have all the tools that traditional hosts make available, they do bundle several tools that are critical to running a fast, effective website. And again, unlike other managed WordPress hosting providers, they bundle them seamlessly in their dashboard.
DNS
DNS is the roadmap of instructions that connects your registered domain to your hosting, where your website lives.
Kinsta includes Premium DNS with all their plan levels, which makes setting up your website much simpler. Plenty of managed hosting companies (and even some website builders) leave the DNS up to their customers to figure out – leaving plenty of customers fiddling with TXT records, CNAMEs and MX records in vain.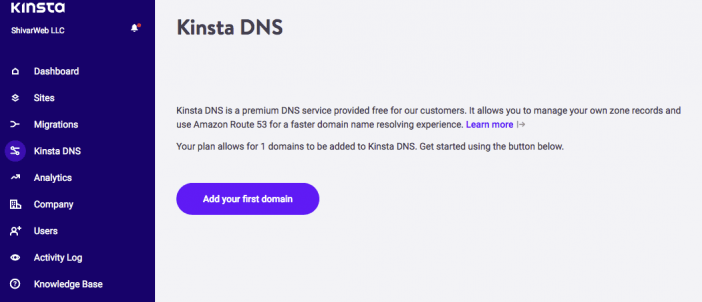 Amazon provides Kinsta's DNS. It's reliable and integrated directly in their Dashboard.
CDN
A content distribution network (CDN) allows you to take the load off your main server by distributing media files and scripts around the world so that your website can load faster and with fewer resources on your server.
Again, not every hosting company includes this option, but Kinsta integrates it directly within their Dashboard.
SSL
An SSL allows your website to provide an encrypted connection between itself and your visitor's browser. It's an essential part of every website. Again, it's something that Kinsta provides directly in their dashboard via LetsEncrypt. It's not the best or name-brand SSL, but it does the job.
Migration
Kinsta provides website migration services to its platform. It can be confusing enough, moving an existing WordPress website from one shared hosting account to another. But moving it to a managed cloud platform can create all kinds of hiccups.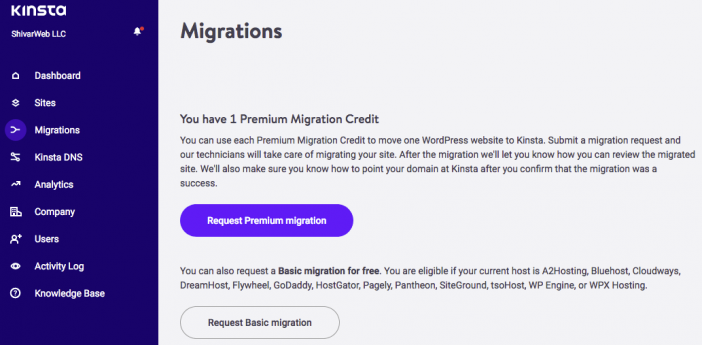 It's a free service that would typically cost hundreds of dollars with a WordPress consultant.
Developer & Agency Tools
Kinsta provides a range of developer and agency tools that all sound either too dull or technical until you need them & use them.
They have well-implemented basics like built-in staging and user management so that developers can build client sites and hand them over with no hiccups or maverick approval processes.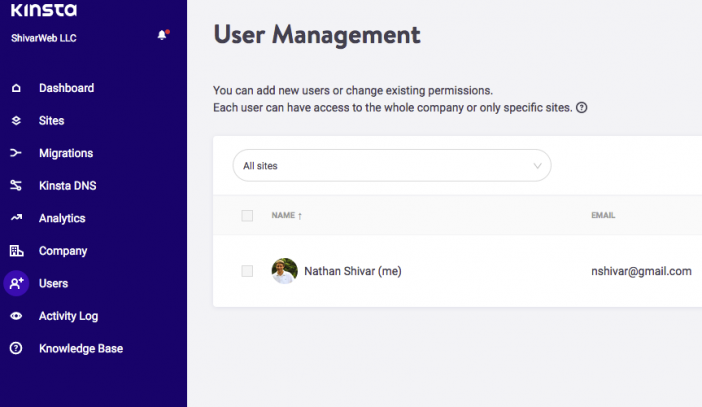 Additionally, they have SSH access, WP-CLI, and allow different versions of PHP.
But the most interesting piece for me is the fact that they don't lock customers into a single WordPress configuration AND they'll support non-traditional setups like reverse-proxy configurations.
As an SEO consultant, having the flexibility of configurations is critical for working with large clients who want WordPress for their blog…but, not their main site. It makes a big content marketing sell much simpler since developer time can be outsourced to Kinsta.
Customer Support
Most customer support stories are either *really* bad or *really* good. It's the one-star vs. five-star problem. Like I've said in most of my hosting reviews, I try to look and see if the company treats customer support as a cost center, a profit center, or an investment center.
Based on how they've integrated their knowledge base throughout their Dashboard (rather than stashing it somewhere), and the fact that they've grown their team mainly with support team around the world – it seems like they've deemed customer support as an investment center.
And that's a good thing if you are a customer. You know they aren't looking to make a buck off you, or push you off. Instead, they are trying to develop goodwill and increase word of mouth. Kinsta's main "thing" is customer support, since it makes their whole product run.
Cons / Disadvantages of Using Kinsta Hosting
Like any web host, Kinsta has disadvantages. There are plenty of Kinsta complaints online. But remember, that like the pros, these are all in the context of your goals & priorities. With that said, here are the cons that I found while using Kinsta Hosting.
Pricing
Kinsta is expensive.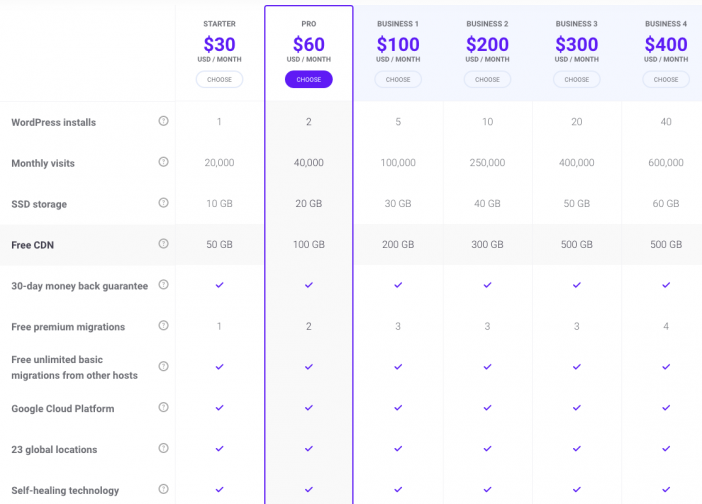 No matter how you measure it – by WordPress installs, visits allowed, storage allocated, indirect competitor pricing, indirect competitor pricing – Kinsta is going to be competitive…but still the expensive option.
WP Engine is its most direct competitor. Kinsta does have more intermediate plans…but WP Engine has a pricing setup that can be a bit cheaper than Kinsta.
Competitors like InMotion Hosting and SiteGround offer comparable products for much cheaper (though they aren't on Google's Cloud). Liquid Web does the same for managed WooCommerce websites.
And other indirect competitors like WPMU Dev do bundled cloud hosting with their plugin subscription that is competitive for agencies/developers.
There are two things pushing back on this disadvantage.
First, Kinsta is super-transparent about its pricing. There are no add-ons or excluded features like on WP Engine. There are no slight apples to oranges comparisons like you'd find with InMotion Motion, SiteGround, or Liquid Web.
Two, expensive is a relative concept to value. Depending on the value that your website is generating, a few hundred dollars may or may not matter. If a few hours of downtime or a support misstep can cost you hundreds or thousands of dollars, then "expensive" is the wrong metric to look at.
On the flip side, hosting is a business cost. Any dollar that you save goes right to your bottom line. If you are on the fence about some of Kinsta's features or have other website needs (see Feature bundles below), then Kinsta's price is going to be a disadvantage.
Feature Caps
Kinsta has some pretty low caps, especially compared to non-cloud competitors. Since they are working with leased infrastructure, they have to pass along any and all of their hosting costs.
If you've run a rapidly growing website, you'll know just how quickly visits, storage, and bandwidth needs can escalate. If you are on Kinsta, you'll never have to worry about needs taking your website offline. But you may have to worry about those needs hitting your bottom line.
I have one client who built a silly side-project on his website (hosted on WP Engine with similar caps to Kinsta). The silly side-project took off – in a big way.
In some ways, the project brought in indirect revenue with backlinks, brand awareness, etc. But in concrete terms, it single-handedly tripled his monthly hosting costs because it blew past every visitor cap…and then the bots & spammers showed up. He's on an enterprise plan with the same amount of "real" traffic that should put him on a basic plan.
Now, that's a good problem to have. But it's created decisions that honestly would not need to be made if he were using a Kinsta competitor with a managed VPS or managed WordPress hosting product like InMotion Hosting or SiteGround.
In fact, some of Kinsta's features are capped at lower levels than you'd expect with their marketing. For example, think about WooCommerce and membership sites. They recommend PHP Workers that can handle excess queries. Here's an explainer on how they work. But basically, they help with the shopping cart/user roles while the server cache loads the rest of the page.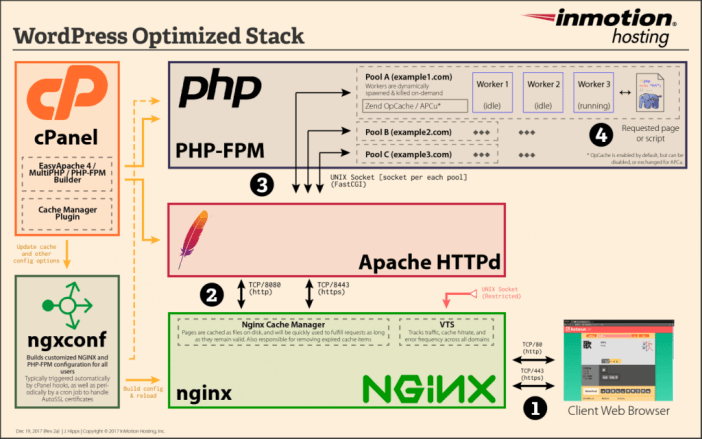 For their Starter and Pro plans, Kinsta only provides 2 PHP Workers…which is not recommended for eCommerce websites. In comparison, InMotion's cheapest managed WordPress plan comes with a limit of 4 PHP Workers.
And again – many of these limitations come not from Kinsta (they are transparent about all this) but from their product structure…which is the next disadvantage.
Size & Company Structure
In a lot of ways, Kinsta is my kind of company. They are founder-owned & operated. They were boot-strapped with zero investor funding, but are growing rapidly. They are product-focused with a smart, thoughtful marketing strategy.
They have a focus on direct contact with customers and support. They are remote-first, global, and diverse. I'm glad to spend money with them.
But the hosting industry is structured the way it's structured for a reason. And Kinsta is moving in the opposite direction of the rest of the industry.
Web hosting business is built based on the depreciation of fixed assets and high customer retention. It's similar in many ways to the physical real estate industry. Almost every hosting company is away from pure-play hosting to becoming a hosting "platform" with lots of amenities.
Since Kinsta leases its infrastructure from Google, they use an entirely different business model. They have to have low overhead costs (ie, remote-first is a must), low acquisition costs (ie, their inbound marketing strategy), low labor costs, and high pricing. Additionally, they are completely dependent on Google staying competitive & in the Cloud hosting business.
In other words, Kinsta is kind of like the WeWork of the hosting world (in a good way). Kinsta has avoided most of WeWork's mistakes. But the core business model of sub-leasing servers while adding value via convenience, accessibility, and support are tricky.
WP Engine made it by using investor money to acquire market share and big amenities while building a hybrid data center. But others have failed or have been bought out – like FlyWheel and Nexcess.
Right now, Kinsta is committed to organic, long-term growth. But if you are looking for a 5+ year host, I'd pause and look around the industry before committing.
Feature Bundles & Add-Ons
Most direct and indirect competitors are moving to a "hosting platform" model with bundled WordPress plugins, WordPress themes, and other amenities. Almost all of Kinsta's direct and indirect competitors bundle some sort of WordPress amenity with their managed WordPress hosting product.
The flipside of this disadvantage is that Kinsta is truly focused on WordPress and hosting – they aren't trying to compete with amenities and bonuses. They are just doing what they promise to do.
That's great – and certainly a strength. But it's also a downside for some customers.
Kinsta Hosting Ideal Use Cases
Just like cars, houses, appliances, etc – there is no such thing as a "best" host. There are just better & worse hosts for different customers with different needs. Here are some ideal use cases for Kinsta.
Growing Ecommerce or Membership Site
A growing eCommerce or membership website built with WordPress can create resource strains and technical demands. Kinsta's architecture and support experience are really made for both types of sites (especially at higher pricing tiers).
Kinsta is a solid, straightforward, but still affordable option for eCommerce / membership websites that can pay a premium to have things "just work" with no troubleshooting. View Kinsta's plans.
Developer or Agency w/ Premium Clients
Kinsta is a great option for developers or agencies that build high-quality websites for premium clients with ongoing maintenance budgets.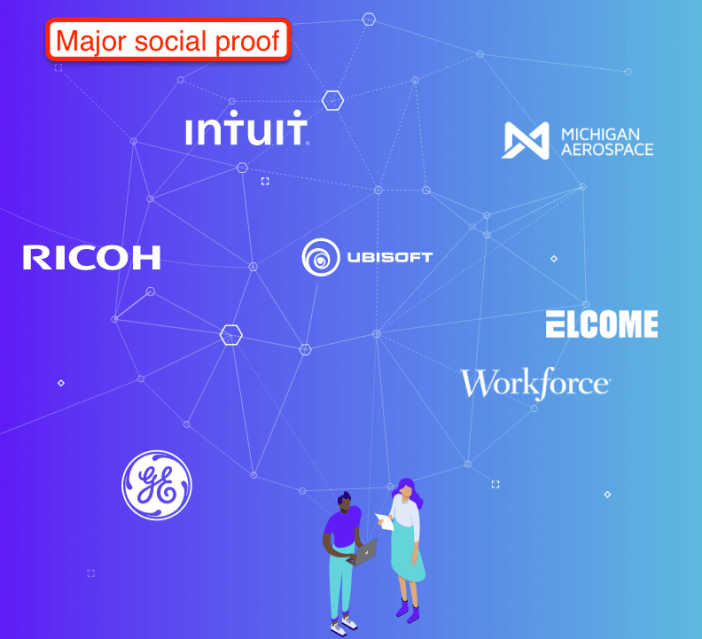 Kinsta has the social proof, technical specs, pricing, and management tools that will assure brand name clients while still sticking with their budget expectations. View Kinsta's plans.
Premium Support & All-in-One Needs
Kinsta is ideal for DIY customers who run a high-margin website that needs premium support and/or all-in-one hosting needs. Kinsta's monthly costs are high, but nothing considering the costs of hiring a WordPress developer to solve intermediate issues for a day (i.e., installing a new SSL certificate or repointing a subdomain). View Kinsta's plans.
Kinsta Hosting Review Next Steps
Kinsta Hosting is an amazing option to have in the world of WordPress hosting. They have a fast, simple, solid product in a competitive field. If you have a budget for a managed host and like the appeal of using the cloud, then Kinsta is likely an excellent fit for you.
If you are looking for other options, check out the ones listed above, or explore my WordPress Hosting page.