| | |
| --- | --- |
| Support | Help Desk, Live Chat, Phone, Knowledge Base & Social Media |
| Uptime | Good (99.93% past 6 months) |
| Guarantees | Uptime & 30-Day |
| Free Migration | |
| Best For | Simple web hosting website |
| Strengths | Good customer service & pricing |
| Weaknesses | Slow loading web pages |
| Promotion | Shared Hosting Starting At $0.50/month |
IONOS by 1&1 is one of the largest brands in the Internet services industry, and I get a lot of reader questions about what their hosting product is like. I've worked with IONOS by 1&1 web hosting several times for clients, and recently bought a hosting package for a separate project I'm running. Here's my first 1&1 web hosting review in a series that looks at their hosting product overall & in comparison with other top hosts.
IONOS by 1&1 offers a wide range of products from domain names to hosting to website builder packages. IONOS by 1&1 is actually one of the oldest web hosting companies – founded in 1988. And they are also one of the more aggressive advertisers with full-page ads in magazines and TV spots. Anecdotally, I think only GoDaddy rivals 1&1 in terms of mass-market advertising and brand awareness.
IONOS By 1&1 Pricing
IONOS offers web hosting services ranging from shared to VPS to dedicated along with custom products such as WordPress and Reseller hosting.
Web Hosting Plans
Web (i.e., Shared) hosting is the bread and butter of the website hosting world. A shared hosting plan consists of individual accounts on a Linux server. They can run WordPress or any application on a LAMP Stack. It's a cost-effective and reliable way to run most websites. Learn more about Shared Hosting in this guide. A2 Hosting has three main shared hosting plans.
| Plan | Essential | Business | Expert |
| --- | --- | --- | --- |
| Initial Price* | $4.00/mo. | $0.50/mo. | $8.00/mo. |
| Renewal Price | $6.00/mo. | $10.00/mo. | $16.00/mo. |
| Websites | 1 | unlimited | unlimited |
| Storage | 10 GB | unlimited | unlimited |
| Bandwidth/month | unmetered | unmetered | unmetered |
| Free Domain Name | 1 year | 1 year | 1 year |
| Free SSL | | | |
| CDN | | | |
| Dedicated IP | | | |
| Daily Backups | | | |
* Pricing per month for a 12-month subscription
They recently merged with one of Europe's largest cloud providers to create a new company. They've redesigned a lot of their products and restructured their products.
But a big brand doesn't always mean a good product – and that's one thing I wanted to look into with a full 1&1 IONOS web hosting review.
2 quick asides before diving in. First, there are a lot of 1&1 IONOS hosting reviews online – usually with user-generated reviews based on anecdotes and personal experience. That's fine but I take a different approach. My approach to reviews is that there is no such thing as a "best" or "top" anything. There are only better fits for different people depending on your goals. If you are just looking for 1&1 promotions for super-cheap hosting, you can find them here.
Second, when I talk about "hosting" – I'm specifically referring to Linux shared web hosting setups (like those used for a common Drupal, Joomla, or WordPress setup). Unless you have a specific reason to use a Windows-powered server, you should be using a Linux powered server. It's the industry standard and gives you much more flexibility than a Windows server. I'm also specifically looking at shared web hosting, since unless you know of a specific reason (like having a consistent +10,000 visits/day) to not have shared hosting – then it's probably the best fit for you (it's also the most affordable).
IONOS Alternatives


SiteGround Review
Rating

8.5/10

Uptime Guarantee

Yes

Free Migration

No

Promotion


Namecheap Review
Rating

9.0/10

Uptime Guarantee

Yes

Free Migration

Yes

Promotion

GoDaddy Review
Rating

7.5/10

Uptime Guarantee

Yes

Free Migration

No

Promotion
Pros of IONOS
The TL;DR is that IONOS does not have any strong "pros" in my opinion. They really just have areas where they are just sort of fine. Their main pro is their brand and the name they have built up over 26 years. That said, for the purposes of a 1&1 web hosting review, here are the pros of their hosting service (or skip to the conclusion & recommendations here).
Cheap Pricing
1&1 IONOS Hosting is on the more affordable end of web hosting. They typically offer a very cheap 12-month introductory offer (view their plans here), and then increase the price after a year, which even then are on the more affordable end.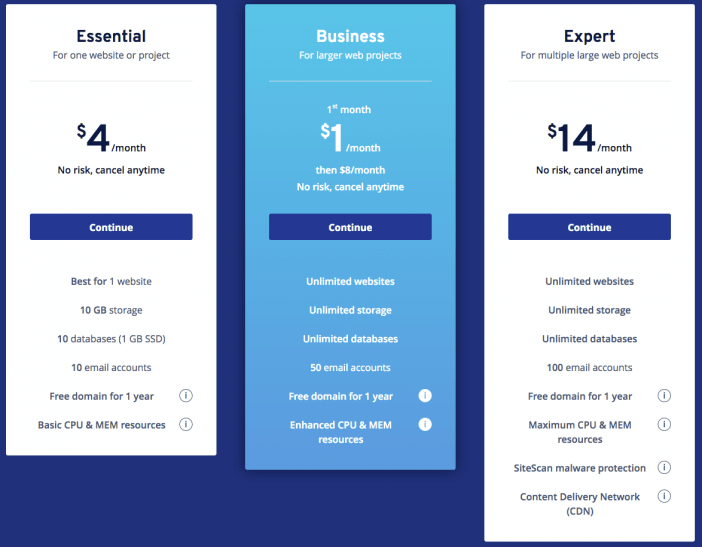 Overall, they are right in line with most of their competitors after the 12 month intro deal.
Their pricing tiers are nearly similar to other big brand hosts like HostGator & GoDaddy when you break out the core things you are paying for (space, performance and databases).
One thing that makes 1&1 IONOS different is that they place hard caps on all their plans…but they are transparent about it.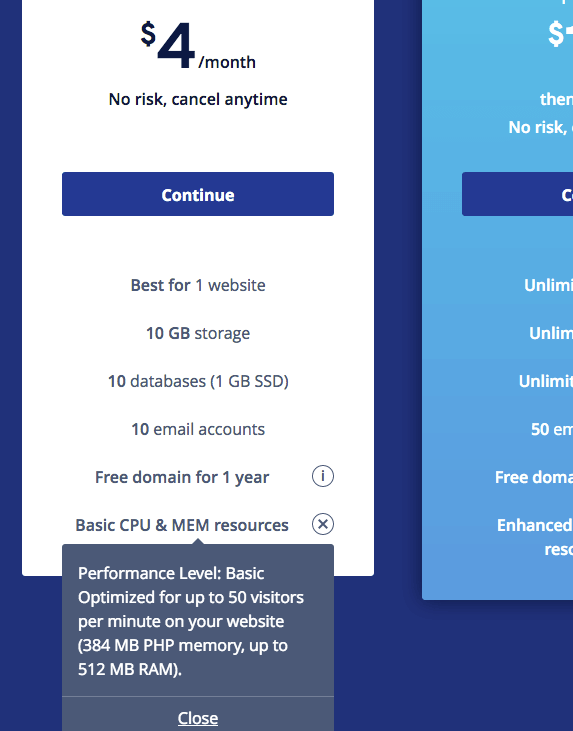 A lot of hosting companies are sketchy with how they define shared hosting terms. They play fast and loose with "Unmetered" and "Unlimited" where, once you account for the other sites on your server, you have *way* less resources than they'd admit.
1&1 IONOS's limits would normally be a con in my book, but I appreciate the clarity so much that their pricing is an advantage. You know what you are buying and can compare apples to apples.
As far as pricing goes, 1&1 gets points for space & options for anyone on a super-tight budget who wants to know what they are buying.
Relative Options
1&1 started as a hosting provider but now they provide everything under the digital sun. They are one of the largest domain registrars (and typically include 1 year of a new domain free with hosting purchase). All their products are integrated, which is a pro for many people. They provide daily server backups, along with a wide range of available apps to install within their backend (such as WordPress and Joomla).

That said, their feature set is otherwise not particularly notable. Nothing stands out or separates them from every other web hosts. They do position themselves for agencies & developers w/ clients. For the purposes of a pros & cons type 1&1 web hosting review – their features and options get placed in the pros column, since it is fairly competitive – especially if you really value server hosted email, ad credits, or any sort of website builder tool.
Relative Performance
The one true job a website hosting server is to deliver your website files as quickly and as reliably as possible every time someone asks for them (by typing in your domain name).
Neither I nor my clients have ever had significant downtime with 1&1. They claim to have independently verified 99.9% uptime. That's industry standard, so without monitoring tools, I'll give them the benefit of the doubt.
The one thing I can measure is how quickly 1&1 delivers my files to a browser. There are a lot of variables that go into how fast a website loads, but one of the most important variables is how fast the server responds after the initial request – otherwise known as Time To First Byte (TTFB). Here are results of a speed test that I ran in December 2015.

Here's the test I ran in April 2020 where they improved some.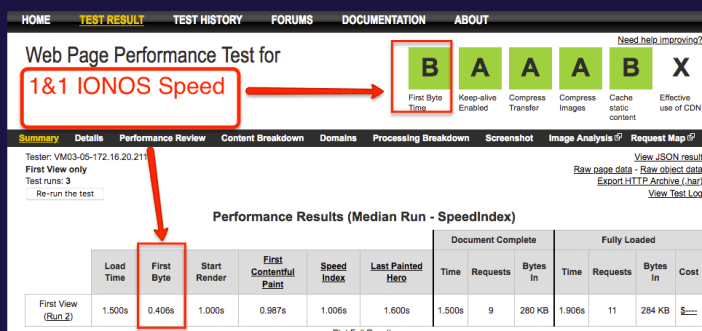 Those tests are not amazing. But – they are slightly better than some other major web hosting brands (ie, iPage).
1&1 still is fine for small sites that are low on graphics or overhead. So on performance, like pricing and options, 1&1's main pro is that they are really solid on the basics – and really focus on the agency / developer market. Nothing to wow or really stand out in any 1&1 hosting review.
Often, cheaper web hosts are notorious for skimping on memory provided since customers rarely actually check that setting. 1&1 does come through on that. This means that once your server responds…your website files are built and sent fairly quickly.
Customer Service
The last pro that I wanted to mention was their customer service, based on my personal experience. 1&1 has truly notorious customer service if you just go by internet forum threads (and I include customer service as a con later on). That said, my customer experiences with 1&1 have always been positive.
Unlike many web hosts, they have a 24/7 phone that they actually answer. In my most recent experience, it was answered by someone with a South Asian accent (may or may not indicate outsourced customer service) in less than a minute hold time.
The issue could not be resolved at the moment on the phone, but after I hung up, she immediately followed up with me via email to provide and update.

Again, like 1&1's other "pros" this one made it on the list simply from the power of low expectations. The experience didn't particularly wow me except for the speed of response (I was disappointed the problem wasn't resolved more quickly though), but it was cordial enough (and available) to put customer service as a potential pro for 1&1.
Cons of IONOS
Poor User Experience
The primary con of 1&1 Hosting is user experience. Owning your personal or business hosting account for a website or email should not be difficult.
Even though servers do require more technical set up than a Facebook profile – we are well past the 1990s. Even if a hosting account is not super-polished with the pinnacle of design, it should at least be fairly intuitive, and should at the very least work.
My previous experiences with my own & my client websites on 1&1 were frustrating. My recent trial run since the IONOS merger revealed a "pretty" but still frustrating backend. Here's a list of specific problems that I had that do not exist on other providers.
First, pointing my 3rd party domains to 1&1 was not intuitive at all. In fact, the whole process felt like an upsell to get me to transfer my domain names to 1&1. I have never worked with a web host that makes it this difficult to use a hosting account that I purchased and a domain name that I own elsewhere.
Every web host, including GoDaddy, makes their DNS address easily known so that you can just copy paste it over at your domain registrar (confused? check out the first section of my website set up guide). For example, HostGator tells you the DNS settings right in your welcome email.

1&1 details the 8 step process in their help section, which you will have to read after searching high and low for a simple DNS setting of your hosting account. Of course, it is just a 2-step process to transfer your domain registration to them though.
Second, basic things that should work do not. I repeatedly kept getting Form Submission Failed errors due to how they handle sessions.
Third, 1&1 has a habit of making super-technical features easy to find and the best options for non-tech users difficult to find. This is generally fine since they've shifted their market to agencies / developers. But it's also weird that they haven't fully committed either. Some technical settings are buried while DIY helper tools are front and center.
Overall, working with 1&1 is simply frustrating compared to other hosts. Part of it is that their backend is unique from the rest of the hosting industry.
It is much prettier and much improved from pre-IONOS times. But it's still a bit of a nuisance. And the rest of my 1&1 hosting review cons all fall under this theme.
Confusing Backend
Very much related to user experience is 1&1 hosting's backend setup. If you're a first-timer with hosting, you'll need to know that your hosting account is basically server space and the bandwidth to connect to that server. The server is just like your computer in that it's really tough to interact with it unless you have an "operating system" such as Windows on your PC or OSX on a Mac.
The industry standard "operating system" is called cPanel. It's open-source, meaning that it's not owned by anyone, but it can be modified by any particular company for its own uses (sort of like Android). The base install of cPanel isn't polished and pretty, but it's fairly intuitive. It's the backend that most of the hosts that I recommend use – such as HostGator, Web Hosting Hub or InMotion or Bluehost (which uses a creative custom cPanel).
1&1 Hosting does not use cPanel – they use their own custom backend setup. That would be fine – even preferred – if they used it to make it prettier and easier for first-timers to navigate. But alas, they do not. It's really quite horrible in my opinion. Here's what it looks like.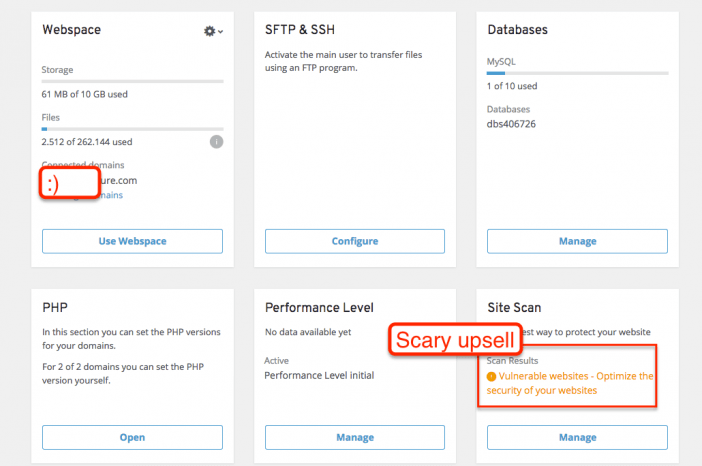 For them, it would make much more sense to feature the necessary options (like Quick Install, Add Domain, or File Directory) instead of very technical features that first timers are not going to use buried among yet more upsells.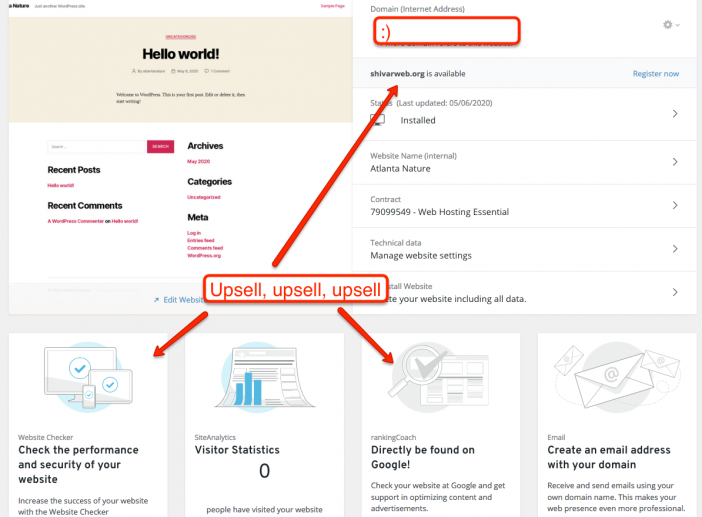 It is heavily biased towards people who use a 1&1 domain name with a 1&1 hosting account and the 1&1 website builder. If that's what you are trying to use, then it'll be very straightforward. However, if you have your domain registered elsewhere (like Namecheap or GoDaddy) or you want to do a WordPress install, it is quite difficult to use, especially for first time customers.
Again, hosting companies that use cPanel do not make hosting accounts as easy as setting up a Facebook profile, but since so many hosting companies use it, you are likely to find easy guides on how to use it to set up your website (or solve any other problem you can think of). Since 1&1 has a proprietary setup, you really have to rely on either their knowledge base or their customer service to help you out, which will often set you up for failure or frustration.
Poor Performance
As I explained in the pros of 1&1, they do a lot better than many web hosts. And they do better than many major web hosts, such as GoDaddy. However, compared to some of the web hosts that I recommend (such as HostGator, Web Hosting Hub and InMotion), 1&1 just can't quite cut it. Here's 1&1's speed numbers again…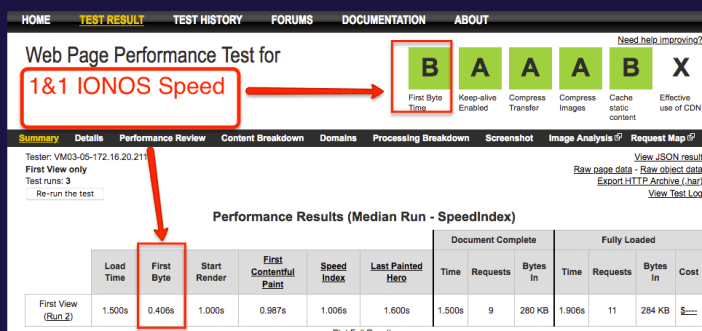 Here's how a site on InMotion Hosting performs –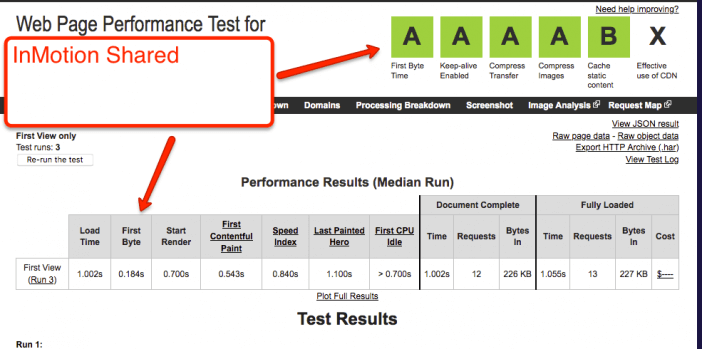 Slow Customer Service
Like I mentioned in the pros section, 1&1 has phone support, and they are quick to answer, so they do get points if you have low expectations. And they do well on a relative scale vs. many web hosts. But they still don't do customer service well. The internet is littered with awful complaints about 1&1, however, that is expected to a degree since they are that big of a corporation – with that many customers.
Based on my experience, I think the truth is a bit more mundane. They simply view customer service as a cost to be cut rather than as a marketing channel. Like I said, in the pros section, my experience was fine. But it could have been horribly bad if I didn't know exactly what was wrong and knew exactly what to ask.
My representative was a front-line entry-level operator who was clearly running off a script. She was friendly and helpful, but nowhere near as well trained as frontline reps that I've worked with at InMotion Hosting or HostGator. She basically tried to do exactly what I had already done to recreate the exact same error (database creation failed) – only to try to call her "technical supervisor" – who is, I assume, the tech guy that the reps can call on if there's an actual problem.
He was busy (another indication of cost-cutting), and I was asked to be put on hold. At that point, I proposed that she email the solution to the problem. She did within minutes. So again, it was fine. But I can imagine a situation with someone new to web hosting who has a problem and ends up with a horrible experience. For that, I put 1&1's customer service as a con in the interests of a full 1&1 web hosting review.
Conclusion
I will be avoiding IONOS web hosting in the future for my projects. I think their only real fit is customers who already have products with 1&1 IONOS (such as domains, email, etc) and want to get a hosting account for a website.
Or people who are on a tight budget and are working on several small projects. For them, the price point of the 1&1 Business Package is solid (see it with a further discount here). Otherwise, I'd look elsewhere.
If you are looking for an all-around great web host for a long-term project, I'd recommend InMotion Hosting (this site is hosted with them) or Web Hosting Hub (review).
If you want shared hosting with the option of month to month, check out HostGator. They offer a great price point and good features. Check out their plans w/ 45% off discount here.
Lastly, if you are more confused than ever, try my Buzzfeed-style hosting quiz here that will sort your goals with.
FAQs
Related Articles