So you're considering using Squarespace as your website builder, and you're looking for Squarespace website examples for inspiration and confirmation that you're making the right choice.
Squarespace is one of the most well-known brands in the website builder industry.

In terms of different types of website builders, Squarespace lives on the end that is all-inclusive and provides everything you need to get started and grow your website. It makes a nicely designed website incredibly accessible for DIY-ers while leaving the heavy-lifting (AKA hosting, functionality, coding) to someone else. It contrasts with solutions where you buy, install, and manage all the "pieces" of your website separately.
Using Squarespace is sort of like leasing and customizing an apartment. You're in control of decor, cleaning, and everything living-wise – but you leave the construction, plumbing, security, and infrastructure to the property owner. You have some flexibility, but you also give up some control for convenience.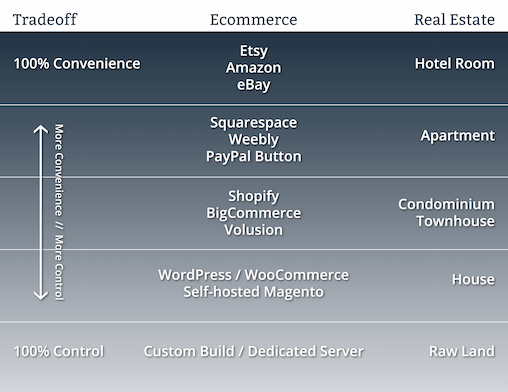 But before we dive into examples of what Squarespace's templates look like in the Internet wild, there is one thing to keep in mind when you're evaluating a website platform: it's not just about how the websites look. The functionality matters too. I've written a full Squarespace review in addition to comparisons like Squarespace vs Wix vs Weebly, Squarespace vs WordPress, and Squarespace vs Shopify.
But in short – think of it as buying a car. You have a make / model in mind, and you're probably looking to see them drive by on the road to see how they actually look. However, you also care about how they operate. Does it accelerate well? Does it have the hauling capabilities you need? How is the gas mileage?
Looking at a website platform should be done in the same way. We collected the following Squarespace examples not just to show you how they look, but how Squarespace websites can function so you can be sure you have a website that fits both the style you want and the functionality you need.
General Squarespace Website Examples
Let's start with a general round-up of solid Squarespace website examples. All these websites use a Squarespace template. We've pulled these examples based on functionality, website design, and usability.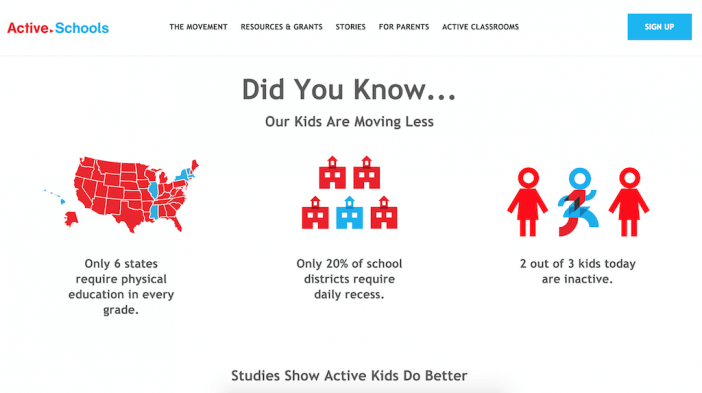 Active Schools' site is a great example of how simple and clean a Squarespace website can be while still conveying all of the necessary information, showing creativity, and looking professional. Not all websites need to be a design masterpiece. Instead, this site focuses on what matters: copy that describes what the company is all about, and and icons that educate visitors on their mission. If you're looking for a basic website where you can throw up some text and basic images/video, this template should serve as a good example of what's possible.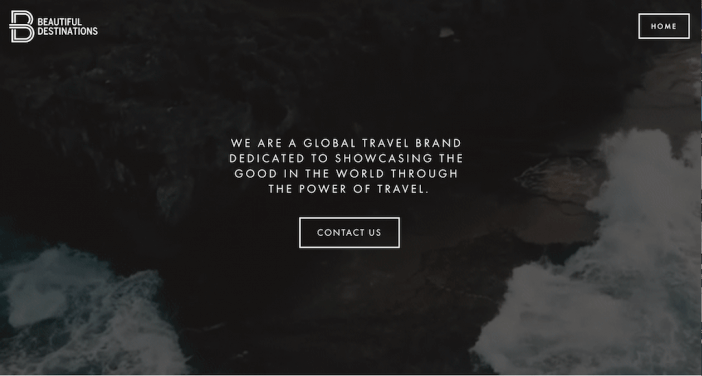 While not all websites need to be visual masterpieces, Squarespace is known for making it easy for DIYers to create beautiful sites. For brands that rely more heavily on visuals (like this travel brand), Squarespace allows you to do some pretty amazing things with design fairly easily (and without having to pay for a professional designer). We pulled this Squarespace example to show how your site can still be simple but incredibly visual. Check out that video header!

Squarespace Wedding Website Examples
Wedding websites are a great way to give guests information about the big day, show off your personality, and post updates/pictures/anything else you may want to share with those who are involved with your wedding. Given this website has a shorter lifespan than say, a business website, you'll want something that's easy to customize, edit, and manage. Here's a great example of what you can do with a Squarespace wedding website: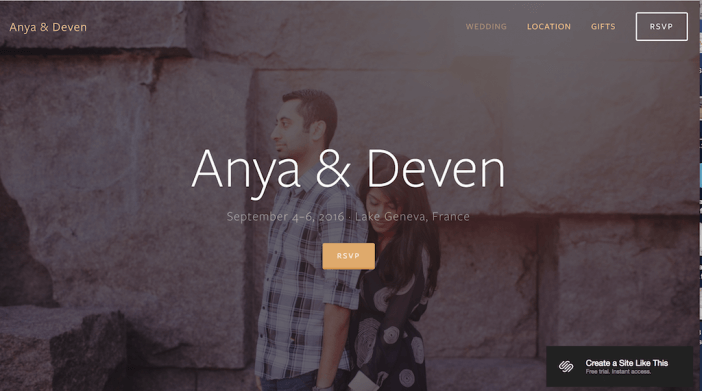 Anya & Deven's website is a great example of how a simple theme can be all you need to get the job done — without having to custom-build something complex. Their homepage has all of the crucial information: the date of the wedding, the location, and the link to the RSVP page. The site is polished, implements their style with their pictures and colors, but also makes sure you don't have to spend money on a custom-designed website that you'll only update for a year or two.

Squarespace Photography Website Examples
Photography websites are all about the portfolio of work. When looking for a Squarespace website example to serve as inspiration for your photography, pay special attention to the layout options for your work. You want to show off your photos in a creative way without sacrificing the user experience (AKA fast photo load speed, easy navigation, high-quality images, etc). Here are a few examples of Squarespace photography websites we liked: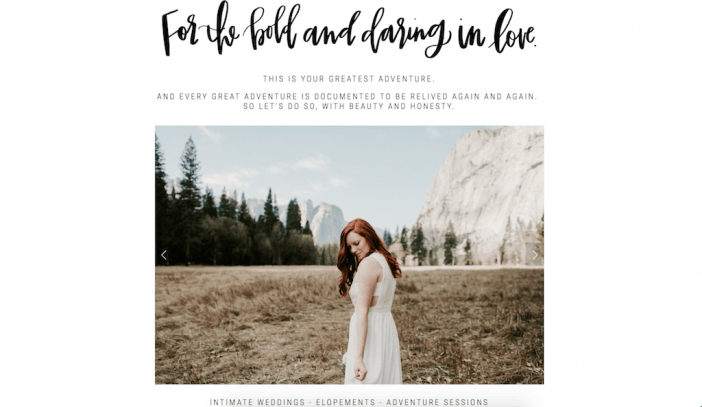 What stands out on Erika's website is the combination of clear copy + great photos. Her homepage starts with a full image that immediately shows visitors what her work is all about. As you scroll down the site, Erika includes some text about her services paired with a carousel of photos that simultaneously showcases her work. If you're looking for a way to show off your work and provide some additional context about your services + approach, this is a great website to use as inspiration.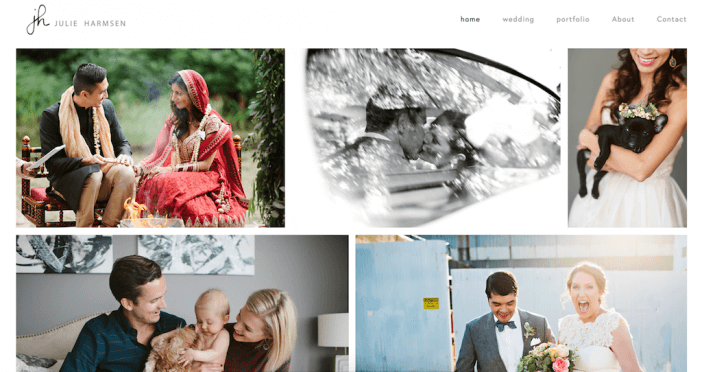 This Squarespace website takes a different approach, especially on the homepage. The entire front page is dedicated to showcasing Julie's work. The use of the grid keeps the focus on the photography, and the navigation at the top gives an easy and clear way for visitors to navigate to more information.

Squarespace eCommerce Website Examples
eCommerce websites are all about their products. A good online store should have high-quality product images, be easy to navigate, and keep the focus on what you have to offer your shoppers! You'll also want to include strong product descriptions and an easy check out process. Here are a few of our favorite Squarespace ecommerce website examples: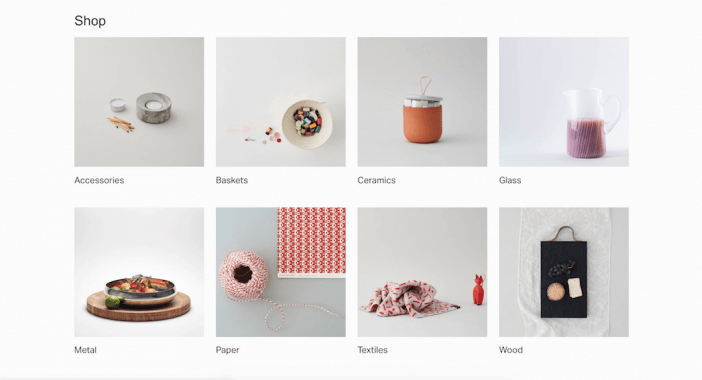 A great eCommerce website comes down to a few main things: high-quality product photos, easy navigation, and easy checkout. This website from Simple Shape checks all of those boxes. What stood out to us especially was how straightforward the homepage is. The online shop section is easy to navigate and breaks down the product categories intuitively. The collection page itself is also straightforward and clean: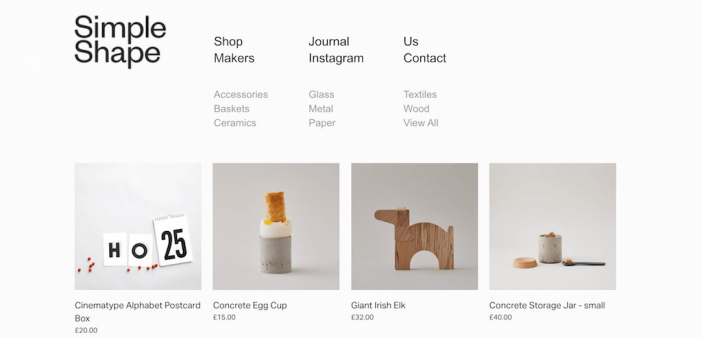 Shoppers can jump to different product collections with the navigation at the top of the page, or use the main navigation to move to other areas of the site.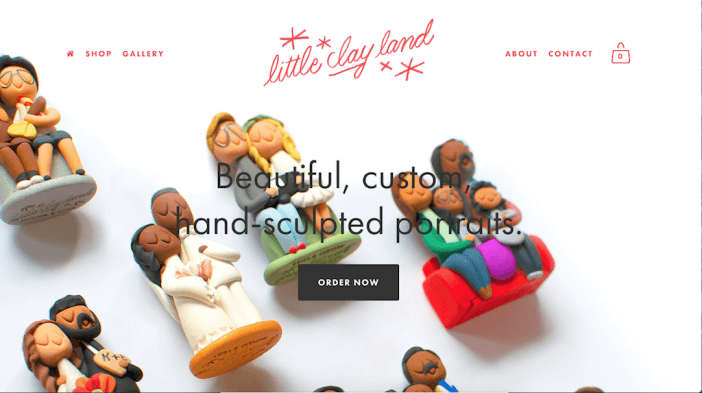 The Little Clay Land is another example of an eCommerce website that checks all of the boxes. The large image in the main header is actually the products themselves, which pair nicely with the primary call to action of "Order Now" (which, on an eCommerce site, is the main action you want visitors to take!).
We also liked how the artist included a behind-the-scenes video further down the homepage with a button to learn more about her and her process.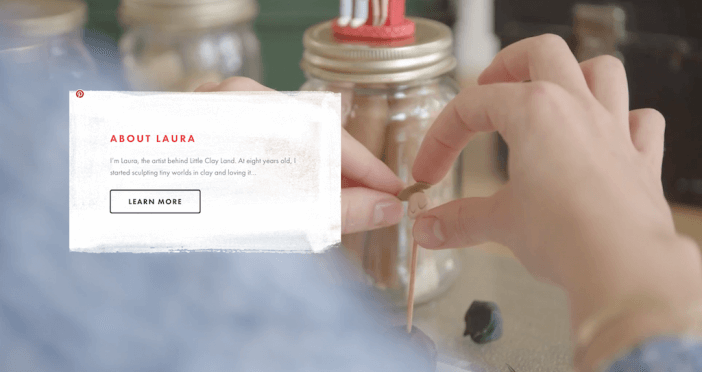 For eCommerce companies that want to give visitors an inside look at production, this is a great way to do it!

Personal & Portfolio Website Examples
Personal and portfolio websites are exactly what they sound like… personal! Whether it's a resume or portfolio website you use to get booked or a side project you created to pursue a passion, this type of site is all about getting your personal brand online and owning your space on the Internet. A personal website should be easy to edit, manage, and customize. Here are a few examples of Squarespace personal and portfolio websites to use for inspiration: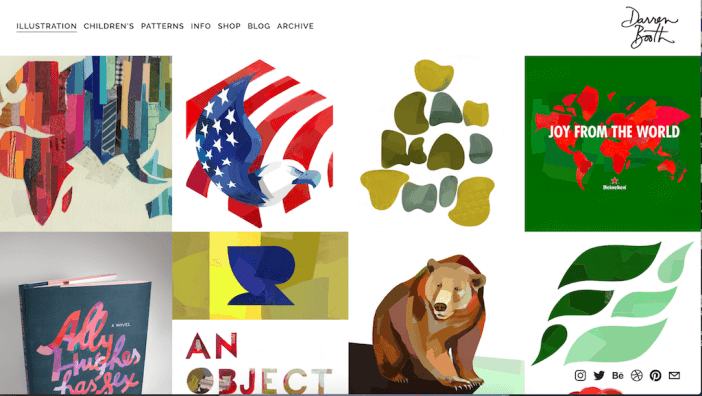 Sometimes, less is more… and that's exactly what makes illustrator Darren Booth's website so effective. The clean layout draws your eye right to his illustration, and the simple navigation at the top of the page makes it easy to find exactly what you need on his website. This is a great example of a Squarespace portfolio website that's a good fit for a DIY-er who needs a place to showcase their work in an easily digestible format.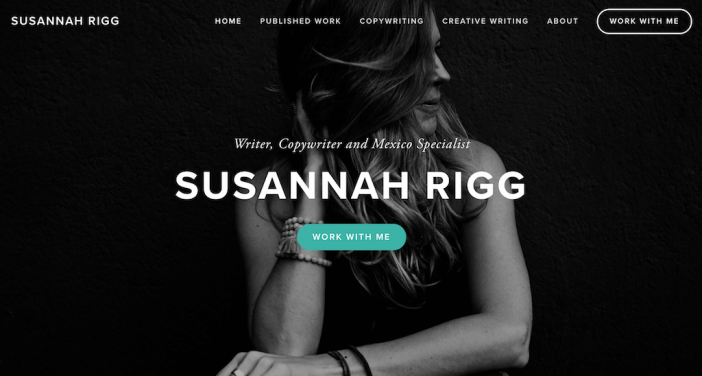 This Squarespace personal website stands out for a few reasons. First, the homepage. The clear navigation + simple header image (with a strong call to action button!) make it easy for visitors to find exactly what they need.
Next, the portfolio page is a great example of using a card layout with images and text to display your work.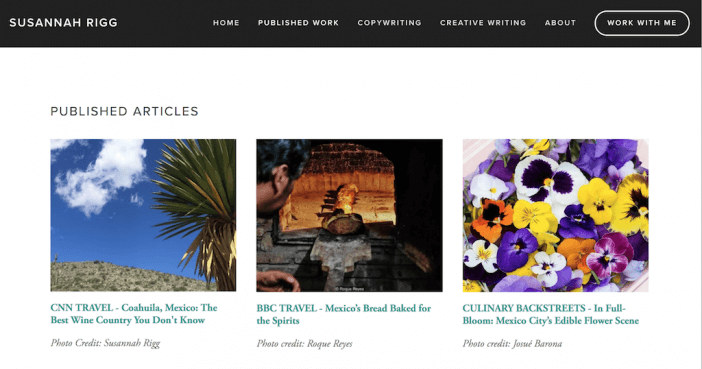 If you're wondering how to structure your personal website in a way that's intuitive, clear, and polished, this site is a great place to start for inspiration.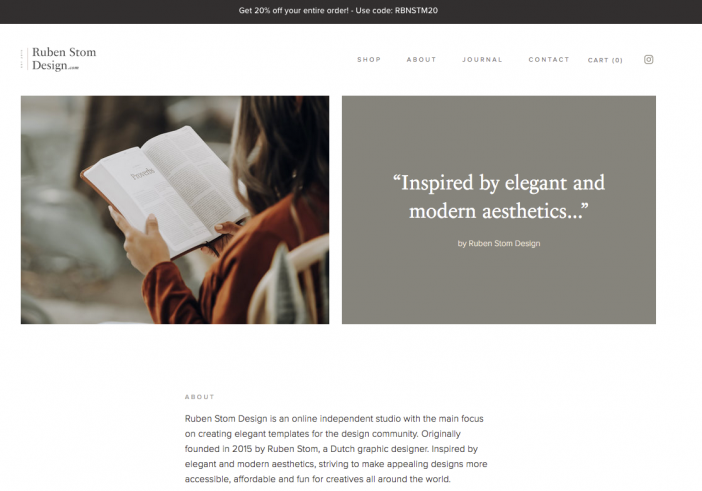 This is technically a business site, but it's a solo operation. This site stood out because it's 100% DIY, it uses eCommerce functionality, blog, and portfolio all in one. It's straightforward and solid.
Squarespace Lawyer Website Examples
A strong lawyer's website is all about showcasing your practice areas, giving potential clients the opportunity to contact you, and building social proof. Visitors should be able to know exactly who you are and how you can help them when they land on your site and should be able to easily navigate to what they're looking for from your homepage. Here's an example of a strong Squarespace lawyer website: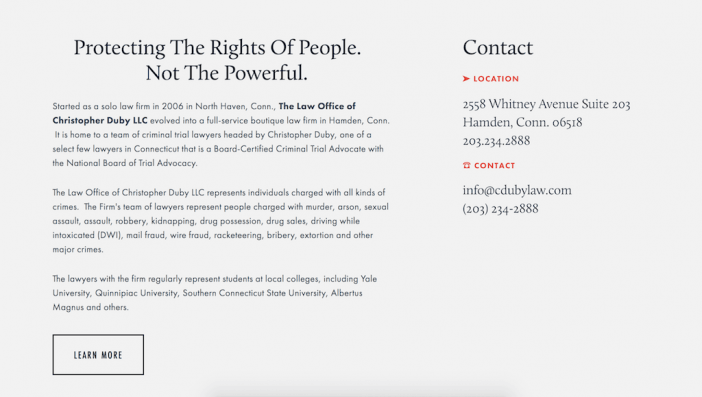 Have you ever been on a website and been completely overwhelmed with the amount of information? This Squarespace lawyer's website is an excellent example of providing just enough of the RIGHT information on the homepage, along with clear calls to action. The small About paragraph is a great way to introduce what you're all about, with the option to either learn more, or contact with the contact information on the side.
Squarespace Fitness Website Example
A strong fitness website boils down to a few important factors. Visitors should be able to know exactly who you are and what you do when they land on your site and should be able to easily navigate to what they're looking for from your homepage. They should also be able to visit your contact page, book a session, or request more details. If you have a physical location, you'll also want to provide information like hours, location, etc. Here is a strong example of a Squarespace fitness website: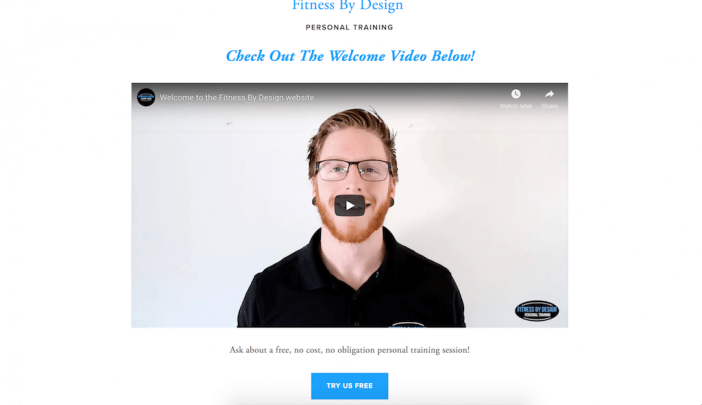 A video is a great way to tell your audience about what you're all about, and we particularly liked how this Squarespace site used video on the homepage and paired it with an irresistible offer to try their personal training session for free! It's a unique way to engage potential customers, show them what you do and how you can help them, and give them a clear next step.
Squarespace Blog Website Examples
A good blog website is all about showcasing your content. Keep in mind that your blog doesn't need to be something super sophisticated. Your focus should be on good user experience (i.e. straightforward navigation, search functionality, etc.), and a site that allows you to easily and quickly upload new content.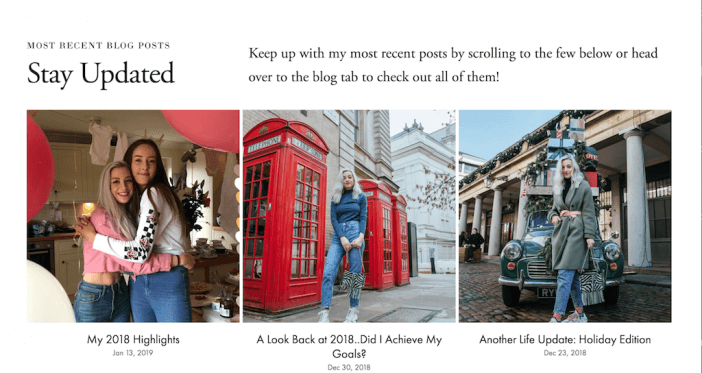 If a good blog is all about the content, then this example from The Style Transplant is a great place to start for inspiration on how to showcase your blog post content! The homepage is simple, easy to navigate, and clear. We especially liked how visitors could see most recent posts in the Stay Updated section on the homepage menu.
But a good blog website isn't just about the homepage… it's also about what you can do with the posts themselves. This Squarespace blog example uses photos and even a "shop the look" feature on the blog page, which adds two valuable elements to the post content.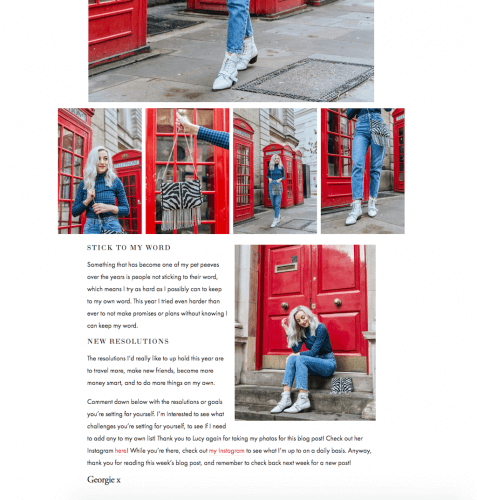 Next Steps
At the end of the day, choosing your website builder goes far beyond design. Why? Because all web pages are made of HTML & CSS with a few scripts thrown in. This means that any website template can exist on any good web platform.
What YOU want to focus on is the design elements and functionality that are available on the platform you're choosing.
If you feel like Squarespace fits the design and functionality needs you have to build your beautiful website, you can find your Squarespace template.