Larry's Take
A great mailing list service to send out email newsletters. MailChimp can be costly once you get past their free version and there are better options like ActiveCampaign and ConvertKit for email automation.
What Is MailChimp?
MailChimp has been one of the fastest-growing email marketing providers* for years now. They've built a huge base of customers ranging from tiny personal accounts to some of the most prestigious enterprise brands in the world.
*in 2019, they added a ton of functionality, including postcards & remarketing. They'd argue that they are a marketing platform…but email is at their core IMO.
I've been using MailChimp exclusively for more than 9 years now. I've explored different providers and gotten exposure to alternatives via my clients, but have never found a reason to switch.
That said – they aren't the best fit for everyone and have some disadvantages along with strong advantages. This MailChimp review will break down what I've found to be pros that I especially appreciate for myself and my clients along with the cons that MailChimp hasn't improved on over the past 9 years.
Let's dive into this MailChimp review!
MailChimp Alternatives


ActiveCampaign Review
Rating

9.5/10

Price

$9 - $599+ per month

Promotion

Rating

8.5/10

Price

FREE - $149 per month

Promotion

ConvertKit Review
Rating

9.0/10

Price

FREE - $2,599+ per month

Promotion
MailChimp isn't the only game in town. Here are some MailChimp alternatives:
Aweber
MailChimp's most direct competitor. They have an old-school interface & feel. But they are very popular among direct response marketers and online businesses. See their plans here.
Constant Contact
The name brand in the email industry. They have tons of resources, integrations, and the backing of one of the biggest tech companies in the world – and a 30 day money back guarantee. See their plans here.
GetResponse
One of the oldest brands in the industry. They focus on usability and providing a full marketing suite with email, webinars, and landing pages all bundled. See their plans here.
Emma
A fast-growing direct competitor to MailChimp. See their plans here.
MadMimi
They focus on *only* email – and make it as simple as possible for small businesses & websites. They are owned by GoDaddy. See their plans here.
MailPoet
Another rapidly growing email-only simple provider. They focus on websites using WordPress. See their plans here.
TinyLetter
They are owned by MailChimp. It's MailChimp's super-simple, newsletter-only service. See TinyLetter here.
Pros of MailChimp
Reputation & Deliverability
In the world of email, reputation is about more than branding and customer service. Reputation is about whether you can even exist as a business…because, SPAM.
Spam filters have evolved by leaps and bounds in the past several years. They no longer look at a few spammy triggers. Instead, they look at a range of factors that are graded in real-time.
One of the most critical factors is reputation score. If an email recipient (e.g., Gmail) sees that a sender is sending a lot of tagged email spam – all the emails from that provider become suspect.
On the flip side, if an email sender is consistently sending "good" emails (ie, emails that get opened or untagged) – the reputation for all of that sender's mail gets better grades.
In other words, sending good email via a good provider is essential for getting your email delivered. In 6 years of sending email, I've never had an issue with deliverability or reports of spam at MailChimp.
On the nerdy recipient side – I've never seen a MailChimp-powered email land in my personal spam folder.
But it's not just anecdotal. Here's an industry report from ReturnPath.
MailChimp dedicates huge resources to fighting spam. They have some of the most restrictive sending policies. When you're crafting an email, they give you repeated tips to send better email (ie, examples of non-spammy subject lines; examples of adding clean, opted-in addresses to your lists, etc).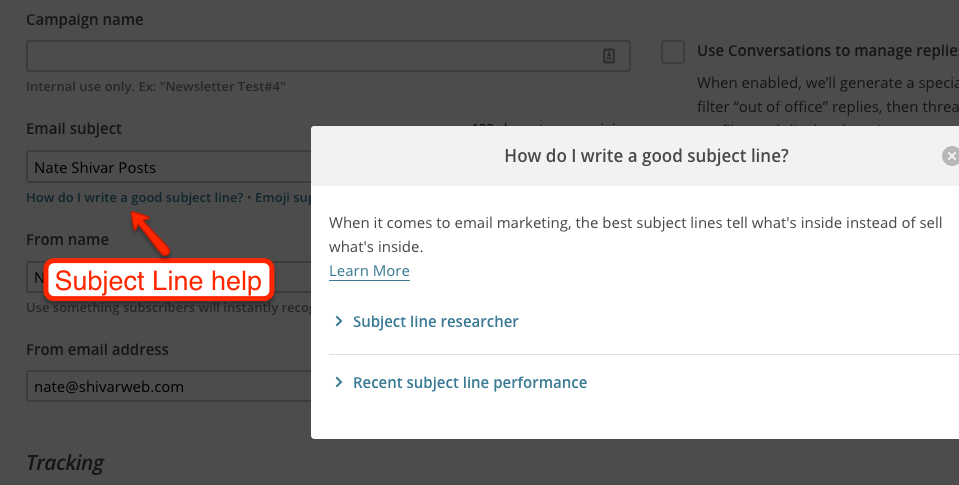 All this effort seems to pay off. Their slogan is "Send Better Email." I like this – not just as an advantage to sending email – but as a citizen of the internet hoping for less spam.
Dashboard & Learning Curve
MailChimp says that they launch a new version of their software every four weeks. They have a lean support team (for better & worse, see cons), and are committed to increasing the usability of their software.
I think that you can really tell that they are shooting for usability. All software will have some learning curve, but there are few email software providers that will let you go from signup to send in minutes.
Their Dashboard is big, simple, filled with helpful tips and a straightforward workflow.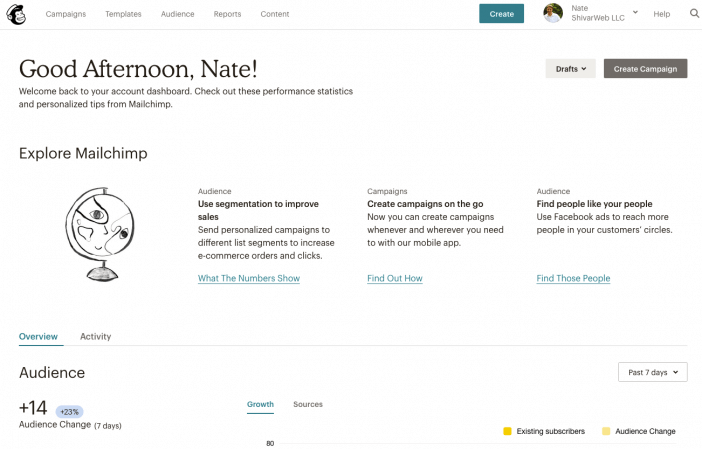 When my Mom (who wouldn't call herself tech savvy) needed an email newsletter provider, she used MailChimp without many questions for me.
While MailChimp has plenty of enterprise-level features, they all appear only on the screen where you need them. Their Dashboard & design focuses on creating & sending email rather than tweaking dozens of settings all in one place.
Template & Designs
Email design can be incredibly complicated. When you think about all the variables from devices to email clients to even the time & situation that people see emails, getting design right from the recipient's perspective is tough.
And then you add in the sender's requirements, such as branding, messaging, content, etc, – yeah – email design is tough. But MailChimp's email design environment is a strong suit.
They are the only provider that I've seen that has true drag and drop design builder. They have a built-in, live previewer. This combo means that anyone can implement a complex email design without having to get into the nuts and bolts of HTML.
Additionally, they have a huge range of email templates to get your design started with. I published a post on how to use & choose MailChimp templates here.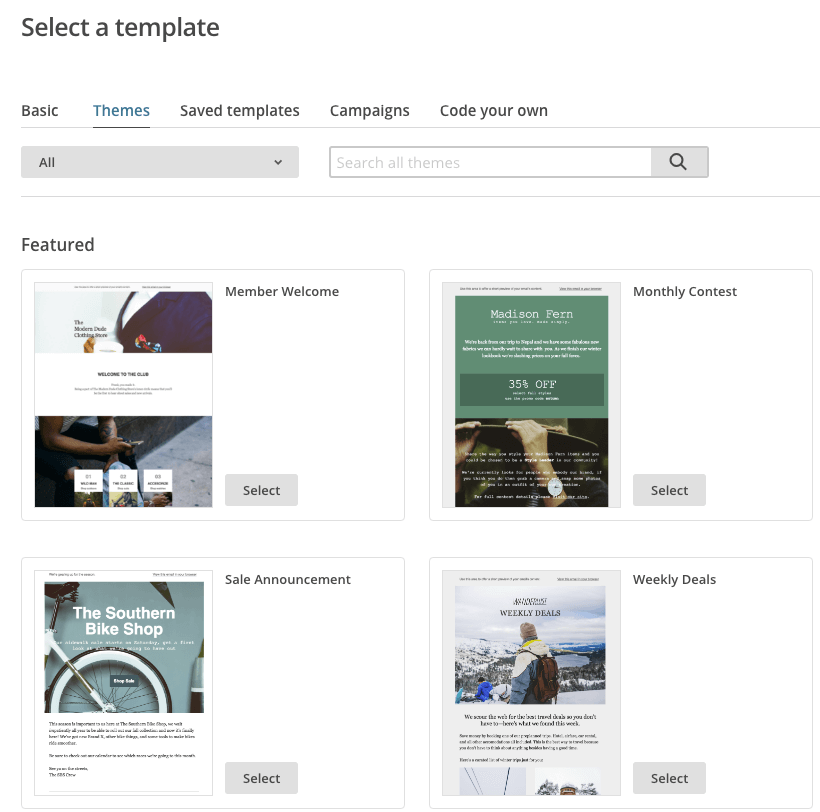 Their designer has a library or "merge tags" that will automatically pull in information from your account database (ie, your website, the recipient's' name, regulatory info, social info, etc).
And the designer will automatically convert many designs into plain text mode for increased deliverability.
Lastly, MailChimp is constantly upgrading the design experience. Unlike some competitors (aka Aweber), their design interface looks very different than it did 9 years ago.
It's 2019-contemporary with both classic design elements and trendy ones, such as "hero" images that they rolled out last year.
Company Culture
I used to be a company culture skeptic. As a customer, I thought that a company talking about its culture was either a company recruiting new employees or a company trying to whitewash a mediocre product.
I think both can still be true, but culture can also indicate how & where a company is investing. As a customer looking to choose a vendor for years to come, how & where a company is investing determines the type of product you're going to have in a few years.
MailChimp is famous in Atlanta tech culture for their creativity, branding, design, generous benefits and community sponsorships.
Normally, you'd think that an email service provider would be the most boring, staid company in the neighborhood. MailChimp certainly is not.
Their CEO is famously anti-direct response marketing. He evangelizes a world where it's not just email that's better – it's marketing that's better. If you have 15 minutes – I highly recommend this talk their CEO gave a few years ago.
Pricing
Back in 2009, MailChimp started rocket-like growth because of their new pricing.
Their paid plans have always been competitively priced, but if you have less than 2,000 subscribers and send less 12,000 emails per month – you pay $0 per month.
Unlike other providers, they don't have a free trial. Instead, they have a free account. If you are a small business, it's no risk and no payment.
If you are an enterprise brand, it's easy enough to set up a free account with an email segment and run a longer-than-14-day test to see which provider fits your needs best.
Above free, MailChimp's pricing is fairly straightforward. You pay a subscription fee for features, then a tiered level based on subscribers.
For advanced email marketers, MailChimp has a $199/mo service to help with automation, multivariate testing, etc.
Whether you are at the free level, business or enterprise level, MailChimp's pricing is competitive.
Integrations
The magic of a lot of email marketing involves other apps working together. Many website owners will use one app (ie, OptinMonster) for email collection. They'll use another for publishing.
They'll use another for planning marketing automation or retargeting. They'll use another for social media management. And eCommerce stores will use another for customer management.
At the center of all these apps will be your email marketing software. It's almost required for your email marketing provider to integrate with every single app.
If you are copying & pasting or doing something manually (like sending email campaigns) – you are likely doing the task wrong. Instead, you should let your apps integrate with your other apps to talk to one another.
I know that with my newsletter, not only is my sign-up process automated but my send process is automated from my website.
MailChimp is not only one of the more popular email apps, they are also one of the most developer- and integration-friendly. If you are using MailChimp, you instantly have a lot more freedom with what apps you can use for other tasks, since MailChimp more than likely integrates or will soon integrate.
Native Apps
But not only does MailChimp integrate with plenty of other apps – they also have an entire suite of native apps for different types of customers. Here's the current list of free, native apps.
Whether you are sending, managing or collecting emails in person – MailChimp's mobile apps work and work well. Even if you don't do big events, having mobile as an option makes a huge difference for when you do need it.
Cons of MailChimp
Like any product/service – MailChimp is not for everyone. While they do a better job than most at serving everyone from personal to enterprise accounts – there are things that MailChimp does not do well that you should consider.
MailChimp-ese
MailChimp's brand is not only cosmetic – it's engrained throughout the product. For better & for worse, MailChimp has a unique language for its features & processes.

If MailChimp is your first email provider, you won't notice. In fact, you'll likely find it fun and simplifying.
But if you are coming from other email providers, you'll likely find it a bit confusing. The learning curve will be a bit steeper.
For example, most email providers have lists & segments. MailChimp has lists, groups & segments. In many ways, I like MailChimp's setup. But it's also not industry standard.
MailChimp no longer does "autoresponders" – instead, they do "automation flows."
They have a whole glossary of MailChimp / email terms at http://kb.mailchimp.com/glossary
It feels a bit like Starbucks where they don't have "small, medium, large." They have "Tall, Grande & Venti."
Again, it's great from a marketing & branding perspective, but sometimes it can be tiresome to figure out what MailChimp means in the usual language.
Buried Defaults & Data
From a beginner's perspective, MailChimp's default setup is awesome. They pull from the best practices that they've documented from their enormous body of data.
Everything from their forms to lists formatting to key metrics to tracking to designs are have default settings. They also automatically consolidate metrics into more accessible & simplified ratings.
But to dig up & change the specific defaults or dig up a very specific piece of data can be frustrating. It's all buried on second screens and/or specific workflows.
For example, "member ratings" consolidates deliver/open/click rates for each subscriber across all your campaigns. But if you want to find an open rate for a subscriber in a single past campaign, it requires quite a bit of digging.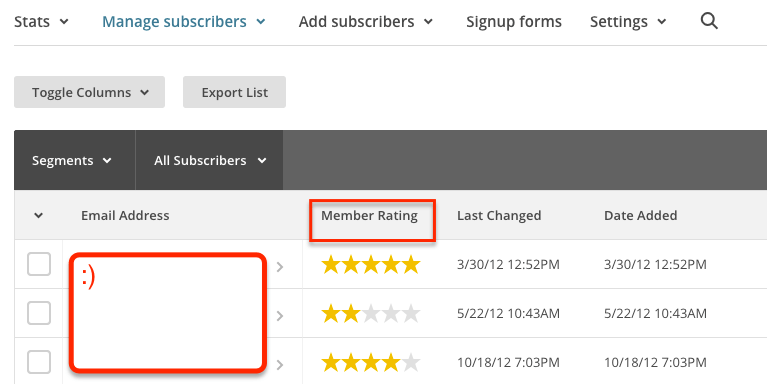 Same way with changing the text on default signup forms. You can't quickly edit it. You have to go into the build a form workflow and go to Translation Settings then re-save the form.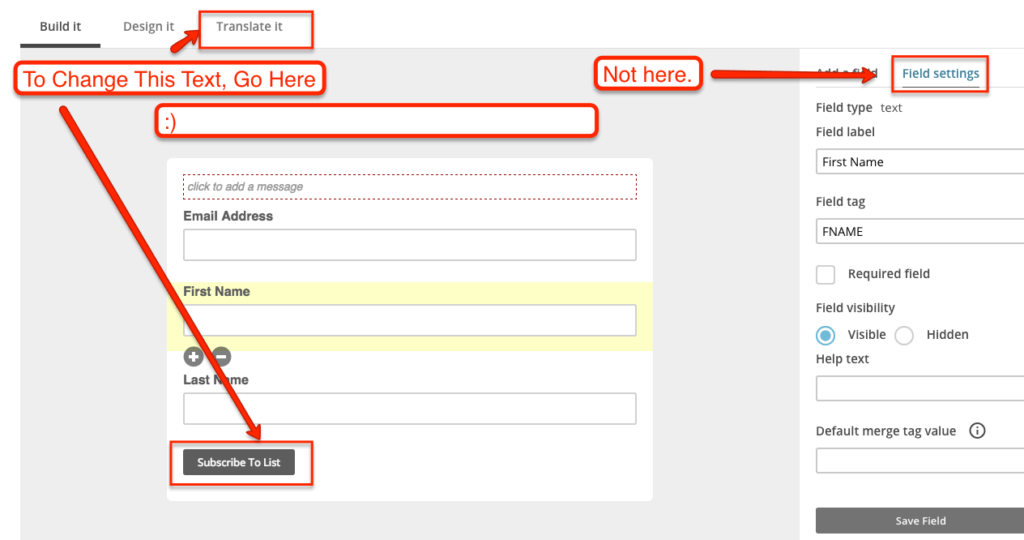 Most of this stems from the fact that they bias their processes towards making the initial setup super-easy. But that creates a situation where it's more difficult to go back later to make a quick change.
It's not a huge consideration, but it's something that I wish I could edit after using MailChimp in the same way for years and years.
Very Frequent Updates
MailChimp is constantly improving their product. They are famous in the web development community for rebuilding their product every few weeks.
That makes for a very slick, fast & cutting edge product.
It's also a bit maddening for a non-frequent user.
Sometimes it feels like as soon as I figure out all the shortcuts to everything…MailChimp completely re-configures everything.
In fact, while I was writing the first draft of this post, MailChimp rolled out a completely reconfigured Dashboard – and they are constantly making small tweaks to every single screen. I regularly refresh this post…but I know that at least one screenshot will be wrong.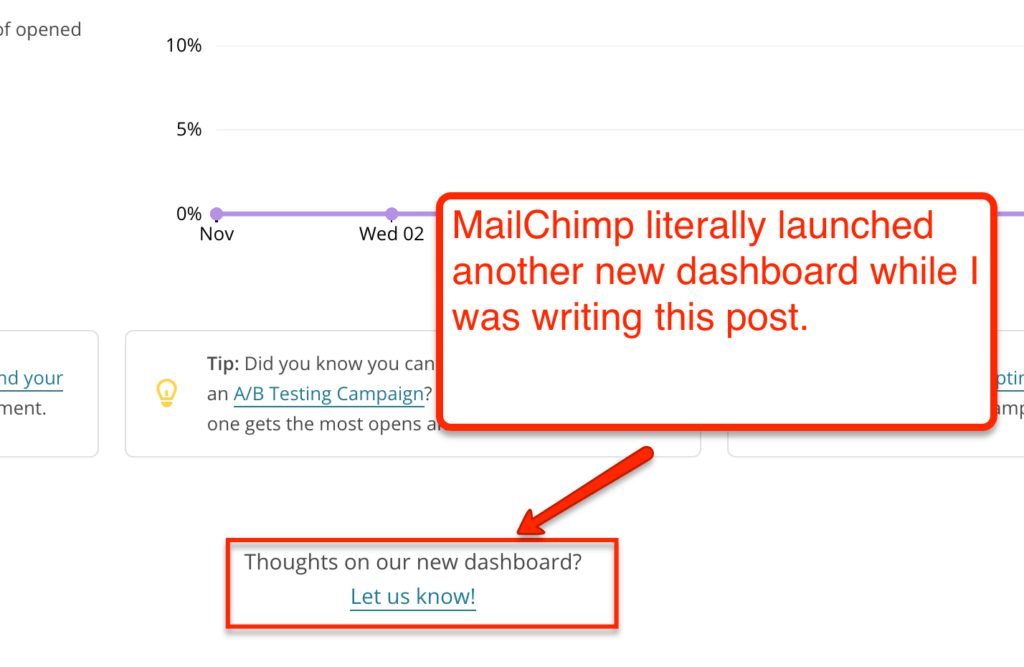 I'd rather have MailChimp's system of regular UX updates than a setup that looks like it's circa 2002. It's great for new users, but confusing for anyone who has been around for a while. I do wish MailChimp would slow down a little bit on design changes.
It reminds me of app updates on my phone. In the long-run, the frequent app updates are great, but the day after my favorite app updates, it seems like everything is wrong.
Fiddly Native Forms
MailChimp provides several native forms that you can copy & embed on your website/social network.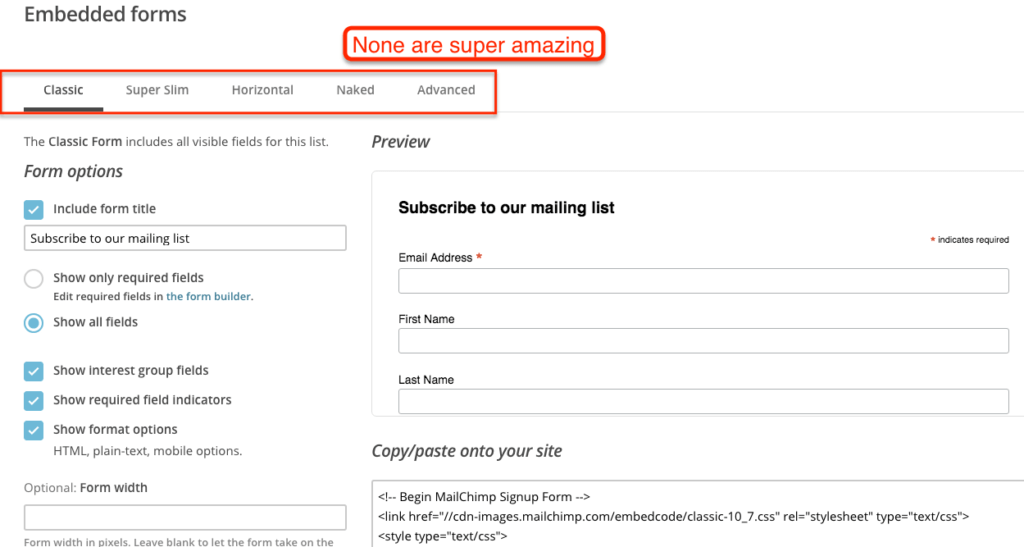 They are fine. But they are also very fiddly. You still need to know CSS to get them *exactly* right. There's no drag and drop or drag to adjust functionality.
And the default looks like a default form. I see them everywhere online – and it's obvious that the website is using MailChimp.
Additionally, if you have an HTTPS website, you have to test and implement some very specific changes to make the form work (even though MailChimp implies that they support HTTPS by default).
(Emergency) Customer Support
MailChimp strives to eliminate the need for customer service. Their product simply works. It's intuitive. And they have a ridiculously thorough knowledgebase.
Their customer support team is also great.
But they only work business hours in the Eastern time zone. If you are running a campaign on the weekend or at night – there's no customer support.
In some ways, I admire their choices. It's worked for them for years, and it's good to see a company do well outside of an obsessive 24/7 operating schedule. But if your company absolutely needs a 24/7 on-call customer service, you'll want to factor that in your decision.
MailChimp Conclusion
Like any piece of business, productivity, or hosting software – think about what exactly you want to do, and what your ultimate goal is.
Since MailChimp is forever free with fewer than 2,000 subscribers – go sign up here and try MailChimp yourself.