Strikingly is an all-inclusive website builder that's tailored to helping entrepreneurs get up and running online quickly and easily. They're platform requires zero code or design skills, meaning even those with no website experience can create a good-looking site in minutes.
See Strikingly's Current Plans & Pricing
Recently, I gave Strikingly a try for a full Strikingly Website Builder review. But before I get into the pros and cons of my review, let's dive into an overview about tools to build a website.
There are so many considerations to take into account when choosing a website builder — and really, there are a thousand ways to get what you want in the end in terms of functionality, convenience, pricing, etc. The thing to remember is: whether you're building a simple personal website or running a business, the way you build your site has a lot of consequences.
In the long-term, it affects your versatility, functionality, and, of course, your brand. In the short-term, it can certainly add/take away a lot of headaches. That said, just like choosing a physical house or office, there is no such thing as an absolute "best" or "top" choice. There's only the right choice relative to your goals, experience, and circumstances.
What Is Strikingly Website Builder?
On the wide spectrum of website building solutions, Strikingly lives on the end that is all-inclusive and provides everything you need to get started and grow your website. It contrasts with solutions where you buy, install, and manage all the "pieces" of your website separately.
Using Strikingly is sort of like leasing and customizing an apartment in a really classy development instead of buying and owning your own house. You're still in control of decor, cleaning, and everything living-wise – but you leave the construction, plumbing, security, and infrastructure to the property owner. That point is key because there's usually a direct tradeoff between convenience and control.
Everything may fit together just right with a website builder like Strikingly, but that may or may not be what you're looking for.
As far as competition Strikingly competes with all-inclusive website builders like GoDaddy, Wix, Squarespace, Jimdo, and WordPress.com (and Shopify for online stores).
Compared to their direct competition, they focus on speed and ease of use. Strikingly offers several website templates you can customize with no coding or design experience required (more on that in a bit).
Strikingly Alternatives


Wix Review
Rating

9.0/10

Price

Free - $49+ per month

Promotion


Squarespace Review
Rating

8.5/10

Price

$12 - $40 per month

Promotion


WordPress.com Review
Rating

8.0/10

Price

FREE - $59 per month

Promotion
Pros Of Strikingly
Here's what I found to be the pros of using Strikingly website builder — not just in comparison to direct competitors like GoDaddy and Wix, but as an overall website solution.
Straightforward Sign Up Process
One of the biggest pros of using Strikingly is how easy it is to get up and running on the platform. It's basically just two steps — enter your information, pick your theme, and you're in!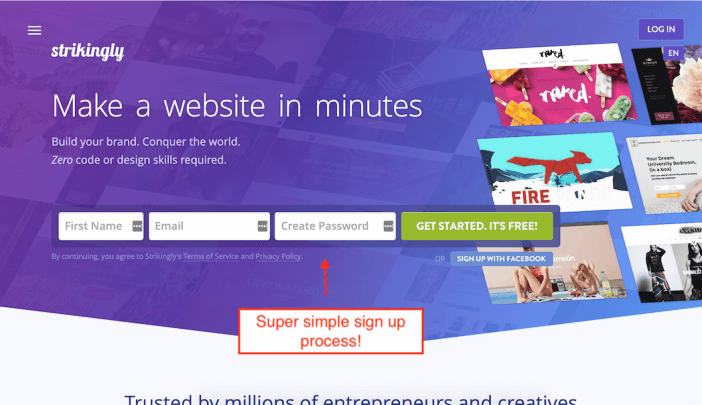 This is great for DIYers who want to get up and running as quickly as possible without the hassle of creating a detailed account, selecting a niche, etc.
Template Design / Functionality
Strikingly also offers a wide selection of template designs that are responsive (AKA they look good on a mobile device, tablet, and computer). There are a wide variety of options to choose from, and Strikingly has them broken down by niche, so you can find a template that includes the functionality your business may need.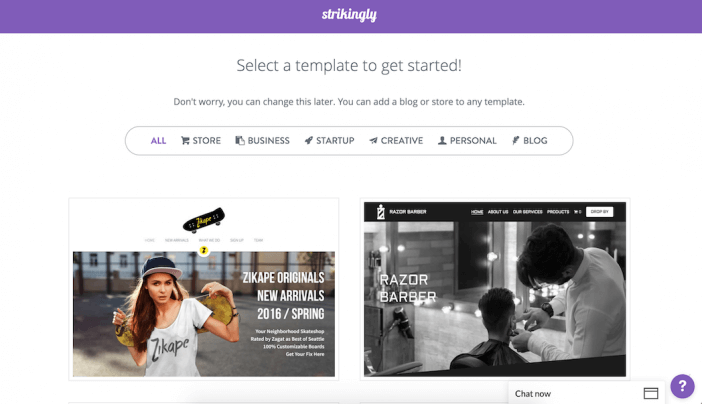 Now, Strikingly isn't technically drag-and-drop (where you choose from premade sections and "drop" those onto your page), but it is fairy intuitive to use. You can customize the styles on the page (like fonts and colors), and you can add premade sections and blocks, but you don't get the ability to add elements willy nilly.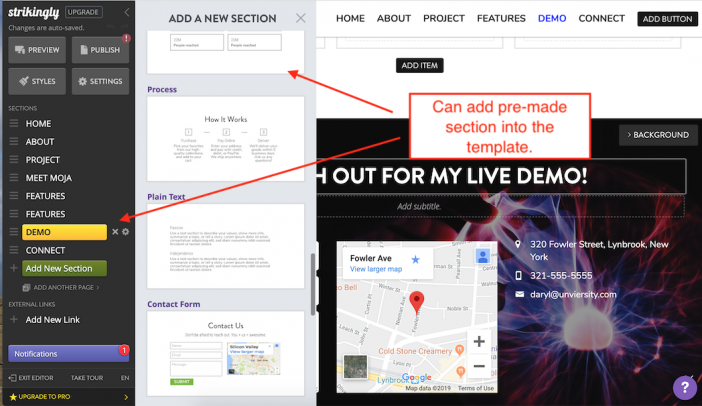 The whole setup is like painting by numbers.
There are obvious drawbacks to this setup, which I will cover in the disadvantages, but it is a real advantage to having limited but accessible design options. It makes Strikingly a great option for entrepreneurs/ DIY-ers who want a website that looks professionally designed without having to hire someone to build something custom or spend much time tweaking the design themselves.
Free Trial + Free Plan
Another benefit Strikingly is their 14-day free trial and free plan.
Strikingly allows you to trial any plan (even their highest-tiered option!) for 14 days before committing. This is great for DIYers who want to give a plan a test drive before committing.
They also offer a free plan, which includes a fair amount of features when compared to competitors, such as unlimited sites and limited ecommerce functionality.
There are some cons with the free plan, such as limited storage, limited pages, having to use a subdomain (ex: yourname.strikingly.com), and extremely limited integrations — but if you're looking for a simple site for a short-term project, this could be a solid option.
Some Product Integration
While limited, Strikingly does offer some product integration, such as ecommerce functionality and apps in their app store (which give you the ability to add maps, forms, and other functionality to your site).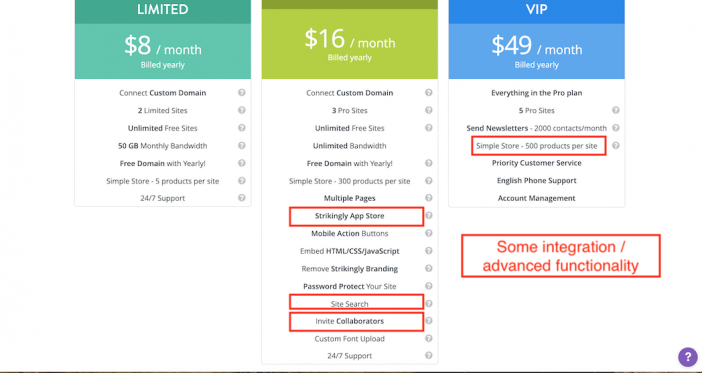 You can also add on custom email for an additional $25/year. One thing to note — these additional integrations / functionality are all part of paid plans. This isn't necessarily a con, but it is something to pay attention to… especially because you can find a lot of this functionality for less with other website builders (particularly if you went the self-hosted WordPress route).
Cons Of Strikingly
Of course, no review would be complete without looking at the downsides. Every piece of software will have complaints. Let's look at the specific cons I found with using Strikingly as your website builder.
Pricing + Plans
While Strikingly is fairly easy and convenient for DIYers and small businesses, they do leave a lot to be desired when it comes to pricing. All of their plans come with some sort of limitation, whether it be domains, the number of "pro" sites you can publish, or even storage.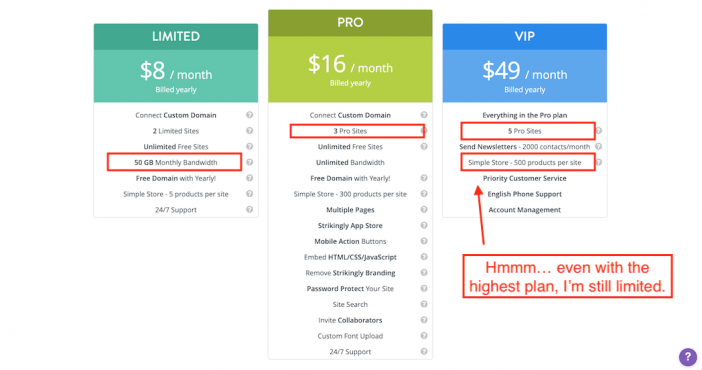 You also can't access the VIP plan on the monthly payment option. Again, this isn't inherently a con… unless you need the VIP features and want to pay monthly. Then you're out of luck. The price also changes based on how long you commit to, which is a pro if you're looking for a long-term solution, and a con if you're looking for a short-term solution.

Limited Feature Set – Design
With any technology product, there is almost always a trade-off between convenience and control (think Android vs. iOS)
And you can really see this trade-off with the Strikingly website builder. The convenience of their design setup is great. It's straightforward and fast, and puts your focus on getting your content into a premade template. You can add pages and sections based on your specific needs, but for the most part, it's got everything you need.
However, if you want to go anywhere beyond the basics of design, you are limited with the builder. You can't add anything within the premade sections, you can't create your own sections, and the elements you can change on the overall template are fairly limited.
If your website is growing, or becoming a bigger part of your business, the design limitations can be crippling. And unlike other website builders that attempt to solve this issue through apps, extensions, or access to the website code or HTML, there is no outlet for a Strikingly website builder website. You can embed HTML/CSS/Javascript with a pro plan, but you can't manipulate the actual template you're provided with.
Limited Feature Set – Technical
The limitations on design also bleed over into technical limitations.
Technical limitations are features that you don't know that you want until you want them, and then you find out you can't have them.
These are things like integrations with Facebook, Pinterest, Twitter, Google Ads, social sharing options, blogging, and a whole host of every intermediate to advanced marketing tools on the internet. Now, as I mentioned above, Strikingly does give some integrations, like DNS / hosting services and email for an additional payment. They also allow you to insert code into the header of your website for things like analytics tracking (but only on Pro plans).
However, there are a ton of technical features that Strikingly doesn't provide or that are extremely limited.
For example, let's look at Strikingly's SEO features. I can edit the site title, description, and add a category and social share image. But aside from that, I'm pretty locked in to what I have. There's no options for Schema, Open Graph settings, etc. – much less highly advanced options.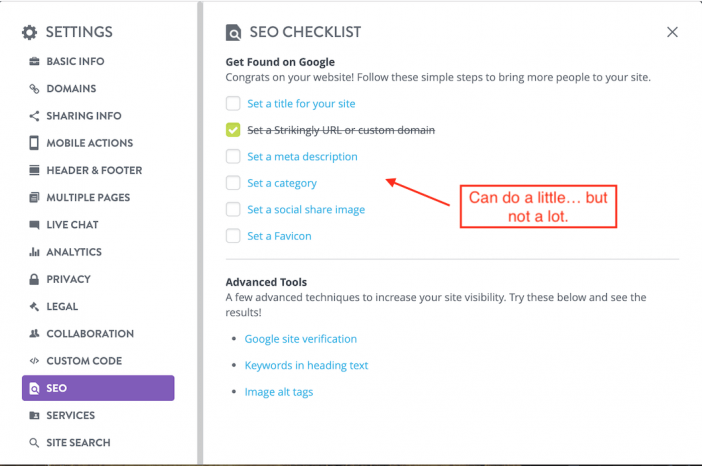 Even the additional add-on products / integrations are limited. There's not much to address marketing your site, aside from adding code for Google Analytics and Facebook Analytics or putting code into the header of your website, which again, is only available for Pro plans.
Ultimately, Strikingly leaves much to be desired when it comes to product integrations and additional technical features that can help you better market your website.
Strikingly Review Conclusion
Strikingly makes getting your website up and running simple and fast, which makes it a great choice for DIYers who want a quick and easy way to build a nice website without the hassle of getting into the code or having something custom made.
However, like most all-inclusive website builders, there does come a point where there's a tradeoff between convenience and control, especially when you factor in price. Strikingly pricing leaves something to be desired, especially when you get into the higher priced plans and take into account the technical limitations, even with the higher priced options. If you're looking for something that offers more control and scalability, you're better off elsewhere.
Not sure Strikingly fits your needs? Check out my quiz to find what the best website builder is for you based on your preferences.