| | |
| --- | --- |
| Support | Help Desk, Live Chat, Phone & Knowledge Base |
| Uptime | Excellent (99.99% past 6 months) |
| Guarantees | 30-Day |
| Free Migration | |
| Best For | Basic Hosting & Cheap Prices |
| Strengths | Simple One Hosting Plan |
| Weaknesses | Slow Performance & Custom Panel |
| Promotion | Get For Only $3.15 Per Month |
What Is FatCow
FawCow is an early web host that was founded in 1998. FatCow is a web hosting brand owned by Newfold Digital and was acquired in 2005. They offer a full spectrum of web hosting services from shared hosting to VPS servers to domains with unique branding.
FatCow Pricing
FatCow has a focused spectrum of hosting plans. Here's a brief overview of each.
Web Hosting
Web (i.e., Shared) hosting is the bread and butter of the website hosting world. They consist of individual accounts on a Linux server. They can run WordPress or any application on a LAMP Stack. It's a cost-effective and reliable way to run most websites.
Unlike other web-hosting providers, FatCow only has one hosting plan.
| Plan | FatCow Plan |
| --- | --- |
| Initial Price* | $3.15/mo. |
| Renewal Price | $8.95/mo. |
| Websites | unlimited |
| Storage | unlimited |
| Bandwidth/month | unmetered |
| Free Domain Name | 1 year |
| Free SSL | |
| CDN | |
| Dedicated IP | |
| Daily Backups | |
* Pricing per month for a 36-month subscription
WordPress Hosting
Even though WordPress can run on shared hosting, many hosting companies have WordPress hosting plans due to customer demand and the hardware demands of WordPress. Many hosting companies offer "WordPress hosting" that is *exactly* the same as their shared hosting plans.
FatCow does have a WordPress Blog Hosting plan. But it's basically just their shared hosting plan with pre-installed plugins. See their plans.
VPS Hosting
VPS hosting is a great way to get a specific allocation of server resources, without having to lease an entire server. Even though your website lives on the same server as other sites, you have total control over a set amount of resources. Learn more about VPS hosting in this guide. FatCow has several very competitively priced VPS plans.
Dedicated Hosting
Dedicated Hosting is where you basically lease an entire dedicated server. It's the best way to have maximum control and performance. FatCow has a range of competitive dedicated hosting products.
FatCow Alternatives


Bluehost Review
Rating

9.5/10

Uptime Guarantee

No

Free Migration

Yes

Promotion


HostGator Review
Rating

9.0/10

Uptime Guarantee

Yes

Free Migration

Yes

Promotion

GoDaddy Review
Rating

7.5/10

Uptime Guarantee

Yes

Free Migration

No

Promotion
What is FatCow?
FatCow is a hosting and web services company. FatCow has been around for quite a while. They started in 1998 and run out Burlington, MA – in possibly the same data center as their sister brand iPage.
FatCow has made its name with a specific focus on beginner and DIY website owners and a fun, friendly brand – both of which stand out in an industry traditionally focused on developers and technical server jargon.
Like most shared hosting companies, FatCow also provides email, a website builder, and various complementary services to web hosting with 24-hour support and a 30-day money-back guarantee.
Is FatCow Legit?
FatCow is an old and established hosting company. They are owned by Newfold Digital, which is one of the largest web services corporations on the Internet.
FatCow has been in business since 1998 and is based in Burlington, Massachusetts.
FatCow is legit. They aren't a fly-by-night hosting company.
What Is FatCow Used for?
FatCow is used to host websites and web applications. They have a specific marketing focus on affordable websites – and provide free website software bundled with hosting. They offer a full suite of website products ranging from domain names to hosting to email to even web design.
There are a lot of FatCow reviews online – usually with user-generated reviews based on anecdotes and personal experience. That's totally fine, but I take a different approach, looking at both the advantages and disadvantages of a host.
However, as I've stated in all my hosting reviews, finding a good hosting company is about finding the right fit based on your goals & resources. Here's my pros & cons and overview of FatCow's products as a FatCow customer.
Pros of FatCow
There are a lot of FatCow reviews online – usually with user-generated reviews based on anecdotes and personal experience. That's fine, but I take a different approach. As I've said in other hosting reviews, there is no such thing as the best web host.
The best web hosting service depends on your goals, budget, experience & expertise. Here are the pros and advantages of considering FatCow.
Short-term Pricing & Plan Structure*
FatCow's primary advantage is its short-term pricing and plan structure. If you sign up for a year – you are likely to get a heavily discounted rate for the first year. Plus – FatCow doesn't have pricing tiers.
They have a single web hosting plan with unlimited everything. And that's important because looking at pricing plans across different hosting providers can be confusing.

*Note that FatCow's pricing and plan structure does have a quirk that will fall in the Cons section.
Web hosting companies are all selling the same thing – a home for your website – but they all have different plans with different caps, different bonuses, and different renewal prices. For most, figuring out their true value requires a breakdown into different parts.
To compare "apples to apples", I break things down into Core hosting features and Bonus hosting features so that you can see exactly what you are paying for and how it compares to other providers.
Core hosting features are the "3 D's" – domains, databases, and disk space. The core purpose of a hosting server is to serve website files when someone types in your domain name.
Domains are how many domain names you can point to your hosting account. If you want multiple websites, you'll want to have multiple domains allowed. You'll also need to look at email addresses per domain – sometimes, those are capped as well.
Databases are how many pieces of website software you can run on your hosting server. A WordPress install requires one database. If you have any apps, Listservs, etc. – you'll need more.
Disk space is how many files you can put on your server – images, text, PDFs, etc.
Other features could be anything from website builder software to advertising credits to backend software, etc.
When you break it down, you can at least compare apples to apples and get a sense of value based on what you need.
FatCow makes things simple because they only have the one shared hosting plan – their "Original FatCow Plan," which usually starts at a discounted introductory price of $49/year (sometimes discounted even more at this link) – though it renews at up to $179.40 per year after.
That shared plan includes unlimited domain add-ons, unlimited bandwidth, unlimited disk space, and databases, plus plenty of bonus features like a free SSL certificate, unlimited emails, ad credits, daily backup, and a free domain name.
If you have a very tight budget and want short-term hosting for less than $50/year – FatCow has that advantage.
Product Simplicity & Bonuses
Related to their simple pricing is FatCow's stability & product focus. Not a lot of hosting companies have been around for as long as FatCow. And even fewer have stuck to their core product as FatCow has.
Most hosting companies try to go for growth and evolve "platforms" or a myriad of confusing product variants. Some of those are great. And in a fast-moving industry, change and upgrades are absolutely necessary.
But it's also refreshing to see a company stay current with technology while sticking with their product and their core market. It's like a Coca-Cola version of hosting. For many small businesses looking for stability and predictability – FatCow's approach is a huge advantage.
Additionally, FatCow provides a few other interesting bonus features that are a pro in aggregate. I like how they were one of the first to go 100% wind-powered. They include a free 1-800 number, which can be useful for some businesses. They also provide lots of other random bonuses – like free website design icons and a fun, friendly brand tone.
All positives in my book.
Simple Backend*
When you sign up for hosting, you usually get access to an account dashboard to manage your plans, products, and any add-ons. You'll also get access to your actual server's backend where you can install software and get server information for whatever you need it for.
And usually your server's backend will offer a range of auto-installers that will install common software like WordPress for you.
Every hosting company approaches each of these three areas differently. And the backends of hosting companies can vary widely.
FatCow's is a custom backend. They do not use the industry-standard cPanel. This point will come back as a disadvantage.
However, if you are a beginner or have very basic needs from a hosting backend, then FatCow's is actually quite simple and straightforward (albeit a bit dated).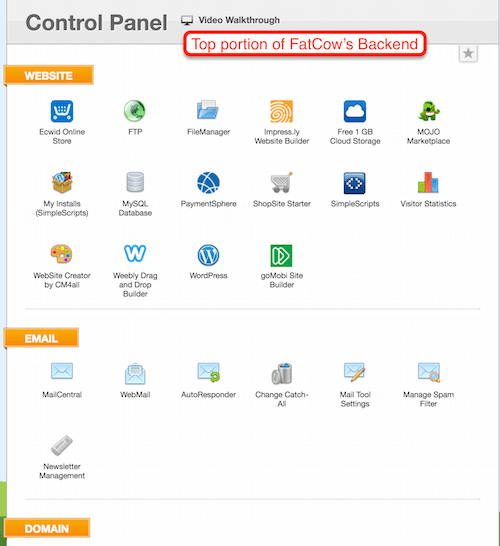 It's not the prettiest backend, but it's also not confusing or radically different than most hosting providers on cPanel.
If you only need server information and access to a QuickInstall (ie, for WordPress), then it's all there.
For FatCow's primary audience, I'll place their custom backend as a pro for using FatCow.
Cons of FatCow
Like any web host, FatCow Hosting has disadvantages. Here are the cons that I found while using FatCow for hosting.
Long-term Pricing & WordPress Plan Structure
Like I mentioned in the pros section, FatCow has great short-term pricing and a simple plan structure. However, they throw a couple of wrenches into that scenario.
First, their Original FatCow Plan renews at up to $179.40 per year if you renew for a year.
Whatever you renew at – their pricing is more expensive than direct competitors. HostGator renews for as little as $6.95 per month when you sign up for 3 years and $8.95 when you renew for a year. Even Web Hosting Hub renews at $8.99 per month.
Either way – FatCow is more expensive than most if you are selecting a long-term host.
Second, FatCow recently launched a couple of "WordPress Blog Hosting Plans (vs. their web hosting plans" similar to their sister companies.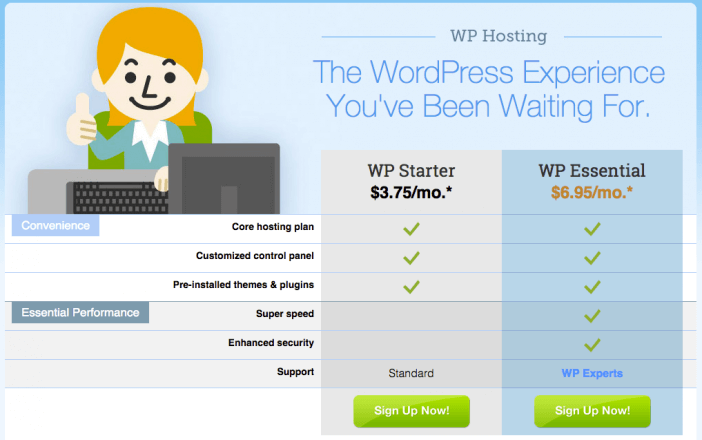 *Aside – "WordPress Hosting" is possibly the most confusing, maddening terminology in the entire hosting industry. Here's the thing… WordPress runs on any Linux shared hosting. It does not need any sort of special hosting. I wrote a whole definition post on WordPress hosting here.
Unless you are purchasing hosting from a company that *only* does WordPress such as WP Engine, "WordPress Hosting" services are just upsells with renamed benefits.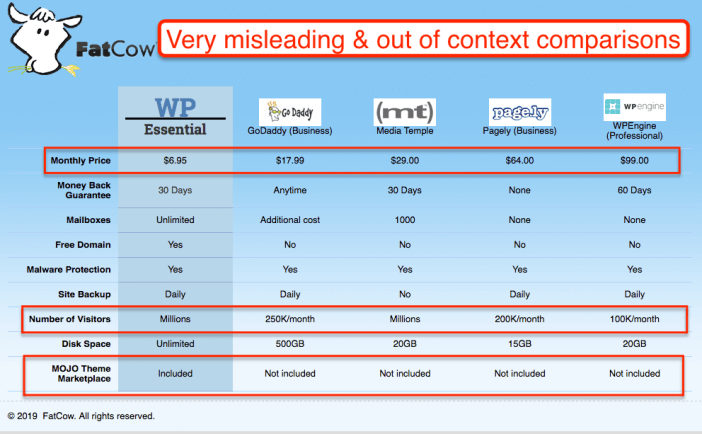 Everything that FatCow promises in their WordPress plans is not something they can really promise. For example, they promise to "pre-install plugins." Plugins in WordPress require 3 clicks to install. And the ones they pre-install usually aren't the best ones – they are the plugins that make FatCow money.
Another example is their promises of speed because they installed the W3 Total Cache. Ok, just because you install a caching plugin doesn't make your WordPress website fast – not to mention that W3 Total Cache is not the best choice for shared hosting plans (use WP Rocket instead). Ditto with their security promises.
The last thing about their WordPress plans is that the WP Starter Plan is actually cheaper than their Original FatCow plan. That's great and all, but it makes me wonder what's missing. Honestly, their WP Essential Plan looks like a complete upsell with no real benefits.
After looking at several Newfold Digital brands, these plans look like something they are rolling out across all their brands to make money and consolidate services – not something that actually fits into FatCow's brand or normal services.
If a site needs WordPress-specific hosting, then you should use a company like WP Engine or a WordPress Hosting plan like SiteGround's that offers real developer benefits. Otherwise, you should just use Linux shared hosting and install WordPress on that account.
Either way, FatCow's long-term pricing, and confusing WordPress-specific offerings are solidly in the cons column for them.
Confusing Upsells
Related to WordPress services is the topic of general upsells.
Upsells are not necessarily a bad thing. They provide cheaper overall prices for most while providing specific services for anyone who wants to pay for them.
But upsells can also be a bad thing. They usually become bad when they are overly aggressive or when they are added without explicit consent.
They can also be bad when they confuse customers and devalue the actual product. This point is where FatCow fails.
They offer upsells in checkout and in their backend. Instead of complementing their services, they overlap with key features. Several also come pre-checked (I almost bought Google Apps for no reason).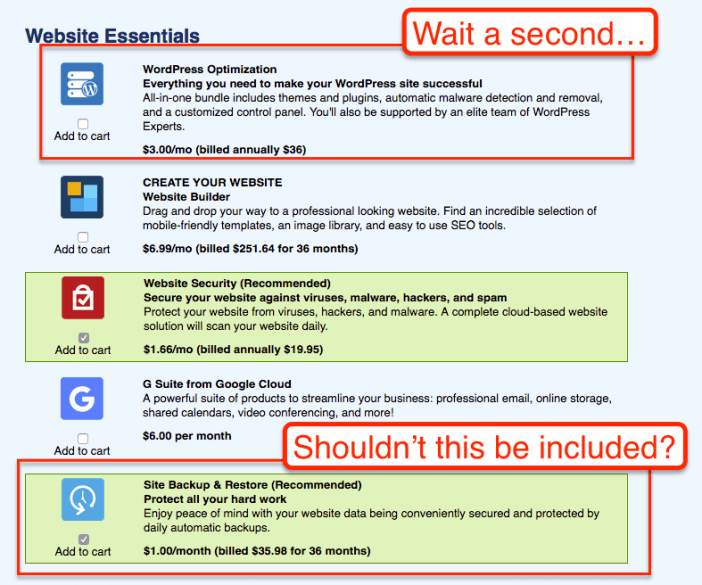 Either way, it's not a huge disadvantage. And their upsells do not affect their core product, but it is a turn off compared to competitors.
Custom Backend
Like I mentioned in the pros section, FatCow does have a simple and straightforward backend. However, it's also a custom backend (not cPanel). This means that if you are looking for more advanced functionality or are already used to cPanel at a previous host – you'll find FatCow's backend to be annoying.
Like their performance and customer support – it's not bad, but it's also not great either. Their service would be much better with a cPanel backend instead of their custom setup.
Customer Support & Service
Customer support is notoriously hard to judge. It's hard to know what is really going on behind the scenes, and whether a company will be helpful when *you* contact them.
So many user-supplied online reviews (of any company) are either naively positive or exaggerated negative experiences. Besides, with anecdotes, you never know if you are reading about a one-off or a true trend.
Instead, I argue that you should look for indicators of whether a company treats customer service as a cost or an investment. In other words, are they trying to keep costs down and maximize profit for the short term or are they trying to develop happy, long-term customers?
The two best indicators I've found are:
availability across a range of support channels
investment in DIY customer support.
FatCow support is mediocre on both. Not bad on an absolute scale, but bad compared to other providers like InMotion.
For availability, they have phone and chat support. My chat wait time wasn't bad, but not great either.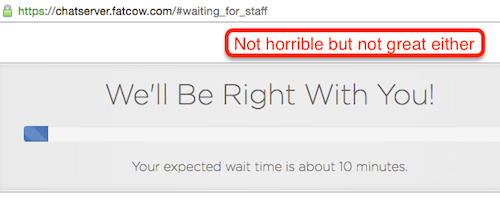 Their support team seems to monitor Twitter, but don't have any alternative methods (ie, forums or comments) on their actual website.
As far as DIY customer support resources, they have a knowledge base and a user guide section.
Neither is bad (like Arvixe), but neither is comprehensive or actively being invested in. They both cover very beginner topics or vendor-specific topics.
Overall, FatCow's customer support seems ok, but not great compared to other providers.
Is FatCow Worth It?
So. Is FatCow a good web host?
Overall, I found FatCow hosting to be an ok web hosting provider. They aren't great, but they also aren't that bad. If their short-term pricing is attractive to you, then you can go sign up for FatCow.

Otherwise, I'd look for alternatives that might be a better fit with a better complete package.
If you are looking for an independent web hosting service with almost as good pricing, better performance, and customer support, and don't mind paying annually then I'd recommend checking out InMotion Hosting.
If you are looking for a cheaper option with the option to pay monthly, then I'd check out HostGator. See HostGator review if you want more insight.
If you are more confused than ever – about which is the best web hosting depending on your needs or use my website setup guide.
FAQs