Bluehost vs. Hostgator? – it's a question that's a bit like asking "Coke or Pepsi?" It's somewhat slicing details, but it's a choice nonetheless for something that you'll likely be using for years. I've written a Bluehost review and HostGator review for each, but this post compares them head to head.
In this comparison between the two, I'll try to break down the differences that I've found in seven different areas ranging from pricing structure to customer service and market focus so that you can decide which is the best fit for your project.
Let's start with the similarities. Bluehost and HostGator are both:
Owned by the same company Newfold Digital – a large technology corporation
Established, well-known brands in the hosting industry
Provide a similar menu of products that revolve around shared Linux hosting'
Use the cPanel control panel to provision new accounts
Provide pricing & hosting products that focus on small to midsize companies
And yet – they are different companies with different brands. When you are choosing a website host – you still have to end up choosing.
Comparison Summary
I have current clients who use (and like) Bluehost. Bluehost has excellent business-focused features & support. They have a known & trusted brand.
I also have several projects that have run on HostGator for years. They have great value pricing and provide some features for DIYers that are great. I've been happy with them.
Bluehost vs. HostGator Pricing
Both Bluehost and HostGator offer a wide menu of web hosting products such as domain names, VPS hosting, WordPress hosting, and more (even the GATOR website builder).
But for pricing – we'll focus on the most common product that small businesses usually need – shared Linux hosting.
Shared Linux hosting is also known as the "kind of hosting that lets you run WordPress, Joomla, and most non-Windows web apps."
Bluehost Shared Hosting Plans
| Plan | Basic | Plus | Choice Plus | Pro |
| --- | --- | --- | --- | --- |
| Initial Price* | $2.95/mo. | $5.45/mo. | $5.45/mo. | $13.95/mo. |
| Renewal Price | $10.99/mo. | $14.99/mo. | $19.99/mo. | $28.99/mo. |
| Websites | 1 | unlimited | unlimited | unlimited |
| Storage | 10 GB | 20 GB | 40 GB | 100 GB |
| Bandwidth/month | unmetered | unmetered | unmetered | unmetered |
| Free Domain Name | 1 year | 1 year | 1 year | 1 year |
| Free SSL | | | | |
| CDN | | | | |
| Dedicated IP | | | | |
| Daily Backups | | | | |
* Pricing per month for a 12-month subscription
HostGator Shared Hosting Plans
| Plan | Hatchling | Baby | Business |
| --- | --- | --- | --- |
| Initial Price* | $2.75/mo. | $3.50/mo. | $5.25/mo. |
| Renewal Price | $11.95/mo. | $12.95/mo. | $17.95/mo. |
| Websites | 1 | unlimited | unlimited |
| Storage | unlimited | unlimited | unlimited |
| Bandwidth/month | unmetered | unmetered | unmetered |
| Free Domain Name | 1 year | 1 year | 1 year |
| Free SSL | | | |
| CDN | | | |
| Dedicated IP | | | |
| Daily Backups | | | |
* Pricing per month for a 36-month subscription
Both Bluehost and HostGator have the same basic pricing structure – a three-tier structure mixing and matching different caps.
The first tier is for small websites on a budget. Bluehost calls it their Basic plan and renews at $7.99/mo. HostGator calls it their Hatchling plan and renews at $6.95/mo.
Their first tiers are different based on the type of cap they use.
HostGator uses a domain name cap – ie, you can only have one website on that plan, but that website is otherwise unmetered. It can have enormous videos, plenty of storage, lots of databases (e.g. software installs on the same domain), and unlimited email accounts.
Bluehost uses domain name, website space, and email account caps. This means that you can connect to a single website, but you are limited on your files stored and email accounts that you can set up.
HostGator has the better deal on the first tier.
The middle tiers are the most comparable. HostGator calls it their Baby plan. It renews at $9.95/mo. Bluehost calls it their Plus plan. It renews at $10.99/mo.
Both are almost exactly the same on core hosting features (a concept that I'll cover in Features). HostGator is a slightly better deal at a US dollar less per month.
The top tiers are less comparable since they don't limit anything (outside of the physical limits of the server).
Instead, they compete based on plan bonuses. Bluehost calls it their Choice plan which renews at $14.99/mo. HostGator calls it their Business plan and renews at $14.95/mo.
Bluehost's main bonuses are a "SpamExpert," "Domain Privacy" and "CodeGuard Basic." The only one here that is a true bonus is CodeGuard Basic – which will backup and restore your site for free. HostGator does free weekly backups with a paid $20 restore.
HostGator provides a free shared SSL (which might be useful) and a free toll-free phone number for your business to use. Unless you plan on using the backup restore a lot (ie, you should be doing your own backups), HostGator is a better top-tier value – but only slightly.
If you are running a single site for quite a while and want unlimited features on that site, you'll get the best value with HostGator's Baby or Hatchline Plan.

Otherwise, their pricing is comparable enough that I'd look at some of the other differences between HostGator and Bluehost before deciding.
Hosting Features
Like I've outlined in the best hosting reviews, it's useful to break web hosting features down into two different sets – a "core feature set" and a "bonus feature set".
The core feature set consists of what I call the "3 D's" – domains, disk space, and databases/email.
Domains are how many distinct web properties you can connect to your hosting account. Disk space is how many files you can store on your account, and databases/email is how much software you can install to help manage those files (ie, one install of WordPress requires one database on your server).
They both cap one of these three core features as mentioned in the pricing. But in general, both Bluehost and HostGator provide the exact same core features. They even allocate the same amount of default memory to their accounts.
They both use industry-standard software such as cPanel and MySQL that "run" your core features. These allow for flexible and familiar management. There's nothing proprietary about their setups (unlike some hosts like GoDaddy) – so you can pick up and leave whenever you want.
That said, you can start to see a difference between Bluehost and HostGator on "bonus hosting features."
HostGator offers bonus features such as marketing credits for Google Ads, Bing, etc. They offer free shared SSL and free business toll-free phone number for your business.
Bluehost offers bonus features such as additional marketing credits and free consultant time with someone who will help set things up for you. Their onboarding is more focused on beginners than HostGator.

If you are a small business that doesn't need/want nitty-gritty features, then Bluehost will be a better fit on features for you. If you want to experiment and want access to more advanced features, then HostGator will be a better fit on features for you.
Performance
The core job of a web host goes beyond simply storing and delivering files to your website visitors. You'll also want your web host to deliver the files quickly.
There are a lot of factors that go into website speed, and many times you cannot blame a slow website on a slow host (e.g., even the most powerful engine cannot go Zero to 60mph in 5 seconds if it's pulling a massive boat).
That said – server speed is still critical. There's not really a good way for non-network engineers to measure server speed between hosts (since again, lots of factors).
In previous reviews, I've looked at Time To First Byte (TTFB) – a measurement for how quickly a server sends back the first byte of data after it receives a request from a browser.
Here are the results from my most recent test –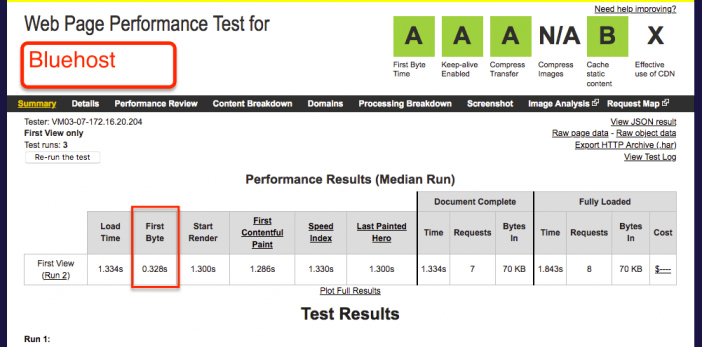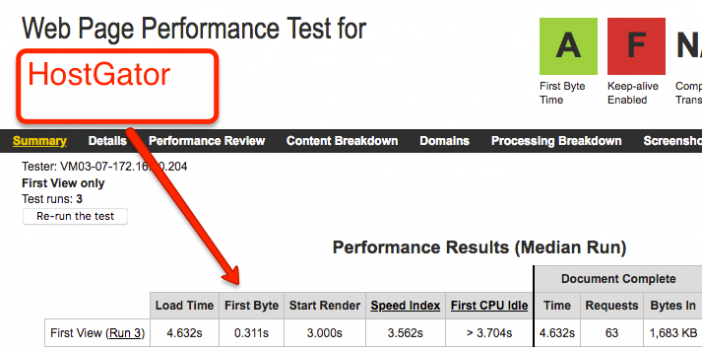 As you can see, HostGator edges out Bluehost – which is odd since they share a data center on some accounts. Either way – a better source would be internal speed data.
Normally, that's not publicly available. But, EIG is a publicly-traded company with all the public reports that go with that. Here's their internal data from their most recent Investor's Day report –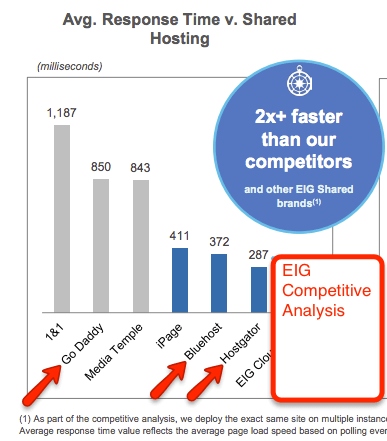 As you can see, even their internal data confirms HostGator with a narrow edge with both of them.
Based on those two findings – I'd say that HostGator generally shows slightly better performance than Bluehost.
Usability & Onboarding
Any good product can turn bad quickly if you can't figure out how to actually use it. And this point is especially true with web hosts.
The product's name sounds daunting for new users to get along with, especially compared to all-in-one website builders like Wix, Weebly, or WordPress.com.
Both HostGator and Bluehost have fairly straightforward onboarding and good usability. They both use cPanel. They both maintain similar account portals and they both send out similar onboarding emails.
And they both make it straightforward to install common web apps like WordPress. Here's what their respective "backend" setups look like –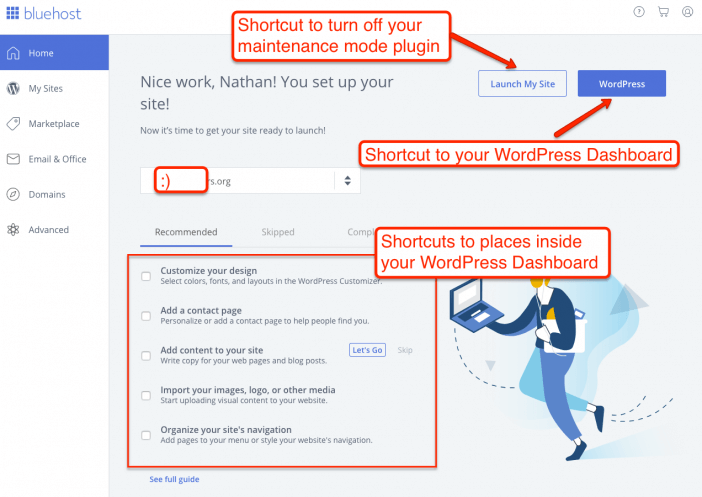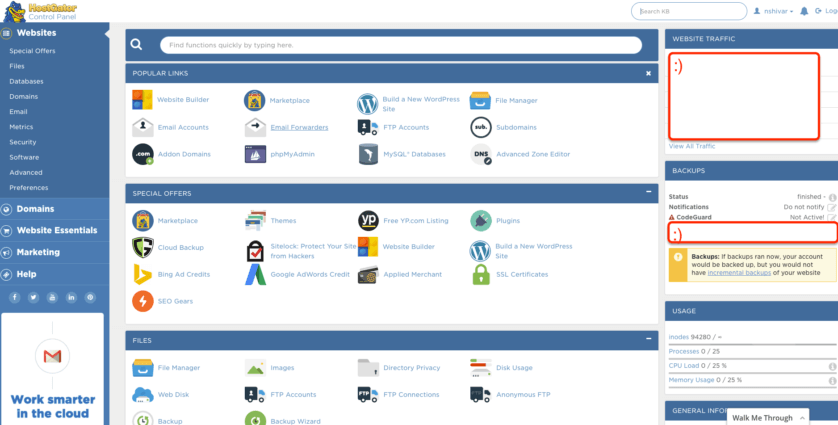 As you can see, they are very similar. They both have fairly clean designs. That said, Bluehost goes for a less cluttered look with fewer blatant upsells.
Their account management panel is a mid-2000s design and more minimalist. Their WordPress installation wizard includes fewer upsells for theme and services upsells (example from HostGator's signup process) –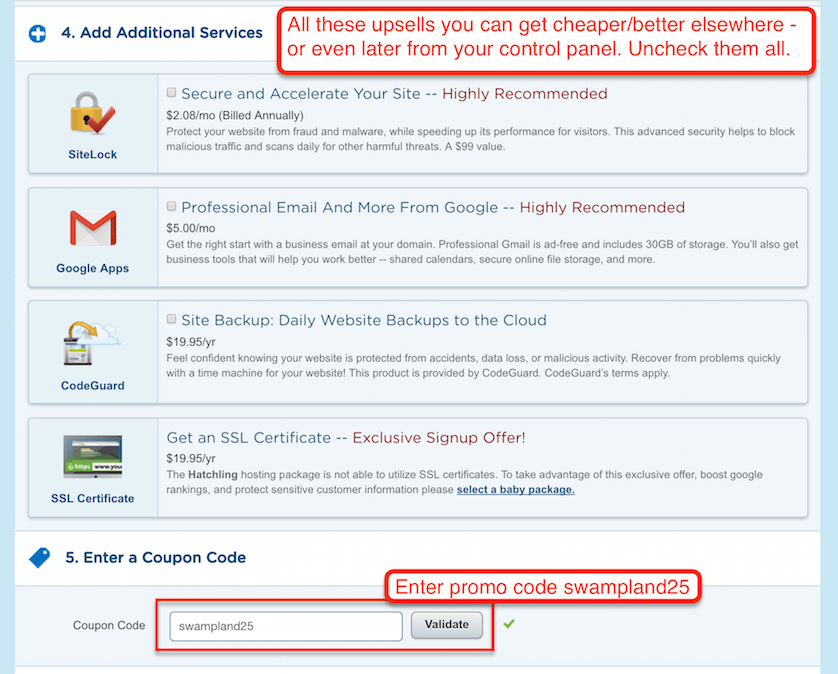 If you know what you want, neither is really an issue, and Bluehost certainly does do upsells elsewhere.
Overall, Bluehost has an edge on usability and onboarding. It's nothing decisive but does speak to the type of customer that they are looking for, which we'll cover shortly.
Customer Service
Usability and onboarding can solve a lot of problems. but not every single issue. And that's where customer service comes in.
The tricky thing about customer service is that it's all anecdotal. No single comparison (including this one) can state definitively if one company has "good" service or "bad" service.
You never know if your customer service agent just started yesterday (or was their one seasoned pro) or was having a terrible/awesome day – or if it's a deeper indication of company culture.
Instead, I try to look at indications on whether a company treats their customer service as a cost, a sales opportunity, or as an investment.
According to the EIG's Investor's Day report, they are obsessed with their Net Promoter Score (NPS). In short – that is a metric that measures how likely your customers are to recommend you.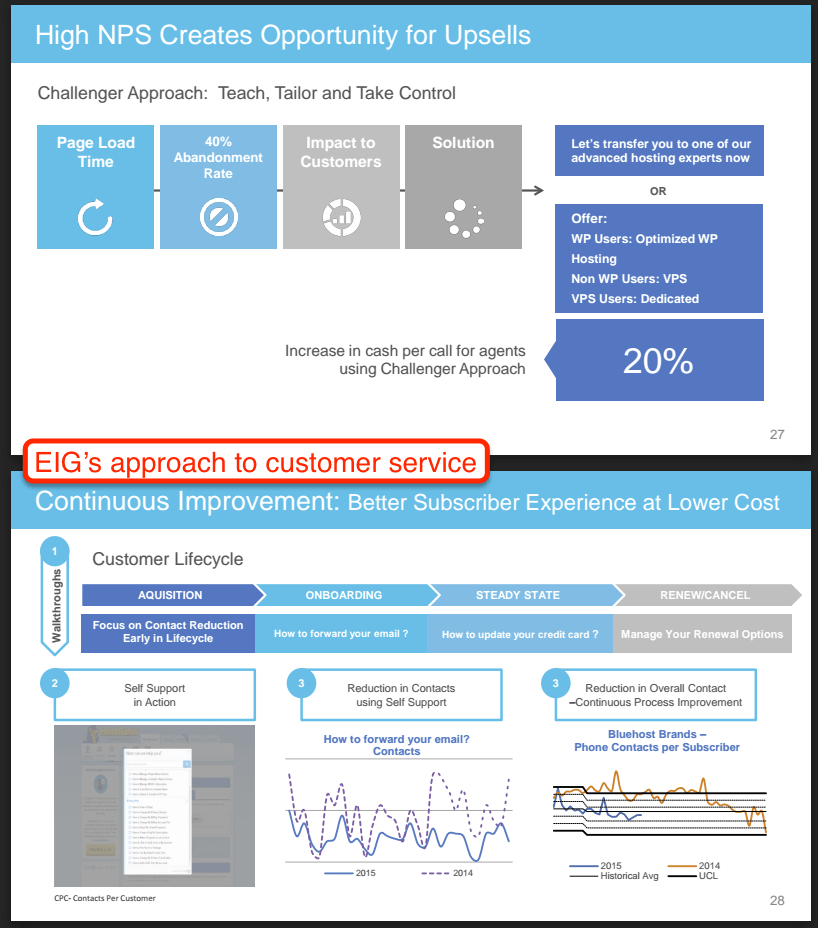 They draw a clear correlation: customer service → NPS → $$$
In other words, both HostGator and Bluehost view customer service as an investment that leads to both more sales and more upsell opportunities.
That's a good thing for you as the customer with a catch (ie, the upsell part). If you don't mind putting up with the upsells, you'll likely experience fine customer service from both Bluehost and HostGator.
The main differences are phone access and technical skills.
Bluehost has phone support and HostGator does not have phone support.
In my experience and from Newfold's investor reports, HostGator has more front-end technical expertise. In other words, the person you start talking to at HostGator is more likely to be able to solve your issue than at Bluehost.
At Bluehost – you're more likely to get referred to a "technical specialist" or new upsell product (ie, "WordPress Hosting instead of Web Hosting").
If you want phone support – go with Bluehost. If you don't need phone support and simply want quick answers – go with HostGator.
*If customer service is the primary issue for you – be sure to also check out InMotion Hosting. They're an independent company (ie, not owned by EIG) with a strong focus on customer service.
Market Focus
Newfold owns both Bluehost and HostGator. They are actively investing in both (unlike other brands like JustHost, iPage, or HostMonster).
Why? Because they likely see them as complementary brands that fit different types of customers – sort of like Coke & Pepsi.
So who does EIG think is the best fit for who? Here's their chart for investors on their "brand positioning" –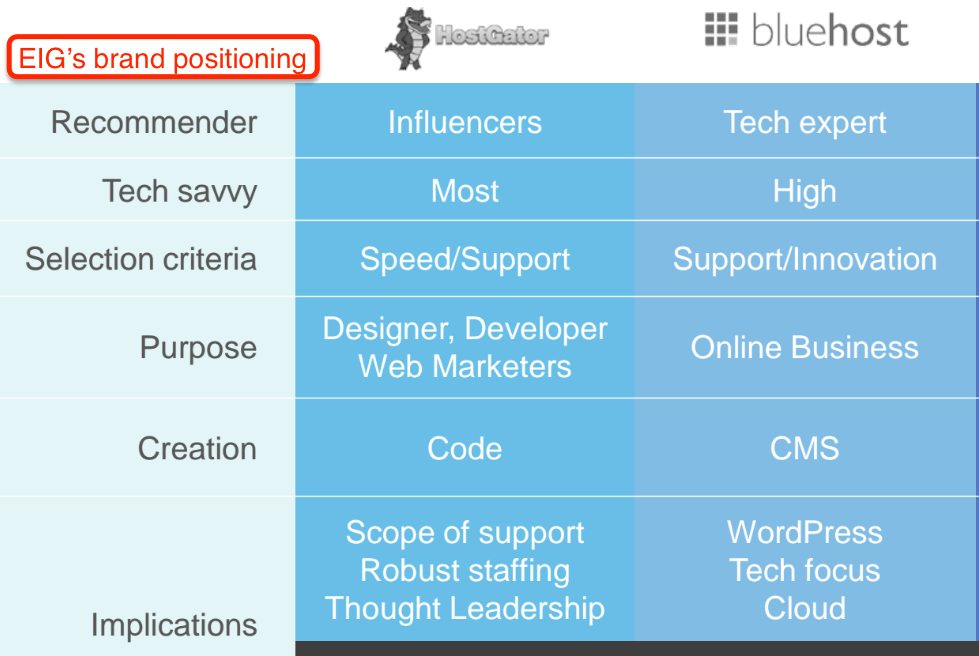 This chart lines up perfectly with how I've found their customer service & usability.
Bluehost markets to people who are business owners first and website owners second.
HostGator markets to people who are website owners first and business owners second.
It makes sense – and is also important for what products & improvements each brand will likely make in the future.
HostGator is likely to keep investing in technical improvements and pricing. Bluehost is likely to keep investing in usability and business products.
Other Factors
Here's a grab bag of other factors to consider.
HostGator has a longer money-back guarantee (45 days) than Bluehost (30 days).
For better or for worse, they are both owned by a giant corporation. As I'll mention in the conclusion, if you want a non-Newfold host, you can look at InMotion (review), Web Hosting Hub (review) or SiteGround (review).
Bluehost is an official host for the WordPress Foundation. That may or may not be because EIG is a part-owner of primary contributor to WordPress (Automattic). Both can run WordPress just fine though.
HostGator also offers Windows Hosting if that's your thing.
Bluehost vs. HostGator Conclusion
So Bluehost or HostGator? They're both fine hosts with some differences.
If you are more technically inclined or want better performance – then I'd go with HostGator.
If you want phone support and/or a cleaner experience – then I'd go with Bluehost.
And if you are more confused than ever – you might find my Website Setup guide or my best web hosting guide.