| | |
| --- | --- |
| Support | Help Desk & Knowledge Base |
| Free DNS | |
| Free Domain Privacy | |
| Best For | Linking with other services |
| Strengths | Great 3rd party integration |
| Weaknesses | Higher prices |
| Promotion | None |
iwantmyname is a New Zealand-based domain registrar company focused solely on domain registration and management. The company, which was founded by employees from several ICANN accredited domain registrars, has been around since 2008 and prides itself on its simplicity, transparency, and ethics.
iwantmyname believes in making the domain buying, managing, and transferring process transparent and simple. They're big on company values (like transparency) and give off the "good guy" vibe when it comes to domain registrars.
So, how does this domain registrar stack up against the rest? Here's my experience so far and my full iwantmyname review with pros & cons…
Before we dive too far into the pros and cons, there are a few things to keep in mind:
First, iwantmyname is strictly a domain registrar. They allow you to buy, register, and manage domain names. They do not offer complementary services such as hosting. We'll dive deeper into this in the pros and cons, but it's an important distinction to make upfront because it helps us understand iwantmyname's goal. They're solely focused on "getting online" easy for small and/or less tech-y businesses — and the first step to getting online is getting a domain name.
Second, it's important to remember that a domain is not a website. It's not an email, an app, or any other service. It's simply your online address. It helps people locate where you are. If you want to setup a website, you'll still need to get hosting or a website builder / eCommerce provider that provides hosting.
All that said – let's look at the pros & cons of using iwantmyname as your domain registrar.
iwantmyname Pricing
| Domain Ext. | Registration | Renewal | Transfer |
| --- | --- | --- | --- |
| .com | $16.40/yr. | $16.40/yr. | $16.40/yr. |
| .net | $17.10/yr. | $17.10/yr. | $12.40/yr. |
| .org | $17.20/yr. | $17.20/yr. | $15.40/yr. |
| .biz | $25.40/yr. | $25.40/yr. | $25.40/yr. |
| .co | $42.90/yr. | $42.90/yr. | $42.90/yr. |
iwantmyname Alternatives


Namecheap Review
Rating

9.0/10

Free DNS

Yes

Free Domain Privacy

Yes

Promotion

Dynadot Review
Rating

8.5/10

Free DNS

Yes

Free Domain Privacy

Yes

Promotion

Google Domains Review
Rating

8.5/10

Free DNS

Yes

Free Domain Privacy

Yes

Promotion

None
Pros of iwantmyname
Interface/Backend
iwantmyname promises simplicity, and simplicity is what you get. You'll notice as soon as you go to their website that it's so plain, it's almost bland — which for a domain registrar, is fine.
We don't necessarily need the design to be pretty, with all the bells and whistles… we just need function and usability. iwantmyname's interface accomplishes that. It's basic and directs you right to where you need to go.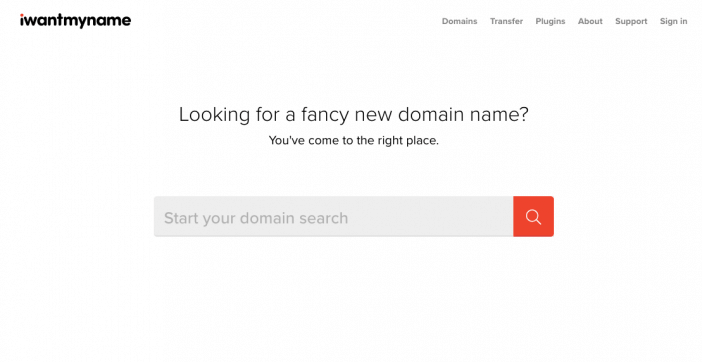 The design has no upsells, cross-sells, or visual clutter. In fact, iwantmyname prides themselves on no upselling and/or cross-selling. It's refreshing when compared to the typical onslaught of direct response offers from most domain and hosting companies. To buy your domain, you'll follow a simple three-step checkout process that requires absolutely no "online savviness" to complete.
Transparent pricing
iwantmyname gives standard pricing per domain extension. While their pricing is on the more expensive side (more on that in the cons), there are no setup costs, ICANN fees, or any other hidden charges. Your domain renews automatically at the same rate every year, and you won't be bombarded by upsells or cross-sells at check out.
In short, what you see is what you get.
Tons of TLDs
Given iwantmyname is a global domain registrar, the company offers a plethora of top level domains (TLDs). If you're looking for a unique domain like .kitchen or .academy, iwantmyname's got you covered.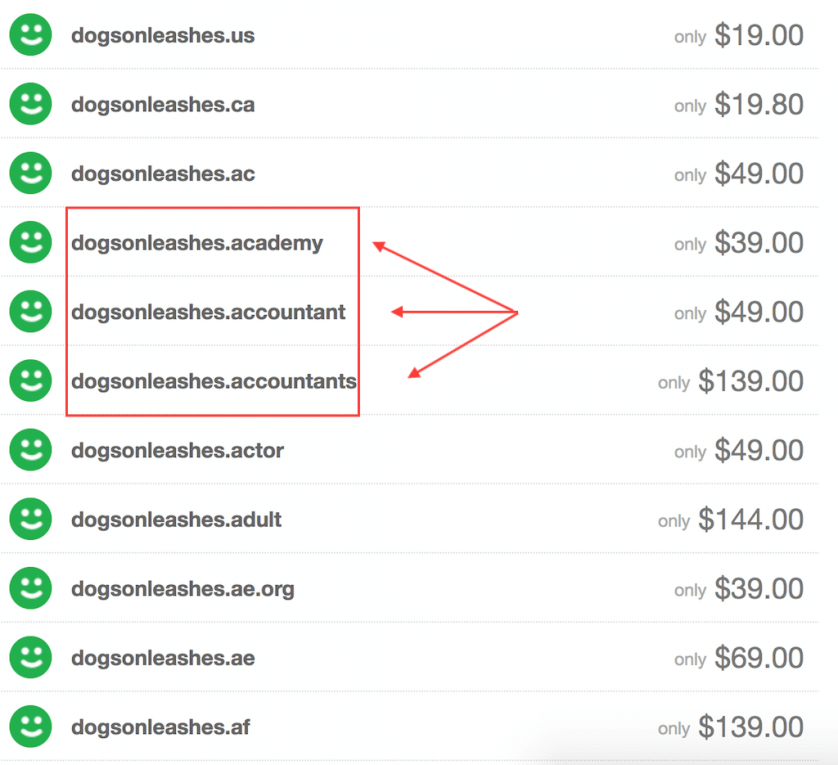 What's great about their selection of TLDs, though, is the country-specific domains. Not all domain registrars offer TLDs outside of the US-only generic options. If you want to build an international presence, you'll find a lot of availability and options with iwantmyname.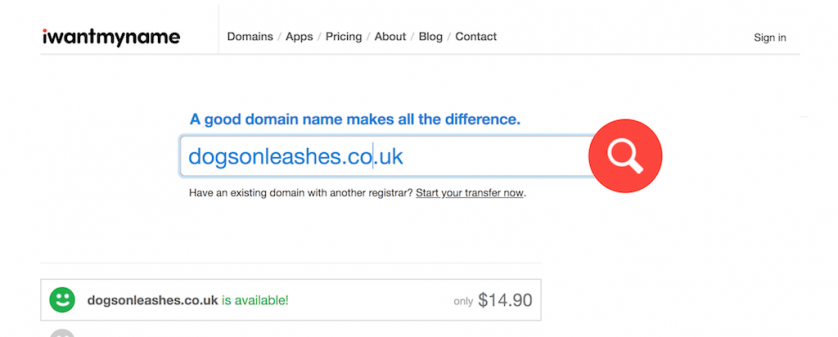 Integrations
Although iwantmyname focuses solely on domain registration and management, it does offer a plethora of apps you can easily integrate your domain with, from website builders like Wix to eCommerce platforms like Shopify to email providers like Google Workspace.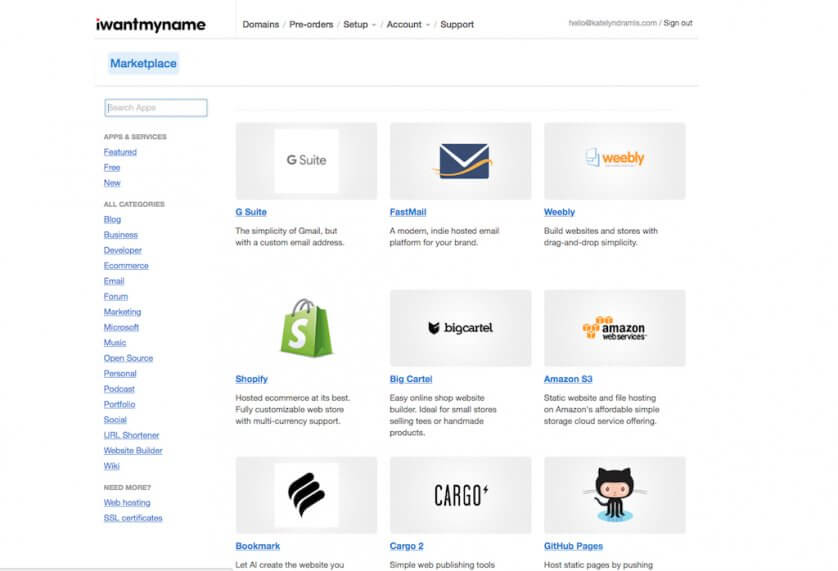 Not only are there are a ton of integration options, but the actual integration process is incredibly simple. You don't need any tech experience to connect your domain to these apps and services. In fact, to connect a domain to G Suite, it takes just a few clicks.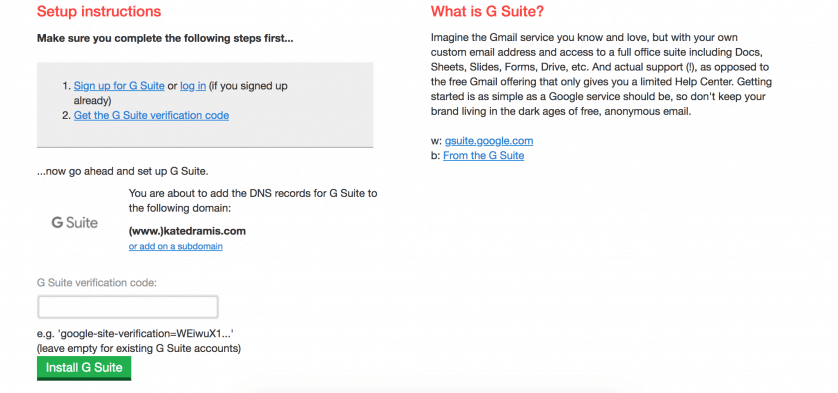 Transfer process
Despite the ICANN process being standardized, some domain registrars make transferring your domain hell. This isn't the case with iwantmyname.

I haven't personally transferred a domain with them, but the process seems incredibly straightforward. All you'll need to do is unlock your domain and note the authorization code, then follow the steps your new registrar provides
Simplicity
All of iwantmyname's pros can really be summed up in one major pro: simplicity. From the domain search to the process for updating nameserves (it's one click), everything is straightfoward and tailored to those who need to get up and running quickly without a ton of technical experience.
It helps that iwantmyname takes such a strong interest in transparency, too. Their values definitely translate to how they do business and have designed their platform, making it a refreshingly transparent process with little confusion.
Cons of iwantmyname
Support
iwantmyname's interface and model is focused on eliminating any possible need for customer support. It's simple, straightforward, and tailored toward individuals who need no tech experience to get a domain. That said — life happens. And when life happens, you need support.
Since customer support experiences are practically all anecdotal, I like to evaluate whether a company sees support as a cost or an investment. You never know if you landed their experienced professional vs. newbie having a terrible day. That being said, their options are pretty limited. They only offer email support (they explain why here… small organization + flat rate salary + being people-centric). They do claim to have 23 of the 24 hours of the day covered Tuesday-Friday and acknowledge the holes their working on. If you're in a bind and need some help, you may not get what you need here.
Pricing
While iwantmyname's transparent pricing structure is great (no fees, no upsells, and no change in rate upon annual renewal), the con is that their domains get pricey — especially for TLDs outside of the basics (like .com, .org, etc.).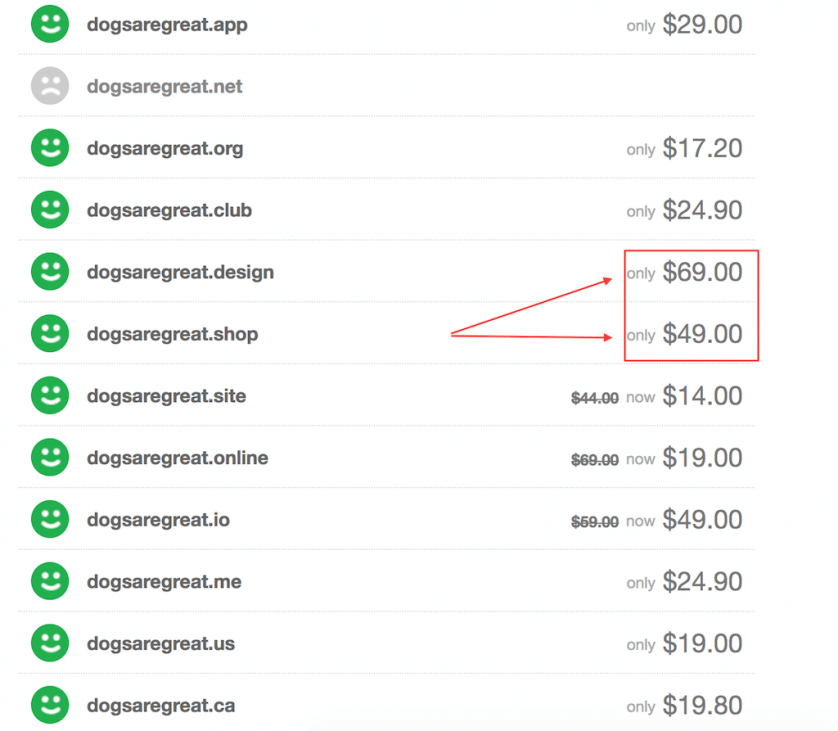 There also aren't any discounts for bundling domains, so if you're looking to buy in bulk, you may want to look elsewhere.
No Complementary Products
iwantmyname's focus on only domains is a pro, but it's also a con.
There are several products that almost always go with a domain. If you want to make your site secure with SSL, you'll need an SSL certificate associated with the domain. You can buy it separately from a third party, but from my experience, managing it with your domain is simpler.
When it comes to hosting, I like to separate my domains and hosting, but many owners prefer that their hosting and domains get bundled into one (even if it's not ideal from a resilience perspective).
Namecheap has competitive hosting; GoDaddy offers alright WordPress hosting with domains. And most hosting companies offer domain registration (or even free domains) with hosting purchase (such as InMotion or Bluehost).
Those kind of products simply aren't available with iwantmyname. They make recommendations, but if you're looking for the convenience of having it all in one place and not having to figure it out for yourself, you're out of luck.
Recommendations
If you're looking to:
Registrar for generic domains
Get up and running online ASAP without needing a ton of tech experience
Buy from or transfer your domain to a company who values transparency
Don't need to buy a bunch of domains in bulk
Then iwantmyname is an excellent choice for you.
You can also check out my best domain registrar list to help you find which service would be the right fit for you.