Larry's Take
LinkClicky is the easiest affiliate link tracker on the market. Track your affiliate revenue all in one place with details on which web pages make the most money. Integrates with over 50 affiliate systems and all popular ad networks. LinkClicky doesn't require a blog and is perfect for affiliate bloggers and influencers alike. I think it's the best affiliate tracking software you can get on the market. Of course, I'm somewhat biased since I created the software :-).
| | |
| --- | --- |
| Platform | Cloud |
| Price | $200 per month |
| Annual Discount | Yes - 10% discount |
Learn More
Historically, in affiliate marketing, it has been difficult to track conversions. It requires many technical skills that even the most advanced affiliate marketers lack.
Most affiliate marketers are happy enough to get a monthly conversion report. The problem is that not all traffic is created equal, especially if you send paid traffic to affiliate offers.
Having click data is not enough.
Wouldn't it be great if you could accurately track which web page leads to a conversion and are you making money with paid ads?
With LinkClicky, now you can!
Get insight into affiliate marketing products you promote with the same level (I argue better) of analytics as if they were your own products.
What's Wrong With Existing Affiliate Marketing Software?
I've looked at all of the competing link tracking services.
After much research, I decided to use ClickMeter. At the time, it was the best affiliate management software on the market.
Then they shut down their service.
That's where LinkClicky comes in. LinkClicky makes affiliate marketing easy. No need to worry about subids, postback, and other complicated setups.
LinkClicky optionally hooks up the analytic tool Woopra for end-to-end journey analytics.
LinkClicky supercharges your affiliate marketing like no other tool.
Be more effective with your time and make more money with your online business.
Testimonials
LinkClicky has been everything we hoped it would be and more. We couldn't be happier with the product and the service provided by Larry. We generate most of our revenue from credit card affiliate marketing. LinkClicky has give us the ability to track conversions and other actions on our website like we never thought possible.

Larry has done an excellent job in helping us implement his system seamlessly into our current setup. Everything works as promised and Larry has even gone out of his way to customize and upgrade a few parts of his product to help us get even more value out of what he has built.

I can't recommend LinkClicky and Larry enough and we are very grateful to have found this wonderful product.

Bryce Conway – 10xTravel.com and MileValue.com
Supported Integrations
LinkClicky supports a large variety of services.
Affiliate Systems
Amazon Associates
Ads By Money
Affiliate WP
Affise
Awin
Bankrate
Cake
Cellxpert
ClickFunnels
CJ Affiliate
Commission Kings
CommissionSoup
Everflow
FirstPromoter
FlexOffers
iDevAffiliate
Impact
ITMedia
Kartra
LinkConnector
LinkMink
LinkTrust
MaxBounty
Netspend
OSI Affiliate
Partnerize
PartnerStack
PepperJam
Perform[cb]
Post Affiliate Pro
Quinstreet
Rakuten Marketing
Revenue Network
SamCart
Scaleo
ShareASale
Skimlinks
Tapfiliate
ThriveCart
Top One Partners
Tradedoubler
TUNE (HasOffers)
Ad Networks
Facebook Ads
Google Ads
Microsoft Advertising
Analytics
Shopping Carts
Email Services
ActiveCampaign
ConvertKit
Drip
Membership Services
If you don't see one ask! If it can be supported, we'll add it for no additional cost.
Features
Automatic Conversion Tracking — All you need to do is cut-n-paste a link from an affiliate system into LinkClicky. With LinkClicky, the correct 'subid' and conversion entry are created automatically for you. No more worrying about setting up 'subid' fields for each affiliate link.
Over 3,000 Merchants Supported — Track conversions with most merchants and affiliate systems. Support for affiliate systems such as CJ, Impact, ShareASale, TUNE, Cake, Rakuten, and many more.
API Integration (24 systems supported) — API calls are the preferred method to track conversions. API calls are more reliable than postbacks. In addition, API integration allows you to capture more order information and record the true conversion date rather than the time of posting.
Auto-Generated Postback — For supported affiliate systems, get an auto-generated postback URL. Just cut-n-paste the URL is given, and you'll be tracking conversions in no time!
Upload Conversions — Track conversions for merchants with limited conversion tracking. You can upload a comma-delimited report of your conversions for networks that do not support a postback or API.
Add New Affiliate Systems (At No Additional Cost) — Don't see an affiliate system supported? If their system supports postback or reporting that includes a 'subid,' I'll support it free at no additional cost!
Daily Link Checking — You no longer need to worry about invalid links and missing out on lost revenue. Get emailed a daily report of bad links.
Track Conversion Sources — Get UTM information and track conversions from a tag you can add to any affiliate link.
Interstitial Page — You can use the interstitial page to send higher-intent visitors to Facebook's pixel.
Track Ad ROI — Send your affiliate conversions to Google Ads, Microsoft Ads (Bing), and Facebook. Know if your ads are ROI-positive. Create the much-needed feedback loop, so ad networks know which audiences are converting.
Facebook Server API Events — Track not only Facebook Purchase events, but Lead and Initiate Checkout events as server events for affiliate offers and email signups (requires Woopra). Works not only with affiliate products but if you sell your own products.
CPC Tracking — Measure campaigns that are CPC and get an accurate measurement of the revenue generated from CPC links.
Send Conversion Info to Woopra — An optional add-on that allows end-to-end customer journey tracking. Get much-needed insight into conversions.
Woopra Web Form Tagging — (Requires Woopra) At the time of web form submission, the name, and email of the individual should be tagged. This redirection script ensures each visitor is correctly identified. Supports most of the popular web form submission systems.
Multi-Device Tagging via Email — (Requires Woopra) Merge multiple devices into one session in Woopra when a visitor clicks on a link. Get a full picture of a visitor using multiple devices and on your mailing list. Works with ActiveCampaign, ConvertKit, and Drip. It can be used for any page view and for affiliate links.
Thinkific -> Woopra Integration — (Requires Woopra) Track Thinkific orders, enrollments, lessons completed, and logins events in Woopra.
Kajabi -> Woopra Integration — (Requires Woopra) Track Kajabi orders in Woopra.
ConvertKit and Drip Integration — (Requires Woopra) Track your emails, opens, and clicks within Woopra.
Lead Events — (Requires Woopra) Track when a visitor becomes a lead (before conversion). If you want more granular tracking of a visitor in a merchant's sales funnel you can do so with lead events. Currently works with Impact affiliate network and TUNE affiliate system.
Woopra Reporting
With Woopra, you can generate reports such as:
Conversions By Web Page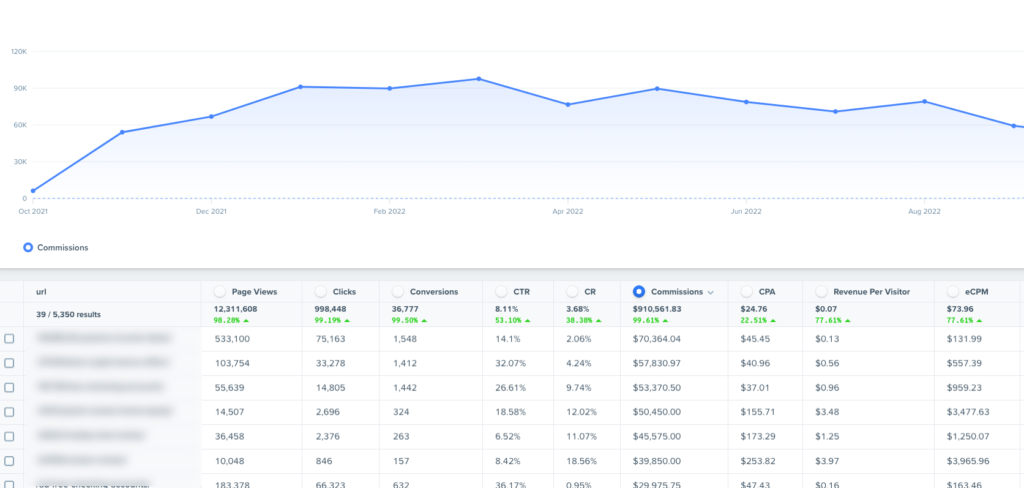 Conversions By Merchant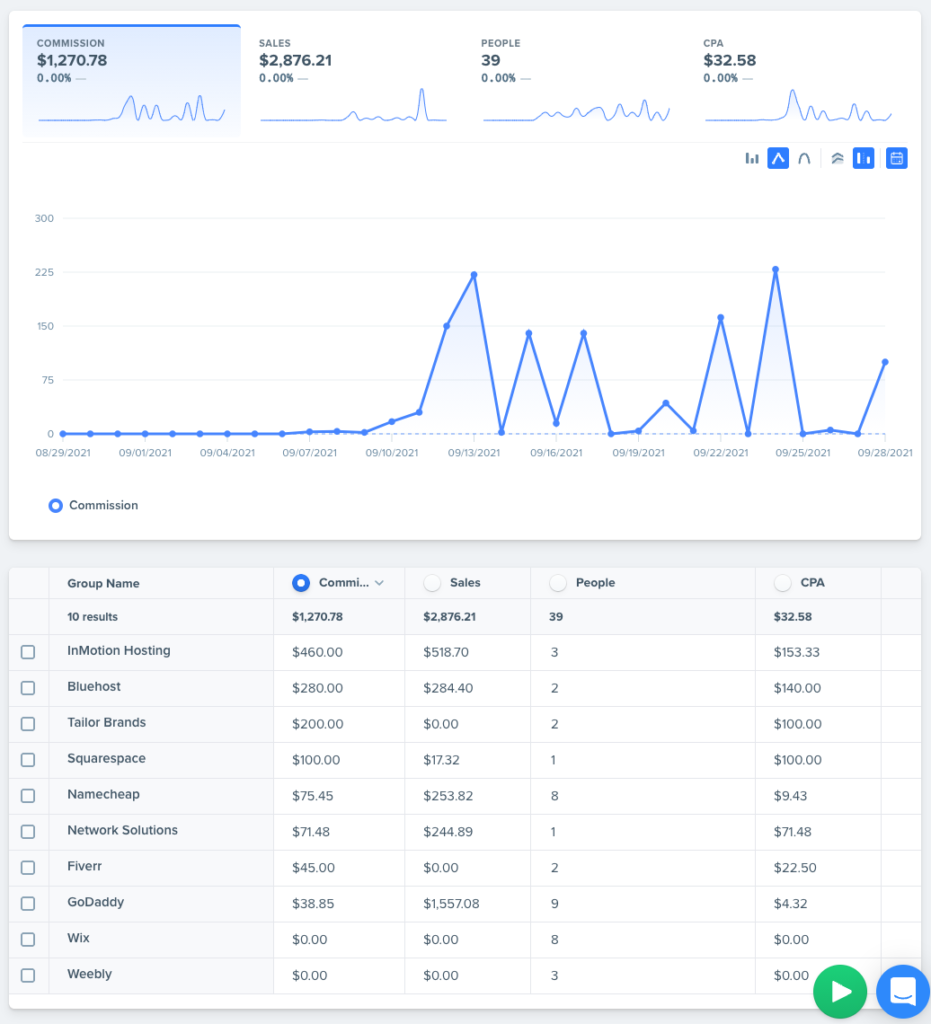 YouTube Clicks and Conversions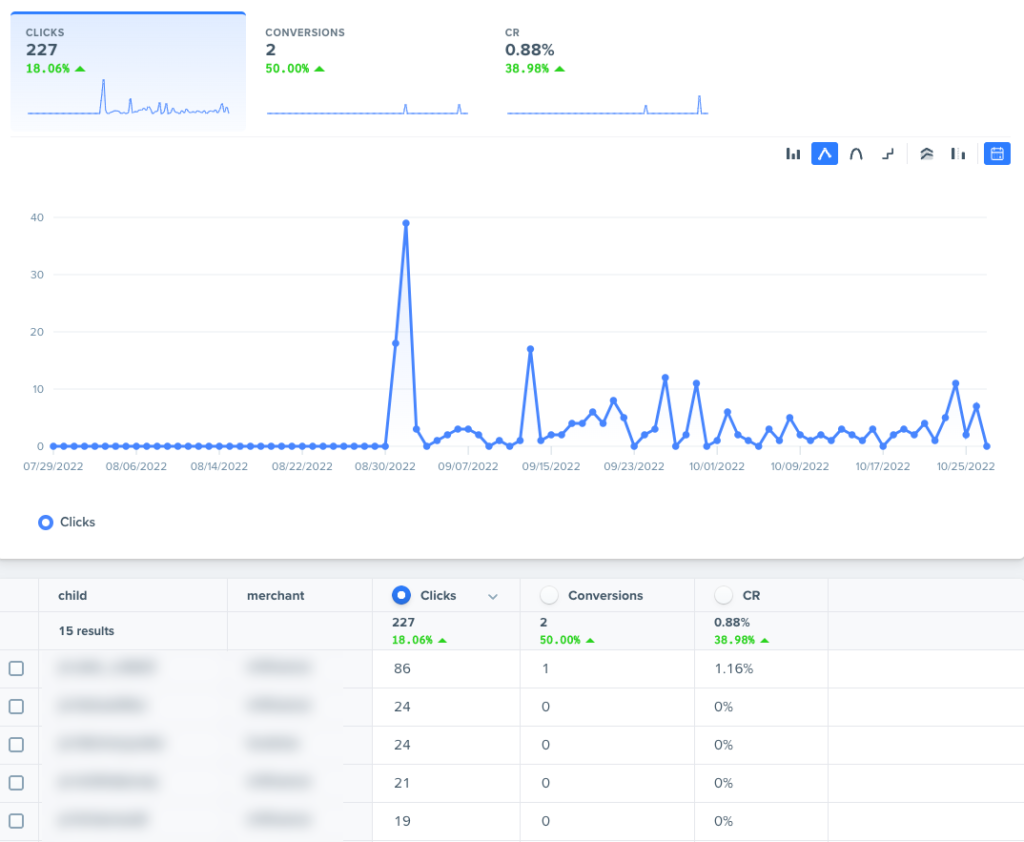 And much, much more!
These are just some of the possible reporting options available when using Woopra. Know how much revenue you are generating by merchant and exactly which web pages generate your revenue.
Software Requirements
The software is installed at a hosting provider and requires minimal web hosting requirements.
Your existing WordPress blog (optional)
Web Hosting For a subdomain.

Linux
PHP 8.1+
cronjob access
Shell access
subdomain (i.e api.yourdomain.com)

Woopra (optional)
The hosting requirements are minimal. If you have existing hosting, more than likely, you can set up a subdomain for hosting. If not, A2 Hosting is more than adequate.
Cost
LinkClicky is available as a monthly site license fee with unlimited updates.
Lite $200/month
Pro $400/month
The pro version gives you the option to send conversion data to the ad networks.
Consultation, for an additional cost, is also available for setting up the services LinkClicky and Woopra.