NAP stands for "Name, Address, Phone Number."
NAP is the core element of local business citations (aka listings) across the Internet.
Local search engines use citations to form a confidence score that any given business actually exists in the physical world.
Search engines combine the confidence score with a relevance score for a local search query to rank businesses in the search results.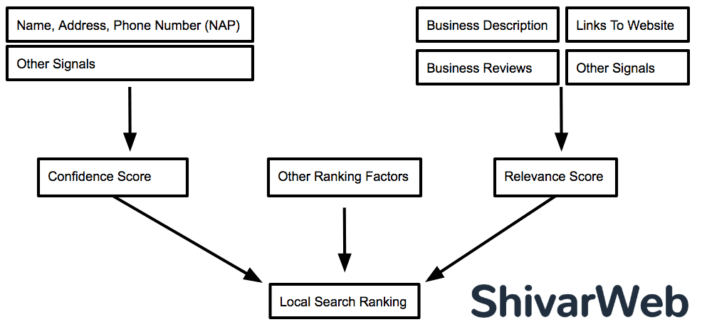 NAP Consistency matters for local SEO because it hurts your confidence score. If a search engine is not confident that you exist in the physical world, you are less likely to appear in search results.
That's why NAP consistency matters. And NAP consistency is especially important for Local SEO and local marketing because it's one of the few direct ranking factors that you have total control over.
But how do you find all your NAP variations and fix them?
Well, it's a bit like looking up how to spell a word in the dictionary. You need to have a general idea of what you are looking for plus a few tools.
Here are a few tools & techniques that I use to track down every local listing with a NAP citation to fix the incorrect version and remove duplicate listings.
These are in order of expense & accuracy. If you have some budget, skip down to SEMrush Local Listing Tool to save some time.
Google Your Phone Numbers
Make a list of all your phone numbers. All your employee's numbers. Your personal phone number. All of them.
Google them.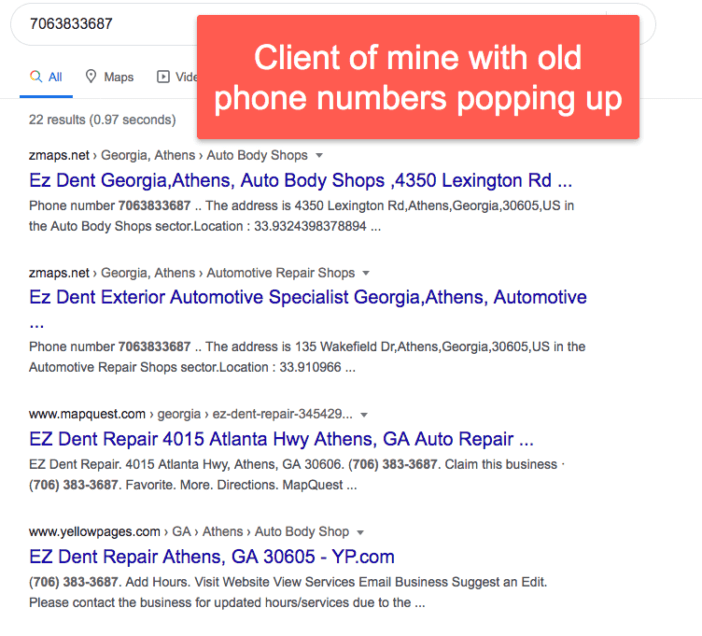 Scrape / copy all the listings that show up. You can go ahead and fix them, but keep in mind that you might find duplicates later.
Google Your Addresses
Use the same process as the phone numbers. Google your current and former addresses.
However, with addresses, try to use a general form of your address if possible. For example, if your business is on 200 Elm St SE Newnan, GA 30263 then try just searching for "200 Elm St Newnan, GA" – dropping the "SE" and the ZIP Code.
Google Your Business Names
Use the same process as phone numbers and addresses. With your business name, always search for the shortest / broadest version.
Copy down, scrape, or fix all the inaccurate listings.
Remember that your goal is for every citation to match exactly. If most citations refer to "Shivar BBQ" then every citation should say "Shivar BBQ".
You don't want "Shivar Barbecue" or "Shivar BBQ Restaurant". Make sure that every citation is exactly right.
If you have duplicates, you need to remove the duplicates.
Check Google Keyword SERPs
Now, if you've found many inaccurate listings, there's a quick way to check for importance. Go ahead and Google a few key search queries – the keywords that your customers are certainly using.
Pull all the listing websites that show up until Page 5 of the search results. Every city will be a little different.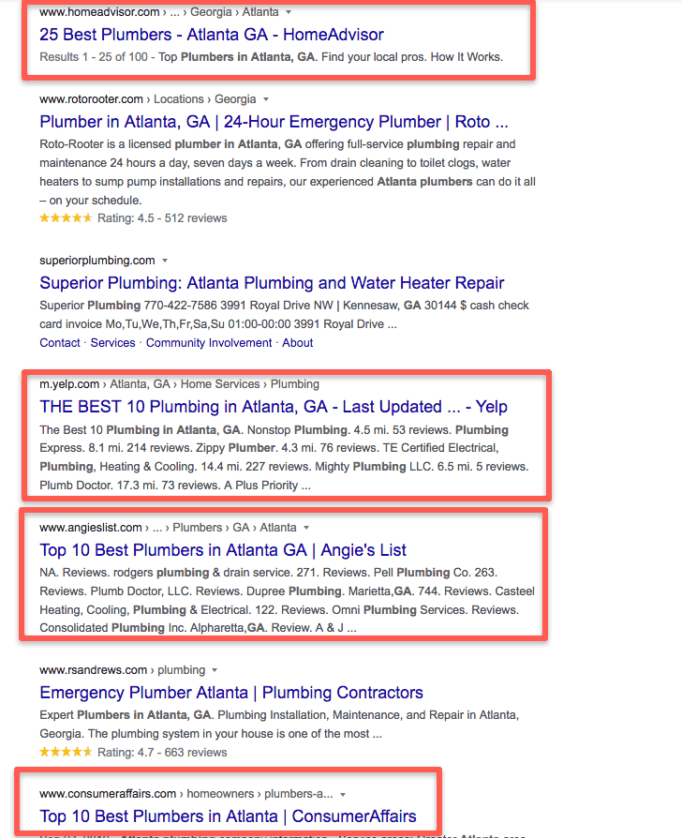 Do a manual search on each listing website for variations of your NAP so that you can fix inconsistencies and remove duplicates.
These first four methods are free but tedious. If you have some budget, using a premium tool will speed up the process.*
*Note – There's a whole world of local SEO tools out there – including "done for you" tools like Yext. I do not recommend those unless you are dealing with hundreds & thousands of locations. Turning your citations over to a 3rd party can have nasty consequences.
Manual NAP repair is *always* worth the effort if you can. If you have budget, spend it on a tool that will help you find the listings while manually fixing the listings.
Check SEMrush Local Listing Tool
SEMrush is an entire suite of SEO and Paid Marketing intelligence tools.
I like to use SEMrush because a single premium subscription provides access to a local listing management tool in addition to one of the best backlink tools, keyword research tools, and advertising research tools.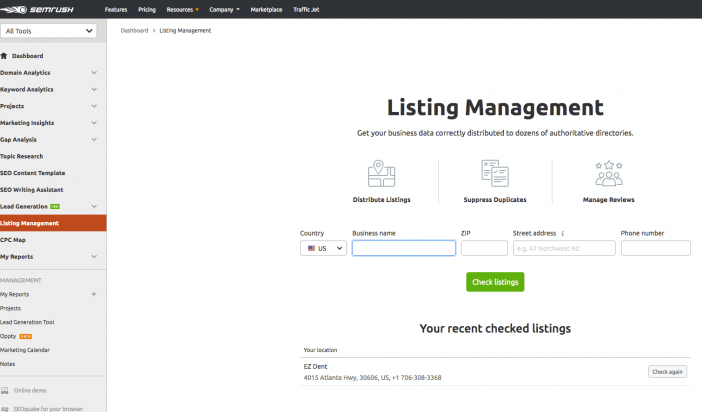 You can run a single search for free here. It won't be able to find all your NAP inconsistencies, but it will find most of them. And it will find the most important ones quickly – along with a quick link to fix them.
Check Moz Local Search
Moz offers a stand alone Local Search tool that will find most inconsistent and duplicate locations.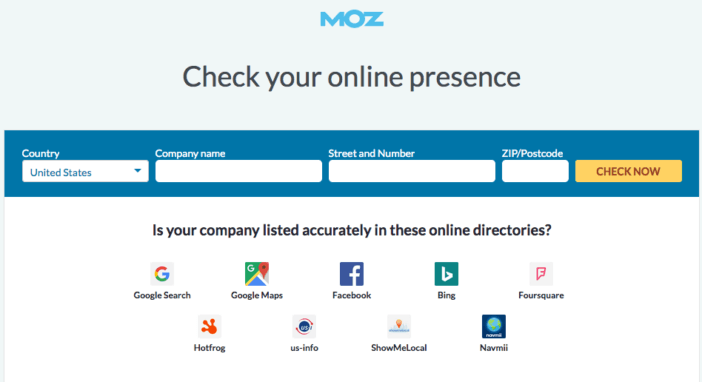 It's a great middle option for businesses with dozens of locations.
Check WhiteSpark Citation Builder
WhiteSpark is one of the most well-known local SEO agencies. They have an entire suite of tools that you can use for quick checks.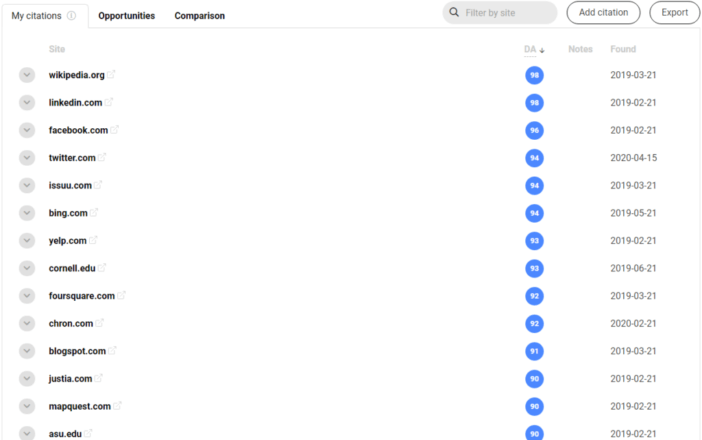 Their premium tools and premium services will help you get the listings edited & changed quickly in addition to finding new local links. Unlike Yext, they'll change the listings manually, so you are always in control.
Check SEOfoxy's Local Listing Tool
SEOfoxy has a local listing tool that is a bit error-prone, but has a ton of premium-grade search features for free.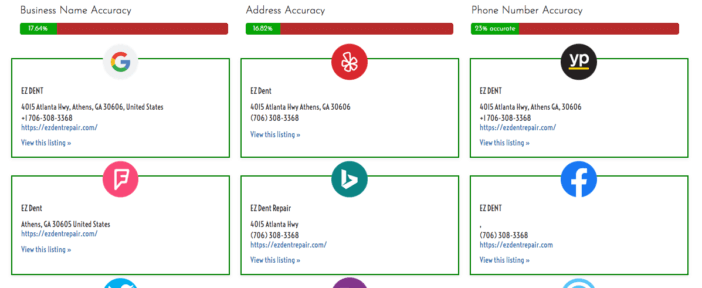 I'll use it for a quick double-check.
Check Data Aggregators
There are four large business data aggregators in the United States –
These businesses are kind of like Equifax, Transunion, and Experian in the consumer world. They are almost like the database of record for all businesses in the United States. Their database gets sent out to many large services (like Apple Maps, banks, etc). If your information is wrong with them, you'll just be playing whack-a-mole with your local listings.
It can be extremely difficult to get your data fixed with them. But the important part is finding your data in their database and setting up some sort of account to provide some input on your data.
Check ZoomInfo Database
ZoomInfo is the hot new business data startup trying to compete with the big four data aggregators. They have a different database with their own primary sources. Make sure you are in their database.
Bonus – Use Your Library
If you are having trouble with lots of these databases or work in a hyper-competitive market (e.g., Los Angeles locksmiths), then it might be worthwhile to check ReferenceUSA and Dun & Bradstreet. You can access both those resources for free via your local library.
Next Steps for NAP Consistency
NAP consistency is a pain. But it's worthwhile. The days of the Yellow Pages – or even word of mouth – is long, long gone. We even get directions to local places that we know via local search.
There's a lot about local search that is out of your hands. But NAP consistency is one factor that is entirely in your control. Make it part of your recurring business marketing. Focus on making small improvements over time.
Be sure to explore my guide to local business marketing strategy.