Most bank managers would agree that there's nothing like finding a new client But it's hard to find a good bank client if you don't have account applications coming in.
Some banks have a local name brand or location that brings in new clients with nothing more than a "Submit Application" link. But for most banks (especially local banks competing against MegaCorp), you have to go out and market your bank to get a quality pool of potential clients.
I've consulted on search marketing with one of the largest FHLB banks in the country in addition to many local businesses. Based on those experiences, here are some bank marketing ideas that you can use to bring in more clients. I've also written posts on promoting your website and creating a local business marketing strategy.
Create City-Specific Website Pages
For prospective clients, location searches are usually fraught & confusing. I've never seen a bank with a good Branch Locator…even though customers are searching based on their city / neighborhood.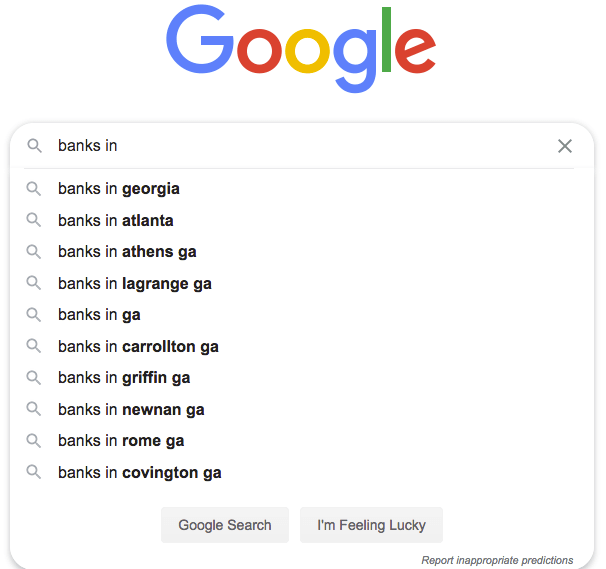 That may sound obvious, but most financial firms that I've worked with still don't focus their marketing on neighborhoods or cities. It's a lot of work. It's tedious. But it can still be worthwhile.
If you have multiple branches, use those branch pages to rank for "bank [city / neighborhood] search. Don't just depend on a single Branch Locator page. Build a specific page for each branch, including information about the surround area.
If you have a single branch, create a neighborhood & next to your neighborhood pages to try to rank for "bank in [neighborhood]" or "bank near me" searches.
Create Niche Offering Pages
Lots of prospective customers have specific features and/or requirements that they want from a bank. Instead of listing your offerings in a giant list, make detailed pages about each amenity. Try to rank for searches like "bank with [offering]".
You can use Google Suggest for ideas. Go to Google and type in "[city] bank with" and hit space, but not enter. You'll see some suggestions.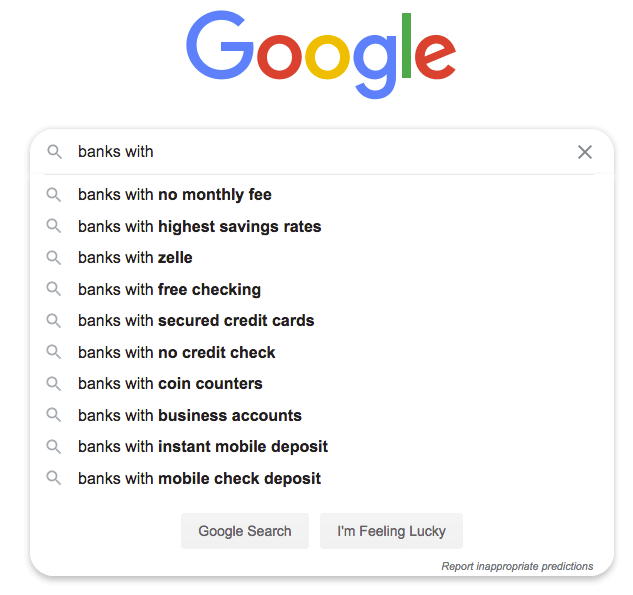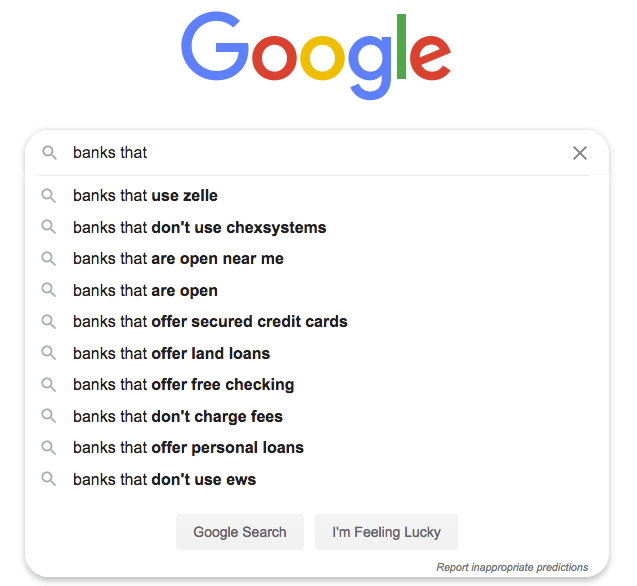 You can do this with the entire alphabet and as many modifiers as you can think of.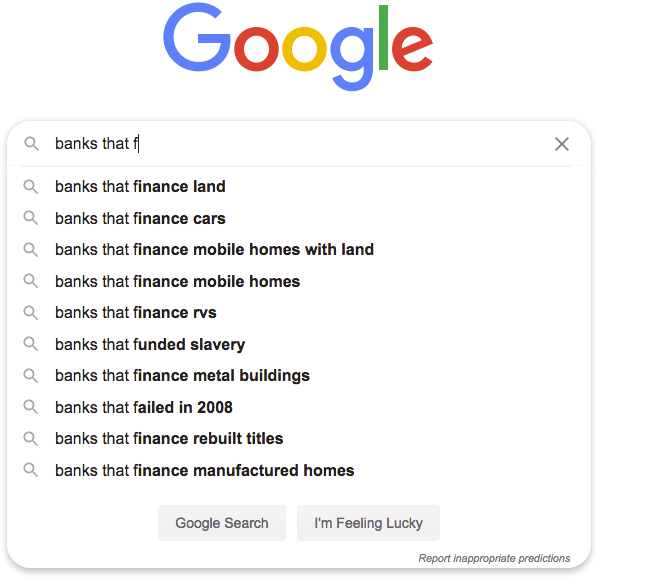 Create pages that match those search queries to show up when people search.
If you want to take this to the next level, you can use a tool like SEMrush's Keyword Explorer to provide phrase match search terms in bulk like this example for "atlanta apartments".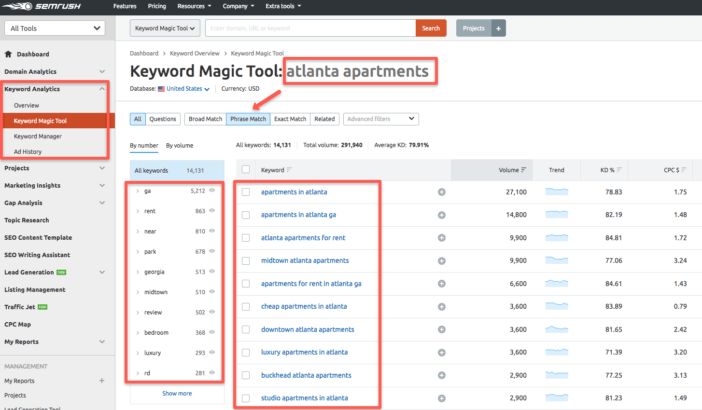 This idea might be tedious. But it can be fast and scalable. You can use the same template over and over – just customize the details of the service.
Because here's the thing – a lot of your potentially best customers are already searching out banks with these different services. But they are having to ask about them in random forums and long Google Searches.
Last week, I listened to a podcast episode about searching out banks that do house rehab refinancing loans. The podcast host gave a long tutorial about subscribing to CoreLogic and tracking down banks that did these loans…but what if the bank just had an explainer page about these loans in the local market? You'd be much better positioned to bring in these customers than putting the research work on them.
I personally chose my financial institution because they provided Health Savings Accounts – and had a clear explainer page about setting one up.
Create Local Data Pages
Create resource guides for people moving to or just trying to learn more about to your city. Create lots of them.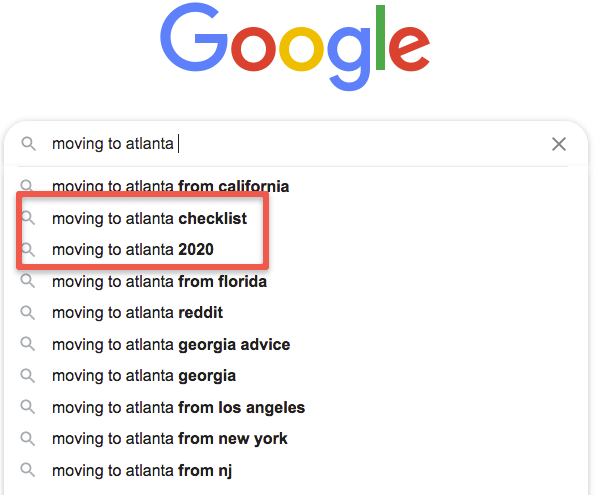 Use Google Autosuggest to understand what financial terms people are searching for in your city.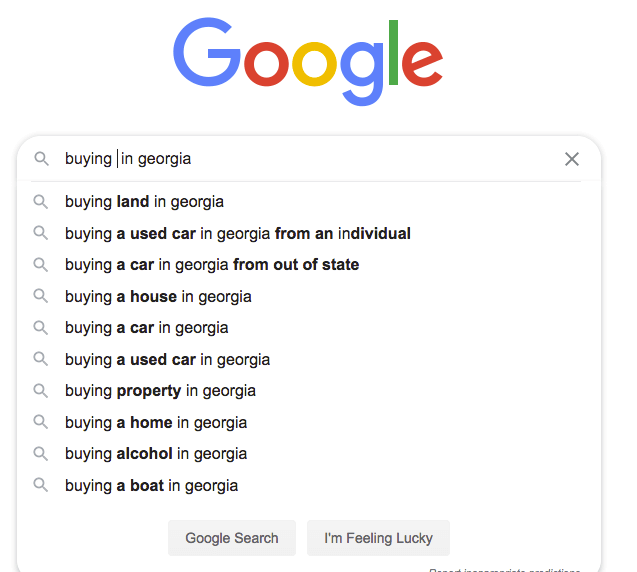 Again, people are doing this research already. Without pages on your site explaining these topics, you are leaving these customers up to the influence of big financial websites where big banks can compete with $$$ ad money.
Develop Your Local Citations & Reviews
You should already have a Google My Business profile so that you can show up in Google Maps.
But you can take it to the next level to show up even more prominently.
First, you can build your Google My Business profile with photos, posts, and full listing details.
Second, go to every local business listing site and make sure that your Business Name, Address, and Phone Number (NAP) match exactly. Whether it's on the Yellow Pages, Yelp, or elsewhere – everything must match. These are called your "local citations" and Google uses them to confirm the relevance of local business.
You can use SEMrush's Local Listing Management Tool to audit all these listings quickly.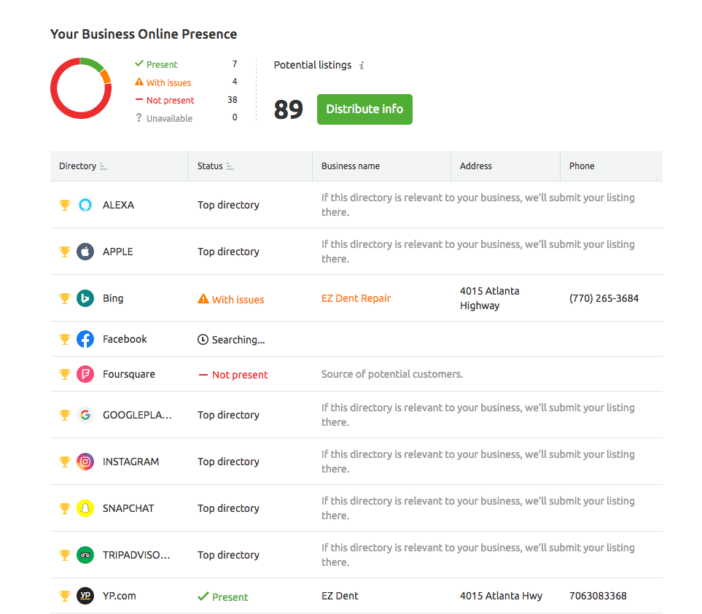 Third, create a local review strategy. Having diverse, unique, and regular reviews on your Google My Business page is the number one way to get more views (aka lease applications) from Google Maps.
Steal Ideas from Large Local Competitors / Businesses
I'm not a fan of brainstorming. I think that it's more effective to build off ideas that have already worked.
No matter your size, you can always look to larger competitors or larger businesses for inspiration.
With bank marketing, make a list of local businesses that you *think* are being creative – including companies in different industries and the Megacorp bank making a big local push.
Like local listings and keywords, I then use a marketing tool like SEMrush to spy on those competitors. Type in the URL of a competitor below to see an example.
Here's an example of what you'll see from the local car industry.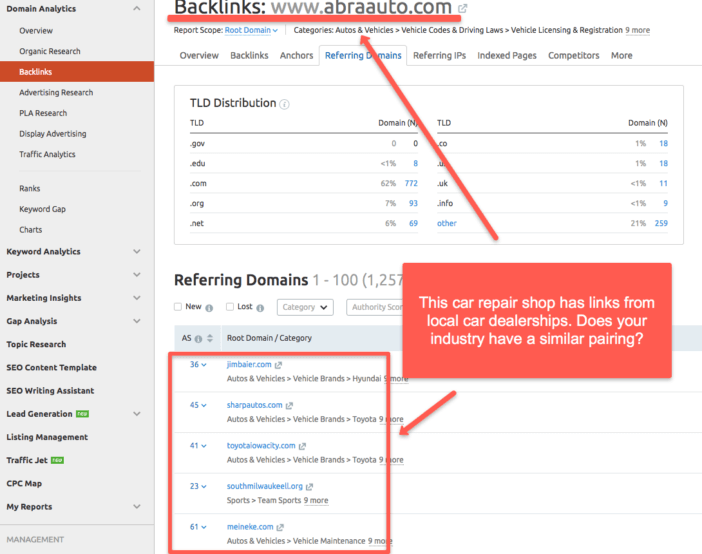 It looks like a lot. But drill down and categorize each link. You'll quickly get a sense of what they are doing. You'll see where they are posting on social media. You'll see which media outlets have accepted press releases and what types of digital marketing they're doing.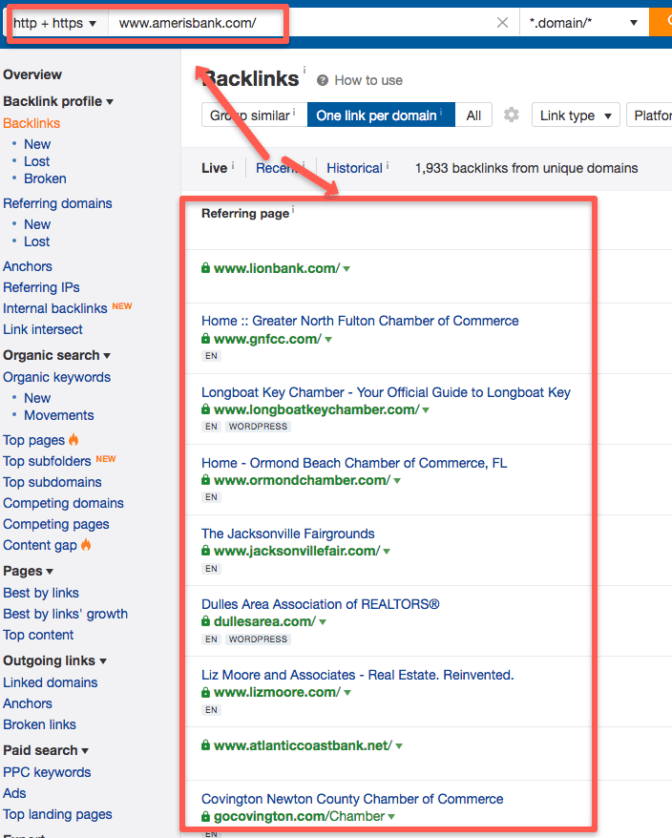 If you drop in a national bank, you can sift & sort their local mentions. If a national bank has gotten attention from a local source, then you should have an extra shot at the same attention as a local bank.
The trick here is *not* to copy cat them. Instead, take the general idea of what your competitors have done and make it your own – or, make it better.
Work with Local Blogs
Every city, no matter how small, has local publishers and bloggers that get traffic simply because they are local.
In Atlanta, where I live, we have a popular Curbed blog in addition to the AJC Real Estate, Atlanta Business Chronicle, and dozens of smaller neighborhood newspapers and real estate blogs.
Find those and become a regular fixture. All these blogs act on tips & press releases. Very few have a "boots on the ground" journalist. If you can be the place to provide inside information, free images, and consistent write-ups, you'll earn attention and links. Mine your loan information or business network for tips & local trends. Use those to get attention.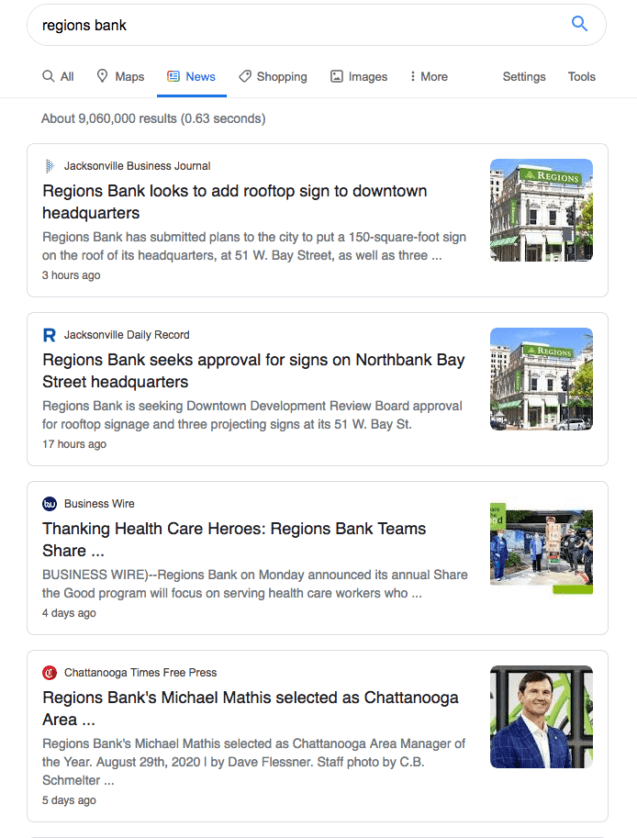 You can also use a Content Explorer tool from SEMrush, Ahrefs, or BuzzSumo to see what news has driven social media shares.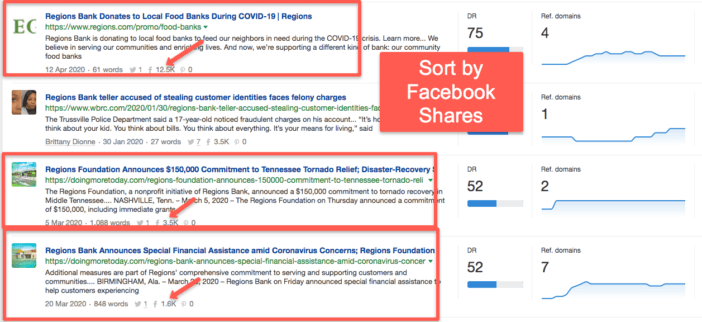 That extra attention and those links will help every other idea on this list. Google loves links. Social media users find URLs via links.
Your neighborhood pages, offering pages, service pages, and everything else on your website will benefit from more inbound links.
Use Hyper-Local Facebook Ads
A local business has one massive advantage against national brands trying to operate locally – you live in your city and understand it.
You know more about the neighborhoods with retirees moving in. You know about the popular and growing dealerships. You know the local business networks.
Facebook allows for hyper-local advertising. You can run ads that show within a radius of only a few miles. It's tedious to set up, but it's relevant and effective.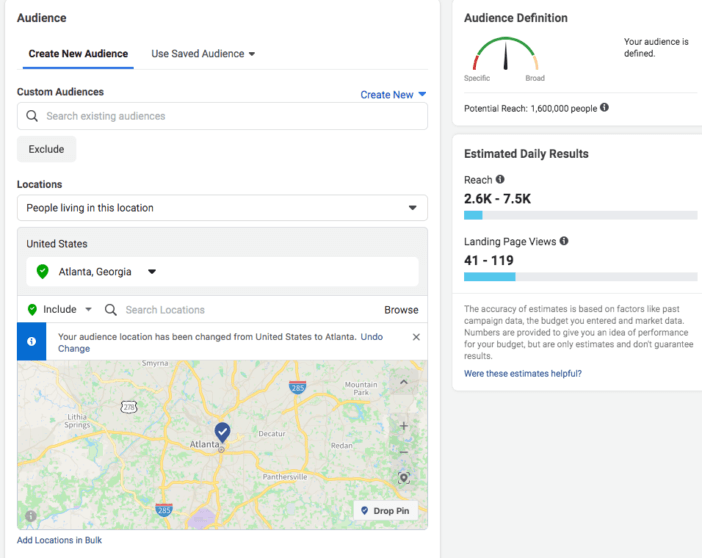 Learn how to create hyper-local targeting for demographics and geography to find lots of interested customers.
You can run small, targeted campaigns that show multiple places at once.
Use Hyper-Local Google Search Ads
Google Search ads are famously effective and famously expensive. The best customer is someone who searches for "bank in [neighborhood]".
But that search click will be very costly.
But like Facebook, you have an advantage – Google Quality Score. Google will show ads higher if they are more relevant even if they don't have the high bid.
In other words, Google will reduce your cost per click for a query like "local atlanta bank" compared to Chase or Bank of America because your landing page can actually match that query better than they ever could.
Like Facebook, it's tedious to set up, but if you can set up a hyper-local campaign, you'll be able to get Google Search traffic that large competitors can't bid on.
Use Hyper-Local Google Display Ads
Google's Display Network also offers opportunities for local advertisers who are willing to put in the work.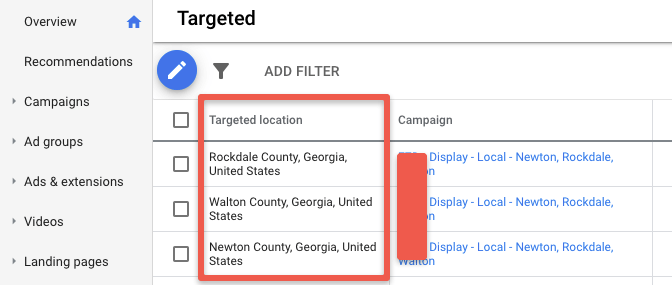 Google serves banner & text ads on some of the best ad locations on the Internet. Many placements are expensive for bulk ad buys.
But again, Google would rather serve a relevant ad with a low bid than an irrelevant ad with a high bid. That's your opportunity to set up a hyper-local campaign focused on specific demographics in a specific area.
List on Locally-Popular Review Websites
Bank & financial review sites are a dime a dozen. They will send traffic to your listing. But they are expensive and require a lot of legwork.
The key is to find a few key review websites that are popular in your area – and list on those.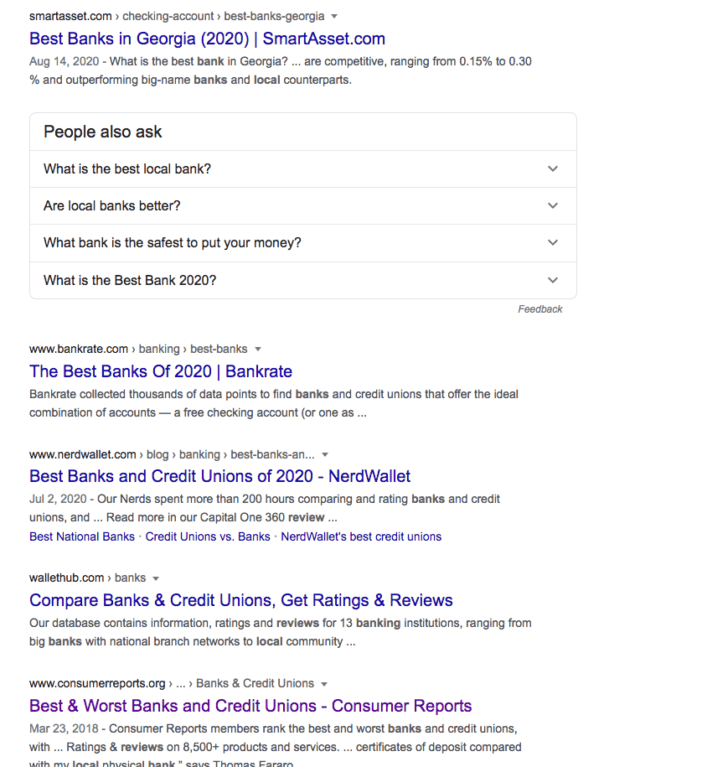 Or – track down the sites that currently show up for you brand name and work on those.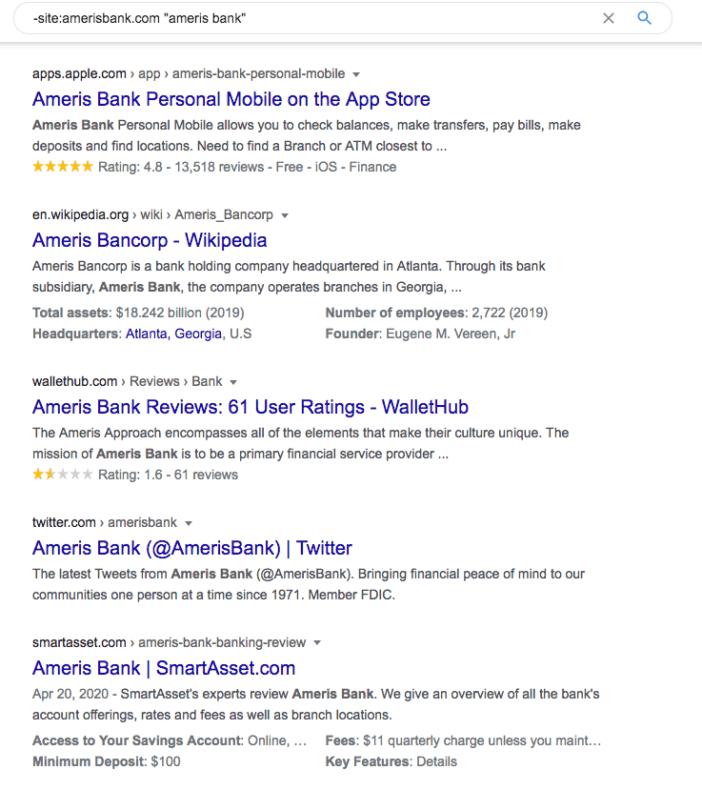 You can use Google Trends, customer interviews, SEMrush, or simply looking at the Google Search Results to see who is more popular for your city / neighborhood.
List on NextDoor & Local Forums
NextDoor is one of many local social media websites & forums. They are hard to find and hard to join, representing an opportunity for any local, enterprising bank manager.
These networks are interesting because they are specifically local and extremely relevant for financial firms. They also have an early adopter advertising program for truly local businesses.
Advertise / Post on Local Subreddits
Reddit is an attractive website for many industries. But local subreddits are especially interesting for bankmanagers for a couple of reasons.
First, they are hubs for local discussion & recommendations.
Second, they are the first place for people to plan a move visit to ask specific, local questions.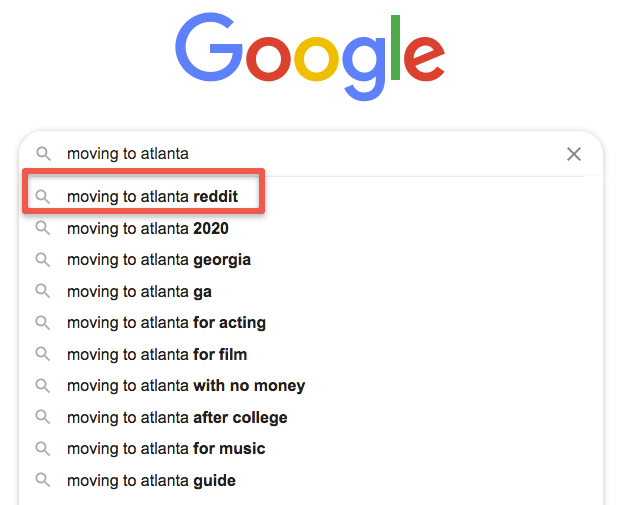 Now, they are decidedly non-commercial with lots of rules. You should get to know them before posting or commenting as a commercial entity.
However, you should explore their sidebar wiki for research.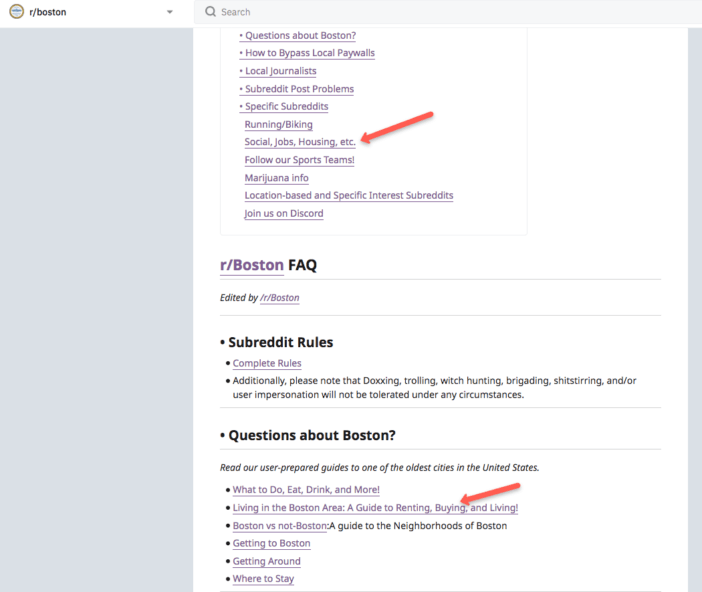 You should get in touch with the moderators to listen to their rules about business posting. And you should look at running ads or giveaways there.
*Personal aside – this route is how I found my local financial institution. Delta Community Credit Union had high praise on multiple Atlanta subreddit threads.
Develop a Local Financial Pinterest Board
Pinterest is an incredible resource for people looking for local financial tips. You can get in front of prospects with a locally-focused Pinterest board.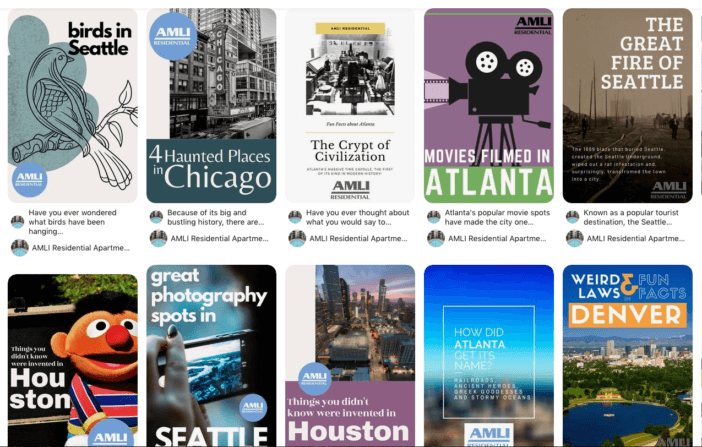 Use local photos, sites, etc from your own customer experience to provide ideas. Promote local artists, makers, businesses, events, etc.
Identify Government Resources
Think about how you can leverage your financial and local status to get more attention. There are tons of government and financial websites where you can get a link & profile.

These profiles might not drive much direct traffic, but they will absolutely help your ranking & visibility in search engines and other marketing venues.
Identify & Market Local Employers
Your customers are all working somewhere. And your prospective clients all will want to bank close to their job.
Identify all the largest employers & sources of potential customers nearby. Create resource pages for those employers (especially if they are large).
Create discounts, bonuses, etc. Get in touch with those employers to see if there is a way to collaborate.
Identify & Market Local Schools & Amenities
Take what you did with local employers and do the same with local amenities and resources.
Create pages that act as resource hubs for neighborhood amenities & schools.
Identify & Market Popular Customer Sources
Take previous & existing customers and try to understand where those customers came from and how they found you.
See if there is a way to build off that success.
Cross-Promote Local Non-Profits
Non-profits usually have an incredible offline network, but have a poor online network. If you are investing in your online marketing efforts, try to develop a relationship to cross-promote the non-profits.
Cross-Promote Local Businesses
Your clients frequent lots of local businesses. And those local businesses also would love to have a local financial partner. Offer a way to cross-promote, especially if they have multiple locations or a presence with your target customer. This strategy is basic bank marketing (think appraisers, real estate agents, etc), but taken to the digital world.
Remember that even a link to your website from their website will dramatically help your other online efforts.
Use Events To Get Social Media Attention
Events like openings, financial courses, holiday showings, etc are marketing staples for banks. But events have a bonus effect online.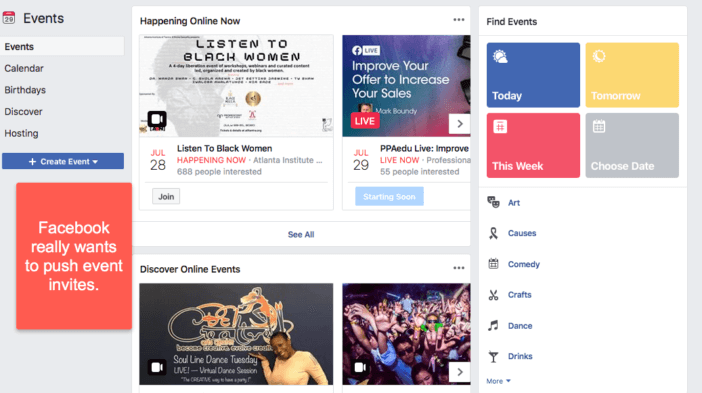 You can list them on multiple platforms to get extra exposure. Facebook is the best place for this tactic, but it also works on Google, Instagram, and event apps like Meet and Four Square.
You can also sponsor local events and make sure that you are included in all of their social media promotions. You'll get a lot more visibility compared to only at the event visibility.
Use Local or Industry Focused Videos to Hack Social Media
Like events, most social media gives preference to video in their feeds. Take interesting video with a local take.
Post the file natively to Instagram, Twitter, Facebook, and YouTube. Pay a small budget to boost it. And look for opportunities to embed it on your website.
Use Digital Referral Fees for Word of Mouth
Referral fees are also a staple of bank marketing. But they don't get the same reach as digital referral codes.
Whether you use a simple bit.ly link, manually hand out custom codes (i.e., account numbers), or use a software service – digital referral codes can help you move limited physical word of mouth to unlimited digital word of mouth.
Find & Sponsor Local Charities
Sponsoring local charities provides a few marketing benefits.
First, you can likely get a link to your website, which will help your other efforts.
Second, you can tap into a well-networked organization with lots of word of mouth potential.
Third, you can tap into neighborhood goodwill to help with soliciting reviews to help with your Google My Business efforts.
Next Steps
There are a lot of marketing ideas out there for local bank managers. You don't have to do all of them. You just have to do one or two well.
Find the one that fits your interests & resources and give it a try. Learn based on your initial experience and improve.