This is the first in a series documenting my journey in buying and improving a blog. Read Improving The Blog for the follow-up article and Technical SEO for the third article in the series.
The problem I have with many digital marketers is they show how they make money…off of you.
Sure it's great to see their blog income reports, but they are just selling the dream by you literally buying the dream they espouse.
As a marketer it's brilliant, but it's a little too 'meta' and self-serving for my liking. I would rather see real-world case studies independent of the very blog they promote their wares.
Since selling my blog Investor Junkie in 2018, I have always wanted to buy another blog.
I wanted this for a number of reasons:
Looking for a challenge — I want to repeat my previous success. I want to prove to myself that selling a blog for 7-figures wasn't a one-off fluke. That I still "got it".
It's fun — I want to stay active in the industry. I enjoy affiliate marketing and building a business for me is the adult form of LEGO.
Help others by doing — By creating my own case-study, I can document and show how to repeat what I've done. Which can help improve the courses and education I offer.
Generate stable income — While I already have sizable investment assets, I would like to build out my business. I want more of my net worth in assets I have direct control.
The primary reason is I'm looking for my money to work harder for me. My savings accounts are earning a paltry 0.60% APR. It is pretty much guaranteed to lose money in real terms against inflation. Especially after the recent 5.4% CPI report.
After selling my blog, I want to make sure my investments keep up or exceed inflation. I don't have to tell you that inflation is currently running rampant and, in my opinion, isn't transitory. It will keep going as the Federal Reserve is boxed into a corner of how much they can raise rates.
Regardless, this leaves me to pick other options than a savings account and bank CDs. Gone are the days you could earn 4-5% annual returns on CD accounts.
What Traditional Investment Options Are Available?
Investing is about comparing other options available in the marketplace. Valuations matter a lot. The question you must always ask is where can you get the best "bang for your buck"?
Historically, when one market is expensive another market is cheap. Almost never in the history of markets have we had asset bubbles in all of the major investment options. This means in the current landscape it's slim pickings. Both in terms of valuations, and possible future returns.
Let's talk about three possible options.
Real Estate
Real estate used to be a good option until the US government put a moratorium on evictions, and then recently extended it.
In my opinion, being a landlord is way too risky, regulated, and has no private property recourse. As a landlord, you are expected to somehow pay taxes, mortgages, and utilities while your tenant claims hardship and lives literally rent-free. The stories I see from multiple sources are nightmare-inducing.
In today's market, there's not enough upside with too much downside risk. My opinion on this may change in the future but there are calls from Socialists stating housing is a human right. This is where the little guy gets crushed with regulations and taxes. It's best to let the 'big guys' handle real estate investing.
REITs (Real Estate Investment Trusts) will be a better option going forward to invest in real estate. Let a large corporation deal with the headaches, and you get a slice of the returns.
Lastly, I just exchanged an old property for a new rental/vacation property in West Palm Beach, Florida. Personally, I don't want to be too heavy into real estate at this time. So that option is a non-starter for me right now.
Bonds
The next option are bonds. The bond market is overvalued. While it may go lower (negative rates anyone?) at the current rates it is an assured way to lose money against inflation. Like savings accounts and CDs, the real returns of bonds are currently negative. This is of course not only with government bonds but corporate, junk, and even munis. It's a very crowded trade.
Like the famed hedge fund manager Ray Dalio, I'm not a fan of any fixed-income in the current market and slowly reducing my exposure. Yes, you will get a return OF your money, but will you get a return ON your money? My Magic 8-Balls says, "Outlook not so good".
Stocks
Then what about the stock market? Well by most metrics the stock market is way overvalued. As I write this(September 2021), the Shiller PE Ratio is currently at 38.91. Only one other time in history has it been higher and that was during the dot-com bubble. That's not to say the market will crash tomorrow because of the rich valuations. The Shiller PE Ratio isn't a good predictor of when market crashes will occur.
The market could flatline for a decade as one possible scenario. Though don't fight the Fed is a common denominator and is the ultimate 'put'. On the positive, stocks perform historically well in moderate levels of inflation. Meaning businesses are able to raise prices which in turn helps their stock price and dividends. But in my case, I already own a large amount of stock in my portfolio.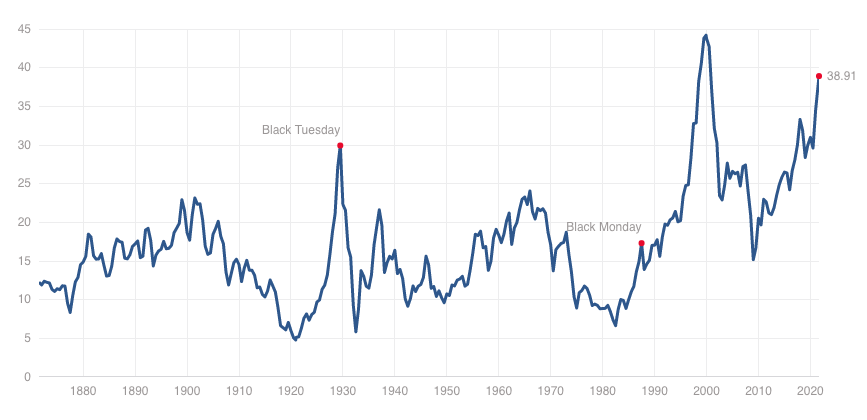 The point is with all of these metrics, valuations, and returns, at some point, must return to the mean. So expected future returns by all accounts will be muted. Just like the other options, too much risk with not enough return.
The second problem with owning publically traded stocks is a lack of control. As a minority shareholder, I cannot control the fate of the business. No matter what stupid ideas the CEO and board of directors decide on pursuing. Owning shares of publicly traded stocks, while not bad, means returns are much more influenced by economic winds and the latest philosophy du jour.
This makes stock investing currently a poor option as well.
See my 10-year predictions for more my prognosis on investing.
What Other Option Exists?
While my above list isn't 100% exhaustive, I decided buying a business is currently the best investment option for me.
Owning a business is one of the best methods to not only keep up with inflation but in many cases dramatically exceed the inflation rate; even though it's not passive, you have much more control of the returns.
Passive investments mean you don't take much active input in the investment, but then, therefore, limit your upside.
The annual return for the stock market is around 7% per year. Not bad and keeps ahead of inflation but it's certainly not a 20-30% or even 40% (or more!) annual return you can get with a business.
My initial investment for my blog Investor Junkie was under $2,000 but I eventually sold for $6,000,000. Yes, I did reinvest back profits and spent many hours at that business. But I also collected an annual income (let's just say mid-six figures) and took annual profits as well. So not a bad ROI if you ask me.
Yes, it's true owning a business is far from a passive investment that some other 'gurus' make it out to be. Popular books like Tim Ferris's The 4-Hour Work Week are far from reality.
So unlike REITs, bonds, or stocks, you must actively work on a business.
The next question was then what type of business?
For me, the obvious choice is an online business. I love online businesses because:
Generate revenue 24/7 — You can literally make money while you sleep and customers can be anywhere in the world.
Digital products — There's no inventory to worry about. Your upside is unlimited and do not have to worry about COGS (Cost Of Goods Sold).
Digtal Nomad — Allows me to work anywhere and not be tied to a specific geographic location. Digital nomads, especially after the virus, is a huge trend. I curently live in New York, but I also like to move to Florida at some point. I would like to be able to move without disrupting my business.
Low Headcount — I can scale up with a little to no employees. With my previous niche website, I only had 2 full-time employees (one was me!). The rest were contractors and agencies.
Making money blogging is one of the best ways to get a decent return on your investment.
To narrow my search, I decided to focus on affiliate marketing blogs. To me, it is the best way to make money online.
One of the things that have surprised me after selling my blog Investor Junkie, is the liquidity of the marketplace. There are a number of places you can go to find blogs for sale. It's not only easy to buy a blog, but also sell one as well.
The pricing of blogs can range from a few thousand to over 7-figures.
To add, blogging is still one of the few industries that isn't riddled with government rules and regulations. In the US, you do have to comply with FTC regulations. With the EU you must adhere to GDPR privacy laws but for the most part, the compliance is very minimal.
The hard part with an active investment is you need skills. Blogging requires knowledge in:
SEO — Most traffic will come from organic search.
Copywriting — You need to understand not only how to write but how to write copy that sells.
Basic understanding graphic design/UX — Your site design, menu, categorization all affect your users and more importantly Google's SERP.
Digital marketing — How to aquire traffic via organic and paid means.
Tech Savvy — You must at some level be knowledge in technology. If not you'll be relying on others for many aspects of the business.
All skills I'm very good at, so it is a perfect fit for me. It made perfect sense to purchase another blog. I started looking at multiple marketplaces:
Just to name a few.
A friend of mine recommended a site called DealFeed, which sources data from multiple marketplaces. It cut my search time in half and I highly recommend using it. My only gripe is I wished it had an email option to notify you of new blogs that meet your criteria.
I've been searching on and off for about six months with no luck. At times I would get frustrated with the search.
Either many blogs are asking way too high of a multiple or in niche website I have no interest in owning. About 3 months ago, I did find one blog that was in the fitness niche. I liked the blog, the income it generated, and the price they were asking. Unfortunately, I lost out to another buyer.
Flippa is perhaps the largest marketplace. Flippa has the advantage of you can get all of the data and I recommend searching that platform just to learn more about various niches.
If you do buy something from Flippa, you must separate the wheat from the chaff. Many posts are junk or in some cases outright scams. You must do your due diligence very carefully. Flippa is NOT for the inexperienced.
For me, I liked the Empire Flippers marketplace the best. They vet what they sell, but then most of their offers are priced to perfection. Since they are a seller's broker, they are representing the seller, not you the buyer. They present the blogs for sale in the best light, even if they are vetted.
I did find a few blogs on Empire Flippers that interested me, yet upon further detail questioned the valuation (too high for too little income/SEO history) or backlinks (i.e. a house of cards of paid backlinks).
For the most part, I gave up searching and focused on other projects, until two weeks ago.
I Found A Blog!
I found a blog on Empire Flippers that caught my eye.
It had been on the market for a few months and the asking price was $244,000.
It was in a niche I knew a lot about: web hosting, domain registration, and blogging. For those who don't know me, I previously owned a web hosting company for over 20 years.
The site for sale was a review, comparison, and how-to blog. The blog has been around 10 years, and 5 years of actively pursuing this niche. It had a lot of aged backlinks. So far so good!
Though in recent years lost a lot of SEO traffic.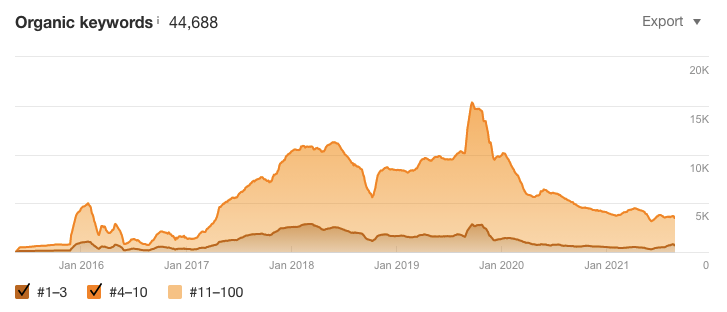 The blog is monetized with affiliate marketing links and recently added ad banners. Historically, the web hosting & blogging niche has some of the highest payouts in affiliate marketing. Though can have some of the highest clawbacks (meaning canceled customers which you don't get a commission).
The hosting market is a mature industry, but still growing. Online business is a growth industry post COVID and is expected to be a growth industry for the foreseeable future. As a previous web host, I can tell you it is a horrible business to be in with commoditization. Plus the huge capital outlays that are required to refresh hardware on a regular basis.
Check out GoDaddy's financial reports for a good example.
It is much more profitable (and fewer headaches) to be an affiliate with a payout of $100 – $150 per customer. This also makes it a great niche that warrants reviews and comparisons to find the service right for you.
It also aligns very nicely with this very blog.
Let me summarize the pros and cons:
Pros
Content — Around 500 articles spanning over 5 years in revelant niches. Over 10 years of the content creation (appears many have been removed).
WordPress Based — I prefer using WordPress over other CMS systems so it will be easy to improve.
Existing Merchant Relationships — Some of the existing affiliate relationships are dificult to join as a new blogger. In additon, some higher CPAs then what I have currently.
Large Amount Of Backinks — With a Domain Ranking of 71 in Ahrefs and over 2,000 domains linked to the domain it has a decent history and authority in the topics it covers.
Well Defined Niches — Unlike many other bloggers I consult with and see for sale, this blog stuck to very specific topics within it's wheelhouse. This is a big benefit to SEO since Google knows exactly what the blog is about.
Stable Affiliate Income — The trailing twelve months (TTM) of income was pretty stable at around $4,500 – $5,500 per month, or a total of $65,000 TTM.
Consistent Revenue Per Visitor — One of the mertrics I like to look with affiliate blogs is revenue per visitor. It shows how well monetizied the blog (or not) and compared to other blogs.
Not Much Overlap With My Blog — The content and topics it covers do not have much overlap with this existing blog. If anything, the two combined would be synergistic.
Cons
High Valuation — The offering price of $244,000 was 47 times (or around 4x TTM) the average monthly income.
Lost SEO Rankings and Traffic — While it still ranks for a decent amount of topics, it has lost a considerable amount of traffic in the past few years. Though in the past month has seen an upswing in SEO rankings.
A Lot Of Revised Content Is Needed — While the content is good and covers many topics in the niches, it needs a lot of updating. The are many articles that get little search traffic and need pruning as well.
Decreased Revenue — While the past 12 months the income has been stable, it generated much higher revenue in previous years. This is mostly because of decreased SEO rankings.
Horrible Domain Name — No offence to the previous owner if he's reading this, but the domain name was tied to their name. It's not a memberable or brandable domain name. Long-term it makes it hard to keep this domain name and must be rebranded.
Poor UI/UX — While the content has a lot going for it, the user experience is poor. It looks like a generic blog. It has many ad banners, popups, not clear CTAs and a generic WordPress theme. This indirectly hurts SEO rankings as well.

With that said, there is no perfect business to buy. As an entrepreneur, you are to seek out the diamonds in the rough and polish that diamond. This blog is no different.
It has some things going for it and a lot of items that need improvement. A blog can be considered no different than real estate. I saw decent "bones" in the blog, and believe I can add a lot of value to this "fixer-upper".
On the good news, While it lost a lot of SEO traffic, I don't think it could go much lower. SEO will require improvement but it's not unfixable. I believe I can at least double the traffic and the revenue in the next twelve months – from $5k/month to $10/month.
With an affiliate blog, there are really two metrics you can increase revenue. Increase the number of visitors and increase the amount of revenue per visitor. Both I think have room to grow with this blog.

The Valuation
Blogs historically have valuations based upon annual income and can range from 2X – 6X or in some cases even more! I personally like looking at TTM than an average monthly multiple because many blogs can be cyclical.
The two biggest factors that determine a blog's valuation:
Amount of much traffic
Amount revenue it generates
Everything else is secondary or doesn't count in the eyes of a prospective buyer.
I decided I would make an offer and thought about what would be considered an acceptable offer? It's certainly not worth 4X annual income or 47X for average monthly income, or a valuation of $244,000.
It wasn't a growing blog and needs much work.
Could I've gotten 2X? No, with Empire Flippers they outright reject this type of offer and was told this.
So I offered 3X annual or 40X for the blog's income or $180,000.
The offer was accepted!
The terms of the sale were:
100% cash up front. No earn-out – $180,000 paid in full
All existing affiliate relationships are included with logins
All content
While that's certainly not a bargain by any means, it is to be expected in this current marketplace. Just like I'm looking for better returns on my investments, so are others. Which drives up the demand and acceptable prices of blogs.
You might think the price is high, but you should look at it another way. In comparison to other types of investments, an affiliate blog is hard to beat. Where else could I earn a 33% return of your money on an annual basis? I should be able to earn back the money invested at a minimum of three years.
Look at it another way, there are approximately 400 blog posts on this site (that are worth keeping from my estimates). If you take the blog purely on the content alone, it comes out to about $450 per blog post. Which isn't a bad deal considering you can easily pay that amount per article in today's marketplace.
Yes, I assume the blog keeps generating revenue on a consistent basis. There are no assurances with a blog, but neither is any investment! Yes, the monthly income could decrease but it is doubtful it would go to zero.
The web hosting and blogging niche is stable and not going anywhere. There are some new players in this niche but for the most part a very stable marketplace.
I believe this purchase has much more upside than downside risk and was one of the reasons I purchased it. I have many options to increase the revenue and will document them in future blog posts.
What's Next?
For competitive reasons, I am not going to disclose the blog's name. Right now, I am going to keep it under wraps but will reveal the blog at some point in the future. Perhaps at the end of my experiment.
In my next article, I'm going to draw out my plan of attack and what I'm going to do to improve the blog. I'm going to document the changes I plan on making to meet my goal of doubling the blog's income in twelve months. Hope you join me in this journey.