What do you think of when you think of marketing campaigns? Typically, crazy promotions, phony contests, giveaways, emails, and flash sales come to mind. These campaigns, while effective in the short term, are not repeatable.
At what point does your discount become the regular price? At what point do you burn out your Facebook following or email list?
What if I told you there was a better way to build a marketing campaign? What if I told you there was a type of marketing campaign that could provide lasting benefits to your business for years to come?
It's your lucky day. There is such a strategy. It's called evergreen marketing, and it fuels some of the most powerful companies across industries.
Definition
It may sound cheesy, but when you think of the term "evergreen marketing" think of an evergreen tree: it doesn't die every season. It stays green and fresh all year.
That, at its core, is evergreen marketing. It's a concept that will last beyond this week's trending topics, next week's news, or even the next few month's popular search terms. Instead, it lasts.
A good way to frame evergreen marketing is with an example of evergreen content.
Say you own a dog grooming business, and you want to create a piece of content that will go beyond season trends or pop culture.
An evergreen content topic for you might be something like, "how to clean dog hair off of furniture". This is a topic that transcends monthly organic traffic trends, and won't become obsolete within a few months. Most likely, it's a question that pet owners will continue to ask as long as furniture and dogs co-exist.
The Benefits
What's the benefit of an evergreen tree? It stays around all year! The same goes for an evergreen marketing campaign. Evergreen campaigns will continue to leave a lasting effect on your business without constant updating. This point is critical for small business owners marketing their local or eCommerce business…while still running operations, finance, shipping, and customer service.
Let's take the dog grooming example again.
You decide to roll with the topic of how to clean dog hair off of furniture. You write a comprehensive list of the best 10 ways to do so, complete with pictures and videos that demonstrate the processes and post that article to your website. In the first month, the post takes off. The next month, the traffic to the post is even higher. Over the course of the next few months & years, traffic continues to grow.
You've created a timeless post. It applies to searchers no matter the time of day, the month, or even the year. Most likely, this post will be one of the top pages on your site, bringing in significant web traffic (and probably significant amounts of new customers!) each month.
It's an unspoken truth that for every single company only a couple pages (usually ones published years ago) drive most of their traffic. It's the 80/20 rule for content. 80% of your traffic will come from just 20% of your posts.
Focus on the evergreen 20% of your marketing that lasts – expand and improve it so that it builds on itself.
That's the benefit of evergreen marketing. An evergreen marketing campaign continues to yield benefits for your business month after month, whether that's in the form of increased site traffic, more conversions, or more customers walking through your door. Good SEO is one example of evergreen marketing with clear benefits that build on itself.
The Risks
Like the sound of evergreen marketing so far? Of course, you do! Unfortunately, it's not just a plug-and-go, flawless system. Coming up with an evergreen marketing campaign is, well, hard.
You may find that once you start thinking of evergreen keyword ideas (such as how to clean dog hair off of furniture), the topic has already been covered. We live in a content-saturated world where anyone can be a marketer – and anyone can setup a website. This means in most cases, evergreen topics already have a campaign surrounding them.
If that's the case, not all hope is lost. It's your job to find a unique angle or to go more in-depth.
Using our dog grooming example, it probably isn't enough to write an article just about how to get dog hair off of furniture.
Instead, by using a list format and including instructional videos and photos, you're creating a more thorough resource that's different from the 50 articles that take a typical paragraph approach to explain how to clean dog hair off a couch.
Pro tip: If you're using a content approach to evergreen marketing, make sure that you've pre-qualified your content ideas with the right tools and research.
You may also need to find a niche within your market. Typically, niches have fewer campaigns catered to them, leaving you with plenty of topics that can be covered. This will make your evergreen campaign even more valuable.
Keep in mind, however, that your evergreen marketing campaign has to be relevant to your business (or client). You may find that your business isn't exactly fit for a plethora of evergreen ideas.
While you're bound to find something that will be timeless, you may find that it's already been exhaustively covered due to the limited options in your field.
There is the risk of relying entirely on evergreen marketing tactics. You'll miss out on the diversity of short-lived campaigns and seasonal promotions. Keep in mind that it's not an either or choice. If your evergreen strategy is your "battleship" – short-term promotions can be your small "speedboats." Your evergreen strategy ensures that you have a solid foundation so that you can take risks with shorter campaigns.
How to Do It
Before you dive in, here are three things to keep in mind when building your campaign.
1) Target Selected Markets
The Basics
We've already touched on how an evergreen topic is not one that is trending, or simply popular in a moment in time. But that also applies to your audience. In order for a campaign to be evergreen, it has to be based on a specific audience, not a product, season, or moment in time.
Considerations
Keep in mind that your evergreen campaign doesn't have to cover your full audience. Most likely, your customers can be broken out into certain target audience segments, which have different wants and needs. By keeping your evergreen campaign focused on one of these selected markets (or those with the same needs over time), your topic will resonate better and you'll get better brand awareness because it will be more closely aligned with the audience(s).
Examples for Inspiration
Think about Dove's Real Beauty campaign, which has reached its 10-year anniversary. What originally started as a series of ads highlighting real women to help destroy stereotypes, the campaign has grown and seen several phases in different evergreen formats, from print ads to public relations to motivational commercials like the one below on YouTube.
This campaign couldn't have been possible if Dove had tried to target their entire audience, which includes men. Instead, it's powerful and evergreen because it focuses on women–specifically, grown women who are still battling stereotypes about what makes someone beautiful.
2) Compete on Overall Value
The Basics
It's not uncommon for marketing campaigns to compete on value. Think about it: most campaigns focus on some sort of promotion, like two-for-the-price-of-one sales, BYGO free, or some % off this weekend only. A true evergreen campaign competes on value alone, not on gimmicks or pricing. This means the campaign is centered around figuring out what your target market values, and orienting your marketing around that completely.
Considerations
In order to understand what your audience truly values, you have to know your target market! Step one really comes into play here. Once you establish your target market, you can dive into what really matters to them. Conduct audience research by doing interviews and creating personas (marketing lingo for example profile of a customer). Then, orient your marketing around these personas.
Examples for Inspiration
Let's check out REI (full podcast episode on them here). REI focuses on education. They have evergreen articles on outdoor recreation complemented with video and blog post content. Their consumers dig info about the great outdoors, and REI is all too happy to give them the info they need to make their next adventure perfect. While a customer knows they could go to Dicks and get 20% off their gear, they don't care. They're loyal to REI because REI gives them top-notch content.
3) Explore New Ways to Do Business
The Basics
Once you have your audience and know you're competing based on value, not gimmicks, you're ready to find a new business angle. This is the step that gives evergreen marketing campaigns some umph. One example of a different business angle is specialty clubs for customers on retail sites.
Customers can join a club and get special content, deals, and access to elite events. Now that's a campaign that never goes out of style! It's targeted to a specific audience (loyalty shoppers), competes on value by offering unique opportunities for customers, and isn't seasonal or short-lived.
Considerations
Again, this step goes back to truly understanding your audience. If you don't know your target audience, or you don't know them well enough, you won't be able to think of a creative way to do business with them!
Rely heavily on your audience research and personas for this step, and make sure you don't get too crazy. A creative way to do business can be a great way to connect with your audience for years, but if it gets too gimmicky or complex, it will actually turn your customers off.
Examples for Inspiration
Is there a loyalty program that's better than Amazon Prime? While loyalty programs are nothing new, Amazon Prime (and Prime Now) really take a unique approach to their special offering. Not only do Prime members get special sales, but they also have shipping incentives, such as free two-day shipping. Amazon knows that value and convenience are important to their customers, which makes Amazon Prime incredibly successful because it provides a unique business approach that caters to those exact values.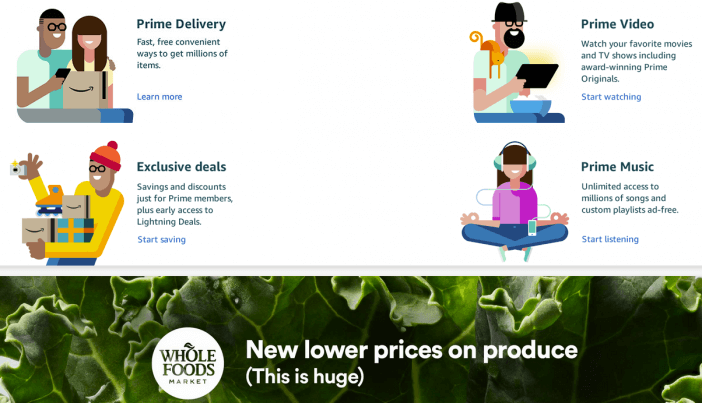 But exploring new ways of doing business with your current audience isn't limited to Amazon. Boutique retailers like Huckberry, Trunk Club, Costco, and Dollar Shave Club have all put a new spin on the traditional retail model.
Next Steps
An evergreen marketing strategy is a big lift, but it can be worth it.
As long as you do your research, identify your audience, and make sure you're providing valuable information in a creative way, you'll be well on your way to creating a lasting campaign that affects your business for years.
Learn more about building a marketing strategy for eCommerce.