You may have heard about the power of creating your own personalized advertising audience (ie, based on actual individuals – not audience segments). Twitter calls it "Tailored Audiences." Facebook calls it "Custom Audiences." Google calls it "Customer Match."
Whatever platform you use, you're trying to craft the perfect message for the perfect audience for a specific goal.
Most marketers know they should create audiences based on the visitors to their own website – aka, "retargeting." Some know you can create "look-a-like" audiences with your website visitors.
But what if you could create a custom/tailored audience out of any group of individuals – quickly?**
**Editor's Note – This post was originally written in 2015 before the Cambridge Analytica scandal and the political controversies of 2016. The tutorial below is in a gray ethical zone. I'm leaving it up and keeping the screenshots up to date, because it can be used for good within terms of service. But you can also be super-sketch with it. Just be cool and try to make the Internet a better place.
Either way, here's how to use a set of tools to create almost any custom/tailored audience you can think of.
The Formula
To create your perfect personalized audience, you'll need a few tools –
Next, you'll need to follow these steps –
Define a specific audience (minimum 500 people) that would achieve that goal
Define 3 to 5 places where that audience hangs out
Search through those places for URLs with links to their social handles
Identify a "footprint" within those URLs
Do a Google Search for only those URLs
Scrape and export those URLs
Crawl those URLs for outlinks to their social profiles
Export & cleanup the social profile links in a spreadsheet
Grab their usernames, place it the correct file format for upload
Upload to Facebook, Twitter and/or Google
Run advertising campaign for only those audiences
To illustrate, this tutorial will show how I created an audience of guest post contributors to the Daily Egg in less than 10 minutes. In Next Steps, I'll outline some ideas how to you can transfer the steps to nearly any audience you want.
Video Walkthrough
Illustrated Guide
Our goal for this example campaign is to advertise to people who are writing guest posts via Twitter Tailored Audiences. They are influential beyond social shares, because they can link out to useful content.
To start, we need to find a large group of guest post writers.
I already knew (from weekly newsletter research) that the Daily Egg ran a lot of guest posts.
I went to Daily Egg and clicked through to a contributor's profile.



It turns out that almost all of their contributor pages not only link out to the contributor's Twitter profile, they also share the /author/ slug in common. That's what we'll use as our "footprint" to search all these pages at once.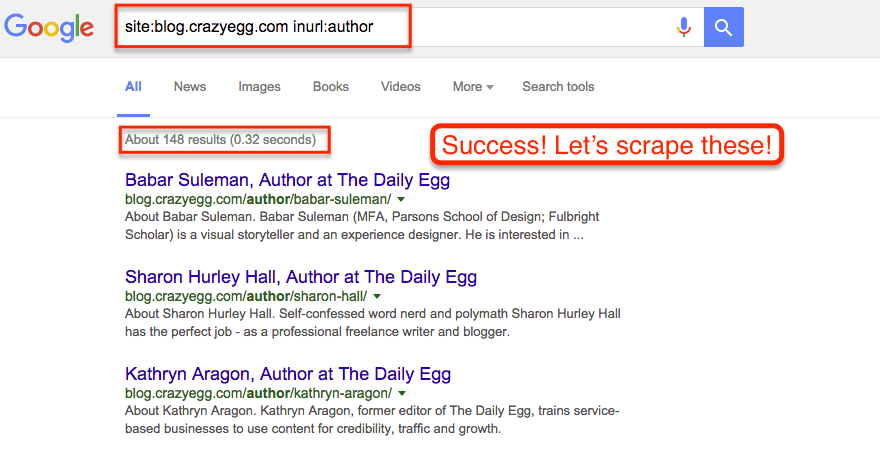 Score! I used the inurl search operator to filter only the author pages. Now we just need to get them into a spreadsheet format.
I right click on a link and use the Scraper Chrome extension to scrape and export to Google Docs.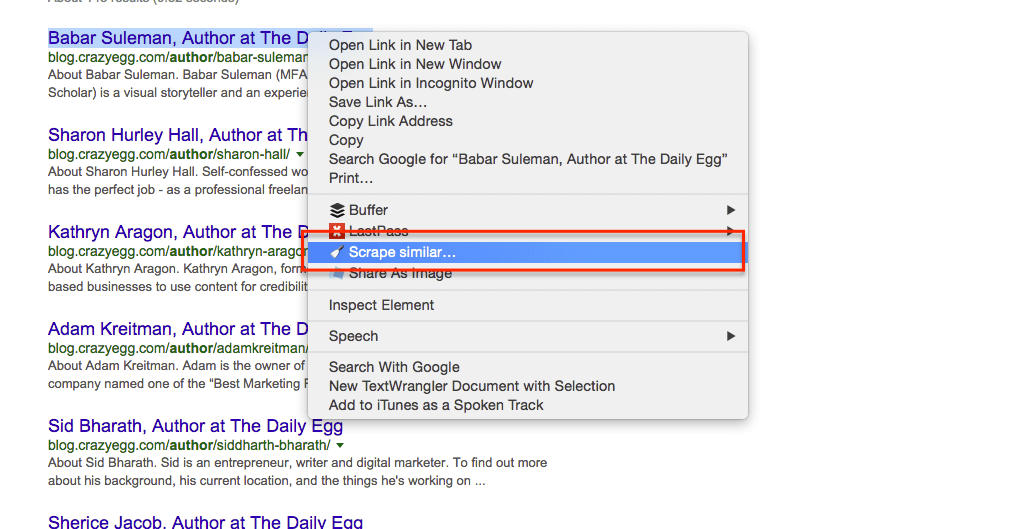 Once it's in Google Docs, I just highlight and copy all the URLs.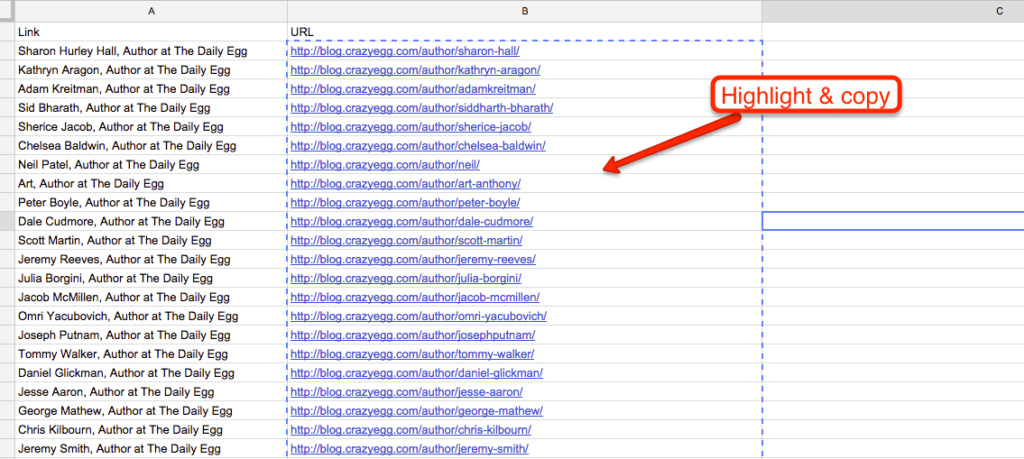 Next, we need to crawl the URLs to grab all the outlinks to Twitter. We'll use Screaming Frog for this case. It's a freemium tool that is the Swiss Army Knife for marketers. For this case, I use List mode and paste in all my URLs.



Once the crawl runs, we'll do a Bulk Export of all the outlinks.



We'll open that sheet in Excel / Google Sheets. Filter the Destination URL for Twitter.com.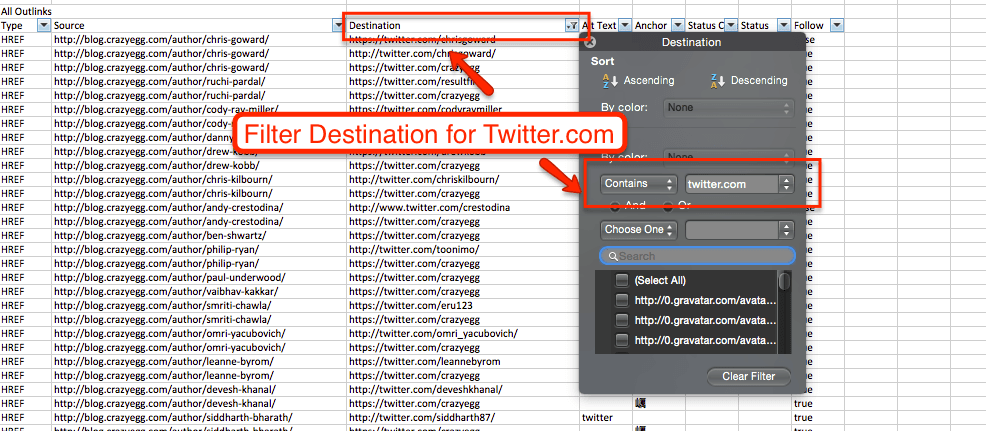 Next, we'll need to clean up the URLs a bit. I do a Find/Replace for "https://", "http://", and "www." to get the URLs down to twitter.com/[USERNAME]
We'll then do a Find/Replace of "twitter.com" with "@" to get the Username. And lastly, Find/Replace to remove any trailing slashes. And use Data/Remove Duplicates to get rid of any duplicate usernames.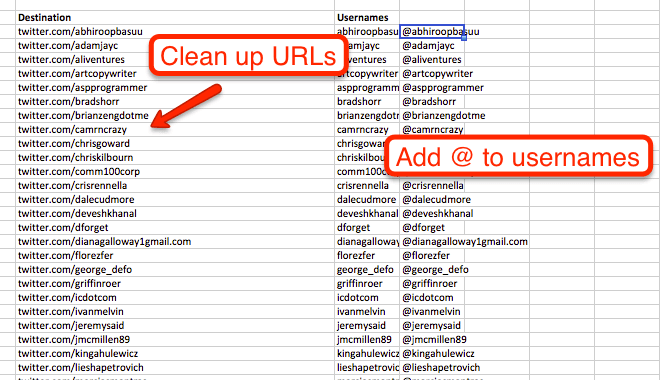 Be sure to note how many you have. This grouping has ~146. That's well below Twitter's ballpark minimum of 500 users.
What I did in this case was rinse & repeat the same process with Buffer, Unbounce and a few other companies that run frequent guest posts.
Once you have 500 usernames, I'll copy over and save it as a TXT or CSV file (as required by Twitter).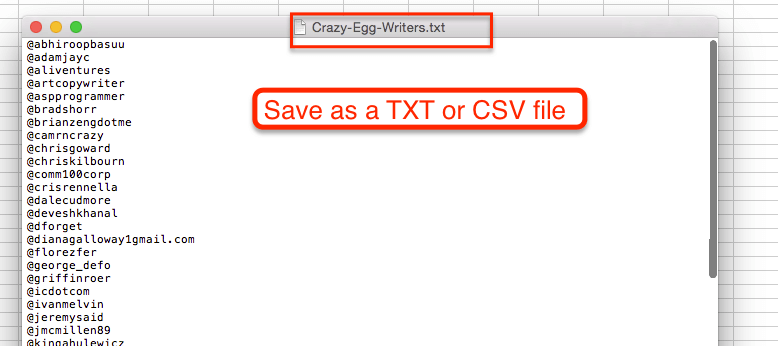 In Twitter, we'll navigate to Tools –> Audience Manager. Create a new list audience with your Twitter usernames.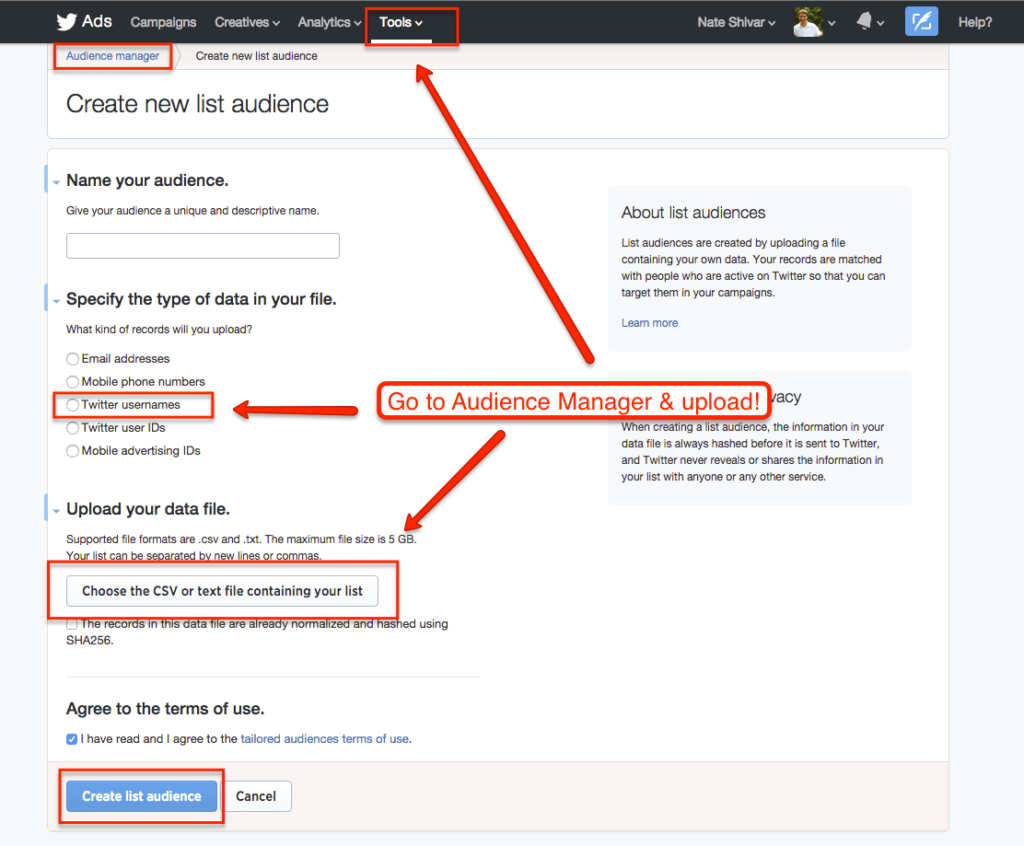 The upload process is very similar with Facebook.
Next Steps
Facebook Custom and Twitter Tailored audiences are powerful tools. But don't limit yourself to your own website visitors or their default targeting options.
If you are trying to be smart with your ad spend, start looking for links out to user social profiles on websites that your users hang out on.
Here's an example from Inbound.org – a old forum for inbound marketers (now replaced by GrowthHackers.org).



They even have a way to sort by Top members. Other industry forums have similar functions. Here's some other ideas –
Comment sections of favorite websites
Twitter lists
Industry forums
Any website that requires registration
You can also skip the first step and go right to creative Google search operators
Lastly, don't forget to create a "lookalike" audience based on your tailored audience.
Happy scraping!
Read more about 14+ Website Marketing Data To Track Now or Lose Forever