SlideShare is an unsung staple of the Internet. It's the place that's all too familiar to conference goers, trade show attendees, and corporate pitch decks.
SlideShare is simply a website where anyone can upload and share a presentation. It's owned by LinkedIn and it's free and open to all, and promises to help you "share what you know and love through presentations, infographics, documents and more."
And like other massive user-generated content websites like Quora, Wikipedia, and Reddit, it is a absolute goldmine for SEO and content strategy.
Here's how to use SlideShare for keyword research, content development, and link building.
Using Slideshare for Content Research & Development
If you've read my posts on developing content ideas, on Quora, on Reddit, on Wikipedia, on Pinterest or even on Google Books – you'll know that many of these tactics aren't exactly unique.
But the thing is, Slideshare is unique. And if you apply these tactics to Slideshare in addition to your other research, you'll come back with ideas that your competitors simply won't have.
Drop Landing Page in Keyword Planner / Keyword Tool
As I have said in my post on keyword research and keyword mapping, the biggest hurdle in keyword research is finding the keywords you don't know that you don't know.
This is especially important in industries that you don't know.
After all, the industry jargon and lingo that is absolutely integral to anyone working or searching within the industry could seem foreign to an outsider or a marketer – and finding creative ways to discover keywords can seem mysterious.
If you are consulting on (or running) a plumbing website, you might not even know that you don't know that "sillcock" is an industry term for "outdoor faucet." And if you are a plumber , you might not know how consumers how consumers refer to "fittings" in different regions of America.
Since SlideShare does presentation decks (often from conferences & internal meetings), you'll often find cutting edge topics & jargon in any industry.
So take a page / presentation from SlideShare and drop it in Keyword Planner and or a premium tool such as SEMRush, Ahrefs, or Google's natural language processing tool.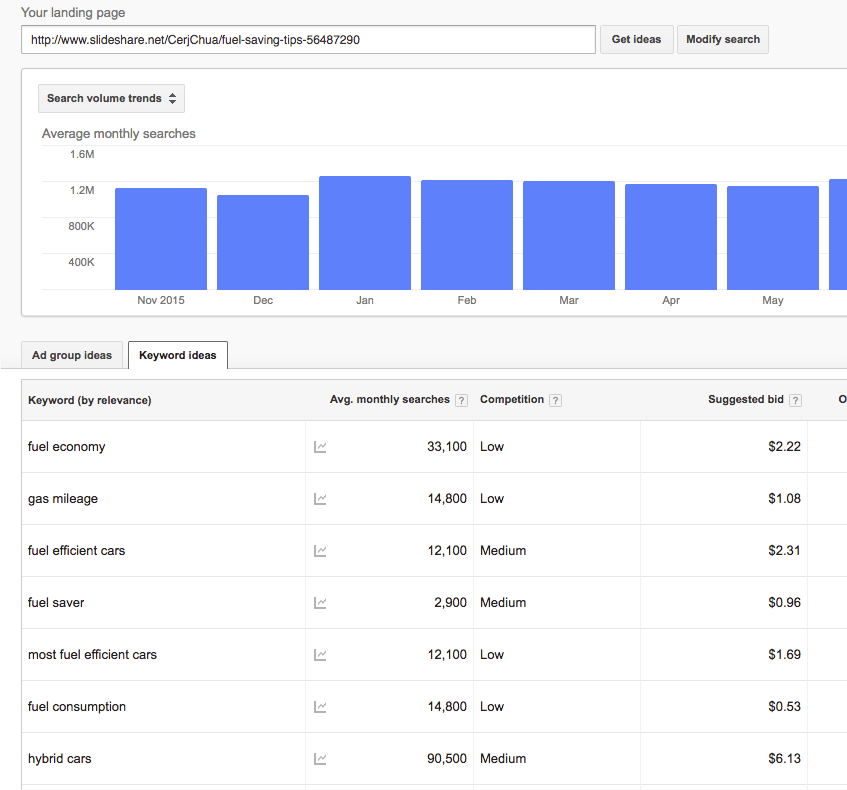 Then look at the keywords and use the ones that are interesting or relate to topics you want to target.
Plug and play these them into the rest of your keyword research process.
Look for New Keyword Topics & Concepts
Ultimately you can use a premium tool such as Ahrefs (which I outlined here) or SEMRush to see what keywords SlideShare already ranks for. Take this information and sort to find keywords that are relevant to your website.
You can use this to do a content gap analysis content gap analysis between competitors too. Basically, you'll just look for keywords that your competitors and Slideshare rank for — but you don't.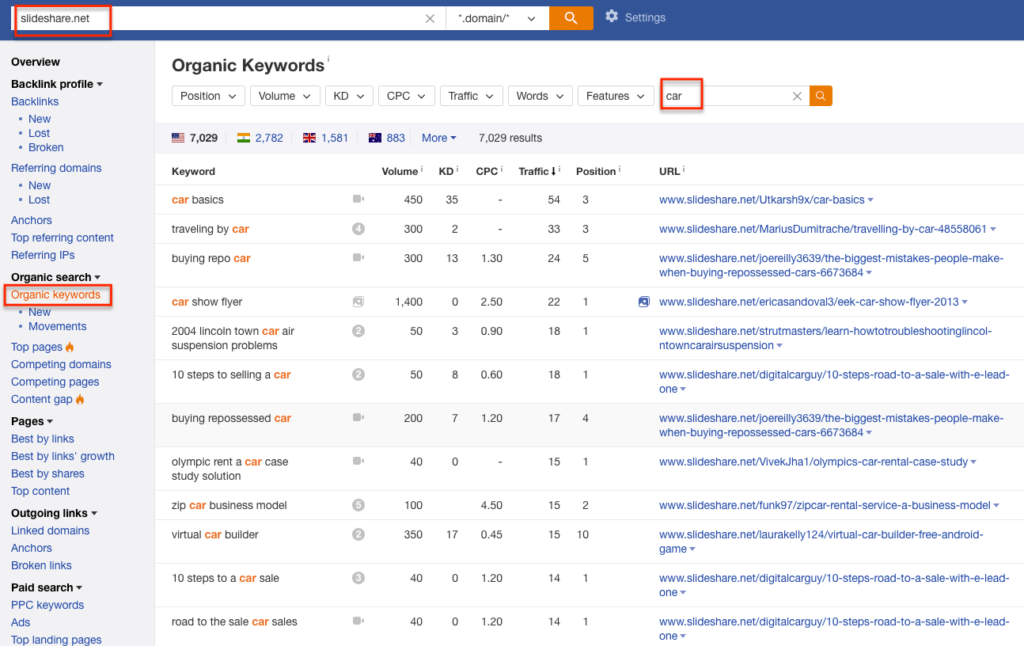 Even if you don't have a premium tool, you can still do the Google Search Operator site:slideshare.net "keyword".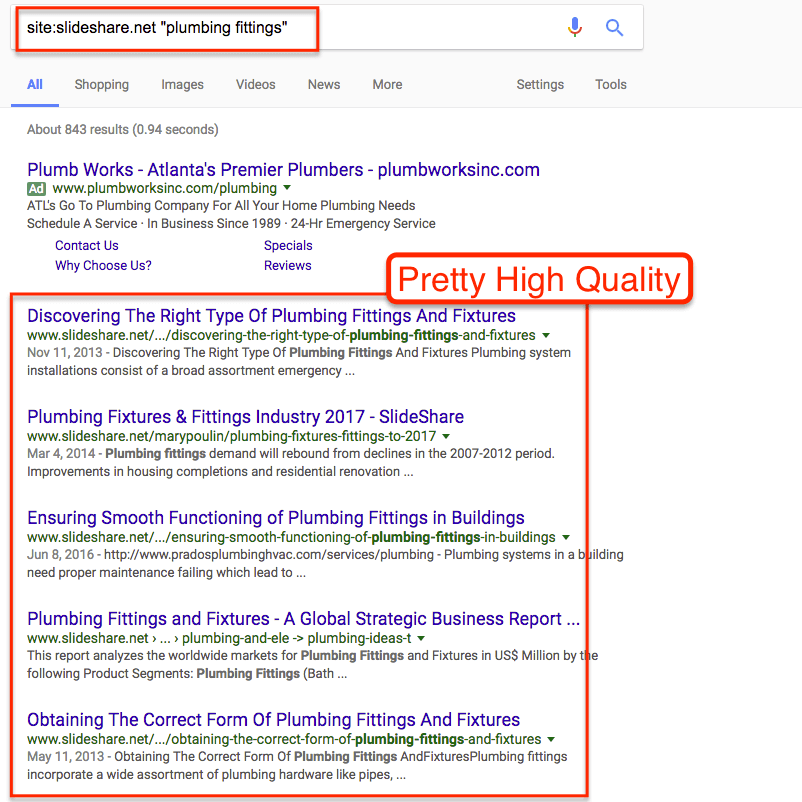 Look for relevant slide decks and go through and manually research new topics.
Explore Headlines & Popular Presentations within Topics
Slideshare, like Quora, is organized around "Topics." You can look over a relevant topic and manually (or scrape) popular, interesting presentations within topics.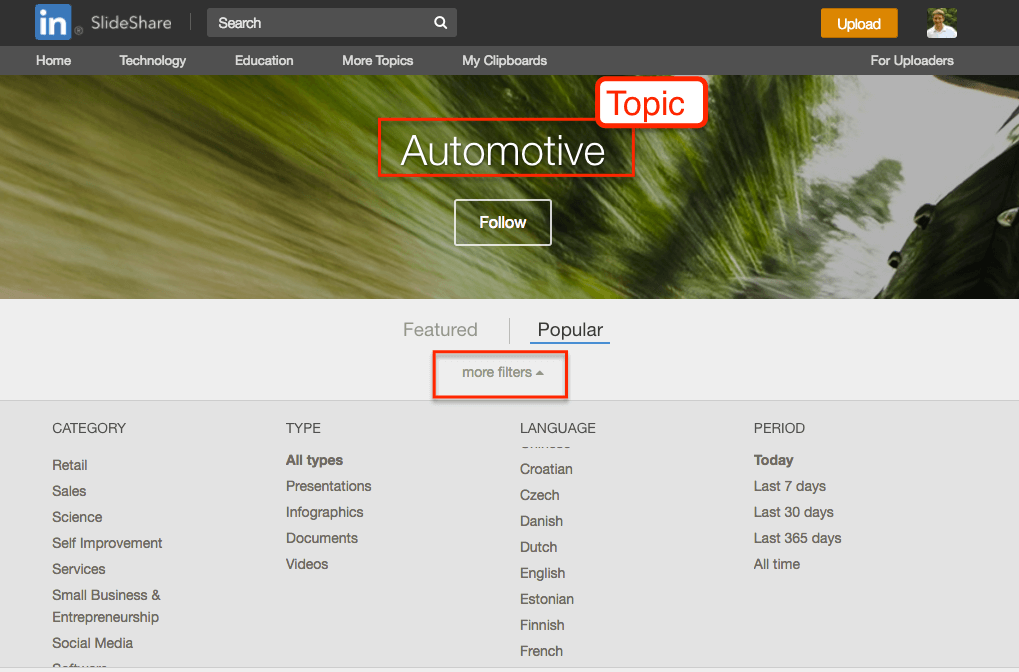 Be sure to use the filter to sort for what you're looking for. You can look at most popular within a certain time period, language or format.
Top Pages in Link & Shares & Growth
If you're looking for general keyword ideas or you're trying to find the absolute most relevant posts in your industry, you can search and sort Slideshare's pages by share links or link growth in Ahrefs or SEMRush.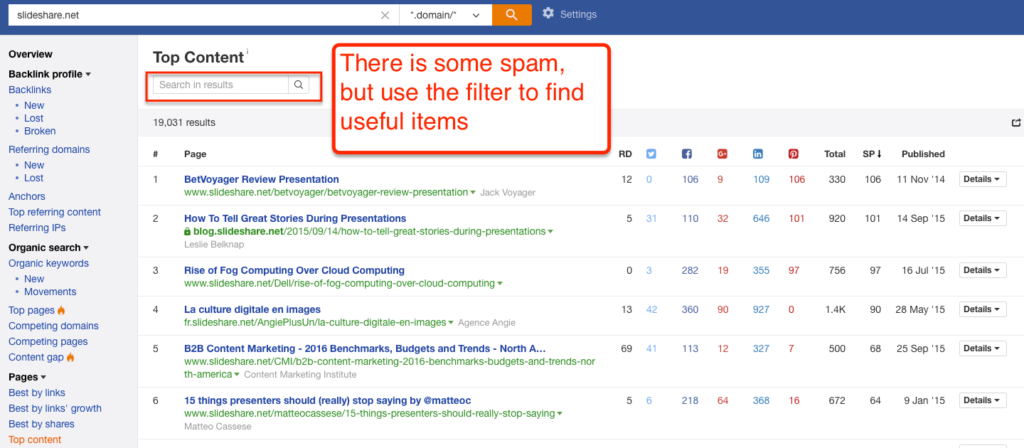 Often these decks will be the most interesting or most shareable deck – which could also be great information to build better content.
Manually Look at Slides in Your Industry
When you are manually looking at slides, you're looking for a few things.
First, you're looking for keywords that you didn't know that you didn't know. You can look within the deck, or look at the tags the author uses.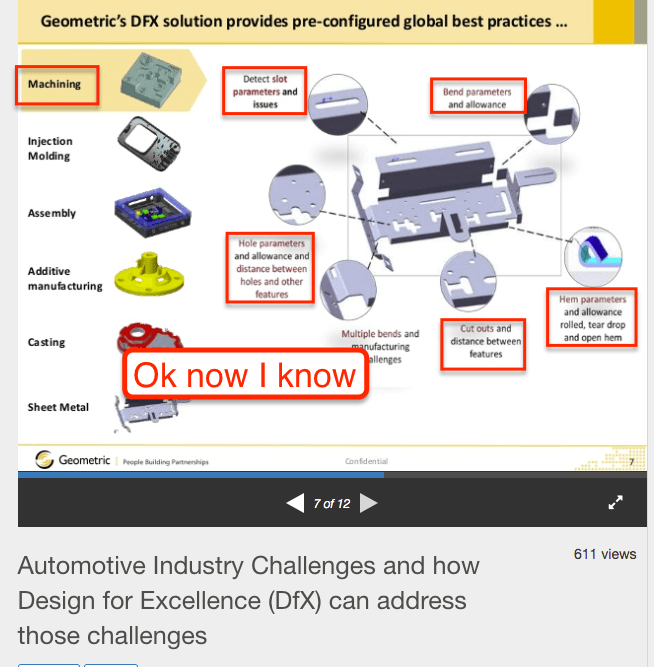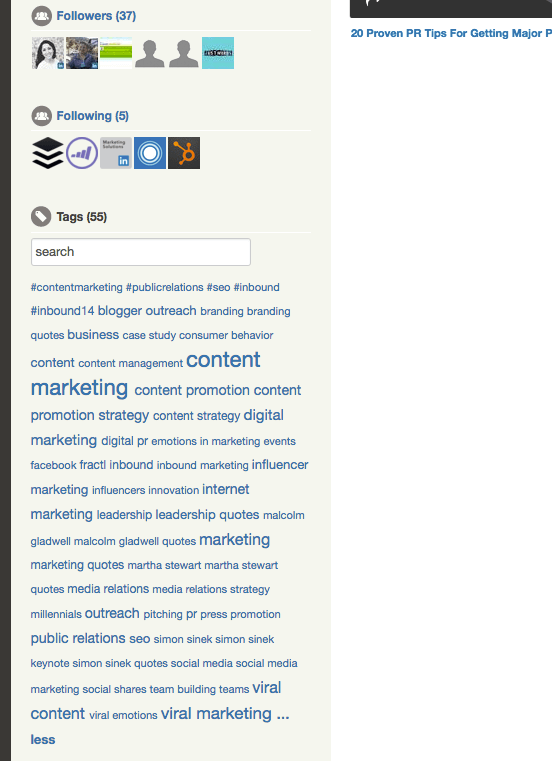 Second, you're looking for –
how content is presented
what questions are asked
what keywords are used
any reliable sources that you can cite
sources to research the topic further.
Convert Popular Slides in Your Industry to Web Content
You can also use Slideshare to build better content by converting slides into a page or a post.
Decks can be interesting to work through, but they usually are not the best experience for a web user (or for a search engine for that matter).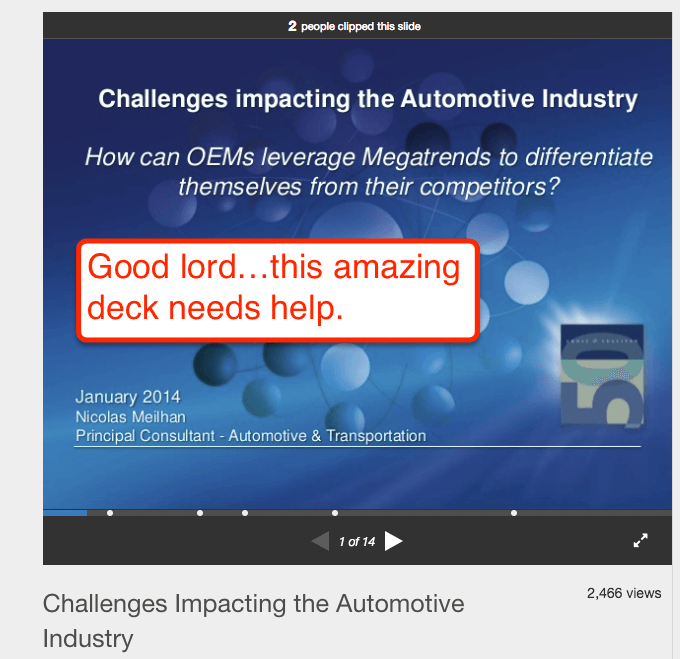 You, of course, do not want to directly copy or convert any presentation to an HTML page, but you can definitely take the kernel of the idea from the most popular content on SlideShare and put it in a more user-friendly, more accessible form.
This tactic is especially useful if you can add to the deck through additional information, better formatting, or cleaner explanations.
Using Slideshare for Link Building & Content Promotion
SlideShare is not just useful for researching and developing content – you can use it to help guide how you promote your content.
Look for Slide Embeds Around the Web
SlideShare allows anyone to embed slide decks on their websites.
These embeds usually have a text footprint that you can use to track down websites that might be interested in similar or improved content.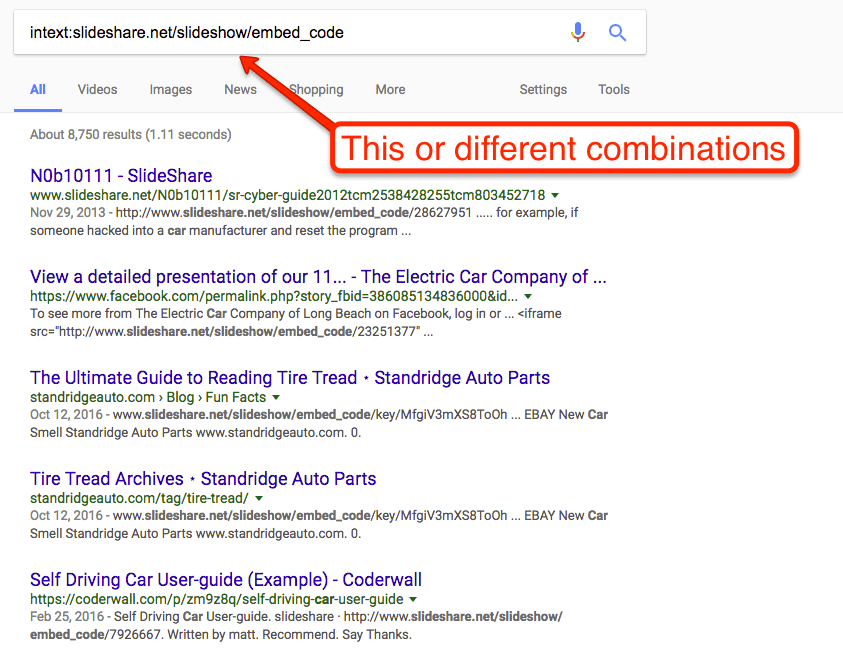 In the example, I use the search operator intext:slideshare.net/slideshow/embed_code "keyword" – though this will only give you sites that are asking readers to re-embed.
If you know of a popular presentation, you can do intext:"[slideshare title] from [slideshare username]" to find all the sites with that deck embedded.
Use Profile & Descriptions for Links
Even if you don't regularly produce picture slideshows or presentations for conferences, it can be worthwhile to at least set up a profile on SlideShare.
It will allow you to not only get profile links to add to your online presence, but you can also add your top performing content to Slideshare to build an audience there.
This is especially useful if you have audience segments who use SlideShare or if you have information that works especially well in slide format (ie, a conference Powerpoint).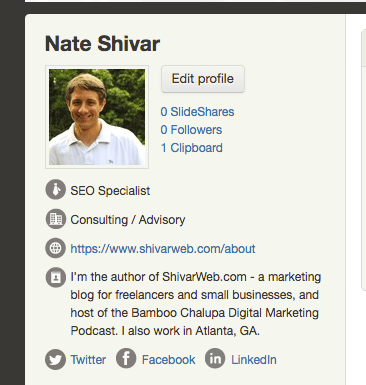 Think of it like starting a YouTube channel or small podcast. Sometimes a small investment with a unique voice will give you additional reach without much additional investment.
You can also add nofollow links to your website and relevant information within the slide descriptions and your profiles. Additionally, you can add links directly to your slides so that if your deck gets picked up and shared, you'll get more visibility and reach back to your website.
Do Complementary Link Building For Websites That Link To Slides
One of the toughest things about link building is figuring out what types of content website owners want to link out to.
You can use SlideShare to reverse-engineer what websites are linking out to presentations – and what they are interested in.
Basically, you'd use a premium tool like Ahrefs or SEMRush to find who is linking to SlideShare, so that you can evaluate what websites might be interested in linking to your presentation, or what websites that are currently linking to presentations would rather link to a new and improved piece of content.
*Warning – there is a *ton* of Slideshare spam. Be prepared to work in Excel with a very broad topic to catch these opportunities.
Do Broken Link Building on Slideshare
As I explained in my post about broken link building and my post about using a Ahrefs, one of the best ways to do broken link building at scale is to look at a large website with lots of links out and see which ones are broken – and then go from there.
SlideShare is of course an enormous website with lots of links out.
You can manually check for broken links that need repairing, or simply use the premium tool like Ahrefs to look for all outgoing broken links, and then sort by the ones that are relevant to your website.
Then, you can look into which websites link to the broken links and scare up your outreach.
You can read more about this tactic within my Ahrefs guide or my broken link building guide.
*Warning – there is a *ton* of Slideshare spam. Be prepared to work in Excel with a very broad topic to catch these opportunities.
Use Slideshare to Find New Link Types
One misconception that holds a lot of SEOs back is that there are a limited number of link categories/types.
There is the link from a news website, a link from a resources page, a link from a blogger, or that unicorn of links – the .edu or the .gov link.
But here's the thing – there are a nearly infinite number of link types. The hard part is finding the link types that you can build a strategy around.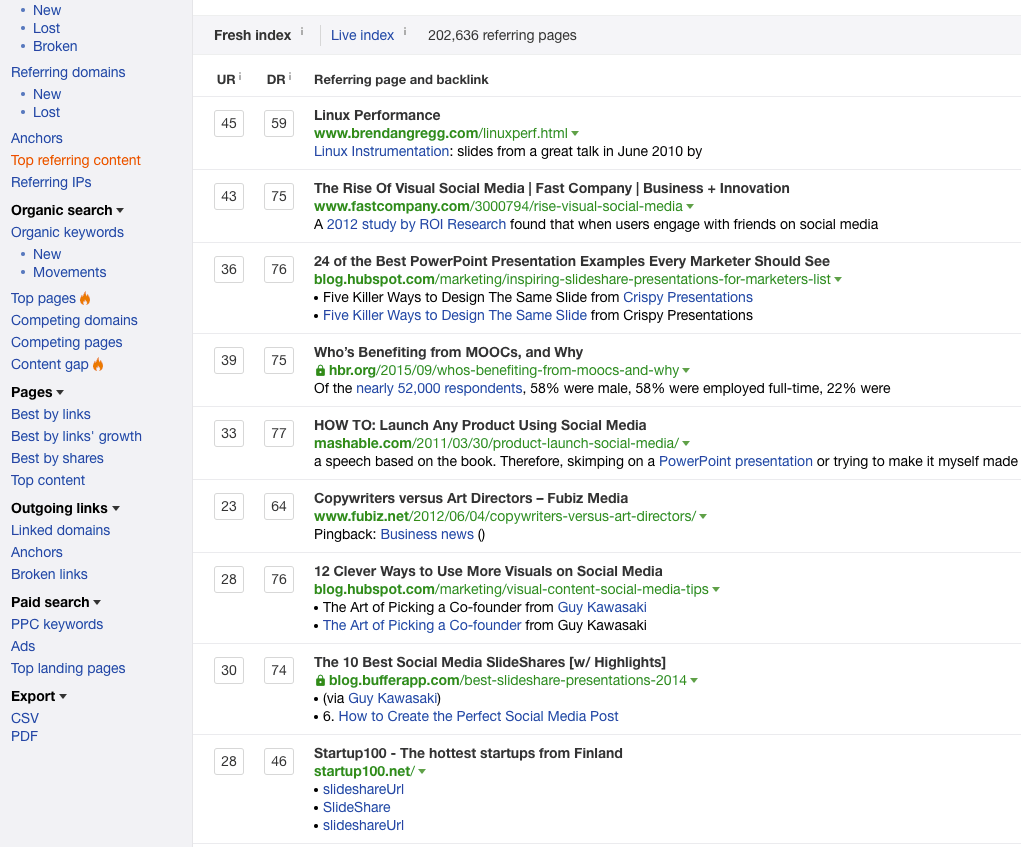 A unique benefit of using Slideshare as a source of links is that you can see all the different sites with all the different links. And with that big picture, you can create a link building strategy that your competitors may not be able to think of or implement.
Next Steps
SlideShare can be an important source during your content development plan. It has a ton of information that's unique in both content and format.
Start by going in setting up an account if you don't have one already, set up your profile, and explore the site.
Be sure to explore the full list of Free Tools To Find Prequalified Content Ideas!