| | |
| --- | --- |
| Support | Help Desk, Email, Live Chat & Knowledge Base |
| Free DNS | |
| Free Domain Privacy | |
| Best For | Domain Registration |
| Strengths | Powerful Domain Search Tool |
| Weaknesses | High Prices |
| Promotion | 15% Off Promo - SAVE15 |
Name.com is a Denver-based, ICANN-accredited domain registrar company that also offers web hosting, email, a website builder, and SSL certificates. It's owned by Donuts Inc, a domain servicing company that specializes in serving premium & new top-level domains (TLDs), which go beyond generic .com/.net/.org domains website owners were previously limited to.
Name.com touts an all-in-one approach to getting you online — they have everything you need to get up and running quickly (AKA a domain name, hosting, website builder, security, and email).
So, how does Name.com stack up against other domain registrars? Here's my Name.com review with pros and cons based on my experience with them so far…
Name.com Pricing
| Domain Ext. | Registration | Renewal | Transfer |
| --- | --- | --- | --- |
| .com | $9.99/yr. | $14.99/yr. | $8.99/yr. |
| .net | $11.99/yr. | $16.99/yr. | $10.99/yr. |
| .org | $8.99/yr. | $12.99/yr. | $10.99/yr. |
| .biz | $8.99/yr. | $17.99/yr. | $17.99/yr. |
| .co | $12.99/yr. | $28.00/yr. | $22.99/yr. |
Domain.com Alternatives


Namecheap Review
Rating

9.0/10

Free DNS

Yes

Free Domain Privacy

Yes

Promotion

Dynadot Review
Rating

8.5/10

Free DNS

Yes

Free Domain Privacy

Yes

Promotion

Google Domains Review
Rating

8.5/10

Free DNS

Yes

Free Domain Privacy

Yes

Promotion

None
Pros of Name.com
Complementary Products
It's important to remember that a domain is not a website. It's not email or any other service. It's merely your address online. It helps people locate where your property is by telling browsers/email/etc where to go to get whatever it wants (website files, emails, images, data, etc).
If you want to set up a website, you'll still need to get hosting or a website builder / eCommerce provider that provides hosting.
Name.com offers an all-in-one approach with complementary products. You can bundle your domain, website builder, website hosting, and email and do it all from their platform.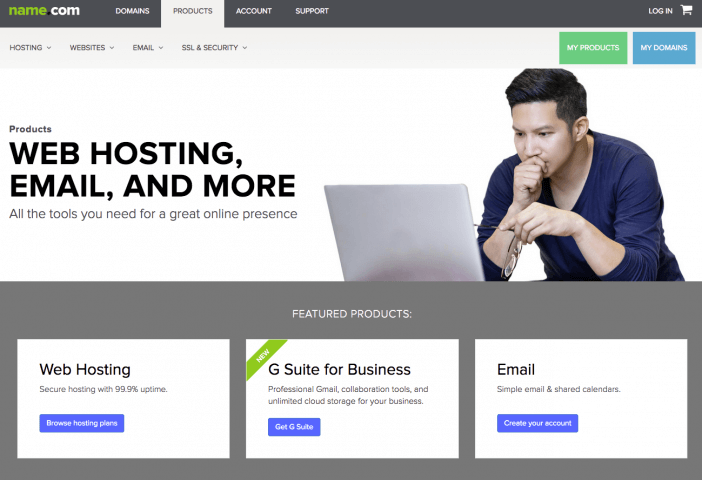 While I personally prefer to separate my hosting and domains to provide an extra layer of control & reliability in addition to cost savings, many website owners prefer to have them bundled for convenience.
Sophisticated Search
Right off the bat, it's easy to search for a domain with Name.com's interface. And while the search results aren't the easiest to decipher (more on that later), what's really enticing about this domain registrar is its bulk search.
Name.com has a built-in bulk search functionality that allows you to search and register for many domains all at once. You can filter by specific TLD or TLD category, meaning you don't have to endlessly scroll or type in all the specific TLDs you want. Just add the root domains/keywords to the search bar and filter them to only see results that make sense for your business.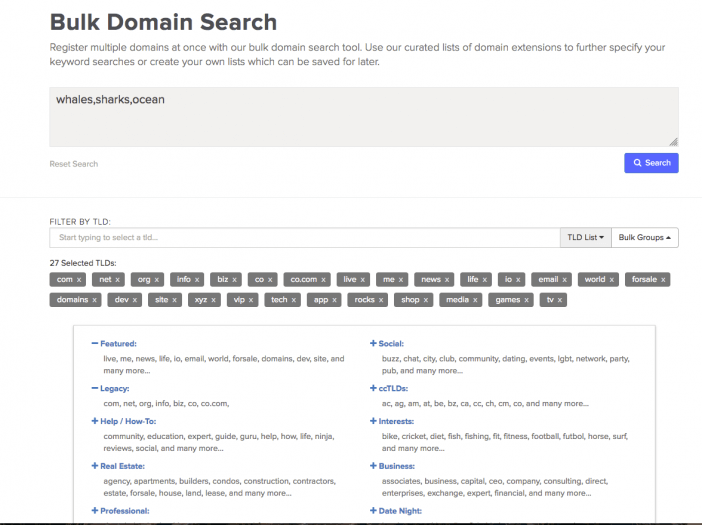 TLD Selection
Thanks to ICANN, the internet's governing body, gone are the days where website owners are limited to basic domains like .com, .net, and a few other generic and country-designated top-level domains (TLDs).
Now you can find unique TLDs, from .kitchen to .academy and pretty much anything you can imagine. So now the issue is making sure your domain registrar has all of the TLDs you want to register.
Name.com has a large selection of various TLDs, making it easy to find unique choices to match your business needs (and multiple endings for the same root). They have more than 521 as of 2020.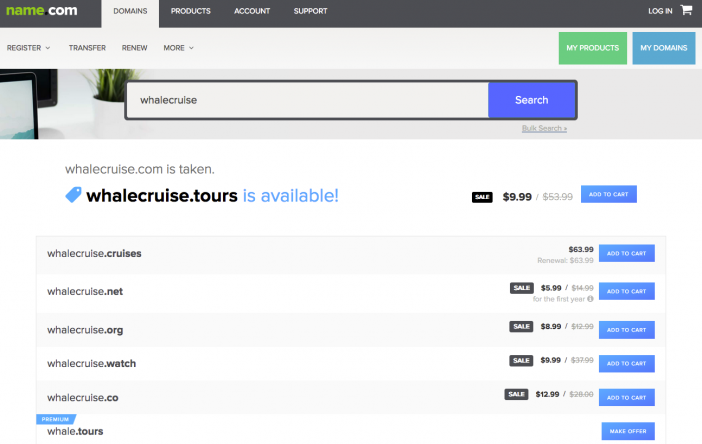 They also offer country-specific domains (not all US-based domain providers do), making it a good choice if you need international domain types.
Simple Transfer Process
Despite the ICANN process having a standardized process to transfer a domain, some registrars can make moving your domain a pain. While I haven't transferred a domain from Name.com yet, the process seems fairly straightforward. In your profile, you can unlock your domain (as long as you've had it longer than 60 days due to ICANN regulations).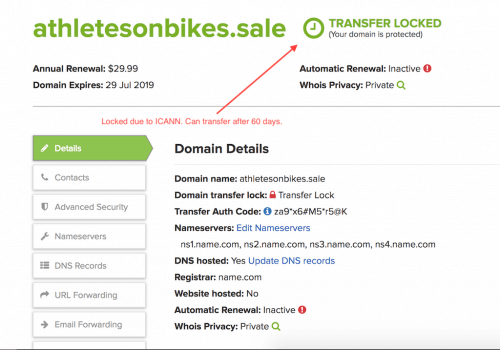 After unlocking your domain, you'll use your transfer authorization code to go through your new registrar's transfer process.
Inexpensive Upfront Pricing
Domain registrars typically have a few pricing models that they follow:
Discounted upfront pricing with expensive renewals
Expensive upfront pricing with cheap renewals
Higher renewal + included services
Free / cheap initial purchase + consistent renewal
Cheap + zero services
Expensive + tons of services
Name.com falls into the first bucket. They offer discounted upfront pricing for traditional domains and more unique/premium TLDs (which can be more expensive), which then renew annually at a much higher price. At the time of this article, there was also a new customer discount for .com domain registration (reducing the price to $7.99).
The pro with this model is you can grab a domain for super cheap and then transfer it out to a platform with cheaper renewals (like Namecheap) so you avoid the high renewal rate.
That being said, if you're really committed to grabbing a cheap domain and transferring it to avoid high renewals, I'd recommend starting with a registrar like GoDaddy. Their domains tend to be cheaper.
Cons of Name.com
Domain Search / Purchasing Process
While it's simple to search for a domain name on Name.com, once you actually get into the search results… there's a lot going on.
If you know exactly what you're looking for, you may not find it overwhelming. But if you're new to registering domains, the number of options and breakdowns of premium domains, sales, etc. can be a bit confusing.
The purchasing process is also lengthy. It took me several steps to purchase one domain name, including a text confirmation (great for security, a hurdle for convenience).
When adding a domain to your cart, the pricing automatically increases as it adds security features, and when you go to click on your cart to see your items, your served upsells before you can see what's actually in your cart (more on both of these below).
After checking out, there aren't clear next steps as to what to do next (the only next step is to check out their domain forwarding tools).

For a platform that makes its stand on being an all-in-one solution, there could be more guidance for those who don't have a ton of technical experience and want the convenience of complimentary products but don't know exactly what to do once they've purchased their domain.
Pricing
While Name.com's inexpensive upfront is a pro, it's also a con. The renewal price on domains is significantly higher than competitors, especially for specialty TLDs. Keep in mind that the domain will automatically renew unless you unselect this option during the checkout process. There also aren't upfront options for bulk purchasing — you have to contact their team to discuss pricing, which is unfortunate given the great bulk search option.

Another con to the pricing structure is that WHOIS security/privacy features aren't included in the domain price. ICANN requires that personal information including your full name, address, phone number, and email be provided. This information is made public via a WHOIS lookup and remains that way unless you have privacy and security add-ons that restrict this information.
Some domain registrars will include this in your domain price. Name.com adds it automatically when you register a domain, which adds an additional $4.99 to your bill. You won't know until you add your domain, then click in to view your cart emails (and make it through the upsells).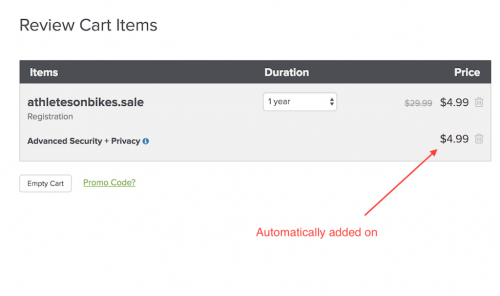 With the additional $4.99 pricing, you start getting back to standard pricing for domains, especially for .com domains. For example, let's look at Name.com vs. Namecheap.
On Name.com, architechtureandbeauty.com is on "sale" for $8.99. But once you add on WHOIS privacy, you're sitting at $13.98 for the domain.

Meanwhile, the domain sells on Namecheap for $10.98. With the ICANN fee, it brings the total to $11.16 and includes WHOIS privacy.

The same applies for specialty TLDs (like architectureandbeauty.com, which would cost you a total of $34.98 on Name.com vs. $26.06 on Namecheap).
So if you're looking at Name.com because of their savings, you can probably find better pricing elsewhere.
Upsells / Cross Sells
For some website owners, a domain registrar that offers complementary products is great. And while I like to keep hosting and domains separate, added security features like SSL certificates are a great add-on.
However, if your goal is to just purchase a domain (and maybe an SSL certificate), the upsells and cross-sells on Name.com can be annoying. You can't view your cart items without seeing the upsells/cross-sells, and you have to sort through that information when trying to buy your domain.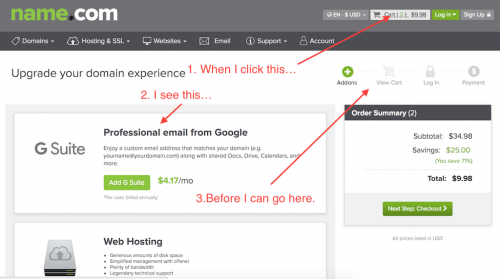 That being said, Name.com isn't nearly as pushy as other registrars. I haven't received any promotional emails urging me to buy other products like hosting or a website builder so far.
It's like I've said in other reviews, it really depends on your needs, goals & expertise. If you need complementary products and want the convenience of having your services bundled, then you may not mind navigating the upsells and cross-sells. But if you just want to purchase a domain quickly, there are better registrars out there (like iwantmyname.com).
Support
Despite having a fairly robust Knowledge Base where you can troubleshoot your own support needs, Name.com gets a fairly bad rap for support. Complaints range from availability to the levels of support provided.
At the end of the day, anecdotes go both ways. It's difficult to decipher whether it's the website owner who isn't clear or the support who is dropping the ball, so let's take a look at the actual process of getting connected when you need help.
When you go to the support area, you're first prompted to troubleshoot your issue with Name.com's Knowledge Base, which is broken down by category.

From there, you're given a list of articles that could address your needs.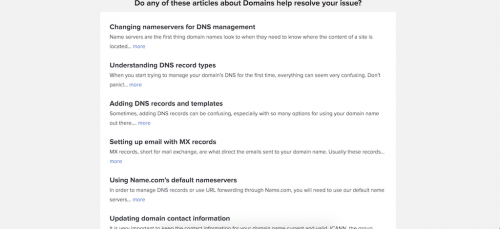 If you can't find your question in the articles, you'll then find contact information at the bottom of the page where you have three options: email support, call (Monday-Friday 8 AM – 6 PM MT. Denver), or live chat every day between 10 AM and 5 PM MT, Denver.
It's a bit of an arduous process, especially when you have a pressing matter. There are also some apparent support gaps, especially for other timezones (or again, if you have a pressing matter that falls outside of support hours).
If you're someone who knows their way around domain management and the back-end of your website system, you could probably get by with the support articles. But if you're new to registering a domain, hosting, and setting up a website, you may want to go with a registrar with more hands-on support and coverage.
Next Steps
For what it's worth, Name.com is an okay choice for a domain registrar. But unless you have a specific reason to go with Name.com (like an amazing deal on a TLD that you want to grab upfront for cheap), then you'd be better off with a domain registrar like Namecheap.
Namecheap offers inexpensive upfront pricing, cheaper renewals, and still has complementary products for website owners who want to keep everything together. You can find my review of Namecheap as a domain registrar.