Zenfolio is a photography portfolio website builder that includes eCommerce functionality, so photographers can "showcase and sell your photography".
Recently, I gave Zenfolio a try for a small project after receiving a few reader questions. But before I get into the pros and cons of my Zenfolio review, let's consider a bit of background on building a website in general.
There are so many considerations to take into account when choosing a website builder — and really, there are a thousand ways to get what you want in the end in terms of functionality, convenience, pricing, etc. The thing to remember is: whether you're building a simple photography portfolio or running a full-fledged photography business, the way you build your photography website has a lot of consequences.
In the long-term, it affects your versatility, functionality, and, of course, your brand. In the short-term, it can certainly add/take away a lot of headaches. That said, just like choosing a physical house or office, there is no such thing as an absolute "best" or "top" choice. There's only the right choice relative to your goals, experience, and circumstances.
What Is Zenfolio Website Builder?
On the wide spectrum of website building solutions, Zenfolio lives on the end that is all-inclusive and provides everything you need to get started and grow your photography website. It contrasts with solutions where you buy, install, and manage all the "pieces" of your website separately. I wrote a post on Website Builders, Explained for more background.
Using Zenfolio is sort of like leasing and customizing an apartment in a really classy development instead of buying and owning your own house. You're still in control of decor, cleaning, and everything living-wise – but you leave the construction, plumbing, security, and infrastructure to the property owner. That point is key because there's usually a direct tradeoff between convenience and control with all software, but especially with website builders.
Everything may fit together just right with a website builder like Zenfolio, but that may or may not be what you're looking for.
As far as competition, Zenfolio competes with all-inclusive hosted website builders like Weebly, Wix, Squarespace, and WordPress.com, and photography website builders like Smugmug, Format, and Carbonmade.
Compared to their competition, they focus on providing an all-in-one solution that includes everything photographers need to grow their business, from modern templates that are easy to customize to ecommerce features that allow you to sell photos directly from your site.
Instead of operating like a traditional drag-and-drop website builder, Zenfolio has you select from a menu of options around what type of photography you do, then gives you a selection of recommend themes that you can switch out later.
This structure appeals to beginners who have no design or development experience and who want an easy way to get their photos on a good-looking website ASAP.
Pros of Using Zenfolio Website Builder
Here's what I found to be the pros of using Zenfolio — not just in comparison to other website builders, but as an overall website solution for creating a photography website.
Straightforward Setup Process
One of Zenfolio's best features is how easy it is to get your photography website up and running, even if you have zero website experience. Zenfolio offers a 14-day free trial for those who want to give the platform a test run, or you can select the features you need, and Zenfolio will recommend a plan for you.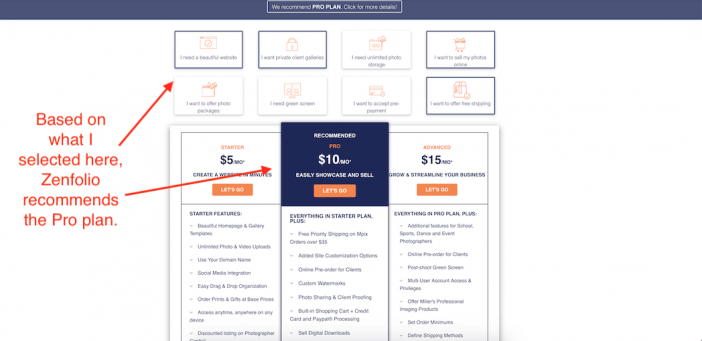 Once you create an account (either free or paid), Zenfolio prompts you to select what type of photography you shoot most and the features you're going to be using on your website so they can recommend a template that fits your needs.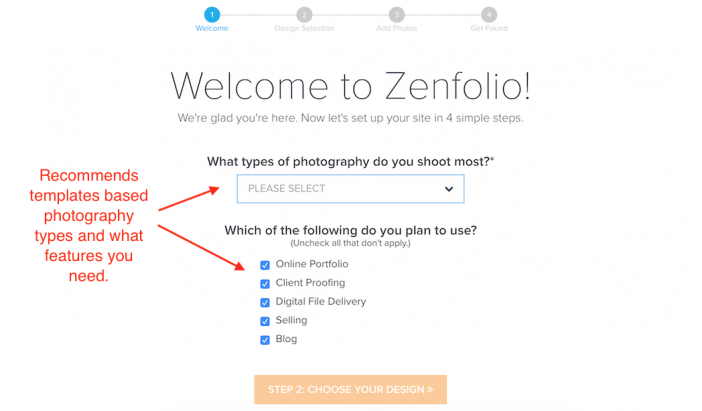 From there, it's just a matter of selecting the template you like best, then adding your photos. Voila! You have a website.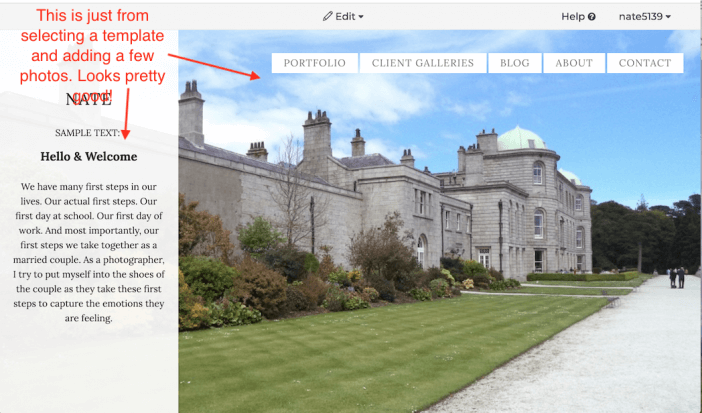 Functionality + Integrations
Perhaps the biggest benefit of Zenfolio is that it truly is an all-inclusive website builder *for photographers*. They offer a ton of built-in functionality and features that cover everything from selling your photos to seeing website statistics to sharing private galleries with clients to marketing your website through emails, coupons, etc.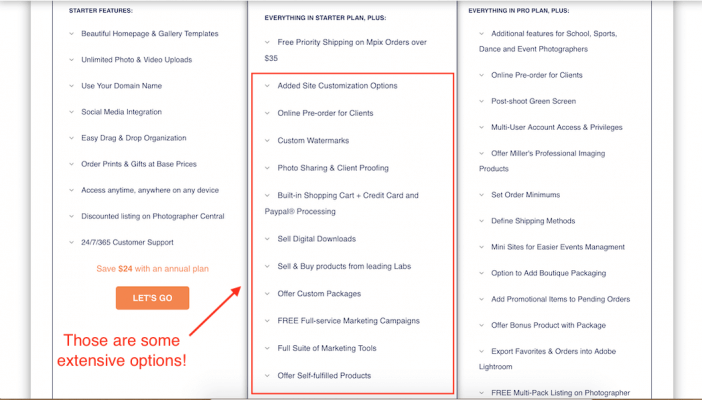 One thing to note here, however — a lot of this advanced functionality comes with Zenfolio's higher-priced plans (Pro and Advanced).
Pricing
Speaking of pricing, Zenfolio's pricing is fairly competitive when compared to other website builders, especially when you take into account all of the features you get with their plans. Their mid-tier plan, Pro, has a ton of advanced functionality like payment processing, watermarking, and marketing features, and is just $10/month, while their Advanced plan offers even MORE and is just $15/month.
When you compare that to general website builders like GoDaddy GoCentral, Website Creator, Wix, or Squarespace, you're getting a lot more bang for your buck with Zenfolio.
But something to keep in mind when thinking about pricing — it's not just about the price, it's about how you want to use your site.
If you're looking for more customization, or a simple portfolio website with no advanced features, you may want to consider another option. It makes no sense to overpay when you don't need the features that bring Zenfolio a lot of their value.
Cons of Zenfolio
But of course, no review would be complete without looking at the downsides. Every piece of software will have complaints. Here are the cons I found with using Zenfolio.
Limited Feature Set – Design
With any technology product, there is almost always a trade-off between convenience and control.
And you can really see this trade-off with the Zenfolio website builder. The convenience of their design setup is great. It's straightforward, fast, and not confusing. It puts your focus solely on getting your photos into a premade template.
But here's the thing — if you want to go anywhere beyond the basics of the template, you're pretty limited.
You can choose different layouts and themes (which are essentially fonts/color schemes), and edit elements like logo and menu position, but when it comes to editing the actual template, you're locked in.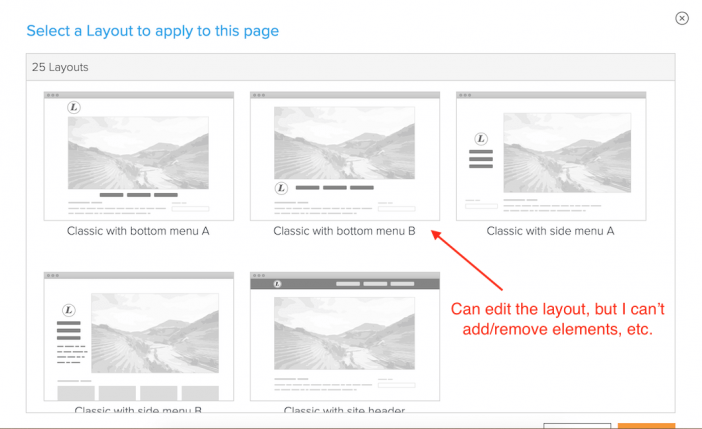 With pages, you can add custom-built pages, but it's in a separate text editor and is pretty basic in terms of what you can actually do with the page.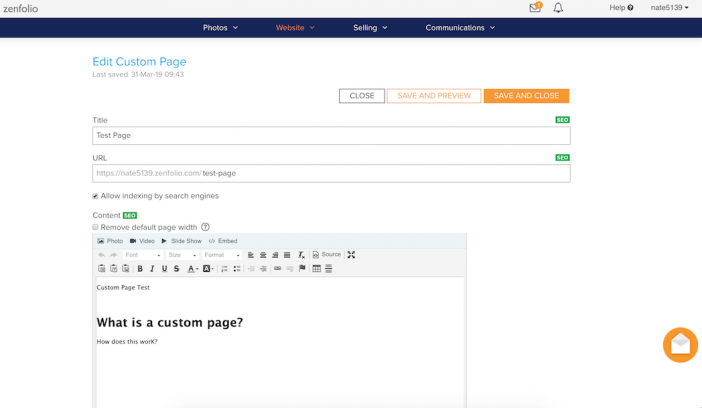 The best way to describe it is a 'paint-by-numbers' set up. It's great to have the basics, but if you want to do anything extra or outside of bounds, then you're out of luck.
If you wanted to create something more custom to showcase your photography, the design limitations can be pretty crippling.
In an ironic way, you could end up showcasing your truly unique art on a website that looks decidedly like other photographer's Zenfolio websites.
Onboarding / Ease-of-Use
I mentioned earlier that getting set up with Zenfolio is incredibly simple — and it is. But Zenfolio leaves much to be desired when it comes to learning how to use the platform to its fullest.
One of Zenfolio's best features is how extensive the website builder is. There is so much you can do with it. The only problem? It's not really clear how to use all of the great features.
As soon as I signed up, I received an email with three steps to get started, but the instructions were pretty basic.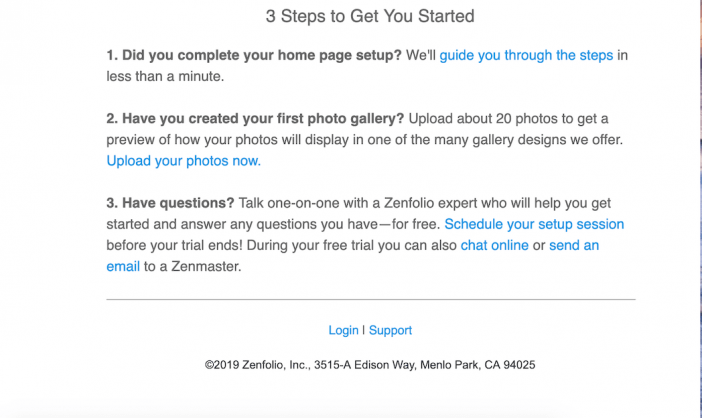 If I wanted to learn more about how to use Zenfolio, they do offer a one-on-one session with a "Zenmaster"… but for a platform that offers so much convenience in terms of their built-in features and all-inclusive templates, this extra steps feels inconvenient.
If you're looking for a platform that's intuitive and easy to get the most out of, the onboarding process for Zenfolio really leaves a good bit to be desired.
Limited Feature Set – Future Growth
This disadvantage has been hinted at throughout this review, but I'd like to call it specifically here. And that is – there is a huge upside to purchasing software *for photographers* but it can also a serious handicap for businesses that grow in different ways (ie, with courses, content, sponsorships, other business models, etc.
Zenfolio's engineering team focuses exclusively on photographer features – not business features. While they will always be better at gallery uploads, client viewings, and print purchases, they might not grow with *your* photography business.
If you find general use products that have good enough photographer features but focus on general use cases, then I would look closely at that solution (ie, with other builders).
For example, Zenfolio SEO options are fine. They aren't world-class, but they do get the job done. All your pages & images are crawled, indexed and visible just as they should be. But, if you want to truly get into content marketing or build interactive pages that attract links or even just add Schema – you'll be out of luck.
But again, that's not Zenfolio's focus. They aren't focused on being the best website builder with all the ecommerce, marketing, and business tools. They are focused on being the best bundled option for photographers.
So, if you are decidedly a pure-play photographer, then this con is really a pro since Zenfolio will only make the features that you like, even better.
Zenfolio Alternatives & Competitors
Photographers have many options for running their online business. Most choices revolve around how much control vs. convenience you want.
Zenfolio lives on the convenience end of the spectrum. You have maximum convenience for managing, selling, and marketing your photos. But, you are limited to their features, designs, and plans.
Here are a few other direct alternatives to Zenfolio to consider – with a focus on website builders.
Zenfolio vs. Wix
Wix is the brand name in the website builder world. They pioneered the drag & drop builder and still lead the way with native website builder features. Wix has some downsides as I noted in my Wix review, but the most relevant downside vs Zenfolio is that Wix is built for every type of business whereas Zenfolio is built for photographers. Now, Wix has lots of features for photographers. But it's still primarily a website builder. You'll have to pull in some 3rd party software to get all the features you want.
If you are someone looking to build a photographer's website and prefer to integrate your own 3rd party software choices (ie, from Adobe or 500px, etc), then Wix is a better option than Zenfolio.
If you are someone looking for a single, comprehensive photographer website builder plus other bundled features, then Zenfolio is a better choice.
Zenfolio vs. Squarespace
Squarespace is another popular choice in the website builder world. They are especially known for their award-winning website templates and focus on portfolio websites. Like Wix, they have a lot of built-in tools for photographers, but in the end, they are built for a general purpose audience. As I noted in my Squarespace review, they have plenty of upsides, but also a few unique downsides.
If you are someone looking to build a photographer's website and prefer to integrate your own 3rd party software choices (ie, from Adobe or 500px, etc), then Squarespace is a better option than Zenfolio.
If you are someone looking for a single, comprehensive photographer website builder plus other bundled features, then Zenfolio is a better choice.
Zenfolio vs. WordPress
WordPress is the go-to software for building a website that you have total control over. It comes in two flavors. The first option is WordPress.com. It is a "hosted" website builder like Wix & Squarespace with hosting, support, and security bundled into a subscription, but with most of the versatility of WordPress software. WordPress.com comes with a range of tools for photographers and lots of flexibility to build a portfolio website, but also some downsides as noted in my WordPress.com review.
The second option is self-hosted WordPress. It's just software that you have to purchase hosting for and install yourself. You are responsible for everything, but it offers maximum control & versatility. There's a whole universe of options for building the exact website that you want.
If you are someone looking to build a photographer's website and prefer to integrate your own 3rd party software choices (ie, from Adobe or 500px, etc), then WordPress.com is a better option than Zenfolio.
If you are someone looking for a single, comprehensive photographer website builder plus other bundled features, then Zenfolio is a better choice.
Zenfolio vs. SmugMug
SmugMug is Zenfolio's direct competitor. They are a platform with image hosting, website builder, client management, print ordering, and sales tools all bundled into a single subscription.
SmugMug went into growth mode with their acquisition of Flickr, and have redesigned & repriced all their options to make their software more approachable for both enthusiasts, beginner professionals, and advanced professionals.
In general, SmugMug offers a better website builder with the ability to edit HTML / CSS and more modern, cleaner design templates. Zenfolio has a a few more photographer-focused features that make them a continued go-to for professionals. It's also more "tried and true" with a smoother, more straightforward interface.
Both Zenfolio and SmugMug are solid choices. In the end, it comes down to the exact feature-set and workflow that you need.
If you want a cleaner-looking interface and like editable templates & plan options, SmugMug will likely be a better fit.
If you want a faster, more straightforward interface and are more focused on client features than the website builder, Zenfolio will be a better fit.
Zenfolio Website Builder Review Conclusion
Zenfolio certainly makes getting your photography website up and running easy, despite the learning curve that comes with their advanced features. Their extensive functionality makes the platform a true all-inclusive solution for photographers who want an advanced portfolio website.
However, there are trade-offs to consider with an all-inclusive website builder — specifically customization and control. And this is where Zenfolio falls shorts compared to other website builders, especially those that aren't specific to photographers. If you're looking to create a portfolio website where you have more control over the design of the site, you're better off elsewhere.
Not sure Zenfolio fits your needs? Check out my quiz to find what the best website builder is for you based on your preferences.