Wix and Bluehost are two of the most well-known website-building platforms in the industry. They are both useful in their own ways. But how do they stack up against each other? Is one better than the other? Before we compare the different features of Bluehost and Wix, let's find out more about both companies.
About Wix
Wix is an Israeli software company. Its headquarters are in Tel Aviv, but the company is publicly listed on the Nasdaq exchange in the U.S. under the stock symbol WIX.
Wix is best known for its fully-hosted website platform, where all the components needed for a website come in a single bundle for a single monthly price. Applications like the ones Wix offers are also known as website builders. Other popular website builder platforms include Squarespace and Weebly.
Wix provides the software to manage your website content, including the designs and all functionality. They also provide several add-ons & extensions. And most importantly, they provide the hosting (aka the server where your website files live) & security all at one price.
There is no way to self-host Wix on your own server – that would defeat their main selling point- maximum convenience. Note that you can have your email and custom domain name managed elsewhere)


About Bluehost
Bluehost is a U.S.-based web hosting provider and a subsidiary of Newfold Digital, an IT services company (formerly Endurance International Group).
As a web host, Bluehost's core service is providing space on a server for you to build a website with an assembly of other products & services. They bundle a lot of free software and tools (such as WordPress) with hosting features to make it easier to build your site.
Building a website with Bluehost is not as convenient as Wix, but you have maximum control. If you're planning to start your first website, here's my best analogy for the differences between how Bluehost and Wix operate.
Wix is like buying a condominium. You own everything inside your condo. You can do whatever you want inside. The condo association takes care of the water, electricity, security, and structural issues. They even have furnished unit options. However, you have to abide by condo association rules. You are limited by their structure, and you have to pay the extra HOA fees.
Bluehost is like buying a house. You can do anything you want. As long as you are making the mortgage payments, it's your property. There are no rules or limitations. But you have to handle all the maintenance yourself (or hire someone to take care of it). It's also as cheap or as expensive as you want it to be.
| Key Feature | Wix | Bluehost |
| --- | --- | --- |
| Hosting | Bundled | Included |
| Domain | 1-Year Free | 1-Year Free |
| Email | – | Included |
| Website Software | Bundled | Free options (like WordPress) |
| Website Design | Bundled | Free options to custom options are available |
| Website Features | Bundled + Wix Apps | Free options to custom options are available |
| Support | Phone & Email | Phone, email, & chat |
| Security | Bundled | 3rd party options are available. |
| Learning Curve | Fast & Guided | DIY with some onboarding support. |
| Future-Proofing | No Export Options | Total Data Control & Complete Export Options |
| Learn More | Review | Review |
Website Builder vs. Web Hosting Company
For a comparison of Wix and Bluehost, – I'll list what I think are the most important features for most website owners and let you know how each performs.
It's important to keep in mind the relationship between control and convenience. To get the most convenience from a website builder or host, you give up some control and some features.
For example, Wix prioritizes convenience, but they do so by controlling the environment. If Wix doesn't have a feature or design you want, you can't just add it. If you want to migrate to a new platform – you can't pick up, leave and go elsewhere with your exact same website.
With Bluehost, you can make as many changes as you want – including moving your website to a different host, but you have to do the leg work yourself – which isn't as convenient.
That's the primary difference between Wix and Bluehost, but not the only one.
As I've mentioned in other website builder reviews, my website setup guide, and my eCommerce platform reviews – there are other tradeoffs (which is what we're gonna talk about).
Bluehost vs. Wix Pricing
Wix has 5 paid plans in addition to their ad-supported free plan. Most of their plans are mainly differentiated by storage space, including the number of video hours each plan can accommodate.
Keep in mind that with Wix – your plan includes hosting, customer support, themes (website design), etc for a single website.
Wix Plans
| Plan | Combo | Unlimited | Pro | VIP |
| --- | --- | --- | --- | --- |
| Cost | $14/month | $18/month | $23/month | $39/month |
| Storage | 3 GB | 10 GB | 20 GB | 35 GB |
| Bandwidth | 2 GB | Unlimited | Unlimited | Unlimited |
| Free Domain Name | 1 year | 1 year | 1 year | 1 year |
| SSL Certificate | yes | yes | yes | yes |
| Video Hours | 3 GB | 10 GB | 20 GB | 35 GB |
| Professional Logo | – | – | yes | yes |
Bluehost allows a range of website software to be installed on all their plans, which are priced by the number of resources allocated. Self-hosted WordPress is far and away the most popular website software. It's 100% free, and you can install it on any server (including Bluehost).
Bluehost Plans
| Plan | Basic | Plus | Choice Plus | Pro |
| --- | --- | --- | --- | --- |
| Initial Price* | $2.95/mo. | $5.45/mo. | $5.45/mo. | $13.95/mo. |
| Renewal Price | $10.99/mo. | $14.99/mo. | $19.99/mo. | $28.99/mo. |
| Websites | 1 | unlimited | unlimited | unlimited |
| Storage | 10 GB | 20 GB | 40 GB | 100 GB |
| Bandwidth/month | unmetered | unmetered | unmetered | unmetered |
| Free Domain Name | 1 year | 1 year | 1 year | 1 year |
| Free SSL | | | | |
| CDN | | | | |
| Dedicated IP | | | | |
| Daily Backups | | | | |
* Pricing per month for a 12-month subscription
With self-hosted WordPress, you're not only getting a cheaper monthly price, but you also get unlimited features, design options, unmetered bandwidth, and *unlimited websites* on most plans.
If you have two, three, or more website ideas, you can put all of them on the same Bluehost account without paying more. With Wix (and direct competitors like Squarespace and Weebly) & WordPress.com – each new site is a separate monthly cost.
When it comes to pricing, there's no comparison. It's much cheaper to use Bluehost + WordPress versus Wix. Even the Wix premium apps like Analytics and Site Booster are free on Bluehost via the Google Analytics WordPress plugin and Yoast SEO plugin (among other free must-have plugins).
But those plugins are exactly why comparing pricing between Bluehost and Wix is like comparing apples and oranges. The big pricing asterisk with Bluehost is that there are a lot of things you aren't paying for – but are still responsible for.
Many people will pay a premium to use Wix for its convenience. They don't want the learning curve or the hassle of maintaining their site.
That said, purchasing a hosting plan and building your website with WordPress (which Bluehost will automatically set up) is the most cost-effective option.
Onboarding & User Experience
Onboarding is the process of moving a brand new customer from the signup stage to an active user.
In other words, it's helping a new customer figure out your software. Nobody likes to purchase something and immediately hate it simply because they can't figure it out.
As I mentioned in my Wix review, Wix has solid onboarding, including an intuitive interface with a simple drag-and-drop setup.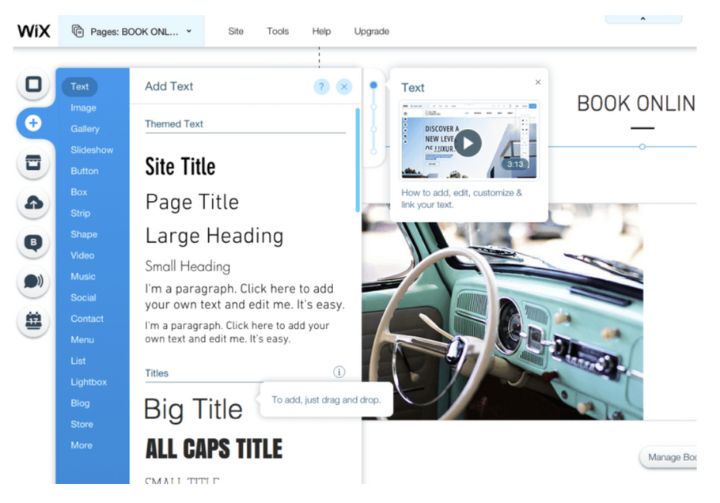 Wix has a range of pre-loaded designs for different website types (i.e., music, business lead-gen, portfolio, etc.). It still takes a bit of experimentation to customize your site design, but Wix's customer support team is available to answer any questions you have.
Bluehost has some of the best onboarding of any hosting company, especially if you plan on using WordPress. Bluehost's target market is beginner bloggers and website owners, so they try to streamline the setup process as much as possible rather than just giving you your account password and leaving you to it.
That said, onboarding isn't as easy with Bluehost because you have to do everything yourself, starting with connecting your domain to the right install.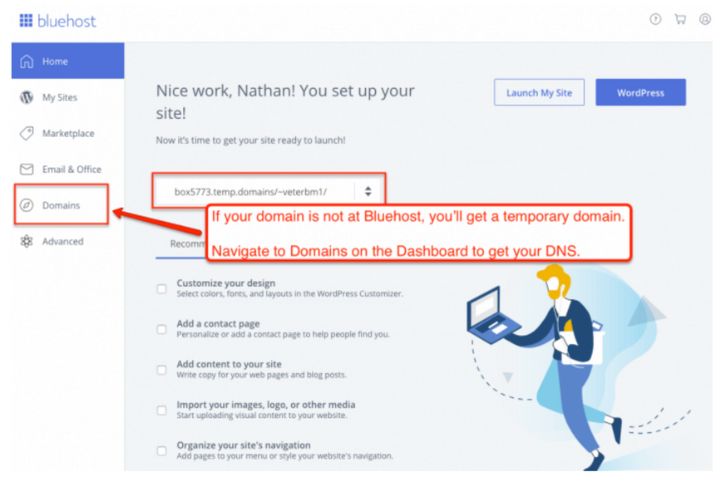 You can email Bluehost support for specific questions, but there's no obvious "do this, then that" process after you install WordPress.
Design Options
A common myth in website building is that every website builder, e.g., WordPress, Wix, or Shopify, has its own unique look or design. Too many customers rule out a platform because they "don't like the look."
Here's the thing – just because the software uses "themes" or "templates" as a base does not mean that you can't have whatever design you want.
A website's appearance is created with HTML/CSS. Any software that allows you to edit CSS can look just about any way you'd like.
When you use Bluehost, you can edit anything you want, including HTML / CSS, because you have direct access to the actual files on the server.
However, Wix does not allow HTML/CSS editing in the Wix editor. You have to make all changes with their software, which, in fairness, creates some pretty amazing designs. They have the Wix ADI (artificial design intelligence), which can create a custom, premium design on the fly.
This difference puts Bluehost ahead on design options. So let's look at the three questions I usually ask with platform designs:
How accessible are their "plug & play" designs?
What is the variety of their premium "plug & play" designs?
How far can a professional developer/designer go with the design?
On question #1 – both have great, accessible plug & play designs. Wix has a variety of pre-loaded designs based on website type (real estate, music, portfolio, etc.). Some are a bit dated, but others are pretty good.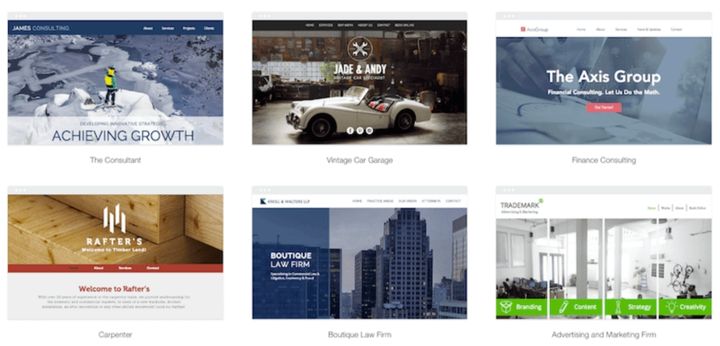 For Bluehost, there are thousands of free WordPress designs that you simply select in the Appearance menu.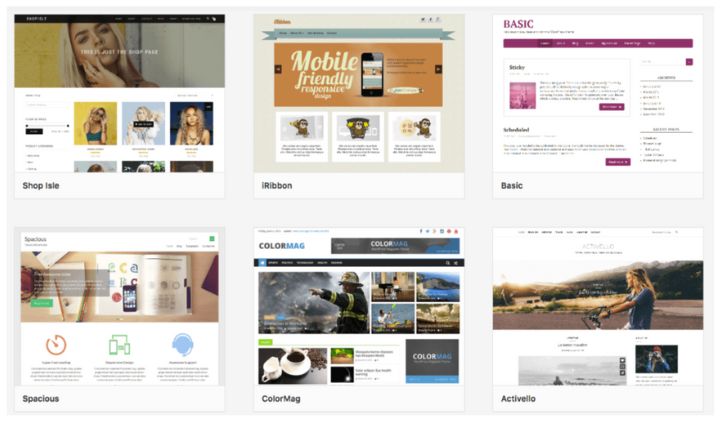 On question #2 – both have a wide variety of designs, with Bluehost + WordPress offering the most options. For years, professional designers have been developing premium themes for WordPress.
There is no 3rd party theme marketplace for Wix. They do have premium 3rd party themes on their internal app marketplace.
For question #3 – both let designers do their thing with self-hosted WordPress offering the most freedom.
Wix is not designer/developer friendly (see HTML/CSS). There are plenty of professionals who will work with a Wix template, but (even though they might be HTML/CSS ninjas) they are more experts with Wix than HTML/CSS when working with Wix. In other words, if you have an amazing web designer, they might not be as good when building a website for Wix – since Wix requires Wix-specific design knowledge. Wix has a marketplace where you can find a Wix pro.
Technical & Customization Features
There are fewer customization options with Wix (no scripts and no FTP access), but they have the most convenient setup, with built-in features that work. And the features that most users need/want are there. You can make changes and tweak many technical settings – but only those approved by Wix.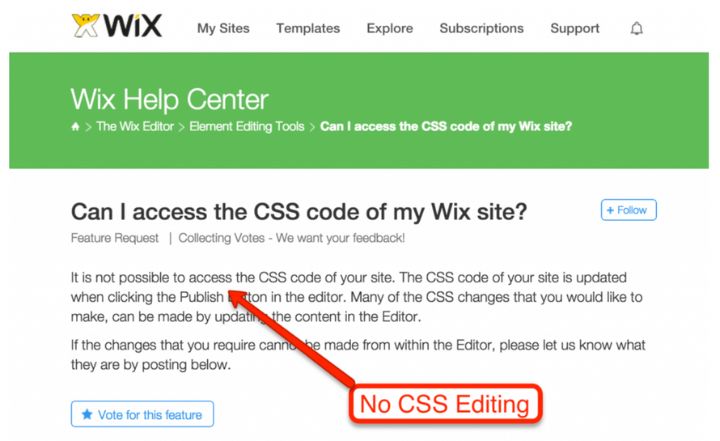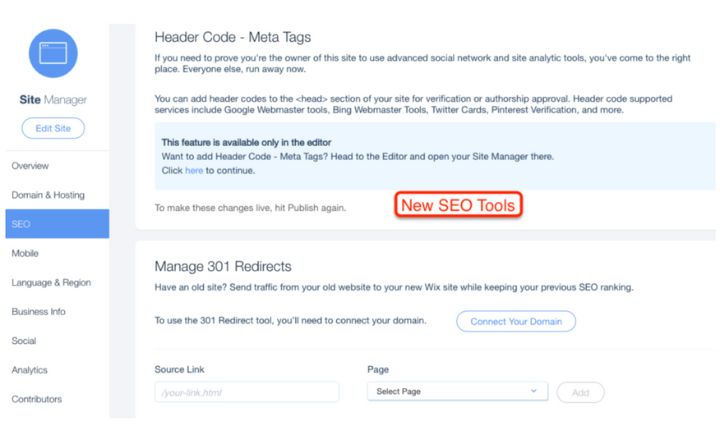 With Bluehost, you have unlimited technical & customization features. And Bluehost makes it easy for beginners to improve their site's functionality with Bluehost's website builder and WordPress. Self-hosted WordPress allows you to choose from thousands of plugins which are little mini-apps that you can add to your WordPress install with the click of a button.
Whether you're trying to improve SEO functionality, set up an eCommerce site, add appointments, or a social network – you can do it with self-hosted WordPress on a Bluehost account.
On the downside, it's possible to create a code conflict in Bluehost and crash your website. It's not common if you stick to well-supported plugins, but it can happen.
It's just like owning a house – you can build a deck or add shutters if you want to. Things will probably be fine, but if you accidentally damage your house – it's on you to fix.
Overall, Bluehost offers more customization.
SEO & Marketing
WordPress websites work well for marketing & SEO in that they generate well-coded, crawlable HTML & CSS.
As outlined in my Wix review, Wix generates pages via Javascript. Their pages are crawlable. But from my professional experience, Wix websites aren't as SEO-friendly if you are running a very large content or eCommerce site. If SEO & social aren't a big focus or you're running a smaller site (less than 200 pages), this may not matter much.
Wix has plenty of in-house marketing "apps" that are easy to install and sync with other business tools. They even have an in-house SEO tool. But Wix's apps are limited in their SEO and marketing functionality.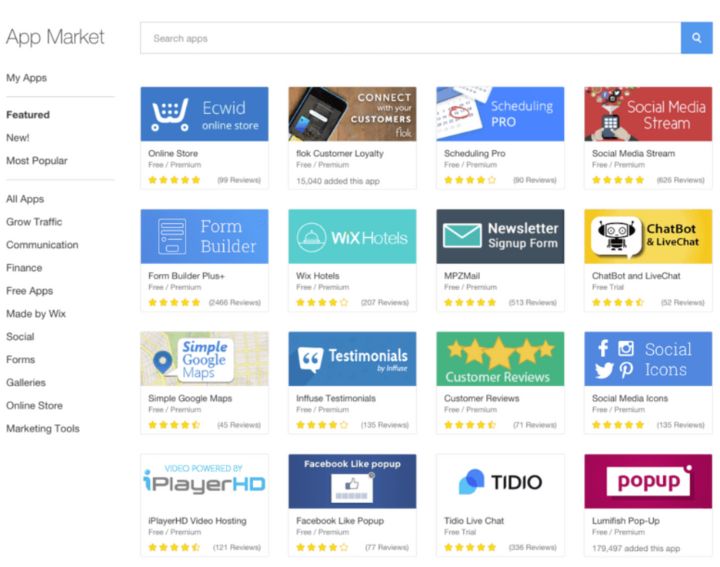 If you want ultimate control – Bluehost will allow even beginners to implement highly advanced tactics ranging from implementing tags and tracking data to advanced SEO changes to running email opt-ins, schema, and a/b tests – anything you could possibly want to do.
The bottom line – if you need a complete technical marketing toolset – a self-hosted WordPress website on Bluehost is your best option.
Customer Support & Service
DIY will only take you so far – at some point, you need to deal with customer support.
Wix offers more traditional customer support via support tickets. They also offer phone, email, chat, and knowledge base support.
I've reviewed a bunch of hosting companies, and service levels/approaches vary wildly. Bluehost generally has solid beginner support via lots of different channels.
Since Wix operates a hosted platform – their customer service has fewer variables to work with. They know that you can only customize your site so much, so potential problems are limited.
If you have a highly customized self-hosted WordPress website with lots of plugins and theme edits, you will have to go through a troubleshooting process no matter how good Bluehost's support is.
If you are comfortable with problem-solving and troubleshooting, a Bluehost site with WordPress will be the best fit.
Otherwise, Wix will have a better setup due to the integration of service with its product.
Speed, Backups, Security & Maintenance
Website speed, security, and maintenance are closely tied to customer support.
If you are using Wix – these are not your problems. They take care of all three as part of the bundled deal.
If you are using Bluehost, you'll need to update your WordPress install and plugins regularly. Additionally, you'll need to install a basic security plugin and understand the parameters affecting your website speed, for better or worse.
None of these topics require a developer or deep technical knowledge, but they are topics that you need to be aware of. If you want your web host to look after these issues for you, you'll appreciate Wix. If you want more hands-on control over site speed, security, and maintenance, Bluehost is the way to go.
Summary: Bluehost Vs. Wix
Bluehost and Wix are both well-known brands for good reason. They have both made building and maintaining a website much easier than it used to be.
However, in a head-to-head comparison, Bluehost gets the nod over Wix because you can do so much more with a WordPress website that's not tied to a single platform, which is the case with Wix websites. In addition, Bluehost is more affordable, with lower pricing than Wix across the board. With Wix, you're paying a premium for the added convenience.
That's not to say that Wix isn't better for specific customers, and it's the better choice for certain projects. If you value convenience and want a more general-purpose website with traditional support and drag/drop design – then I'd go with Wix. View their plans & pricing here.
If you value having maximum control over convenience and you can put up with the learning curve – then choose Bluehost + WordPress. Use my WordPress website setup guide.
FAQs