| | |
| --- | --- |
| Support | Help Desk, Email, Live Chat & Knowledge Base |
| Uptime | Excellent (100% past 6 months) |
| Guarantees | 3-Day |
| Free Migration | |
| Best For | Simple pricing |
| Strengths | Unlimited disk space and bandwidth |
| Weaknesses | Questionable credibility |
| Promotion | None |
Hostwinds is an independent, US-based web hosting company that's been around since 2010. They boast inexpensive pricing and excellent customer service, and like most hosting companies, also provide email, website builders, and domain services in addition to basic web hosting.
I've had several readers email to ask my opinion about Hostwinds, so I decided to give them a shot for a small project.
Here's my Hostwinds review — structured with pros & cons based on my experience as a customer.
Hostwinds Pricing
| Plan | Basic | Advanced | Ultimate |
| --- | --- | --- | --- |
| Initial Price* | $6.74/mo. | $8.24/mo. | $9.74/mo. |
| Renewal Price | $8.99/mo. | $10.99/mo. | $12.99/mo. |
| Websites | 1 | unlimited | unlimited |
| Storage | unlimited | unlimited | unlimited |
| Bandwidth/month | unmetered | unmetered | unmetered |
| Free Domain Name | | | |
| Free SSL | | | |
| CDN | | | |
| Dedicated IP | | | |
| Daily Backups | | | |
* Pricing per month for a 36-month subscription
Hostwinds Alternatives
Out of the most well-known web hosts that I've used as a customer or consultant, here's how Hostwinds compares directly to each.


HostGator Review
Rating

9.0/10

Uptime Guarantee

Yes

Free Migration

Yes

Promotion


Bluehost Review
Rating

9.5/10

Uptime Guarantee

No

Free Migration

Yes

Promotion


Hostinger Review
Rating

8.0/10

Uptime Guarantee

Yes

Free Migration

Yes

Promotion
Hostwinds vs. HostGator
Hostwinds and HostGator have some key differences. HostGator is a much larger organization and operates out of Endurance's Houston and Utah data centers. They have very affordable upfront pricing and are on par with Hostwinds there.
But pricing aside, HostGator has a more established reputation. Most site owners would like HostGator better. I run most personal projects on HostGator.
Hostwinds vs. Bluehost
Like HostGator, Bluehost is another larger competitor. They are one of the biggest brands in hosting. They used to (pre-2015) have a very similar pricing setup to Hostwinds. However, Bluehost changed up its plans and moved "upmarket." On raw pricing and basic features, Hostwinds is a better choice. However, Bluehost is good if you're looking for higher quality, better options, and an established brand.
Hostwinds vs. GoDaddy
GoDaddy is the industry brand name, even though they are primarily a domain registrar, not a hosting company. They're much improved as a web host since 2013, but their only real selling point is their deeply discounted introductory pricing, and on that point – GoDaddy definitely beats Hostwinds in terms of pricing. If you're looking to save some money and get similar features with a hosting company that has an established reputation, GoDaddy is the choice. Between GoDaddy and Hostwinds, I would choose GoDaddy.
Hostwinds vs. Siteground
SiteGround is one of the fastest-growing independent hosting providers. They operate out of Bulgaria with regional data centers and have a better data center reach than Hostwinds. Hostwinds offers unlimited storage and cheaper pricing, so if you want to save money and store a lot of files, it's the better choice for you. If you can pay a bit more, SiteGround is a much, more established company with better performance.
Hostwinds vs. InMotio Hosting
InMotion Hosting is one of the largest and fastest-growing hosting providers. They offer the full spectrum of hosting services. This website uses a VPS server from InMotion. They're more expensive than Hostwinds' pricing specials, but offer a much better product on every consideration. InMotion also has a brand called Web Hosting Hub that offers entry-level shared hosting plans. They are more expensive than Hostwinds but provide a much better product and more options inside their plans. Check out InMotion Hosting.
Pros of Using Hostwinds Hosting
There are a lot of Hostwinds reviews online – usually with user-generated reviews based on anecdotes and personal experience. That's fine but I take a different approach. As I've said in my best web hosting reviews, there is no such thing as a "best" web host. The "best" is the right fit for your project based on your goals, budget, experience & expertise. Here are the pros (advantages) for considering Hostwinds.
Simple Plan Structure
When it comes to choosing a hosting plan, things can get pretty muddy pretty quickly depending on the hosting company. Hostwinds' biggest pro is that their plan structure is incredibly simple.
There are three levels: Basic, Advanced, and Ultimate
The only difference among the three is the number of domains you get. All plans include unlimited bandwidth and disk space (a huge pro), in addition to a bunch of bonus features:

Of course, there are some cons to this setup (which I'll get to in a bit), but the simplicity is a really strong selling point for Hostwinds.
Support Channels
Like I've mentioned in my list of the top web hosts, declaring that a company provides amazing or horrible customer service to every single customer is impossible. It's hard to know as a single customer if you are dealing with the one amazing or the one horrible employee or if it's the general culture of a company.
I have limited experience with customer service reps at Hostwinds. We reached out due to an issue getting WordPress installed on a transferred domain, and they were quick to reply and helpful.
Here's something that's non-anecdotal though: are they are available 24/7 across multiple support channels – email, tickets, chat, and phone. They make all their support channels easy to find and simple to use.

Compared to budget market competitors like Namecheap Hosting, Hostinger, and iPage, that range of support channels is useful and a good way to stand out.
They also check in on you as soon as start looking at pricing plans — which is a nice bonus feature if you're new to purchasing a hosting package and have questions about finding a best fit.
Cons of Hostwinds
Like any web host, Hostwinds has disadvantages. There are plenty of Hostwinds complaints to be found online. Plenty is valid, and some are simply anecdotal. Here are the cons that I found while using Hostwinds for hosting.
Credibility Gap
One of the biggest cons I found with Hostwinds is their credibility gap – the difference between what they say about themselves…and what is actually true.
The industry background is that there are a ton of "fly by night" hosting companies that put customers in a bad spot once things go south. Any hosting company that goes for the business market needs to have a track record and some credibility from 3rd-parties. Usually, this comes from the press, events, awards, testimonials, a well-known company story, etc.
Hostwinds seems to be trying to establish credibility exclusively with a few badges from pay-to-play review websites.

On its face, this is fine… but when you dig deeper, it becomes a bit odd.
Hostwinds really doesn't have a lot of information about their company – anywhere…not even on well-known business databases or tech company write-ups or common industry forums.
Their About page is pretty generic, they have no real press or company story, there's not much about the people behind the company, no events or behind-the-scenes tours… nothing. They even have conflicting addresses on their legal page vs. business registration.
It's all a bit odd and makes you wonder how credible Hostwinds really is.
Because here's the thing. I'm not questioning that they are or aren't a real, stable company. They probably are. But it's the seeming lack of effort that makes this a disadvantage. They are in a notorious industry, so the fact that they aren't trying to differentiate themselves makes me curious about their internal culture and how that translates to support & performance.
Plan Differentiation + Pricing
As I mentioned earlier, Hostwinds plan simplicity is a major pro. At the time of writing this, there was a discount across all plans, and you renew at a higher rate. Each price is associated with a package that comes with some set features.
And the only difference in the features? The number of domains you get.
Simple, right?
It's easy to understand and is an obvious way to make people who want to use more resources… pay for more resources.
But then there's this in the FAQs: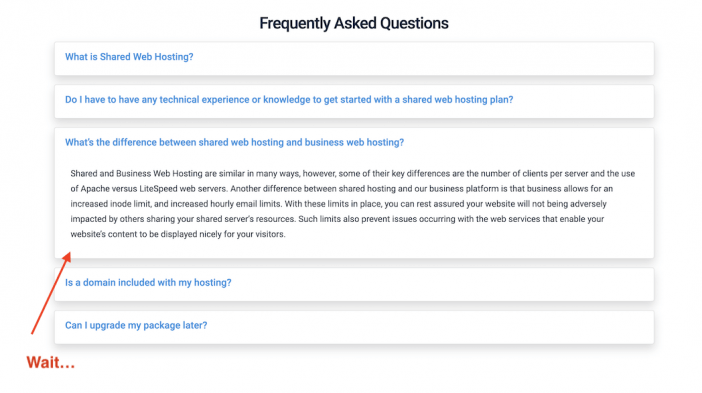 This starts to send up red flags about what you're really paying for, and how exactly they're load balancing it (if at all). Every shared hosting company has to balance performance across all their accounts. The definition of shared hosting is that the server is…shared. The challenge is to give every account the resources that they need without limiting the other accounts…while also being forthright with what the limits truly are.
Most hosting companies will limit domains, databases or disk space to indirectly limit accounts. Hostwinds does that via domains…but they also seem to allocate resources in other ways and they seem to have two flavors of shared hosting. All of which is confusing. It's not bad in and of itself…but it does go against their main advantage.
Then when you actually go to purchase a plan, things get a bit muddier. Check out what happens when we tried to sign up for the Basic plan: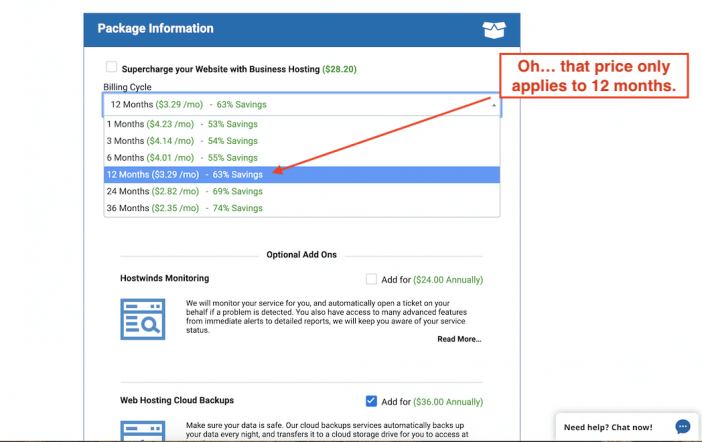 Turns out the advertised pricing on the homepage is only applicable to the 12 month plan — and there doesn't seem to be a trial period, so once you're committed, you're committed.
They also add on web hosting cloud backups automatically, which is a bit annoying (and is usually bundled for free by other companies like InMotion).
And there's also not much out there about the domain only being available with the 12-month+ plans. We actually got through the whole sign up process before realizing that we couldn't get a free domain because we didn't join the 12-month plan. This could have been user error, but I didn't see anything about it when I was signing up.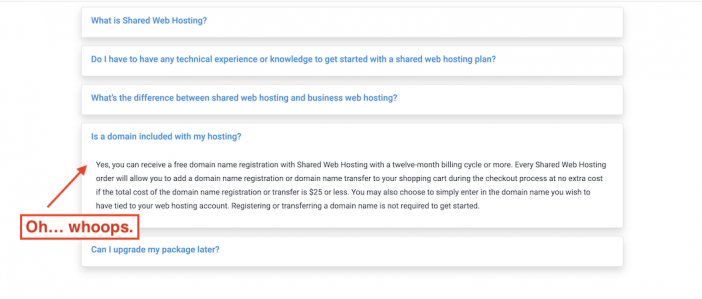 So again. The ruthless math of hosting returns. Hostwinds isn't alone in this — but with their positioning of "remarkably low price"… they do leave something to be desired with their limitations.
That's not to say that Hostwinds pricing is bad per se… it's just that many other hosts offer money-back guarantees (like InMotion and DreamHost), and if you're not concerned with having unlimited disk space, you can find a better deal on price elsewhere.
Limited Data Centers
In addition to hosting your website files, a good hosting server will also deliver those files as quickly as possible every time a visitor goes to your domain name address.
There are a lot of variables that go into how fast your website is. You can have the fastest server in the world and still have an incredibly slow website due to issues on your end. But either way, you want to have a hosting server that is fast so that you can work on your side of the equation.
One of the variables that can affect performance is server location. Having multiple server locations allows website owners to choose the closest location to their customers, so their website can load faster.
Now, if your customers are all in the US, this doesn't matter for you.
But if you are in Africa, Asia, or Australia – this setup can be especially useful — and it's a setup that Hostwinds is lacking in.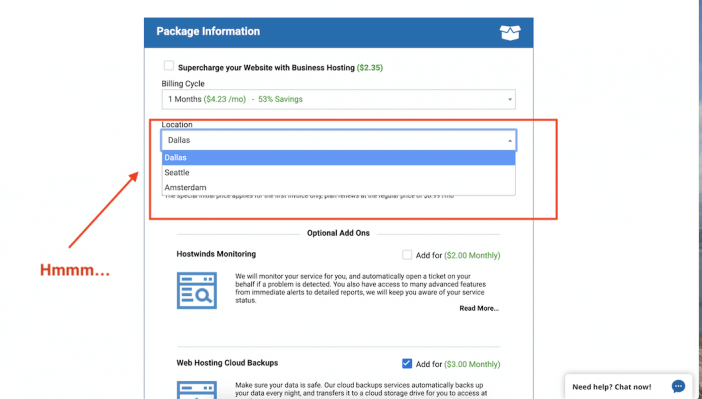 They have the US and Western Europe covered, but that's it. Again, if you're not ex-US, it doesn't matter to you. But if you are, it can be a disadvantage.
Mediocre Performance
In addition to hosting your website files, a good hosting server will also deliver those files as quickly as possible every time a visitor goes to your domain name address.
There are a lot of variables that go into how fast your website is. You can have the fastest server in the world and still have an incredibly slow website due to issues on your end. But either way, you want to have a hosting server that is fast so that you can work on your side of the equation.
One of the best measurements for approximating performance is TTFB or Time to First Byte. Again, I know that network engineers throw a lot of asterisks here and if you know *exactly* what type of website you are running – you can absolutely ask for detailed allocated specs. My goal with my hosting reviews is to provide a narrative of tradeoffs so that you can make the call for your website.
But here's how their data center performed with my website when I first set it up on a clean WordPress install –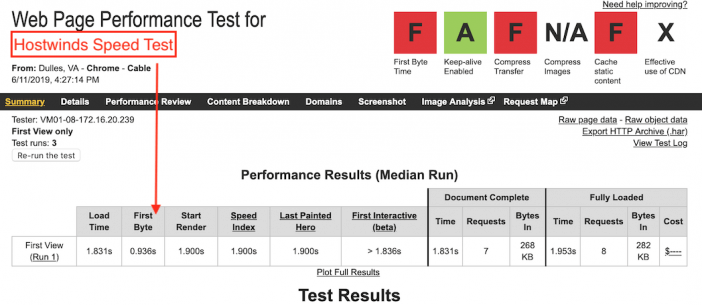 0.9s for TTFB isn't terrible, but also not in the top tier that I've seen. So Hostwinds is not the best performer, but it's not the worst. If you're looking for better performance and have a more complex website, you may want to look elsewhere.
Conclusion
Overall, I found Hostwinds hosting to be so-so. Their plans are simple and offer good features, but the lack of credibility left me feeling uneasy. There were a few things about the whole process that were just… off.
If you want a simple plan structure that offers unlimited storage and bandwidth, you can check out Hostwinds features here.
If you are looking for an affordable shared hosting company with similar intro pricing and a much better product, then go check out InMotion Hosting. You can also check out HostGator if you want the option to pay monthly.
If you are more confused than ever – then take my BuzzFeed style WordPress Hosting quiz here, the Web Hosting Quiz here or use my website setup guide here!