| | |
| --- | --- |
| Support | Email, Live Chat & Knowledge Base |
| Free DNS | |
| Free Domain Privacy | |
| Best For | Buying Domain Names In Bulk |
| Strengths | Transparent Pricing |
| Weaknesses | Poor User Experience |
| Promotion | None |
NameSilo is an ICANN-accredited domain registrar who boasts cheap, easy, and secure domain registration and management. They have been around since 2009.
Does NameSilo hold up to its mission of being a cheap and easy-to-use domain registrar? We recently tried them out. Here's our full NameSilo review with pros, cons, and alternatives.
NameSilo Pricing
Unlike other domain registrars, NameSilio gives you a discount for the more domain names you buy. The list below is buying just one domain name at a time. See their website for discounts when buying in bulk.
Unfortunately, their pricing only applies to new domains domain renewals at NameSilo. It does not apply to domain transfers.
| Domain Ext. | Registration | Renewal | Transfer |
| --- | --- | --- | --- |
| .com | $9.95/yr. | $9.95/yr. | $8.99/yr. |
| .net | $11.79/yr. | $11.79/yr. | $11.79/yr. |
| .org | $10.79/yr. | $10.79/yr. | $10.79/yr. |
| .biz | $6.49/yr. | $14.39/yr. | $13.99/yr. |
| .co | $9.99/yr. | $22.69/yr. | $22.49/yr. |
NameSilo Alternatives


Namecheap Review
Rating

9.0/10

Free DNS

Yes

Free Domain Privacy

Yes

Promotion

GoDaddy Review
Rating

7.5/10

Free DNS

Yes

Free Domain Privacy

No

Promotion

Google Domains Review
Rating

8.5/10

Free DNS

Yes

Free Domain Privacy

Yes

Promotion

None
Pros of NameSilo
Here are some of the advantages that I found using NameSilo over their direct competitors in the domain registration industry.
Variety of TLDs
Now that ICANN allows more top-level domains (TLDs) outside of generic .com/.net/.org, website owners have to make sure their domain registrar has all of the variations they need (especially if you're buying in bulk). NameSilo offers a ton of TLD options that go beyond generic domains. They offer more than 400 TLDs as of 2020.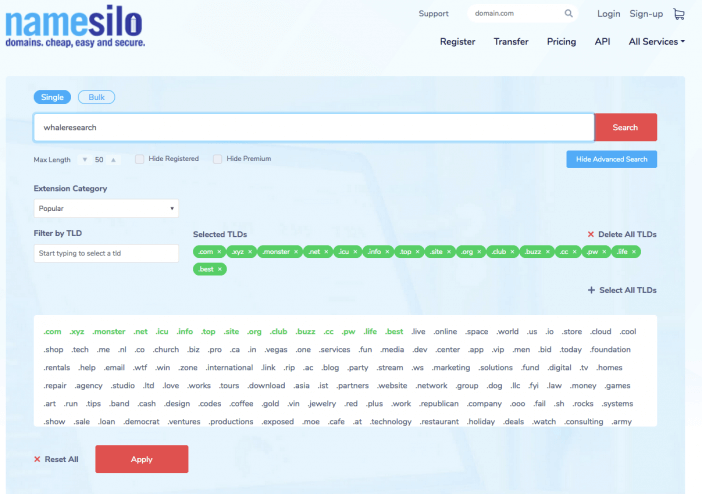 Transparent Pricing
There's nothing more frustrating than going to a domain registrar and having to hunt for pricing information. NameSilo is 100% transparent with its pricing. Their domain page is an extensive list of pricing for all of their available top-level domains (TLDs) and has it broken down by discount levels (you save when buying in bulk).

NameSilo also stands behind its promise of no hidden fees, service upsells (features like WHOIS Privacy are included), and no renewal upcharges.
In a space where pricing policies can be, well, less straightforward than website owners may want, NameSilo's clarity and transparency is refreshing.
NameSilo also competes well with other registrars in terms of value. Their domains are on the slightly more expensive end across most TLDs, but their renewals are on par with most providers like Namecheap or Hover.
Upsells
Upsells aren't inherently annoying or bad. But so many domain registrars make the mistake of bombarding customers with direct sales tactics that they do become annoying.
NameSilo is not one of these domain registrars. They do have some complementary products available, such as hosting, but they're kept in the background. You can add them from your account homepage, but at no point are you bombarded with pop-ups or forced to navigate through upsells while trying to buy a domain.
Cons of NameSilo
There are a lot of NameSilo reviews online. Most are either super-negative or super-sunny and wonderful. I try to balance and find the actual disadvantages of a company… and who those disadvantages would apply to.
Everyone has different needs & goals. Your goal as a customer is to be aware of those and find a company that matches your goals. Here are some of NameSilo's downsides.
Design & Branding
Trust is a huge factor when buying a domain (or any other website product). You want to know that whoever you're doing business with (and giving your credit card to) is a legitimate company that is going to stand by its offer.
Trust comes in many forms — word of mouth, reviews, years of existence, etc. — but it also comes via design and branding. If a business doesn't look particularly trustworthy based on its website design, it leaves you wondering.
While we didn't have any issues with NameSilo in terms of purchasing a domain, their website design and branding do leave something to be desired. They have dramatically improved over the past two years. In 2018, I thought the company was almost fake.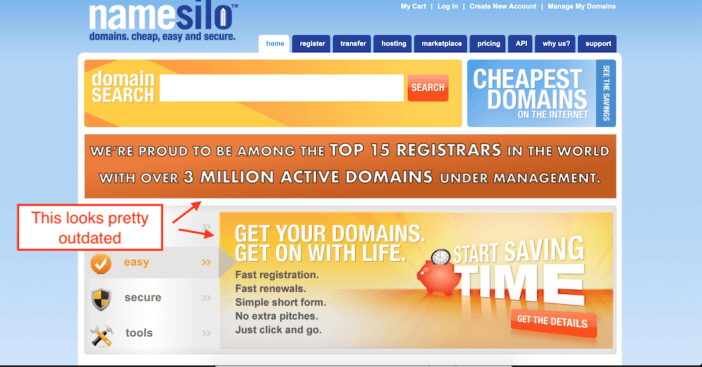 But even their new redesign in 2020 leaves a lot of details wanting.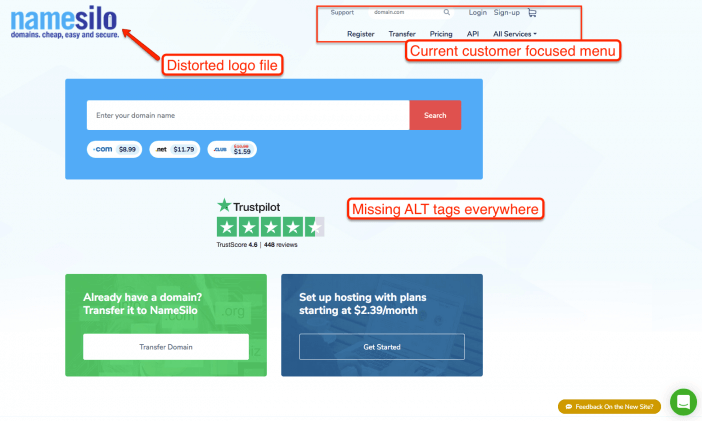 And their accessibility grade is horrible –

There's also no About Page, which makes actually learning about the company difficult. We dug around a good bit, but couldn't find information on how they were founded / where they're based without doing additional research online. If someone is going to be holding the online keys to my business – I want to know that they are legit.
Again, the design doesn't need to be full of bells and whistles. It does look a lot better than it did. But your domain registrar also shouldn't be amateur hour either.
Onboarding / Domain Management
With all software, there comes a part in the registration process where you wonder what's next. How the provider guides you through that setup process is called "onboarding" — and it's something NameSilo is lacking.
There's no real outline of how to set up your domain or website. During the checkout process, you're given configuration options… but if you don't know what those are / how to set that up… it's confusing.
If you're experienced in buying and setting up domains, this probably doesn't matter to you too much. You can poke around enough to figure it out. However, if you have no domain management experience and are looking for more guidance or even a platform that's more intuitive, NameSilo doesn't deliver.
Complementary Products
It's important to remember that a domain is not a website. It's not email or any other service. It's merely your address online. It helps people locate where your property is by telling browsers/email/etc where to go to get whatever it wants (website files, emails, images, data, etc).
If you want to build a website, you'll still need to get web hosting, website builder, or eCommerce provider that provides hosting.
While NameSilo offers some complementary products (like hosting), they do not take an all-in-one approach like other domain registrars who include hosting, website builders, eCommerce, etc.
And while I personally prefer to separate my hosting and domains to provide an extra layer of control & reliability in addition to cost savings, many website owners prefer to have them bundled for convenience.
If you're looking to have everything in one place, NameSilo might not be for you.
Next Steps
If you:
Want discounted domains for bulk registration
Don't need a ton guidance on how to set up / manage your domain or can manage it yourself with an intuitive platform
Want to save on domain registration renewals
NameSilo could be a good choice for you.
However, if you're…
Have no experience getting online
Need detailed steps on how to set up / manage your domain
Want to keep your hosting separate from your domain
Want a smoother domain regsitration proess
There are better options out there for you (I use Namecheap). You can check out my top domain registrars to help you narrow down which might be best for your needs.