You're probably here because you've heard the buzz about WordPress (Alignable's SMB Index says WordPress is the most trusted software for small businesses), but are wondering if there are situations in which someone should not use WordPress for their business website.
WordPress is an incredibly versatile website platform — I won't hide my enthusiasm for it. But there is no such thing as a "best website platform". There's only the best choice based on your goals, resources, and preferences.
Most website platforms promote with features and price. But like buying a house – price and features don't tell the whole story. They don't tell you if this platform is a good choice for your website.
When evaluating whether or not to use WordPress, you need to think about your needs for a website. Do you need flexibility? Support? A mixture of both?
Here's how to figure out if/when someone should not use WordPress for their business website.
Understanding Tradeoffs: What to Know Before Choosing a Website Platform
Before we dive into the no-WordPress scenarios, it's important to understand how we're approaching the decision to choose your website platform.
Think of it like shopping for a house. You should be evaluating your website provider based on what you want, what you need, and what tradeoffs you are willing to make.
When it comes to your website platform, the main trade-off is between maximum convenience and maximum control. Think of it this like buying a place to live.
The absolute most convenient place is a hotel room. It's safe and furnished with room service. But can you repaint the room? Nope.
On the other extreme is raw land. You have unlimited control to do whatever you want. But is it convenient? Nope.
And in the middle, you have a mix. An apartment has some freedom – but you have landlord. A condo has even more freedom… but you have a HOA and shared property.
A house has even more freedom… but you have more responsibility and you have to deal with an existing building.
Here's a graphic from my post on eCommerce software (that also applies to website software) to illustrate —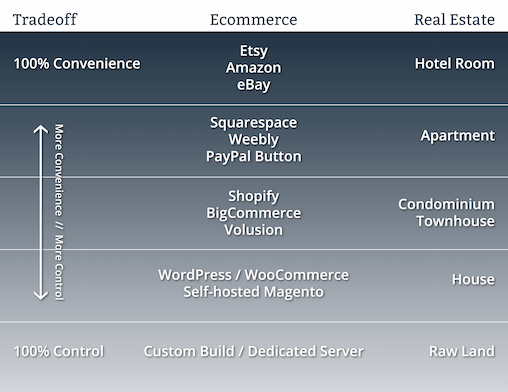 Using this analogy, WordPress is like owning a house. You don't have as much control as you would if you just bought raw land and built something yourself, but you have way more control than say, an apartment or condo.
With self-hosted WordPress, you are way ahead with both convenience and control. It's the detached single-family home or the Toyota Camry of the website building world. It fits most situations, but it's also not the best per se.
This means a situation in which you wouldn't want to use WordPress most likely involves more control (AKA raw land) or more convenience (AKA an apartment/condo/hotel room). Let's break that down further:
Reasons / Situations Where You Would Not Choose WordPress
You Need a Fully-Customized (or seriously basic) Solution
WordPress's primary structure is pages, posts, and comments. While the platform does use Plugins (where you can download and "plug-in" third-party pieces of software to make your site look, act, and feel exactly the way you want) that allow the CMS to be turned into literally anything, you should still be operating within the realm of pages/posts/comments if you want to use WordPress.
If you're looking to build a non-CMS website (think Software as a Service or mega-robust eCommerce platform), then you're better off building a custom solution. Why?
Because something ultra-specific like the examples above typically require 100% control. Loading up your WordPress site with hundreds of Plugins just to make it close to what you want is just going to slow it down.
This is your raw land example — it'd be easier to build your dream home from scratch than try to manipulate the house you already have or add on a bunch of attachments (Plugins) that may mess with the wiring/airflow/other elements of the home.
But also on the 100% control end is something super-basic – like throwing a hunting cabin up. Believe it or not, you can still build a minimal website with an HTML file, a CSS file, and a basic hosting plan.
You Want Customization But Don't Want to Handle the Technical Aspects
If you're looking for some customization abilities on your website but don't want to deal with the more "technical" aspects of managing a website such as self-hosting, check out customizations for eCommerce, server management, etc. then a self-hosted WordPress isn't the best option.
There are two different routes you could go if you want more customization without having to handle controlling the technical aspects of your site.
The first is what I'll call the 70% Convenience // 30% Control group. These are providers that allow for more control than a totally done-for-you platform (like Amazon, where you have zero customization), but you're still using their space and rules (in our house analogy, these are the apartments). You have say over how you live, but you can call the landlord when the dishwasher breaks.
These are usually "website builders" like Wix (I reviewed Wix here and you can check out Wix here) and Weebly (I reviewed Weebly here. You can check out Weebly here…).
They allow you to customize your website and have a custom domain, but the remaining technical elements (like eCommerce integration) are handled for you.
The second group is 50% Convenience // 50% Control. They're known as hosted platforms and provide as much control as you can have before you have to have your own server.
The biggest advantage here is that you have customer support, seamless "onboarding" and advanced tools. Building a website with these providers is like owning a condominium or leasing a storefront in a mall. The plumbing and "big stuff" is taken care of. You can pretty much do what you want since you do fully own your property. However, you're going to run into condo association rules and fees.
This would be a provider like WordPress.com which is a hosted version of WordPress or a self-hosted WordPress page builder like BoldGrid.
They limit some of what you can and can't do. For example, you don't have FTP access to a server, but you can access your HTML/CSS editing and use 3rd party plugins with their business plan.
You can also export your data and migrate it to self-hosted WordPress or another platform with relative ease, making it a good in-between if you want to start with more convenience and migrate to more control in the future.
You Don't Have Time or Resources
WordPress comes with a learning curve. But given the platform owns 50-60% of the global CMS market share, there are thousands and thousands of pre-made templates, plus designers and developers who know WordPress and are ready to help your firm.
That being said, the trade-off here is time and/or resources. Either you have to take the time to learn the basics of WordPress and keep the software updated like you do the apps on your phone, or you have to know enough to vet these support roles to make sure you're getting the results you need at a reasonable price.
Not all projects justify this trade-off. A simple website that doesn't need any advanced functionality or the ability to scale would work perfectly fine as a simple HTML site and may cost you less in time/resources than learning WordPress or hiring a designer and developer to build your WordPress site.
You Have Plenty of Resources
The flip side of having no time and resources is having all the time and/or resources.
This goes back to our first scenario… if you have a team of people and the funds to build and maintain your website for you, you can build whatever you want, including a totally custom website that's unique to your business and the functionality you need.
With that said, this scenario comes with one big caveat: you're putting your website in someone else's control.
Let's say you have a developer build a totally custom website that only he/she can manage — that takes you out of the driver's seat and puts that developer in total control. The same applies to a website that only works on one specific platform. A change in mission statement, privacy policy, billing practices, or even simple incompetence can put your business in an insecure position.
If you're comfortable with putting your website 100% in the hands of someone else, go for it. If not, then you may want to rethink a custom build and brush up on your website management knowledge.
Takeaways
WordPress is like the mid-size SUV of the website building world. It doesn't fit everyone by any means, but there also good reason that a large plurality has one.
I've tried to make it as easy as possible to try WordPress before making any decisions here (especially with WordPress.com – which has free subdomain plans).
If you don't have time to run software updates and learn a bit of WordPress jargon, then you should go ahead and pay the extra money for an all-inclusive website builder like Wix. Sure, you're trading control for convenience, but that's fine.
On the flip side, if you're very adept at working with developers or have the money to pay for custom builds and don't mind putting your site into someone else's hands, then you'd want to research more – especially in regards to eCommerce. WordPress may not be the right fit for you. You can check out some interesting WordPress alternatives here.
Finally, if you're building something super, super simple, then WordPress may simply be too complex for what you're looking for. You might just need some cheap hosting or even a simple profile on an existing platform.
Explore Related Posts on Using WordPress For Websites