BigCommerce and WooCommerce + WordPress are two of the most well-known eCommerce platforms. I've written a BigCommerce Review and WooCommerce Review individually. But if you're considering BigCommerce vs. WooCommerce + WordPress, how do you decide which one is the best fit for you and your project?
I've been able to consult with clients who use both BigCommerce and WooCommerce as well as running my own stores with both BigCommerce and WooCommerce. They are both excellent platforms with a full suite of options to run a successful online store.
However, they are both very different, and different businesses will certainly do better with one or the other.
I've written extensively on both, including a BigCommerce review, a WooCommerce setup guide, and a roundup of WooCommerce themes. But in this comparison, I'll look at the core definitions of WooCommerce and BigCommerce, some of the differences in the areas of largest consideration for eCommerce owners, and how to use them together.
Additionally, this comparison will be very similar to my Shopify vs. WooCommerce + WordPress review. As hosted eCommerce platforms, Shopify and BigCommerce are direct competitors with each other and they both indirectly compete with WooCommerce. We'll talk a bit more about that in the Definitions section – but it is something to keep in mind.
In most situations, it's better to choose the type of platform you want before choosing the exact software. But since BigCommerce & WooCommerce are leading solutions – it's just as helpful to look at them head to head (in addition to ways that you can use them together).
Make sense? Awesome.
If you want to jump right to a condensed recommendation, I'll outline which one is likely a better fit for different types of eCommerce store owners in Next Steps.
Let's dive into this comparison of BigCommerce vs. WooCommerce & WordPress.
BigCommerce & WordPress Definitions
BigCommerce on its own is a hosted ecommerce platform.
This means that BigCommerce takes all the elements of an eCommerce store including hosting (where your store's website files live), payments, cart, content, design, support, marketing features, etc and bundles them into a single piece of software that you subscribe to as a service.
This is where the term SaaS (software as a service) eCommerce comes from.
With BigCommerce (particularly their "Essentials" brand), you pay one price and you get everything that you need to run an eCommerce store including hardware, software, and support.
WordPress is a content management system you install for free on a hosting server that you lease from a hosting company.
Aside – note that I'm referring to self-hosted WordPress – not WordPress.com. It's confusing, I know. But stick with me 🙂
WordPress is famous for its versatility, and I find that's why most people use it. Part of this versatility comes from the use of plugins, which are pieces of software that you can install on top of WordPress that add functionality to your website.
One of the most popular and most successful plugins for WordPress is called WooCommerce.
WooCommerce is a full suite of every function that you would need to run a successful ecommerce store that "plugs in" to WordPress.
In fact, WooCommerce itself allows plugins that extend its functionality for things like group memberships, international payment systems, and really anything that you can dream up.
I wrote a WordPress ecommerce setup guide here that uses the WooCommerce plugin.
In other words, WordPress and WooCommerce are the critical pieces of the entire eCommerce setup that you have to build and manage. So instead of paying one price for a bundle – you are in charge of selecting and putting together all the ingredients for your store – that you own and control.
The best analogy that I've come up with to describe the difference is with real estate.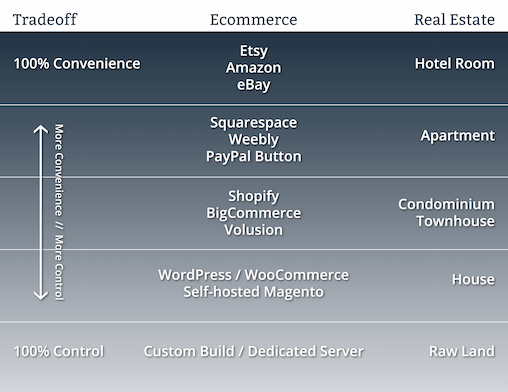 BigCommerce is sort of like a store in a shopping development or a condominium.
You own, operate, and customize the inside of the building. You can do whatever you want. But the property comes pre-packaged with plumbing, electricity, security, and property management.
The shopping development is not going to make your store successful, and they aren't going to control how you run your business. But, they are going to take care of all the non-business related aspects of your business so that you can focus on selling more stuff to your customers.
Building a store with WordPress + WooCommerce is like building your own store/house on your own land. You get to build the exact experience that you want. You can do anything you want with the property. If you don't want it to be just a store, you can make it be more than a store. You can create any experience if you want.
But everything about the property ultimately stops with you. If there is a plumbing problem, it's your issue. If there is a break-in, it's your issue. There is plenty of help that you can hire to help take care of these issues. But you own and operate the entire property, so all the issues that pop up are ultimately your problem.
Now – that is the main definition. But, there's also a 3rd hybrid option that I'll touch on later.
The 3rd hybrid option is BigCommerce's Plugin for WordPress which is a plugin like WooCommerce, but it syncs all data with an ecommerce dashboard at BigCommerce.
Building a store with WordPress + BigCommerce is like building your own store/house in a planned subdivision with a homeowner's association. You still run your house (ie, your website) as you like, but you hand-off all the ugly no-fun parts to your homeowner's association (like catalog management, fulfillment software, order processing, etc) for a recurring fee. I'll cover this in later sections, but these are all functions that WooCommerce does…but it does in a resource heavy way. This hybrid solution is for people with existing WordPress websites who do not like or cannot use WooCommerce for a variety of reasons.
Generally speaking, if your core competency is selecting inventory and selling lots of product then you will love BigCommerce (or their WordPress plugin). Unlike many other hosted ecommerce platforms, they've solved many of the limitations, and have a team to ensure they are on the cutting edge of technical ecommerce features.
In contrast, if your core competency is development, and building out a full digital or content experiences that your customers love (or if you want to control all your expenses), then you will like the freedoms WordPress + WooCommerce better – especially if that experience sets you apart from the rest of your competitors.
But what does the general difference between a hosted platform and a self-hosted ecommerce platform look like for individual considerations? Let's look at those each in turn.
BigCommerce & WordPress Differences
There are a lot of considerations that go into choosing and building an ecommerce store, but here's how BigCommerce and WordPress differ on some of the most critical considerations.
Hosting, Speed & Security
Like I mentioned in the introduction, BigCommerce takes care of your product hosting as well as speed, optimization, and security all as part of your monthly subscription.
There is never a need to understand whether you should figure out a CDN, or caching or even SSL – since they provide all that standard as part of all plans.
However, with BigCommerce, you do have to make some compromises in order for BigCommerce to provide all your technical needs.

You do not have access to your server via FTP. If you want to edit any website files, you have to work with BigCommerce's HTML/CSS editor and/or settings. BigCommerce does an excellent job providing access to every technical tool that you are likely to need. However, without root access – you will never be able to do *everything* – especially custom coding / editing.
Additionally, there are many edge cases that you'll have to research depending on your specific store. For example, if you have a specific inventory management system or payment processor or even software provider that you are committed to – then you'll need to try BigCommerce out and talk to a sales rep before purchasing.
In contrast, if you use WordPress and WooCommerce, you are responsible for your hosting speed and security needs. You'll need to choose a hosting company – I have a fun little quiz to help you find the right fit here.
Plus, you'll have to learn how to make sure your website is up to speed, and that it is secure (or you could use a secure third-party processor such as PayPal).
Neither hosting or speed or security is particularly hard, and most of the changes that you will have to make are straightforward. 95% of WordPress security simply involves keeping your software up to date. But if you have no development experience, even the process of troubleshooting a small issue can be difficult.
On the other hand, you can implement changes that fit your vision perfectly with the level of control WordPress allows. If you want to have Global SSL with an extended validated certificate – you can do that. If you want to customize your checkout on your domain, then you can do that. If you want to have a very specific order fulfillment process, then you can do that.
If you want to run whatever scripts and tracking scripts you via a Content Delivery Network – you can do that. If you love tinkering with servers and caching, you can get a site that probably runs faster than your BigCommerce site could ever run.
That said, if your website gets hacked, attacked or slows down too much, the responsibility for finding a solution or an expert will be on your plate – and no one else's.
Development Costs
With BigCommerce, you have a predictable monthly subscription cost. Additionally, you have the option to purchase premium themes or hire a designer or other professional services to run your site. But none are required.
Since BigCommerce is well-known to many professionals, you will often be able to minimize some of your ongoing professional services cost. For example, since BigCommerce takes care of almost all of your Technical SEO, and Technical PPC requirements, any SEO consultant or PPC consultant can skip to the real marketing work rather than taking care of basic technical problems (I'm looking at you, Magento canonicals…).
WordPress, on the other hand, can either be cheaper than BigCommerce or more expensive depending on your expertise and the time that you want to invest.
Since WordPress and WooCommerce are free & community-supported, your only unavoidable cost is your ongoing hosting bill.
Hosting bills depend on your hosting company and your plan level but can be cheaper than even $5 a month if you're running a small site and prioritize price at reputable companies.
WordPress is an established platform, with a very deep global pool of talent.
You can get stunning designs for free, or you can upgrade to a premium theme that might run as little as $20-30.
If you want to spend thousands of dollars on a design, there are also thousands of WordPress-focused design shops in America and around the world.
For custom development, you can get free plugins and learn yourself or you can hire one of the many WordPress Consultants or WordPress-focused Developers from around the world.
In short, with WordPress, you can pay as little as you want or as much as you want – it's completely up to you. With BigCommerce, you have a higher base monthly cost that you cannot reduce but you can go up from there if you want.
Customization & User-friendliness
BigCommerce is built for eCommerce store owners. They have a huge focus on making the process and setup as simple as possible.
Their backend has plenty of options if you dig deeper, but it's focused on being user-friendly, especially for starting website owners.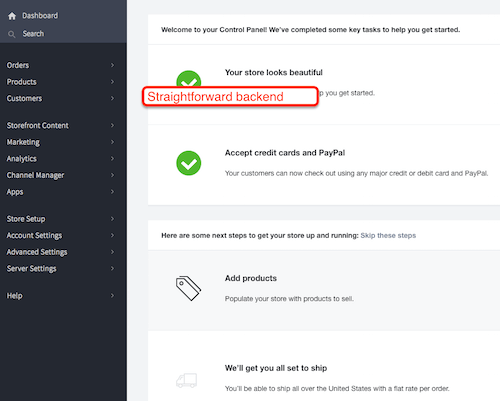 BigCommerce allows you to install apps and extensions from their App Store. Some are free and some are paid. But all the apps are straightforward to install and guaranteed to work.
WordPress and WooCommerce, on the other hand, are user-friendly but they can be overwhelming with their options. WordPress is built so that you can create any kind of website that you want – including eCommerce store. But even if you don't want blog posts or custom post types, those options are going to be there whether you use them or not.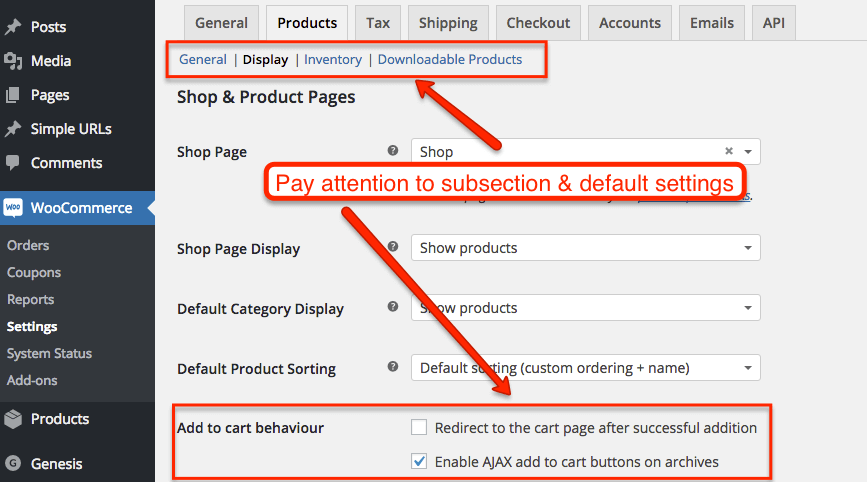 Once you go up the learning curve of WordPress by following some great tutorials on WordPress or tutorials on WooCommerce, it's very straightforward. However, it does have a steeper learning curve than BigCommerce.
Content Tools
Like Shopify, BigCommerce is built specifically as an eCommerce platform. So all the content tools are focused around your store/products.
They have tools for editing categories, collections, pages, product pages, your homepage, any regular page that you want to set up and more. They have a "sort of" blogging tool. It works fine for news and product updates.
If you want to focus on content beyond product promotion and sales, BigCommerce can't go there because it's not built for that (think interactive or customized presentations).
If you want to build a full-featured forum along with discussions and interactive content, or any other content type that is not typically seen in the eCommerce world – you won't be able to build it with BigCommerce.
In contrast, WordPress is a full personal content management system. You can build anything that you want with WordPress. It has built-in blogging and content management, but you can also extend it to do anything such as social networking, bookings, or really anything you can dream up. In fact, WooCommerce uses custom post types to create the product content type.
SEO & Marketing Tools
BigCommerce's SEO and marketing tools are robust, built-in, and simple to use.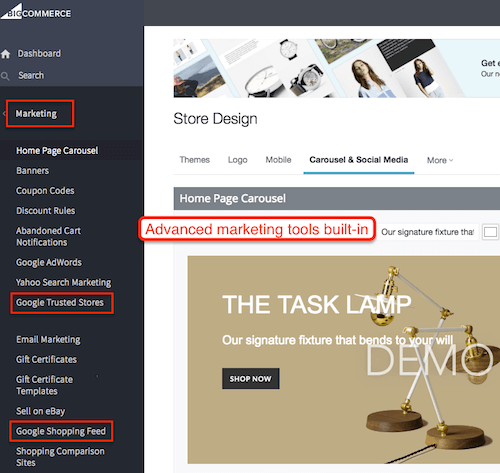 Except for edge cases, BigCommerce takes care of almost everything – including advanced technical tools such as Schema, Sitemaps and even SSL.
BigCommerce doesn't have integrations with every possible tool, but they do a good job of integrating most tools directly in their software rather than via app.
With WordPress + WooCommerce – you can work with anything you want.
There is a robust family of free and premium plugins for every situation. Plus – with root access, you can get anything custom developed if you want.
For example – you can use Yoast SEO plugin, the Redirection Plugin, or any of the other plugins that I've mentioned in this post to take care of really any issue that you could think of.
There are also entire companies that develop very specialized extensions & plugins for WooCommerce. You can do A/B testing, conditional product displays, etc – the only limitation is your imagination.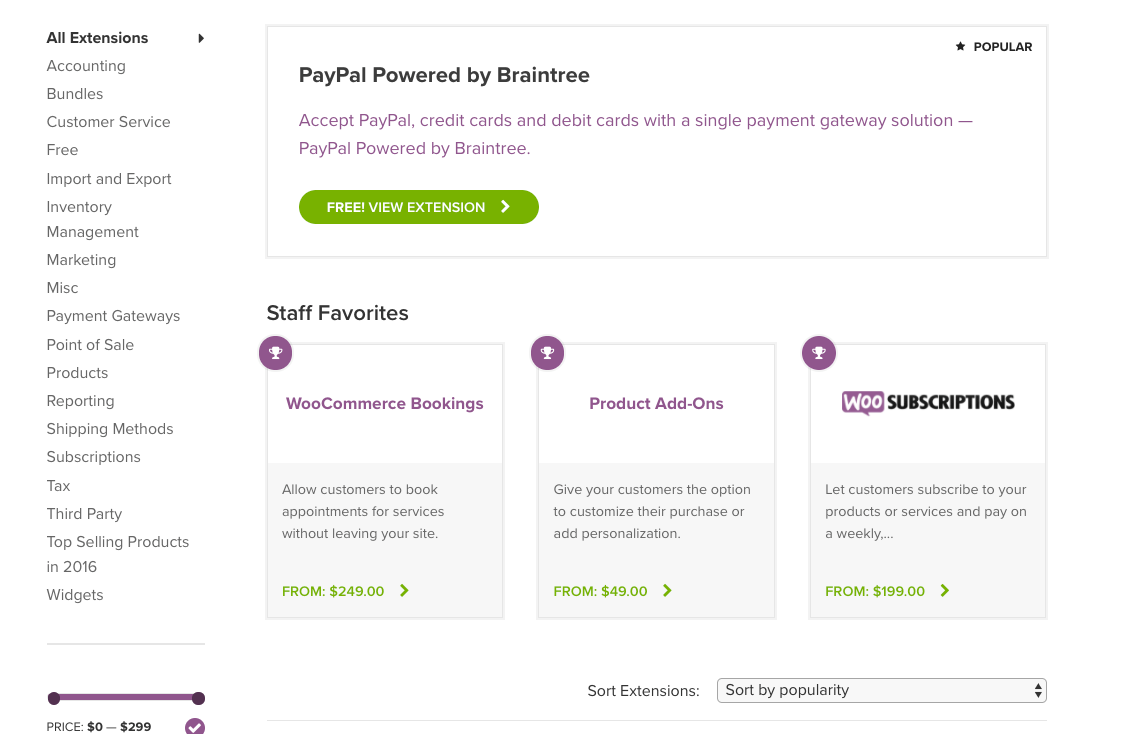 But like hosting, speed, and security, you are the one responsible for ultimately making everything work together.
If you get the WordPress white screen of death and crash your site because of incompatible plugin… oh, then you are the one responsible for getting it back up and running.
Design & Themes
For web design, BigCommerce and WordPress both offer unlimited options. There is no such thing as a "BigCommerce design" or a "WordPress design."
They both output HTML/CSS and have fully-featured web design editors.
With WordPress, you'll can use PHP to edit templates in addition to editing the CSS (if you want). With BigCommerce, you'll be using their HTML/CSS editor to work with their templates.
Both WordPress and BigCommerce offer marketplaces for pre-designed themes and templates.
They both have a deep talent pool for designers who can implement whatever design you want depending on your budget.
And they both have a selection of free themes that you can install with a press of a button.
WordPress has an edge in design since, again, you can have root access to your server, but for all given purposes, BigCommerce allows any web design you could want.
Customer Support
Customer support is possibly the biggest difference between WordPress+WooCommerce and BigCommerce.
With BigCommerce, you can talk to BigCommerce representatives who know BigCommerce backward and forward. They can even log in and look at your entire site set up.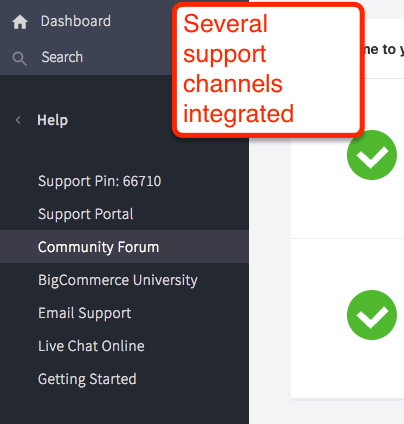 With WordPress, you have access to your hosting company's support team. However, they may or may not be able to help with specific issues within your specific WordPress installation – though they can help you troubleshoot technical problems with your hosting company and WordPress.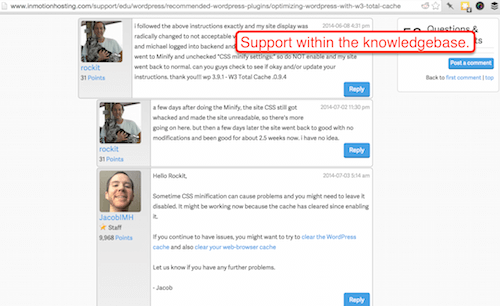 Back to the analogy – WordPress is like your house. You can call a plumber, and they may be able to fix your plumbing problem, but in the end, you're the one responsible.
Whereas with BigCommerce, it's like a plumbing problem in your storefront. It's the property management's problem, and you can work with them to get it fixed.
Growth & Future-proofing
There is one last point about growth and future-proofing.
Since BigCommerce is a proprietary platform, you do have to consider whether you want them as a long-term choice as your store grows. BigCommerce has stores from single product stores all the way up to massive corporations who use their enterprise product. They are a large private company with financial stability but they are still a company – not an open-source community.
But if you do decide to ever leave (or they go bankrupt), you can export your product data and your content data, but you will lose most everything else.
WordPress is open source and community supported. And since you have access to your database, you can export, reformat, and do whatever you want with all your data. It's 100% yours and 100% available to you.
However, since WooCommerce uses the WordPress-loop, it requires an increasing number of server resources to handle massive amounts of traffic. You can grow with WooCommerce…but as your traffic grows above certain levels (like hundreds of thousands of users), you will need an increasing number of developer hours that you wouldn't if simply upgrading to a new BigCommerce plan.
Going back to the real estate analogy. It's sort of like setting up a storefront in a retail development. The stuff inside is yours, but if you get attached to the signage or the architecture or anything about the building – you can't take it with you. That's not a good or a bad thing, but it's something to be aware of.
Using WordPress & BigCommerce Together
There is one option that throws a wrench into a WordPress vs. BigCommerce comparison.
That is the fact that you can technically use WordPress and BigCommerce together.
The idea is to use BigCommerce as your "store" and WordPress for the rest of your website/blog.
The most commonly used case is a publisher who uses WordPress for their writing and content but wants to open up an online store with BigCommerce rather than WooCommerce.
There are a couple ways to do this. The first one is hard. The second one is now much, much easier than it used to be.
First, if you want to use them together then you'll have to put one install on one subdomain and the other on another subdomain. For example, you would have shop.yourdomain.com for your BigCommerce store and www.yourdomain.com for your WordPress blog.
The main thing to consider is how you will provide a unified experience between your store and your blog with design, analytics, etc. You'll need to have a unified design and analytics tracking across the two subdomains. Setting these two things up take some planning, and require that you maintain two different websites when it comes down to it.
You can use BigCommerce and WordPress in this way, but you'll have to make a different set of tradeoffs that could multiply your problems rather than solve them.
The most likely scenario here is that you are primarily a publisher/site owner that uses WordPress, and you want a separate stand-alone store. Ecommerce is a supplement, not a core part of your website (e.g. a blogger selling merch). In this case, having BigCommerce on a shop.subdomain would work. You'd want a similar design, but it wouldn't need to match exactly since the "store" is a separate entity.
If you are primarily an eCommerce owner though, I don't think using WordPress on a subdomain (e.g., blog.) warrants the extra site. BigCommerce's blogging tools are generally fine for most any content strategy you'd plan – plus there's a benefit for having that content on your store's subdomain….which you can now also solve with the second way.
So second, if you want to use them together, you can install the BigCommerce plugin on your WordPress website. In developer-jargon, this approach is known as "headless ecommerce". You will be using BigCommerce to run your store…which will live on your website (the "head").
As far as ecommerce plugins go, the BigCommerce is amazing. It's built "the WordPress way" with seamless integration into WordPress templates. BigCommerce uses an API to sync back and forth with your BigCommerce account. In many ways, it's the best of both worlds. BigCommerce takes a huge resource load off your server. You get a clean, usable order dashboard and keep your existing WordPress website.
However, there are a couple of downsides. First, there will be integration headaches. Templates won't quite sync right. Your Analytics might not track exactly right. There might be a conflict with an existing plugin, etc, etc. Second, you raise your monthly costs without doing away with potential developer costs.
Now – both of those can be mitigated (or might not matter to you) but they are both something to consider.
Next Steps & Related Resources
If you're starting online store both BigCommerce and WordPress + WooCommerce are excellent choices.
If you feel comfortable working with the backend of a website, want to control and customize everything or if you are just more comfortable with WordPress then you should go check out WooCommerce. Be sure to use my WordPress eCommerce setup tutorial to learn more.
If you don't even want to think about the technical side of running an online store, and you just want to focus on selling, marketing, and inventory – then you should go try on BigCommerce free here.
You can check out their BigCommerce WordPress plugin here.
And whichever one you choose, be sure to read my inbound marketing plan for ecommerce owners.